Every GPU review we've done over the past few years for workstation use has always been accompanied by a sickening sidenote – NVIDIA offers better support for Pro apps. Well, is this finally the one where we, for once, DON'T have to say it?
I certainly hope so.
Introducing the AMD Radeon PRO W7900 and W7800: RDNA3 for Workstations
The Radeon Pro W7900 and the W7800 feature AMD's chiplet design that lets them combine different manufacturing processes into a single chip (this generation uses an older 6nm process for the MCD or Memory Cache Die and a 5nm process for the GCD or Graphics Compute Die).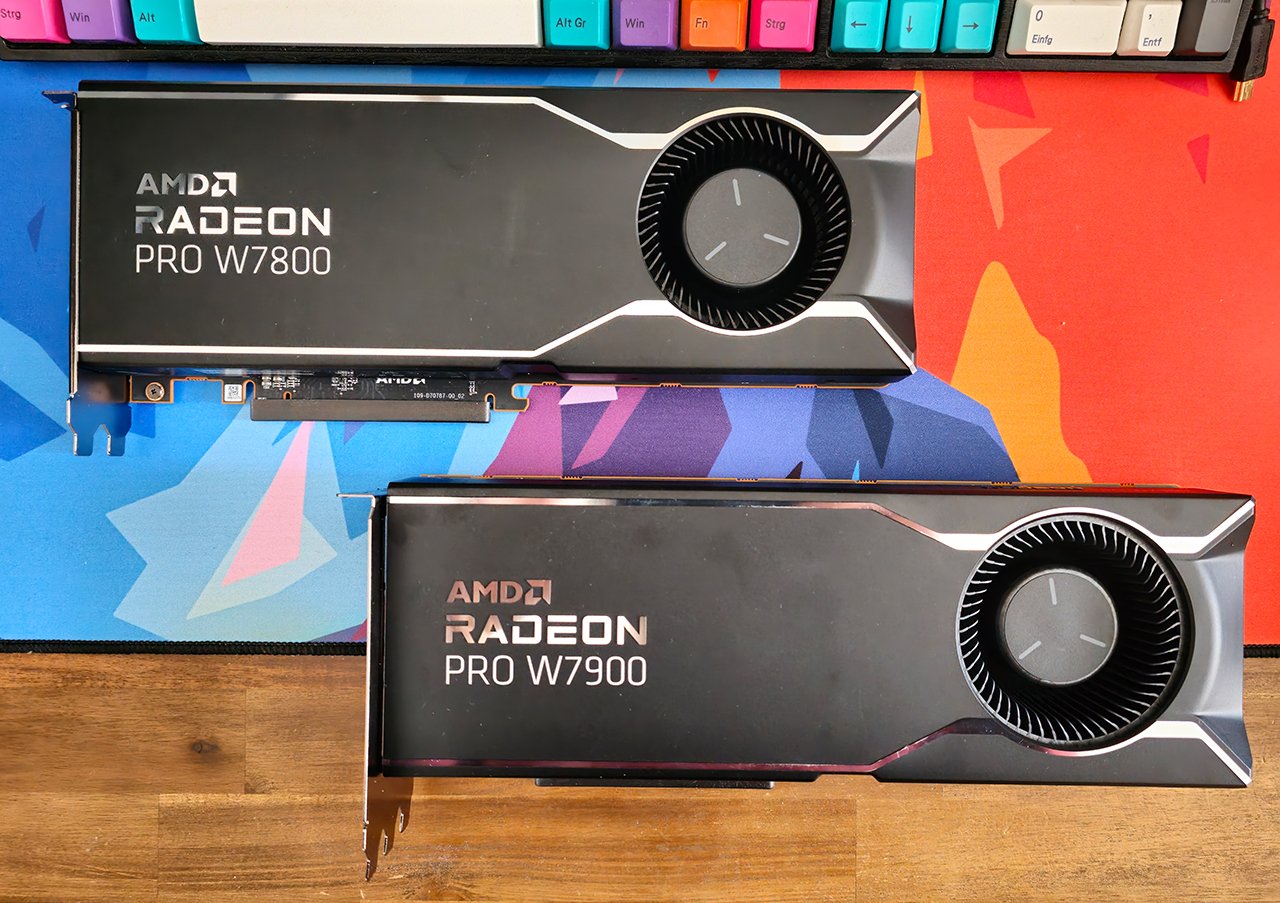 Radeon PRO W7900 and W7800 Hardware Specifications
From a specifications POV, the Radeon Pro W7900 is the workstation equivalent of a mainstream Radeon RX 7900XTX with lower clocks. The Radeon Pro W7800, on the other hand, is probably what the Radeon RX 7800 would have looked like, had AMD released something right below the Radeon RX 7900XT.
Here are the key specs and pricing for AMD's Radeon PRO workstation graphics cards:
| | Radeon Pro W7900 | Radeon Pro W7800 | Radeon RX 7900XTX |
| --- | --- | --- | --- |
| GPU Architecture | RDNA 3 | RDNA 3 | RDNA 3 |
| Compute Units | 96 | 70 | 96 |
| TGP | 295W | 260W | 355W |
| Peak FP32 Performance | 61.3 TFLOPs | 45.2 TFLOPs | 61 TFLOPs |
| Peak FP16 Performance | 122.64 TFLOPs | 90.5 TFLOPs | 123 TFLOPs |
| VRAM Capacity | 48GB GDDR6 | 32GB GDDR6 | 24GB GDDR6 |
| Memory Bus | 384-bit | 256-bit | 384-bit |
| Price (USD) | $3,999 | $2,499 | $999 |
Since the Radeon PRO W7900 is basically an RX 7900XTX, we should see the performance in most apps line up evenly.
Now, let's pit these new workstation graphics cards not just against each other, but also against their mainstream Radeon and NVIDIA counterparts and other workstation options on the market.
Before we dive into the Radeon PRO W7900 and W7800 Workstation Graphics cards from AMD, it's important to understand what AMD is bringing to the table, and how this differs from its previous attempts to be relevant in the workstation market.
AMD's HIP Move: Translating CUDA to HIP
So, why are we so excited about this launch?
One word – competition.
For far too long, NVIDIA has maintained a deathgrip on the professional market. Although this wasn't a problem initially, and still isn't to a certain degree, things have been slowly deteriorating.
From outright banning blower-style GPUs for their mainstream line that could actually be used in a render node to offering almost no price-to-performance gains in successive generations, NVIDIA has become a bit too comfortable in a world where CUDA has been king and there's no real competition. But now, it looks like AMD has equipped developers with the right tools to finally drive that competition.

AMD set the foundation to compete with CUDA many years ago when they announced AMD ROCm and HIP way back in 2016. I wouldn't be surprised if you haven't heard of HIP or even ROCm. These aspects of Radeon's efforts have generally flown under the mainstream radar.
HIP, or Heterogenous-Compute Interface for Portability (a mouthful, isn't it?), is an integral part of AMD's Radeon Open Compute Platform, or ROCm.
Even in 2016, the AMD HIP compiler was positioned as a solution for developers to maintain a single code base while developing for multiple platforms. So, in theory, this allowed developers to support both AMD and NVIDIA GPUs (CUDA) without sinking significant developer time into the effort. Here's a slide from that announcement (Nov 2016):
While this might have encouraged newer developers to consider Radeon GPUs in their product roadmaps, older players had no such option.
Many existing apps that have become the foundation for professional workloads sit on a mountain of CUDA codebases – eliminating the possibility of any Radeon support. One such example is (now MAXON's) Redshift GPU render engine.
For years, it has enjoyed the limelight as the GPU render engine of choice for serious professionals, and for all those years, it has only supported NVIDIA GPUs. Well, AMD finally has an answer in the form of HIPify.
HIPify is a set of open-source tools that translates CUDA source code into HIP C++ automatically! With this translation layer, products and applications with even age-old CUDA code can add support for Radeon graphics cards without a massive undertaking like starting from scratch.
As for the performance impact, AMD claims almost no impact on performance! We'll check that out in the benchmarks ourselves, though.
Radeon Support for Redshift is Finally Here!
The HIPify translation layer has allowed Redshift developers to write GPU applications for multiple environments (HIP, CUDA, etc.) using their original CUDA code. As Maxon outlined in its blog post last year, it is leveraging the HIP translation approach to add Radeon support.
Now, Redshift supports both NVIDIA and AMD Radeon graphics cards on Windows!
If Radeon GPUs can keep up with their NVIDIA price competitors in a variety of workloads, this could be the start of a new era for Pro applications and competition in the workstation GPU space.
Radeon PRO W7900 & W7800 Redshift Benchmarks: What's the Verdict?
It feels strange to be testing Radeon cards on the one render engine that never featured support for AMD on Windows in the first place. Let's see how they fare!
Both the Radeon PRO W7900 and W7800 perform 'okay' – considering their price.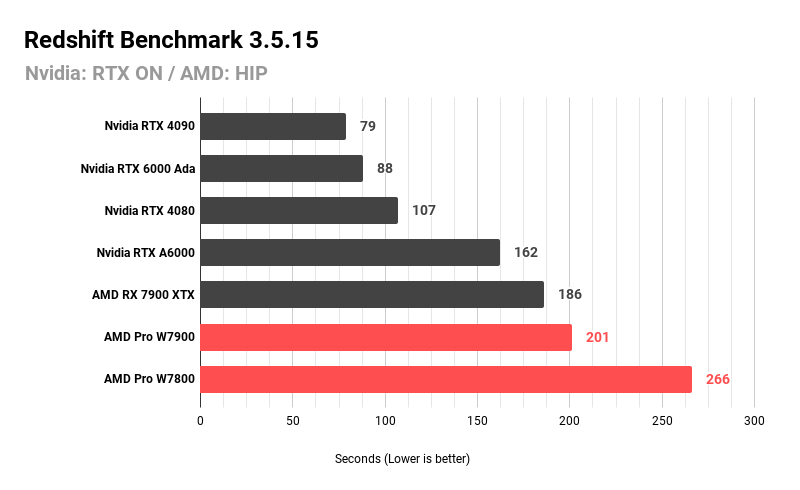 The GeForce RTX 4080 obliterates the brand-new Radeon Pro W7900 and W7800 by cutting render times in half and less than half, respectively. The top-tier RTX 6000 Ada does walk all over the competition, but also costs double.
As expected, the Radeon RX 7900XTX edges out the Radeon Pro W7900 by a slim margin – making it a decent option for those who want a lower price point at the cost of VRAM, workstation drivers, and workstation GPU support.
But sadly, none of the AMD Radeon parts come close to beating NVIDIA's current offerings in Redshift. Even NVIDIA's RTX A6000, which launched back in December 2020, comes out on top – beating the Radeon PRO W7900 easily.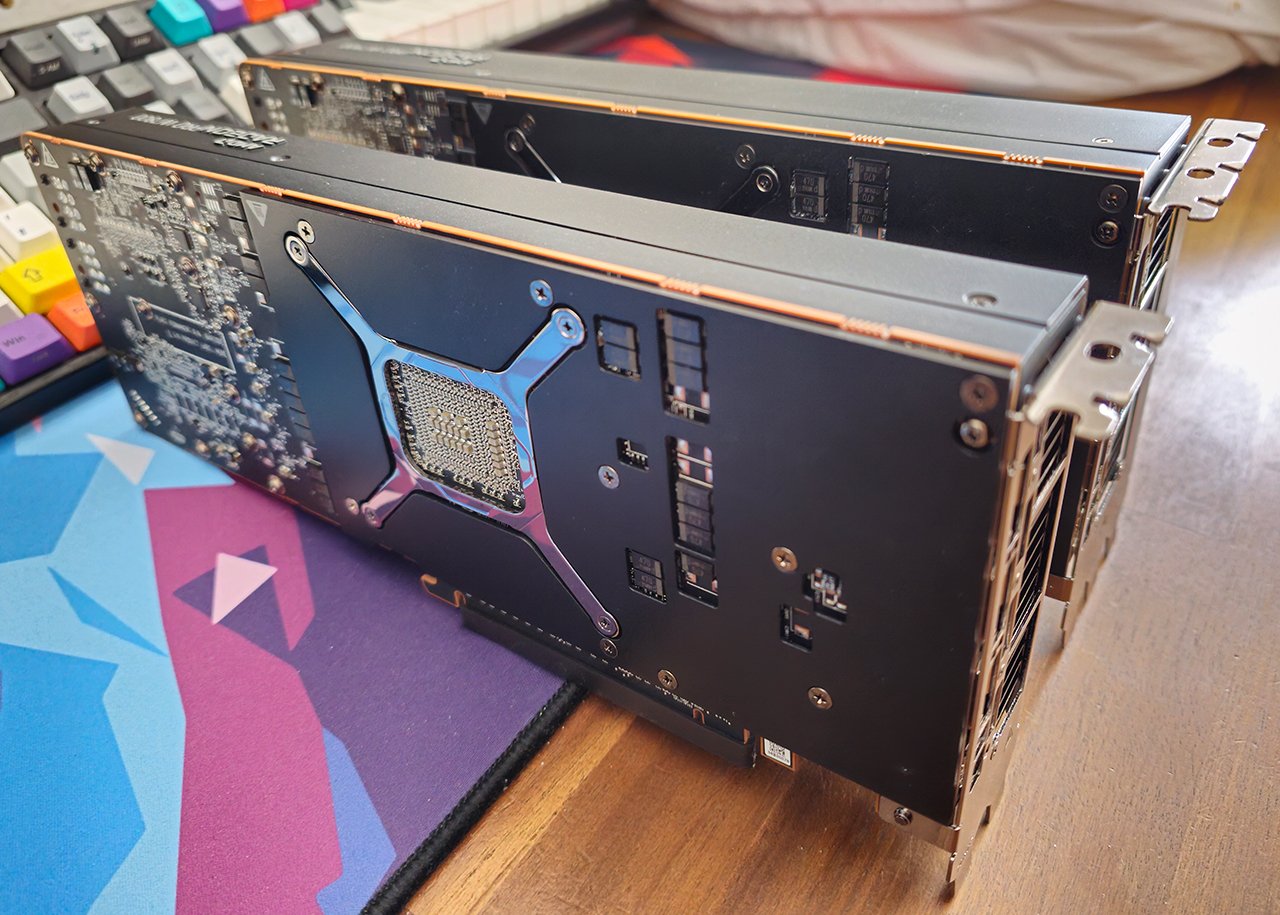 Redshift has stated that AMD's Ray Tracing hardware isn't being used optimally 'yet.' This is probably a result of HIPify catering to CUDA translation, and not helping so much when it comes to NVIDIA's OptiX framework for RT.
Hopefully, things will improve? But since we can't really assess what sort of improvement there will be or if there will be any at all, I'd recommend shopping based on the chart above for now. As of now, AMD's performance in Redshift sits somewhere near an RTX 3080.
Radeon Blender GPU Benchmark: OptiX vs. HIP
Saying Blender's OptiX implementation is done well would be like calling the Great Wall of China a good fence. So, if AMD's RT hardware isn't being used optimally yet, it really has no chance at competing with NVIDIA in this particular workload.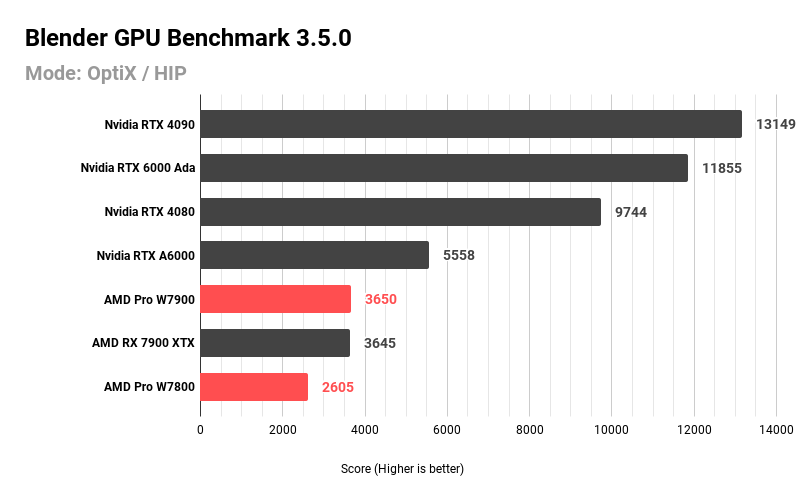 The results aren't too much of a surprise.
Using OptiX on Blender is pretty much a cheat code for NVIDIA GPUs.
AMD's offerings flounder in the distance – easily getting wrecked by even the 2–3-year-old NVIDIA RTX A6000 (I detest NVIDIA's workstation GPU naming scheme…).
As for top-tier products like RTX 4090 and RTX 6000 Ada, they're just in a league of their own, competing amongst themselves.
If you're using Blender, I'd still stick to NVIDIA until things improve on the AMD side.
Radeon Pro Adobe After Effects and Premiere Pro Benchmarks
Adobe's suite of applications has always heavily favored NVIDIA, and unfortunately, the trend doesn't seem to have shifted even now.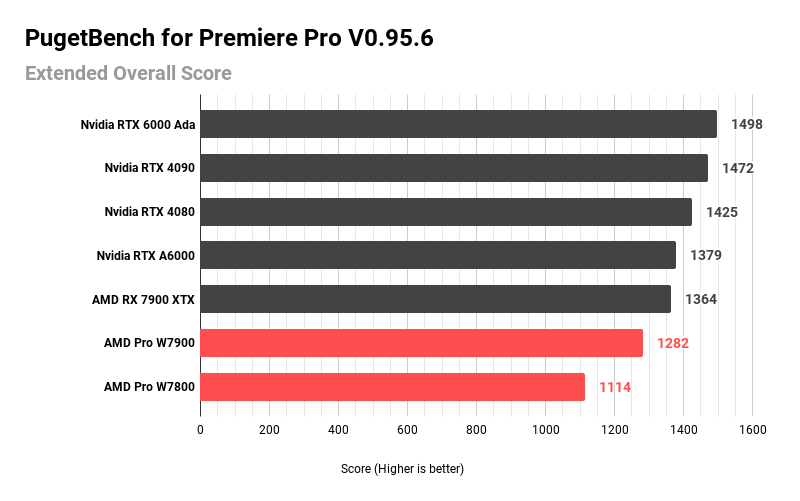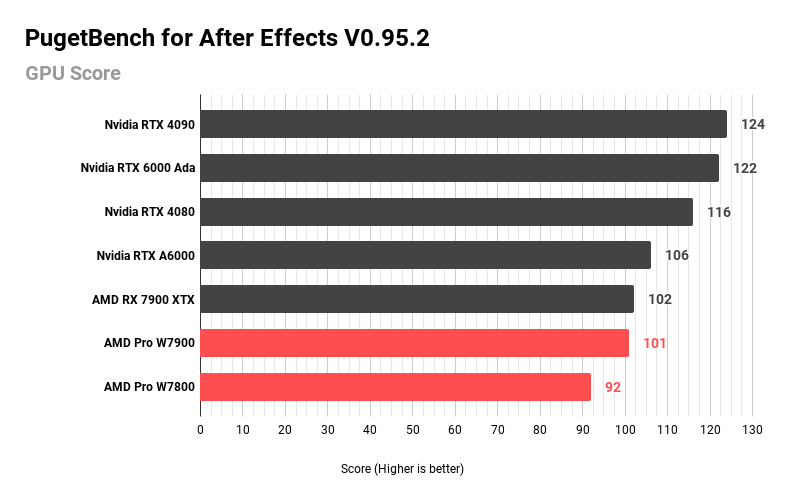 When you account for the price, the performance on PugetBench isn't too shabby. For example, you have to spend double the money to gain 20% additional performance when moving from the Radeon PRO W7900 to NVIDIA's top-tier workstation GPU – the RTX 6000 Ada (again…the names).
If the Adobe suite is part of your workflow, and you need a workstation GPU for other applications like Solidworks, these Radeon PRO GPUs are a solid choice. However, if a mainstream GPU will do the job, I'd just grab an RTX 4080 instead of considering AMD's Radeon RX 7900XTX.
Time to Seriously Consider AMD Radeon for Workstations?
It doesn't look like we can ignore AMD's workstation GPUs in a professional workflow anymore as the apps we've benched above are the ones Alex uses as part of his CG workflow (in addition to C4D). All the apps held up well and we didn't encounter any instability or crashes during our testing.
If your workload doesn't involve heavy use of Blender, these new Radeon GPUs are a solid choice. But if you do primarily work on Blender, just pay the NVIDIA tax and grab an RTX card (until things improve).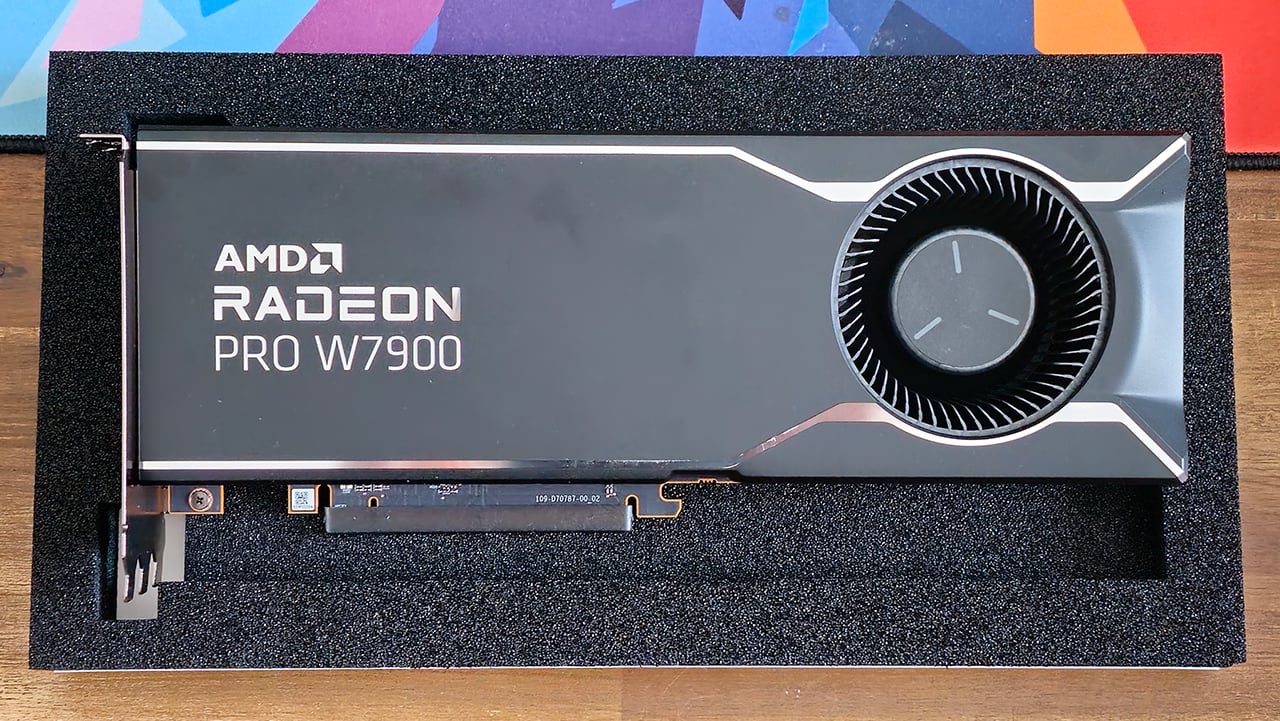 HIPify, at least, has allowed Radeon GPUs to compete with their NVIDIA counterparts, even if performance isn't there yet. I would say this launch and the slow rollout of support for Radeon graphics cards bodes well for the workstation market.
Still, any of us who've worked on large projects know that a rock-solid workstation is worth its weight in gold.
With just a few days to assess these Radeon PRO GPUs, it's impossible for us to get a better feel for these GPUs in a professional setting. So, as an experiment, Alex will be switching to the Radeon PRO W7900 Graphics card on his primary workstation (it replaces an RTX 4080) for a month.
We'll be posting more details about AMD's new Radeon PRO lineup and how HIP-translated apps hold up in more demanding, real-world scenes rather than relatively light benchmark scenes, sometime next month.
Verdict?
For now, the Radeon PRO W7900 and W7800 undercut NVIDIA by a decent margin while also expanding Radeon's support in popular professional applications. But it also lags behind the products that it undercuts. That's an okay product in my book.
Support is a good-enough first step.
If AMD can deliver excellent price-to-performance in subsequent generations, it has the workstation market in the bag.
At the moment however, Nvidia still reigns supreme, and a discounted RTX A6000 would be the far superior choice. Although I'm pretty sure the Radeon PRO W7900 will come down in price quickly, I can't help but feel that AMD missed an opportunity here. If they had priced their parts at $3500 and $2000, it would have been a very easy recommendation.
As it stands, I would consider the Radeon PRO W7900 and W7800 'okay' products. Nothing's too exciting about them. They don't move the current market's price-to-performance chart at all, and don't offer anywhere close to class-leading performance.
However, what's exciting is the expanding support for Radeon GPUs in apps that have always been NVIDIA-only.
So, what do you think? How do you feel about this launch? Let us know in the comments!