AMD released its newest range of Ryzen 5000 Series CPUs on October 8th. They offer a whopping 19% IPC improvement over the last generation Ryzen processors – Ryzen 3000 CPUs.
Luckily we were able to get our hands on a Ryzen 9 5900X , so we will be taking a closer look at Content Creation Benchmarks and active workstation performance.
Spoiler alert: Goodbye Competition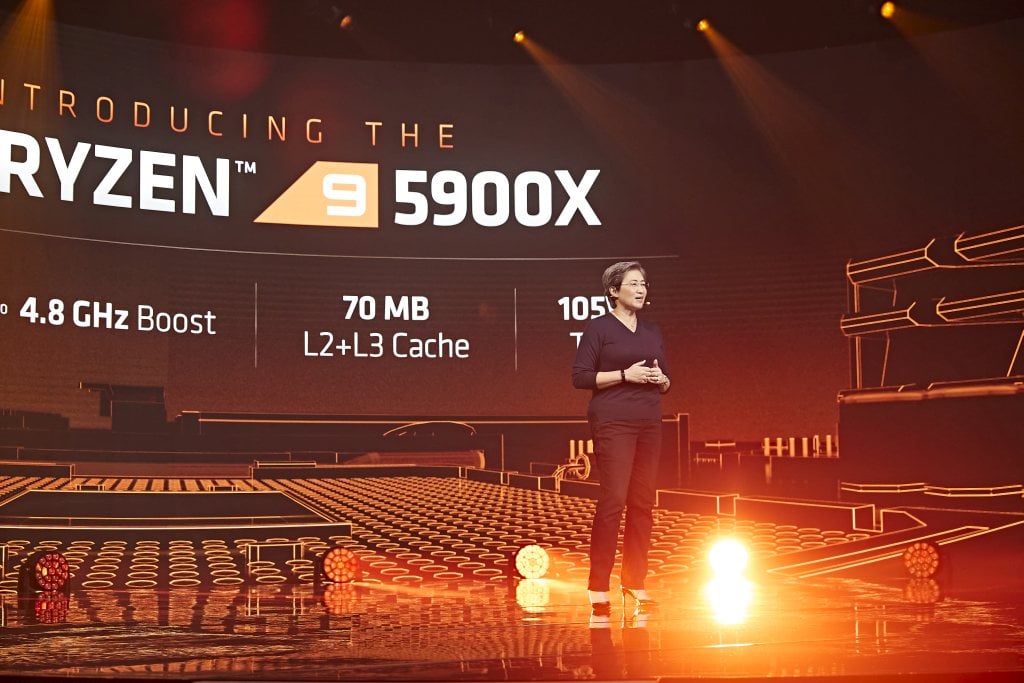 But first – let's take a look at the Tech-Specs:

Ryzen 5000 Processors Technical Specifications
| | Cores | Threads | Base Frequency | Max Boost Frequency | Price in USD (MSRP) |
| --- | --- | --- | --- | --- | --- |
| Ryzen 5 5600X | 6 | 12 | 3.70 GHz | 4.60 GHz | 299 |
| Ryzen 7 5800X | 8 | 16 | 3.80 GHz | 4.70 GHz | 449 |
| Ryzen 9 5900X | 12 | 24 | 3.70 GHz | 4.80 GHz | 549 |
| Ryzen 9 5950X | 16 | 32 | 3.40 GHz | 4.90 GHz | 799 |
A quick glance through the Ryzen SKUs that AMD released is enough to confirm that the company has only introduced its most premium products at this time. We'll most likely see more value-oriented options like a Ryzen 7 5700X or a Ryzen 5 5600 before Intel's Rocket Lake launch in Q1 2021.
For creative professionals, only 2 of these products would make sense – the Ryzen 9 5900X and the Ryzen 9 5950X. The Ryzen 7 5800X offers pretty terrible value, and we aren't quite sure who this particular SKU is intended for.
The 6-core Ryzen 5600X creates a bit of an issue when it comes to recommendations. It comes with similar active work performance as its bigger brothers, but might just be too expensive for 6 Cores in the Content Creation Industry.
IPC Gain: Why Does it Matter?
First off, what is IPC? It's the amount of work the CPU can do within one clock cycle. Here's a rough analogy:
Think of it this way. Say you're tasked with filling a pail of water from a water tank using a pitcher/jar. How can you complete this task faster? Well, you could just be faster at filling the jug and emptying it into the tank (clock speed bump). The faster you are, the quicker you can fill the pail. But there's one more way. You could grab a bigger jug and continue at the same speed as before. It'll still be faster, right? That's the equivalent of an IPC improvement here.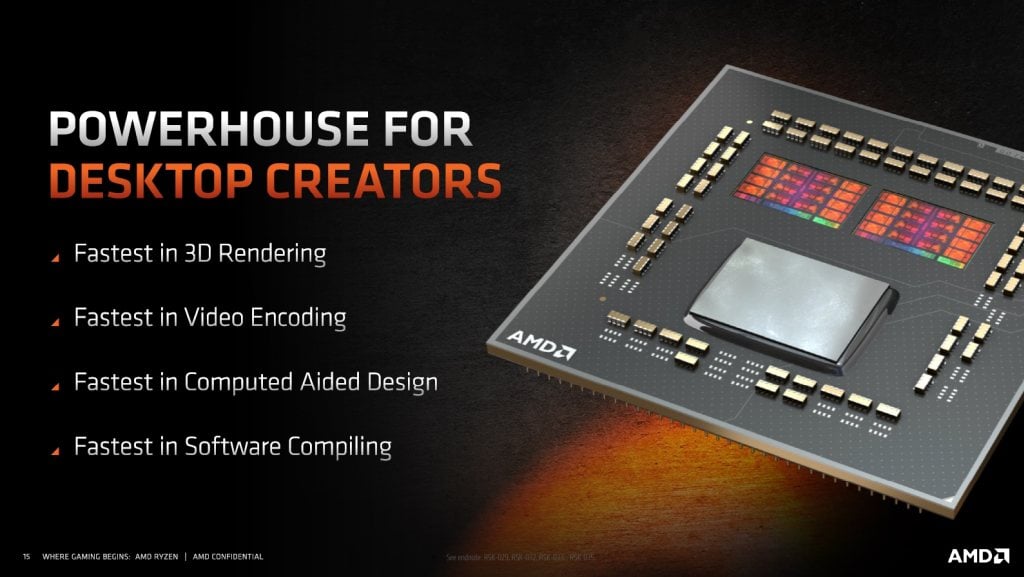 AMD's Ryzen has consistently retained its lead over Intel when it comes to CPU rendering tasks where the raw multi-core performance of a processor matters more than any other factor. Whether you're comparing the mainstream platforms or the HEDT platforms, AMD was a clear victor.
However, when it came to actively working on complex projects, AMD was at a disadvantage for a while. It wasn't a significant downside, but it was one. To be fair, they did cover up most of their performance flaws with the Ryzen 3000 processors, but they still felt just a smidge behind Intel, as I pointed out in the 10900K and 10600K review for creators.
The Ryzen 5000 processors' 19% IPC uplift should be more than enough to make up for their one tiny, tiny flaw – and it turns out, it is!
Ryzen 5000 Benchmarks for Professional Applications (And Some Gaming too!)
Well, benchmarks are out, and AMD's newest generation of Ryzen processors hit the mark, as expected. However, it's important to take a breath and look at the numbers to assess whether you need to open your wallet. And if you do, what can you expect?
Ryzen 9 5900X Active Workstation Performance: Destroying Intel's Final Stronghold in the World of Professional CG Applications
Time and again, every AMD processor release has been better than the last one. But there was always a problem. It was the 'but' that invariably accompanied every Ryzen review.
"It's a great processor at its price, but…"
You know the drill.
For years, we've been recommending separate render and workstation systems if you're set on getting the best experience in both departments. It seems most likely the added latency that Ryzen processors had to deal with due to the Infinity Fabric made the Ryzen 3000 series just slightly worse than Intel's CPUs in complex scenes.
Fortunately, with the release of the Ryzen 5000-series CPUs, that's changed!
Alex devoted quite a bit of time testing out a Ryzen 9 5900X for workstation tasks to ensure we can get behind our assessment of these processors. The results were surprising, for sure. We expected somewhat better performance compared to the Ryzen 3000 Series, but not such a giant leap.
3D Apps such as Cinema 4D feel a lot more snappy, which can also be measured with the Viewport Benchmark. It easily surpasses Intel's best, the 10900k. Animating, Modeling, Texturing, sim baking, and other tasks that need high responsiveness from the application are much smoother than on the previous Ryzen gen. More Viewport FPS is immediately noticeable.
The After Effects GUI is less sluggish, especially in heavy comps with hundreds of layers. Rendering Frame previews and sequences feels faster. The same goes for other Adobe Apps across the board. They all rely heavily on high single-core performance, and the 5900X is a monster in terms of responsiveness. Now, it's not only just as good as Intel. It's better!
To make sure we weren't imagining things, Alex ran the Cinema4D Viewport benchmark several times. Well, the result blew us away. AMD vaulted over not only its previous generation offerings, but also over the best processors from Intel's product stack. It's quite impressive.

After using the 5900X in production on real-world projects in 3D (Cinema 4D, 3dsMax, Blender), Rendering (VRay, Redshift, Octane), Compositing (After Effects, Nuke, Fusion), Video Editing (Premiere Pro) for a week, Alex is confident that he won't go back to either the 3xxx Ryzen Series processors or the best CPUs Intel has to offer.
With a Ryzen 9 5950X or 5900X, I'm sure you won't need a separate CPU render system unless you're running Threadripper-esque CPU/GPU workloads. And now, with these fantastic IPC improvements, I'm certain you'll get the best of both worlds – snappy active workstation smoothness and lightning-fast renders.
NOTE: The real-world tests were done on the following system:
AMD Ryzen 5900X, beQuiet Dark Rock Pro 4
MSI Prestige Creation X570
64GB (4x16GB) TridentZ 3600 CL16
Asus ROG STRIX Nvidia RTX 2080Ti
970 Evo Plus 1TB
In active work, the CPU stays extremely cool at around 40°. It tops out at around 82°C with a beQuiet Dark Rock Pro 4 when under full core rendering workloads. OC mode was set to standard, no PBO.
Even with 4 fewer cores than the Ryzen 9 3950X, the 5900X closes in on the 3950X in multi-core / rendering workloads – which shows just how crazy the per-core improvements are this generation.
Addressing Discrepancies Between Benchmark Data from Popular Media Outlets
If you're following the Zen 3 release, you might already know that a group of reviewers ended up with significantly different results than another group. What makes the situation even more strange is that both groups include reputed, trusted media outlets in somewhat equal measure.
Why did this happen? Ryzen 5000 performance is affected by the type of memory used on the test bench. Memory interleaving (kind of a memory abstraction technique; you can find a more technical explanation here) seems to be why. At least, as of the initial release BIOS and benchmark data we have.
Another reason was attributed to tightly tuning memory timings to get the most out of those kits. For example, Linus Tech Tips' test bench ran 2x8GB 3600Mhz CL14 memory.
Either of these factors does seem to influence the performance in single-core-focused workloads
So, here's what you should keep in mind:
4 sticks of single-rank memory (4x8GB, for example) gave consistently better results than 2 sticks on the same test bed.
2 sticks of dual-rank memory also gave consistently better results than 2 sticks of single-rank memory.
2 sticks of single-rank memory on tight timings (CL14~) grants a performance bump as well.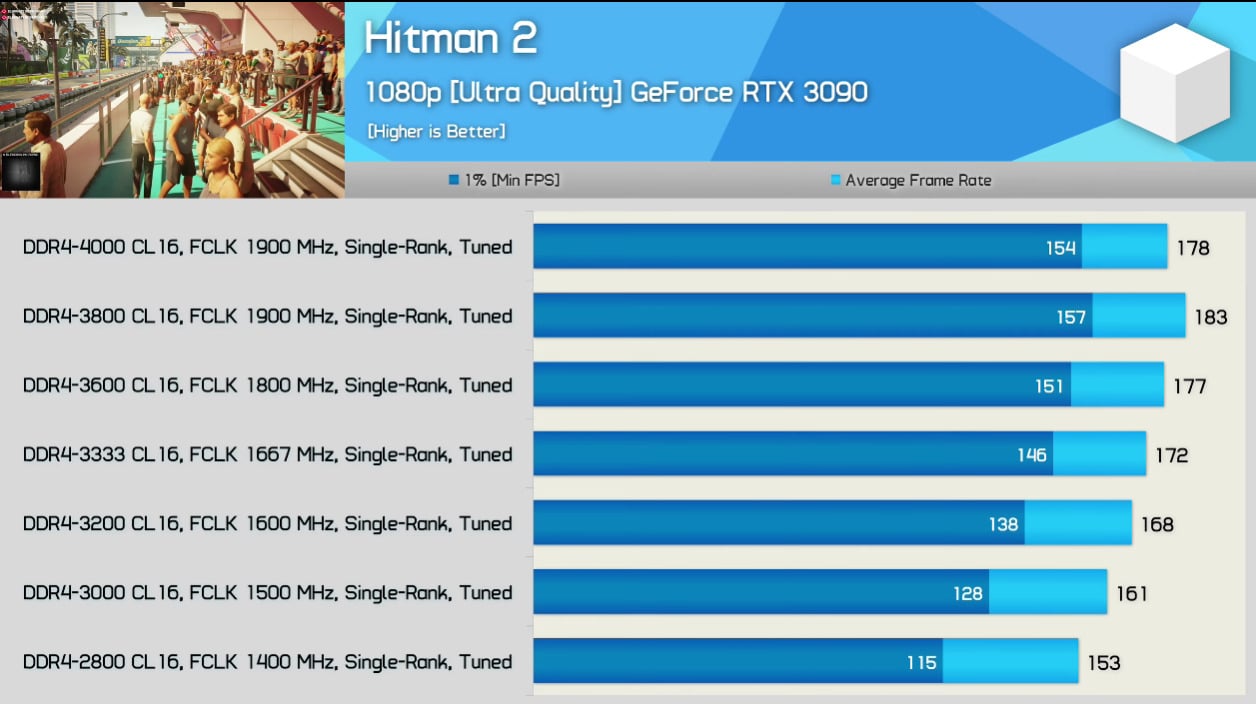 You can see the correlation between memory timings, memory rank, and clocks in this chart from HardwareUnboxed (HUB). A huge thanks to Steve from HUB for the in-depth investigation into memory behavior!
To be clear, Ryzen always enjoyed a performance bump when running 4 sticks of memory vs. 2 sticks. However, this also made achieving higher memory clocks a bit more complicated since most AMD motherboards go with a memory layout that favors a 2-stick setup (daisy chain).
Best RAM for Ryzen 5000 Processors (5950X, 5900X, 5800X, and 5600X)
While my memory recommendations from the Ryzen memory article still stand, I wanted to add a few more high-budget build options.
Note – You need to focus on RAM speed and timings only if you're using your PC for active workstation tasks where you need as snappy a viewport as possible. For rendering, the difference isn't noticeable, and anything at and above the 3200MHz CL16 specification should be fine.
Recommended Spec for High-Performance Ryzen 5000 Builds:
Clock – 3600MHz (MT/s)
CAS Latency – CL16
Memory – 2x16GB (Minimum)
Recommended Memory Kits:
If you're going with 16GB memory kits, you'll enjoy a decent performance bump (up to 10%) as those kits will feature sticks with dual rank memory. If you find better deals on 8GB sticks, go with a 4x8GB configuration to ensure you get the best performance.
Note – If you're using your machine for professional work, please ensure rock-solid stability. And if your work isn't fault-tolerant at all, stick to 3200MHz kits.
Ryzen 5950X, 5900X, 5800X, 5600X CPU Benchmarks
V-Ray Next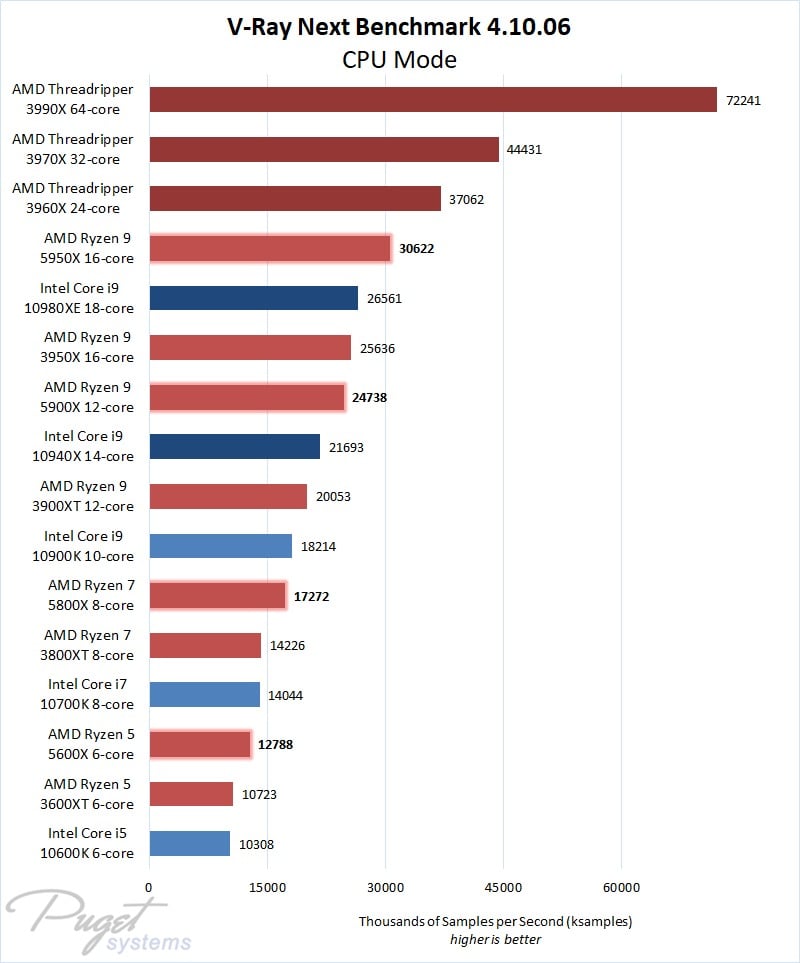 Even the 12-core Ryzen 9 5900X seems to be giving the 16-core Ryzen 9 3950X a run for its money when it comes to rendering performance. However, when we're talking about an upgrade from a Ryzen 9 3950X to a Ryzen 9 5950X, it doesn't seem worth the trouble – unless you're after getting the best active workstation along with the best render performance.
Cinema 4D (Cinebench R23)
▮ = AMD | ▮ = Intel

| CPU Name | Cores | Ghz | Single Score | Multi Score |
| --- | --- | --- | --- | --- |
| AMD Ryzen 9 5950X | 16 | 3.4 | 1684 | 28782 |
| Intel i9 11900K | 8 | 3.5 | 1671 | 16211 |
| AMD Ryzen 9 5900X | 12 | 3.7 | 1670 | 22046 |
| AMD Ryzen 7 5800X | 8 | 3.8 | 1596 | 14812 |
| Intel i7 11700K | 8 | 3.6 | 1595 | 15011 |
| AMD Ryzen 5 5600X | 6 | 3.7 | 1593 | 11201 |
| Intel i5 11600K | 6 | 3.9 | 1564 | 11277 |
| AMD Ryzen 9 5980HS | 8 | 3.0 | 1538 | 12844 |
| AMD Ryzen 7 5700G | 8 | 3.8 | 1535 | 14350 |
| Intel i9 10900K | 10 | 3.7 | 1415 | 18034 |
| AMD Ryzen 9 3950X | 16 | 3.5 | 1406 | 26375 |
| Intel i9 10850K | 10 | 3.6 | 1367 | 16820 |
| AMD Ryzen 7 3800XT | 8 | 4.2 | 1355 | 12955 |
| AMD Ryzen 9 3900XT | 12 | 4.1 | 1354 | 18511 |
| AMD Ryzen 7 3800X | 8 | 3.9 | 1346 | 13848 |
| Intel i7 10700K | 8 | 3.8 | 1345 | 13302 |
| AMD Ryzen 7 3700X | 8 | 3.6 | 1345 | 12195 |
| Intel i9 9900K | 8 | 3.6 | 1343 | 12470 |
| AMD Ryzen 5 3600XT | 6 | 3.8 | 1330 | 9945 |
| AMD Ryzen 5 3600X | 6 | 3.8 | 1323 | 9526 |
| AMD Ryzen 9 3900X | 12 | 3.8 | 1312 | 18682 |
| AMD Threadripper 3970X | 32 | 3.7 | 1308 | 46874 |
| AMD Threadripper 3960X | 24 | 3.8 | 1307 | 34932 |
| AMD Ryzen 3 3300X | 4 | 3.8 | 1299 | 6787 |
| Intel i7 9700K | 8 | 3.6 | 1285 | 9428 |
| AMD Threadripper 3990X | 64 | 2.9 | 1262 | 75671 |
| AMD Ryzen 5 3600 | 6 | 3.6 | 1245 | 9073 |
| AMD Threadripper Pro 3975WX | 32 | 3.5 | 1244 | 43450 |
| AMD Threadripper Pro 3995WX | 64 | 2.7 | 1231 | 73220 |
| Intel i5 9600K | 6 | 3.7 | 1187 | 6596 |
| Intel i9 9900X | 10 | 3.5 | 1182 | 13994 |
| AMD Threadripper 2950X | 16 | 3.5 | 1135 | 18797 |
| Intel i9 9980XE | 18 | 3.0 | 1114 | 27093 |
| AMD Ryzen 3 3100 | 4 | 3.6 | 1105 | 5423 |
| AMD Ryzen 7 2700X | 8 | 3.7 | 1102 | 10140 |
| AMD Ryzen 5 2600X | 6 | 3.6 | 1094 | 7523 |
| Intel i9 9960X | 16 | 3.1 | 1075 | 17953 |
| Intel i9 9920X | 12 | 3.5 | 1067 | 14793 |
| Intel i9 10980XE | 18 | 3.0 | 1063 | 25490 |
| AMD Threadripper 1920X | 12 | 3.5 | 1054 | 15038 |
| AMD Threadripper 1950X | 16 | 3.4 | 1027 | 19635 |
| AMD Threadripper 2990WX | 32 | 3.0 | 1005 | 29651 |
| AMD Threadripper 1900X | 8 | 3.8 | 1005 | 8979 |
| AMD Epyc 7702P | 64 | 2.0 | 993 | 48959 |
| CPU Name | Cores | GHz | Single Score | Multi Score |
In Cinebench R23, we can see clearly, how huge the single core performance uplift is compared to the previous Ryzen Generation. There even is a clear gap over the best Intel has to offer.
For plain multi-threaded CPU Rendering Workloads, the performance uplift over a 3950X isn't worth the effort of an upgrade. However, if you're building a brand-new system and there's only a $50-75 price difference between a 5950X and a 3950X – go with a 5950X.
POV-Ray
Ryzen has always remained the top choice for rendering workloads, and this trend continues with the Ryzen 5000 series parts. However, the performance uplift from a 3950X to a 5950X when it comes to POV-Ray doesn't seem worth an upgrade. I'd say you can skip this launch unless you're looking to merge workstation and render builds without compromising on either aspect.
On the other hand, if you're on a lower-core-count CPU and were thinking of upgrading to a 3950X, the $50 extra is worth it.
Adobe Creative Cloud (PugetBench)
With the Ryzen 5000 series, Intel is no longer the best performance option for popular creative cloud applications. Even the cheaper Ryzen 5 5600X outperforms the entire Intel product stack in After Effects and Photoshop – both applications where Intel enjoyed a performance advantage in the past.
If you're building a high-performance workstation for Adobe apps, the new Ryzen processors offer a better platform, better performance, as well as better efficiency.
It's no contest now.
Where Does Intel Stand?
Even though Intel lost the rendering performance crown a while back, it still enjoyed the benefit of leading in snappiness/viewport performance – making it the best choice for active work at a professional level. In complex scenes, working on Intel was always noticeably better and smoother.
However, Ryzen 5000 CPUs have them beat even in this last remaining professional metric. As of now, I can honestly think of nothing other than Intel's QuickSync as a reason to go with Intel's 10th Generation processors.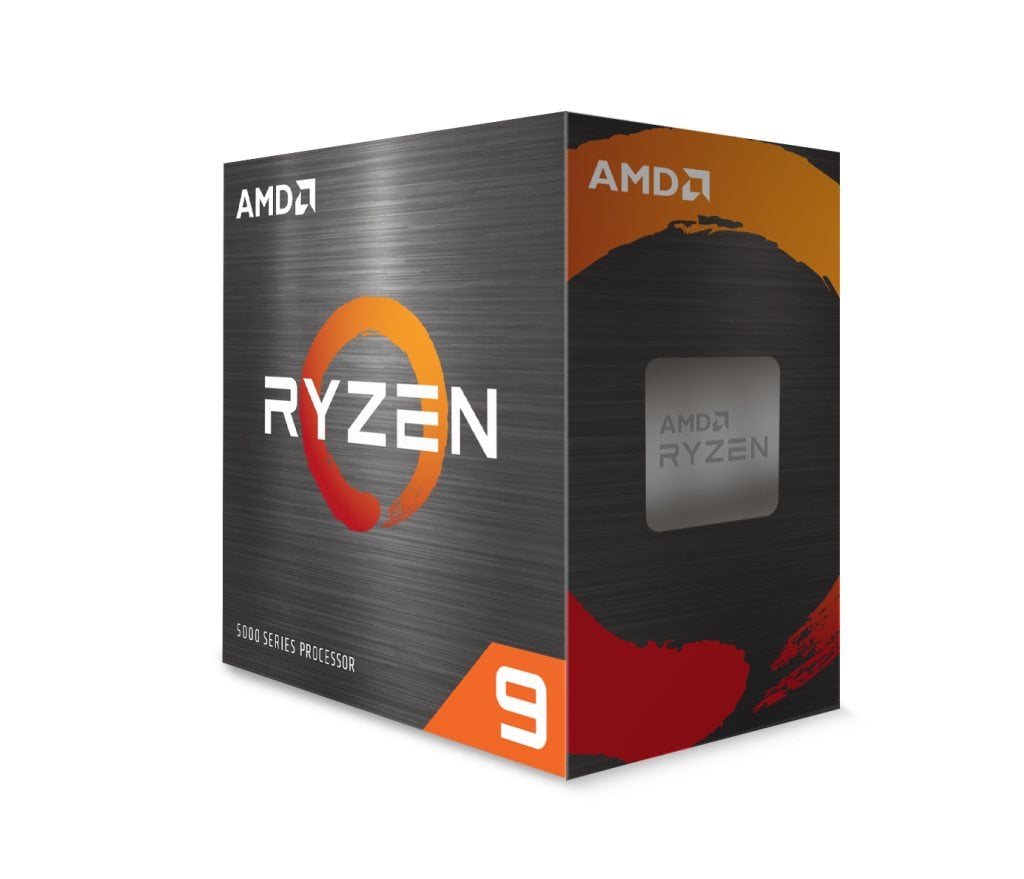 Ryzen offers better performance at a better price, draws less power, runs cooler, and offers a more well-rounded platform for creators. We'll have to wait for Intel's 11th Generation CPUs to release in 2021 to see whether Intel launches something that can compete with Ryzen 5000-series parts.
Jumping from a Ryzen 3000 to Ryzen 5000 Processors: Do You Need an Upgrade?
As always, the answer is – it depends. I've split our audience into four broad categories to talk about each kind of workload individually.
Workload #1: CPU Rendering
If you're primarily CPU rendering on your machine, you'll most likely be on a Threadripper processor. Skip the Ryzen release and wait for the Zen 3 Threadripper SKUs. AMD is bound to announce them around Q1-Q2 2021.
Workload #2: GPU Rendering
Flatly no. If your primary workload is rendering using multiple GPUs, there's absolutely no reason to upgrade to any of the released Ryzen 5000 processors. In fact, we still recommend 2nd and 1st Generation Threadripper parts to budget builders because all you need is the PCI-E bandwidth to support as many GPUs as possible, and the processor doesn't affect the rendering experience all that much.
Workload #3: Hybrid Rendering and Workstation (active work) Use
YES! As I mentioned above, AMD previously lacked the snappiness that Intel offered, even with the improvements Ryzen 3000 processors brought to the market.
But this Ryzen 5000 release sorts out the issue for good and leaves no more room for the competition.
If you're on a Ryzen 3000 Series CPU, have some cash on hand and want something that's better for both active work and rendering – yes, the Ryzen 5000 Series is a viable drop-in upgrade that might be worth a look.
Workload #4: Gaming and Streaming
Once again, no. Don't get caught up in marketing and think you have to upgrade. It's a trap that many who follow the tech landscape get caught up in when reviewers and companies are showing off the latest and greatest to arrive on the scene.
A Ryzen 3000 processor hasn't suddenly become a lousy gaming CPU. You might gain a few frames in games at 1440p and 1080p by jumping to a Ryzen 5000 part. But it's not going to be noticeable because most competitive games run just fine on Ryzen 3000 processors – even if you're into high-refresh-rate gaming with high frame rates.
If you're just gaming, skip this launch.
Now, for streamers, it's a bit more complicated.
For those using GPU-encoding (hardware encoding) to stream, there's no reason to upgrade. But if you're using software encoding, an upgrade might be worth it to get a more powerful processor that can relay a smooth stream to your viewers while ensuring your frame rates never dip too low.
B450/X470 vs. B550 vs. X570 Motherboards: What do You Need to Run Zen 3 Processors?
AMD re-confirmed Zen 3 compatibility for older motherboards. However, 400-series motherboards will only get an update next year.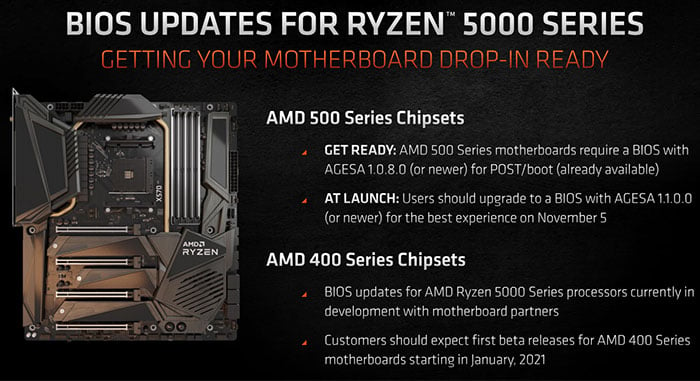 So, you should be able to get support for the newest processors from AMD without requiring a motherboard change. There's no reason to jump to a 500-series board if you're on a 400-series one unless you find yourself constantly running out of PCI-E bandwidth or extensibility.
As the 500-series motherboards come equipped with PCI-E 4.0 lanes, they will allow you to run the latest generation of devices without holding them back one bit.
What do you think about these new AMD processors? I know availability is low at the moment, so have you been able to snag one? Leave me a comment below if you'd like help with your PC build!