I recently got a chance to get up close and personal with one of the most unique laptops out there – the ASUS ZenBook Pro Duo UX581. Since it was targeted at content creators, I thought our readers would appreciate some insight.
Before I get into it, a quick disclaimer: ASUS in any way or form didn't sponsor this preview; we footed all expenses related to making this happen to remain completely unbiased and objective.
Design, Body, and Overall Look
If you're familiar with the ZenBook line of products, you'll expect a sleek, light, aluminum laptop that looks pretty great. However, even though the design does deliver in terms of an aluminum build, sleek lines and a lightweight laptop are missing.
To be fair though, considering the hardware inside (details to follow), I can't quite fault ASUS for it without sounding too unreasonable.
The 15.6" laptop is considerably thick and quite a way away from the characteristics that define its other ZenBook counterparts, which is both a good and bad thing. The good – the chassis feels sturdy and well-built; there is absolutely no flex on the base and, surprisingly, on the screen as well. The bad – well, it's quite heavy and thick.
To help with cooling, the Pro Duo comes equipped with an ergo-lift system that pushes the base of the laptop upwards when opening up the laptop fully. The mechanism not only helps with cooling but also attempts to make the second screen a bit more usable by creating an angle.
The ZenBook Pro Duo UX581 isn't light, but for a laptop with its hardware, it's not overly heavy with a weight of 2.51 Kg (5.51 pounds).
MSI's P65 Creator Laptop offers a similar level of performance and weighs 1.9 Kg (4.18 pounds).
Dual Screens: Useful?
I was lucky enough to know someone who owned ASUS' previous, sort of failed attempt at making dual screens a thing – the ASUS ZenBook Pro 15 UX580.
This time around, ASUS seems to have taken cues from Apple MacBook's touch bar, expanding it and making it even more useful, much more successfully I might add. It's called the 'Screenpad Plus' this time around.
However, I still find it wanting, and it certainly isn't a replacement for a dual-screen setup by a long shot – especially for content creation work.
Here are a few reasons why I'm still not convinced:
1. The viewing angle of the bottom display makes it awkward to use as a display that you might frequently need to glance at/use.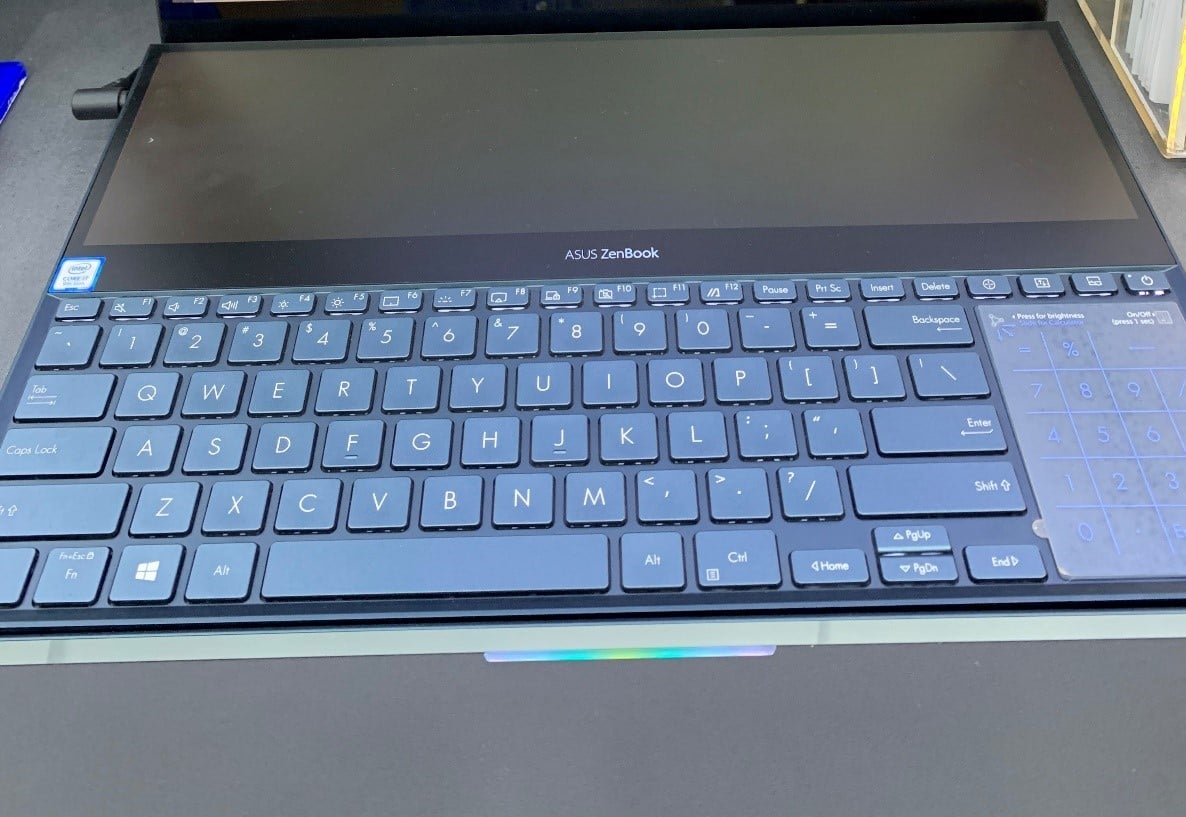 2. The matte of the second screen contrasts horribly with the crisp, primary OLED display.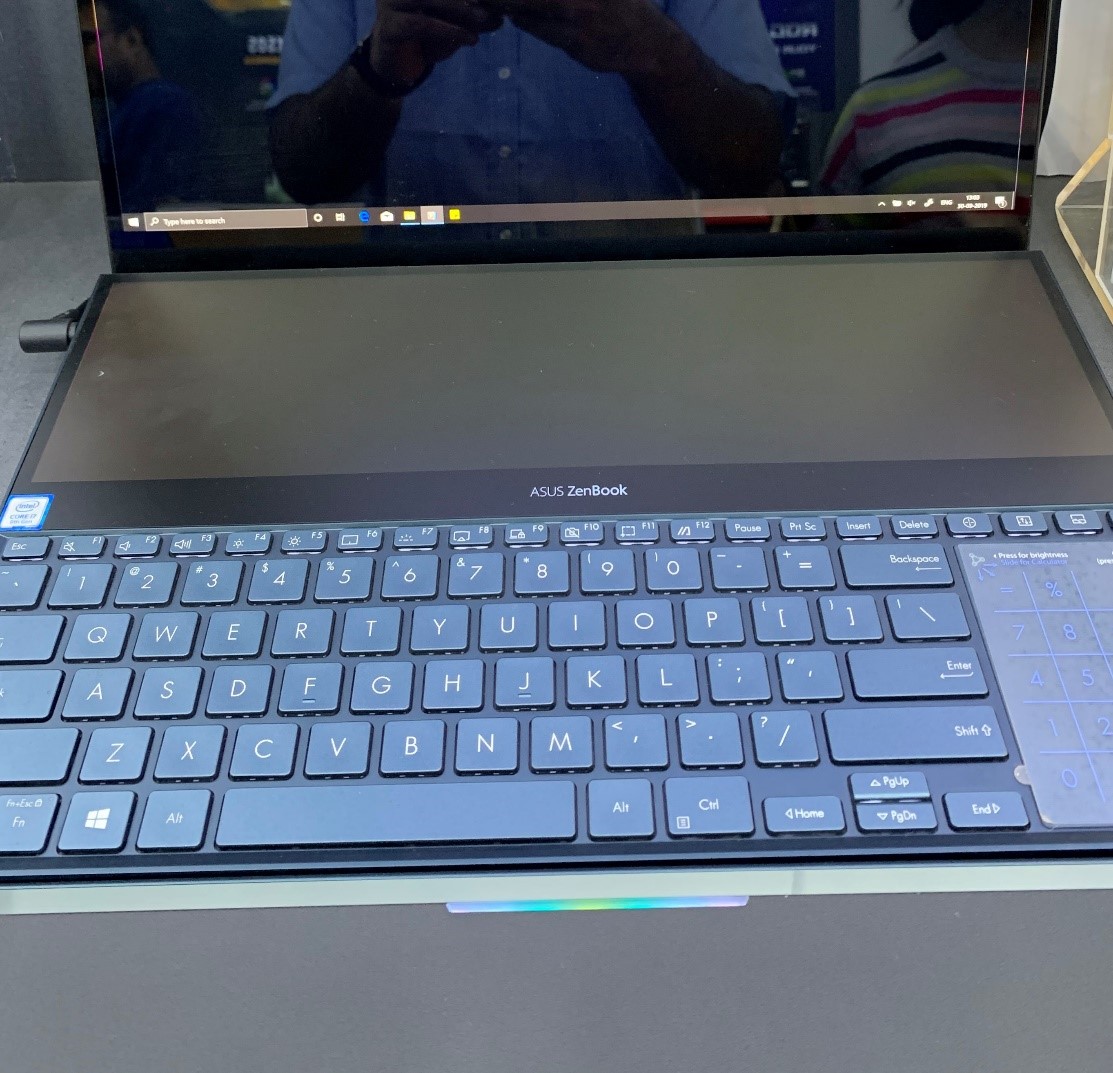 3. Fitting the second screen into this form factor forced certain compromises – a cramped keyboard and touchpad experience.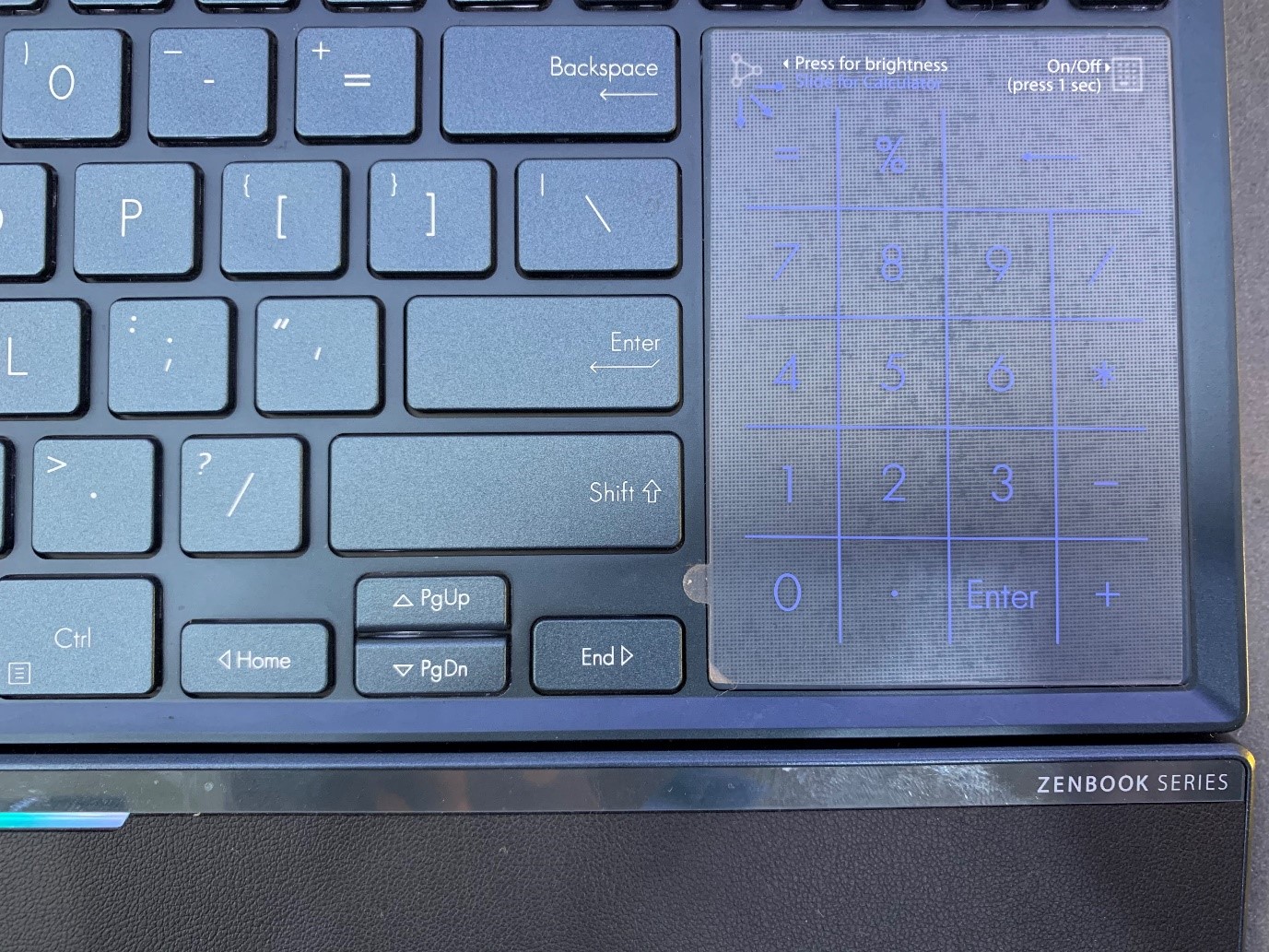 4. Apps don't make use of the second screen that well, yet.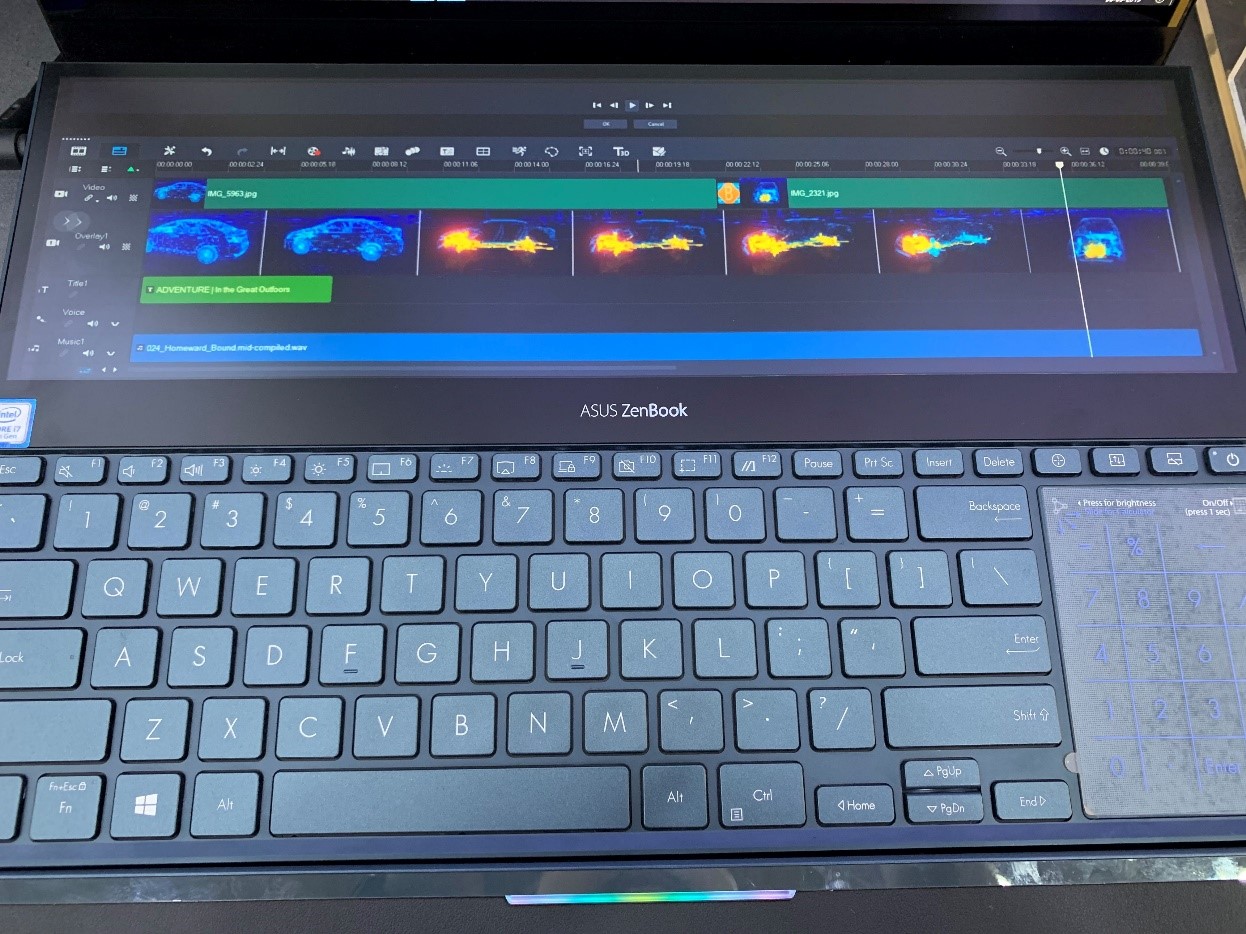 I played around with a few applications, and I could see the potential of utility for creators if each application could use it well.
As of now, using Premiere Pro, for example, stretches the interface downward – the second display acting as an extension of the primary screen rather than a separate, useful entity. It's convenient to have the timeline housed down there at times, but there are issues. The main window loses cohesion, and you'll end up working with a part of the video on the bottom display.
The angle of the screen makes it quite hard to work on it without a strange posture. The cramped touchpad makes it extremely inconvenient to use – a compromise consciously made to make space for the second screen.
The best use for the second display is multi-tasking. The ease of opening multiple windows all over and being able to read and refer to things while working on something in another window is quite unlike anything I've experienced on a laptop. If your workflow includes working with multiple windows and you need portability, this is by far the best option in the market out there.
Here, I have to give it to ASUS. Their set of tools to make all of this intuitive is commendable.
It doesn't beat attaching another display and extending your workspace, but it manages to get pretty close.
Flickering: PWM Dimming
Although the display looks spectacular at first look, some research shows that it uses PWM dimming when using a brightness of below 52% – introducing screen flicker. At its relatively low flicker rate, it could cause increased eye strain. However, this shouldn't be an issue when using the display at above 52% brightness.
All in all, the 4K OLED display is crisp, and colors look great. Unfortunately, I didn't get a chance to verify the claims of 100% DCI-P3 coverage. My research shows that these claims aren't very accurate when it is used out of the box.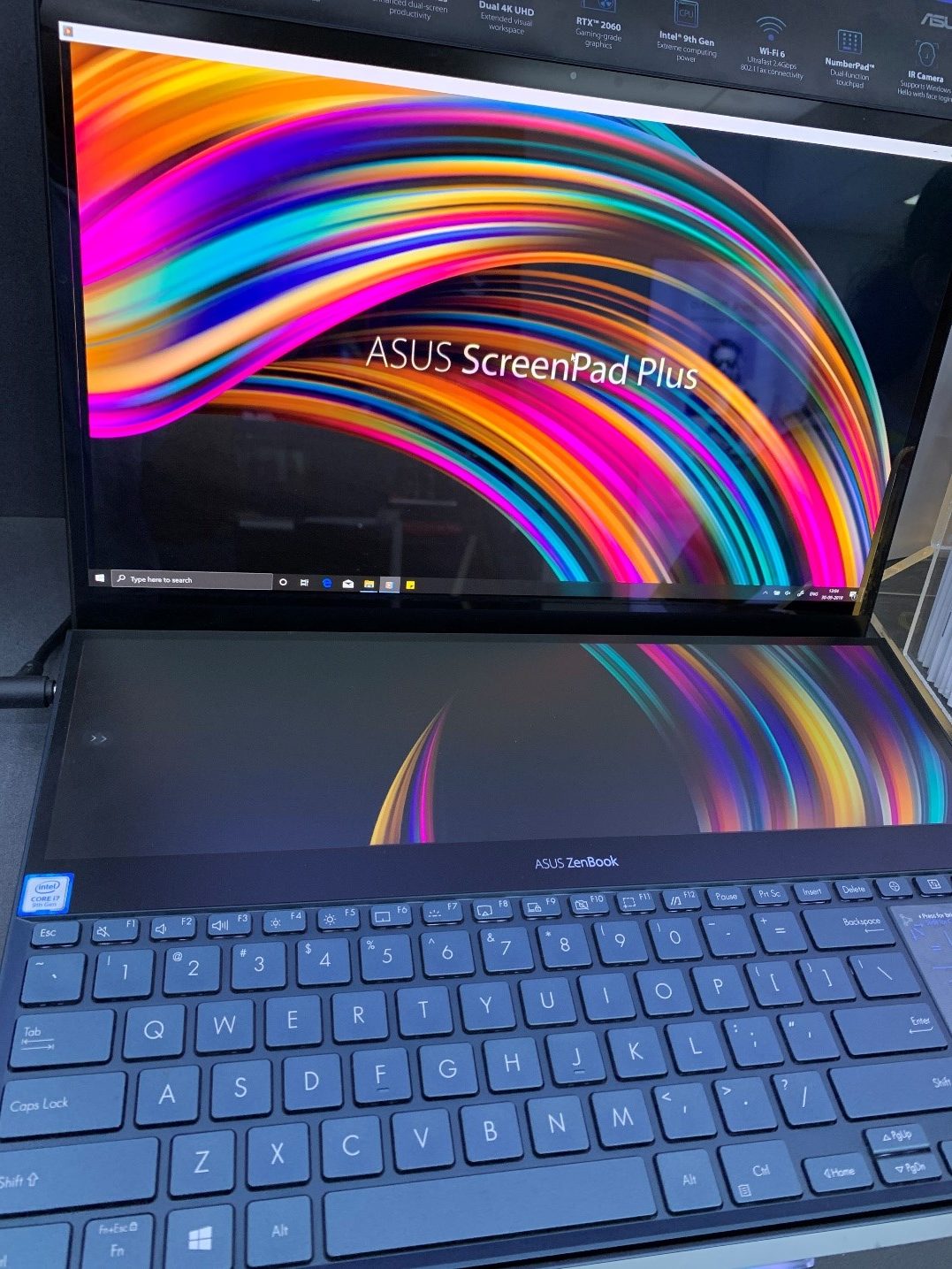 However, this seems more like a problem with the pre-installed color profile, which ASUS has tried to match with the colors of the second screen for better color consistency.
For color-sensitive work, you should be able to calibrate the display to your liking since it seems to have the capability to get a decent amount of DCI-P3 coverage. But the experience of looking at each of two screens in succession could become jarring.
Hardware (Specifications, Benchmarks, and Overview)
The laptop is powerful, no doubt about it. It packs an Intel i9-9980HK CPU at the top end along with an RTX 2060 GPU and 32GB of 2666 MHz DDR4 memory.
I fully expected this laptop to throttle, as we've seen with many Intel Core i9 laptops this past year.
I was pleasantly surprised, though.
As expected, the processor can't hold its boost frequency for too long and dips down pretty quick. Nonetheless, both Cinebench Single and Multi-threaded scores are impressive.
Cinebench R15 (CPU)
Cinebench R15 CPU Single
| Laptop Model | Processor | Cinebench Single Score |
| --- | --- | --- |
| ASUS ZenBook Pro Duo UX581 | Intel Core i9 9980HK | 187 |
| MSI P65 Creator 9SF-657 | Intel Core I9 9880H | 196 |
| - | Intel Core i9 9900K (Desktop) | 218 |
| - | AMD Ryzen 9 3900X (Desktop) | 213 |
Cinebench R15 CPU Multi
| Laptop Model | Processor | Cinebench Multi Score |
| --- | --- | --- |
| ASUS ZenBook Pro Duo UX581 | Intel Core i9 9980HK | 1602 |
| MSI P65 Creator 9SF-657 | Intel Core I9 9880H | 1545 |
| - | Intel Core i9 9900K (Desktop) | 2081 |
| - | AMD Ryzen 9 3900X (Desktop) | 3168 |
OctaneBench (GPU)
| Laptop Model | GPU | Cinebench Single Score |
| --- | --- | --- |
| ASUS ZenBook Pro Duo UX581 | Nvidia RTX 2060 | 167 |
| - | Nvidia RTX 2080 Ti | 304 |
| - | Nvidia RTX 2070 Super | 220 |
3DMark Fire Strike Graphics (Default Run)
| Laptop Model | Processor | Cinebench Multi Score |
| --- | --- | --- |
| ASUS ZenBook Pro Duo UX581 | Nvidia RTX 2060 | 15700 |
| MSI P65 Creator 9SF-657 | Nvidia RTX 2070 Max Q | 16968 |
| - | Nvidia RTX 2080 Ti (Desktop) | 25221 |
| - | Nvidia RTX 1070 Ti (Desktop) | 17145 |
When it comes to power, I didn't find the laptop lacking. Of course, it won't replace a proper workstation.
Due to the limited time that I got with this laptop, I wasn't able to do more extensive benchmarking. I'd have liked to do some testing on the Adobe suite. However, I think from the Cinebench and various GPU benchmark results we can extrapolate the results.
Does it Throttle?
Well, mostly, no. However, I've seen reports of frame dropping and signs of throttling when gaming for sessions exceeding 30 minutes. The same would translate to any heavy workloads. However, even with drops in performance, the hardware does seem to perform as expected. Of course, the ambient temperatures matter too.
I/O
I was expecting a generous number of USB ports for some reason. However, the ZenBook Pro Duo comes with just 2 USB Type-A ports and 1 Thunderbolt 3 USB Type-C port. Of course, daisy-chaining multiple devices is possible, but I'd have liked a bit more peripheral connectivity options at this price point.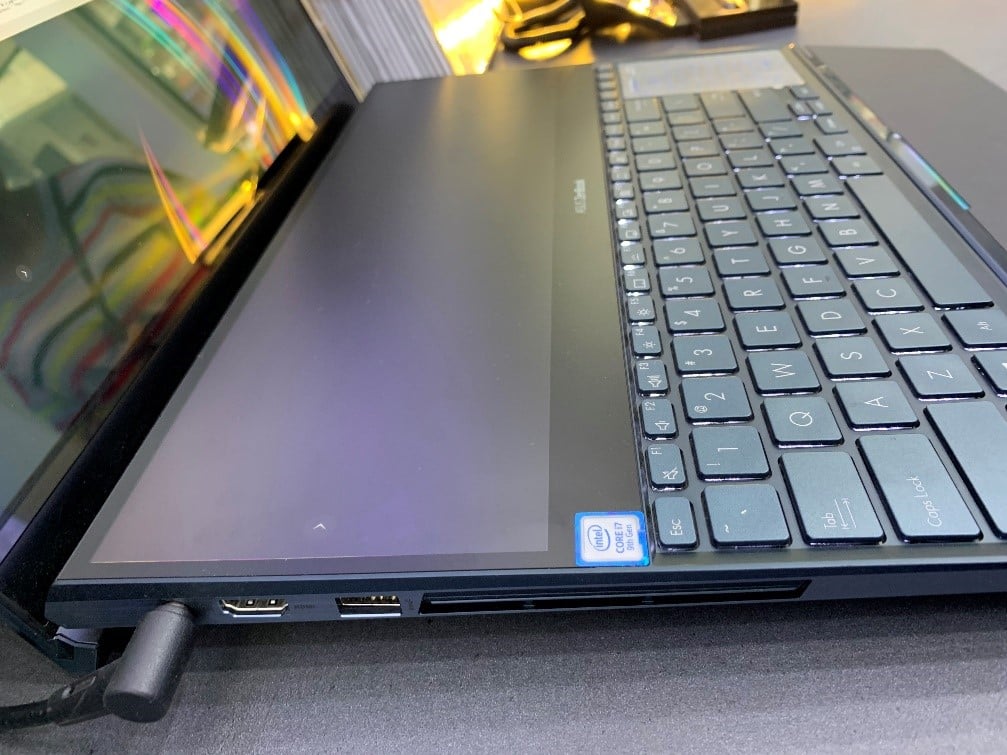 The lack of abundance of ports seems like a conscious compromise to leave space for the UX581's cooling vents.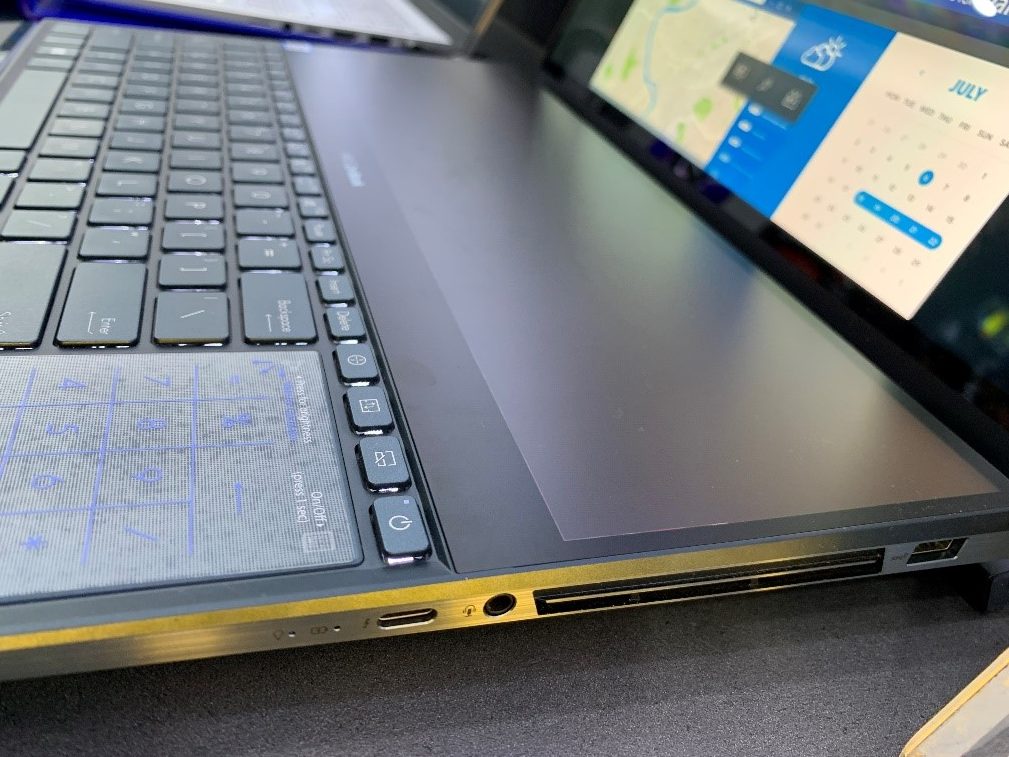 Verdict: Is it Worth It?
It depends on the reason for considering this laptop. If you're buying it because marketing convinced you that it'd improve your experience within apps, I'd think again.
The experience of extending a single app isn't that intuitive.
However, if you need a powerful laptop with excellent build quality, something that doesn't throttle down to the base clock even when using it for short sessions – this is a great option. With the added benefit of a second display to assist with multitasking, this makes it a viable product for creators on the go.
The MSI P65 Creator laptop consistently outperforms the ASUS ZenBook Pro Duo UX581, so from a pure performance standpoint, the MSI is the better option. However, the uptick in productivity is worth it if you want to work with multiple windows. It's easy to snap the windows to the sides and edges.
A major beef I have with the ASUS Pro Duo is the keyboard and touchpad. They're not pleasant to use even for a short while, and I don't expect anyone to enjoy using them as part of their work for extended sessions. The digital number pad isn't convenient either, to make things worse when you sorely need one.
Yes, you could connect an external mouse and keyboard. But that way, you end up farther away from the second screen that makes this laptop so useful in the first place. It's not convenient anymore.
What do you think of the Asus Pro Duo? 🙂