Disclosure – The ASUS ProArt Studiobook 16 sample was provided by Nvidia.
AMD and Intel have been one-upping each other for the last couple of years with impressive mobile processors, while Nvidia has been doing the same with mobile GPUs. The ASUS ProArt Studiobook marries powerful hardware (albeit a gen older) with an elegant design to create quite a potent performer – especially one that's portable.
A Look at the ProArt Studiobook 16's Design
At first glance, the ASUS ProArt Studiobook doesn't stand out. And to be clear, that's not a knock on its overall aesthetic.
It features a straightforward, sleek design that focuses on blending into its surroundings. It'll fit right in, whether you're setting it up on your desk or have it propped open at the airport!
The laptop isn't what I would call 'bulky,' but it ain't thin and light either.
If I can't get desktop performance anyway, I'd much rather get something way more portable. – Alex Glawion (Editor, CGDirector and Freelance CG Artist)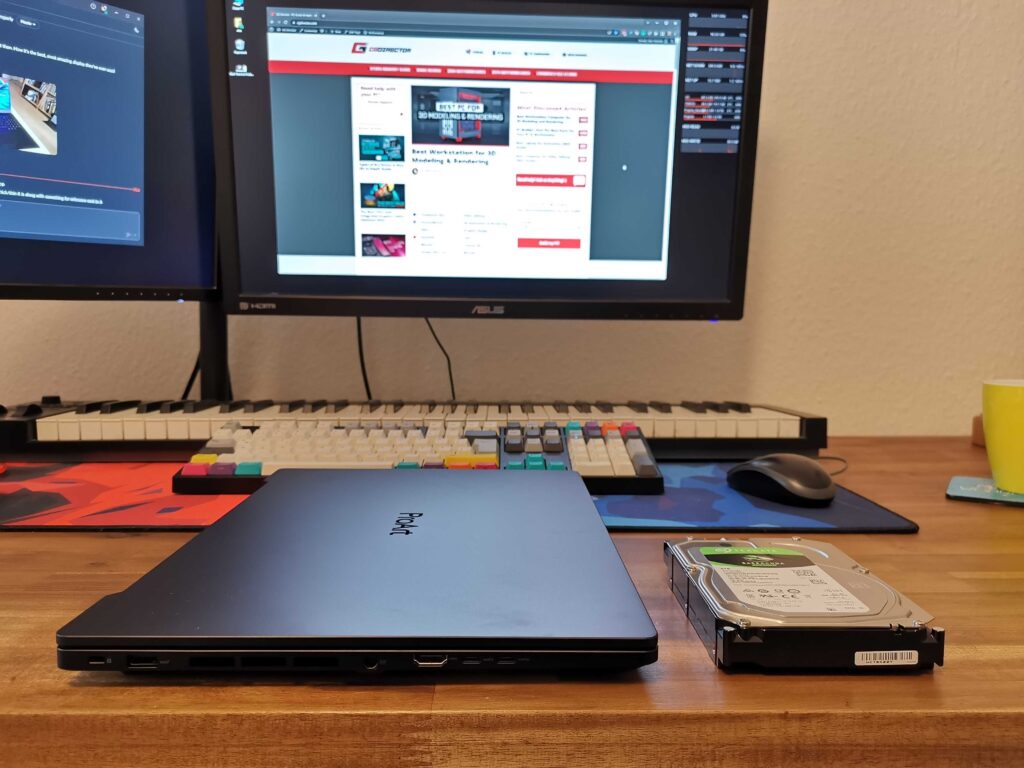 But to be fair, if you account for the hardware packed into it, you could argue that it's quite portable. Gone are the days when lugging around a 16″ laptop was downright comical. You'll find that the ASUS ProArt Studiobook 16 is pretty convenient to use, whether you need to get some work done on the move or just have to carry it around frequently.
ASUS ProArt Studiobook Specifications and Price
You can configure the ASUS ProArt Studiobook to meet a variety of budgets and performance tiers. There is plenty of CPU, GPU, and memory to run circles around most professional workloads. Again, the presence of last-gen CPUs when newer processors from both Intel and AMD are now available is a shame.
You can find this laptop (depending on how you spec it) priced at up to $3000 in the United States.
Here are the core spec options:
Processor

AMD Ryzen™ 9 5900HX Mobile Processor (8-core/16-thread, 20MB cache, up to 4.6 GHz max boost)
AMD Ryzen™ 7 5800H Mobile Processor (8-core/16-thread, 20MB cache, up to 4.4 GHz max boost)
AMD Ryzen™ 5 5600H Mobile Processor (6-core/12-thread, 19MB cache, up to 4.2 GHz max boost)

Graphics

AMD Radeon™ Vega 7 Graphics, NVIDIA® GeForce® RTX™ 3070 Laptop GPU, Boost up to 1410MHz at 90W (110W with Dynamic Boost)
AMD Radeon™ Vega 7 Graphics, NVIDIA® GeForce® RTX™ 3060 Laptop GPU, Boost up to 1530MHz at 90W (105W with Dynamic Boost), 6GB GDDR6
AMD Radeon™ Vega 7 Graphics, NVIDIA® GeForce® RTX™ 3050 Ti Laptop GPU, Boost up to 1695MHz at 80W (95W with Dynamic Boost), 4GB GDDR6

Display

16.0-inch, 4K (3840 x 2400) OLED 16:10 aspect ratio, 0.2ms response time, 550nits peak brightness, 100% DCI-P3 color gamut, 1,000,000:1, VESA CERTIFIED Display HDR True Black 500

Memory

16GB DDR4 SO-DIMM x 2
8GB DDR4 SO-DIMM x 2
32GB DDR4 SO-DIMM x 2
32GB DDR4 SO-DIMM

Storage

1TB M.2 NVMe™ PCIe® 3.0 Performance SSD
1TB + 1TB M.2 NVMe™ PCIe® 3.0 Performance RAID0 SSD
512GB M.2 NVMe™ PCIe® 3.0 Performance SSD
2TB M.2 NVMe™ PCIe® 3.0 Performance SSD
1TB + 1TB M.2 NVMe™ PCIe® 3.0 Performance SSD
512GB + 512GB M.2 NVMe™ PCIe® 3.0 Performance RAID0 SSD
Specifications of Our Review Unit
The review unit boasts an 8-core, 16-thread AMD Ryzen 9 5900HX and an Nvidia GeForce RTX 3070 Max-Q Laptop GPU – making it an excellent candidate to test CG workloads.
Nvidia Studio Laptops – What are They?
Nvidia certifies the ASUS ProArt Studiobook 16 as an Nvidia Studio Laptop. If you're wondering what this means, here's what I understand – it's a program that 'vets' and certifies laptops as Studio-ready.
To qualify for this program, laptops need to meet minimum hardware requirements and display specifications (you can find those requirements here). Manufacturers making laptops that meet these criteria can apply for validation to show off that shiny Nvidia GeForce RTX Studio badge.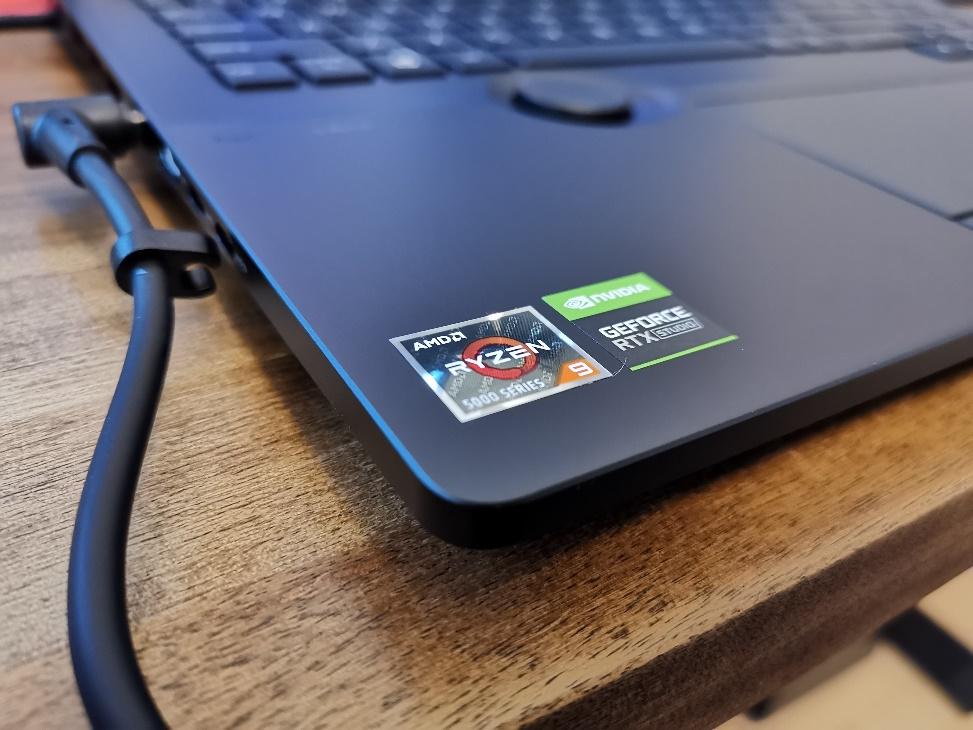 Is it worth it? And is it useful?
Honestly, it depends. Although it's nice to have some certification that tells you whether a laptop is powerful enough or has a screen good enough to handle professional CG work, its practicality depends on the requirements of that certification itself.
It looks pretty generic if you go through Nvidia's minimum requirements for a Studio certification.
GPU: GeForce RTX 3050, RTX A1000 or higher
CPU: Intel Core i5 (H Series) latest gen, AMD Ryzen r5 (H Series) last gen, or higher
RAM: 16 GB or more
SSD: 512 GB NVMe SSDs or larger
Display: Factory calibrated IPS displays with wide color gamuts (available in 4K and 1440p)
If a laptop with an RTX 3050 and one with an RTX 3080 can both display the same badge, the 'Studio' moniker doesn't tell us anything about what that laptop CAN handle. Similarly, the minimum display requirements don't seem well-defined enough for creators.
The premise of stability might sway professionals, but as far as I can see, the stability on offer comes from using the GeForce Studio drivers (which we already recommend doing for anyone handling CG workloads, even on a desktop). We voiced our concerns to Nvidia, and here's a quote from their response about the Nvidia Studio badge:
"What we've tried to do with the NVIDIA Studio badge is identify that it meets the specs for a segment of creators. In other words, it provides a starting point for selection, then a 2D artist can look at products in the lower end and identify which model best fits their needs; while a 3D animator will be looking at a higher end system that's capable of running graphics-intense rendering loads in real-time."
Although I get what Nvidia is going for here, I'm not convinced that this badge is something you need to factor into your buying decision. If you can pick from such a broad selection of Nvidia Studio laptops, you would most likely be comfortable finding laptops that meet your professional requirements.
The Nvidia Studio certified laptops tell you that those specific models are being marketed to creators, which isn't entirely useless information. But it isn't too helpful either.
The ASUS Dial
One of the first things you'll notice when you open this laptop is a dial sitting under the keyboard. Although there's nothing wrong with the idea of that dial for Pro apps, the problem is usability.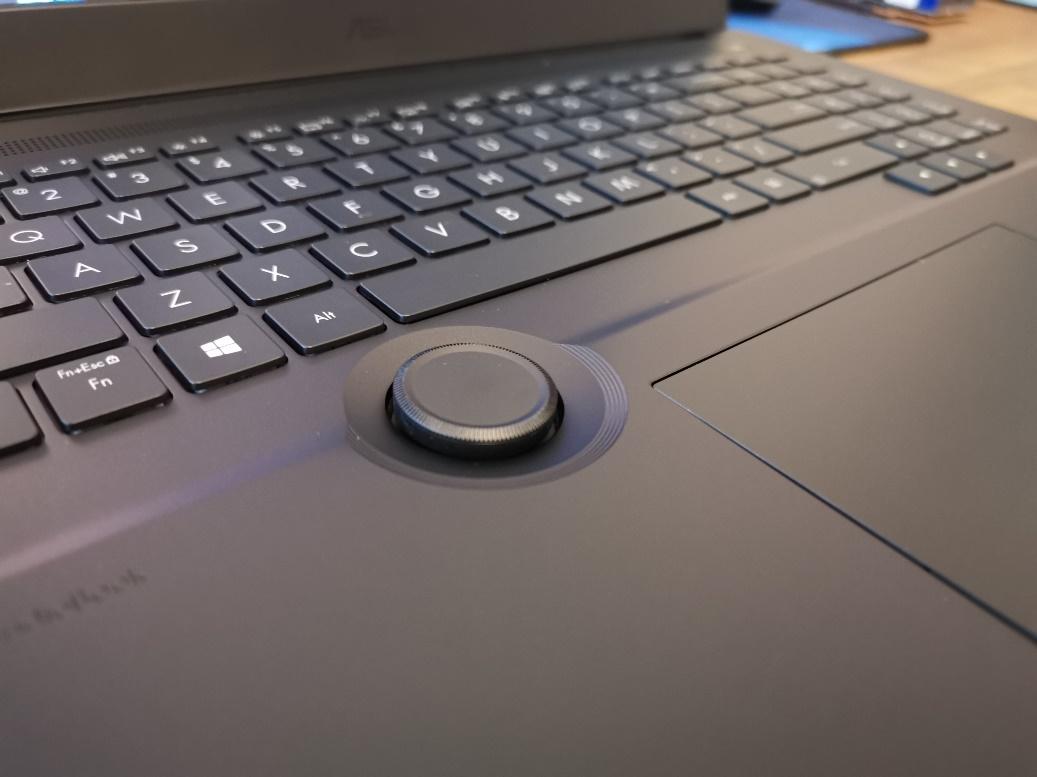 So, what does it do exactly?
It's a physical dial that you can use within apps like Photoshop to handle functions like setting parameters, changing brush sizes, etc. The best use case that we could think of was navigating lengthy video editing timelines with ease; it's not exactly an intuitive experience with a trackpad.
You can assign over 60 functions for Adobe apps to the dial using the ProArt Creator Hub app. I can see the appeal of using this Dial within Adobe apps. For example, it's pretty neat for Photoshop tasks like moving between layers, adjusting brush sizes, zoom levels, opacity, etc.
However, for CG-related apps like Cinema4D, we couldn't land on a solid use case for it.
Fine-tuning object and scene parameters with the dial is convenient, but attaching a mouse and scrolling is just so much more intuitive. And if you're working in a viewport, you'll almost always have a mouse connected to get work done.
Sure, if a laptop is your primary workstation, you could begin to integrate the dial into your workflow. But all in all, we couldn't use it with CG-related apps without forcing it.
It reminds me of the Apple MacBook Pro's infamous Touch Bar. It has some niche uses, but it doesn't seem too relevant for CG professionals.
The Display: 100% DCI-P3 Factory Calibrated 4K 16″ OLED Panel
One of the most advertised features of this laptop is its display. You'll find words like OLED, color accuracy, 4K, etc. peppered all across its product page. Don't get me wrong; it IS impressive considering the fact that this is a laptop.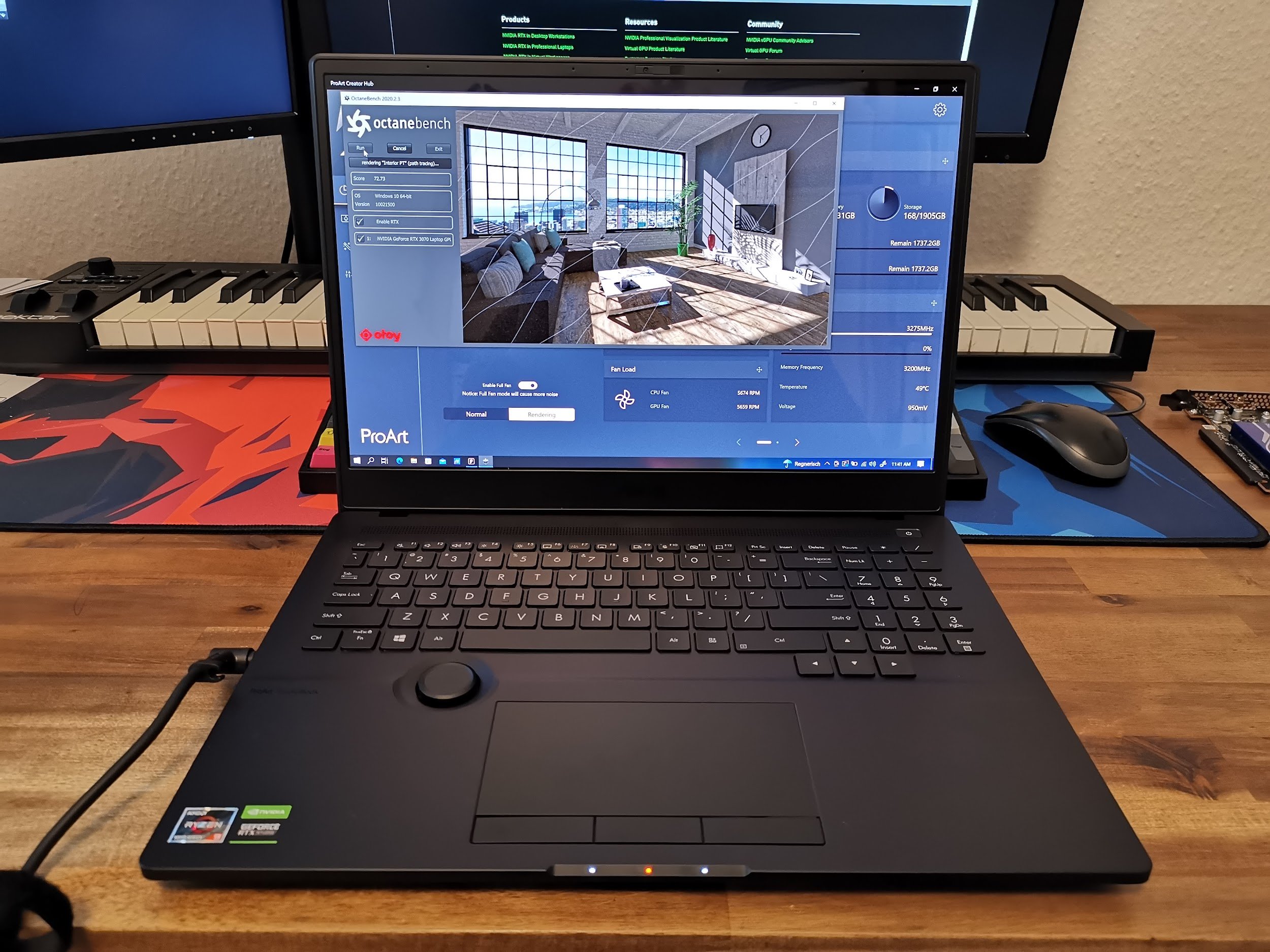 Since it comes factory-calibrated with 100% DCI-P3 coverage and a Delta-E of < 2, it's the best out-of-the-box experience with a laptop screen. Any HDR content on this OLED screen looks brilliant, as expected from the true blacks it can deliver.
Although this gorgeous OLED display delivers precisely what professionals need, it's still… a laptop display.
Geez. What a hot take, right? Hear me out, though.
A single 16″ screen is nowhere near enough to get work done, especially because most professional workflows include multiple displays. On the other hand, if you're used to working on a laptop, this is one of the best displays in a portable package.
The ASUS ProArt Studiobook 16 also supports the latest HDMI 2.1 standard for display out, which should make adding a second monitor to your setup relatively straightforward. It's an excellent option for those who need a hybrid workstation that they can carry around.
I wouldn't recommend the ProArt Studiobook 16 to professionals who aren't going to be using the laptop screen. Why? Much better, cheaper options with similar hardware exists. It's just not worth paying a premium for a fancy OLED 4K panel if it's going to sit closed on your desk and connected to a monitor half the time. Makes no sense.
Display Brightness
Although the ProArt Studiobook 16 display is top-notch in an ideal setting, it's in real working conditions that issues begin to present themselves. One of the worst things about this display is its inability to handle any sort of lighting behind it. The glossy screen reflects everything and destroys any detail you could hope to see in a 16″ form factor. Here's a short video that illustrates the issue (screen at max brightness, max power/perf mode)
As you can see, if you're facing natural light – it's nearly impossible to get any work done. The display just isn't bright enough to handle working outdoors, or even in front of outward-facing windows/doors.
So, is indoors an improvement? We tested it out with dimmed indoor lighting to see how it fares.
It's certainly an improvement, but still not great. If you're working on this display, make sure you're not facing any kind of light source.
ASUS ProArt Studiobook Ryzen 9 5900HX and RTX 3070 Laptop: Performance Run
Although the specifications alone are enough to get a general idea of how this laptop would handle intensive CG workloads like renders and 3D viewports, we still wanted to get some solid numbers for comparison.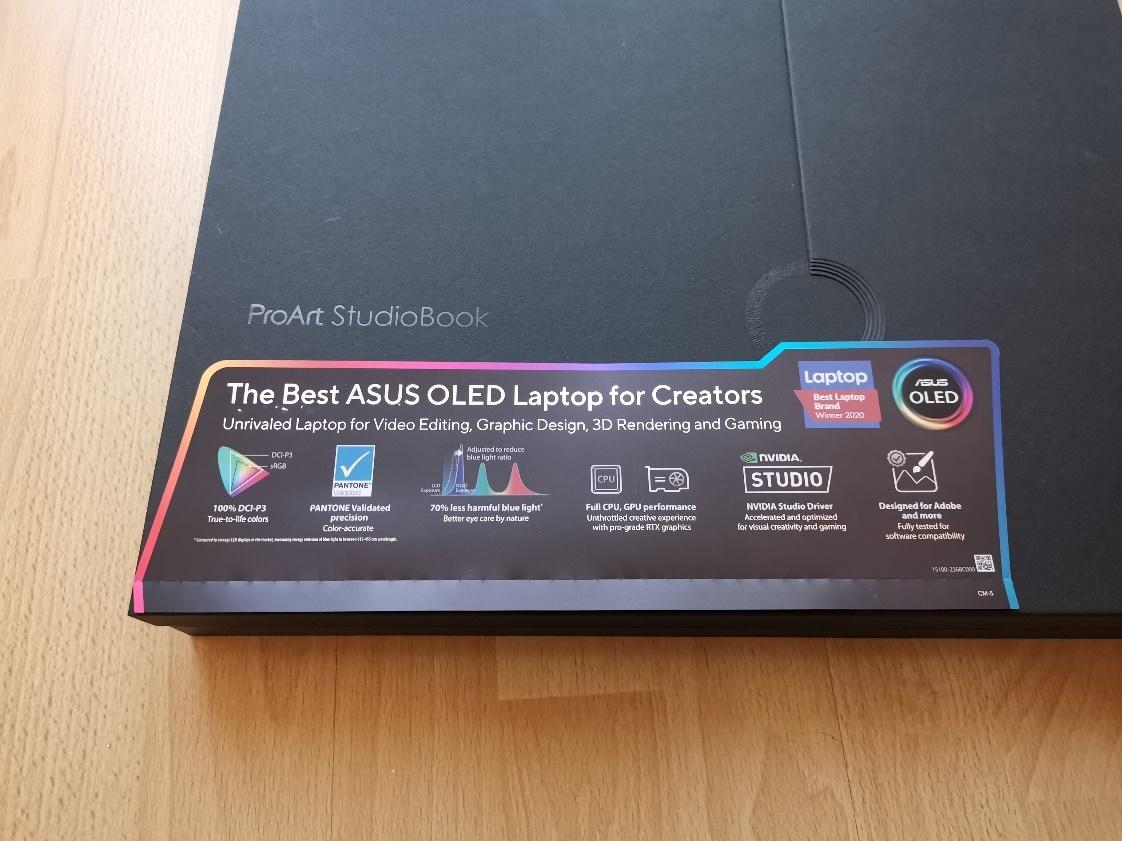 In every heavy-use scenario, performance on battery drops dramatically as expected. So, if you're looking to use this on the move without plugging in, I'd recommend going for a thinner and lighter laptop because you'll end up with that level of performance either way.
On the other hand, if you CAN plug in wherever you'll use this laptop, it throws out some impressive benchmark numbers and chugs through heavy renders quickly!
Octane Benchmarks
If you pit the Studiobook 16 against other RTX 3070 laptop GPU scores on Otoy.com, you see how the whole Max-Q vs. Max-P marketing angle adds to the confusion.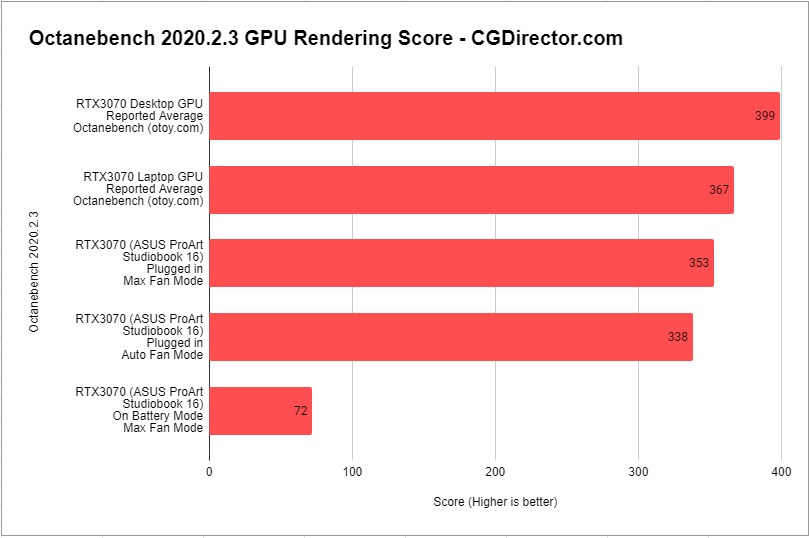 Our review unit needs the fans to go full throttle to get anywhere close to reported RTX 3070 laptop scores, and it's not exactly a pleasant experience at that noise level.
Still, in Auto Fan mode, it does manage an impressive level of performance – handily beating even a desktop RTX 3060. Its performance sits bang in the middle of a desktop RTX 3060 and an RTX 3070.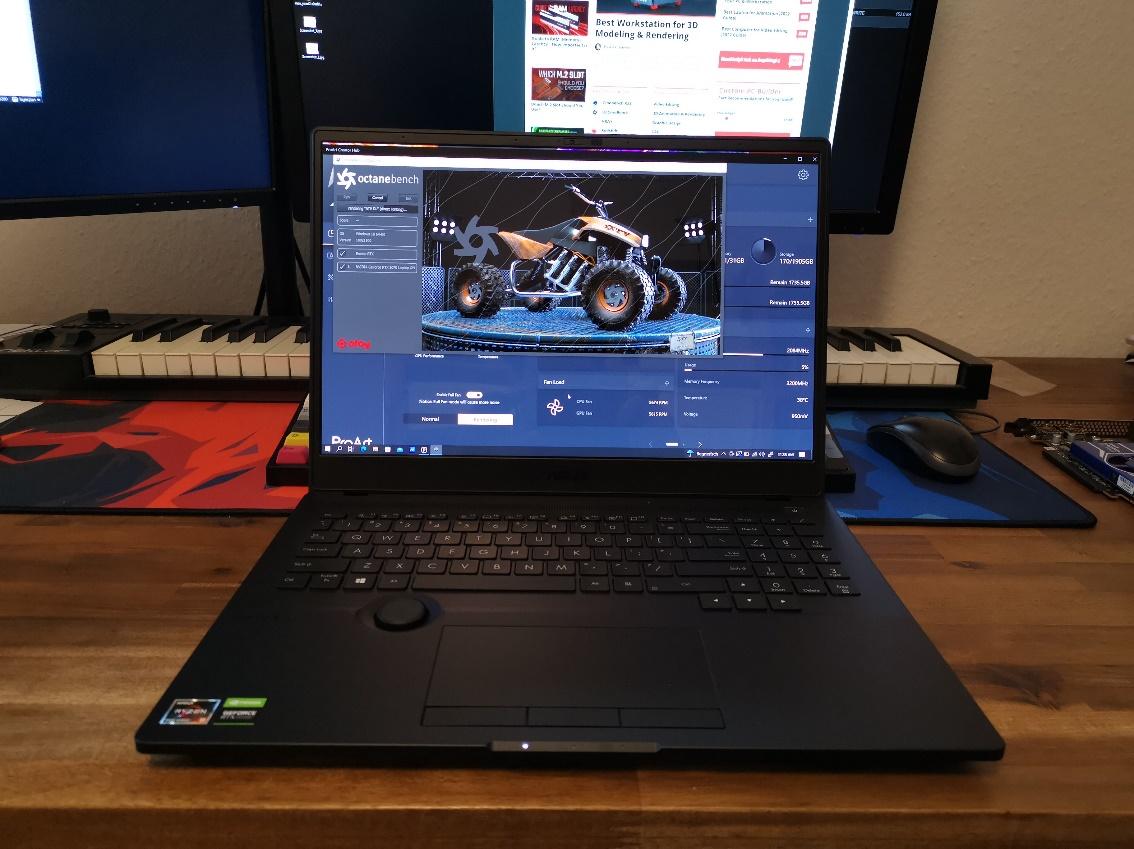 Those reported average scores on Otoy.com are muddied because several RTX 3070 laptop GPUs at max power also show up as the same GPU. The RTX 3070 in a 115-130W power envelope outperforms an 80-95W RTX 3070 by an entire performance tier. But yes, both those GPUs are still officially called an RTX 3070.
Sidenote – It's a shame that both these GPUs are somehow called 'RTX 3070's, and customers have to wade through a boatload of technical specifications and reviews to find what GPU performance they'll get. Thankfully, ASUS clearly lists the power envelope on the laptop's specifications page. Anyway, I digress. Back to benchmarks!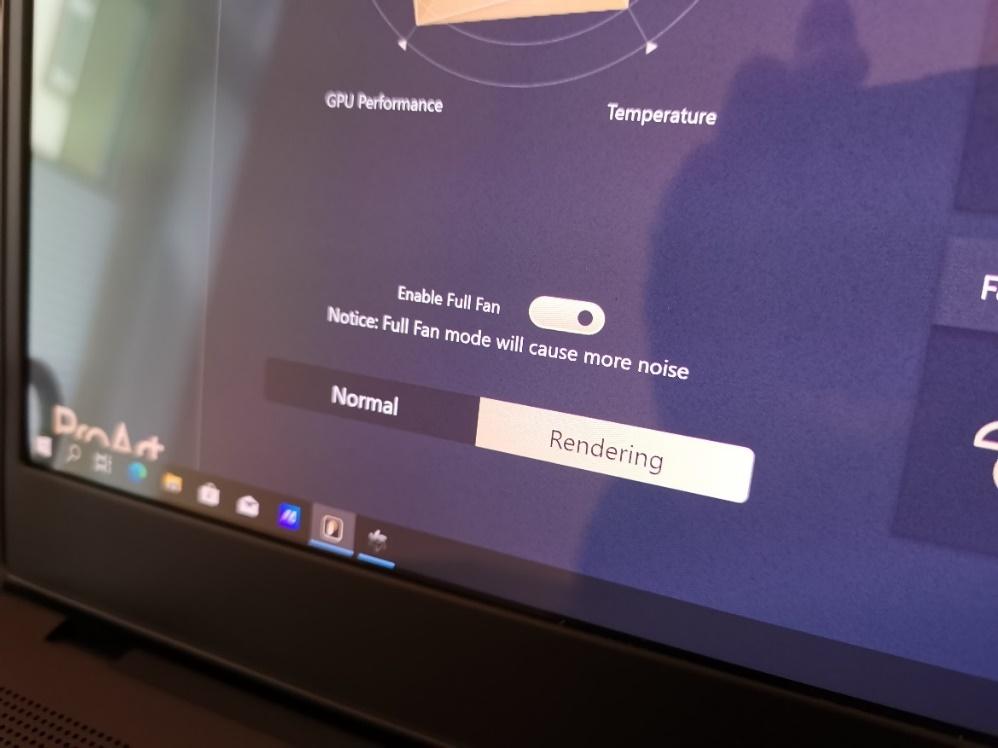 If you're plugged in and don't mind the fan going full-tilt, Full (Max) Fan mode does help improve performance. However, I'd recommend Auto Fan for most users as the performance uplift isn't significant enough to warrant that much extra noise.
On battery, it's painstakingly slow and certainly not usable from a rendering point of view.
Cinebench R23 – Single and Multi
While the single-core Cinebench score indicates how well a processor will handle complex scenes and geometry within a viewport, the multi-core score reveals its rendering prowess.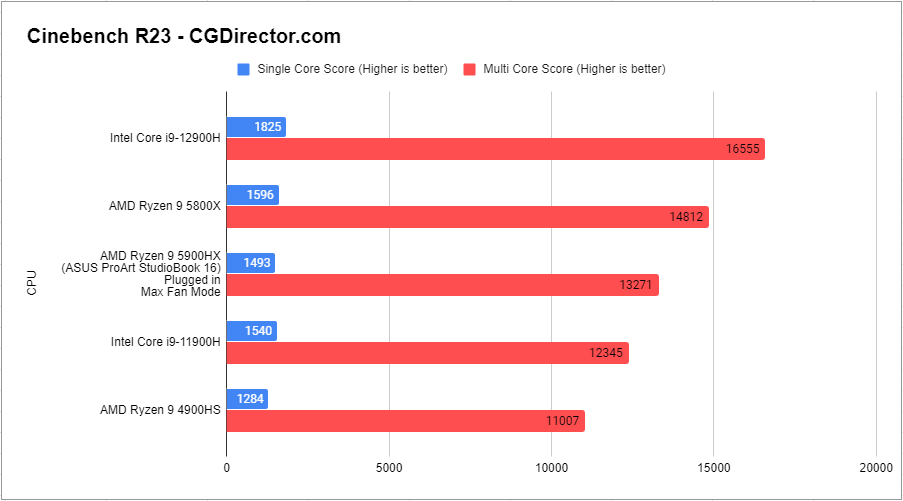 A quick look at the numbers shows that while the AMD Ryzen 9 5900HX is no slouch, it doesn't boast class-leading performance anymore. Instead, Intel's 12th Generation top-tier 12900H laptop CPU convincingly outpaces its AMD competitor's multi- and single-core scores.
Even so, take a closer look at the scores here!
The Ryzen 9 5900HX offers similar performance to an Intel Core i7 10700K or Ryzen 7 3800X (desktop CPUs) to put these performance numbers into perspective. Also, the best AMD laptop CPUs you could buy just a few years ago boasted a paltry Cinebench R23 multi-core score of just 2586.
Now, desktop-class performance in laptops has become much more accessible, and the ASUS ProArt Studiobook offers it in spades.
Even at this performance level, multiple CPU renders didn't cause overheating, thermal throttling, or crashes. It's impressive how far laptop performance has come in the past few years.
If you're looking for a render workhorse that you can carry around, the ProArt Studiobook 16 is a great option. It can also handle a variety of viewport workloads without running into significant performance limitations.
Keep in mind that it's still no desktop workstation. Also, it now has last-gen hardware when it comes to CPUs. Both Intel and AMD have released newer mobile processors that easily outperform even the Ryzen 9 5900HX.
But it's close enough if you absolutely need the upside of portability.
V-RAY Benchmarks
Thanks to the Nvidia RTX GPU and 8-core, 16-thread AMD CPU, the ASUS ProArt Studiobook 16 offers excellent V-RAY performance across the board. So whether you need CUDA, Ray acceleration, or plain 'ol CPU rendering, it can handle it with ease.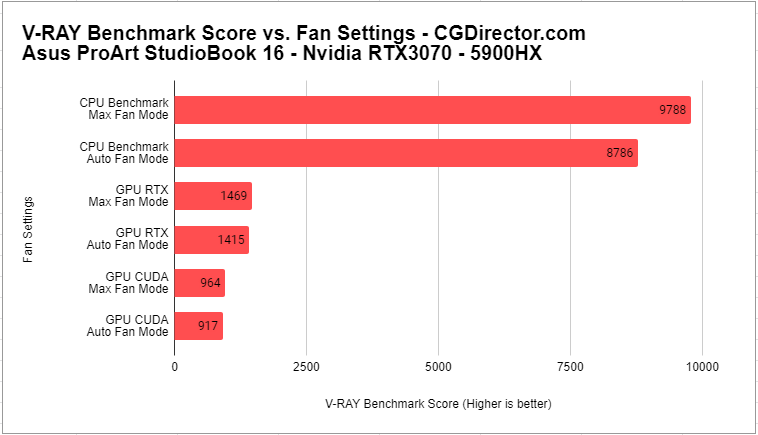 Although the GPU-related render performance doesn't change too much if you switch from Max Fan to Auto Fan, CPU performance is a different story. You can get nearly 10% additional performance if you're rendering using the CPU or running complex simulations with fans at Max.
The RTX 3070 in the Studiobook 16 again seems to perform worse than average scores for this GPU in other laptops (1794) in the public V-Ray database. It's probably the same story as Octanebench –RTX 3070 Laptop GPUs with max power have muddied those numbers.
Getting this kind of performance on a laptop is a boon to professionals who need to get work done without being tied down to a desktop workstation. For reference, the best last-gen desktop GPU, the Nvidia GeForce RTX 2080 Ti, managed a score of 1455!
Blender BMW Benchmark
If you absolutely must use a laptop for Blender, the Studiobook 16 is an excellent option. While Nvidia's RTX presence ensures great Optix and CUDA performance, AMD's Ryzen 9 5900HX is more than up to handling CPU renders too.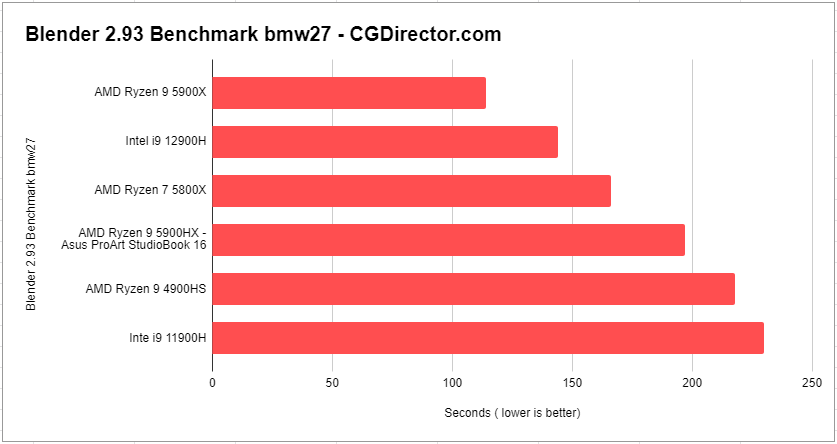 However, this last-gen AMD CPU is starting to trail Intel's newest offerings by a significant margin. Just check out that Intel Core i9 12900H laptop CPU beating out a desktop Ryzen 7 5800X in this workload!
Adobe Photoshop, Premiere Pro, and After Effects: PugetBench
Adobe Photoshop performance doesn't usually change too much according to the hardware used. The ProArt Studiobook 16 sits firmly in the middle of the pack of laptops offering similar CPUs and GPUs.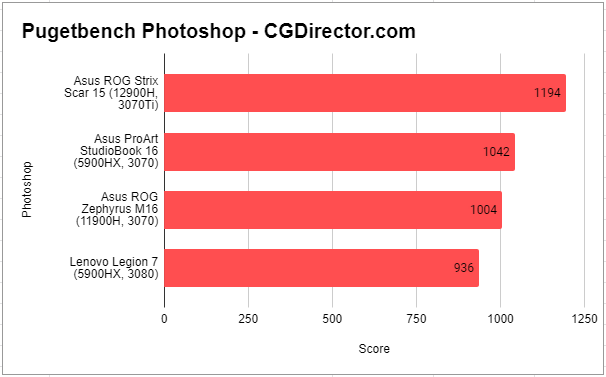 The ASUS ROG Strix Scar 15 sporting Intel's 12th generation 12900H is a far better choice for Photoshop. But we can't just pick the best hardware available when it comes to laptops, and the ProArt Studiobook 16's creator-focused features like a factory-calibrated display will come in handy for professionals.
In Adobe After Effects, there's a massive gulf between the performance offered by the ProArt Studiobook 16 with the Ryzen 9 5900HX vs. the ROG Strix Scan 15 with the Intel Core i9 12900H.
I know I just said that you shouldn't only consider hardware when buying laptops, but this big a difference does warrant consideration. To be clear, that's close to 38% more performance!
It's a similar story with Premiere Pro as well. Unfortunately, Intel's 12th Gen CPU is too far ahead for me to recommend this laptop primarily for Premiere Pro (or, in general, Adobe) workloads.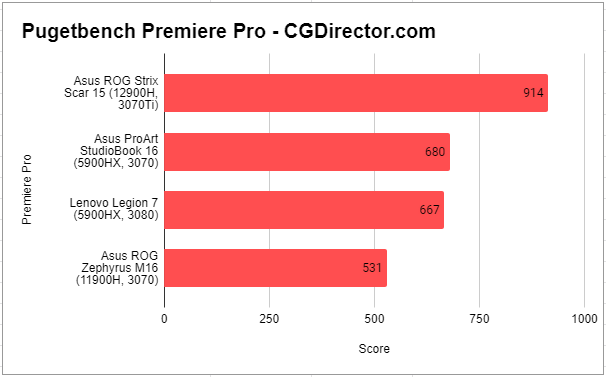 Upgradability
The laptop's back is only held together by 10 Philips head screws. Once you have it open, it offers fairly straightforward access to both M.2 slots as well as both RAM slots.
If upgradability factors into your buying decision, the ASUS ProArt Studiobook won't disappoint.
Working on the ASUS ProArt Studiobook 16
Instead of just reviewing the product, Alex decided to use the laptop for a day – integrating it into his 3D and Motion Design work.
As expected from an Nvidia RTX 3070 (even in a laptop), the performance was top-notch. It could handle complex scenes, zoom around the viewport, and even get a few renders done without hassle.
Here's a note from Alex himself –
I was surprised by how well the RTX 3070 performed in such a small form factor. I regularly advise readers on what kind of crazy PSUs, fan setups or blower-style GPUs they need to make their GPU-focused 3D Workstations work, but the Studiobook seems to have it figured out right out of the box.

While working on real-world projects and rendering some frames for client projects, the Nvidia GPU didn't draw crazy amounts of power and steadily delivered very close to desktop RTX 2080 ~ RTX 2080Ti performance, without the fans spinning up too much. For a performance boost, the manual ramp-up of the fans is certainly an option, but I wouldn't want to continue working near it at those noise levels.

An interesting possibility is integrating it into your home render farm and supplementing it (especially with GPU prices as high as they were a few weeks ago).

I tested this out when final-rendering a 3D animation at crunch time and was able to squeeze out quite a few extra frames before the deadline. For this task, I set the fans to Max because I just couldn't risk a crash in the middle of a render. To my surprise, the RTX 3070 in this laptop integrated into my render farm and chugged through hours of overnight renders without any issues even during this sustained workload.
Although hardware-wise this laptop didn't leave him wanting more, it was still almost impossible for Alex to be efficient in the true sense of the word — compared to a desktop workstation setup.
When you're working on a scene, you'll often switch back and forth between references, look for textures, adjust materials, add layers, adjust lighting, and switch back and forth between compositing, editing, rendering, and texture packing apps. Professional workflows like Alex's require significant screen real estate, which is a physical impossibility on a laptop.
Also, since the laptop felt bulky enough, it wouldn't be his first choice when he's traveling. If you're not going to get work done efficiently anyway (because of a lack of screen real estate and proper input devices), you might as well bite the bullet and opt for a thin and light laptop that at least offers the upside of excellent portability.
Verdict: To Buy or Not to Buy
ASUS has readied quite a compelling package indeed. A powerful mobile CPU from AMD, an incredible laptop GPU from Nvidia, a 100% DCI-P3 4K OLED screen, reasonable portability, and a sleek look, do tick several boxes for professionals who need a portable workstation.
You could even forgive its 2.4 Kg (5.29 lbs) weight when considering the hardware it packs inside.
But for those who need uncompromising portability, anything over 2 Kg is too much to lug around. What's more, a few competitors (including a couple from ASUS' own stable) have lighter options with similar or more powerful hardware.
That said, this won't matter too much to professionals who need a movable workstation that'll spend most of its time sitting on different desks.
Here's what Alex has to say about this:
The fact that we're going so far as comparing the Studiobook to Desktop Workstations already is a win for the Laptop in itself. Yes, it falls short in a lot of areas that separate professionals from highly efficient professionals, but those areas all have to do with available size- and weight-constraints (more Monitors, Mouse, Keyboard, larger case, more weight) that it can't breach without loosing the Laptop form-factor.
Yes, you could opt for an even higher tier of GPU, but this creator-focused product ticks too many boxes for us to write it off just because it doesn't offer an RTX 3080. The RTX 3070 sitting inside the Studiobook 16 is more than capable of handling most creative tasks.
Now, the CPU. Of course, the AMD Ryzen 9 5900HX is an impressive processor. However, with the launch of Ryzen 6000 mobile parts and Intel's 12th Gen CPUs, the Ryzen 9 5900HX is just falling behind.
If you're heavily reliant on CPU-related workloads like renders or flicking through complex scenes in 3D viewports, I'd recommend hunting for a laptop with current-gen CPUs. They'll give you far better performance at a better price.
All said and done, can the Studiobook 16 REPLACE a desktop workstation?
No way.
If you need a laptop and want to handle GPU-accelerated or even ray-accelerated workloads, the ASUS ProArt Studiobook 16 is great. For these kinds of workloads it gets our recommendation: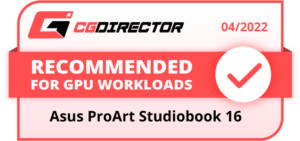 But if you want to get professional 3D work done without compromising on efficiency, you need a proper setup with multiple monitors and even multiple GPUs for rendering, etc. —
Build a desktop workstation!
Over to you
Are you thinking of buying the Asus ProArt 16 Studiobook, or do you think there are better options out there in April 2022? Let us know in the comments!