In the battle between ASUS and Gigabyte Motherboards, who comes out on top?
Today, I'll be breaking down the brand tendencies for both ASUS and Gigabyte motherboards to compare their product stacks and make the right brand recommendation for your needs.
Feel free to use the Table of Contents to skip around, or go ahead and get started reading as we dive right in!
Introducing ASUS
ASUS, also known as ASUSTek, is one of the largest PC hardware manufacturers in the world.
Founded in 1989 and spreading its dominance across the world of PC hardware and peripherals, ASUS has been a mainstay PC brand for decades.
ASUS manufactures an incredibly wide variety of PC hardware due to the sheer size and scope of its company and resources.
The main focus for this article will be their motherboards but don't be surprised if you see ASUS on the names of monitors, GPUs, and laptops as well.
Introducing Gigabyte
Gigabyte, also known as Gigabyte Technology, is another well-known PC hardware manufacturer with their hands in many a basket.
Gigabyte was founded back in 1986 and has been a mainstay of the PC hardware space ever since, expanding into laptops, monitors, peripherals… you get the idea.
Gigabyte's biggest moneymaker is actually their motherboards, which are advertised for high durability even on the lower-end of the product stack.
More on those in a bit!
Are ASUS Motherboards Good?
Generally speaking, yes. ASUS is a well-known brand that is generally considered to build reliable and functional motherboards.
However, exactly how good an ASUS motherboard is shouldn't be considered in isolation.
Options from competitors like Gigabyte may make ASUS look better or worse in a given price range.
I'll discuss how situations like this break down in the "Brands Compared" section.
Are Gigabyte Motherboards Good?
Yes, Gigabyte is a well-known brand for providing durable and reliable motherboards.
Like in the above section, though, this shouldn't be said without an important disclaimer about competition.
Really, the same applies to almost any top manufacturer or brand: even if their product stack is generally good, exactly how good a specific product is will depend heavily on the competition.
That's really what this article is about: pitting ASUS and Gigabyte against each other in a motherboard manufacturer head-to-head.
With all our setup out of the way, let's dive right into that comparison!
ASUS vs Gigabyte Motherboards: Brands Compared
Before We Proceed, A Quick Disclaimer
While we can talk about general habits and look at current motherboards on the market, the truth is that motherboards are complex pieces of machinery with varying degrees of failure rate per board, not necessarily per brand.
Be sure to look into the specific warranty policies and reviews of people who bought the motherboard you're considering, and not just make a purchase based on brand or series name alone.
Additionally, your experience with a motherboard brand may vary depending on your region's customer support.
An example given to me by CGDirector's Motherboard expert Jerry was his contrasting experiences with Gigabyte US and Gigabyte India.
When trying to do an RMA, Gigabyte US actually provided a much worse experience than Gigabyte India (which was smooth) for Jerry.
The independence of regional hardware sellers and manufacturers means you can have different experiences brand-to-brand, country-to-country.
Be sure to consider this for your region (e.g. look into user reviews on country-specific platforms), and consider commenting on your experiences below!
ASUS vs Gigabyte Motherboards: Lineup and Price
First, let's talk about how these brands fare in Price For Performance.
Generally, both brands tend to do fairly well when it comes to Price For Performance across various price ranges.
Since both motherboard manufacturers make boards at various budget ranges, the crown in a given price range can change hands frequently depending on market conditions and your location.
To generalize, though, I'd start by looking at both companies' motherboard lineups:
ASUS has the following major motherboard series:
Business — Low-cost, business-focused motherboards with minimal cosmetic frills but some enterprise features.
CSM — Corporate Stable Model. Mid-range motherboards aimed at business and corporate users with some added aesthetic frills and features, like NVMe support.
PRIME — High-end motherboards intended for tweakers and overclockers.
TUF — ASUS' budget gaming hardware brand, including motherboards.
ProArt — ASUS' artist and creator-focused hardware brand, including motherboards.
ROG — ASUS high-end gaming hardware brand, including motherboards. Offers higher-end gaming features like improved overclocking and multiple NVMe drives.
Workstation — Fairly high-end workstation motherboards aimed squarely at professionals.
Gigabyte has the following major motherboard series:
Ultra Durable — Starting budget range of Gigabyte motherboards, prided on durability.
Gaming — Mid-range Gigabyte motherboards with some Gaming features added on, like added NVMe drive support or high-quality VRMs.
AERO — High-end Creator-focused motherboard series with a dominant white aesthetic.
AORUS — Gigabyte's high-end gaming hardware brand, including gaming motherboards. These will have the most gaming-centric features.
Both brands are fairly widespread across the market, but understanding the niches they cover is the first step to finding which has the better pricing for you.
At the time of writing and in the US, for example, ASUS has many more affordable Intel Z690 and Intel Z790 Chipset motherboards available than Gigabyte does. This makes ASUS the cheaper option for Intel CPU overclocking, at least in the current generation.
Pricing conditions may change depending on your area and what products you're comparing between brands, though.
Ultimately, I have to come to a verdict of…
Verdict: It Depends*.
No one's favorite answer, but motherboards' many market niches and the global spread of their manufacturers make a straightforward answer complicated.
You'll need to assess what motherboards are of interest to you from each brand (or what features you need), and compare price points from there.
*ASUS definitely has a wider product stack, though. I'd generally say that ASUS pricing is better for Intel, and Gigabyte pricing is better for AMD.
ASUS vs Gigabyte Motherboards: Warranty
Now, let's discuss the Warranty Policy!
A motherboard's warranty policy is one of the most important things you'll want to consider before buying a motherboard.
Most motherboards will run perfectly fine for 5-10 years without issue, but if they do have severe issues, it's easy to have those issues crop up within the first few years of owning them. (Especially if you're overclocking or using high-end hardware.)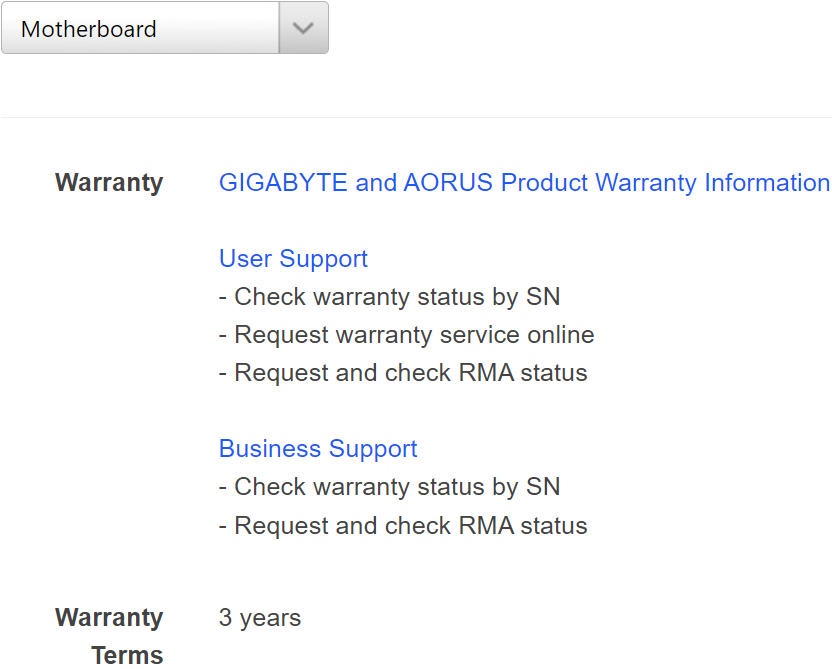 The official Gigabyte motherboard warranty policy is a flat 3 years for all motherboard series.

Most of ASUS' motherboard warranty policies follow the same 3 Year drum beat, except tinker and mining boards with warranties of 1 year or less.
Some TUF boards will also have 5 Year warranties, but most TUF and ROG Gaming boards have a 3 Year Warranty like the others.
Verdict: Tied, Winner Depends On Your Region's RMA Support Team
Be sure to check country-specific user reviews that comment on the handling of RMA.
ASUS vs Gigabyte Motherboards: Form Factor Support
Overall, ASUS and Gigabyte are both great at supporting the three core form factors— ATX, Micro ATX, and Mini ITX— across most of their motherboard series.
In a direct comparison of form factors in current-gen chipsets:
| | ASUS 700 Series Intel | ASUS AM5 AMD | Gigabyte 700 Series Intel | Gigabyte AM5 AMD |
| --- | --- | --- | --- | --- |
| E-ATX | 1 | 1 | 1 | 2 |
| ATX | 13 | 18 | 5 | 7 |
| Micro ATX | 1 | 6 | 0 | 3 |
| Mini ITX | 1 | 2 | 0 | 0 |
| Total | 16 | 27 | 6 | 12 |
With this in mind, the only fair verdict seems to be a…
Verdict: ASUS for their larger variety of choice
ASUS vs Gigabyte Motherboards: Overclockability
ASUS and Gigabyte both provide many motherboards with support for CPU overclocking, and continue competing into the high-end with their higher-end gaming brands.
When CPU overclocking is introduced to the equation, ASUS seems to provide much cheaper overclocking-capable boards than competing options from Gigabyte.
However, at least with current-generation chips, Gigabyte seems to be doing better with overclocking performance as you move into the high-end. Once you're spending $300 and more, either brand will serve you perfectly fine.
To conclude, I'd say..
Verdict: ASUS For Entry and Mid-Range OC Pricing, Gigabyte For Overclocking Performance In High-End CPU Overclocking Boards
ASUS vs Gigabyte Motherboards: Conclusion
So…in this battle between motherboard titans, who comes out on top?
Verdict: Like Always, It Depends.
Both Brands have great offerings and the following variables may tip the scale into ASUS's or Gigabyte's favor depending on:
The country you're buying from and its RMA policy / quality
The form-factor you're eyeing and if there are available offerings for your use-case
Whether you're going AMD or Intel for your build
The Motherboard gen you're buying
Mostly, these brands are fairly competitive across the motherboard market.
Asus certainly has a wider product stack with more options to choose from, especially for Mini ITX and Micro ATX builds.
In terms of who wins the price for performance war, the division seems to come down to CPU brand.
On the latest gen of Intel CPUs, ASUS is providing a much wider spread of budget and mid-range friendly motherboards, even providing overclocking at a much cheaper price point than the cheapest OC-capable Gigabyte boards.
The opposite seems to be the case with AMD CPUs, though, likely due to fewer chipset restrictions on overclocking in that product stack.
Meanwhile, if your main focus is pursuing high-end PC gaming, high-end gaming boards from either brand can be fairly compelling.
I'd recommend Gigabyte's AORUS Extreme or ASUS' ROG Series for this use case.
The other ASUS boards are no performance slouch either, especially if you're doing things with your PC that aren't gaming.
ASUS' Creator and Workstation-oriented boards provide astounding improvements to things like multi-GPU performance, Thunderbolt support, or running multiple NVMe M.2 SSDs.
There are no real reasons to pick or avoid one brand over the other. Both ASUS and Gigabyte have become on par in manufacturing quality motherboards. ASUS certainly is the bigger company with a broader variety of boards to choose from, but this doesn't mean that the few boards Gigabyte offers in comparison are any less well done.
My recommendation: Hone in on the particular market segment you're looking to buy into (form-factor, chipset, CPU, feature-set) and then dive into real reviews of the few boards your choice will narrow down to. Set the brand aside.
FAQ
Are ASUS and Gigabyte The Same Company?
No, but they were involved in a joint venture for the manufacturing of Gigabyte's motherboards and GPUs back in 2006.
ASUS and Gigabyte still made their own independent, competing motherboard and GPU designs— the companies were simply pooling resources.
This deal didn't last long, though. Early in 2007, the deal was called off entirely, but to this day there remains some confusion about ASUS and Gigabyte continuing their joint venture. This is not helped by some pages still listing it as an active venture rather than a deal that fell through.
What are motherboards made of?
If we're talking raw materials, most of what goes into a motherboard is fiberglass and copper. Of course, the full story is a lot more complicated than that.
Motherboards are made with many components and essentially serve as the spinal cord/nervous system of your entire PC since all your hardware communicates through the motherboard.
If you want to learn more about specific motherboard components and how they may impact your experience, consider heading over to my dedicated What Motherboards Are Made Of guide!
Do motherboards impact PC performance?
Absolutely!
A wide variety of motherboard specifications can directly impact your performance, as covered in detail by Alex in his Motherboard Performance Impact Guide. I recommend checking that one out for a quick overview of ways motherboards can impact your performance.
If you're an overclocker though, I'd say the most important thing for you to understand is the nature of motherboard VRMs.
The quality of a motherboard's VRMs also determines the best possible overclock you can achieve on that board, with better VRMs improving both maximum OC and general boost clock performance.
Consider my full Guide to Motherboard VRMs if you want to learn more about this oft-underlooked component!
What are the best motherboard brands?
While I've spent a great deal of this article throwing ASUS and Gigabyte at each other for bloody no-holds-barred brand combat, they aren't actually the only two gorillas in the ring.
There are plenty of great motherboard brands, and Jerry has already written a great Motherboard Brands roundup if you want to learn more about them!
Over to You
And that's it, at least for now!
I hope that this article was enlightening and helped give a little more insight into the showdown between ASUS vs Gigabyte motherboards and which might be better for your needs!
Feel free to sound off in the comments below with your own opinions and experiences with these brands, or ask any other PC hardware questions you might have!
Alternatively, you can also head over to the CGDirector Forums to interact with the rest of the CGDirector team and community. They should be happy to help!
Until then or until next time, though, have a good one! And don't forget: always check reputable reviews for the motherboard you're buying, not just the brand!