After numerous delays, motherboards with the B550 chipset for AMD processors have finally started popping up on the market. Were they worth the wait?
Yes, for some, no for others. They do shake up a considerable portion of the motherboard segment, but many of them are priced way too close to pretty excellent X570 motherboard options to make them worth it.
So, this time, instead of listing just the B550 motherboard recommendations, I'll add recommended X570 alternatives (if there are any) as well so you can check them both out.
B550 Motherboard Overview
Recommended B550
Motherboard
Recommended X570 Alternative
at a similar Price
Best B550 Motherboard Under $100
Gigabyte B550M DS3H (M-ATX)
-
Best B550 Motherboards Under $150
Gigabyte B550M Aorus Pro (M-ATX)
MSI B550-A Pro (ATX)
-
Best Mid-Range Value ($150-180)
MSI B550 Tomahawk (ATX)
Gigabyte B550 Aorus Pro (ATX)
MSI MAG X570 Tomahawk Wi-Fi (ATX)
Best Premium B550 Motherboards
ASUS B550-F Gaming (ATX)
MSI B550 Gaming Edge Wi-Fi
MSI MAG X570 Tomahawk Wi-Fi (ATX)
Best Premium B550 Motherboards
For Professionals
Gigabyte B550 Vision D (ATX)
MSI X570 Tomahawk Wi-Fi (ATX) /
MSI X570 Unify
Best $261 and Above
Gigabyte B550 Aorus Master (ATX)
ASRock B550 Taichi (ATX)
MSI X570 Unify (ATX)
A Bit of History: B350 to B550
When AMD first announced Ryzen, most motherboard partners seemed skeptical as they'd likely heard all the tall marketing claims before. This sentiment certainly showed in the motherboards they launched too – they lacked high-end features and components that remained exclusive to Intel motherboards.
Well, let's face it, at the mid to higher-end of the market at the time, that was what people bought.
With the launch of B550, you can see motherboard partners start to recognize AMD as THE option for the mid-range market (not just budget, but the premium segment as well).
They offer excellent VRMs, up to 8-layer PCBs, thicker copper traces, dual LAN, Wi-Fi 6, and so much more on a mainstream platform now. It really shows how far AMD has come when it comes to this particular market segment.
Here are a couple of the most premium B350 motherboards that launched with Ryzen 1st Generation:
Gigabyte AB350 Gaming 3 and MSI B350 Gaming Pro Carbon.
And now, here are top and mid-tier B550 motherboards launched this time:
Gigabyte B550 Aorus Master and MSI B550 Gaming Pro Carbon.
Of course, these newer boards do cost more. But the fact that motherboard partners are willing to invest some serious dime to create a more premium mainstream platform bodes well for AMD.
B450 vs. B550: Worth the Upgrade?
The quality of B550 motherboards might be a good sign for AMD processors, but that doesn't mean you should immediately go out and buy one. Considering the prices, features, and many other things to decide whether to buy or not to buy was a bit more complicated than expected.
Many anticipated the B550 motherboards to replace the B450 lineup of motherboards. However, the launch has shaped up more like a replacement for both higher-end B450 boards as well as lower-end X570 motherboards.
If you're already on a B450 or an X570 motherboard and don't need access to the features on offer here (on B550), I would just skip this launch altogether.
But if you're on an A320 motherboard or are building a new system, the B550 lineup does offer something to many buyers in a certain price bracket.
B550 vs. X570: How Much of a Downgrade?
Here's where the problems begin. Even though the X570 chipset is superior to both the B550 and B450, many low-end X570 motherboards are stripped down of features.
Here are the technical differences between these chipsets:

| Chipset | B450 | B550 | X570 |
| --- | --- | --- | --- |
| Official Processor Support (subject to change) | Zen 2 (Ryzen 3000) | Zen 3 (Ryzen 4000) | Zen 3 (Ryzen 4000) |
| CPU - Chipset Uplink lanes | PCI-E 3.0 (x4) | PCI-E 3.0 (x4) | PCI-E 4.0 (x4) |
| Usable PCI-E 4.0 Lanes | 0 | 0 | 16 |
| Usable PCI-E 3.0 Lanes | 0 | 10 | 0 |
| Usable PCI-E 2.0 Lanes | 6 | 0 | 0 |
| USB 3.2 (Gen 2/Gen 1) | 2/2 | 2/2 | 8/0 |
| SATA (6Gbps) | 2 | 4 | 4 |
So, now it comes down to picking what's more relevant to you
. If your workload even remotely involves the use of high-speed storage (PCI-E 4.0 SSDs/multiple NVMe SSDs) and/or multiple GPUs,
skip B550
.
Here, by use, I mean that you're actively transferring large raw files across drives from time to time or using multi-GPU setups for rendering.
Even though gamers won't notice any difference in their experience if they give up on a few X570 chipset features in return for a few premium motherboard features, some top-tier B550 motherboards don't make much sense from a pure value perspective.
For example, at $280, you can buy the B550 Aorus Master from Gigabyte. A motherboard with the build quality and VRM components taken directly from one of the best X570 motherboards they offer (Aorus Extreme, priced at $700).
It's overkill, no doubt about it. But having an option is always neat. But if you spend just an additional $20, you can get yourself the MSI X570 Unify – one of the best motherboards in the X570 product stack for professionals and heavy use.
The price range between $130-260 is really where B550 boards shine and offer the most value.
Those looking for ultra-budget options are going to be disappointed, honestly. The motherboards at the very bottom end of the stack are pricier (than their B450 counterparts) and frankly aren't worth the premium.
I'm going to assume that B450 motherboards are no longer available at reasonable prices for the purpose of this article. Nonetheless, our B450 recommendations from previous articles do still stand if you can grab them for sub-$100 prices.
Note – Official support for Zen 3 (Ryzen 4000) from AMD's side is only for B550 and X570. However, motherboard manufacturers can choose to allow B450 motherboards to support them with a Beta BIOS as well. As of now (10th July 2020), only MSI has confirmed that they will be supporting Zen 3 on many of their B450 motherboards.
Factors Considered for Picking the Best B550 Motherboards
VRM Thermals and Power Delivery: Although even the Ryzen 9 3950x doesn't pull a lot of power, getting the best you can for your money still makes sense. Most B550 motherboards will be able to handle future upgrades without requiring a motherboard upgrade, no problem.
PCI-E Lane Configuration: Due to the B550 chipset's limited number of lanes, there are certain compromises manufacturers have had to make. If a somewhat equivalent (feature-wise) X570 motherboard exists at a similar price, I don't see a point in opting for the B550 instead.
Rear I/O: A $200 motherboard's back panel shouldn't look scant. Although you might not need too many USB ports, dual LAN, Wi-Fi, etc. right now, you might need them in the future. If a motherboard option does exist that doesn't compromise on this, no reason not to give it preference.
Memory Overclocking: Ryzen's Infinity Fabric benefits from faster memory (up to 3733). So, motherboards that have an extensive QVL for the most commonly-available speeds would be safer choices for memory kits in most regions.
X570 Motherboards: Since so many of the B550 motherboards find themselves going toe-to-toe with X570 motherboards when it comes to price, it makes sense to factor them in at those price ranges too. Yes, the chipset fan does bother some people. But unless you're maxing out the chipset lanes completely, the fans barely even spin up.
Due to the differences in lane distribution and sharing, this time around, I'll be adding a sub-section about the PCI-E slots and M.2 slot for every B550 motherboard below.
PCIe Lanes Explained: What do x1, x4, x8, and x16 Mean?
On motherboard spec sheets, you might have come across numbers along with slots like – PCIe 3.0 x4 or PCIe 4.0 x16.
Here's an image that shows the various PCIe slot sizes: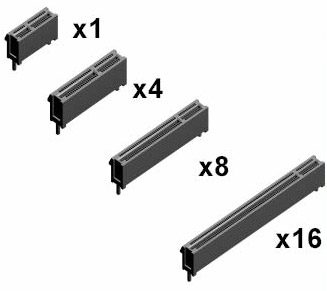 The x8 slot is very uncommon on mainstream motherboards, and you'll mostly only encounter x16, x4, and x1 slot sizes when shopping for a motherboard. However, the number after an x can denote both the SIZE of the PCIe slot and the NUMBER of data lanes connected to that slot.
For example, it's possible to have a PCIe x16 slot that supports only x4 speeds. Here, the size of the PCIe slot is full length (x16), but the bandwidth available for data movement is limited to only 4 lanes (x4).
Each 'lane' indicates an active data path that can be used to send and receive data. So, the higher the number of lanes available, the higher the amount of data you can send at once. In short, an x8 speed slot will have half the bandwidth available to an x16 slot.
Graphics card slots (top PCIe slots on most motherboards) usually have plenty of bandwidth with a 16-lane connection to the CPU. However, secondary slots will vary in speed and lane width – especially with mainstream platforms that have a limited number of available lanes.
Lane bifurcation is a relatively pricey feature that motherboard manufacturers implement to get more flexibility. For example, an x16 PCIe slot connected to the CPU can be split into two (x8/x8) slots to allow you to run multiple GPUs without taking a performance hit and being forced to go through the chipset.
Best Budget B550 Motherboards Under $150
The budget lineup of B550 motherboards does offer a substantial upgrade over their B450 counterparts. However, it does come with a price bump as well. If you're shopping in this price region, I'd recommend going for the M-ATX motherboard instead of the ATX option because they frankly offer quite incredible value.
Note – If you're looking for sub-$100 B550 motherboards to run lower-core-count Ryzen CPUs, I'd recommend the Gigabyte B550M DS3H ($94). Any good B450 motherboard will do too if you're not worried about future compatibility. However, I wouldn't recommend going this route for professional work that will require extended loads on the CPU or GPU or both.
Coming in at an MSRP of $129, the B550 M Aorus Pro is hands-down one of the best value motherboards you can buy if you're okay with an M-ATX motherboard. It just doesn't have a viable competitor in either the X570 or the B450 product lineup.
Source – Gigabyte
One of the few downsides to this motherboard is that it's a bit cramped because of its form factor. The board layout image below will make this clearer. The power delivery components are reliable, and you shouldn't have a hard time even powering a Ryzen 9 3950X someday. But for creator workloads, I'd skip this price tier altogether.
The second M.2 slot, as well as the second PCI-E slot, sits uncomfortably close to the primary PCI-E slot of the motherboard. That said, this won't affect those who aren't running a very powerful GPU at load for extended durations. Since typical axial/open-air GPU coolers will exhaust heat from the top and bottom of the card, an M.2 device directly under the graphics card (especially one without a heatsink) doesn't bode well for long-term performance.
However, at this price point and with the features this motherboard offers, it's really something you can discount if you aren't looking to do professional, compute, and graphics-heavy work.
The motherboard also just has 4 SATA ports, so if you need more extensibility than what this M-ATX board can offer, go for another option down the list.
The rear I/O on the B550M Aorus Pro is pretty decent, and I really have no complaints. There are plenty of USB ports; it also comes with a USB Type-C slot to connect newer, faster devices.
High-speed networking (above 1Gbe) isn't available at this price tier, and if you want faster LAN, I'd recommend shopping at a higher price tier. But if you're specifically hunting for an M-ATX motherboard to use in a compact build, I'd definitely opt for this one.
Slot Configuration:
Top M.2 – PCIe 4.0 x4
Second M.2 (Bottom) – PCIe 3.0 x4
SATA Ports – 4
Primary PCIe x16 Slot

Supports up to PCIe 4.0 x16

Bottom PCIe Slots

Full-length (x16) supporting PCIe 3.0 x4
PCIe 3.0 x1
If you need a B550 motherboard with an ATX form factor at a budget price point, the MSI B550-A Pro is one of the best options you have at below $150.
Although this motherboard starts to encroach upon prices of some cheaper X570 motherboards, they aren't perfect and are relatively worse value-for-money compared to this board from MSI.
The VRMs have been improved quite a bit compared to the X570 variant offered by MSI at around this price and should perform much better even under extended loads. Nonetheless, I'd keep the 16-core Ryzen 9 3950X away from this particular board if you need to run render workloads.
[1] Being an ATX motherboard, it does have the edge over the B550M Aorus Pro, when it comes to slot layout. The second PCIe slot is set quite a bit away from the primary slot, and there's no M.2 slot sitting right under the primary slot.
However, there is a catch. If you install a device in the bottom M.2 slot, the bottom full-length PCIe slot will remain disabled as they share lanes.
If you were considering lower-end X570 motherboards, the B550-A Pro is undoubtedly an excellent option. The budget X570 motherboards don't use the full power of the chipset, and their lane configuration ends up being somewhat like the configuration offered on this B550 motherboard.
There's really no good reason to go for the X570 at this price point unless you're running multiple PCIe add-in cards.
Slot Configuration:
Top M.2 – PCIe 4.0 x4
Second M.2 (Bottom) [1] – PCIe 3.0 x4
SATA Ports – 6
Primary PCIe x16 Slot

Supports up to PCIe 4.0 x16

Bottom PCI-E Slots [1]

Full-length (x16) supporting PCIe 3.0 x4
2x PCIe 3.0 x1
Best Mid-Range B550 Motherboards Under $180
Bear in mind, most B550 motherboards in this category should be just fine for most Ryzen processors. At around this price point, these motherboards do come uncomfortably close to MSI's newly-launched X570 Tomahawk, the ASUS X570 TUF Gaming Plus, and the Gigabyte X570 Aorus Elite; I will be comparing them against these X570 options.
MSI's Tomahawk has remained a permanent member of many best value motherboard recommendation lists for a good reason, and I'm happy to say that the B550 release doesn't change this in the slightest.
The price bump (MSRP $179) is significant when compared to the B450 Tomahawk (MSRP $110). However, the upgrade is substantial as well, so it gives users another viable option if they were planning to go with an X570 in this price range or a slightly-cheaper B450 motherboard.
At the $180 price point, the Tomahawk is directly competing against the value X570 recommendations like the X570 Aorus Elite and the X570 TUF Gaming.
When it comes to power delivery and VRM temperatures, it goes toe-to-toe with more premium X570 offerings – flat out beating lower end motherboards. Here's some data from Hardware Unboxed on YouTube.
Well, power delivery is clearly on point. Let's take a quick look at the motherboard layout to see how it fares against an X570 motherboard in this price tier.
The slot configuration looks pretty standard with no real wonky slot placements that might make intense workloads much harder to run for longer durations of time. Both M.2 slots come with heatshields to ensure that your high-speed storage won't throttle under any kind of workload.
If you're using devices in the second (bottom) M.2 slot as well as the middle PCIe x1 slots, the full-length bottom slot will be unavailable for use, and the M.2 will support a maximum of PCIe 3.0 x2 instead of x4.
When it comes to the rear I/O, the Tomahawk delivers a decent number of USB ports for peripheral connectivity and also comes with dual LAN (!) – a feature that's very rarely seen at this price range.
It offers both Realtek 2.5 Gbe and 1Gbe ports. The availability of BIOS Flashback is reassuring; it's always an outstanding feature to have on a motherboard.
[2] If you're installing devices in the bottom M.2 slot, the first PCIe x1 slot, and the bottom full-length PCIe slot, there are a few limitations: the bottom PCIe full-length slot will be disabled, and the M.2 will only run at PCIe 3.0 x2 speeds.
So, if you're planning to use multiple GPUs or even capture cards along with more than one M.2 storage device, I'd go for a higher tier motherboard rather than living life on the edge.
In fact, the Aorus Pro would be a better choice if you have fewer SATA devices.
The PCIe slot layout of the B550 Tomahawk is pretty identical to the similarly-priced X570 TUF Gaming Plus, with a couple of minor differences:
The second PCIe x16 slot and the x1 slots support PCIe 4.0 x4 and x1 on the X570 TUF board while the B550 Tomahawk supports only PCIe 3.0 x4 and x1. This is a factor only if you plan to use an add-in card (like the ASUS Hyper M.2 X16 PCIe 4.0 X4 Expansion Card) to expand your high-speed storage way past what's available on the motherboard.
The X570 TUF's second (bottom) M.2 slot supports PCIe 4.0 x4, while the Tomahawk is limited to PCIe 3.0 x4.
If neither of the above downsides will affect your work, I'd recommend sticking to the B550 Tomahawk or the Gigabyte B550 Aorus Pro when shopping at this price. That said, the X570 Tomahawk is priced just $20 above the cost of these motherboards. You lose dual LAN and get Wi-Fi 6, more high-speed USB ports, in addition to PCIe 4.0 across the board.
Slot Configuration:
Top M.2 – PCIe 4.0 x4
Second M.2 (Bottom) – PCIe 3.0 x4 [2]
SATA Ports – 6
Primary PCIe x16 Slot

Supports up to PCIe 4.0 x16

Bottom PCIe Slots [2]

Full-length (x16) supporting PCIe 3.0 x4
2x PCIe 3.0 x1
Note – MSI's B550 Gaming Edge Wi-Fi sits pretty close to the B550 Tomahawk, and comes with Wi-Fi – making it a viable alternative. However, its lane distribution is pretty identical to the B550 Tomahawk, and at this point, it's just better to grab the MSI X570 Tomahawk for an extra $10 to get a better experience.
With an MSRP of $179, Gigabyte's B550 Aorus Pro directly competes with MSI's B550 Tomahawk as well as value X570 picks like the ASUS X570 TUF Gaming.
Most users who simply need a robust platform that can reliably handle a Ryzen 9 3950X somewhere down the line will do well with boards from this price tier. Both motherboards are great choices. Gigabyte hasn't compromised on the VRMs at all, and the Aorus Pro will be able to handle anything you throw at it from a power delivery standpoint.
The motherboard offers 3 full-length PCIe slots, whereas most motherboards in this price class will offer only two. However, this does come with certain caveats as there's really no way to get around chipset limitations.
The addition of the third slot also seems to have necessitated a less than ideal placement for the second M.2. But it does come with a heatsink to reduce/avoid any throttling due to heat. Mind you, this slot placement is only a factor if you're using higher-tier graphics cards, and NVMe drives for professional workloads like long renders.
[3] You can use either the second M.2 slot or the middle full-length PCIe slot because the other gets disabled when one is in use. Moreover, the bottom x16 PCIe shares bandwidth with 3 SATA connectors, and is limited to PCIe 3.0 x2 speeds.
Again, if you're using more than 3 SATA devices, the bottom full-length PCIe slot will remain disabled.
For the most part, the rear I/O is quite substantial; I love the fact that Gigabyte hasn't skimped out on either the number of USB ports or the high-speed 2.5 Gbe networking.
Slot Configuration:
Top M.2 –PCIe 4.0 x4
Second M.2 (Bottom) [3] – PCIe 3.0 x2
SATA Ports – 6 [3]
Primary PCIe x16 Slot

Supports up to PCIe 4.0 x16

Bottom PCIe Slots [3]

Full-length (x16) supporting PCIe 3.0 x4
Full Length (x16) supporting PCIe 3.0 x2
2x PCIe 3.0 x1
How do they compare to X570?
If you're shopping in this price tier, you do have an option of going for the ASUS X570 TUF Gaming Plus. However, being a lower-tiered motherboard, many of the X570 features are cut down, and the extensibility experience would be pretty similar to either of the above B550 motherboards.
On the other hand, if you're willing to spend an extra $20 (and do find one in stock), MSI's X570 Tomahawk does almost everything much better, and also gives you access to built-in Wi-Fi 6.
Moreover, the motherboard won't limit the number of devices you can connect by not disabling ports because you decided to plug in a device to another port on your motherboard.
The additional $20 is entirely worth it, in my opinion – if you can find one in your region, of course.
Best Premium B550 Motherboards (for Most Users)
Although there are a few B550 motherboard options closer to the $230 mark, they end up being costlier than a few decent X570 motherboards like the MSI X570 Tomahawk and Gigabyte's X570 Aorus Pro. If you're able to actually find the X570 Tomahawk, that's by far the best option you can get around this price.
You get most of the features that these B550 motherboards offer, without the disadvantage of sharing lanes between various PCIe slots, M.2 slots, and SATA ports.
There were a couple of contenders in this price bracket, but the fact that ASUS' motherboard comes in at under $200 cinched it for me (MSRP $190). MSI's B550 Gaming Pro Carbon Wi-Fi does fall into this price bracket, but its lane layout seems way too similar to the B550 Tomahawk to warrant a recommendation.
Whether it's the B550-F Gaming from ASUS or the B550 Tomahawk from MSI, the chipset limitations remain an issue. The motherboard layout and lane distribution below will shed more light on this.
[4] When the bottom M.2 slot is in use, two SATA ports will become unavailable on this motherboard. Also, the bottom PCIe full-length slot shares bandwidth with the PCIe x1 slots, so populating them will reduce the full-length slot's speed from x4 to x1.
The lane layout is a bit better on the ASUS B550-F (compared to the B550 Tomahawk) only if you want to connect fewer SATA devices in exchange for using additional M.2 storage as well as the bottom full-length PCIe slot.
For just $10 more, the X570 Tomahawk from MSI is simply a far better value. However, if you can't find one in your region (I've heard this is a problem), and can work with these limitations, the B550-F is a really nice motherboard.
The rear I/O isn't scant, and ASUS has equipped it with plenty of USB ports. Moreover, it also comes with 2.5 Gigabit networking like the motherboards below this price bracket, so you aren't giving up anything by picking the B550-F Gaming over the other boards.
Slot Configuration:
Top M.2 –PCIe 4.0 x4
Second M.2 (Bottom) [4] – PCIe 3.0 x4
SATA Ports – 6 [4]
Primary PCIe x16 Slot

Supports up to PCIe 4.0 x16

Bottom PCIe Slots [4]

Full-length (x16) supporting PCIe 3.0 x4
3x PCIe 3.0 x1
Best Premium B550 Motherboards for Professionals
When we cross the $200 threshold, we're firmly in good X570 motherboard territory patrolled by the X570 Aorus Pro from Gigabyte. However, when we start approaching the $300 mark, you'll encounter the excellent ASRock X570 Taichi as well as the MSI X570 Unify options.
So, if you're shopping for a B550 motherboard in this price bracket, it makes sense to compare them to these X570 motherboards.
When it comes to targeting professionals, Gigabyte's Vision D (previously Designare) series has stayed on point for quite a few motherboard generations now. Thankfully, this trend continues with the B550 lineup as well.
The B550 Vision D brings many features that aren't available on lower-end motherboards and is actually a pretty decent option for even heavy professional work. However, it does come in at a relatively higher price point of $260.
First things first. If you need Thunderbolt 3 support, this is the only motherboard that comes with it – making the Vision D an easy recommendation for those who need this particular functionality.
Gigabyte hasn't taken any chances with the VRM on this motherboard and it is solid. It'll easily handle anything Ryzen has to offer without breaking a sweat!
[5] The B550 Vision D is the cheapest B550 motherboard to boast true lane bifurcation – i.e., the ability to run two GPUs in x8/x8 modes directly connected to the CPU instead of x16 connected to the CPU and x4 connected to the chipset.
While Gigabyte's own X570 Aorus Pro does offer this functionality at a slightly lower price, the B550 Vision D is a compelling choice due to a few of its features.
From dual LAN and Wi-Fi 6 to Thunderbolt 3 support, the B550 Vision D clearly has a lot to offer and can't be written off just because of its chipset.
That said, this doesn't mean you won't need to make a few compromises. Although there are 3 full-length PCIe x16 slots on the motherboard, the bottom slot will remain disabled if you install an M.2 device in the bottom M.2 slot.
The lack of faster LAN is immediately conspicuous with a motherboard aimed at professionals. The Vision D only comes with Dual Gigabit LAN (Intel) and doesn't include a speedier solution.
However, this seems like one of the compromises Gigabyte had to make to add a few other features that other manufacturers couldn't.
There are plenty of USB ports in addition to the two USB Type-C ports that support Thunderbolt.
The MSI X570 Unify is a solid choice if another $40 is within your budget. You get an additional M.2 slot and the ability to run devices off the third PCIe slot while all M.2 slots are populated, no problem. Moreover, you get access to both 2.5 Gigabit Intel LAN and Wi-Fi 6 as well. At $259, you can also grab the Gigabyte X570 Aorus Pro to get a more freeing extensibility experience. ONLY if you don't need access to Thunderbolt 3.
Slot Configuration:
Top M.2 –PCIe 4.0 x4
Second M.2 (Bottom) [5] – PCIe 3.0 x4
SATA Ports – 6 [5]
Primary PCIe x16 Slot

Supports up to PCIe 4.0 x16

Bottom PCIe Slots [5]

Full-length (x16) supporting PCIe 3.0 x8
Full-length (x16) supporting PCIe 3.0 x4
3x PCIe 3.0 x1
B550 Motherboards Priced Above $260
There are a couple of very compelling B550 motherboard options at the $280 price point, namely, Gigabyte's B550 Aorus Master and ASRock's B550 Taichi. But at $280, they're uncomfortably close to some outstanding X570 motherboards (MSI X570 Unify and ASRock X570 Taichi) to warrant a recommendation.
At this point, you'll be much better off spending that additional $20 – especially for professional workloads like using more than 2 M.2 devices and GPUs.
Although the B550 Aorus Master offers 3 M.2 slots, using them reduces your GPU to x8 speeds. Not exactly ideal if you're running PCIe 3.0 GPUs like a 2080Ti for professional work.
For another $20, you'll get access to 3 M.2 slots without these limitations if you grab the MSI X570 Unify or the X570 Taichi instead. A much more balanced choice at this price.
Best B550 Motherboard under $100
Other than Gigabyte's B550M DS3H M-ATX Motherboard, there's really no other option that I 'like' at this price point. However, if you're shopping on a budget, Gigabyte's offering does make sense. It comes with dual M.2 slots (bottom slot is limited to PCIe 3.0 x2 speeds), Realtek Gigabit LAN, and 4 SATA ports. Moreover, it's one of the only boards at this price to feature a VRM heatsink.
I would definitely recommend jumping up a price tier if you plan to run any sort of render workloads because you get so much more. But for those who just want to do some gaming with something like a 6 or even 8-core Ryzen CPU, the DS3H will do just fine.
Wrap-up
The B550 motherboards are excellent, no doubt about it. However, their price point makes them tricky to recommend outright, mainly due to so many boards in the product line venturing deep into X570 motherboard territory.
For gamers who are building a premium gaming PC, I'd say anything from the sub-$200 segments (depending on your budget) will be more than enough.
In fact, for a good quality motherboard, you won't need to go past the Gigabyte B550M Aorus Pro at $130 if the features on offer will do.
For professional rendering work, in most cases, you'd be better off with an X570 motherboard unless you're shopping in the sub-$200 segments. If you need Thunderbolt, Gigabyte's B550 Vision D is an excellent option that offers lane bifurcation as well.
How do you like the B550 motherboards released this year? Leave a comment and join our forum discussions if you need help with fine-tuning your build 😊