AMD's Threadripper CPUs were designed to deliver incredible performance at shockingly low prices.
To be able to perform the best they can, they absolutely need a powerful and reliable cooling solution. That's especially true if you're using these CPUs for multi-core optimized tasks, such as rendering, as you'll be running the processor at full capacity for extended periods of time.
As such, the last thing you want is an inefficient cooler that causes your CPU to exceed its thermal boundaries, which would ultimately throttle your processor and make it underperform.
In this article we're going to help you pick the best cooler for your Threadripper CPU, and answer all your questions about whether to go for an HSF or AIO cooler and if fan sizes matter.
HSF Coolers or AIO liquid coolers?
HSF (HeatSink and Fan) coolers rely on copper heat pipes to draw the heat away from the processor and into the aluminum fins of the heatsink, which warms up the surrounding air.
One or more fans attached to the heatsink push this hot air away, cooling the entire apparatus.
As the name suggests, AIO (All-In-One) liquid coolers rely on the circulation of a liquid (generally a blend of distilled water and a thermally conductive fluid) to carry away the heat from the CPU to a radiator with fans.
The fans dissipate the heat and the cooled liquid travels back to the pump at the CPU to restart its cycle.
AIO means that the entire setup (pump, tubing, radiator, fluid, fans) comes factory-assembled, with the goal of making installation quick and easy.
When it comes to AMD's Threadripper CPUs, HSF coolers hold a number of benefits over AIO liquid coolers.
They're usually cheaper (with prices ranging from $40 to $120), have fewer moving parts (and thus fewer points of failure), and as we'll see, the best ones on our list even outperform many AIO coolers.
The situation with Threadripper-compatible AIO liquid coolers is a bit more complex.
Due to its large size, the Threadripper CPU package requires a specially-designed base plate to provide full coverage of the processor's IHS (Integrated Heat Spreader).
While the HSF coolers on our list all come with extended base-plates to ensure maximum contact with the IHS, most AIO coolers haven't made that step yet, and still use circular cold plates that leave the edges of the IHS exposed.
AIO coolers available for Threadripper CPUs, therefore, aren't cooling as efficiently as they could, allowing the HSF coolers to match (and even exceed) their performance.
The only exception to this are Enermax Liqtech TR4 coolers, which do come with an extended cold plate, but as we'll discuss below, the Enermax coolers have a number of issues that make a recommendation unlikely.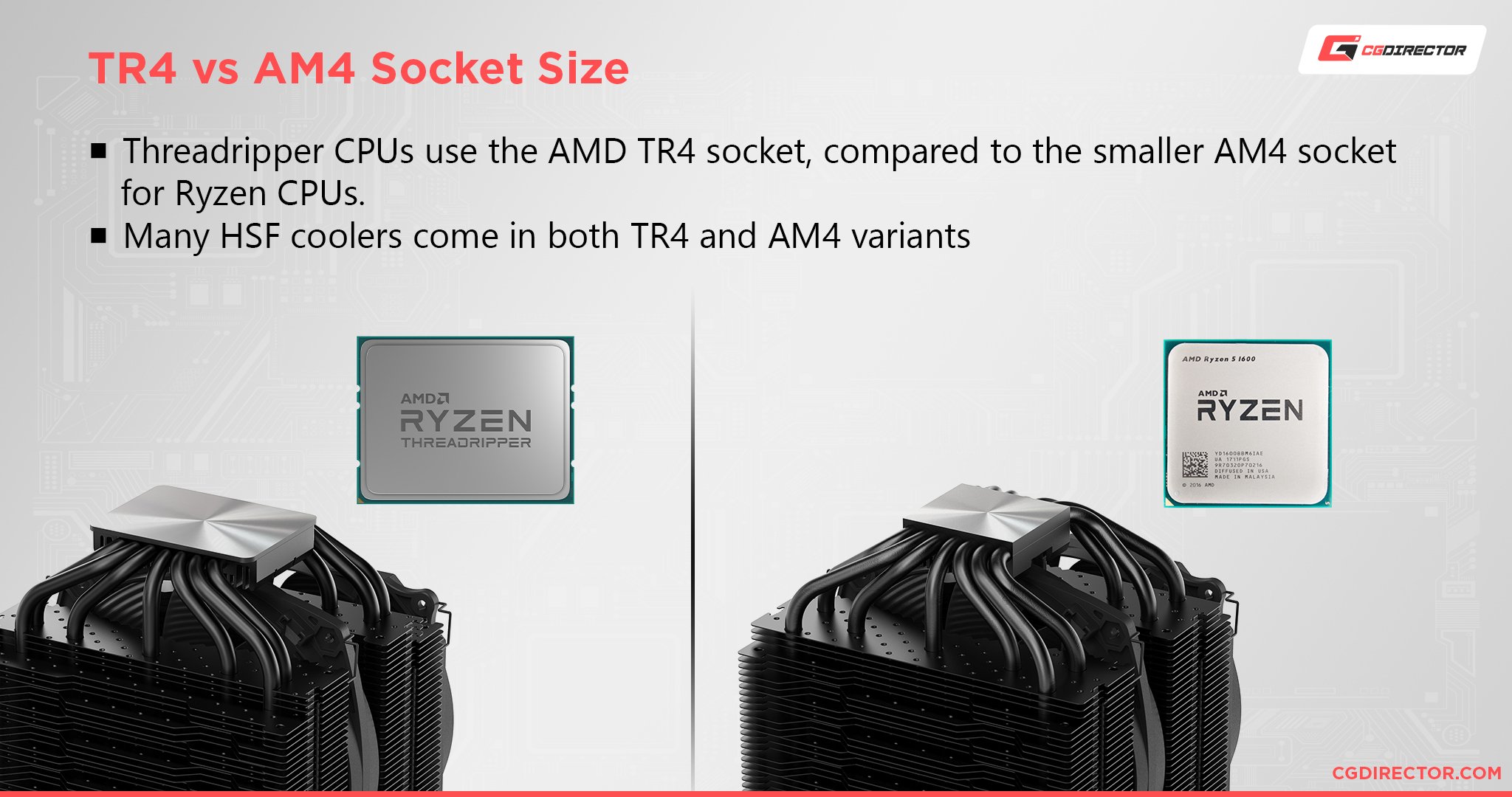 So why use AIO coolers at all?
If you're using your PC for rendering, video encoding, and other tasks that are highly multi-threaded and take a long time, AIO coolers can be instrumental in preventing throttling of the processor, while HSF coolers might suffer after a while.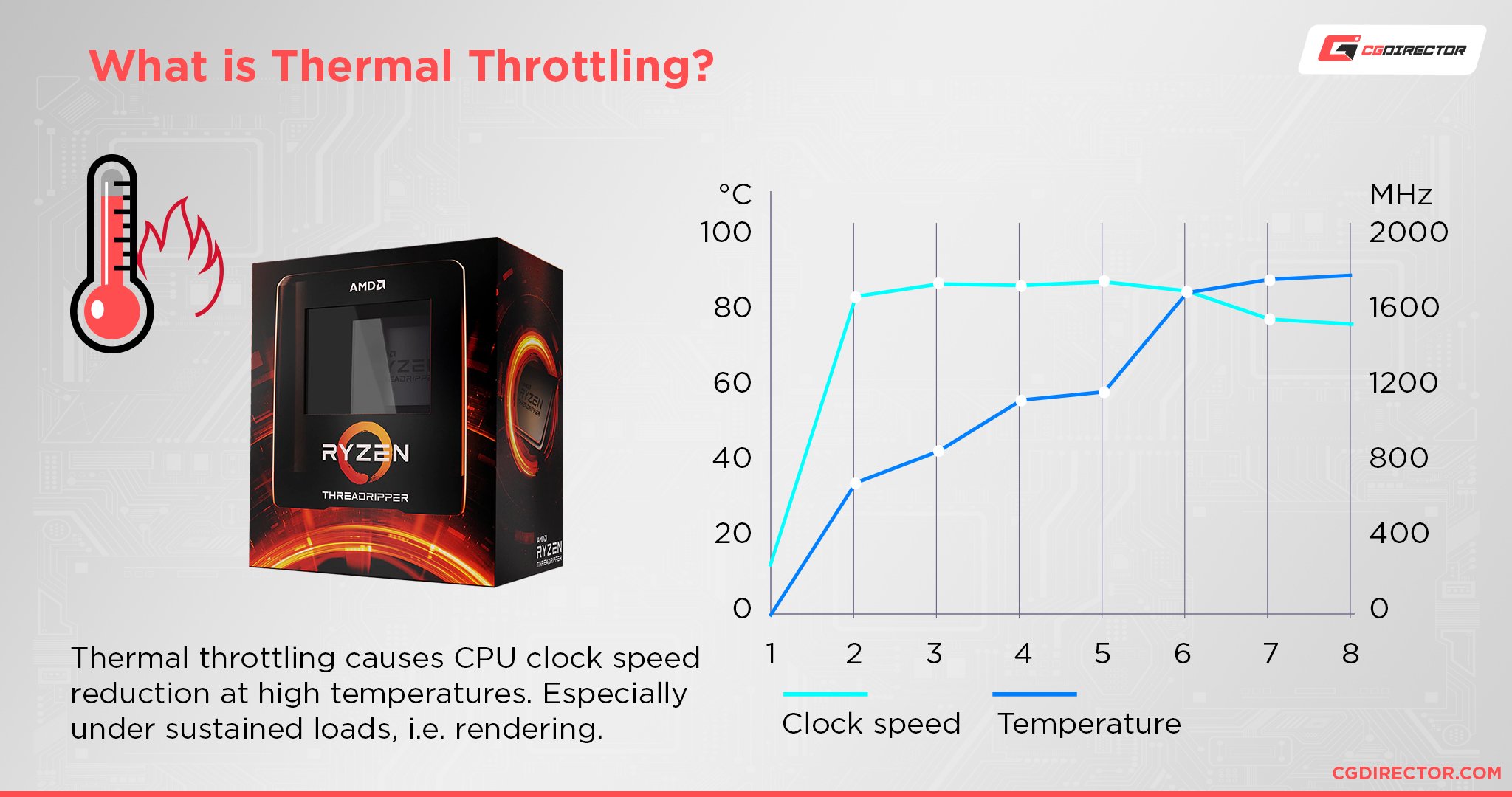 The issue here is one of specific heat capacity. The heat pipes in an HSF are usually made of copper, while the heatsink is often aluminum.
Copper, while a wonderful conductor of heat, has a specific heat capacity ten times lower than water (source). This means that on absorbing the same amount of heat, the temperature of copper will rise ten times faster than that of water.
This isn't an issue over a short period of time, as the fans on the heatsink quickly dissipate the heat, cooling the aluminum and the copper (and thus the CPU).
But when a CPU (especially an overclocked one) is dealing with extended load, the heat generated could overwhelm an HSF cooler eventually.
This is where AIOs shine.
Since water can absorb a lot more heat before its temperature rises significantly, an AIO allows the processor to run overclocked (both automatic and manual overclock) for longer durations without throttling.
Other benefits of AIO coolers include the fact that, unlike HSF coolers, clearance issues with RAM slots and the first PCI-E slot are easily avoided as the AIO radiator can be installed away from the motherboard as long as the hose and power connector are long enough (in a sufficiently large PC-Case).
Does Fan Size Matter?
The short answer is Yes.
A larger fan will push more air than a smaller one, which means that it could spin slower than a smaller fan and still dissipate the same amount of heat.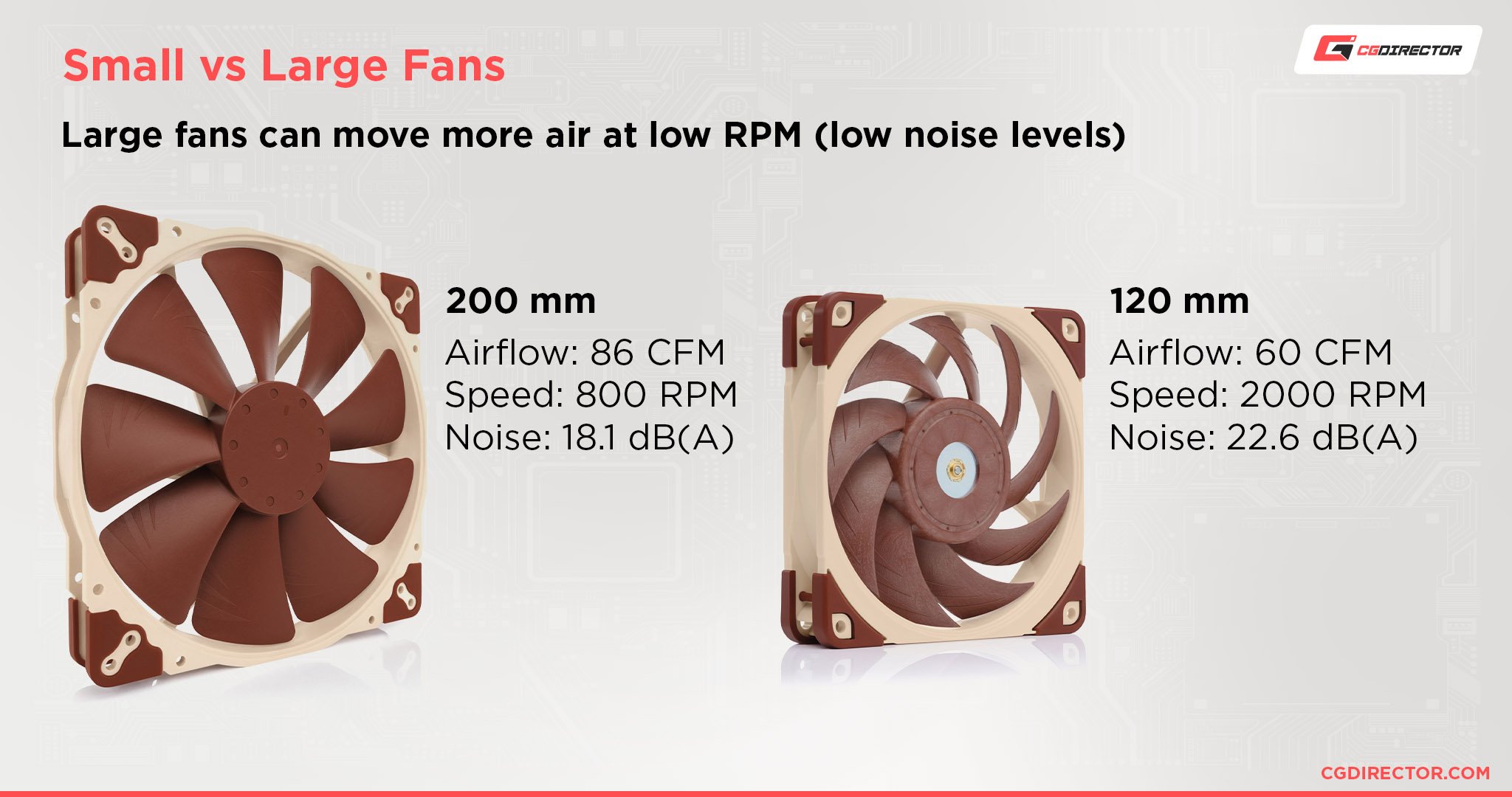 Thus a 140mm fan will usually be quieter than a comparable 120mm fan at the same airflow performance.
Do note, though, that a larger fan in rare cases can lead to clearance issues with other components on the motherboard, as we'll see with some of the fans below.
Best Air Coolers for Threadripper CPUs
Coming in at under $50, the Freezer 33 TR is an absolute steal. It's quiet, well-built, comes with 10 years of warranty from Arctic, and is compatible with all Threadripper CPU Generations on TR4 and sTRX4 Sockets.
As such, it's a great choice if you need a cost-effective cooler to keep your CPU under the 68 degree Celsius threshold recommended by AMD.
The Freezer 33 TR comes with a 120mm PWM fan (200-1800 RPM) that attaches to the heatsink with a pair of snap mounts.
Arctic provides another pair of snap braces if you wish to add an optional second 120mm fan in a dual-fan push/pull configuration.
The heatsink consists of 4 copper heat pipes and aluminum fins.
Arctic has chosen to ditch the base plate and instead went with a direct-touch solution, where the heat pipes have been milled at the base to provide a flat contact surface with the CPU's IHS.
On a 1920X clocked at 3.7 GHz (tested by Kitguru), the Freezer 33 TR was able to maintain impressive temperatures of 30°C at Idle and 50°C at full load on Cinebench R15, beating the Fractal Celsius S24, a 240mm AIO cooling solution.
That said, though, even a moderate overclock of 4.0 GHz on the 1920X resulted in the temperatures rising to 73°C under full load, which is less than ideal.
In a Tech-Legend test of the 2950X clocked at 4.4 GHz, temperatures rose to 81°C, which shows that the Freezer 33 TR isn't the right choice if you wish to overclock your CPU to any significant extent.
With noise levels at just 23 decibels with the fan at 100% (source), amidst the other sounds of your PC and the environment, it shouldn't be audible at all.
One small caveat is that the installation guide doesn't come bundled, and has to be downloaded off Arctic's website.
It's important to note that Arctic recommends this cooler for a TDP of up to 200 W, which means that it isn't capable of handling 250W behemoths like the Threadripper 2970WX and 2990WX.
This is a great Budget pick for 180W Threadripper CPU's such as the 1900X, 1920X, 1950X, 2920X, and 2950X.
The Noctua NH-U14S supports the entire range of Threadripper CPUs on both TR4 and sTRX4 Sockets, and its 80$ price-tag makes it one of the best coolers you can go for today.
One thing to note, though, is that at a height of 6.75 inches, it might have trouble fitting into smaller cases.
It consists of 6 nickel-plated copper heat pipes, a large aluminum heatsink, and a 140mm PWM fan (300-1500 RPM).
Noctua provides additional mounting gear if you wish to install a second fan in push/pull configuration.
A nickel-plated smooth copper block serves as the contact surface.
Installation is simple, as the mounting screws and brackets come pre-attached to the cooler.
The size of the heatsink means that the cooler often has clearance issues with the first PCI-E slot.
Thankfully, Noctua allows for offset mounting of the heatsink at 3mm or 6mm, which helps you avoid contact with your GPU in the first PCI-E slot.
The cooler is designed to not block RAM modules, but if you have high-profile DIMM, it is possible to slide the Fan up a bit, to make room for your high-profile RAM modules (if your case is wide enough).
In testing by Kitguru on a 1950X clocked at 3.4 GHz, the NH-U14S gave idle and full load temperature deltas of 6.6°C and 37.7°C respectively (the ambient temperature of the testing environment is subtracted from the CPU temperature readings to calculate temperature deltas).
At an overclock of 4.0 GHz, the temperature deltas climbed to 8.3°C and 64.3°C, indicating superb cooling performance for moderate overclocking.
At a 4.4 GHz overclock on a 2950X (tested by Tech-Legend), the temperatures at full load touched 74°C.
As such, if you're running your CPU at a high overclock, or are using the beefier 2970WX or 2990WX models, Noctua recommends adding a second fan to keep temperatures down.
At a reported noise level of 24.8 dBA (by Tom's Hardware) at 1m distance with the fan at 100%, this cooler can barely be heard.
Apart from the size of the cooler, there's little to complain about here, though the brown & beige colour scheme might not appeal to everyone.
Recommended for all 1st and 2nd gen Threadripper CPUs as well as the 3rd gen 3960X, 3970X, 3990X CPUs.
The Dark Rock Pro TR4 is the best performing HSF cooler available in the market today. It's powerful yet silent, boasts of great build quality, and supports all Threadripper CPUs on both TR4 and sTRX4.
The $90 price tag is high but justified for a product leading the competition.
The cooler features 7 copper heat pipes and two PWM fans—a 120mm fan (up to 1200 RPM) at the front, and a 135mm fan (up to 1400 RPM) at the center of the heatsink in a push/pull configuration.
The brushed-aluminum base plate provides an excellent contact surface with the IHS.
Installation is easy if you follow the provided manual, though the cooler might have clearance issues with tall DIMMs, which can be circumvented by moving the first fan up a bit.
At a Guru3D conducted test on the 2990WX at 4.0 GHz, the cooler gave incredibly impressive readings of 34°C and 64°C at idle and full load respectively.
Kitguru tested the Dark Rock Pro TR4 on a 1950X at 4.0 GHz, where it returned temperature deltas of 7.3°C at idle and 62.6°C at full load on Prime 95, even beating the scores of the Noctua NH-U14S.
In a noise level test by Tom's Hardware, the cooler even turned out to be quieter than Noctua's, with a dBA of merely 22.8 from a 1m distance at max fan-speed.
The Dark Rock Pro TR4 not only outperforms most AIOs when it comes to raw numbers, but also gives your CPU decent overclocking headroom.
The only minor complaint we have about this cooler is the 3 year warranty, which is the lowest of the HSF coolers on this list.
Recommended for all Threadripper CPUs up to 3rd Gen.
Best AiO Liquid Coolers for Threadripper CPUs
The Celsius S36 is a $118, 360mm AIO cooler that supports the entire range of Threadripper CPUs, and delivers respectable performance for the price.
TechPowerUp states the build quality to be good and the product comes with a 5 year warranty.
It features three 120mm PWM fans (500-2000 RPM), rubber tubing in a nylon-braided sleeve, and an aluminium radiator.
The circular copper cold plate doesn't cover the entire Threadripper IHS, but does cover all the dies in the CPU.
Testing by B2G on a 1950X at a clock of 3.4 GHz gives a reading of 36°C at idle and 74°C at full load.
At a dbA of 36 at full load (as measured by Guru3D), the Celsius S36 is louder than the HSF coolers on this list, but still quiet enough to not be bothersome.
Since living room noise levels are generally pegged at 40dBA, you shouldn't be able to hear this cooler during day-to-day use.
The radiator is quite large, meaning that you'll probably need a full tower to accommodate it.
If you're looking for a cheap yet well-performing AIO solution, the Celsius S36 checks all those boxes.
As the name suggests, the EVGA CLC 280 is a 280mm AIO cooler.
Priced at $125, the performance of the CLC 280 blows most other AIOs out of the water, whether it's Corsair, NZXT, or beQuiet! (source), and the product comes with 5 years of warranty.
The CLC 280 consists of two 140mm PWM fans (600-2200 RPM), a circular copper contact surface, and an aluminum radiator.
The EVGA flow control software adjusts fan speeds based on CPU temperatures and allows you to configure the cooler's RGB lights to change colors depending on the temperature of the processor.
At 44 dBA of noise with fans at max speed (as reported by Tom's Hardware), the CLC 280 is a bit noisier compared to its counterparts.
Lastly, as with the Fractal Celsius S36, the CLC 280 also requires a large cabinet to fit in. If space is not an issue, though, the CLC 280 is a great performing AIO at its price point.
Priced at $140, the Water 3.0 is a fantastic 360mm AIO cooler for the entire line-up of Threadripper CPUs.
The cooler features three 120mm PWM fans (800-1500 RPM), a copper cold plate with an aluminum radiator, and sleeved rubbed cables to extend the life of the tubing.
The Water 3.0 comes with a warranty of 3 years, which is a bit on the low-end.
Twelve addressable RGB LEDs spaced around the fans add to the aesthetics of the cooler, but might not be to everyone's taste.
In a test by Phoronix on a 2990WX at 3.0 GHz, the Thermaltake Water 3.0 returned temperatures of 24.75°C at idle and 63.88°C at full load for over 2 hours of continuous benchmarking.
Note that this reflects an even higher performance than the Noctua NH-U14S HSF cooler in our list, which in turn gave readings of 26°C and 68.88°C at idle and full load in this test.
The noise levels max out at 43.1 dBA for the cooler (as noted by Nikkitech), which should be low enough to not be an issue for most users.
Overall, the Thermaltake Water 3.0 is the best AIO cooler you can currently buy, and if your needs require liquid cooling, the $50+ premium it demands over the HSF coolers is well-justified.
Recommended even for the 64-Core 3990X.
The Cooler to Avoid
A note of caution on the Enermax Liqtech TR4 AIO coolers.
The Liqtech coolers are the only AIO coolers in the market with a cold plate that completely covers the Threadripper IHS.
As such, their performance and cooling capability dwarf every other cooler on this list.
Here's the problem though: as a stroll through Newegg and Amazon reviews reveals, these coolers have been plagued with issues for years, ranging from corrosive cooling liquid that congeals into a gel and causes the cooler to malfunction, to fans that stop working after a few months.
Enermax made a post in September 2018 acknowledging these issues and claiming that they had been fixed in the latest batch of Liqtech TR4 coolers, but since then, negative reviews have continued pouring in. Thus we are currently recommending to stay away from this series of coolers.
FAQ
Do Threadripper CPUs come with a Cooler Bracket?
No, the Threadripper CPUs don't come with a Cooler Bracket. The CPU Cooler usually includes a Bracket that fits the socket and the specific type of cooler you are buying. Always check for Threadripper sTRX4 or TR4 Socket compatibility when buying a CPU cooler for your Threadripper CPU.
Can you liquid cool a Threadripper?
Yes, you can liquid cool a Threadripper CPU. Both custom water loops and AIO Coolers are sufficiently powerful to cool a Threadrippers thermal output.
Can you air cool a Threadripper?
Yes, you can air cool a Threadripper CPU. Although many Air Coolers struggle with keeping a Threadripper CPU cool, if you are not running sustained multi-core workloads 24/7, a decent air cooler can cool a Threadripper CPU sufficiently. Opt for higher-end Air coolers, though (as recommended in this article), to be on the safe side.
Are Threadripper CPUs good for gaming?
You can certainly game on Threadripper CPUs, but given their focus on high core counts and professional workloads, you'd be wasting a lot of money on features you will not use for gaming. Threadripper CPUs also tend to have low single-core performance, making them suboptimal for high-end gaming.
Over to you
That's about it! What CPU Cooler and PC-Build are you thinking of buying? Let me know in the comments or ask our forum experts a question!