An excellent gaming desk is crucial for both your health and your gaming performance.
There are more than 160 million gamers in the United States alone. Of these, over 34 million could be considered hardcore gamers who devote more than 22 hours each week to gaming.
Worldwide, the number of gamers is staggering—over 2 billion.
You don't need to be a hardcore gamer, though, to know that the gaming environment and infrastructure is crucial to ensuring minimum strain, maximum performance, and tons of fun when playing.
Without the right setup, it takes away your full concentration from where it should be—the game.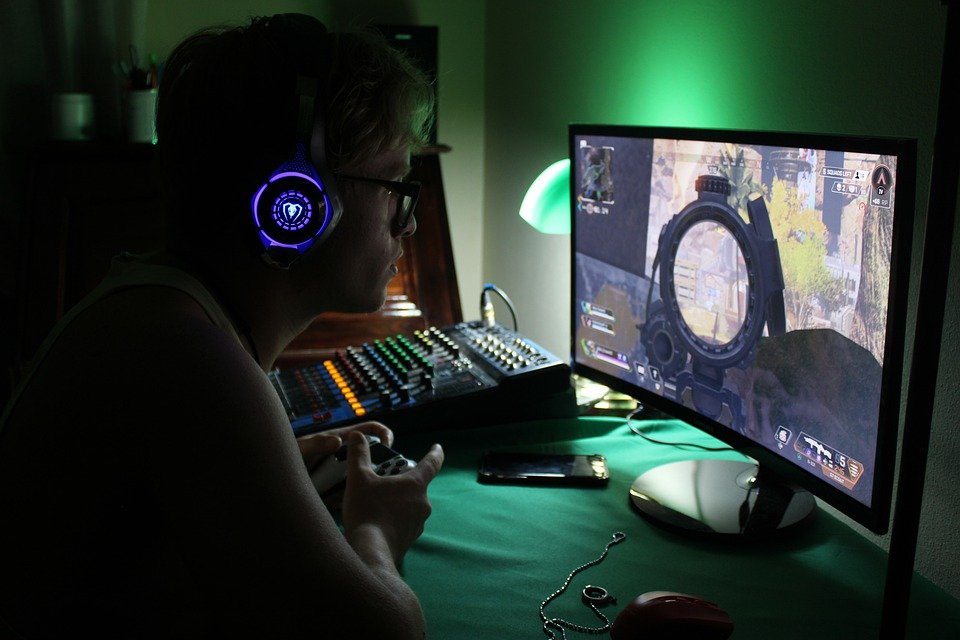 The setup certainly begins with having the right gaming rig, headset, speakers, wireless mouse with good DPI, multiple monitors, gamepads, mechanical keyboards, and other game peripherals.
Nevertheless, too many gamers make the mistake of ending the setup planning at the electronics. There's no question that the equipment is a big part of the gaming experience. However, that's only a part of it.
The gaming desk is an essential component that doesn't always get the attention it deserves.
Why You Need a Gaming Desk
Your conventional computer or office desk will not do.
Gaming has a different dynamic that a desk must cater to. It's the desk that creates the right platform to bring all your gaming equipment together.
So before anything else, here's a look at the main reasons you need one.
Organization
Gaming desks are designed for a different function from a regular workstation. There are considerations for both the gaming action itself but also to facilitate the gaming lifestyle.
You probably need somewhere to safely place your drinks that's designed to mitigate the risk of getting knocked over in a burst of gaming excitement.
There are also an above-average number of cables and wires that need to be kept out of sight.
Therefore, most gaming desks are fitted with plastic and rubber desk inserts that keep all wires and cables in discreet and manageable bundles.
Dedicated Space
Some gamers are fortunate to have entire rooms dedicated to their setup.
However, most have limited space to work with, and the rig has to go into a living room, bedroom, dorm room, or other multipurpose areas.
A gaming desk allows you to make a part of the room a dedicated area for play.
It goes beyond just the physical desk itself. The desk speaks to your mind. Once you walk up to the gaming area, you are mentally in a completely different place even though you are still in the same room.
There are gaming desks of diverse sizes to suit various budgets and room sizes.
Comfort
If you are going to be playing for hours on end, you want a comfortable desk.
In the same way that the keyboard and mouse have evolved over the years to adapt to the shape of our hands and bodies, gaming desks are designed with the prolific gamer in mind.
Many uncomfortable things can happen when you sit at a desk for extended periods.
These include pain in your wrists, neck and back stiffness, migraines and headaches, finger numbness, and carpal tunnel syndrome. The problems can linger long after you've stopped playing with some persisting for years.
A gaming desk is purpose-built for gaming and is meant to provide body and posture support for optimal comfort.
What to Look for in a Gaming Desk
With the need for a gaming desk clear, next comes the big decision. Gaming desks are not created equal.
The degree to which you will enjoy the benefits of a gaming desk is dependent on the desk that you eventually opt for.
Ergo, when shopping for a desk, there are certain things you should keep an eye on:
Build Quality
The stronger and more durable the desk's build quality, the better your gaming experience will be. Look for sturdiness and durability in the desk's build. Check how much weight it can hold and if this is adequate for the equipment you intend to place atop it.
While there's a correlation between build quality and cost, it doesn't mean the most expensive desk in the market has the best build. You can find a desk with a reasonable quality build at various price points.
The most common materials used for gaming desks are wood, steel, PVC, and glass, but desks may combine these and other materials.
Take time to research and, where possible, test the different desks that make it to your shortlist before you commit to any one of them.
Make sure the desk you buy is well-constructed, properly designed, and has a stellar reputation. If you are buying from a brick and mortar store, pull up a chair and check how comfortable the desk will be for you.
Style
Gaming is a lifestyle. With lifestyle comes personality, atmosphere, and excitement. The gaming desk you buy should have a style that resonates with your passion, emotion, and gaming ambitions.
Gone are the days when a gaming desk was solely devoted to functionality and comprised just a basic structure.
Today, there's a diverse range of desk materials, shapes, designs, colors, textures, and sizes to choose from.
The definition of what is acceptable desk style is not much different from culinary preferences. The best style for one gamer may not be appropriate for another. Some gamers will want a minimalist approach that focuses on functionality while making sure nothing inhibits their hand movements.
Others will be keen on an elaborate desk that include fancy extras like built-in USB hubs.
Many gamers prefer the L-shaped desk, but square and rectangular desks will work too. However, if you are having difficulty determining what style is most apt for you, consider working with an interior design expert.
They'll have a conversation with you to understand your goals and tastes better before they can recommend the right desk for you.
Perhaps you are looking at becoming a gaming vlogging hero of sorts and need a desk that makes that possible. Maybe you want an environment that helps you get away from the stress of everyday life. The interior designer could help make that a reality.
Desktop Space
The top of the desk is where much of the gaming action happens. The amount of space you have to play with will determine the degree of comfort during play. Getting the dimensions right is therefore critical.
It begins by measuring the length and width of the space you want the desk to go to. Few things are as disappointing as buying a desk only to realize that it doesn't fit where you want it to after it's delivered.
For the desktop area itself, you want to minimize the number of obstructions you run into when playing.
Your mouse pad should permit at least 12 inches of movement to prevent you from bumping into anything when you perform a sweeping push or pull.
You must consider your keyboard's length too. Some gaming keyboards have multiple additional macro keys and are therefore longer than standard models.
That would subsequently mean you require an above-average length keyboard tray.
Overall, the desk surface should give you at least two and a half feet of length for the mouse and keyboard alone. If you place your gaming PC on the desk, you should add another one and a half foot to ensure optimal stability and ventilation.
You require space for peripherals, so depth is just as important a factor as desk length. Ideally, the depth must be two feet or more.
You may need more minimum depth depending on whether the desk comprises a separate stand for your gaming monitor. The desk should preferably have a shelf-like pedestal where other monitors go.
This will leave you adequate space for cable management.
Of course, these recommended dimensions aren't cast in stone. Ultimately, you have to settle for a gaming desk whose length and depth are consistent with the room area and the equipment you have.
Adjustability
Older gaming desks were rigid and had fixed dimensions. Modern gaming desks seek to provide more flexibility and adjustability. This may include the ability to adjust the monitor stand, desk height, or desk surface area.
Some gaming desks offer swinging platforms and compartments for their gaming keyboards so you can continue playing while seated sideways.
Height adjustable desks have been hugely popular among PC gamers. They've gained traction in the light of research showing standing over a desk is healthier than sitting. Standing while gaming may sound a little absurd, but the science is compelling.
It improves overall blood and air circulation. The better circulation could provide the fuel your reflexes need to give you the advantage during a game's decisive point.
Of course, it's unrealistic for one to stand for 5 or 6 hours continuously while gaming. However, just having the option to move from a sitting to a standing posture seamlessly gives you the power to choose the stance that gives you the comfort you want.
Height adjustment is also vital for legroom. The desk's underside shouldn't be a tight fit. Pressing or knocking knees beneath the desktop is no one's idea of fun, especially during an intense gaming session.
It's uncomfortable and increases the odds of accidentally tipping the desk and damaging any equipment that subsequently falls.
You require at least 4 inches of clearance above your knees. More room is always a good thing as you have more leeway to shift your legs.
Mobility
Just because you want your gaming rig in one part of the room doesn't mean it should or will remain there for good. A static desk can be a pain if you ever need to move your setup to a different part of the room or house.
For this reason, many gaming desks are fitted with casters that ease mobility. The desk should also not be too heavy.
Casters and lightweight aren't just important when moving the desk to a new location.
Routine tasks such as cleaning your PC, hardware maintenance, cable management, and rig upgrades are more feasible when the desk can be repositioned easily.
Storage
Gaming desks may come with storage compartments or without. Many gamers will need at least some shelves, drawers, or cabinets, whether on or off the desk.
You may have peripherals that aren't required for every type of game. Perhaps you want to keep other games or spare devices within arm's reach. Think about charging cables, game cases, headsets, remotes, device documentation, and warranty information.
Drawers help keep the desk surface neat.
If you opt for a desk with none or too few drawers, you risk stacking your items atop the desk. A cluttered desk not only inhibits your hand maneuvers but also doesn't foster the right frame of mind to concentrate on the game.
Usability
Gaming desks are meant to withstand continuous use. That implies the desk must be built to enhance the playing experience over the long term. A desk that isn't usable can cause you long-term health problems.
You should choose a desk that satisfies ergonomic best practices. It should encourage correct posture to prevent back and wrist problems in the future. No one wants to be a regular customer of physical therapists and chiropractors.
Price
We've looked at the features you should keep an eye on when weighing the gaming desk that's best for you. Nevertheless, no one is endowed with infinite financial resources. Your choice of desk will be limited by how much you can afford to spend on it.
The cost of gaming desks ranges from a couple of dozen dollars to a couple of thousand.
Ideally, you should spend the least amount to get the highest quality you need. That being said, gauging pricing is not as straightforward as comparing the sticker price. You have to take into account the total cost of ownership and the overall value.
Buying a desk for $100 but that has to be replaced within a year is more expensive in the long term than a $300 gaming desk that's still in great shape 5 years later.
So consider not just the purchase price but the longevity and value of the desk. It's not always easy to tell, but you can get hints about a desk's durability and value by checking out reviews.
As long as a critical mass of people has bought the model over the past 1 year or more, any inherent problems will become apparent via a sea of negative reviews.
Best Budget, Value, and Premium Gaming Desks
Since price is a constraint in the gaming desk you can buy, it wouldn't be fair to recommend just one gaming desk for all buyers.
Depending on how much you are willing to spend, there are excellent options at various price points. We look at the best desk for budget, value, and premium customers.
Starting at $89.99, there's no question that the Casaottima L-shaped gaming desk is affordable. However, it tops our list of budget desks for several other reasons. First, the shape and design ensure it fits well in small rooms and tight spaces.
Yet, it's large and strong enough to accommodate two or three monitors. It can handle the weight of your gaming rig and peripherals up to 150 lbs.
The L-shape makes it seem much larger than it actually is. This also makes it easier to stretch your arms and reach anything on the desk, whether keypads, mice, joysticks, headphones, and steering controls.
The Casaottima L-shaped desk comprises a metal frame and quality MDF wood that ensures sturdiness. It has Z-style legs that provide stability and support but also give the desk a flowing design. The rubber-foot pads are adjustable to ensure a perfectly level desktop when the desk has to be placed on an uneven floor.
The pads also reduce the risk of accidental desk movement while minimizing scratch damage to floors. At 39 pounds, the desk is light and movable.
The surface has a laminate scratch-resistant finish to protect it from the wear and tear of everyday use. And it's easy to clean.
The Casaottima L-shaped desk is shipped disassembled, but the instruction manual is easy to follow.
Nevertheless, the instructions don't always name the different parts clearly, which may be a problem for someone who hasn't assembled a table before. The desk works well with a wide range of gaming accessories, thanks to the protruding lip design.
You should have no problem installing light mounts and clip-on systems. The desk surface is compatible with most optical mice but may prove a little too smooth for several models.
Casaottima has been building furniture for more than a quarter-century, and the L-shaped gaming desk is just more proof of why the company has demonstrated such staying power. The desk is a good balance of price, space, structure, and material.
It has a clean, crisp, minimalist, yet elegant aesthetic that blends well with the design theme and décor of nearly any space it's placed in.
The L-shaped desk is simple and functional yet impressive enough to grab the attention of your gamer friends when they come over.
The Seven Warrior gaming desk has an aggressive demeanor that many gamers will find sets the right tone for a winning mindset from first impressions alone.
But it's not just the looks that make this desk our favorite in the value category.
The Seven Warrior gaming desk stands out for the substantial desktop space it comes with. Above it, it's large and sturdy enough to accommodate at least two monitors and multiple gaming accessories.
The desktop has a maximum carrying capacity of 260 pounds. Underneath, it's deep enough to give plenty of room to stretch your legs even when the desk is adjacent to a wall.
The leveling feet ensure the desk remains horizontal even in the midst of aggressive plays.
The entire surface is a mouse-friendly pad, so no need to worry about running out of space when maneuvering during an intense part of the game. The desk comprises a coated steel frame and high-density fiberboard.
There's a cup holder that provides a safe space for your beverages and prevents your favorite drink from spilling onto the electronics. The holder is near enough to be within arm's reach but far enough from your electronics to ensure safety.
The desk has a hook on the other end of the table where you can quickly place and retrieve your headset as required. The trendy charging and storage rack is a convenient place for your games and controllers that also provides 4 USB ports you could plug your phone or other accessories in to.
The Seven Warrior gaming desk comes in at a hefty 60 pounds, which doesn't make it easy to move around when needed.
While the shipped package comes with everything you need for assembly, the assembly instructions are quite basic and not always easy for beginners to figure out. The screws may strip out if you attempt to tighten them down too much.
The tabletop is not one piece but two pieces, but this won't be a problem if the assembly is done right.
You'll hardly notice it once you have fitted the mouse pad covering the entire desktop.
For a smooth gaming experience at a price that isn't over the top, the Seven Warrior gaming desk ticks all the right boxes.
Founded in 2013, the Swedish furniture brand Arozzi has quickly made a name for itself in the gaming space.
It's earned a stellar reputation for making high-quality gaming chairs. So it's perhaps not surprising that its gaming desks score pretty highly too.
The Arozzi Arena is great for persons who don't mind splashing on a high-end gaming desk. The 160 cm width allows you to install three large monitors.
It has a load capacity of 176 pounds. The 80cm depth provides expansive space for your keyboard, mouse, and other peripherals.
The Arozzi Arena desk is height-adjustable along a 10-cm range.
The MDF surface is bolted to a steel frame that joins it to the legs. The metal sections of the desk are powder-coated, and this gives it the distinctive slick black finishing.
Under the legs are non-slip rubber feet that give the desk stability while keeping your floor safe from scratches. The desk's arched front allows the gamer to be equidistant to the different screens on the desk.
The desk has a custom 5mm 7-pound thick mouse pad overlaid with a water-resistant microfiber cloth. The mouse pad has three holes on it for cable management. You can get the mouse pad in plain black or one with the red Arozzi logo.
It's machine washable as well, so it should be easy to clean quickly.
Weighing in at 61.7 pounds, the Arozzi Arena gaming desk isn't anywhere near the market's heaviest desks.
Still, the assembly can be arduous given the parts' weight, so at least two persons best do it.
A high degree of precision is required during assembly to prevent wobbling later on. The Allen key provided for assembly may feel a little short, so you'll probably work through the process faster if you can find a longer key.
Replacing the mouse pad will cost you—at roughly $90, it's almost the price of a budget gaming desk.
The Arozzi Arena gaming desk is made from solid, high-density materials that provide a placid, stable surface for gamers allowing rapid response and optimal comfort. It's minimalist yet modern and ergonomic.
Conclusion
Your choice of a gaming desk is one that you may have to live with for years to come. Therefore, do not spare any effort in getting the decision right from the get-go.
Determine how much you are willing to spend, develop a shortlist of suitable gaming desks that fall within that range, and then evaluate them based on the factors listed here.
The three desks covered here stand out in their different classes.
Nevertheless, gaming needs will vary from person to person, so take time to find what works for you. You've probably put in sizable resources in your gaming rig, peripherals, and accessories.
Don't let all that effort and investment go to waste by settling for a desk that doesn't measure up.
That's about it from me. What gaming desk are you thinking of buying? Let me know in the comments.