If you're looking to build a compact PC, whether it's for gaming, work, or to use as a home theater (or a server), low-profile GPUs a must-have.
These more compact variants of their full-sized brethren though usually come with a performance sacrifice.
The GPU market is crazy at the moment, with heavy price-inflations being the norm and stock being hard to come by.
But that shouldn't stop you from building a PC, even if it means you'll have to work extra hard to find a new GPU that you can afford.
With that in mind, let's dive into the details of the best low-profile GPUs out there.
What are low-profile GPUs?
As pointed out by a reader we updated this section with some more in-depth info on:
what low-profile GPUs are
how they differ from standard GPUs and compact GPUs
what they are intended for
Often misused as a catch-all definition for smaller / more compact GPUs, Low-Profile GPUs are in fact Graphics Cards with a maximum height of 2.536 inches and, depending on the MD1 or MD2 dimension specifications, a maximum length of 119.91mm (4.721 inches) or 167.64mm (6.6 inches) respectively.
Here's what a Low-Profile Graphics Card looks like compared to a Standard (Full-Height) GPU: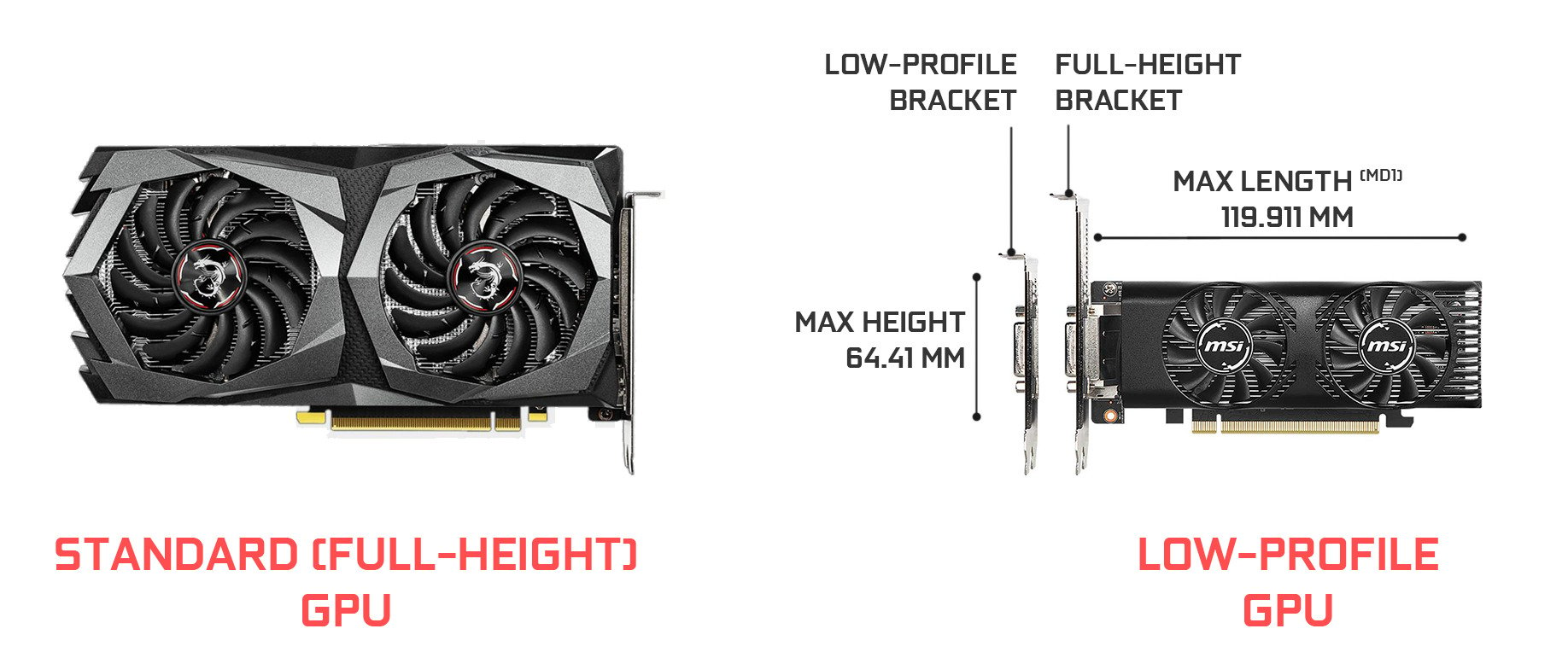 True Low-Profile GPUs come with a Low-Profile Bracket, as seen in the image above.
They are intended for placement in either 2U cases (e.g. Server Rack Cases) or slim desktop cases.
So why are there Low-Profile GPUs with Full-Height Brackets? Doesn't that defeat the purpose of Low-Profile GPUs?
Not necessarily: Whether you need a Low-Profile or Standard Height Bracket will depend on your PC case and the "location" where you're limited in space. In a 2U Server Rack, there's no question that you'll need a Low-Profile GPU with a Low-Profile bracket, because the entire length of the case is just 2U (Units) in height.
In a SFF multi-media PC, though, you might have space constraints where the PCB of the GPU will later reside (space is used by a PSU, cables HDD, etc.), but still have room at the back side of the case for mounting the GPU on a full-height bracket.
Here's an old-school Image from a Dell server, showing the difference in case- and bracket-heights:
This brings us back to what I said first: Low-Profile GPUs are often a catch-all for "compact" GPUs, also because many of them have full-height Brackets. This tells us another thing: There has to be more than just a dimensional difference to Low-Profile GPUs, otherwise why would there be full-height bracket low-profile GPUs?
And there is. Low-Profile GPUs have many of the benefits (and drawbacks) that you generally find in "compact" GPUs. So, let's take a look at what compact GPUs entail and why they are so popular nowadays.
Well, they are made to fit into a smaller case. Here's what a "compact" GPU looks like. It's full height, but a lot shorter than standard-sized GPUs.
Small form factor builds have become popular in the past couple of years, and low-profile and compact GPUs are your best bet if you're building one. There are a few things to keep an eye on in greater detail when shopping for a low-profile or compact GPU – noise levels, power draw, and thermals.
With a low-profile GPU, you usually get one of two scenarios.
You get a GPU that performs identically to the full-size model but will heat up more and make more noise.
You get a GPU that performs slightly worse but may or may not be quieter and will be less demanding when it comes to keeping it cool.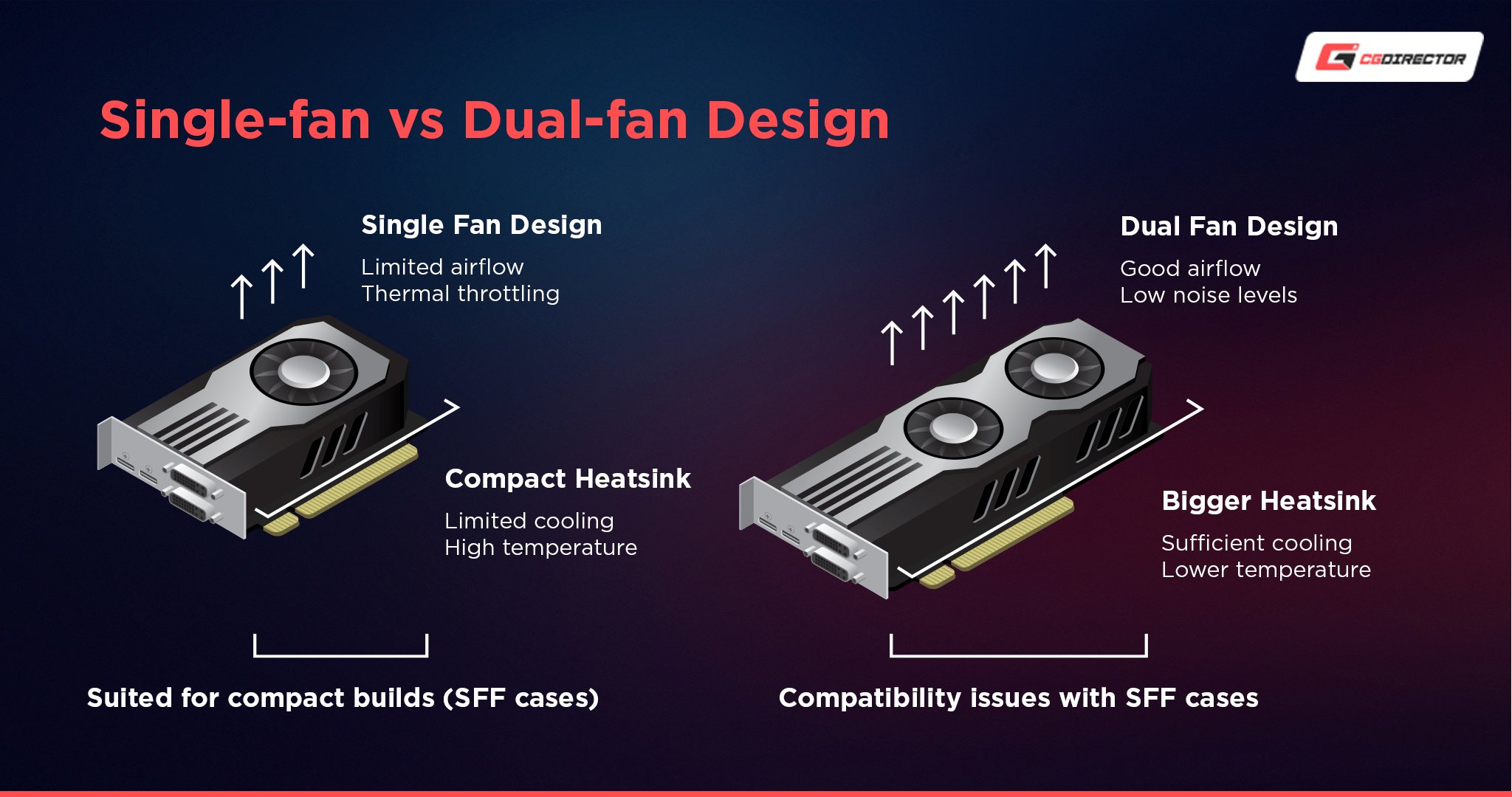 Let's take a look at both options.
Identical performance, worse thermals, and noise levels
The first option is usually a dual-fan version that is more compact than the conventional GPU.
The performance is identical, but those two fans will need to work harder to keep it cool because there is less surface for heat dissipation.
Manufacturers often deal with this by using a different fan design that moves more air but makes more noise.
These GPUs may use slightly less power than a conventional model, but the difference is usually negligible, and you'll still need a good PSU to keep them satisfied. You do, however, get the performance of a full-size model.
Slightly lower performance, good thermals, and low noise
The other solution is a single fan GPU, which is known as a true low-profile model.
These single-fan GPUs are very compact, which means that there is less surface area for heat dissipation, and in addition, they only have a single fan, making cooling even more difficult.
They're also almost always clocked lower than their full-size counterparts.
And with single-fan GPUs, one of two things can happen:
You can have a high RPM (Revolutions-per-minute) fan that does a better job at cooling but makes a lot of noise.
You could have a fan that spins at normal speeds and noise levels, but that also struggles with temperatures.
In the first scenario, the higher RPM, and the lower clock speeds compensate for the lack of surface area, and you still get decent performance.
In the second scenario, the fan is quiet, but since it can't do too much in terms of cooling, you get higher temperatures, and the clock speeds are limited, and you'll see occasional performance throttling.
Regardless of which kind of low-profile or compact GPU you decide on, you will have to compromise.
This is to be expected, though, when building a compact system. But let's take a look at what those compromises mean in day-to-day use.
Downsides of Low-Profile and compact GPUs
If you're buying a GPU for professional workloads that can take advantage of GPU acceleration, such as video editing or 3D rendering, the most notable downside you'll need to deal with is the performance hit.
Of course, how much of a performance hit you take will depend greatly on what type of low-profile or compact GPU you opt for.
If, for example, you don't mind the extra noise, and do have room for a dual-fan GPU, the performance hit is going to be negligible in most scenarios. On the other hand, if you need the absolute smallest GPU, you'll be dealing with low clock speeds and temperatures that might be uncomfortable in some cases.
GPU accelerated workloads depend on the GPU memory capacity as well, which is identical between a low-profile model, and a full-sized one. But the clock speeds are just as important.
To add to this, while gaming on a low-profile or compact GPU is certainly possible, you'll struggle to get the performance of a full-size GPU.
These things aren't all due to the lowered clock speeds – the thermal design takes a hit due to lower surface area, which, in turn, can affect clock speeds or how long the GPU can sustain higher clock speeds.
You've probably heard of thermal throttling, which occurs when your GPU is reaching temperatures that are higher than the manufacturer would like them to be and underclocks the GPU to cool it down.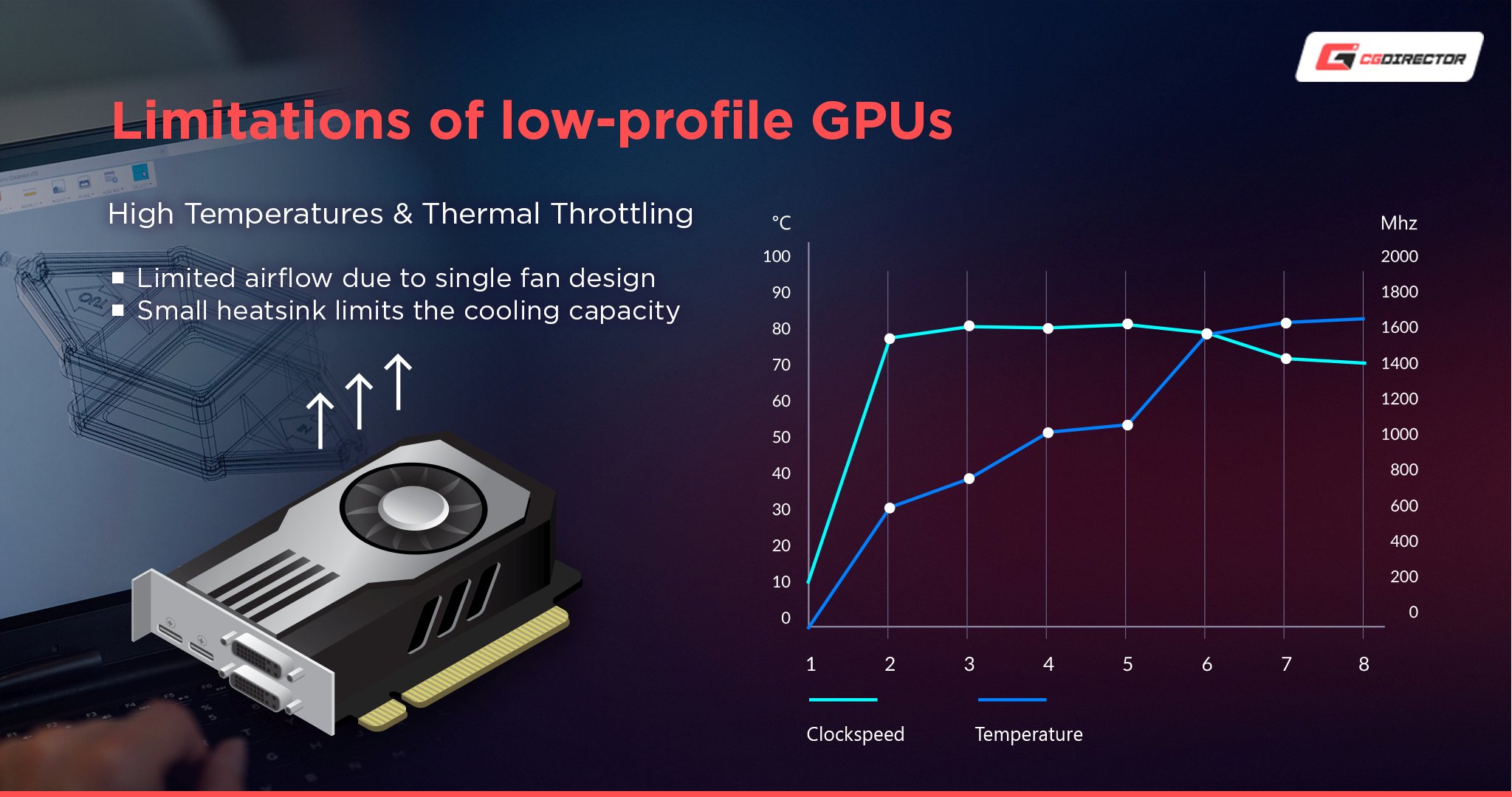 And with a compact design, this is more of an issue than it is with a full-sized one.
Why is this a problem? Well, because workloads like rendering will keep your GPU busy for extended periods of time.
Temperatures will keep rising, and you'll likely see thermal throttling after a while. With workloads that only push your GPU for short periods of time, though, it's not that much of an issue.
Who needs a low-profile or compact GPU?
A low-profile or compact GPU means compromise. We recommend that you only buy a low-profile or compact GPU when the situation calls for it. What are some of those situations?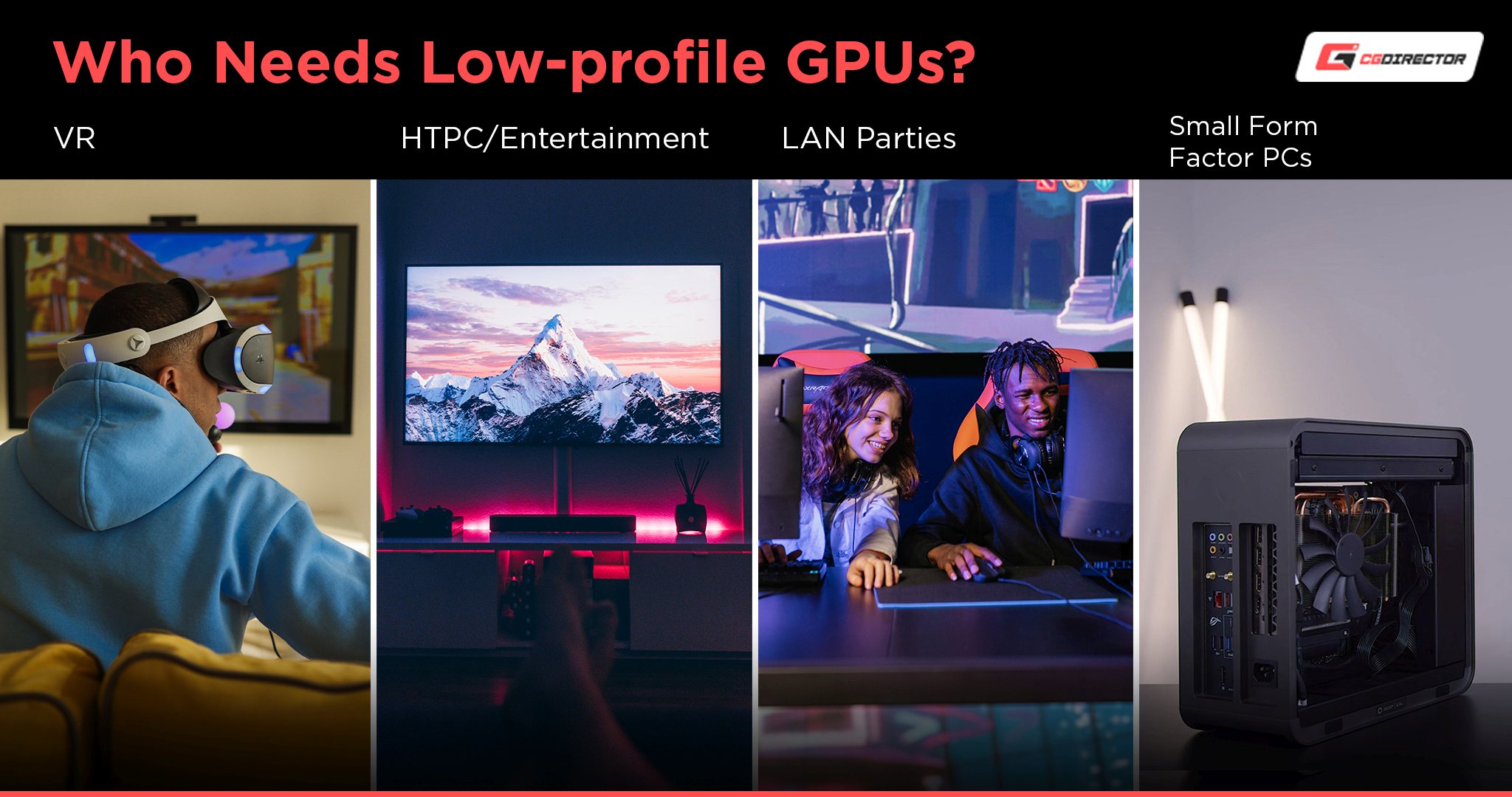 The first situation – building a small form factor PC. We're talking about systems that use mini ITX or micro ATX motherboards, are packed inside a small form factor case, and don't have that much room for components.
These builds are seldom recommended for professional purposes, but some of you who just want a good day-to-day system for general use will love them.
The reason is simple – they don't take up a lot of space and can be hidden away easily.
The second situation is building a home theater PC. These are systems that usually go in a cabinet, or sit next to your TV, and don't do much except for storing content and playing it on demand. What's nice about these workloads is that usually, they aren't too demanding in terms of hardware.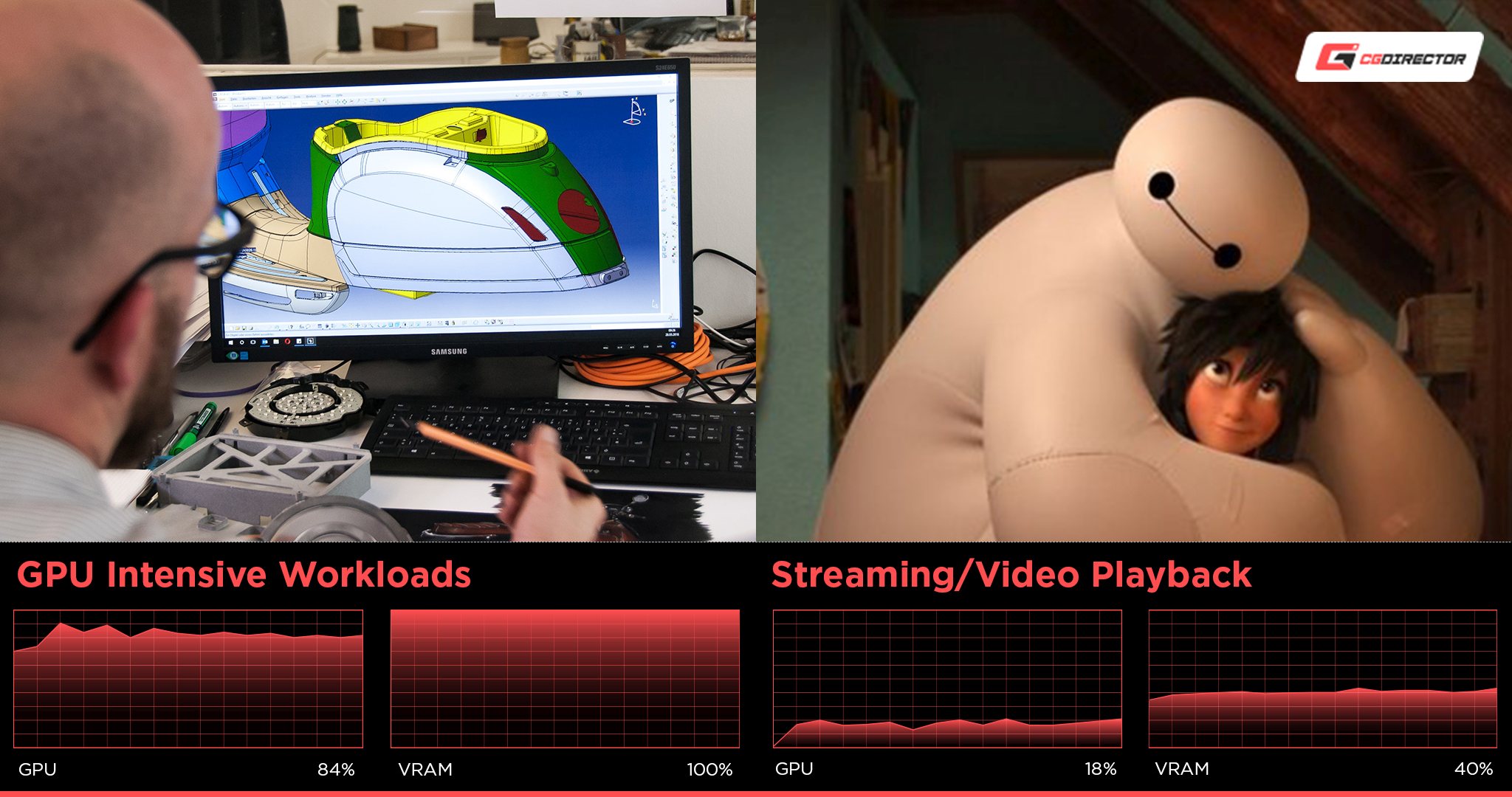 Your GPU will only need to render the content you're playing, at the resolution you need. Of course, if you're watching high bitrate, 4K content, you want at least some performance from that GPU.
If you're only building it for full HD content consumption, any budget low profile GPU will do the job.
Last but not least, you can compromise some portability for good performance.
This is why, rather than opt for a laptop, you can build a small PC that you can carry with you. In these situations, what you use the PC for will dictate what the best low-profile or compact GPU for you is.
Choosing the right GPU
When it comes to choosing the best low-profile or compact GPU for your needs, there are a couple of factors to consider. The two most important ones are:
Size constraints you're dealing with, and
Your workloads.
The use case is arguably more important, especially if you're using your system to get some work done.
In this case, a more powerful GPU helps you get more work done, so the investment will be worth it.
That being said, some of the more powerful GPUs just aren't available in a small form factor, such as a single fan design. If you're limited in terms of size, you'll need to see what the most powerful GPU is that you can fit inside your case, and work from there.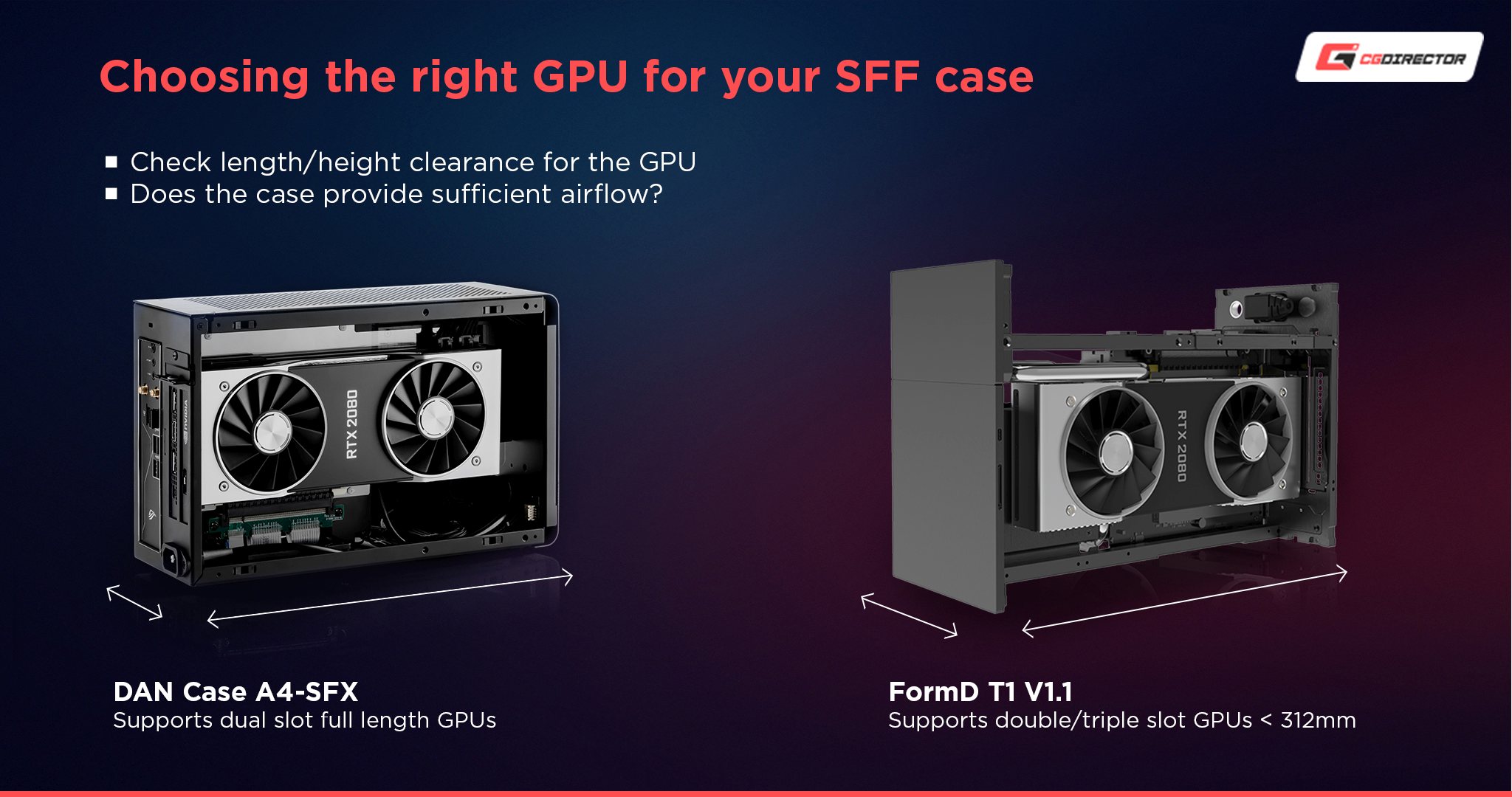 Then there's the power draw situation.
Small form factor power supplies aren't readily available at high wattages, so you might need to get a GPU that draws less power to be able to run it without issues.
All factors considered, here's what we recommend:
Check your workloads to see whether you can benefit from a powerful model.
See how much case space you're working with, and what the biggest GPU is that you can fit in it.
Consider your power supply constraints and see what kind of GPU you can run with the PSUs available to you.
Once you've done all of this, you can see what the most powerful GPU is that satisfies all of the above and fits your budget and pull the trigger on that purchase.
Disclaimer
Low profile GPUs, as a product, are a compromise. They aren't meant to be the most powerful option out there, and they're oftentimes budget oriented.
This is why you won't find a single-fan RTX 3000 series or an RX 6000 series GPU. This is also why there are still many low-profile or compact GPUs that use GDDR3 memory – more powerful models moved on from that type of VRAM a long time ago.
Low-profile and compact GPUs aren't a bestseller for any manufacturer, which is why they're put on the back burner when it comes to new GPU releases.
In the list below, we include some modern options, but there are some older ones, too. Let's take a look at them.
The Best Compact and Low-Profile GPUs You Can Buy Today
Although the RTX 3060 launched a long time ago in a galaxy far, far away (feels like it), it's still quite a capable card with decent performance at lower power draw.
It gives you 12GB VRAM along with a relatively compact form factor with a single fan that's perfect for small form factor PCs. However, it doesn't support low-profile or slim cases, so you'll need a case that supports full-height GPUs.
Similar Alternative: ASUS Phoenix RTX 3060 Graphics Card
PowerColor's ITX variant of the RX 5600 XT is truly a great choice. Yes, it might produce more heat than you'd like it to, but that isn't much of an issue unless you keep it under load for extended periods.
Spec-wise, you're looking at 6GB of GDDR6 memory, as well as 2304 stream processors.
The boost clock isn't particularly impressive at a 1620Mhz maximum, but it gets the job done unless you need top-notch performance.
You do get two DisplayPort connectors, and one HDMI, which is impressive for a GPU that's only 17.5cm in length and compact overall.
You'll need at least a 500W power supply to run it, though, and it requires you to plug in a single 8-pin connector for power. That sounds reasonable if you ask us.
Not everyone needs a huge amount of performance from their low-profile or compact GPU. Sometimes size is the main constraint, which is where something like MSI's LP OC variant of the GT 1030 comes in. This GPU is a single-slot, low-profile model with a very compact cooler with an included full height bracket, making it perfect for an HTPCs, slim cases, and SFF systems.
In terms of performance, you're looking at 2GB of GDDR5 memory and a clock speed of 1518 MHz. What's nice is that this kind of configuration can easily be used for 4K video playback on an external monitor or TV.
There is a single HDMI and single DisplayPort at the rear, so you could potentially run two monitors if needed. The extremely compact fan is near silent, and there is no need for an external power connector either.
Similar Alternative: Gigabyte GT1030 LP Graphics Card
If you want the very best performance in a low profile, you'll have to look towards workstation offerings from Nvidia. This RTX A2000 is around the equivalent of an RTX 3050 and can handle 1080p gaming like a champ.
This PNY A2000 Graphics Card comes bundled with both full and half-height brackets for excellent compatibility with a broad range of SFF and slim PCs. The best part? No external power needed!
Chuck it into your PCIe slot, and you're good to go.
Alternatives: Gigabyte GTX 1650 4GB Low Profile Graphics Card (Slower than the RTX A2000)
If you're shopping in the ~$150 price range, the RX 6400 is a decent choice for low profile graphics cards. Although it gets edged out by the GTX 1650 and thoroughly outclassed by the RTX A2000 above, the cost savings might be worth it for those who want to do some light gaming.
This RX 6400 doesn't require an additional PCIe power connector and can run off the PCIe slot without any issues. You can expect better performance with this card if you're on a more modern platform with PCIe Gen 4.0 support on your PCIe slots.
If you've got a bit of room in your case, and want the latest generation performance, MSI's GeForce RTX 4070 VENTUS 2X is a great choice. It sits around the $600~ mark and gives you access to all the latest NVIDIA technologies along with 12GB of VRAM for peace of mind.
The VENTUS 2X OC comes equipped with 12GB of GDDR6X memory, as well as Nvidia's Ada Lovelace architecture with 3rd-generation Ray Tracing cores and 4th-generation Tensor cores.
This all results in an excellent performance, not just when gaming, but also when editing and rendering videos, and any kind of 3D design.
This GPU's boost clock is an impressive 2505 MHz, which when paired with the 5888 CUDA cores and the 21 Gbps memory clock, ensures fast render times. In fact, it's the most powerful graphics card on this list!
You'll need a 650W power supply to run it, and keep in mind that the Ventus 2X isn't the quietest GPU out there.
Note that this is a dual-slot width GPU, so make sure you have enough room for it.
Conclusion – is a low-profile or compact GPU worth it?
The compact GPUs we recommend in this article perform reasonably well in SFF (Small-Form-Factor) cases that are well-ventilated.
In the end, though, low-profile and compact GPUs are a niche market for PC-Builders that, first and foremost, have to work with size constraints and can live with performance hits due to thermal throttling or lower clock speeds.
That's about it from us! What low-profile or compact GPU are you thinking of buying? Let us know in the comments or our forum!