Picking the right computer peripherals is of the utmost importance. These tools don't have to be particularly shiny or expensive, but they do have to fit our individual needs and requirements.
There is one problem though: there are so many options on the market nowadays that it's easy to get overwhelmed.
Shapes, sizes, connectivity options, programmable buttons, honeycomb designs, braided cables, USB this, USB that, ridiculous amounts of RGB, proprietary software, polling rates, DPIs, different grips, and use cases — it's all a mess.
Sometimes you want the most elaborate tool for the job. Other times, you just want a regular mouse with no additional frills on top.
Computer-aided design (or CAD, for short) is a very specific workload. AutoCAD, SolidWorks, Revit, Rhino, Blender, SketchUp, ArchiCad, and so on and so forth — software used by architects and engineers, and designers all across the globe.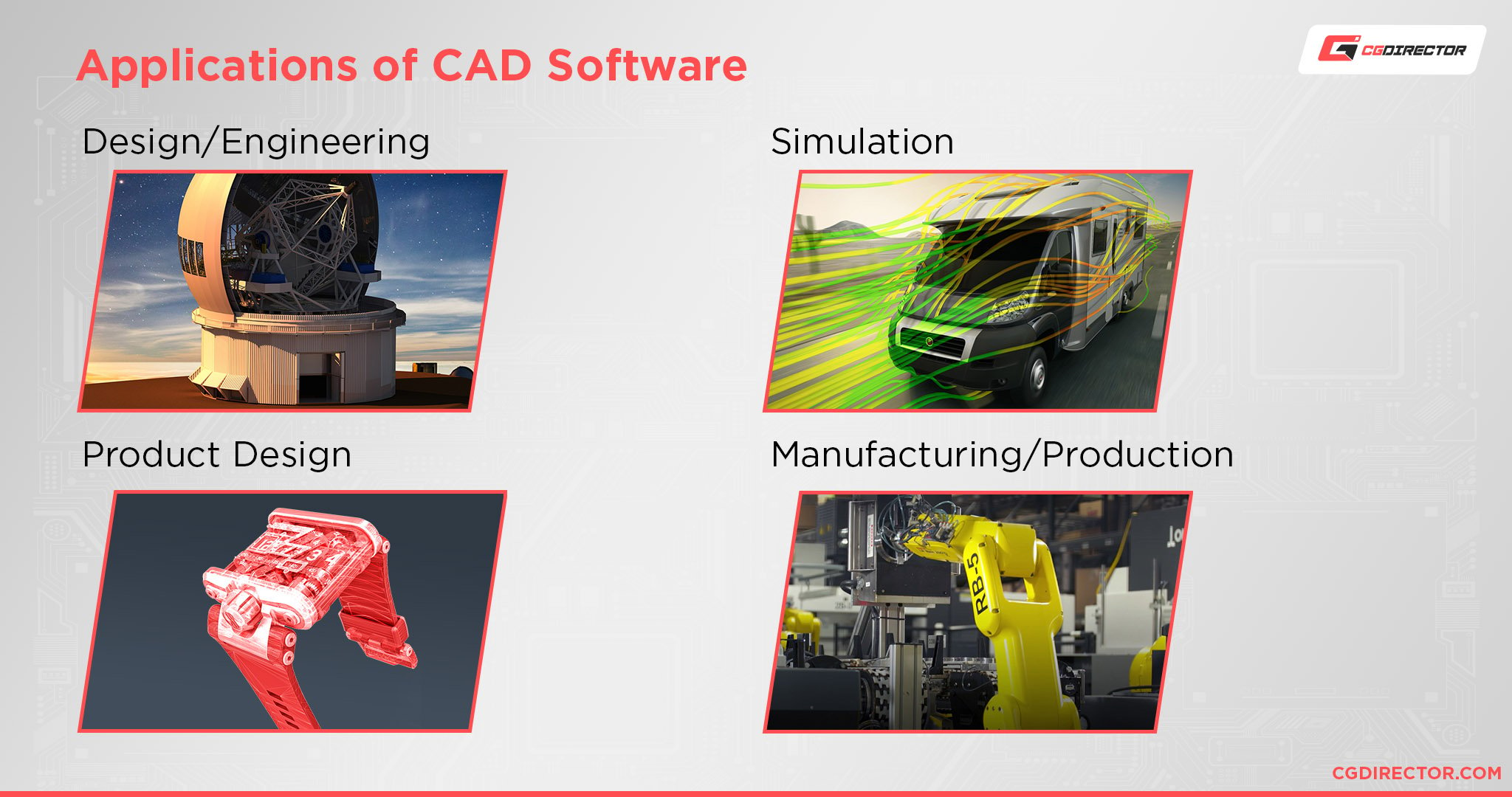 Their jobs are layered, intricate, and, well, wholly important. This kind of work requires many clicks and layers and shapes and what have you, many rotations and shortcuts and key bindings.
Doing CAD work is no easy feat, which is why having the right tools for the job is so darn important — a tool that offers ample precision and is comfortable to use for hours on end.
The main purpose of this article is to give you a better understanding of what exactly you should prioritize when buying a mouse for CAD — the philosophy behind it all, if you will.
We'll give out a few concrete recommendations as well (i.e. mice worth your attention and money), but because there's always something new on the horizon, we thought it'd be wiser to focus on the approach rather than just single out a few peripherals that are in vogue at the time of this writing.
So, with that little introduction out of the way, let's begin!
What to Look For in a Mouse for CAD
There's no such thing as a perfect mouse (be it for CAD or any other workload) but some are better than others, and that's mostly because they tick the most important boxes — they get the essentials right.
Computer mice come in various different shapes and sizes.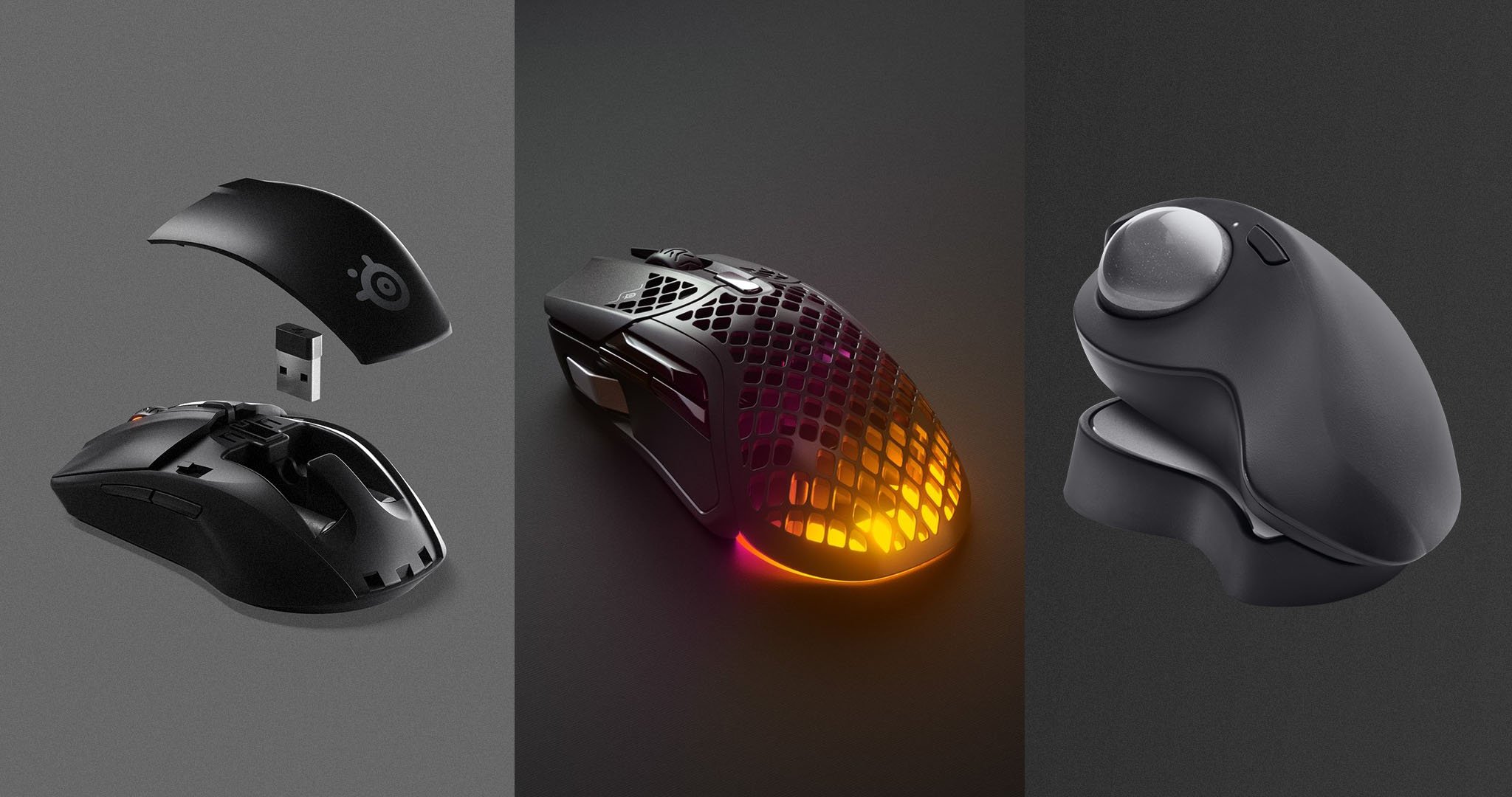 You have small, lightweight options that connect via Bluetooth or a Wi-Fi dongle and can be tossed around as if they were made of styrofoam. There are also "regular" mice with a standard feature set and, potentially, a few bells and whistles thrown on top.
Lastly, you have the obscure, niche options, some of them for gaming (with cutting-edge sensors and proprietary software for Windows/macOS), others with additional trackballs, and many other characteristics that, for some, serve as a boon to their creative and CAD-related endeavors.
Each category has its own pros and cons, and we'll make sure to cover them all down below.
For starters, keep the following criteria in mind when browsing the market:
Programmable Buttons
Having additional programmable buttons can often come in clutch.
Heck, it may even be mandatory, depending on the software you use and your particular workflow. The more buttons you have the more potential there'll be when it comes to creating unique per-program bindings and commands that'll speed up your entire workflow. As long as those buttons aren't in badly accessible places or hinder your regular mouse usage by mis-clicking them at times.
The point, in other words, is to get as many crucial shortcuts and macros onto your mouse so that you can be as fast and precise as possible. This will obviously take a bit of getting used to, but once muscle memory kicks in, you'll be faster and more efficient than ever.
You don't need a million programmable buttons, granted, but having a few additional ones sure can make a world of difference.
To summarize: having additional buttons — be it on the side of the mouse or on top — will seriously benefit your CAD-related endeavors and make your life a lot easier.
Ergonomics [Shape and Size]
Odds are, you'll be using this mouse for hours on end.
Sometimes four or five hours, sometimes eight, sometimes even longer than that. The mouse itself, therefore, needs to be ergonomically pleasing. This is of the utmost importance.
One could argue that this, in particular, is the most crucial "element of the equation."
Your hand should rest on it without ever creating the slightest discomfort.
The mouse should, in a way, feel like an extension of your palm, a device that is easy to move around (and, therefore, relatively lightweight) but also firm and large enough to accommodate your grip.
If you're unsure what shape you prefer, head over to your local IT store and test out as many mice as they have on display.
Just because a mouse looks nice doesn't necessarily mean it'll fit your needs and be a joy to use for hours and hours.
Or: Just get a few Mice and try them out for a week or so. You can always send them back with the right return policy.
A Mouse is crucial for both work efficiency and your wrist's health. Don't neglect the importance of investing some time into finding the right mouse.
Connectivity
Some mice are wired — a physical connection that tethers them to your computer. It's an old-school form of connectivity and is, in a way, somewhat archaic.
It's not bad by any stretch of the imagination, but once you feel the freedom that wireless peripherals bring to the table it's hard to go back.
Then again, some users really couldn't care less. It's up to you to decide.
If you're going wireless, most mice nowadays have two different options: Bluetooth and/or 2.4Ghz wireless.
If you opt for the former, you'll get the absolute best battery life. The latter, however, will result in a user experience that is basically identical to that of a wired mouse (precision- and latency-wise).
Moreover, mice that support both wireless options can often be used with a cable as well. They need to have a USB port somewhere (at the front, most likely) so that they can be charged once the battery depletes.
Mice that support wireless charging do exist, but they're a very rare (and highly expensive) breed.
Battery Life
If you do end up going with a wireless mouse, do make sure to read the fine print. Some mice come with built-in batteries.
Others, however, get their "juice" through either a single or double AA/AAA. The number/size of said batteries affects not only the overall endurance but also the weight of the mouse.
This is yet another thing you ought to consider. Some folks love their mice heavy, others light.
There's no "one-size-fits-all" kind of option — you'll have to explore your local IT shop to find out where on this (relatively) wide spectrum you lay.
Mice that connect via Bluetooth often last for months. Those that connect through a Wi-Fi dongle can most often be used for about a week before needing to recharge, although this varies wildly from one model to the next.
Value [Price-to-Performance]
Today's peripherals can get quite expensive — illogically so, even.
Still, just because it has an obscenely high price tag doesn't mean it'll get the job done.
Peripheral companies have the tendency to overhype their products and make them seem like they're the next best thing since sliced bread.
They're not. Of that, you can be certain. Most upgrades nowadays are iterative in nature.
That holds true for mice, keyboards, and so many other tools which we use on a daily basis.
And so, with that in mind, try to find a model that's not only appropriately priced but is also devoid of any unnecessary bells and whistles you're never going to use.
Focus on the Craft, Not the Tools
Nowadays it's easy to get caught up in all the chaos, the never-ending stream of new products, and the unstoppable hype machine that seems to be working both day and night.
Peripheral manufacturers have just a singular goal: to thrive amidst any economy and generate as much revenue as possible.
To do so, they need to create interest by any means necessary, and the line between marketing hogwash and sheer manipulation tends to get blurred a lot more often than we'd like.
You don't need the latest and greatest mice and keyboards to get your work done. A billion programmable buttons aren't going to make you a better architect or gamer or creative.
It's never about the tools themselves but the vision, the skill, the deftness of the artist, the engineer, the architect.
Our tastes and needs vary wildly. You don't need a specific mouse to get the job done.
Still, there are certain tools and bells and whistles that can, by all means, simplify the way we work and, in doing so, speed up our entire process and make it as enjoyable as possible for as long as it lasts.
Best Mice for CAD — Recommendations
The good thing about CAD work is that it doesn't require you to have a bespoke mouse.
As a result, basically, any model can suffice, although the more advanced ones definitely stand out for their many unique features and benefits which can greatly influence and speed up your entire workflow.
As already mentioned, you need a mouse that ticks all the right boxes: ergonomics, battery life, multiple ways of connectivity (if that's something you're interested in), and last but certainly not least: additional buttons which you can program to your liking.
You have three distinct options: you can buy a gaming mouse, a mouse geared towards general productivity, or go with a mouse that was designed with CAD work in mind.
All three options have their own pros and cons.
Bespoke Mice for CAD Work
Mice that have been designed specifically for CAD work are, in a way, your best bet. They're not perfect but they are packed with numerous different features, all of which are bound to come in handy.
The fact that these niche products exist and thrive in such an insanely competitive market is a true hallmark of their quality.
To be fair, 3DConnexion is owned by Logitech, but the point stands nonetheless.
3Dconnexion CadMouse Pro [Wired/Wireless] — This particular model (and its wired alternative) needs no introduction.
It is, according to many, the golden standard, and there's a very good reason why. The most interesting thing about (at least on the surface level) it is that it has a dedicated middle button.
In general use it can replace a scroll click; in CAD-related software, it can be mapped and programmed to do whatever you so desire.
It's ergonomic, portable, well-built, and has support for both Bluetooth and Wi-Fi.
And, perhaps most importantly, it comes with a dedicated button on top that provides quick access to a radial menu — a menu that you can pack with unique per-program shortcuts and macros. It even comes with a semi-rigid carrying case!
The CadMouse Compact Wireless carries much of the same DNA but is, as the name implies, more minuscule in nature.
3Dconnexion SpaceMouse Pro [Wired/Wireless] — This one's as unique as it gets. It's not a mouse per se but rather a bespoke tool for architects, engineers, and designers, one that can allow them to traverse their drawings and elaborate 3D worlds with incredible ease and precision.
It's not a tool meant to replace your mouse (or keyboard, for that matter) but is rather an ancillary peripheral, something designed to make your CAD work as easy and intuitive as possible.
The main controller cap in the middle can be used in a myriad of different ways: it can be pushed, pulled, tilted, and twisted.
It is the most intuitive tool for panning, zooming, and rotating one's drawings/models. There are also a bunch of programmable buttons and macros for you to explore and bind to your liking. It's not cheap, but it sure is without equal!
If you like how it looks and what it offers, 3Dconnexion has an even better, more spec'd-out model.
A Note from Alex:
I've used the SpaceMouse mice in many different 3D Applications and while they're nice for moving around the viewport or presenting a finished model to a client, they don't replace your regular mouse, and especially don't make you any faster in your day-to-day work. They are an add-on for the right moment.

Because they're an addon, you have to switch between a regular mouse and the SpaceMouse, meaning you have to physically lift and move your keyboard- or mouse-hand to the SpaceMouse, which in itself incurs a pretty hefty delay if you think about it. If I keep my hands on the keyboard and use shift/ctrl and some mouse buttons to move around the viewport, I have no such delay. And because you don't move around the viewport sequentially all day, but rather switch back and forth between modeling tools, selecting, menus, viewport adjustment etc. you don't want to switch devices anytime you switch what you're doing in your 3D App in that exact second.
Mice for Productivity
This particular category is chock full of incredible options, all of which have the potential to satisfy your CAD-related needs.
They combine the best of everything: incredible craftsmanship with a feature set that can be used and harnessed regardless of one's profession.
They, too, come in various different shapes and sizes, so you're bound to find at least a couple of models that'll pique your interest.
Logitech MX Master Series — This line of premium productivity mice needs no introduction. It is omnipresent and is beloved by millions of users across the globe.
Precise, robust, ergonomically shaped, with two different scroll wheels, and a bunch of programmable buttons — even one on the side where your thumb is located.
It doesn't come cheap but, one could argue, it's the best option of the bunch. It, too, supports a wide range of connectivity options, can be connected to three different computers/devices and has support for Windows, macOS, Chrome OS, Linux, Android, and iOS.
No wonder it took the world by storm.
With all of that being said, you don't need the latest and greatest MX Master 3S as even the original one will get the job done (assuming you can get it for a good price).
Logitech MX Ergo — If you're after a comfortable, ergonomic design but also need a trackball, this one's definitely worth checking out. It shares many similarities with the MX Master but has a few unique twists thrown in.
Alternatively, you can also check out the Logitech M570 Wireless. It's pretty old by this point but is still worth considering.
Logitech M720 Triathlon — Last but certainly not least, there's the M720 Triathlon.
It's small, lightweight, can connect via Bluetooth and Wi-Fi, is powered by just a single AA battery, has support for all kinds of different devices (and can pair with up to three), comes with Logitech's unique dual-mode scroll wheel, and even an additional programmable button that sits right beneath your thumb.
The best part? It's incredibly cheap for what it is and for the incredible amount of versatility it provides.
Gaming Mice — Always a Great Option
Just because it's marketed towards gamers doesn't mean it won't get the job done for CAD-related work and, well, any other workflow for that matter.
Gaming mice are absolutely stellar as they're made by the dozen, have numerous special features (most of which can be used for CAD as well), and prioritize both performance and ergonomics.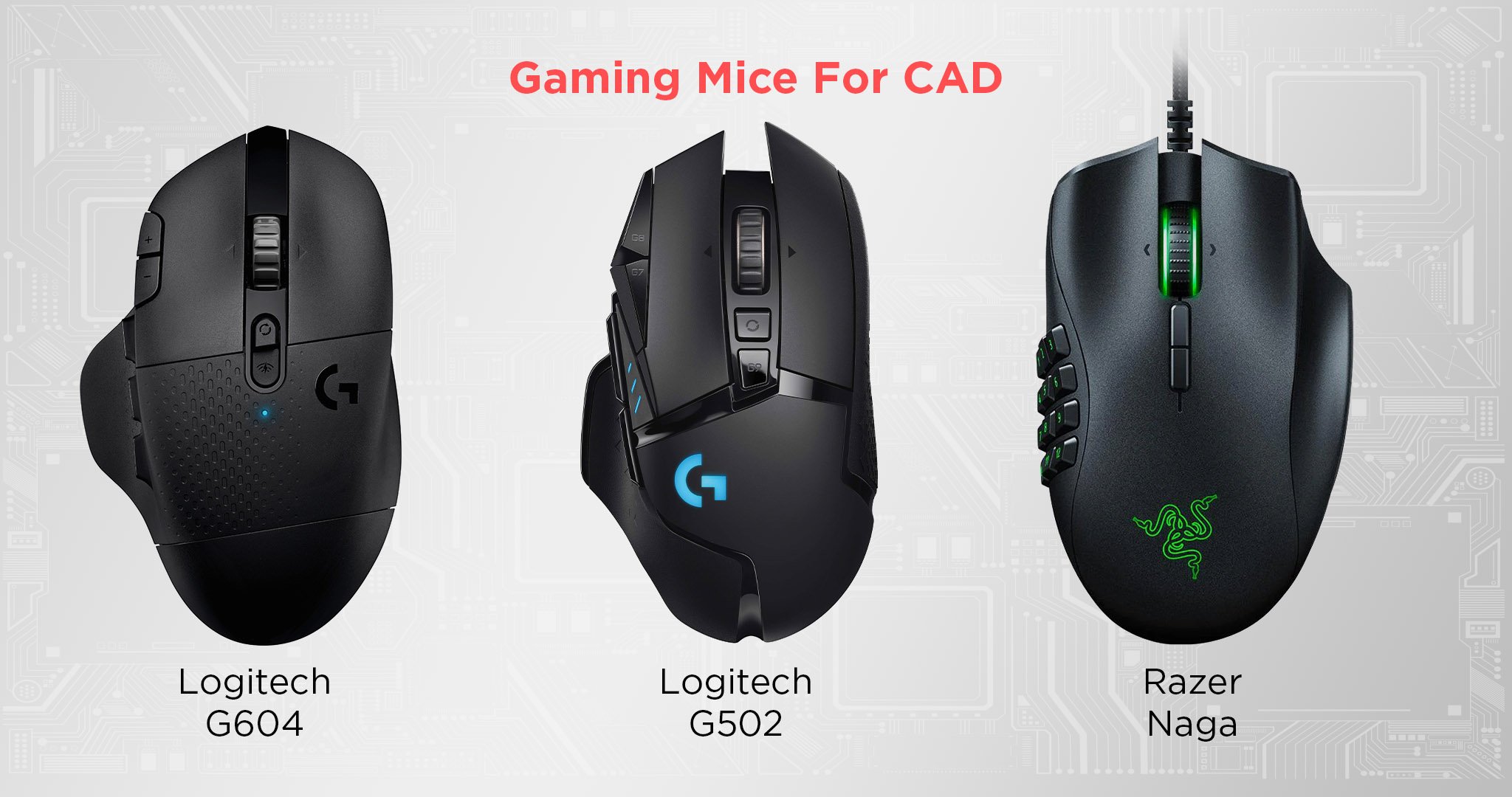 Top-tier gaming mice are an absolutely stellar option for CAD. They have amazing, precise sensors, long battery life, and numerous different connectivity options, they're well-built and, in some cases, come jam-packed with additional buttons which you can then remap to your liking.
Perhaps the best thing about gamer mice is the fact that they're in high demand and, therefore, often on sale. The second-hand market is also flooded with such mice; you can potentially find any model for a fraction of its original MSRP.
A few "timeless" recommendations:
Razer Naga — The Naga series is renowned for its unique looks and, well, more programmable buttons than you can shake a stick at. It comes in both wired and wireless options (something for everyone) and is incredibly ergonomic and well-built.
Logitech G602 & G604 — The G602 is an "oldie but a goodie." Perhaps a bit too outdated but still a worthy entry, especially if you can get it for cheap. A legendary model in every sense of the word. The G604 is basically an evolution of the original.
Logitech G502 — If you can stomach its over-the-top gamery looks, the G502 might be worth considering. It is a model that has stood the test of time for a very good reason.
FAQ
Let's go over a few potential questions you might have regarding this topic:
Can I Use a Gaming Mouse for CAD Work?
You absolutely can!
In fact, it's a stellar option that, in most cases, isn't going to break the bank.
Gaming mice come with top-tier sensors, great build quality, and (depending on the model) a bunch of programmable buttons.
Is It Worth Buying a Mouse Just for CAD?
Of course!
If your livelihood depends on your work and the speed at which you can churn out projects/meet deadlines then you really need to create as efficient a set-up as you possibly can.
Having the right tools at one's disposal is of the utmost importance. You don't need to spend a fortune, granted, but a mouse designed for CAD work (or any other peripheral with a similar purpose) would no doubt do you wonders.
How Much Should I Spend on a Mouse for CAD?
That depends on your budget.
If you have the funds, then the sky's the limit!
Fortunately, even the most expensive models on our list don't retail for more than two or three hundred dollars; even though that isn't cheap by any stretch of the imagination it's still worth pointing out that these tools and peripherals are going to last you many a year — you'll get your money's worth no doubt.
And, perhaps most importantly, they'll give you even more room to evolve and grow as a CAD professional.
Over to You
Do you rely on any special peripherals for your CAD work? Or do you, conversely, use a standard, "no-frills" kind of mouse and keyboard? Let us know in the comment section down below and, in case you need any help, head over to our forum and ask away!