Whether you're building a PC for gaming or work, a motherboard remains one of your PC's core components. Unfortunately, it's also one of the most complicated purchases when it comes to hardware.
Although motherboards might not seem directly related to performance, and seem dull compared to picking out blazing-fast CPUs and GPUs, choosing the right one allows you to use hardware to their full potential.
A Quick List of Motherboard Recommendations
If you're looking for a quick recommendation, you can find them in the tables below:
Best Z390 Motherboards for Gaming
| Best Z390 Motherboards for Gaming | Notes | Link |
| --- | --- | --- |
| Gigabyte Z390 Aorus Elite | Value Recommendation; Good price-feature balance | Info / Buy |
| ASRock Z390 Taichi Ultimate | Premium Recommendation; Dual Intel LAN and 10 Gigabit LAN | Info / Buy |
| Gigabyte Z390 UD | Budget Recommendation; Stock Core i9 9900K or Core i7 Processors; Not ideal | Info / Buy |
Best B365 Motherboards for Gaming
| Motherboard Model | Notes | Link |
| --- | --- | --- |
| ASRock B365 Pro4/ASRock B365M Pro 4 | Value Recommendation; Pick preferred form factor; Good price-feature balance; Best by far | Info / Buy |
| Gigabyte B365M DS3H | Alternative Recommendation #1 | Info / Buy |
| ASUS Prime B365M-A | Alternative Recommendation #2 | Info / Buy |
| Motherboard Model | Notes | Link |
| --- | --- | --- |
| MSI B450 Tomahawk MAX | Insane Value Recommendation; Can support even Ryzen 9 CPUs; Excellent VRMs | Info / Buy |
| MSI B450M Mortar MAX | Excellent M-ATX Value Recommendation; Only pick if this form factor is preferable | Info / Buy |
Best X570 Motherboards for Gaming
| Motherboard Model | Notes | Link |
| --- | --- | --- |
| ASUS X570 TUF Gaming Plus | Best Value X570 Recommendation | Info / Buy |
| MSI MEG X570 Unify | Best Premium X570 Option | Info / Buy |
Bonus: Best Ryzen Motherboard with 10G LAN
| Motherboard Model | Notes | Link |
| --- | --- | --- |
| ASRock X470 Taichi Ultimate | Best Value Recommendation with 10 Gigabit Ethernet; Excellent VRMs; | Info / Buy |
Factors to Consider when Picking a Motherboard
Picking a motherboard can be complicated with tech jargon and specifications constantly thrown at buyers. It's crucial, now more than ever, to separate critical factors from marketing fluff, so you get the most bang for your buck.
Form Factors
Motherboard form factors generally don't affect the quality or reliability of boards, and you should base your choice purely on what sort of system you're building.
Every motherboard form factor adheres to a certain standard when it comes to specifications like dimensions, placement, and so on.
Larger motherboards will generally offer additional ports, more extensibility, and even more slots. On the flip side, smaller motherboards grant you the portability and flexibility that you might need to build a more compact gaming PC.
However, this might come at the cost of port and slot spacing due to the limited board area.
There are upsides and downsides to every type of form factor, and I'll cover the three most popular ones here:
ATX or Standard-ATX
M-ATX or Micro-ATX
M-ITX or Mini-ITX
Here's an image that'll help you understand their sizes easily –

Mini-ITX motherboards are best suited for ultra-compact builds since you do have to compromise on the selection of ports and slots available for use due to extreme size constraints. If you're not planning on assembling a portable/compact PC, I'd recommend sticking to an ATX or M-ATX motherboard.
CPU Brand
When building a system, the choice of CPU and motherboard do affect each other. Not only are motherboards for Intel and AMD CPUs different, but even among them, you must choose between chipset variants and features for specific CPUs.
If you're buying a processor in early 2020, AMD offers excellent performance and value almost across all price categories. A premium gaming experience doesn't need to be pricey at all. You can even find good 6-core CPUs at and around the $100 price range!
AMD vs. Intel in Early 2020
Thanks to AMD's cutthroat pricing, Intel's low to mid-range product stack offers almost nothing to any type of gamer. AMD's Ryzen processors grant you better performance at lower prices, making it an easy recommendation for those shopping in the budget to mid-range of the market.
However, when looking at higher-end parts, things become a lot more interesting (confusing?) and aren't as straightforward.
Although AMD does offer higher core counts at every price point, Intel's higher clock speeds coupled with eight cores come in handy to edge out its Ryzen competitors, albeit by a relatively small margin.
The only Intel CPU that gamers should consider now (in my humble opinion) is the Intel Core i9 9900K (8 cores/16 threads).
Even then, make sure that you're only going Intel IF you're willing to overclock your CPU to a stable 5 GHz, and are also ready to spend on a motherboard that lets you do so.
Here's an example that shows the stock vs. overclocked performance of the Core i9 9900K compared to AMD's Ryzen 9 3900X, Ryzen 7 3700X, and the budget Ryzen 5 3600.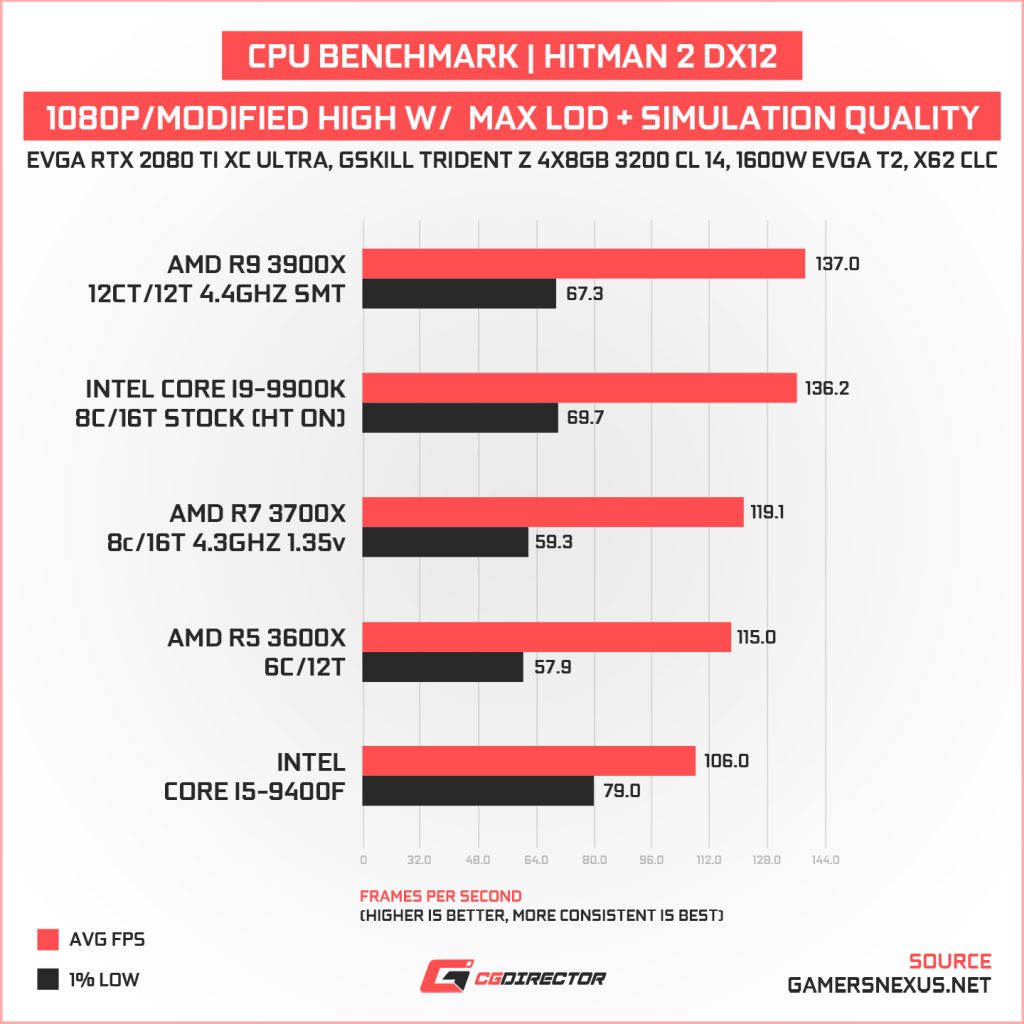 The performance gains aren't overly impressive, even in unrealistic scenarios like gaming with an RTX 2080Ti at 1080p.
Here's a chart that demonstrates these gains with a 4-game performance average (World WarZ, Rainbow Six Siege, Assassin's Creed Odyssey, and Far Cry New Dawn) –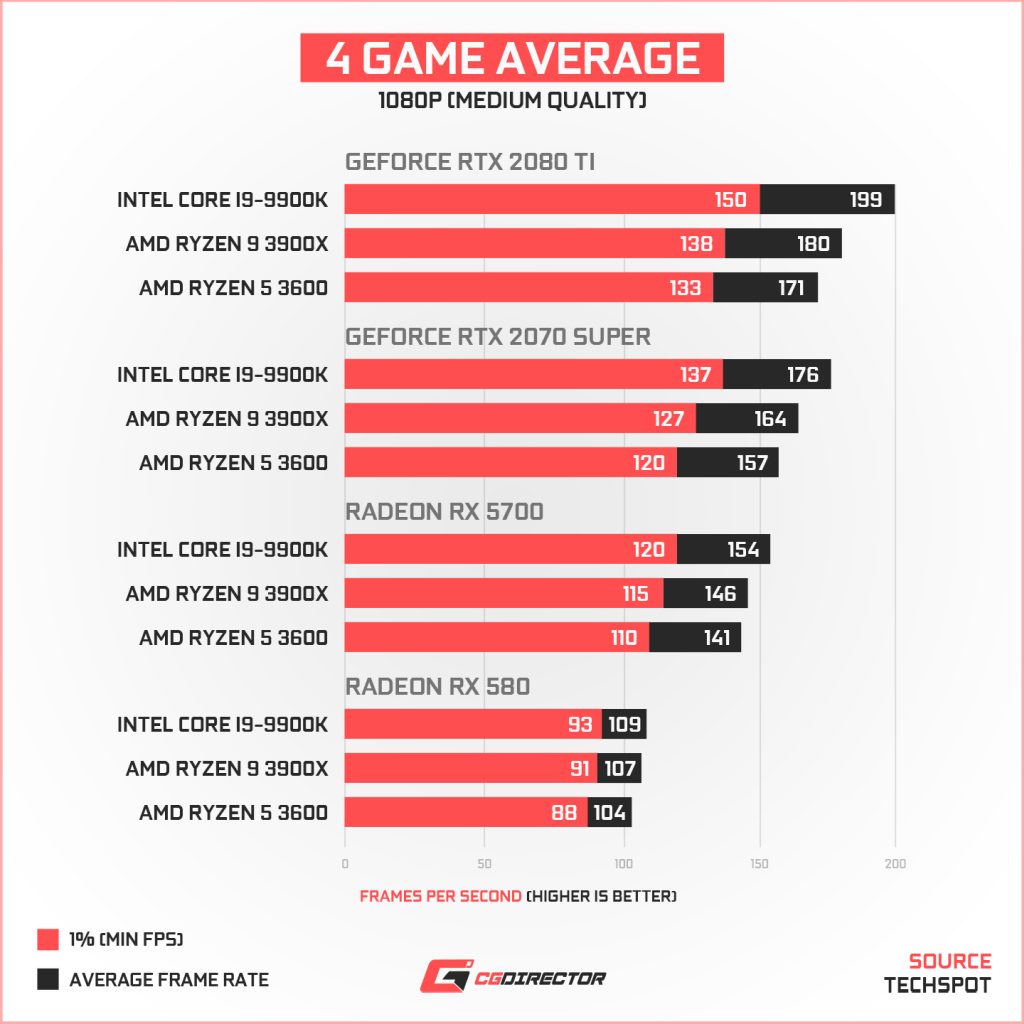 Remember, this is the best-case scenario for Intel's Core i9 9900K.
These performance margins diminish as you up the resolution, or even just tune up the quality setting to 'Ultra' as seen here: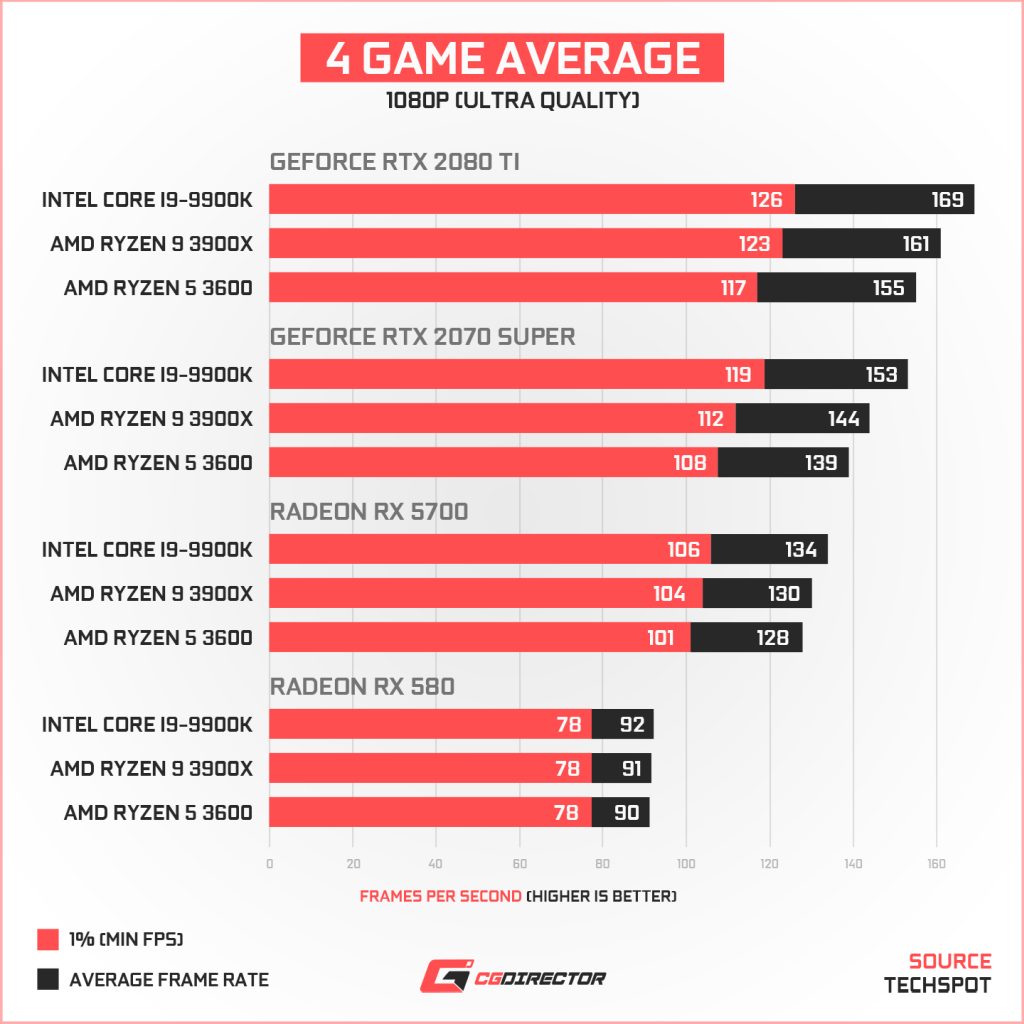 There's a relatively straightforward way to zero in on the right processor for you. Begin by answering the following questions with a simple yes/no:
Will you need to use your system for other tasks like video editing, streaming, heavy multitasking, etc., in addition to gaming?
Do you plan to use a graphics card weaker than a 2070 Super/5700XT
Do you expect to play at a resolution equal to or higher than 1440p?
If you answered YES to any of the above questions, grab an AMD Ryzen processor.
On the other hand, if you answered "NO" to any of those questions, an Intel Core i9 9900K might make sense if you prefer pushing frames as high as you can. If you're just gaming, Intel's 8-core/16-thread offering should serve you a long time.
Remember, be prepared to overclock; otherwise, the performance gains just aren't worth the money you spend on a Z390 motherboard and the CPU itself.
For most gamers who have a fixed budget and want to get the most out of their money, AMD's processor options make more sense because you can buy more GPU power with the money you save to get a much more noticeable boost in performance.
However, if you're already shopping at the top-tier of graphics cards, then yes, a focus on the CPU is valid.
Chipsets
A chipset manages the flow of data between the processor, memory (RAM), and various other peripherals. Not only do chipsets manage this flow, but they also play a significant role in the features you get to experience.
Take Intel's Z390 chipset (I'll be explaining the names later, don't worry!) as an example. If you want to overclock an Intel processor, this is the chipset you'll need. Motherboards with a B365 or H310 chipset (again, ignore the names) won't be able to overclock either the CPU or DDR4 memory.
So, if you spend money on getting an overclockable CPU, you don't want to be stuck with a chipset that doesn't support overclocking.
Here's a handy list of chipsets you should consider (explanation below):
Intel Processors –
Z390
B365
Explanation: Due to the present condition of the CPU market, there's absolutely no reason to buy a locked Intel CPU (overclocking not allowed) because cheaper options from AMD outclass them in most modern games. Hence, you should only consider B365 motherboards if you're very sure that the games you play perform better with something like an Intel Core i5 9400F over the Ryzen 5 3600.
Note – Intel's 10th Generation Lineup has been announced. Watch this space for updates when they're finally on the market.
AMD Ryzen Processors –
X570 (only if you see a need for PCI-E 4.0 or if you'll be running heavy workloads)
B450
X470 (only for 10 Gigabit LAN)
Explanation: AMD's A320 chipset doesn't support overclocking. Since all AMD Ryzen processors are unlocked, i.e., overclockable, going with an A320 chipset isn't a good idea.
One of the most noticeable differences between B450 and X570 is that the latter offers PCI-E 4.0. For most gamers, this feature isn't worth the price jump.
Note – Rumors say that B550 motherboards (which will support PCI-E 4.0) are due to release in the next few months, so please do check this page for an update when they're announced.
Extensibility: Peripherals and Storage Requirements
Extensibility refers to the motherboard's ability to accommodate additional devices. These devices can range from Wireless networking cards and storage drives to USB devices.
Although I will try to cover the extensibility of each motherboard recommendation, it's very subjective and is heavily dependent on your requirements.
Please do make sure that the motherboard you pick can accommodate all the devices you want to attach to it. Even simple things like having an ample number of USB ports will help make your life easier – ensuring that you can avoid cluttering your desk with hubs.
Here are some of the few key specifications you should keep in mind:
Number of USB ports
Number of PCI-E (x16, x4, x1) slots
Number of RAM slots
Number of Ethernet ports and their Maximum Speeds
VRMs and Power Delivery
Unlike rendering tasks, gaming doesn't peg the CPU at a 100% usage for extended durations of time. So, even ignoring this factor shouldn't alter your gaming experience that much.
That said, it's still important to get the best for your hard-earned money. I see no reason to compromise on these components, even when building a gaming PC. Moreover, giving this factor some weight will assist in future CPU upgrades without requiring a motherboard swap!
CPU Core and Thread Counts
Although gaming isn't always a core-hungry workload, modern games have started using additional cores more than ever before. However, this doesn't mean that everyone out there needs an 8-core CPU today. Nonetheless, keep in mind – the more cores you have, the better your motherboard components and quality should be.
So, how much CPU do you need?
For a modest gaming machine that hopes to last a few years without any major hiccups, I'd recommend going for at least a 6-core processor with hyperthreading enabled.
Those six powerful cores should ensure that you're able to play the latest games while minimizing stutter that ruins your game experience for at least a couple of years.
If you have the budget for it, I would recommend splurging on an 8-core, 16-thread CPU to make sure that your rig lasts for several years before requiring an upgrade.
Moreover, some games like "Ghost Recon: Breakpoint" do legitimately use those additional cores to provide a smoother gaming experience.
But there's a catch here. If you're building a gaming PC only to play specific competitive games like Dota 2, CS:GO, League of Legends, Overwatch, and so on, then you won't need to focus on core and thread counts as much as gamers who want to play modern game titles should.
Note – With the release of Intel's 10th Generation processors, I'd recommend steering away from the Corei7 9700K and Core i5 9400F. Intel's new product stack indicates that they are opening up hyperthreading across the entire stack. So, if you only want to buy Intel, wait.
Best Z390 Gaming Motherboards for Intel Core i9 9900K
Most of Intel's product lineup is becoming hard to recommend even for gaming. However, the Intel Core i9 9900K CPU's ability to reach a steady 5 GHz on all eight cores certainly makes it a standout and does warrant 'some' attention.
If you've landed on a 9900K as your next CPU, you'll need a decent Z390 motherboard that can handle a stable 5GHz overclock without frying its VRMs or crashing constantly. So, we'll have to skip most of the (terrible) budget Z390 options.
If you're on a tight budget, this is the wrong CPU + motherboard combo anyway. To run a $500 Core i9 9900K without limiting it in any way, I'd go with a $160-$250 motherboard budget.
Gigabyte has been doing a top-notch job with many of their Z390 motherboards, and the Z390 Aorus Elite is a prime example of a manufacturer doing things right.
Although they do offer pricier Z390 options, I don't see any reason to go with them for gaming unless they have a specific feature you need.
The VRMs on this motherboard will allow you to overclock your Core i9 9900K to a stable 5 GHz without any hassle.
The power delivery on the Aorus Elite is, in fact, quite identical to the pricier Aorus Ultra in Gigabyte's Z390 product lineup.
I like the layout of the motherboard, and it gets most things right. Not only are the M.2 slots spaced out a bit away from where the heatsink of the graphics card would sit, but the slot closer to the CPU also comes with a heatshield – minimizing any chance of thermal throttling on your NVMe drives.
However, if you need more than two full-length x16 PCI-E slots, you might want to spring for the costlier Z390 Aorus Ultra.
RGB lighting shouldn't be an issue as the Z390 Aorus Elite offers both regular 12V RGB headers as well as 5V Addressable RGB (ARGB) headers.
The rear I/O of this motherboard is chock full of options. I'm a fan of motherboards that include plenty of USB ports, and Gigabyte certainly comes through with a total of 10 USB ports on the back.
The lack of even a single USB-C port is a bit disappointing, though. Networking shouldn't be too much hassle as this board comes with Intel Gigabit LAN.
Memory overclocking won't be an issue for kits running up to 3600 MHz. However, if you're running four sticks of memory, it'd still be a good idea to check the board's QVL page (Memory Support List) for validated memory sticks.
If you need 10 Gigabit networking, ASRock's Z390 Taichi Ultimate is the best value option by far. Not only does it come with decent VRMs to handle a fully-overclocked Core i9 9900K, but it also offers premium features at a reasonable price without compromising on quality.
I have no complaints about the board layout other than the positioning of the second M.2 slot. I'm generally not a fan of designs that choose to go with an M.2 slot so close to the first x16 PCI-E slot.
Gaming PCs will always prefer using this PCI-E slot for the GPU to maximize speed, so I like motherboards that have a bit of spacing.
Nevertheless, most users shouldn't notice too much of a performance hit unless using blower cards or running systems on load for extended durations of time.
I'd have liked a few more USB ports on the rear I/O of the Z390 Taichi Ultimate. But the reason for buying this motherboard shouldn't be anything other than 10 Gigabit networking.
You'll find both Dual Intel Gigabit LAN as well as a lightning-fast 10 Gigabit Aquantia LAN option here.
Memory overclocking won't pose too much of an issue with this motherboard as long as you aren't looking to run kits past speeds like 3733 MHz. If you want to run faster memory, do take a look at the motherboard's QVL page to try and find validated kits.
If you want to run Core i9 9900K overclocked while on a budget, this is the ONLY option that can run it without throttling the CPU or overheating.
'Running' is kind of stretching it, and the VRMs do get toasty. However, credit where credit's due – at this price point, this is the only motherboard that won't instantly crash or throttle down.
Realistically though, I'd recommend staying at stock or trying a mild overclock.
Disclaimer: I still don't recommend going this route. A more reasonable use-case for this motherboard is pairing it with an unlocked Core i7 or Core i5 CPU.
Best B365 Gaming Motherboards for Intel Core i5 9400F
Unlike higher-end parts, picking motherboards for locked (non-overclockable) i5 CPUs like the Core i5 9400F is relatively straightforward. At this price tier, it's more about choosing a motherboard that offers excellent value and brings premium features to the table.
Unlike the Z390 chipset, B365 motherboards won't allow you to overclock memory.
So, if you're going this route, don't spend too much extra on RAM that's faster than 2666 MHz unless you plan to upgrade soon.
Most B365 motherboards will offer a similar experience when paired with this CPU. However, a few of them do stand out in the crowd:
ASRock offers one of the best value-for-money options in the B365 product stack. Not only does this motherboard look stunning for an entry-level motherboard, but it also packs a couple of features not usually seen at this price.
You can go for the M-ATX (B365M) or the B365 (ATX) option depending on your case and budget. If you can, I'd recommend grabbing the ATX variant.
It comes equipped with Intel Gigabit LAN, which sets it apart from its competitors almost immediately. Getting access to Intel LAN at this price point is quite rare. Moreover, the motherboard also comes with dual M.2 slots, which is, once again, quite a deal at this price.
Those who want to add some RGB to their system will also find plenty of headers (2x 12V RGB and 1x 5V ARGB) on this motherboard to give you more than enough options.
Note – If you can't find either the ASRock B365 Pro4 or the ASRock B365M Pro4 at a reasonable price in your region, here are a couple of alternatives:
B365 Gaming Motherboards Alternatives
Best Value B450 (AM4) Gaming Motherboards for Ryzen CPUs
B450 motherboards offer an excellent entry-level price for gamers who want to get a decent build without spending too much. I'd recommend any of these motherboards for Ryzen 5 or Ryzen 7 processors.
Although one of these motherboards does run Ryzen 9 CPUs (even overclocked) without any throttling, if you're shopping in that price range of processors, I'd recommend an entry-level to mid-range X570 motherboard (Article) or B550 Motherboard (Article) instead.
But if you're on a budget, go right ahead! You won't need to worry about the motherboard holding back your processor when it comes to gaming.
MSI hit it out of the park with its range of B450 motherboards, and no wonder they're highly recommended by everyone. The B450 Tomahawk MAX is one of the best B450 motherboards out there. Period.
In fact, it's one of the few B450 boards that can legitimately run Ryzen 9 processors without any thermal issues whatsoever.
I have only one complaint with this motherboard – only a single M.2 slot. At this price, I might just be nitpicking. If you do need more than one M.2 slot, you'll have to go with a PCI-E expander card.
Another option is grabbing MSI's B450M Mortar MAX instead (if you don't mind an M-ATX motherboard).
The B450 Tomahawk MAX is one of the best selling B450 motherboards on the market for a reason. It offers far superior power delivery over its competition at an extremely attractive price point.
The VRMs can easily handle even Ryzen 9 processors so that a CPU upgrade won't require a motherboard change.
There's no ARGB header on the motherboard, but it does come with two 12V RGB headers.
The rear I/O is pretty neat, especially at this price range. It does come with a BIOS Flashback button, which makes updating your BIOS very easy.
Upgrading your way all through to a 12 or 16-core CPU shouldn't pose an issue in the future (if your case has decent airflow). However, if you want to run sustained workloads, I'd recommend jumping up to a good X570 motherboard.
MSI again comes out on top when considering all the M-ATX options in the B450 product stack. Not only does the MSI B450M Mortar MAX offer the best power delivery, but it also provides excellent features at this price range.
Although the VRMs should be as good as the B450 Tomahawk MAX, the smaller form factor might cause thermal issues when used in certain types of airflow configurations.
Installing additional fast storage won't be an issue as the B450M Mortar MAX offers two M.2 slots. An extra full-length x16 PCI-E slot, as well as two x1 PCI-E slots, will help with extensibility a good bit.
The rear I/O comes with 8 USB ports (7x USB-A and 1x USB-C). Again, the addition of BIOS flashback to a motherboard at this price point is pretty fantastic; it makes new generation CPU upgrades quite painless.
Best X570 (AM4) Gaming Motherboards for Ryzen CPUs
While most gamers who want value should opt for a B450 motherboard, some might want to use features offered only by motherboards with the X570 chipset. One of the significant differences is access to PCI-E 4.0.
Although PCI-E 4.0, when used fully, is dramatically faster, its use is limited to storage at this stage.
Gamers don't need to consider these storage devices as real options because there's no real-world difference between a regular NVMe SSD and a PCI-E 4.0 NVMe SSD in most tasks.
However, if you're dealing with sizeable raw footage that you frequently move across drives (streamers might know what I'm talking about), you might want to consider PCI-E 4.0 storage.
ASUS offers incredible value with the X570 TUF Gaming Plus motherboard – beating even pricier competitors when it comes to VRM performance. If you need access to PCI-E 4.0 without losing access to a processor upgrade path, this is the motherboard I'd recommend at a bare minimum.
The TUF Gaming Plus offers two M.2 slots (one with a heatshield), so storage shouldn't be an issue for most gamers. Moreover, it comes with 2x 12V RGB headers and a single 5V ARGB header.
The combination of RGB and ARGB headers will make customization easy and flexible.
MSI's MEG X570 Unify was sort of an apology release necessitated by the atrocious performance of their lower-end X570 offerings. With this release, MSI has, in one stroke, made all other motherboards in this price category almost irrelevant.
The Unify comes equipped with VRMs that can handle pretty much anything you throw at it. Even without decent airflow, the VRMs are beefy enough to 'power' through even an overclocked 16-core Ryzen 9 3950X processor.
If you're considering motherboards in this price tier, you'd be looking to buy the best possible platform for a high core count Ryzen processor that's going to be running sustained render workloads that'll require the CPU to be pegged at a 100%.
While most other motherboards come with just a single 5V ARGB header, the Unify offers two of them. There's one 12V RGB header as well.
The MSI MEG X570 Unify motherboard comes equipped with 2.5 Gigabit Ethernet (wired) as well as Wi-Fi 6 (2.4 Gigabit) – giving you plenty of flexibility when it comes to picking between wired and wireless networks.
Note – If you're just gaming, this motherboard is very unnecessary, and I'd recommend dropping to the ASUS X570 TUF Gaming Plus instead.
Go for the Unify only if you know you're going to be running CPU-heavy workloads for extended durations with Ryzen 9 processors and don't want to risk losing even a shred of performance.
Bonus: Best Ryzen Motherboard for 10G LAN
Although I usually don't recommend older chipsets when a new one is available at a similar price, ASRock offered such insane value with their X470 Taichi Ultimate that it's a no-brainer for gamers and streamers who need access to 10 Gigabit LAN on the AM4 platform.
You'll have to spend almost double to get the 10G LAN feature on an X570 motherboard, which just isn't worth it.
ASRock didn't do much wrong with this X470 motherboard. It has excellent VRMs (capable of handling the Ryzen 9 CPUs without breaking a sweat), has 3 full-length PCI-E slots in addition to 2 PCI-E x1 slots, and offers dual M.2 slots for fast storage.
The X470 Taichi Ultimate comes with a single 12V RGB header and a single 5V ARGB (Addressable RGB) header.
What are you willing to spend on a good Motherboard?
Note – Gamers using 10G LAN will see absolutely no improvement to their multiplayer gaming experience, regardless of what motherboard marketing says.
You should only consider 10G LAN if you want to build a NAS to store large chunks of data, like stream recordings, game recordings, and such, and also need fast access to them.
Addressing a Few Common Concerns
Q: Should I overclock?
A: Depends on what CPU you're picking. If you're going with Intel, you should overclock and invest in a decent cooler.
On the other hand, if you're going with a Ryzen CPU, don't overclock and just enable AMD's Precision Boost Overdrive (PBO) to get the best performance possible. The stock AMD cooler is decent, and you can get away with it if you want to save money for other parts.
Q: What kind of Memory/RAM should I use?
A: For an Intel CPU, make sure that you're spending on faster (higher than 2666 MHz) memory only if you're also buying a Z390 motherboard.
With Ryzen processors, 3200 MHz is the bare minimum. In fact, if the price difference between 3200 and 3600 MHz isn't that vast (in some regions, this is a thing), go with the cheapest 3600 MHz CL16 kit you can find. Ryzen CPUs love faster memory.
Q: Will B450 Motherboards support future AMD Ryzen Processors?
A: Well, short official answer from AMD – No.
So, if you're hoping to upgrade to Ryzen 4000 CPUs, I'd give the B450 motherboards a wide berth as of now and wait for B550.
Update: AMD has backtracked on this decision and left it up to the motherboard partners to decide whether they want to support Ryzen 4000 CPUs.
However, on a side note, you really won't need to go above something like a Ryzen 7 3700x for purely gaming builds and a Ryzen 9 3950x for streaming builds for several (at least 2-3) years. Hence, the B450 motherboards still do make sense if you're on a tight budget and need to upgrade as soon as possible.
Did you find your next motherboard? Leave a comment below, and I'll try to help out any way I can!