Intel's consumer CPUs have always remained a step ahead of their AMD counterparts when it comes to single-thread performance.
Although AMD has closed that gap to a negligible level with its 3rd Generation Ryzen lineup, Intel still has something to offer content creators who want the best viewport and active work experience possible.
Moreover, Intel's QuickSync support for specific plugins in applications like Adobe Premiere Pro and After Effects does speed up certain tasks considerably.
Navigating the motherboard landscape can be quite confusing, especially for those who aren't immediately familiar with chipsets, popular features, and other factors you need to know before you pick a board.
I'll help you dissect all the different chipsets and pick the best motherboards for your Intel Core i9 9900k and other 9th Gen Intel CPUs.
Note: If you're looking on a quick primer on what Intel processor to get, you can find more details in the FAQ section below!
Here's a short and sweet list for those who need a quick rundown on what motherboard is the best at every price point. Before I do that, these are the factors I considered before picking them:
Price
VRM Quality
I/O Ports
Expandability (PCI-E, M.2, etc.)
Best Motherboards for i9 9900k, i7 9700k – Overview
Here's an overview for those of you looking for some quick recommendations before diving into the details:
Price Tier
Motherboard
Form Factor
Link
Best Budget
Z390 Motherboard
Gigabyte Z390 UD
ATX
Info / Buy
Best Value
Z390 Motherboard
ASRock Z390 Taichi Ultimate
OR
Gigabyte Z390 Designare
ATX

ATX
Info / Buy

Info / Buy
Best Workstation
Z390 Motherboard
ASUS WS Z390 PRO
ATX

Info / Buy
Best Budget Workstation
Z390 Motherboard
SuperMicro C9Z390-PGW
ATX
Info / Buy
Best M-ATX
Z390 Motherboard
Gigabyte Z390 M Gaming
M-ATX
Info / Buy
Factors to Consider
If you've read through our motherboards for Ryzen 3000 guide, you'll be familiar with some of the factors you find here. However, there are a few critical differences because of the variation in Intel's and AMD's CPU architecture.
What are you willing to spend on a good Motherboard?
While Zen-based processors scale exceptionally well with memory latency and speeds, Intel's offerings don't show as much of an improvement. As long as you're using memory that has a reasonably low CAS latency and clocks to 3000 MHz (MT/s) or higher, you're good. Since most Z390 motherboards can help a 9th Gen Intel Processor do this easily, I won't consider memory support a significant factor. (For Motherboard Recommendations for 10th gen Intel CPUs go here)
Instead, here are a few factors you do need to consider before deciding on a motherboard for your 9th Generation Intel CPU:
Pick the Right Chipset
Unlike AMD's chipsets, Intel's chipsets lock in certain functionality. For any serious content creator who's getting a 9th Gen Intel CPU, I wouldn't recommend anything other than the Z390 chipset.
Why? Well, first and foremost, you need either a motherboard with the Z370 or Z390 chipset to be able to overclock either your CPU or memory. However, since Z390 motherboards are better in every way while being similarly priced, I don't see any point in considering any Z370 offering at all.
If you're curious about the differences between all the different chipsets, here's a quick reference:
Z390 vs. Z370 vs. H370 vs. B360 vs. H310
| | Z390 | Z370 | H370 | B360 | H310 |
| --- | --- | --- | --- | --- | --- |
| Overclocking Support (CPU and DDR4) | Yes | Yes | No | No | No |
| Max PCI-E 3.0 Lanes | 24 | 24 | 20 | 12 | 6 |
| Max USB Ports | 14 | 14 | 14 | 12 | 10 |
| Intel Rapid Storage Technology PCI-E RAID 0, 1, 5, 10 | Yes | Yes | Yes | No | No |
| Max USB 3.1 Gen 2 (10 Gbps) | 6 | 0 | 0 | 0 | 0 |
| Integrated WiFi 802.11ac | Yes | No | No | No | No |
A quick reference about which of those features you should care about:
Overclocking: I wouldn't recommend overclocking to content creators who will be stressing their systems with frequent rendering tasks. However, if you're looking for a snappy viewport performance or a mix of both, a mild overclock could do wonders for your productivity. Moreover, a memory overclock is a must, really, so this feature is critical.
Max PCI-E Lanes: If you're considering multi-GPU setups, this factor is especially significant.
VRM Quality
Intel's advantage lies in its high IPC and clock speeds. However, this means achieving boost clocks consistently, without any limitation from the motherboard's VRM. Of course, this assumes that the cooling solution you chose for your processor is not limiting it in any way.
For most Core i7 and Core i5 CPUs, this isn't too much of a concern. But since I won't recommend using something like a 9th Gen Core i5 unless you want to upgrade to something better later, there's no point in skimping on the motherboard.
Expandability and I/O
It's quite frustrating when you run out ports to connect peripherals or realize that you're running short on storage and don't have any slots left for additional storage. Considering the back panel of the motherboard as well as its extensibility (PCI-E slots, M.2 slots, SATA, etc.)
Note: If you're wondering why I'm not considering on-board Audio as a vital factor, I've found that they're pretty indistinguishable for most users. More details in the FAQ section below!
Best Workstation Motherboard for 9th Generation Intel CPUs
If there ever was a motherboard that touched bases with the worlds of both HEDT and mainstream desktop computing, it's this one right here.
This motherboard has excellent VRMs that are capable of dealing with the power requirements of even an overclocked Intel Core i9 9900K.
The WS Z390 Pro supports the use of up to 4 Graphics cards, albeit with the help of PLX switches. Unless you're working on applications that need the bandwidth of all 4 PCI-E slots simultaneously, this shouldn't be an issue. However, if you do need such a setup without bandwidth limitations, it might be worth considering Threadripper or Intel's HEDT lineup.
In addition to the array of 4 PCI-E 3.0 (x8/x8/x8/x8) slots, the motherboard comes with dual M.2 sockets for NVMe/SATA SSDs. Both the M.2 slots do come with thermal shields to help them stay well below the operating temperature.
Back panel connectivity isn't what I would term 'plenty.' However, it does have a decent amount of I/O options in addition to dual Intel Gigabit LAN as well as a handy BIOS Flashback button.
The absence of even a single Thunderbolt 3 port at this price does sting, though. Those who need it will have to use the built-in Thunderbolt 3 header along with an add-in card. Although you do get dual Intel Gigabit LAN, I'd have preferred a 10 GbE LAN option.
If you're not interested in all those PCI-E slots, I suggest you shop for a motherboard at a much lower price bracket (check out my value recommendation).
Recommended for: 9th Gen Intel Core i9 9900K, even overclocked and running sustained workloads.
Best Budget Workstation Motherboard for 9th Generation Intel CPUs
If you're looking for a more budget-oriented option for a Z390 workstation setup, SuperMicro offers an excellent motherboard for professionals.
In addition to solid VRMs that will ensure stability for any 9th Generation Intel processor you throw into this board, SuperMicro's Z390 motherboard also comes with dual M.2 slots for ample storage expansion.
This Z390 motherboard, much like its ASUS counterpart, offers four x16 PCI-E slots (x8/x8/x8/x8).
The use of a PLX switch to achieve this on a mainstream platform does limit the total bandwidth available simultaneously. Unfortunately, a necessary trade-off. You can find more details about this in the FAQ section below!
My real gripe with this motherboard starts with the back-panel I/O. When compared to other motherboards in its price range, it has a relatively sparse back panel. However, the saving grace is dual LAN – both Gigabit, as well as 10G options, are available. If you want access to 10G LAN in addition to 4 PCI-E slots, this is the motherboard I'd recommend.
Recommended for: Intel Core i9 9900K, even overclocked and running sustained workloads.
Best M-ATX Motherboard for 9th Generation Intel Processors
It's not often that we get great motherboards for smaller form factor builds. If you're planning to build a compact PC, the Gigabyte Z390 M Gaming motherboard manages to offer a solution without compromising on features and performance too much.
In addition to being one of the only Z390 motherboards in an M-ATX form factor that comes with dual x16 sized PCI-E slots, this Gigabyte offering also comes with a decent 5-phase VRM. Although it should be able to support even the mighty Intel Core i9 9900K, I won't recommend any extreme overclocking over extended work sessions.
As expected from an M-ATX motherboard with dual x16 PCI-E slots, it does come with a few compromises. While the bottom slot is x16, the bandwidth available to it is only x4, i.e., any graphics card installed there will have access to only 1/4th the bandwidth available to the top card.
Nonetheless, this can be a great budget solution for those who aren't too concerned about bandwidth. Once data is loaded onto the GPU's memory, it won't affect processing. However, if your workload is bandwidth-intensive, i.e., information needs to flow to and fro the GPU frequently (or all of it is too big to fit onto the VRAM in one go).
Well, you can't expect too much back-connectivity when we're talking about M-ATX motherboards. For many people, this most definitely means investing in USB hubs as needed. Thankfully, unlike other motherboards in this price range, Gigabyte has equipped the Z390 M Gaming with Intel Gigabit LAN instead of the standard Realtek controller.
Recommended for: Intel Core i9 9900K on stock. Ideally, something like a Core i7 only.
Best Budget Motherboard for 9th Generation Intel CPUs
When it comes to offering value-for-money, Gigabyte seems to have it down. The Gigabyte Z390 UD comes equipped with a surprisingly okay VRM that I could trust even with something like a Core i9 9900K. In fact, for buyers on a budget who need a reliable performer, this is the motherboard I'd recommend.
Please note that it IS still a budget motherboard. Hence, I don't recommend overclocking a Core i9 CPU on this motherboard at all. However, unlike other motherboards in its weight class, it can handle the 9900K even overclocked, I don't recommend it for sustained workloads.
Although the motherboard does support triple-GPU setups, when all three slots are populated, the bottom two slots operate at x4 instead of x8. It's not a massive loss in performance with something like a 2080 Ti on relatively smaller workloads. But when we're talking about heavy workloads, you're going to want the best performance you can get.
Storage is an issue if you plan to use multiple M.2 devices. Although there is an ample number of SATA ports, it may not be enough, especially when building a PC for CG work. I suggest using PCI-E M.2 Expander cards if you find yourself requiring access to more high-speed storage.
The UD's back panel isn't too great, but at this price range, it's pretty standard. Can't complain.
Recommended for: Intel Core i9 and Core i7 processors on stock only. Could handle them overclocked, but I won't recommend it.
Best Value Motherboard for 9th Generation Intel CPUs
I had an awful time trying to pick the best motherboard for this category, and it was a toss-up between the ASRock Z390 Taichi Ultimate and Gigabyte's Z390 Designare. Overall, they have a similar price point, and I ended up picking the Designare as my choice due to the availability of Thunderbolt 3.
Update: There seems to be an issue when connecting legacy Thunderbolt devices using the ports on this motherboard. However, some users seem to have sorted it out by downloading Gigabyte's Thunderbolt driver manually. Here's a link to that driver, in case you're running into the same issue.
The motherboard comes equipped with 3 PCI-E slots (x8/x8/x4), giving those who need multi-GPU setups ample flexibility. There's a caveat, though. If you're running triple-GPU setups, you'll ideally want to run all 3 PCI-E slots through the PCI-E controller. In its default state, the last slot is routed through the PCH (Platform Controller Hub). Thankfully, you can switch that slot to x4 CPU lanes by borrowing 4 lanes from the second slot, making the configuration x8/x4/x4.
Using x4 PCI-E 3.0 slots isn't ideal, but that's the trade-off when using a mainstream consumer platform like the Z390 instead of an HEDT/workstation platform.
Trade-offs remind me – there's a limitation to using the Thunderbolt 3 ports on this motherboard as well. Due to the limited number of I/O lanes available, populating all PCI-E slots will limit the number of Thunderbolt devices you can daisy-chain.
The Designare's back panel is quite populated, and I have absolutely no complaints here. You'll have access to dual Intel Gigabit LAN as well as built-in Wi-Fi 6 Support.
The absence of 10 GbE LAN might be a dealbreaker for some, and for them, I highly recommend the ASRock Taichi Ultimate instead of the Designare.
Recommended for: Intel Core i9 9900K, even overclocked and running on load for sustained workloads.
FAQs – Addressing Some Common Concerns
Would you recommend a rendering workstation with an Intel CPU that needs a Z390 motherboard?
Absolutely not, unless you already have a motherboard and want to upgrade it to the best CPU possible without a platform change. AMD's Ryzen and Threadripper CPUs offer way better value than Intel's consumer platform when it comes to 3D rendering and similar workloads. You can find more information about such questions in our Intel vs AMD post!
What about Adobe CC Products Like Premiere Pro? Will an Intel System be Better?
Unfortunately, Intel's core count woes do hurt it here. An AMD Ryzen 9 3900X costs the same and performs pretty similar to the very best CPU you can use with these motherboards, Intel Core i9 9900K. Now when we consider the upgrade path on the AMD's AM4 platform, there's no way I can recommend an Intel (mainstream) build for any productivity workload.
Here's a benchmark chart to illustrate:
What Kind of Workloads Would Go Well with these 9th Generation Intel CPUs then?
For content creators, CG Artists, and other professionals, these processors can offer the very best timeline and viewport performance. AMD's 3rd Generation Ryzen processors aren't that far behind, but if you want the very best experience for a workstation PC, Intel retains the crown for now. If you want the best, this is it.
Here's a quick preview of Viewport Benchmarks: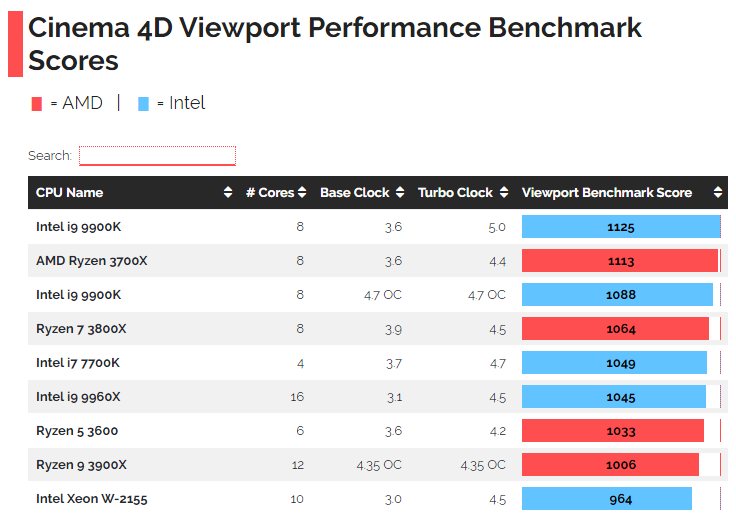 You can find the full list of benchmarks here.
Gaming is another task where Intel holds its own. Again, it's a slight margin in certain edge cases, but it certainly does exist.
Of course, another place where these processors make sense involve workloads that aren't CPU-focused, and rather rely on the GPU(s) instead.
What 9th Generation Intel Processor Should I be Buying?
For our kind of work, I'd go with only one of two products in the 9th Gen Intel CPU stack – Core i9 9900K and Core i7 9700K.
When Using Multi-GPU Setups on a Motherboard with a PLX Switch (ASUS and SuperMicro above), What's the Performance Loss Exactly?
Well, it depends. A PLX switch limits the simultaneous bandwidth available to GPUs considerably. So, this could mean a good drop in performance if your workload involves throwing things in and out of your graphics cards' VRAM at a furious pace.
For workloads that can mostly be handled within the GPU VRAM, without too much data movement, you won't notice that much of a loss of performance.
Isn't On-Board Audio Quality a Necessary Consideration?
I've encountered this question quite often, and that's why I thought I'll address it. Most manufacturers include decent audio chips within motherboards these days, especially at the higher price brackets. If you do need professional audio equipment, you'll have to buy external devices anyway. The electrical interference alone is enough to keep most audio professionals away from internal audio components.
What about the Core i9 9900KS? Will it work with the motherboards you've recommended here?
Well, an i9 9900KS is basically an overclocked 9900K. If a board I listed doesn't recommend overclocking for sustained workloads, avoid them. Others will do just fine!
Are you planning an Intel build and have a few more questions? Do leave a comment below and I'll make sure to help out best I can!