Most of us wouldn't say no to a PC stuffed with beastly hardware, but not everyone has the desk or floor space to stash a tower the size of a child.
Fortunately, PC component and case manufacturers are catching on to the growing demand for small yet powerful rigs, so there are plenty to choose from in 2020.
Although an ultra-compact PC has its perks, there are some considerations to weigh before you buy one—not all of which are obvious.
In this guide, we'll touch on the pros and cons you'll want to think about before joining the travel-sized PC club, and we'll review five of our favorite small ATX cases currently on the market.
We're starting this article with brief look at what to look out for when shopping for a compact ATX Case. If you'd rather just skip to our recommendations, you can do so here.
Best Smallest ATX Cases – Overview
Here's a quick overview of the compact Cases we like best. To find out why we like these the most – read on.
| Case | Notes | Link |
| --- | --- | --- |
| Lian Li Lancool 215 | Excellent Airflow and Thermal performance | Buy |
| Phanteks P300A Mesh Edition | Gentle on your wallet | Info / Buy |
| NZXT H510 | Easy cable management | Info / Buy |
| Cooler Master HAF XB EVO | Horizontal layout | Info / Buy |
| Corsair 275R Airflow | Superb airflow | Info / Buy |
What Does ATX Mean, Anyway?
ATX stands for "Advanced Technology eXtended", which is a notably vague and unhelpful name. It's a motherboard specification (aka "form factor") dating back to the mid-90s and is still the most popular type of motherboard in consumer PCs.
The ATX designation describes the motherboard's size and general layout, which in turn give a general indication of the number and type of connectors and expansion slots.
For instance, some ATX boards may have four RAM slots, whereas others may have six or eight.
Other Motherboard Sizes
Many (if not most) gaming PCs house ATX motherboards or some variant on the ATX standard. These variants number well over a dozen, but most of them are fairly uncommon.
The two smaller ones you'll see most frequently are Micro-ATX and Mini-ITX; the latter is essentially a variant of the ATX standard, despite its different name.
Standard ATX boards are the largest of these three types and have the most expansion slots, so they're capable of supporting more (and thus more powerful) hardware.
Micro-ATX boards are smaller and have fewer upgrade slots, and Mini-ITX boards are smaller still, but both are more than capable of running a sleek and sexy gaming PC.
There is a Mini-ATX form factor, which is smaller than a Mini-ITX board, but this form factor is both uncommon and poorly defined.
To shop for one, you'll have to do careful research on the specifications of each particular board; the "Mini-ATX" label is often used so vaguely that it's easy to unintentionally buy something other than what you were expecting.
There are form factors larger than ATX, such as EATX and XL ATX, which definitely won't fit into a compact ATX case—they're too large.
Note also that, even though Micro-ATX and Mini-ITX boards will physically fit into an ATX case, the case may not have mounting holes for them, so double-check before you buy .
Choosing a Motherboard Form Factor and Case Size
"Compact ATX" is a hot Google search these days, but the term generally is used to refer to a type of PC case, not to a motherboard.
It's approximately synonymous with "mid-tower case", which most often describes those that can accommodate an ATX motherboard and the components you'd normally attach to it, and that are roughly 40.6 cm x 25.4 cm x 45.7 cm (16" x 10" x 18").
All of the five cases we've picked in the review section are mid-tower cases or smaller.
There's another sense in which the term "compact ATX" is problematically vague: It doesn't specify whether the case in question accepts only standard ATX boards or whether it's also compatible with Micro-ATX and Mini-ITX boards, as many cases are.
When you're making a list of parts for your dream PC, it's generally best to start with the motherboard; this choice will determine which GPUs, CPUs, and RAM you can attach to it.
Once you've made that decision, look for a compact case with compatible mounting slots.
Take care to read the description carefully to ensure that the compact ATX case you're eyeballing is actually compatible with your particular motherboard.
Can an ATX Motherboard Fit in a Micro-ATX or Mini-ITX Case?
Many (but not all) ATX cases can accommodate smaller boards, but if a case is advertised as a Micro-ATX or Mini-ITX case, it probably can't readily accommodate a larger board.
"Readily" is the key word here; if there's enough space for the board itself, you could always drill your own mounting holes.
Carefully read the product description to determine if the case is exactly what you're looking for.
Drawbacks of Tiny (Gaming) PCs
An ultra-space-efficient gaming rig that you can easily carry across town for a LAN party is cool (people still have LAN parties, right?).
It's also nice to be able to stash your PC or media center on a small shelf or behind your TV. There are a few downsides to a tiny PC, though.
For one thing, cramming a full set of gaming- or content-creation-ready hardware into a space roughly half the size of a full PC tower reduces airflow and makes it much more challenging to keep all those parts cool.
It's possible, albeit more challenging to install liquid cooling in a compact ATX case.
Less interior space also means fewer hardware options and less upgrade potential. All else being equal, a smaller case means that there are fewer GPUs or even just less powerful low-profile GPUs and power supplies that can fit into it.
However, because small form factor PCs are steadily becoming more popular, component manufacturers are starting to offer a wider selection of space-efficient parts, so you should still have a good number of options now and in the future.
It's also worth mentioning that less space generally means fewer expansion slots in the case and (potentially) less room on the motherboard, which means you may not be able to install as many NVMe M.2 drives or RAM modules as you'd like – or fit as many 3,5″ HDDs into the case as you'd like.
This isn't as big a problem as it was a few years ago, though; hard drive technology has come a long way, and you can still fit 32GB (or even 64GB) of RAM into two slots—more than enough for any modern game.
Still, if you want your PC or media center to have things like a DVD/Blu-ray drive or an internal SD card reader, a compact ATX case may not have room for them.
Despite their drawbacks, compact ATX builds can be a great choice, provided you have a plan to manage heat and that you don't mind sacrificing some extra hardware that generally isn't essential to gaming.
Best Small ATX Cases in 2020
To choose our favorite small form factor cases, we carefully combed available options for top-rated models and cross-referenced their ratings with those found on several other sites.
We also scrutinized hundreds of randomly selected reviews for each one to ensure that, by and large, they were written by real customers—not bots or paid marketers. Eventually, we narrowed dozens of top candidates down to just a few.
On top of that, our team has built a multitude of PCs of all sizes and knows exactly what to look for when buying a case.
Every case we pick will use standard ATX components, and will not rely on PCIe Risers to mount graphics cards vertically – allowing the case to be even slimmer. I know those are options, but using risers for even single GPUs leaves too much up to the quality of those cables. For example, here's Gamers Nexus tearing into NZXT for a faulty riser that was a fire and safety hazard.
Without further ado, here are our top five small ATX cases on the market today.
Pros
Excellent thermals and airflow with stock case fans
ARGB Front Fans included
Good cable management options
Great build quality
Removable dust trays and filters make cleaning quite straightforward
Cons
A bit chunkier than what most people might prefer
Limited mounting space for SATA hard drives and SSDs
Specifications
Compatible form factors: E-ATX (up to 280mm), ATX, Micro-ATX, Mini-ITX
Exterior dimensions: (D) 462mm x (W) 215mm x (H) 482mm/18.1" x 8.4" x 18.9"
Approx Interior volume: 48~ liters
Max Internal 3.5" HDDs: 2
Max Internal 2.5" SSDs: 2 (One 3.5″ HDD slot can be repurposed for another 2.5″ SSD)
Max External 5.25" drive slots: 0
I/O connections: Power button, Reset button, LED button for lighting mode control, 1 x HD AUDIO, 2 x USB 3.0
Rear expansion slots: 7
Case fans: Front: 2 x 140mm or 3 x 120mm; Top: 2 x 120mm or 2 x 140mm; Top of PSU chamber: 2 x 120mm
Max CPU cooler height: 166 mm/6.53"
Max GPU length: 370 mm/14.57"
Max liquid cooling radiator size: 280mm x1 (top), 360mm x1 (front)
Lian Li's Lancool 215 gets our "best overall" vote because it largely mitigates the two biggest problems that tend to come with small ATX cases, and it does so at a very reasonable price.
It's got an impressive amount of usable interior space relative to its overall dimensions, and the mesh design combined with the honeycomb vents allows for significantly better airflow than what most similarly-sized cases can achieve.
The included 2x140mm ARGB Front case fans provide a surprisingly decent thermal performance right out of the gate. If you're going with the Lancool 215, there's really no need to swap out these front intake fans. They're excellent and manage to perform admirably when it comes to keeping CPU and GPU temperatures in check.
The built-in cable management channels are helpful, too; they keep your build looking nice and neat, and out-of-the-way cables make for a cool-looking build that you can show off through the tempered glass side panel.
Well, a compact case, that houses most modern hardware and cooling solutions with ease, delivers excellent thermal performance and also offers brilliant build quality. Seems like it has it all, right? Well, it certainly does except for one issue that might bother some professionals.
If you use either more than 4 SATA storage devices, more than 2 HDDs, or more than 3 SSDs, you're bound to run into mounting issues. The case officially only supports 2 SSDs on the back of the case and 2 HDDs in a (removable) cage at the front. You can swap out 1 HDD for an SSD in the aforementioned cage as well, taking the maximum SSD count to 3. For anything more, you have no option but to adopt more janky solutions that aren't exactly recommended.
Pros
Relatively gentle on your wallet
Very good build quality
Impressive airflow for its size – can work with both air and liquid-cooled systems
Offers a PSU shroud
Cons
The top magnetic dust cover doesn't have great grip
Extremely tight fit if using a Modular PSU; many users ended up removing their 3.5″ HDD bay for convenience
Poor airflow towards the HDD bay area (nitpick)
Although tool-less, the screw threads aren't great and are unpleasant to tighten or loosen
Not a good choice for a > 240mm Radiator
Specifications
Compatible form factors: ATX, Micro-ATX, Mini-ITX
Exterior dimensions: 40cm x 45 cm x 20 cm/16" x 18" x 8"
Interior volume: 36.4 liters
Internal 3.5" drive slots: 2 (Read cons)
Internal 2.5" drive slots: 2
External 5.25" drive slots: 2
I/O connections: USB 3.0 x2, 3.5mm audio/mic
Rear expansion slots: 7
Case fans: 120mm x3
Max GPU length: 35.5 cm/13.98"
Max liquid cooling radiator size: 240mm x1
Barring a few space issues (which is expected in a compact case, I guess), the Phanteks P300A Mesh Edition delivers quite a bit of value in the ~$60-70 price segment.
If you plan on building a fully-loaded high-end rig, you'll find that heat may be a problem if you rely solely on air cooling. Although the case has a mesh front, its size makes larger intake fans impossible. Yes, the case boasts support for 280mm radiators, but there's an issue.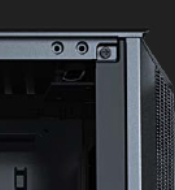 See the top right of the case? It's blocked by the controller for the power button and external I/O. Because this case is already such a tight fit, you'll find that most 280mm radiators will get blocked by that top portion. Stick to 240mm (2x120mm) radiators.
Some Amazon reviewers report general quality-control problems with the case, such as badly threaded screws that make tool-less assembly impossible, or at least, unpleasant.
If you're after a basic, compact ATX case for well under $100, the Phanteks P300 Mesh Edition is an excellent choice at its wallet-friendly price point.
Best Mid-range Compact ATX Case: NZXT H510
Pros
Easily configurable for liquid or air cooling
Sleek, easy cable management
USB 3.1 and USB-C connectors
Cons
May have quality control problems, according to Amazon reviews
Specifications
Compatible form factors: ATX, Micro-ATX, Mini-ITX
Exterior dimensions: 46 cm x 42.8 cm x 21 cm/18" x 16.85" x 8.25"
Interior volume: 41.35 liters
Internal 3.5" drive slots: 3
Internal 2.5" drive slots: 3
External 5.25" drive slots: 0
I/O connections: USB 3.1 Type A x1, USB 3.1 Type C x1. 3.5mm audio/mic
Rear expansion slots: 7
Case fans: 120mm x2, 140mm x1
Max CPU cooler height: 16.5cm/6.5"
Max GPU length: 38 cm/15" without radiator, 32.5 cm/12.8" with radiator
Max liquid cooling radiator size: 140mm x2 (front), 120mm x1 (rear)
This space-efficient case is designed to make your next build as easy and modular as possible. It comes with a pre-installed liquid cooling radiator mount, but you can easily pop it out and use that space for something (or nothing) else if you'd rather rely on air cooling.
Cable management is a breeze with multiple routing channels and an included kit that has adjustable ties and fasteners.
The case also has USB 3.1 and USB-C ports on the front, negating the need for annoying and often unreliable adapters (provided you have a motherboard that supports both types of connections).
The side panel is held in place with a single thumbscrew, meaning it can't randomly fall off as so many latch-based side panels are prone to do.
Unfortunately, quality control seems to be NZXT's weak point. Some Amazon buyers report that the case arrived damaged, with stripped screw holes, or with missing parts.
On the bright side, the company offers a two-year warranty—double what many others offer—and generally good customer service; many Amazon buyers who initially had problems with the case report in their reviews that NZXT fixed those problems with minimal fuss.
We also don't want to overstate the quality control problem; although reports of such problems are somewhat common, the majority of people who own this case seem to be quite happy with it.
Pros
Horizontal layout and sturdy carrying handles make for easy transport
Four total drive bays that support 3.5" and 5.25" drives
Generally excellent airflow
Cons
Assembly can be tricky
Regular maintenance is a pain
Specifications
Compatible form factors: ATX, Micro-ATX, Mini-ITX
Exterior dimensions: 44.2 cm/33 cm/42.3 cm/17.4" x 13" x 16.7"
Interior volume: 61.7 liters
Internal 2.5"/3.5" combo drive slots: 4
External 5.25" drive slots: 2
I/O connections: USB 3.0 x2, 3.5mm audio/mic
Rear expansion slots: 7
Case fans: 120mm x2
Max CPU cooler height: 18 cm/7.1"
Max GPU length: 33.4 cm/13.1"
Max liquid cooling radiator size: 240mm x1 (front), 120mm x1 (rear)
If you've been struggling to find a horizontal, LAN-box-style case that can accommodate ATX, Micro-ATX, and Mini-ITX boards, look no further. The Cooler Master HAF XB EVO is a space-efficient case with great temperature control.
There's room for a GPU up to 34.3 cm/13.5" long, four 3.5" and/or 5.25" devices, and pretty much any CPU heatsink on the market.
The case is supremely easy to move and transport, is virtually immune to tipping over, and because the heat-generating components sit on the bottom, hot air naturally rises and easily exits through the top of the case.
Because of this layout, temps stay low even though there's less overall free space inside than in a similarly-sized vertical case.
The XB EVO's heat-dissipating layout is also the source of its only major flaw. Because of its shape, you'll have to install your components in a specific and unintuitive order.
This also makes regular maintenance somewhat annoying, as it's difficult or impossible to remove some of the air filters without first removing fans and/or some of your hard drives. At worst, though, this adds a few minutes to your monthly cleaning routine.
Provided you don't mind a $175 price tag and a bit of extra disassembly and reassembly, the XB EVO is one of the best small ATX cases out there.
Pros
Superb airflow and temperature control
Room for multiple extra fans and/or liquid cooling radiators
Space for up to six hard drives
Cons
Requires frequent cleaning
A bit expensive for what you get
Specifications
Compatible form factors: ATX, Micro-ATX, Mini-ITX
Exterior dimensions: 45.7 cm x 45.7 cm x 21.6 cm/18" x 18" x 8.5"
Interior volume: 45.1 liters
Internal 3.5" drive slots: 2
Internal 2.5" drive slots: 4
External 5.25" drive slots: 0
I/O connections: USB 3.0 x2, 3.5mm audio
Rear expansion slots: 9
Case fans: 120mm x3
Max CPU cooler height: 17 cm/6.7"
Max GPU length: 37 cm/14.6"
Max liquid cooling radiator size: 120mm x1 (rear), 240mm x1 (top), 360mm x1 (front)
Keeping your GPU and CPU temps low is one of the biggest challenges associated with small ATX cases, but you shouldn't have that problem with the Corsair 275R Airflow, which is nice and roomy on the inside while maintaining a small exterior footprint.
The front panel has more holes than not-holes, ensuring that tons of fresh air will get into the case (there's adequate outflow on the top, back, and right side, too).
There's room for up to six hard drives; and six fans, two liquid cooling systems with radiators up to 360mm, or some combination thereof. There are also a ton of RGB lights for those of you who are into that (and if you're not, you could just not plug them in).
Unfortunately, the design that maximizes airflow also maximizes dust. Because there's no dust filter in the front panel, you'll need to be diligent about cleaning the inside frequently.
Given that the case is space-efficient but otherwise fairly bare-bones, its $150 price tag seems high, but not outrageously so.
Overall, the 275R Airflow is an excellent compact ATX case. If you're concerned about your core temps but want to keep your case under 45.7 cm/18" on its longest side, this one deserves serious consideration.
Happy Space-Efficient Gaming & Working!
Bigger isn't always better. The smallest ATX cases of five years ago kind of sucked compared to the generally excellent ones you can find today.
As long as you have solid plans for keeping your components cool and for upgrading your travel-sized rig a few years down the line, a slim PC case is a great buy.
Is there a mid-tower (or smaller) ATX case you love that you'd like to let us know about? Have any questions about compact ATX cases that we can answer for you?