If you have a specific budget in mind, here's a list of good motherboards that will help you get the most out of your brand-new Intel processor.
Every motherboard on this list will allow your 11th Gen Intel CPU to boost to its promised clocks as long as you give it adequate cooling, as I've taken VRM quality and thermal performance into account.

| | Z590 Motherboard | Good B560 Alternative | Comments |
| --- | --- | --- | --- |
| Under $150 | - | ASRock B560M Pro 4 | There are no Z590 options in this price range. Also, Shopping for a motherboard in this tier is not recommended for Core i7 and above. |
| | | MSI B560M Pro-VDH | |
| Under $200 | Gigabyte Z590 UD | ASUS ROG Strix B560-A Gaming Wi-Fi | ASUS' B560 option is quite compelling at this price range. |
| | ASUS Prime Z590-P | | |
| Under $250 | Gigabyte Z590 Aorus Elite | - | A bit of a weird price range. I'd recommend shopping above or below this tier, if possible. |
| | MSI MAG Z590 Torpedo | | |
| Under $300 | Gigabyte Z590 Aorus Ultra | - | The cheapest Z590 motherboard with PCIe Bifurcation (x8/x8). |
| Under $400 | Gigabyte Z590 Vision D | - | If you're considering a Core i7 (or above) and need to run multiple GPUs, shop here. For Thunderbolt, grab the Vision D. |
| | MSI MPG Z590 Gaming Force | | |
| | MSI MPG Z590 Gaming Carbon | | |
| Under $500 | Gigabyte Z590 Aorus Master | - | Only if you need on-board 10G LAN. Else, shop below this tier. |
Z590 vs. B560 Motherboards: What's the Difference?
One of the most significant changes Intel introduced this year to the more budget-oriented B560 chipset was the ability to overclock memory.
Although you still can't overclock processors on motherboards with the B560 chipset, higher frequency memory will allow you to unlock much better performance, even on locked Intel processors.
Here's a quick overview of the differences between these chipsets:

| | Z590 | B560 |
| --- | --- | --- |
| Socket | LGA1200 | LGA1200 |
| Chipset PCIe 3.0 Lanes | 24 | 12 |
| Maximum USB Ports | 14 | 12 |
| Memory Overclocking | Y | Y |
| CPU Overclocking | Y | N |
Should You Consider a B560 Motherboard?
Although I was initially of the opinion that the availability of memory overclocking would make B560 motherboards a viable option for a mid-range Intel workstation build, I'm not too sure after seeing some very disastrous results.
So, what are the issues with B560 motherboards in their current state?
Wildly varying CPU performance due to either throttling or tight power limits.
Getting a reliable motherboard with decent CPU performance starts infringing on the price point of Z590 motherboards. Does it make sense to give up the additional PCIe lanes and CPU overclocking at that point?
Here's an interesting result from Steve's investigation into B560 motherboards over at Hardware Unboxed: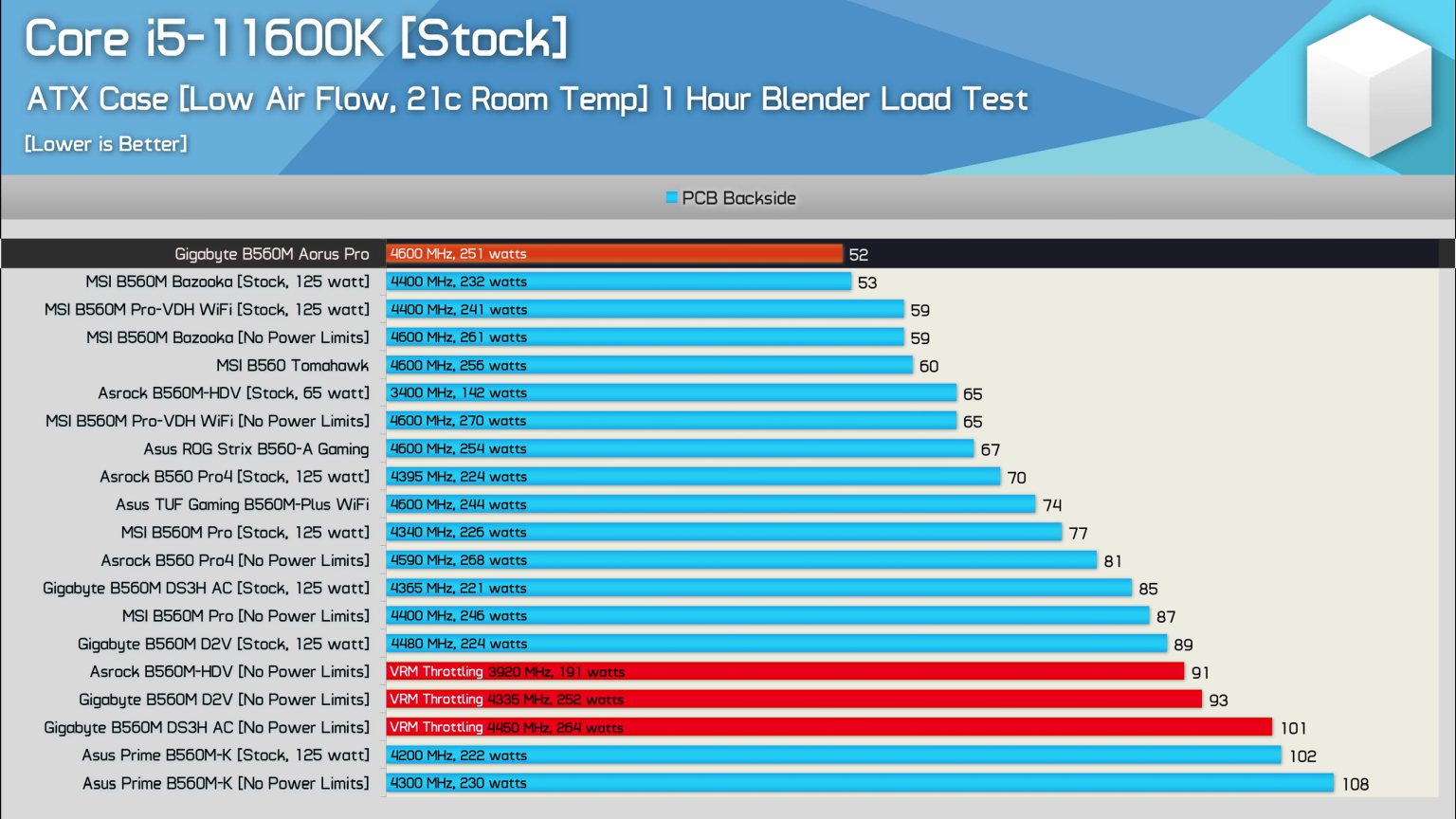 Even with a 6-core, 12-thread CPU, many of the budget and value B560 motherboards struggle to not throttle or overheat.
Those that do manage to stay cool lowered the power and subsequently processor clock speeds – affecting performance.
It doesn't make sense that someone who watched reviews of Intel's 11th Gen parts on a high-end Z590 motherboard can grab a B560 board with that same processor to end up with noticeably lower performance.
Unfortunately, the problem isn't even limited to 'unlocked' or Intel 'K' CPUs.
For example, here are the results when using a locked Intel Core i7 11700.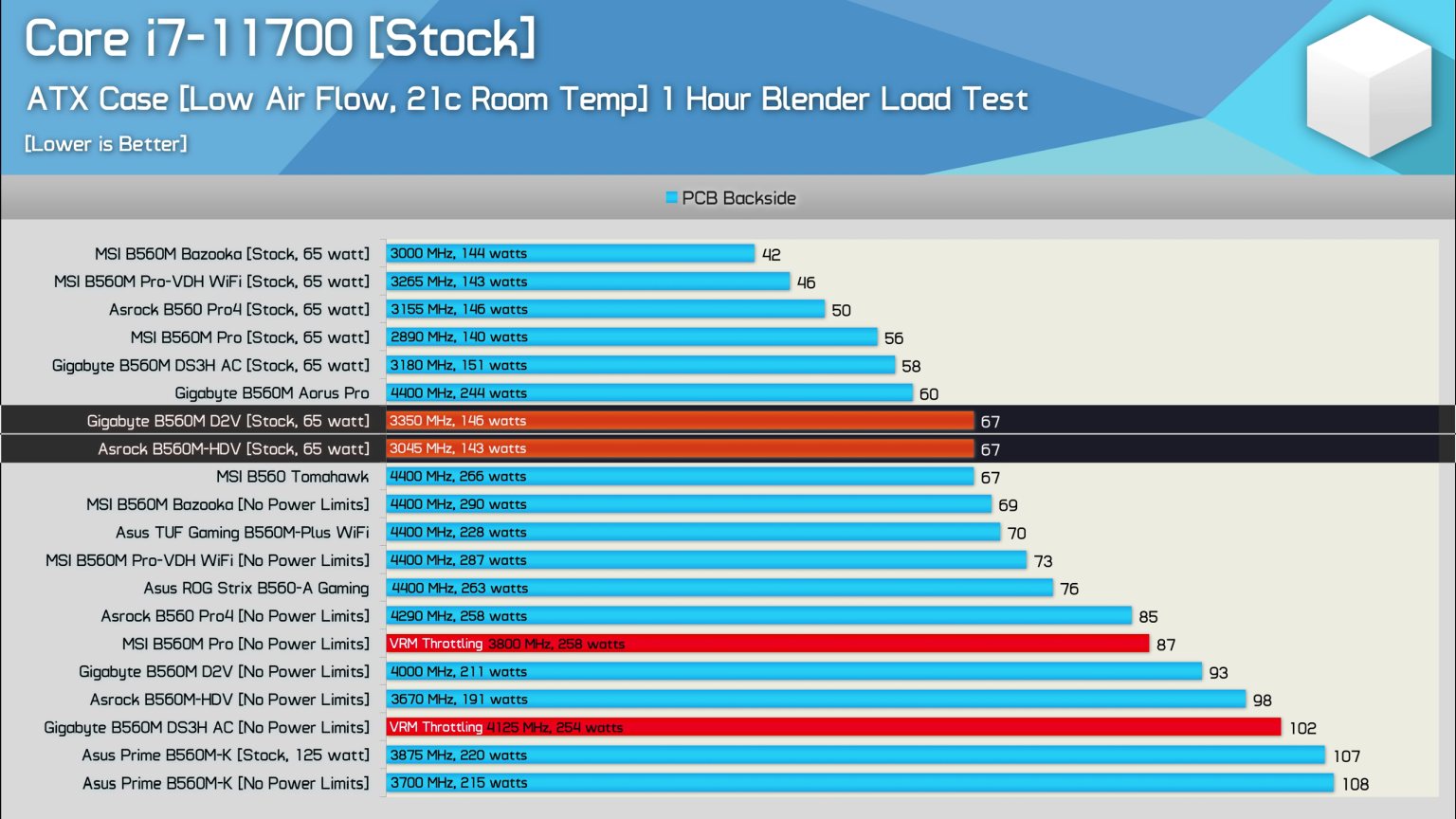 Other than a few, none of the motherboards managed to maintain the boost clock expected of a Core i7 11700 processor.
In theory, two people could go out and buy the Intel Core i7 11700 CPU with two different motherboards to get vastly different performance results out-of-the-box.
If you're wondering whether the lower-end Intel processors are susceptible to this problem, yep, they are –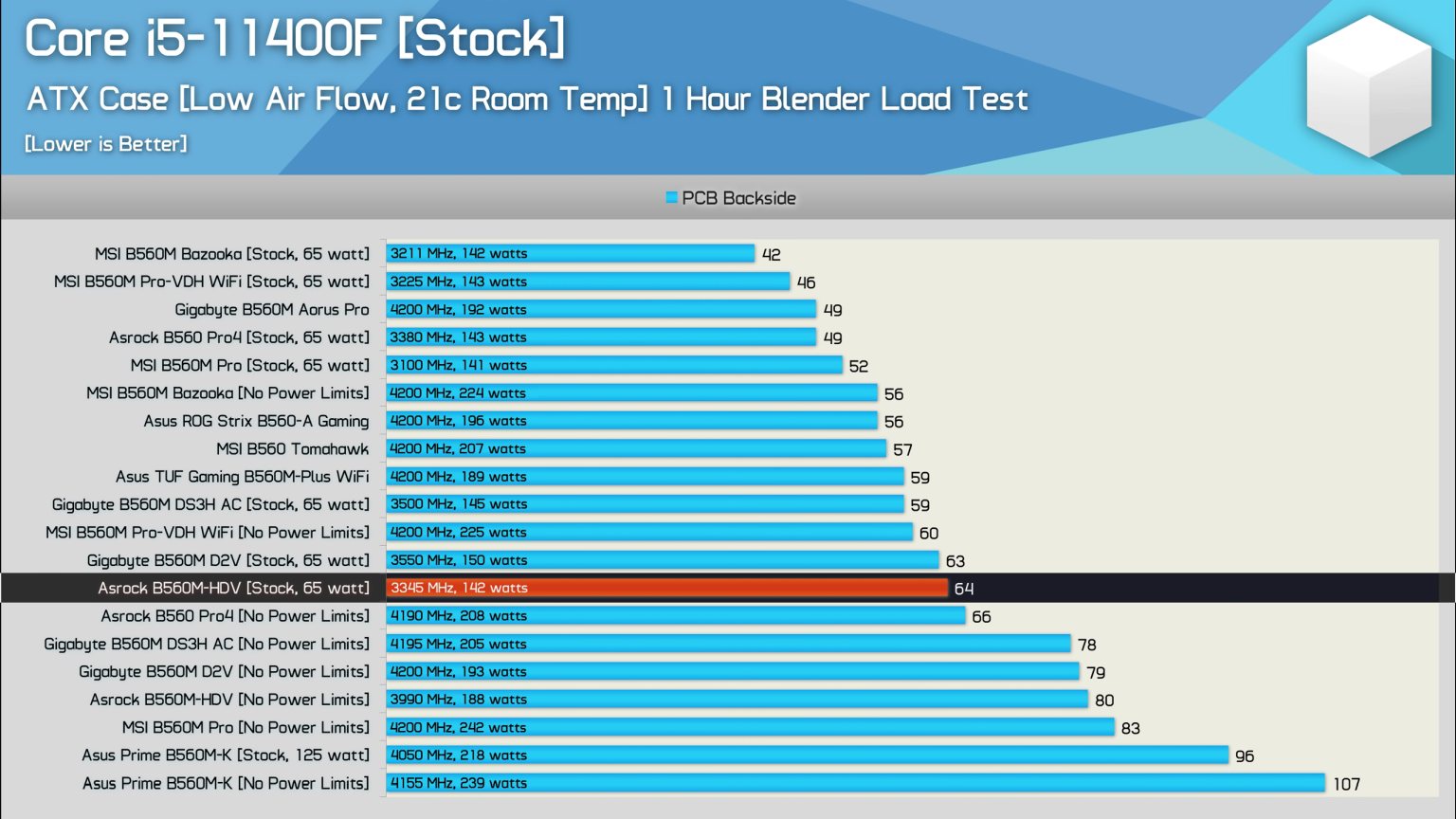 If you're running stock, an MSI B560M Bazooka ($140) will only boost your Core i5 11400F processor to a measly 3211 MHz (3.2 GHz), while a Gigabyte B560M Aorus Pro ($180) will boost it to 4200 MHz (4.2 GHz).
For workstation users, this massive variance isn't worth the headache. An upgrade to your PC shouldn't feel like a downgrade when you sit down to work on a project.
However, a B560 motherboard does make sense if you're shopping in a price tier below $150.
Z590/B560 Motherboards and 10th Generation Intel CPUs – A Bad Idea
The PCIe lanes from the first M.2 slot on most motherboards connect directly to the CPU.
However, since 10th Generation Intel processors only have 16 PCIe lanes connected directly to them, they don't have the lanes to accommodate that first M.2 slot.
On the other hand, 11th Generation CPUs have 20 PCIe lanes.
Thanks to this change in spec, many motherboard manufacturers have decided to disable the first M.2 slot when pairing a Z590/B560 motherboard with a 10th Generation Intel processor.
It's an unnecessary hassle that you shouldn't need to worry about. If you're buying a 10th Generation Intel processor, stick to good Z490 motherboards. Pair only 11th Generation Intel CPUs with Z590/Z560 motherboards.
Note – Although I have made sure that every motherboard recommended here can easily handle even the highest-end 11th Generation Intel CPU like the Core i9 11900K, it's not a great pick for a workstation CPU. The top-tier part only comes with 8 cores and offers only marginal improvements over the Core i7 parts. So, it's just not worth it for the vast majority of professional use cases.
Best Value Z590 Motherboards for Multiple GPUs (x8/x8 PCIe Bifurcation)
If you're shopping for a workstation that will also need to function as a rendernode, it's a good idea to look for a motherboard that offers x8/x8 PCIe lane bifurcation.
This way, you can easily equip your system with even the highest-end graphics cards down the line without worrying about a drop in performance.
Gigabyte Z590 Aorus Ultra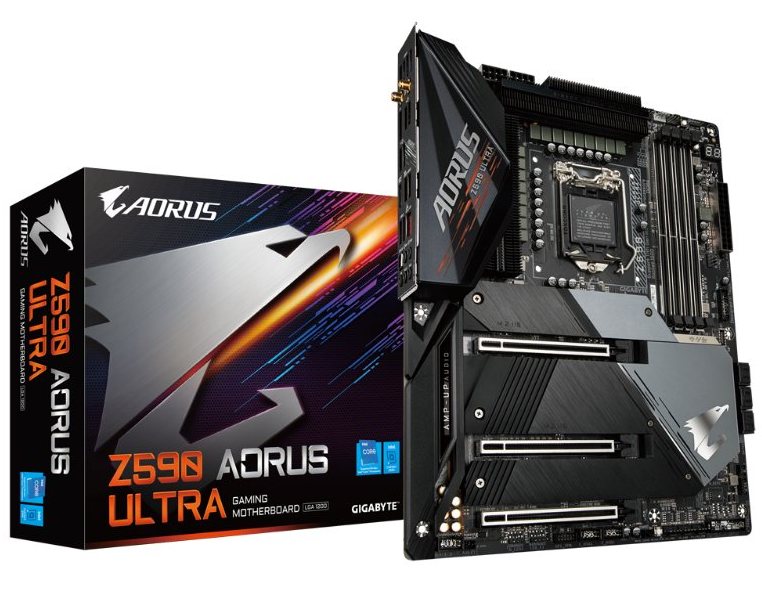 PCI-E x16 Slot Bandwidth Distribution (With all slots populated) – x8/x8/x4
Form Factor – ATX
Wi-Fi – Yes (Wi-Fi 6)
BIOS Flashback (CPU-less BIOS Updates) – Yes
If you're looking for x8/x8 PCIe bifurcation and terrific balance between performance, features, and value, the Gigabyte Z590 Aorus Ultra at a smidge under $300 is simply perfect.
It offers an excellent x8/x8/x4 layout ideal for a workstation that needs to handle GPU renderers like Redshift.
The Z590 Aorus Ultra comes equipped with robust 16-phase VRMs featuring 90A power stages that can handle pretty much any 11th Generation processor you throw at it.
It can also manage aggressive overclocks without hitting any thermal or power limits.
Note: excessive overclocking isn't usually worth it for workstation machines.
Gigabyte has also equipped this motherboard with a convenient error code display on the top right that will make your debugging sessions (if any) quite convenient.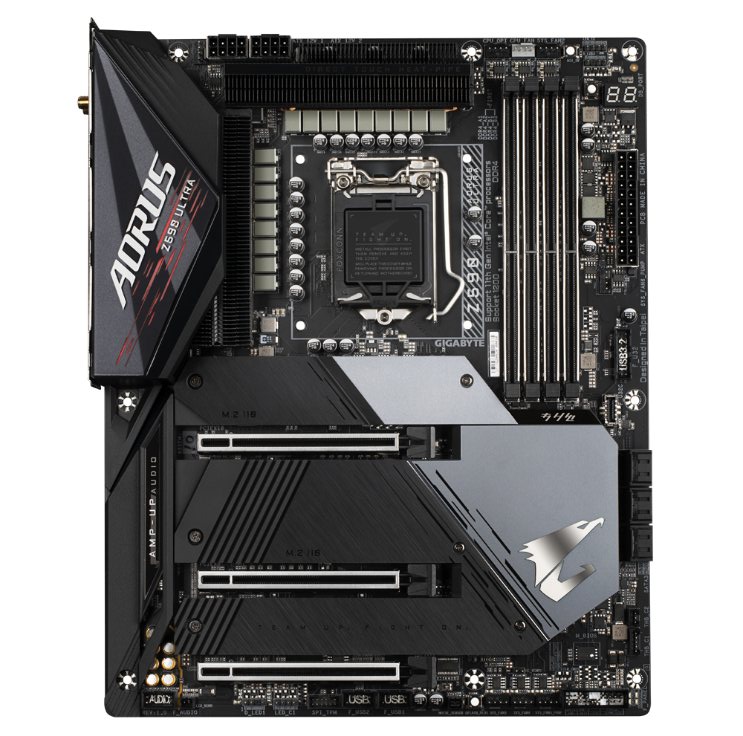 All 3 M.2 slots come with shielding to prevent your SSDs from throttling, even if you're running PCIe 4.0 storage devices.
The QVL for this motherboard is also extensive – a great sign of stability for those who want to run memory at higher frequencies. You should be able to hit standard frequencies like 3200 or 3600 MHz on most memory kits with ease.
The addition of two Thunderbolt add-in card headers on the motherboard is a nice touch and will come in handy for those who already own one or more of them.
That said, if you don't already own a Thunderbolt add-in card, I'd recommend jumping up a tier to the Z590 Vision D for built-in Thunderbolt connectivity.

The rear I/O on the Z590 Aorus Ultra is pretty well-rounded, offering plenty of connectivity options. With a total of 13 USB ports (12 USB-A and 1 USB-C), you should be able to accommodate all peripherals you'll ever need to connect.
It also offers 2.5 Gigabit Intel LAN for wired networking and Wi-Fi 6 for wireless.
Viable (Similar) Alternatives
ASUS ROG Strix Z590-E Gaming Wi-Fi
MSI MPG Z590 Gaming Carbon Wi-Fi
MSI MPG Z590 Gaming Force (No Wi-Fi on this one – only consider if you need an evenly-spaced PCIe slot layout)
Best Value Z590 Motherboard with Thunderbolt
If you're looking for a Z590 motherboard that offers Thunderbolt ports, your choice is limited to only a few options, and you must shop at the >$300 price tier.
Gigabyte Z590 Vision D Motherboard
PCI-E x16 Slot Bandwidth Distribution (With all slots populated) – x8/x8/x4*
Form Factor – ATX
Wi-Fi – Yes (Wi-Fi 6)
BIOS Flashback (CPU-less BIOS Updates) – Yes
If any motherboard manufacturer has mastered the art of catering to CG and other creative professionals, it is Gigabyte.
The Z590 Vision D boasts a clean, minimal design combined with all the specifications most professionals need; it's brilliant. But, of course, many might much rather prefer something with a bit more 'bling.'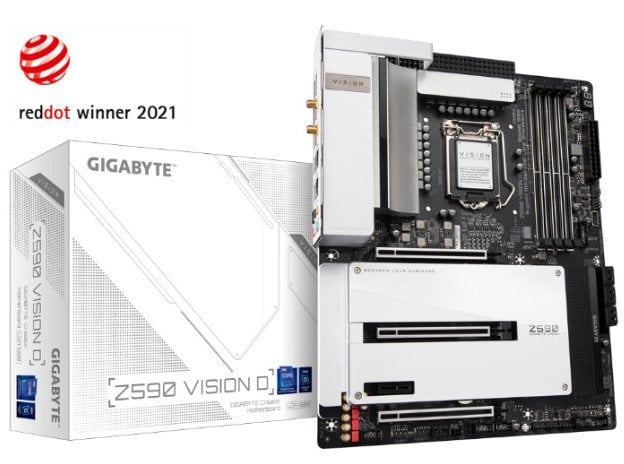 As usual, the Z590 Vision D, like its predecessors, comes equipped with all the bells and whistles a motherboard should have (especially at this price range).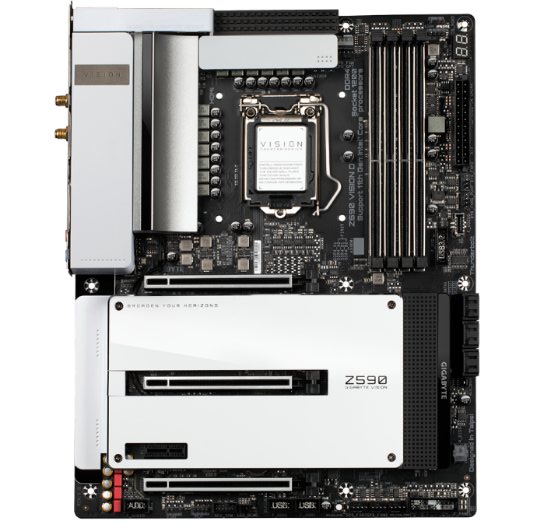 The equally spaced PCIe slots will allow you to install up to 3 graphics cards if your case allows. One slight hiccup on this motherboard is that third full-length PCIe slot on the bottom.
(*) If you install a third M.2 storage device and use the bottom M.2, you'll lose half the PCIe bandwidth on your last PCIe x16 slot (leaving it to operate at a bandwidth of PCIe 4.0 x2).
That said, even PCIe 4.0 x2 offers the same bandwidth as PCIe 3.0 x4, you shouldn't run into too many issues with the current generation of graphics cards (RTX 3000 and Radeon 6000).
However, I'd wager you'll run into bottlenecks when considering subsequent GPU releases a few years down the line.

Equipping a motherboard with 2 Thunderbolt 4 ports takes a toll on the rear panel of the Vision D.
With only 6 USB ports on the back, this motherboard might become a headache for professionals who need to connect several peripherals to their PC.
In such cases, you'll have no choice but to constantly connect devices to even your case's front panel ports.
The Z590 Vision D also offers Dual 2.5G Intel LAN, Wi-Fi 6, and Bluetooth 5.1 for excellent wired and wireless connectivity.
Viable Alternatives
ASRock Z590 Taichi
ASUS ROG Maximus XIII Hero Z590
Best Value Z590 Motherboard with 10G LAN (10 Gigabit)
Motherboards that offer built-in 10 Gigabit LAN are a boon to those running rendernodes and/or file storage servers on their local network.
Although 10G LAN add-in cards are an option, CG professionals would much rather not waste a valuable PCIe slot on their board.
Unfortunately, your motherboard choices are pretty limited when looking for this particular feature for your workstation.
Gigabyte Z590 Aorus Master
PCI-E x16 Slot Bandwidth Distribution (With all slots populated) – x8/x8/x4
Form Factor – ATX
Wi-Fi – Yes
BIOS Flashback (CPU-less BIOS Updates) – Yes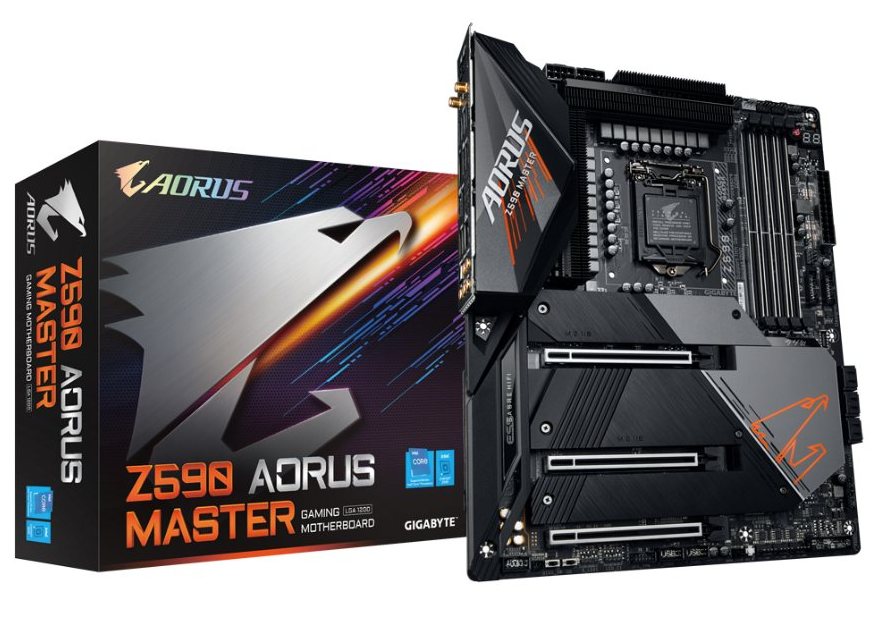 Yes, I know. At this point, it's just becoming an ALL-Gigabyte list. But their Z590 lineup is on point. Can't help it.
If you're in the market for a Z590 motherboard with built-in 10 Gigabit LAN, the Gigabyte Z590 Aorus Master is as good as it gets from a value perspective.
The lack of dual LAN might sting some who want to connect to multiple networks at a time, but for most professionals out there, it should do just fine.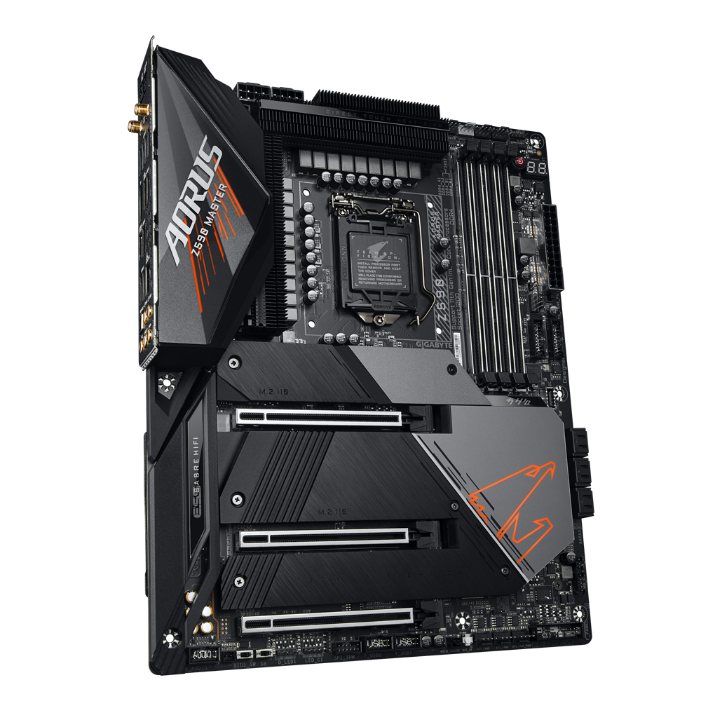 The Z590 Aorus Master also offers PCIe bifurcation with x8/x8 bandwidth on the first two PCIe x16 slots.
Yes, it's not exactly a surprise at this price point. But some motherboards HAVE skimped on this feature to cater to the extreme overclocking crowd (the MSI Z590 Unify, for example).
Also, the first two PCIe slots are spaced out in a way that accommodates two triple-slot GPUs like RTX 3090s with ease.

Thankfully, the addition of 10G LAN hasn't affected the rear-panel connectivity that much. Although the Z590 Aorus Master lacks dual LAN, it does offer Wi-Fi 6E and Bluetooth 5.1 connectivity, ensuring hassle-free network connectivity.
A total of 9 USB-A ports and 1 USB-C port on the back panel should suffice for people who hate plugging in perpetually plugged-in devices using the case's front panel ports.
Clear CMOS and BIOS flashback buttons on the rear panel are always a nice touch and appreciated.
Gigabyte drops built-in Thunderbolt support from the Z590 Vision D with the Z590 Aorus Master and instead includes two Thunderbolt add-in card headers.
However, leveraging the header does mean sacrificing one or two of your PCIe x16 slots. Nonetheless, if you need a motherboard that offers both Thunderbolt headers and 10G LAN, this is the best value option at the moment.
Viable Alternative:
Best Budget Z590 Motherboard
If you're on the lookout for a motherboard that can unleash the full potential of an 11th Generation Intel CPU without breaking the bank, shop in this price tier.
Remember – you won't find high-end workstation features and such when considering motherboards in this price bracket.
If you're looking for some specific features – check out my recommendations for motherboards with 10 Gigabit LAN, Thunderbolt, and PCIe Bifurcation.
Gigabyte Z590 UD
PCI-E x16 Slot Bandwidth Distribution (With all slots populated) – x16/x4
Form Factor – ATX
Wi-Fi – No
BIOS Flashback (CPU-less BIOS Updates) – Yes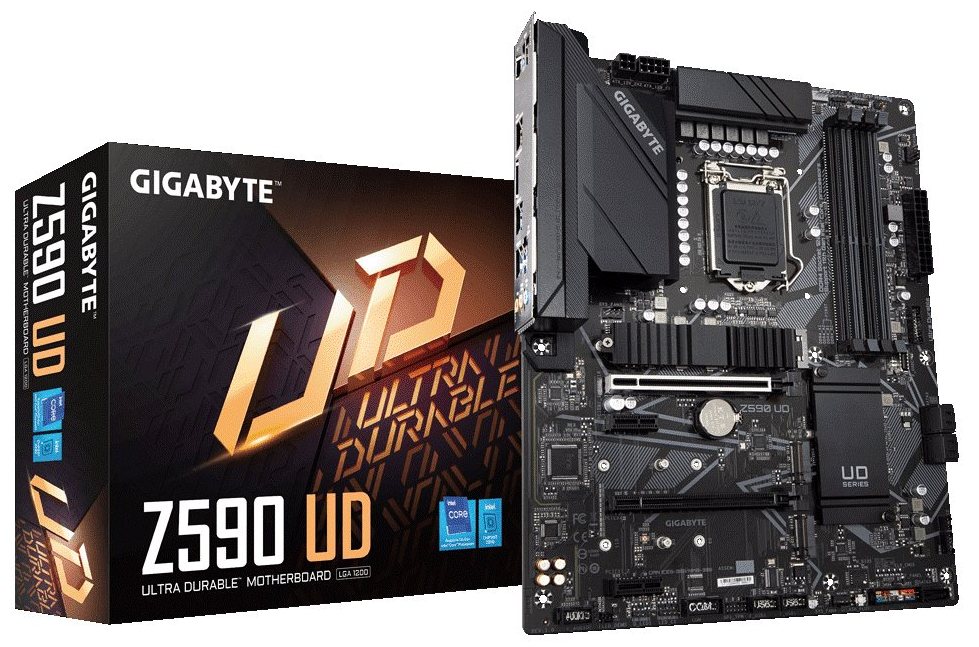 Gigabyte's truly hit it out of the park with their Z590 offerings. Even though it sits at one of the lowest price points of the Z590 product stack, Gigabyte's Z590 UD delivers performance as promised.
In fact, VRM testing by Steve from Hardware Unboxed confirms that this board won't hold back even the most powerful CPU in the 11th Generation Intel CPU lineup.
Whether you should consider the most powerful CPU in the 11th Generation Intel lineup is another conversation, though. Short answer – probably not at its current price.
You can find more information in our updated Intel vs. AMD in 2021 article.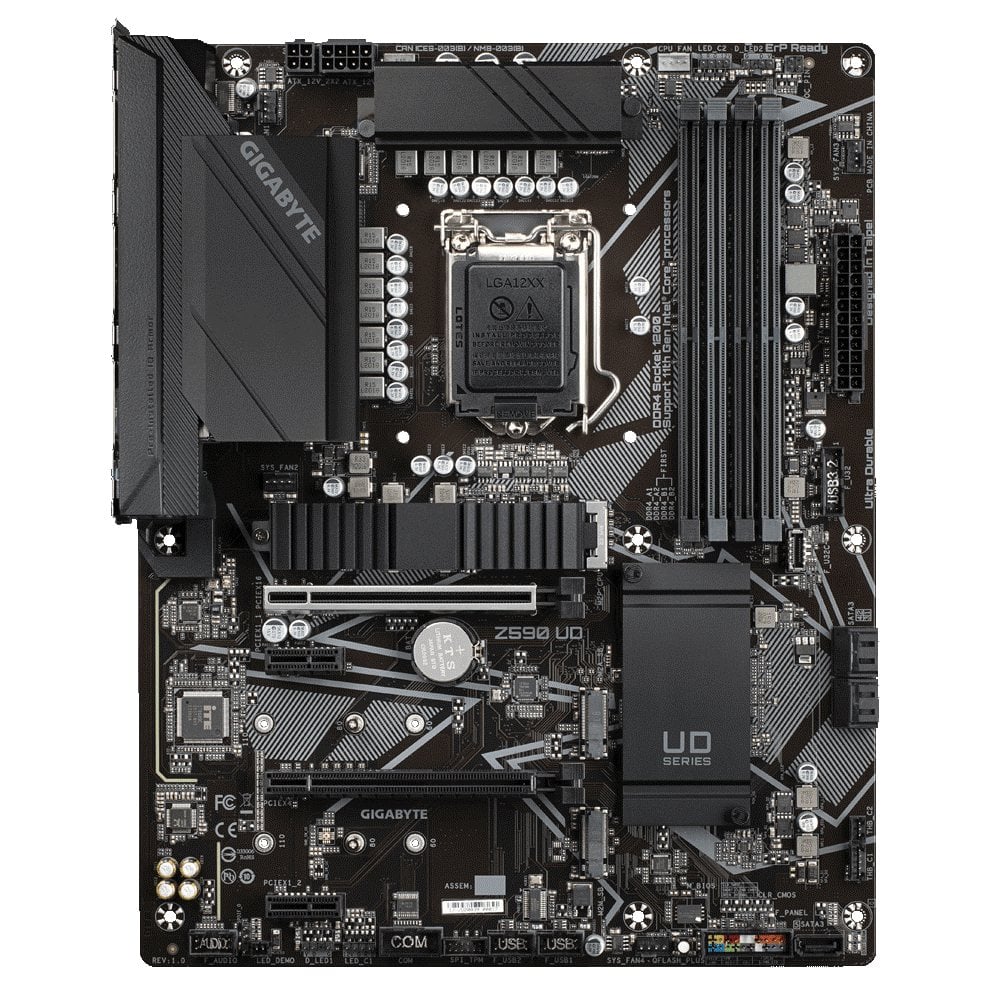 If you don't plan on running multiple GPUs, the Gigabyte Z590 UD is an excellent budget option that will draw the best performance out of your 11th Generation Intel processors.
The VRM is surprisingly robust and holds up even when overclocking a Core i9 11900K.
It should have no problem delivering excellent performance with good value Intel chips like the Core i5 11600K, Core i7 11700/K, etc.

The lack of a USB-C port is immediately apparent on the Z590 UD's back panel.
That said, it does still offer 8 USB-A ports, so peripheral connectivity shouldn't pose an issue for most users.
Wired networking isn't relegated to simple Gigabit either, as the Z590 UD comes equipped with a 2.5 Gigabit LAN controller so folks with Gigabit+ fiber internet can use their internet without losing speed.
Now, on to B560 motherboards. Yes, when you've started to touch the $150 price bracket, B560 motherboards also become an option.
However, if you're looking for something even cheaper that will work with any Intel CPU without noticeable performance loss, check out the viable alternatives section below.
Viable Alternatives:
ASUS Prime Z590-P
MSI Z590-A Pro
ASUS ROG Strix B560-A Gaming Wi-Fi
Answering Frequently Asked Questions (FAQs)
Is 11th Generation Intel better than AMD Ryzen in 2021?
A: For workstation tasks, across the product stack – no. That said, with Intel's launch of 11th Generation Core processors, 10th Generation parts have dropped in price.
You can find an 8-core Intel Core i7 10700K for the same price you'd pay for a 6-core AMD Ryzen 5 5600X CPU in some regions. If future upgradability isn't a factor for you, go with Intel 10th Gen + a Z490 motherboard in such cases.
Is there any downside to going with Intel in 2021?
A: Unfortunately, that's a big yes for creative professionals like CG artists and motion designers. Intel's 11th Generation lineup only goes up to a maximum of 8 cores. That's it. At around that price, AMD offers a 12-core Ryzen 9 5900X that is far superior.
What's more, the 12-core part isn't even the best CPU you can buy from the AMD lineup. Going with AMD allows you to upgrade to a 16-core Ryzen 9 5950X in the future.
Please keep in mind that the 'upgrade to a better part' argument only holds if you plan to upgrade within 2-3 years of a processor generation's release date.
If you plan to upgrade only after 2-3 years, you are more likely to find that newer CPUs offer better value at that point in time.
Does Intel overheat?
Overheat might be a bit misleading. Does it run warmer than AMD Ryzen and draw more power at the same core count? Unfortunately, yes.
Numbers from an Anandtech review did the rounds, which (apparently) presented Intel's new chips as pulling close to 300W of power.
This would mean that Intel's top-tier 8-core part drew more than double the amount of power than a Ryzen 12-core 5900X draws.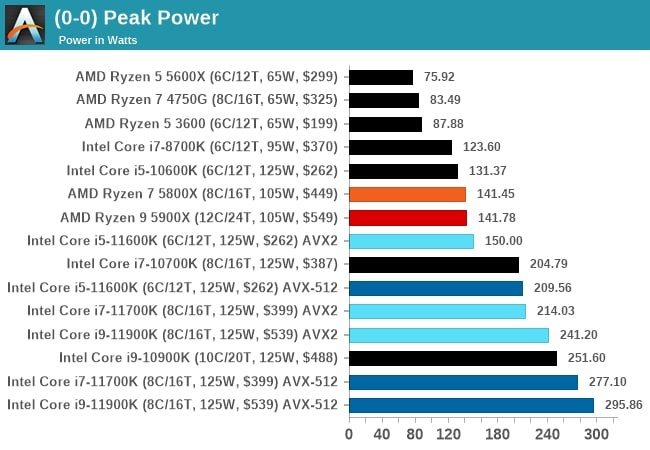 If you look at the chart presented by Dr. Ian from Anandtech above, you can see that those numbers correlate to only AVX-512 workloads. It's a niche workload that almost no CG applications leverage.
An AVX-2 workload, on the other hand, draws 214W of power. More than Ryzen, for sure. But let's not lose our heads here. It's not double the power consumption.
Do Intel's higher power consumption numbers and lack of cores make it a worse choice than AMD for all-core CG workloads like CPU rendering?
Yes. If your work even remotely involves using as many CPU cores as possible, don't go with Intel. AMD is the right choice.
However, if you're building a machine that you'll use to work within a viewport and render scenes using GPU renderers like Redshift, Intel is a perfectly viable choice.
Over to you
What Motherboard are you thinking of buying? Let us know in the comments or ask the expert Community any questions in our Forum!