Figuring out which CPUs are compatible with your motherboard can be tricky because of the many factors to consider.
Therefore, I've put together this guide that will answer all your questions about CPU and motherboard compatibility.
What CPU Is Compatible With My Motherboard?
In a perfect world, you could plug any CPU into any motherboard.
Unfortunately, this is not how it works.
CPUs have different sockets depending on which brand they're from and what chipset they're built for. The same goes for Motherboards.
When pairing a CPU with a Motherboard, there are three things you have to check to ensure compatibility:
The CPU's socket
The motherboard's chipset
BIOS compatibility.
1. CPU Socket
First, you need to check what type of CPU socket your motherboard has, as it has to match the socket of your CPU.
The CPU socket is the connector on the motherboard where your CPU plugs in to. The Motherboard's socket will be stated in the motherboard's specifications.
Every CPU socket has unique physical dimensions and unique pin layouts to facilitate CPU connectivity with your motherboard.
The two major CPU Brands, AMD and Intel, each manufacture a variety of different CPUs with different sockets, meaning you will need an AMD-compatible motherboard for an AMD CPU and an Intel-compatible Motherboard for an Intel CPU.
There's no way around that. But that's not all: Not only does the Motherboard have to be made to handle AMD or Intel CPUs, it also needs the correct socket for the particular CPU you're looking to buy (or already have). After all: Both AMD and Intel have many different socket-types.
Common consumer Intel CPU sockets include:
LGA 1151
LGA 1150
LGA 1200
LGA 1700.
AMD CPUs such as the AMD Ryzen 1000, 2000, 3000, 4000, and 5000 series use a so-called "AM4 Socket" for their CPUs. The newer 7000-series CPUs, then again, use the so-called "AM5 Socket".
There are some High-End Desktop and Server Sockets too: TR4, sTRX4 (for AMD Threadripper CPUs) and LGA2066, LGA4189 (For Intel X-Series CPUs and some Xeons) are some of them.
Each motherboard is built with a specific type of socket which means you'll need to find out what socket it has to guarantee compatibility.
If you have a CPU with a socket that's incompatible with your motherboard, it won't be able to physically plug into the motherboard.
Types of CPU Sockets
There are three different types of CPU surface mounting methods used for motherboards: LGA, PGA, and BGA, although BGA is rarely used for consumer CPUs.
Check out our LGA vs PGA Sockets Guide to find out more about the physical properties of the sockets themselves.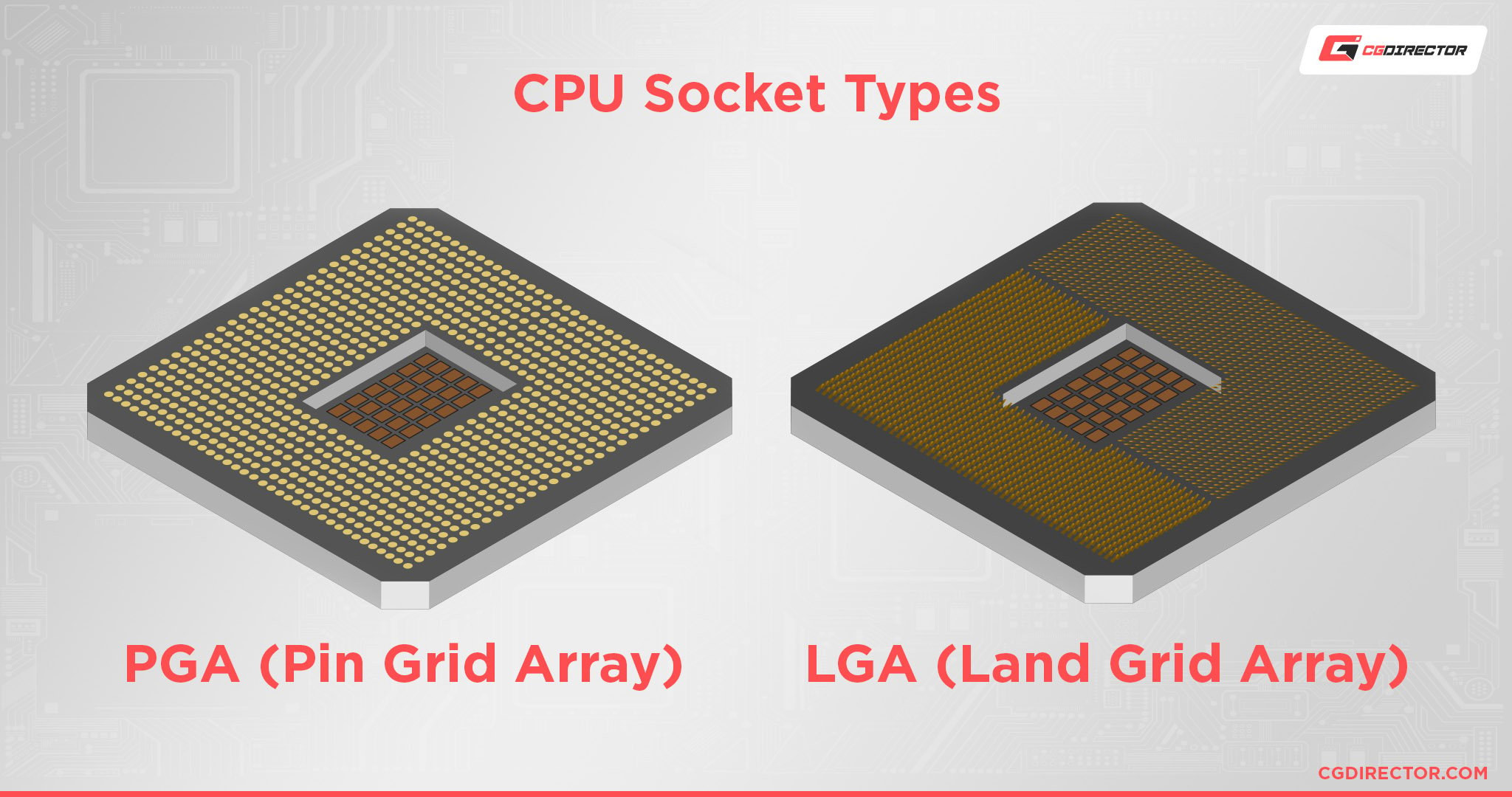 Delving further into how sockets work isn't necessary for finding CPU+Motherboard compatibility, though, so let's continue:
What Motherboard Do I Have?
Let's say you already own a Motherboard and want to upgrade your CPU, or you already picked out a new Motherboard and want to see which CPUs will work with it:
You'll need to find the manufacturer and model of your motherboard to determine which CPUs are compatible with it.
There are a few ways to do this.
The first way is to dig out the box your motherboard came in (If you still have it).
If you bought the motherboard online, you can find the confirmation email to see if it states the name of your motherboard.
You can also check your computer's System Information tool.
Press the 'Windows' search key and type in 'System Information'.
Click on 'System Information', and a new menu will open that displays a summary of your PC's components.
Under the column 'Item', look for 'BaseBoard Manufacturer' and 'BaseBoard Product'.
The "BaseBoard Manufacturer" is your motherboard's manufacturer, and the "BaseBoard Product" is your motherboard's model.
For example, my BaseBoard Manufacturer is MSI (Micro Star International), and my BaseBoard Product is the Prestige X570 Creation.
My exact motherboard is the MSI X570 Prestige Creation.
If you're having trouble finding your motherboard's name, another option is to use a free program called CPU-Z.
This software collects and displays all kinds of information on the main components of your computer.
Once you've opened CPU-Z, find the 'Mainboard' tab, which will display your motherboard's manufacturer and model.
What CPU Socket Does My Motherboard Have?
Once you've figured out the name of your motherboard, head over to Google and run a search for it, followed by the word "specs" or "specifications".
For example, I would type in "MSI X570 Prestige Creation specs" into Google for my motherboard.
The first link should be from the official manufacturer's website with a page that'll neatly list all of your motherboard's specifications.
For my motherboard, I can see that the MSI X570 Prestige Creation supports all kinds of AMD Processors for the AM4 socket, as seen in the image above.
This means (for my specific motherboard) I'll need an AM4 socket CPU from one of the Ryzen series listed in the image above.
Here's a quick summary of how to find which CPU socket your motherboard uses:
Find your motherboard's manufacturer and model
Look for your motherboard's specifications on Google
Click the link to the official motherboard manufacturer's website
See what socket type your motherboard supports in the listed specifications
Another example is the Asus ROG Maximus XIII Hero motherboard which uses a Z590 chipset. This is an especially popular high-end motherboard among gamers.
To find out which CPU is compatible with this motherboard, I'd head over to Google and type in "Asus ROG Maximus XIII Hero specs". Then click the first link, which brings me to the Asus website.
The first bullet point on the website states:
Intel® Socket LGA 1200 for 11th Gen Intel® Core™ processors and 10th Gen Intel® CoreTM, Pentium® Gold and Celeron® Processors
I would need a CPU with an LGA 1200 socket type for the motherboard.
CPU Support List: What Is It?
Because the Information on the supported CPUs isn't very detailed in the general specifications list (it just lists general generations of CPUs), we'll go a step further and check the motherboard's CPU Support List.
This is to make sure the Motherboard was actually tested with the CPU we're thinking of pairing it with. Better safe than sorry.
When you find the page that lists your motherboard's specifications, you should also see a list/button or menu item titled 'CPU Support List' or similar.
For my MSI motherboard, I clicked the 'Support' tab. I then clicked the "Compatibility" button.
The CPU Support List now shows a much more detailed list of all the CPUs that have been tested and confirmed to work by the manufacturer.
I found the same CPU Support List for the Asus motherboard by clicking the 'Support' tab and then 'CPU / Memory Support'.
With the CPU support list, you can find exactly which CPUs are compatible with your motherboard – and which BIOS you'll need. More on that below.
2. Motherboard Chipset – Common Misconception About CPU Sockets
An example: You would expect any generation of LGA 1151 Socket CPU to work with any LGA 1151 Socket motherboard, right?
Unfortunately, this isn't the case.
Intel has segmented the LGA 1511 socket into two versions that aren't backward or forward compatible. 6000 and 7000 series CPUs are only compatible with LGA 1151 100 and 200 series motherboards.
8000 and 9000 series CPUs are only compatible with LGA 1151 300 series motherboards.
If you got dizzy reading through the above, I understand! Don't worry; with your motherboard's specifications, the CPU Support List that you can find online for any motherboard, you won't need to worry about chipsets. You can just rely on the manufacturer's testing and updating of that CPU Support List.
It's the only fool-proof way to find exactly which CPUs are compatible with your specific kind of motherboard.
But, there's one more thing:
3. BIOS Compatibility
BIOS compatibility is another key feature to check when purchasing a new CPU.
From the same CPU support list you found earlier, a column will say 'Validated BIOS' or 'Validated Since BIOS', or similar.
This means that the CPU in that list will be compatible with the motherboard, but only if you have – at a minimum – the BIOS Version displayed in that row.
So this leads to a logical next question for someone upgrading their CPU:
How To Find What BIOS Version I Have?
The easiest way to find your BIOS version is to press the 'Windows' search key and type in 'Command Prompt', or "CMD".
Open the Command Prompt and enter: wmic bios get smbiosbiosversion
After pressing ENTER, your current BIOS version will be displayed:
You can also find your BIOS version by going to the 'System Information' screen on your computer and finding the column that says 'BIOS Version/Date'.
Now you can compare your current BIOS version with the minimum BIOS version your new CPU requires.
If your current BIOS needs to be updated, you'll need to head back to your motherboard model's page on the manufacturer's website.
Each manufacturer has different instructions when it comes to updating the BIOS. It typically involves downloading the new BIOS version onto a USB and then booting your computer from the USB drive.
Do check our BIOS updating Guide here, for an easy walkthrough.
Other manufacturers allow you to update the BIOS directly in the BIOS startup menu.
Remember, you only need to update your BIOS if your new CPU requires you to.
If you don't update your BIOS before installing the new CPU, it won't be able to run. You would then have to reinstall the old CPU and update the BIOS (or update your BIOS without a CPU, which isn't possible on all motherboards).
A much simpler, yet slightly unreliable way of checking CPU and Motherboard compatibility
If you haven't heard of PC Part Picker, you're in for a treat.
It's a website that lets you pick parts and pretty much plan out your custom PC. Well, the cool thing is, it does a pretty good job at checking inter-component compatibility.
Basically, what you do, is:
Head over to the PC Part Picker Builder
Select either a CPU or a Motherboard that you already own or know you'll want
Then after you've added that part to you build, select the other part. The list that'll come up should now only show products that are compatible with the motherboard or CPU you have already picked.
You can ignore the rest of the components, or tinker some more and actually build the entire PC
That was much easier, right? It's not correct 100% of the time, though, so use it with caution. PC Part Picker is unreliable, especially when it comes to compatible BIOS Versions. It does gets sockets and chipset compatibility right most of the time, though.
Our PCPartPicker Guide here will also help you out with any obscure warnings that are displayed on their site (which happens a lot).
Conclusion
Finding which CPUs are compatible with your motherboard is a straightforward process as long as you know the manufacturer and model of your motherboard and don't shy away from digging through some specifications.
FAQ
Are There CPU Socket Adapters?
You may be wondering if there's a device that allows you to fit an LGA 1200 CPU into an LGA 1511 motherboard socket. However, socket adapters do not exist because of compatibility issues.
If you have already purchased a new CPU and find out your motherboard is incompatible, you have two options.
First, you can return the CPU and purchase a different one that's compatible with your motherboard.
The other option is to buy a new motherboard with a socket type that's compatible with your new CPU.
What Are the Most Common CPU Sockets?
For Intel CPUs:
LGA 1151 for 7th, 8th, and 9th Gen Core, Pentium, and Celeron CPUs
LGA 1200 for 10th and 11th Gen Core, Pentium, and Celeron CPUs
LGA1700 for 12th gen Intel CPUs
Intel workstations typically use the LGA 2066 socket for 10th Gen Intel Core Extreme Processors like the Intel Core i9-10980XE.
AMD keeps it much simpler for mainstream desktop CPUs by primarily using the AM4 and AM5 socket.
AM4 sockets are supported by 1000, 2000, 3000, 4000, and 5000 series Ryzen Desktop CPUs, while 7000 Series Ryzen CPUs need the AM5 socket. Threadripper CPUs run on the TR4 and sTR4 Socket.
What Is the Difference Between LGA 1151 and LGA 1200?
LGA 1200 CPUs have exactly 49 more pins than LGA 1151 CPUs.
LGA 1200 was introduced in 2020 as a compatible socket for Comet Lake and Rocket Lake desktop CPUs. LGA 1151 and LGA 1200 components can not be used interchangeably.
You'll need a CPU and a motherboard with the exact same socket in order for your computer to work.
Over to You
Now I'd love to hear from you! Were you able to find a CPU that is compatible with your motherboard?
Do you have any questions on which CPU you should get? Let me know in the comments below or on our forum!