Presented with the option of buying either Z690 DDR4 or DDR5 motherboards with Intel's Alder Lake processors, we're now forced to choose between the two.
Do you go with the newest-gen memory or stick with a more value-oriented DDR4 platform this generation?
Is it worth hopping to DDR5 right away?
Let's see if we can answer those questions for those building workstations in 2022!
DDR4 vs. DDR5: What's the Difference?
The latest generation of memory brings a host of improvements to the table.
These changes range from enhancing memory bandwidth and cutting memory access times to offering better power efficiency.
If you're in a hurry, here's a quick look at what's changed this generation:
Features
DDR4
DDR5
Quick Explanation
Speed (Data Rate - Gbps)
1.6 to 3.2 Gbps
4.8 to 8.4 Gbps
Even relatively-early DDR5-4800 memory can achieve much higher bandwidth of 4.8 Gbps
Input Voltage
1.2V
1.1V
DDR5 requires lower input power
Power Management
Handled by Motherboard
Handled by on-DIMM PMIC
DDR5 modules handle power themselves, ensuring better scalability and power efficiency
Channel Architecture
72-bit bus (64 data + 8 ECC)
1 channel per DIMM
40-bit bus (32 data + 8 ECC)
2 channels per DIMM
Lowers latency by allowing simultaneous access to memory across two independent memory subchannels without affecting total bus width (64 data)
Burst Length
8
16
Double the Burst Length increases burst payload - allowing DDR5 to access 64 Bytes of data in a single burst
Max Die Density
16Gb
64Gb
Higher capacity memory modules possible with DDR5
Want more details? Here are the highlights:
Pin Layout and Notch
Although DDR5 retains the 288 pins from DDR4 (albeit with different pinout configurations), the notch (called a key) has been shifted to the left – making DDR4 and DDR5 modules physically incompatible.
Here's a visual that showcases this change:
So, a DDR5 stick of memory won't install into a DDR4 slot (or vice versa), which helps ensure that users won't accidentally plug the wrong type of memory into an incompatible socket.
On-Module PMIC (Power Management Integrated Circuit)
On DDR4, power management was left to the motherboards. This means that all the circuitry needed for power delivery and voltage regulation was also housed on the motherboard.
However, with DDR5, the Power Management Integrated Circuit (PMIC) has now moved to the module itself for better power efficiency.
This PMIC is essentially the brain of an intelligent voltage regulation system (accepting 12V input from the motherboard directly) for DDR5 DIMMs.
Not only does it handle all the usual duties of controlling voltage ramps, levels, and monitoring current, but it also adds features like threshold protection, programmable power-on sequence, and error injection capabilities.
Higher Memory Bandwidth
DDR5 picks up where DDR4 began to top out (4800 MT/s), offering much higher bandwidth thanks to a feature called Decision Feedback Equalization.
As a result, DDR5 modules now boast a baseline speed of 4.8 Gbps, which can scale up as high as 8.4 Gbps.
Independent Memory Sub-Channels
Previously, a single module of RAM offered a single channel to access it with a 72-bit data bus (64 data + 8 ECC).
However, this design has a few issues, especially with the recent prevalence of multi-core processors which can use additional channels for simultaneous access to memory banks.
Although the total data bus width remains the same (64), they are now two independently addressable subchannels.
This allows multiple processor cores to simultaneously interact with even a single memory module without being bottlenecked.
On-Die Error Correction Code (ODECC)
As DRAM density goes up, the potential for data leakage goes up with it. In plain English, as your memory capacity increases, errors go up as well.
These would be an intermittent stream of single-bit errors (a 0 flipping to a 1, for example), which affects the reliability of transmitted data.
ODECC or On-Die Error Correction Code helps eliminate these kinds of single-bit errors, correcting them before data even leaves the chip. It allows for more secure and reliable data – minimizing bit flips.
Note – ODECC doesn't replace industry-standard ECC memory as it only corrects errors within a module. On the other hand, ECC memory can also correct errors outside the module; complete error checking still requires the additional 8 bits of error-correcting code per channel.
Lower Operating Voltage
Another significant change with DDR5 memory is its lower voltage requirements than DDR4.
While DDR4 memory requires 1.2V, DDR5 only demands 1.1V.
Samsung estimates that a combination of improved performance and lower power demands result in a whopping 30% greater power efficiency.
DDR4 vs. DDR5 Benchmarks: Is it Worth the Upgrade?
With all the improvements that DDR5 offers, is it worth buying in early 2022?
Now that Intel's Alder Lake CPUs support both generations of memory, you'll have to decide whether to go for a DDR5 motherboard or stick to DDR4 for your Intel build.
Since this is a choice you'll be stuck with until your next upgrade, choosing wisely is important.
Here's a comparison between DDR4 and DDR5 for a few popular workloads to help you with the decision:
DDR5 vs. DDR4 for Photoshop
It doesn't look like DDR5 plays a massive role in performance in Photoshop.
The Core i9 12900K only marginally improves its DDR4 score when pit against one using DDR5-4800 memory.
But would higher-clocked, lower latency memory have a more profound effect on performance?
Possible, but it's still probably not worth it until DDR5 pricing returns from being so inflated.
A quick look at PCMag's DDR5 vs. DDR4 results reveals similar results.
Going to DDR5-4800 CL40 nets a Photo Editing score of 15,533 in PCMark 10.
However, a mainstream DDR4-3600 CL16 kit manages a score of 15,786.
Not a great look for DDR5 when it comes to Photo Editing workloads.
Recommendation: Go with DDR4 if you want the best value.
DDR5 vs. DDR4 for After Effects
Puget Systems' After Effects result is a bit more fascinating. On a DDR4 platform, the Core i9 12900K only marginally edges out the Ryzen 9 5950X.
However, with a DDR5-4400 kit, the score jumps by a respectable margin.
For reference, the margin is what you'd get when going from a Core i5 12600K to a Core i7 12700K – i.e., not insignificant.
If you have a ton of Adobe After Effects work to handle, going DDR5 isn't the worst idea. Just know that you're shelling out extra to grab the best performance possible.
Recommendation: DDR5 for the Best Performance.
DDR5 vs. DDR4 for Video Editing (Premiere Pro & Da Vinci Resolve)
Video editing with Premiere Pro is one workload where a DDR5 kit seems worth it (if that's your primary workload). Let's see if that holds up, shall we?
While the Core i9 12900K handily beats the Ryzen 9 5950X in Puget System's Premiere Pro bench even with DDR4, using DDR5 extends that lead by a significant margin.
However, what if we take a look at PC Mag's UL Procyon Benchmark numbers for Adobe Premiere Pro?
When compared to a mainstream DDR4-3600 CL16, a DDR5-4800 CL40 kit only raises performance by a mere 2%.
Not impressive at all. Tom's Hardware also has Procyon Results for Premiere Pro along with DDR5 scaling numbers.
Again, DDR5 doesn't look too impressive here.
It's a similar story with DaVinci Resolve.
Here, the Core i9 12900K on the DDR4 platform only manages to edge out a Ryzen 9 5950X marginally.
However, when Intel is equipped with DDR5 memory, it gains a clear lead.
Recommendation: DDR4 for Best Value | DDR5 for Best Possible Performance
DDR5 vs. DDR4 for CPU Rendering and Viewport Performance (Cinebench R23)
First, let's take a look at DDR4 vs. DDR5 viewport performance.
Since Cinema 4D viewport smoothness heavily relies on your CPU's single-core score, that's what we're looking for first.
PCMag's testing reveals that a mainstream DDR4-3600 CL16 kit beats a DDR5-4800 CL40 kit (albeit by a slim margin).
So, if viewport performance is your primary concern – grab the DDR4 platform along with some low-latency DDR4 memory and don't look back.
Once DDR5 is more mainstream and becomes faster, we're likely to see performance go up.
When it comes to the multi-core score, the type of memory doesn't seem to play that big a role in performance.
I'd chalk most of these numbers to within the margin of error for most custom-built workstations.
The Corona 1.3 CPU benchmark from Tom's Hardware also tells a similar story.
I'd say you can safely go with DDR4 for this workload as well. That is, unless you're holding on to your workstation for over three years and might want to consider a faster DDR5 RAM upgrade in a couple of years.
Recommendation: DDR4 for Viewport and CPU rendering
DDR5: Is There Really No Reason to Go With It?
Future-proofing is one aspect that you HAVE to consider when building workstations.
Professionals usually don't upgrade very often, and if we do, a swap-out upgrade for additional performance is an advantage.
The current level of DDR5 performance is pretty similar to what we saw versus DDR3 when DDR4 was introduced back in 2014 (damn, I'm old).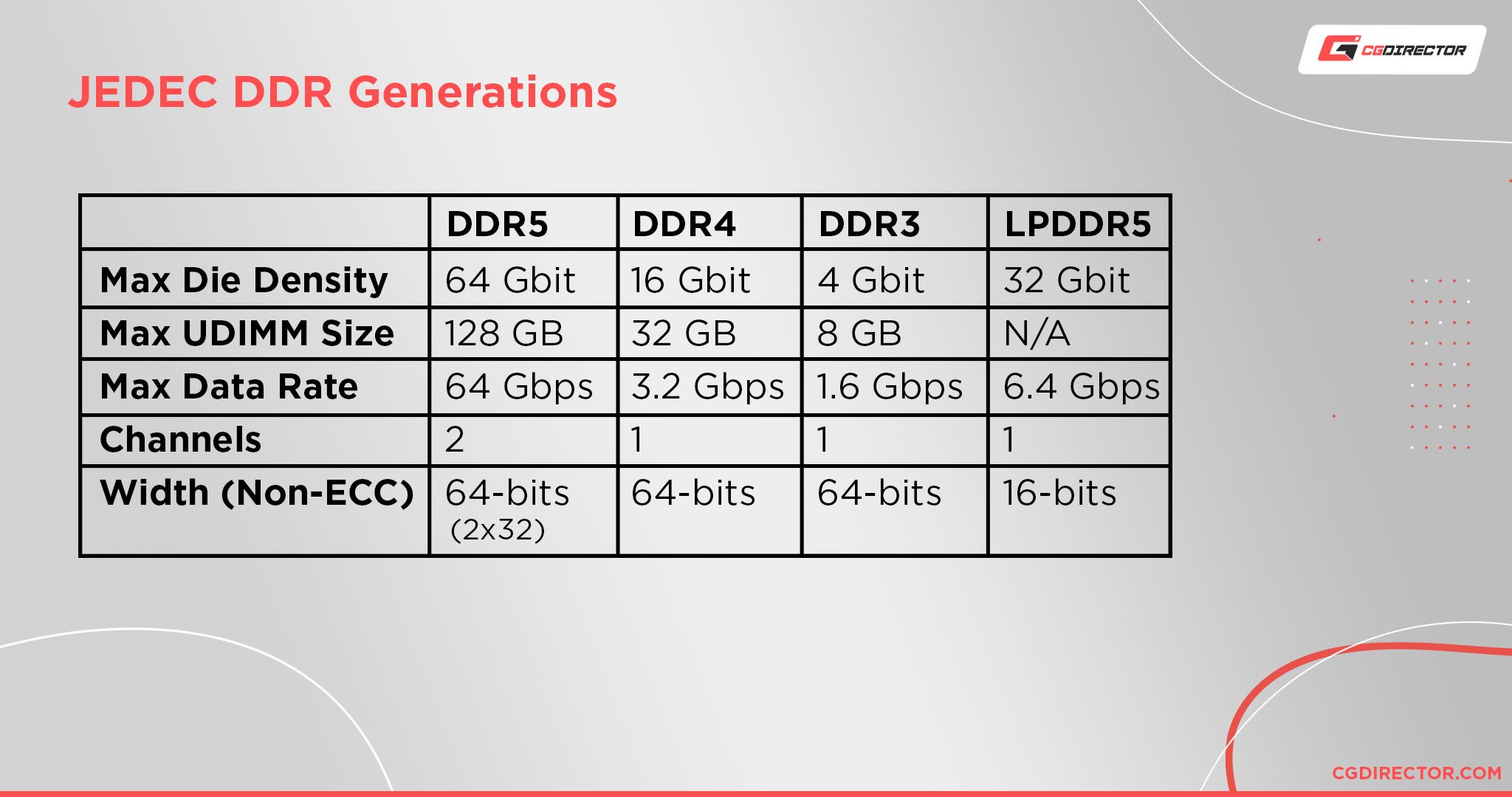 Speeds at the time started with DDR4-2400, which then slowly improved to current mainstream levels.
So, if you do want to get on to DDR5, I'd say the best time would be at least a year from now when it loses the 'new shiny thing' tax that comes attached to anything new in technology.
By then, we should see both speeds and latencies improve – beating DDR4 flat out in most workloads.
That brings me to the second part of my advice.
If you're someone who builds are forgets until you need to upgrade your entire system (say five years later), DDR4 is going to be just fine.
However, if you want to have the option of swapping out of memory for faster options, grab the DDR5 platform now if costs aren't a barrier.
Also, if you think you'll need the higher die densities that DDR5 offers to expand memory capacity past DDR4's capabilities, again – go ahead and hop to Alder Lake's DDR5 motherboard right away.
In Early 2022, prices for DDR5 remain atrocious. Here's one from Microcenter: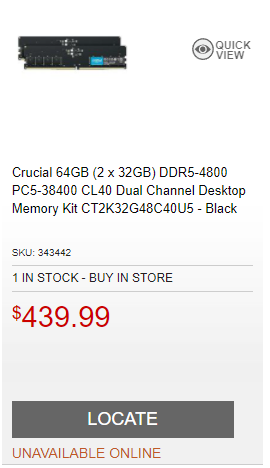 And here's what a few popular DDR4 kits are going for: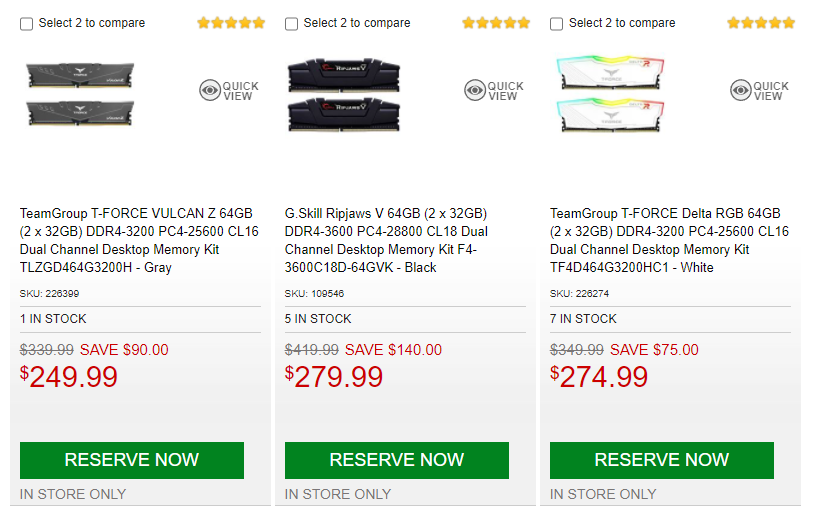 Now, add to this higher DDR5 motherboard prices, and it starts to look like a pretty bad deal, especially when considering the performance gain.
For most, this price premium makes zero sense.
As for my recommendation, here goes –
Go with DDR5 ONLY if you're already spending as much as possible on your other core components like CPU and GPU.
For example, a $200 increase in your CPU budget can vault you from a Core i7 12700K to a Core i9 12900K. That's a much better use of your money in early 2022.
What do you think?
Over to You
Would you consider buying into DDR5 right away to make sure you can upgrade to faster memory modules down the line? Let me know down in the comments below or our forum! I'd love to know your thoughts.