Dell laptops are amongst the most alluring in the Windows realm; their design, level of craftsmanship, and overall features are seldom rivaled.
They might not be the most advisable purchases from a pure value perspective, but they are nonetheless a stellar option for both creatives and business professionals alike.
And, well, everyone else, too, assuming they can find the right model for their particular needs and use cases.
Fortunately, Dell's product stack is as varied as it is interesting. There's something for everyone, as they say!
Gamers on a budget will surely gravitate towards the Nitro line-up — they're on the "cheaper" side but still pack incredibly powerful internals. Those who would spare no expense in their quest for the highest frame rates and resolutions will probably opt for an Alienware or a G Series model.
Dell has many other product lines, too: Inspiron, Latitude, Vostro, XPS, and Precision. The old adage "variety is the spice of life" comes to mind.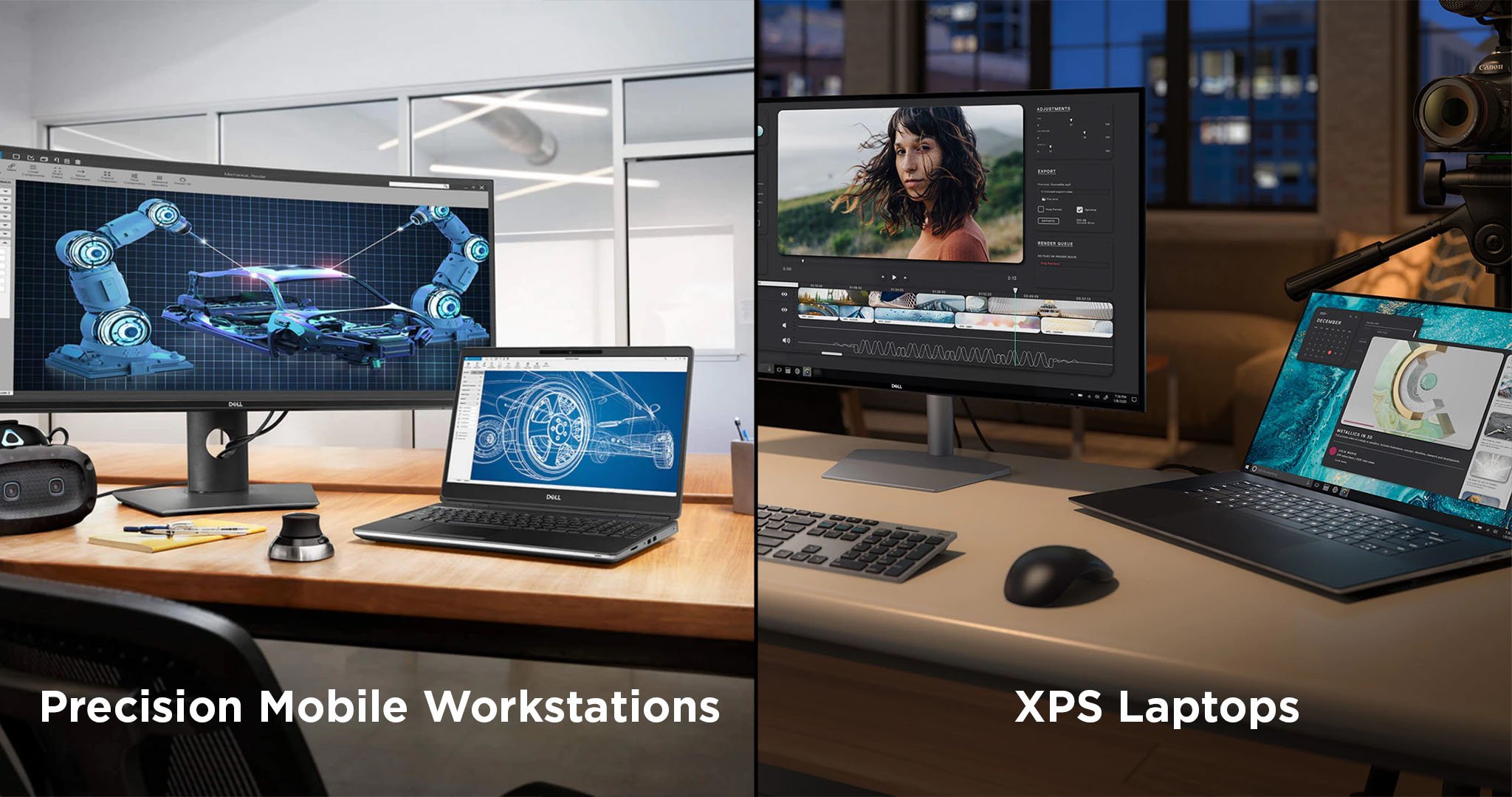 While they're all generally unique in terms of their design and target demographic, there is a bit of an overlap.
For this piece, specifically, we'll focus on XPS vs. Precision and what it is exactly that makes them stand out.
Dell XPS vs. Precision — Who Are They For?
First of all, the Precision and XPS line-ups target entirely different audiences even though certain models look exactly the same.
Precision laptops are basically configured as mobile workstations designed to handle the most hardware-intensive applications a creative/business professional might throw their way. We're talking CAD, architecture, 3D, and everything in between.
These machines can oftentimes pack Intel Xeon processors and NVIDIA Quadro graphics cards along with high amounts of ECC RAM, multiple PCIe NVMe drives, and some incredibly bright (and color-accurate) displays.
They're "workhorses" built to sustain any kind of workload and chew through all possible tasks with aplomb.
Some models are amongst the most beautiful money can buy. Others, however, sacrifice aesthetics in favor of a more utilitarian look.
These machines are tremendously powerful and are designed and built to last. They're only bought by people who need such a thing and make a living using it extensively; they're not an impulse purchase.
They often come with extended warranties and dedicated on-site support — an added benefit for business users and big companies that want as good a treatment as possible.
In other words: Precision laptops are to Dell what ThinkPads are to Lenovo.
XPS — The Best of All Worlds
In a surprising number of scenarios, XPS and Precision laptops are actually quite alike. They have a vast pool of shared characteristics; a Venn diagram, if you will.
So much so, in fact, that you'd be forgiven if you mistook a Precision model for an XPS one — some of them even share the exact same chassis design.
Unlike Precision laptops, however, XPS ones are aimed at "regular" consumers. They're premium products that are very powerful in their own right but are not exactly built to handle the most demanding professional workloads.
These laptops are the "jack of all trades" type, designed and manufactured in such a way to rival the very best Apple has to offer.
They're sleek, slender, tremendously beautiful, and built with such attention to detail you cannot help but start watering at the mouth.
They're powerful and yet incredibly silent. They're also tweaked and tuned so as to last you through the whole work day which, unfortunately, isn't always the case with Windows laptops. And their displays? Out of this world.
In short: XPS laptops are about as well-rounded as it gets. They can get pretty expensive, in all fairness, but you are getting a lot for your money's worth.
Heck, one can even game a bit on the 15" SKUs — the ones that come with dedicated NVIDIA graphics (up to an RTX 3050 Ti, at the time of this writing).
Are Dell Precision Laptops Better than XPS?
Not really.
They might have certain bells and whistles that, say, business owners or consummate professionals might benefit from, but on the whole, the differences aren't nearly as large as was the case just a few years ago.
The thing is, prosumer laptops have evolved tremendously within a staggeringly short period of time.
Nowadays even the most basic ultrabooks have incredibly powerful processors and more cores and threads than you can shake a stick at! They're still thermally limited, granted, but are nonetheless absolutely incredible for both light and moderate workloads.
XPS laptops, therefore, are about the same performance-wise (depending on the workload) and are, in most cases, the better option for the vast majority of users.
Company owners and those who need to purchase laptops in bulk, however, might want to go with Precision, what with them having longer warranties and premium support (both online and on-site).
They can also be configured with more powerful internals but that also varies wildly from one SKU to the next.
Conclusion
So, in a nutshell, if you're a regular user or a creative/business professional — and aren't in dire need of a full-fledged workstation laptop with a Quadro GPU or a Xeon processor from Intel — then there's not that big of an incentive to go with a Precision model over an XPS one.
FAQ
Let's go over a few potential questions you might have regarding the Dell XPS vs. Precision conundrum:
What's the Difference Between Dell's XPS and Precision Line-ups?
Even though they share much of the same DNA, Precision laptops are geared more toward business users and demanding professionals that can take advantage of their powerful (and fairly specific) internals.
XPS laptops, on the other hand, target the "prosumer" segment of the market.
They, too, are incredibly powerful but are designed and built in such a way to appeal to as many potential buyers as possible.
What's Better: XPS or MacBook Air?
That depends. On the one hand, they have many similarities, what with them being thin-and-light ultrabooks packed with some very respectable internals.
That being said, they're sporting neither the same operating system nor architecture, so there's quite a noticeable gap between them:
Are XPS Laptops Good Enough for Creative Work?
They absolutely are! In fact, they're incredible for any and all creative endeavors.
Their screens are bright and color accurate and they also happen to be accompanied by some mighty impressive components, too.
Are Dell XPS Laptops Worth It?
Without a shadow of a doubt. They are sold at a premium but are nonetheless more than worth the asking price.
They're some of the best Windows laptops on the market and it's been like that for many a year now.
The 15" models, in particular, are the most well-rounded.
Powerful internals, jaw-dropping screens, sufficient cooling solutions, and build quality that'll put any laptop — save those from Apple — to shame.
Dell's XPS line-up has been consistently excellent and, odds are, that isn't going to change any time soon.
Over to You
To create a laptop that can stand out in today's oversaturated market requires a tremendous amount of top-notch engineering and attention to detail — not to mention a unique take on a "formula" that feels as old as time.
To Dell's credit, it has "struck gold" many a time over the years, and its best Precision and XPS models attest to that very fact. They are both marvelous to look at and use which is seldom the case with most other companies and their prominent offerings.
Have you ever used one of these machines and, if so, what was your experience like? Let us know in the comment section down below, and in case you need any help, head over to our forum and ask away!