Motherboards these days offer several SATA connectors and M.2 slots, but setting up your drives so they show up in your BIOS and are recognized by your OS isn't always as straightforward as we'd like it to be.
Did you buy the wrong SSD, is it broken, or is it something else entirely that can be fixed easily?
Let's take a look:
Causes for M.2 SSD Not Showing Up in BIOS & how to fix
An M.2 SSD should show up in your BIOS, either at the top of the BIOS screen where you can set the boot priority or in the dedicated Boot / Storage Menu.
Every BIOS looks a bit different, but here's how it looks in an MSI BIOS – Boot Priority at the top, and Storage (Boot) Menu on the left side: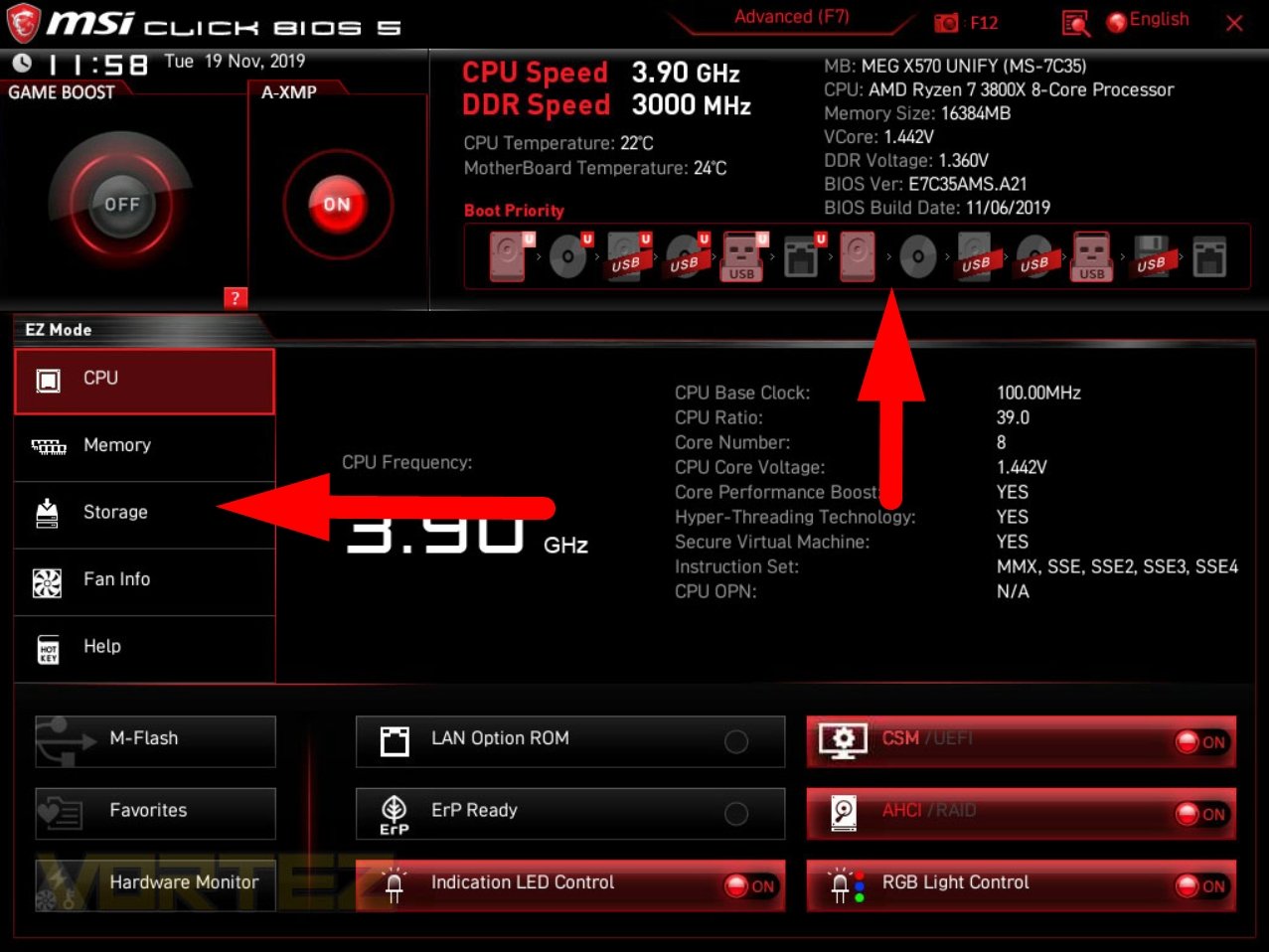 If the M.2 SSD does not appear anywhere in those two options, here are the most common causes preventing M.2 drives from showing up in BIOS:
Let's go through these one by one:
Your M.2 SSD is incompatible
To better understand some of the compatibility causes for M.2 SSDs not showing up in BIOS, it's crucial to know that there are different types of M.2 drives.
Types of M.2 SSD Drives
M.2 is just a form factor, similar to mSATA or 2.5-inch and 3.5-inch storage drives. M.2 drives can be either SATA or NVMe, which are access & transfer protocols.
Not only do the protocols between SATA and NVMe differ considerably, but the corresponding drives also have slightly different physical properties as can be seen in the image below.
The pin layouts on the end of M.2 SSDs are divided into so-called "keys".
Although the physical differences between the two are seemingly small, they are substantial: M.2 SATA drives won't work on your Motherboard's M.2 NVMe slots and vice versa unless they are rated for dual-mode (meaning they support both protocols).
Long story short: If you have a Motherboard that has only M.2 SATA slots, and you have bought an NVMe M.2 SSD, you won't be able to plug in the NVMe M.2 SSD into your M.2 SATA slots at all. So your incompatibility will be apparent even before you get so far as it not showing up in BIOS.
The not-so-easy fix, in this case, is: Buy an M.2 SATA SSD instead of an M.2 NVMe SSD. Or get a new Motherboard that comes with M.2 NVMe slots.
Here's our in-depth Types of M.2 Guide if you're looking for more info.
Well, what if your M.2 SSD fits into the M.2 slot just fine, but still doesn't show up in BIOS?
The next step:
Motherboard Limitations and resource sharing
Even if your Motherboard and M.2 SSD are physically compatible, it might be that there are electrical limitations in place.
You see, lower-end and even mid-tier Motherboards share resources (e.g. PCIe Lanes) between components, and if you have too many of one, you might not be able to use something else.
In our case what happens often is one of the following:
Your PCIe slots share lanes with your M.2 slots, disabling one (or more) M.2 slots if you have too many cards installed in your PCIe slots
Your (regular old cabled) SATA drives share resources with your M.2 slots. If you have too many SATA storage drives installed, an M.2 slots might be disabled
When you have multiple M.2 slots, and you place a high-speed NVMe M.2 SSD into one of them, the other(s) might be disabled because of resource sharing
The same can be true for Thunderbolt, 10GBe LAN, or Bluetooth features that might disable the functionality of some of your M.2 slots
This list is different between motherboard brands, tiers, and chipsets.
The below image was taken from a Motherboard manual. We can clearly see from that table, that when we have 3 or more PCIe Slots utilized (on that specific motherboard), the M.2 slot is disabled.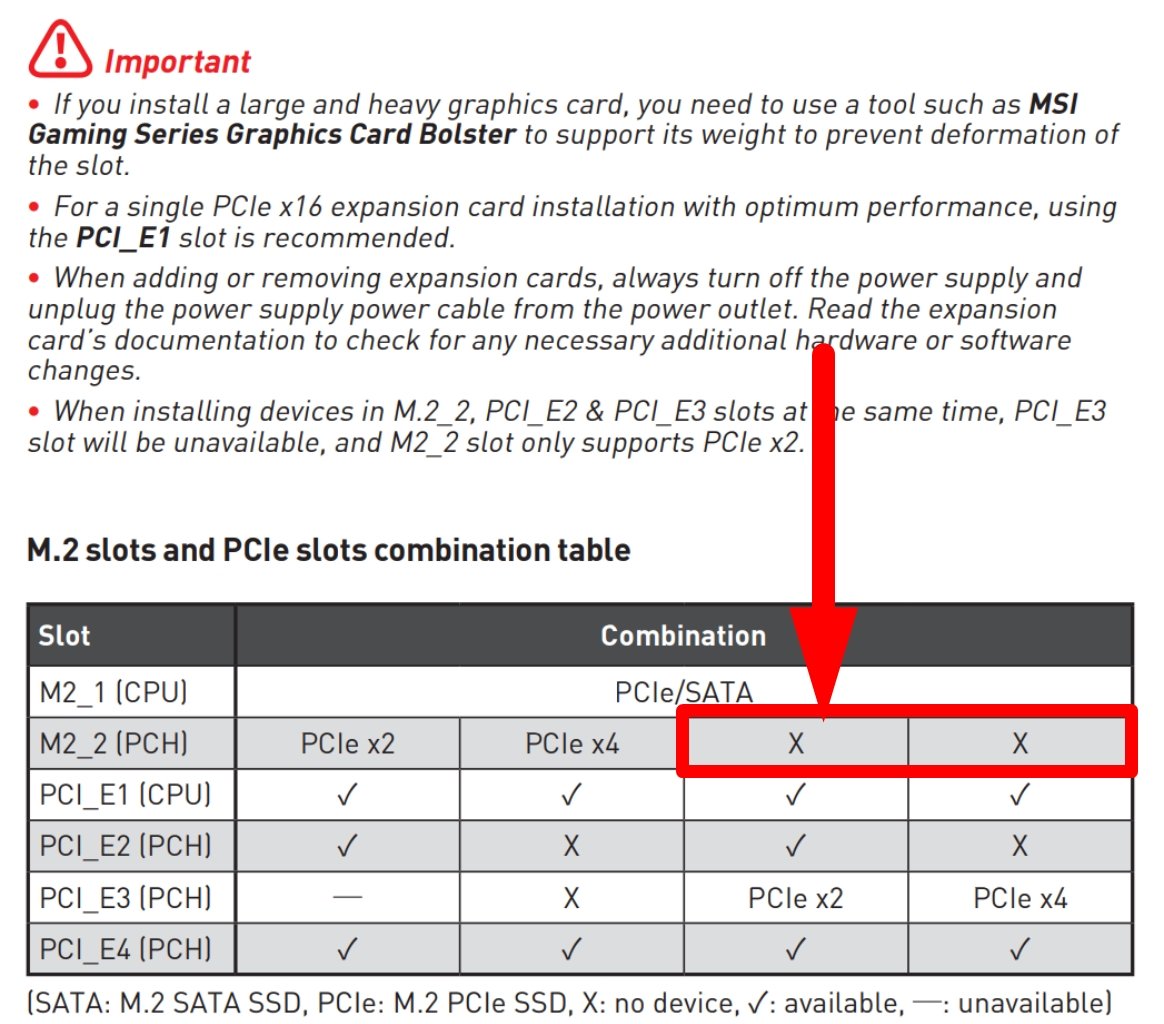 The fix, in this case, is: Check your motherboard manual to see if your M.2 slots share resources with anything else. For testing purposes: Temporarily remove any PCIe devices and other storage drives to see if that changes anything.
Here's how some motherboards inform you of such limitations. Such an on-screen warning display, though, is rare, and it's best to double-check the manual yourself.

M.2 SSD Not Properly Installed
M.2 SSDs are delicate little things. It's easy to be too gentle and not install it into its slot properly or forget to add the screw (because it was missing?).
Sometimes you don't use a screw at all and just place the motherboard's heat-spreader back on top of it to hold the M.2 SSD down & in place, but this can cause the M.2 SSD to come loose.
In any case, check it's fastened tightly and reinstall it to be on the safe side. Here's a quick video of how to install an M.2 drive, just to make sure you've thought of everything:
Faulty M.2 SSD
As we've mentioned above, M.2 SSDs are delicate things. They break easily. Not necessarily during your installation, but during shipping or even assembly in the factory and bad quality assurance.
The fix in this case, or rather how to check if it's broken: See if it works in another PC… preferably a PC you know has everything properly configured for M.2 drives.
If it doesn't work in that system either, you're most likely looking at a faulty drive that needs to be RMA'd.
BIOS Not Configured Properly
We've now covered pretty much all physical aspects of why your M.2 SSD might not be working, but there are still some things to check and adjust on the BIOS side of things.
The root of your problems may very well be a misconfigured BIOS setting.
If you've just installed a brand-new M.2 drive and it's not showing up in the BIOS, even after you've removed additional drives, PCIe devices and tried the steps above, check the following settings:
If you're installing an M.2 NVMe SSD, make sure your Motherboards has a UEFI BIOS with NVMe support or see if there's an update available
Set SATA Mode to AHCI: Depending on your current operating system, disk drives, and RAID configuration, you might want to switch your default SATA mode to AHCI. Navigate to (PCH) Storage Configuration and set AHCI as the default SATA Mode
Disable Secure Boot
Disable fast boot
Set PCIe configuration to M.2
Update your BIOS
Keep in mind that many of these options will be named differently and will be located in different submenus of your BIOS, depending on your motherboard's brand.
Consult your Motherboard's Manual, which is also readily available online on your Motherboard's Support Page.
FAQ
How do I Enable M.2 in BIOS?
The process slightly varies from one motherboard to another, but it goes something like this:
Go to advanced settings, find the tab for Onboard Devices and look for PCI Express Slot options.
By default, most board manufacturers set it to Auto, but if you're encountering issues, change it to M.2 mode instead.
Why Is My m.2 Drive Not Recognized in the Boot Priority List?
There are lots of possible reasons for this, but the most likely culprit is a mismatch of partitions.
If your system is running UEFI and your bootable drive uses an MBR partition, you won't be able to boot from it.
If you're running UEFI and the disk uses GPT, you'll have to look elsewhere to figure this out. Check your BIOS to see if you've enabled M.2 slot to be bootable.
Also, try disabling fast boot and CSM and setting Secure Boot to Other OS.
Make sure you save your changes and restart before checking if your M.2 drive is now listed under boot priority.
Over to You
What are your thoughts on all this?
Have you managed to fix the issue of your M.2 not showing up in BIOS?
Has one of our tips helped you resolve this issue or did something else fix it? Let us know in the comments below or our forum.