Intel's mainstream CPU line-up consists of their Core i3, i5, i7, and i9 "tiers.": what's the difference, and which line of Intel CPUs should you go with? Today, I'll be answering these and a few closely related questions, so let's start diving into all you need to know.
I'll also be providing a few up-to-date recommendations from each CPU line in the article below, should you choose to snag one of these CPUs today.
A Brief on Intel Core Processors and Their History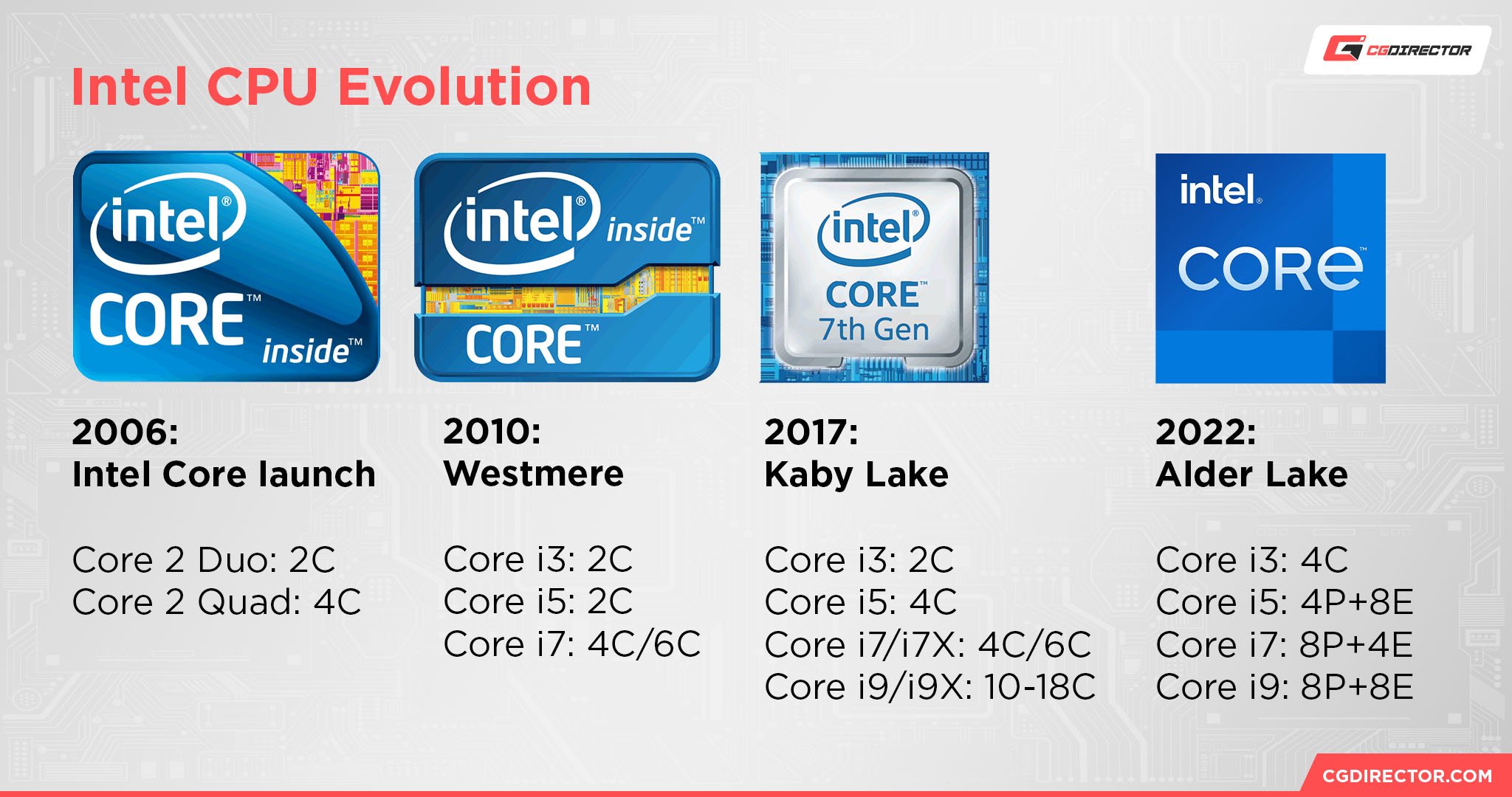 Intel Core is Intel's name for its mainstream desktop CPUs and has been since the debut of the Intel Core name 17 years ago, in January 2006.
With the debut of Intel "Core", the previous mainstream Pentiums were demoted to entry-level CPUs and, these days, are pretty scarce in comparison to the dominance of Core in Intel's product line.
Until the release of the first Core i9 2017, Intel Core processors were primarily divided into three tiers: i3, i5, i7.
Each generation of Intel Core CPUs will have a shared microarchitecture, with the primary difference between different tiers being core count. Higher tiers of Core CPUs like i7 and i9 will have the highest core counts, but the sheer power of individual cores can make i3 and i5 worthwhile, too, especially if your workloads don't require many cores.
Throughout the lifespan of Intel Core CPUs, Intel has played a very strong game when it comes to single-core performance.
For workloads that are reliant on powerful individual CPU cores, Intel has maintained market dominance for quite a while. Until AMD debuted their Zen CPU architecture (also in 2017), Intel held the single-core crown with a considerable gap for a full decade.
These days, that single-core performance crown sees more fierce competition from the AMD side of the aisle. However, that raw performance isn't Intel's only claim to fame— Intel CPU iGPUs also have superb video encoders for use in video editing.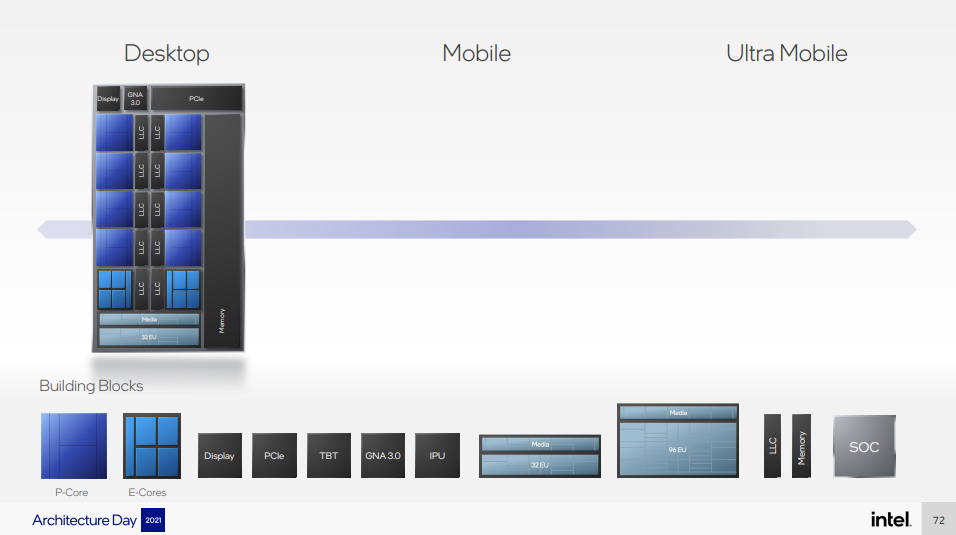 Another recent CPU architecture innovation from Intel as of the 12th Gen of the Core series can be seen in their division of CPU cores into high-performance "P-Cores" and low-power "E-Cores".
This helps increase core count and multi-threaded performance on Intel CPUs but also reduces overall power consumption.
Note: Whenever Intel releases Raptor Lake, they're actually set to remove the "i" designation from the different lines of the Intel Core CPUs. It will eventually be "Core 3" instead, for example.
Intel Core i3 vs i5 vs i7 vs i9: What's The Difference?
Intel Core i3 Is For…
The Intel Core i3 series is targeted at the entry-level desktop market and is a particularly favored choice among office professionals, budget gamers, and others looking to make a step into the desktop CPU market without breaking the bank.
Historically, Core i3 CPUs were primarily dual-core affairs. Following the debut of AMD's actually-competitive Zen architecture, though, Core i3 slowly began to change from its original form in the market.
First, Core i3 CPUs started getting access to Hyperthreading, a previously i7-exclusive feature, to give them more multitasking headroom by assigning 2 virtual "threads" to each physical core.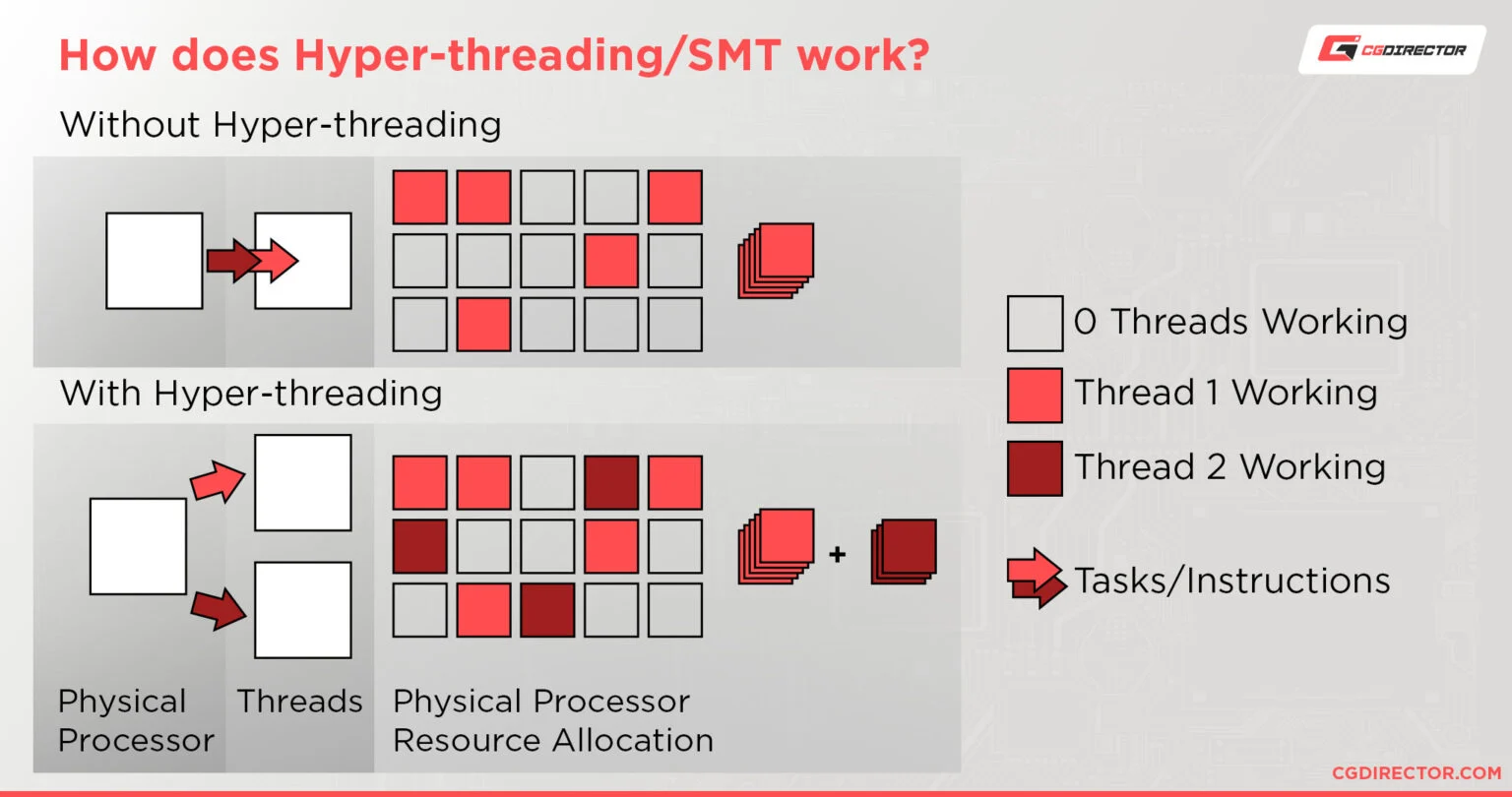 More recently, Core i3 chips have also started shipping with four cores and Hyperthreading enabled, making them quite remarkable compared to their predecessors.
A quad-core, eight-thread CPU built with modern architecture isn't really a slouch in any workload, just not necessarily the mid-range or high-end in a market that's cranked up core counts so high in the years since quad-core i7s.
That's right— the i7s of yesteryear were often quad-core chips with Hyperthreading enabled as the biggest improvement over i5.
The years of iteration and competition have forced Intel to raise even their i3 CPUs into a higher tier of desktop performance, though, and that bodes pretty well for consumers on a tight budget.
Recommended Intel Core i3 CPUs:
Intel Core i3-13100 — A modern, quad-core, 13th Gen Core i3 CPU.
Intel Core i3-13100F —The same as above, but with the iGPU removed. Recommended if you don't need Intel's iGPU for anything and want to save some cash.
Intel Core i5 Is For…
Entering the mid-range of Intel's CPU lineup brings you to the Core i5 series of CPUs.
Core i5s cost a little more than i3, but start souping up cores and features on offer significantly enough to begin targeting video editors, enthusiast gamers, and productivity with much more power than entry-level chips.
The pricing is generally a lot easier to swallow for consumers than i7 and i9 CPUs, as well, though I wouldn't call mid-range PC hardware cheap, either.
Historically, the main benefit Core i5 CPUs offered over i3 CPUs was just a bump in raw core count, with Hyperthreading being saved for i7s.
Times have changed, though, and these days Core i5s ship with Hyperthreading enabled, as well as an optimized balance of P-Cores and E-Cores, compared to i3s having no E-Cores to speak of at all.
Another benefit of shopping in Core i5 territory is the introduction of K-series CPUs.
K-Series Intel CPUs are Intel CPUs with CPU overclocking enabled, allowing determined end users with good cooling setups and nice VRMs to start pushing their CPUs past the manufacturer-recommended limits for more performance.
Overall, Core i5 CPUs are a great mid-range option, regardless of your use case. While they don't have quite the abundance of cores and threads that i7s and i9s do, they no longer lack Hyperthreading or core features compared to i7s, either, just slightly less multi-core throttle.
If you're an independent creator on a budget or a gamer who wants to maximize the bang for their buck, the Core i5 is a mainstay.
Recommended Intel Core i5 CPUs:
Intel Core i5-13400 — The "entry-level" Core i5 CPU, offering 10 cores (6P+4E). This is a marked improvement over i3 CPUs, but not the best i5 unless you get it at a great price.
Intel Core i5-13500 — The superior Core i5 CPU, boasting 6 P-Cores and 8 E-Cores (14 cores!) at a competitive price point.
Intel Core i5-13600K / i5-13600KF — 14 (6P+8E) cores of high-power Intel goodness, completely untethered for overclocking. The "F" version also removes the iGPU, in turn reducing the price slightly.
Intel Core i7 Is For…
The high-end of Intel desktop CPUs starts (and used to end) with Core i7 chips!
This is where Intel starts really pushing up the core and thread counts to make their CPUs more appealing to professionals, competitive gamers, and other enthusiasts looking to make the most of their PC build.
Core i7 has gone through something of an odd evolution over the years. It used to be the only line of Intel CPUs outside of servers that offered Hyperthreading, but that changed not long after Ryzen started shaking up the market.
Even so, Core i7 CPUs still serve an important role in today's CPU market, since they still hover around the same pricing bracket and have boosted core/thread counts over the generations.
Sometimes shopping for a high-end CPU, especially as a professional, can turn into something of a numbers game disconnected from real-world performance.
While it's true that certain workloads will basically keep stacking performance in direct scale to your available cores and threads, many other workloads— especially 3D viewporting and gaming— don't.
This is the price point where you must know what your needs are before you start buying the CPUs because they're breaching $400 in price and they aren't gonna get any cheaper from here.
That said, you're also in for some pretty dang performance all-around, a performance that should prove more than worth the price if you're also making money with your PC.
Recommended Intel Core i7 CPUs:
Intel Core i7-13700 / i7-13700F — Sixteen cores! There are eight P-Cores and E-Cores packed into this generation of Core i7 chips, forming a surprisingly balanced overall chip. The "F" version forgoes the iGPU in favor of price savings, which is particularly recommended if you have a powerful discrete GPU and need to make price-cuts to your high-end PC.
Intel Core i7-13700K / i7-13700KF — Pretty much the same deal as above, but in exchange for the price bump to these chips you also get the CPU unlocked for overclocking purposes. i7 overclocking is a particular sweet spot since you already have Intel's superb single-core performance and more than enough cores to go around for most workloads.
Intel Core i9 Is For…
The Core i9 is the high-end, no compromise line of Intel desktop CPUs.
This is where things should be getting the most interesting for prosumers, but arguably the least interesting for gamers or anyone trying to save money while building their ideal PC.
Allow me to explain.
Basically, Core i9 CPUs now occupy the niche that used to be occupied by Intel Core i7s, and I don't just mean because they're the highest-end chips for desktop builders.
When Core i7s used to only provide Hyperthreading on top of Core i5 chips, there was basically no reason whatsoever for gamers or others on workloads tied to single-core throughput to buy Core i7.
The reason why is because Hyperthreading only benefits multi-tasking and workloads that scale seamlessly to multiple cores— there are no single-core benefits to enabling Hyperthreading at all.
Modern Core i9s seem to be echoing this issue since they offer the same number of high-performance "P-Cores" as their cheaper Core i7 counterparts— just 8.
The huge boost in "E-Cores" does bode well for productivity applications, especially where streaming and rendering video is concerned, but the muscle for single-core-tailored workloads has basically not changed at all compared to Core i7.
Basically, Core i9 CPUs are largely only worth it if you're a genuine prosumer.
The price increase compared to Core i7 and Core i5 make these the farthest thing from a budget-friendly CPU, and the value proposition is really only going to be present if you can actively make use of all those extra cores as frequently as possible.
Recommended Intel Core i9 CPUs:
Intel Core i9-13900 / i9-13900F — 8 Performance Cores and a whopping 16 Efficiency Cores turn the locked Core i9s into quite the compelling option for prosumer workloads, and more than powerful enough for gaming and etc as well. As always, "F" just means getting rid of the iGPU.
Intel Core i9-13900K / i9-13900KF — Pretty much the same as above, but putting down extra dollars for overclocking headroom. To be honest, if you're going to spend this much on a CPU, to begin with, I highly recommend getting an OC-capable CPU today, even if you don't actually plan on overclocking it yet. In this price range, you're making a long-term investment in your hardware, and overclocking capability helps push off the need to upgrade a few more years down the line.
FAQ
Is Intel Core i9 Overkill?
If you're buying it for rendering and productivity purposes, certainly not! The performance-per-dollar is a little iffy, but those workloads are the best for running on high-end CPUs with tons of cores.
If you're buying it for gaming or your rendering/productivity is more an "occasional hobby" than "actual occupation"…yeah, probably.
The main reason to go with an i9 over an i7 is for productive workloads where doing so will give you a meaningful time reduction, since an i9 isn't going to perform better to any meaningful degree in single-core applications compared to an i7.
Are Intel Integrated Graphics Any Good?
If you're trying to game on them, no.
Intel iGPUs aren't providing a great experience with modern games…at least not yet. The upcoming adoption of Intel's discrete GPU architecture into their 14th Gen iGPUs may just change this, though!
If you're doing video editing on them, yes, actually!
I mentioned this in passing earlier, but it actually turns out that Intel iGPUs are among the best-suited choices for timeline video editing since their onboard video decoders are high-performance and have superb support for high-quality footage.
Petar explains this in more detail in his How To Choose a CPU For Video Editing article.
What are Intel Extreme Edition CPUs?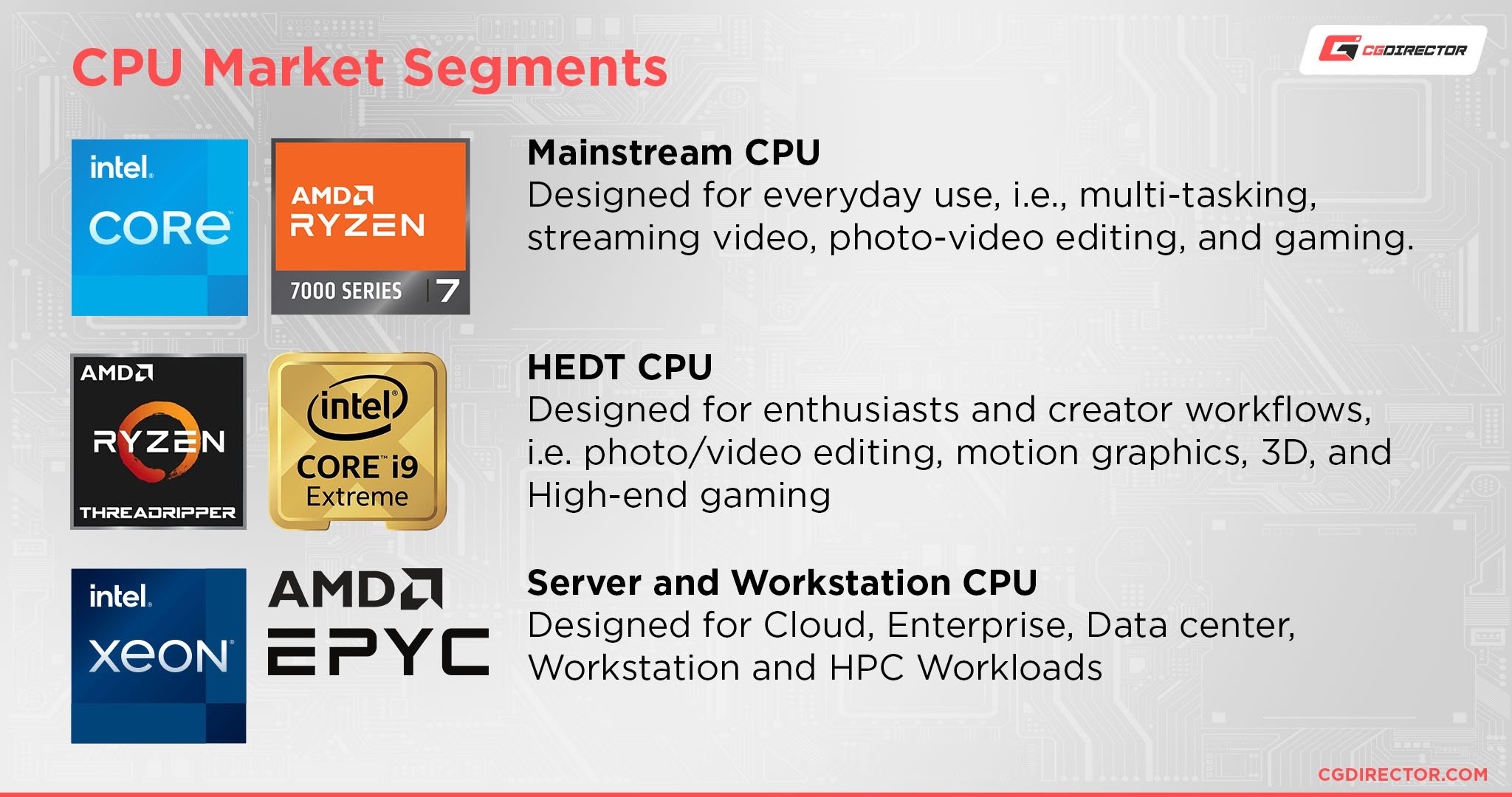 Intel Extreme Edition CPUs are Intel's HEDT (High-End Desktop), X-Series CPUs.
X-Series CPUs come on a different motherboard socket and chipset, which is streamlined for HEDT and enthusiasts.
Extreme Edition sees less frequent refreshes than the mainstream desktop Intel Core series, though, so currently a 13th Gen Core i9 on a high-end chipset is by far the superior choice compared to an Extreme Edition CPU.
Should I Use Intel Xeon CPUs Instead of Intel Core CPUs?
If you're in the market for a CPU with sheer multi-core power or are building an ambitious server, yes!
Intel Xeon CPUs correspond to server motherboards and the far higher-end needs of the server market, with core counts that can make even the 24-core i9 blush.
The higher core counts of Xeon (and to a lesser extent, Extreme Edition CPUs) do come at a considerable cost to single-core performance, though. You definitely don't want to try and play games or do anything too single-core-tailored on a server-grade CPU.
I've written more on Intel Xeon CPUs elsewhere on the site if they interest you, though!
What Are The Best Intel Core CPUs?
Well, I've tried to give you something of a starting point with the rest of this article!
But if you want a larger selection to choose from with more detailed benchmarks, I highly recommend checking out Alex's running list of Intel CPUs In Order of Performance.
His guide includes current and past gen Intel Core CPUs, so it's certainly worth a glance if you're on the used market or otherwise willing to buy a last-gen board!
Over to You
And that's all, for now!
I hope this article helped clarify the difference between Intel's Core CPUs and solved the Core i3 vs i5 vs i7 vs i9 matchup for your personal needs.
Me, I'm more a Core i7 guy than a Core i9 guy, since my PC is balanced more toward gaming with production on the side than a daily production build.
But whatever suits you is whatever suits you, so don't hesitate to snag a Core i9 or a Core i3 if those suit your needs better!
It's about time to wrap things up with this article, but feel free to ask any lingering questions about Intel CPUs in the comments below!
You can also take other PC hardware questions or your current projects for discussion in the CGDirector Forums, which is active with a community of Experts from inside and outside of the CGDirector Team.
Until then or until next time, happy building!