Yes, I know. We're very late with this review! We did hope to get this out sooner, but after a substantial delay in getting samples from Intel led to the delivery coinciding with a ton of other work. Well, here we are several months later.
So, let's get down to it.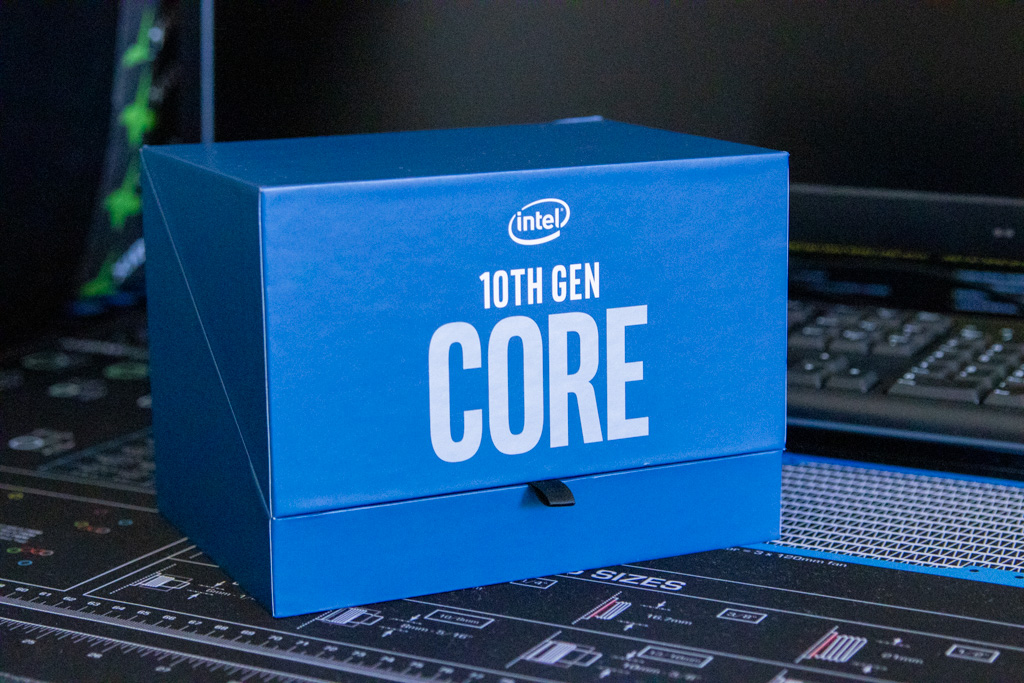 Even though it might not seem like it, opening up hyperthreading across the entire 10th Generation product stack is one of the best decisions Intel has taken these past few years. It's become more of a balanced choice rather than having to pick between stellar single-core performance and horrible multi-core performance across a few SKUs at the very least.
But is it enough to compete with Ryzen, which still offers a 12-core processor at the same price as Intel's 10-core part?
At the lower end of the stack, not really. However, with the 10900K, 10700K, and the 10600K, the results might be interesting. We could've just run some benchmarks and called it a day, but we decided to do something different.
In addition to running benchmarks, Alex also took some time out of his busy schedule to work on some real projects using these 10th Gen Intel Processors. In doing so, we were able to get a much better idea about how much it improves/degrades his professional workflow compared to his Ryzen 9 3950x workstation machine.
Hardware Details: Here's Our Test Setup
For our test setup, we went with a combination of hardware we already owned and some parts that a few brands were cool enough to send over for us to complete this testing. A very special shout-out to HyperX EU and beQuiet! Germany for helping us get our test bench up and running.
Here's the full list of hardware we used for these tests –

| CPU | 10900k, 10600k |
| --- | --- |
| CPU-Cooler | beQuiet Dark Rock Pro 4 |
| Motherboard | Gigabyte Z490 Aorus Master |
| RAM | HyperX FURY 16GB (2x8gb) DDR4-3600Mhz cl17 (HX436C17FB3AK2/16) |
| GPU | Asus Strix RTX 2080Ti |
| PSU | Seasonic Prime 1200W |
| Case | Phanteks Eclipse P600s |
| Storage | Intel Optane SSD 900p, Win10 Pro 64 (Build 2004) |
Ideally, we'd have gone with a 360mm AIO to pair with the 10900K. However, we've been getting questions about how air coolers will do with production workloads with a 10
th
Gen Intel system, so we went with one of the best air coolers we could find for this setup – the beQuiet! Dark Rock Pro 4.
Although we did see high temperatures (95°C+) when running CPU-intensive workloads for long durations, the performance numbers indicate little-to-no thermal throttling. That said, if you're running heavy CPU loads on a Core i9 10900K, I'd still recommend sticking to a good 360mm AIO. For other Intel CPUs, an excellent cooler like the beQuiet! Dark Rock Pro 4 will do just fine!
10th Generation Intel Core i9 10900K and Core i5 10600K Technical Specifications
| Specification | Intel Core i5 10900K | Intel Core i5 10600K |
| --- | --- | --- |
| Cores | 10 | 6 |
| Threads | 20 | 12 |
| Base Frequency | 3.70 GHz | 4.10 GHz |
| Max Boost Frequency | 5.30 GHz | 4.80 GHz |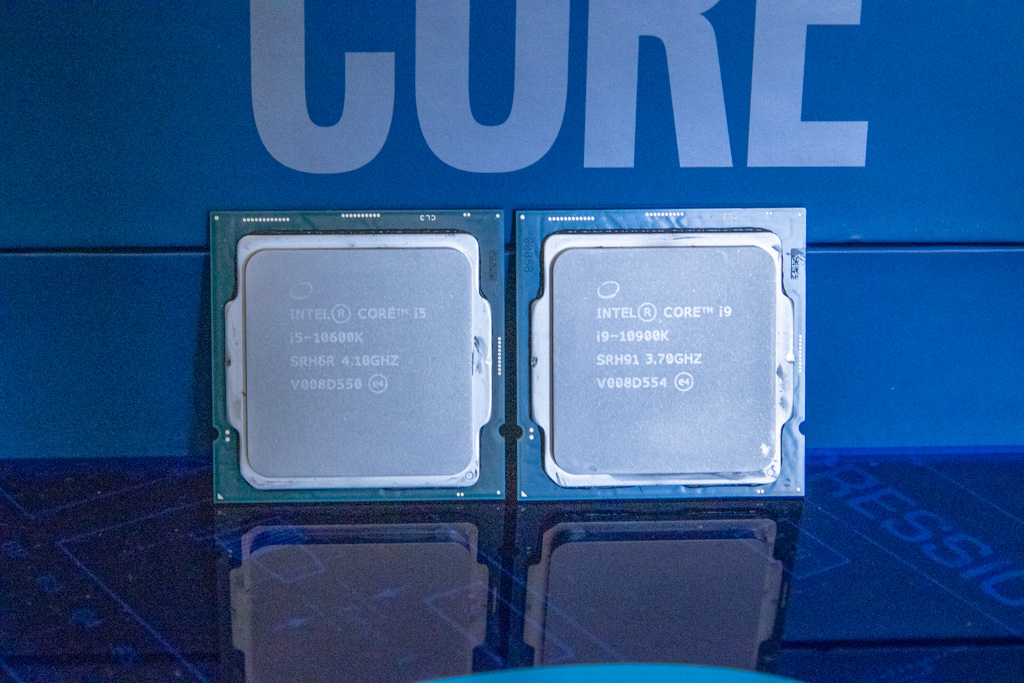 Memory Speeds and Stability
For those who're concerned about stability when enabling XMP profiles, HyperX helped us out with a 3600 MHz 16GB (8×2) kit as that's one of the most popularly bought (and best value) kits on the market now.
For our test bench, the memory worked flawlessly, and enabling XMP was all we needed to do to get our memory up to 'speed.' However, your experience might vary depending on the motherboard you use and the memory kit you pick.
You can find the kit's part number and the motherboard we used in our testing in the hardware section above.
Since stability is of utmost importance, we'd recommend sticking to 3200 or 3600 MHz kit part numbers listed on your motherboard's QVL for professional work. In fact, many professional workstations still come with much lower-speed memory to ensure rock-solid stability.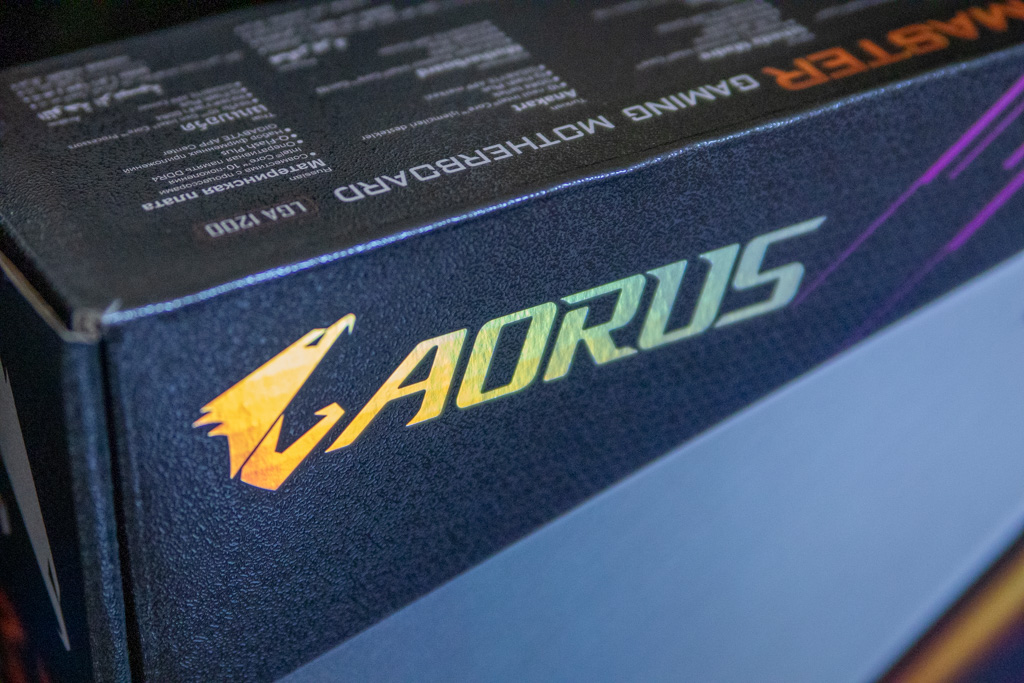 The gains achieved when using higher speed memory when working with 3D applications aren't substantial enough to warrant the risk of crashing during a render or when working through a scene.
Thermals and Power Consumption
Our purpose of using the Dark Rock Pro 4 air cooler was simple. We wanted to test how one of the best air coolers out there handles the Core i9 10900K, so we had the data required for CGDirector's PC Builder.
Although the cooler did handle itself surprisingly well, I still wouldn't recommend going this route if you're buying a Core i9 10900K for rendering (which you shouldn't anyway; read on).
Here are the temperatures we recorded:

The temperatures recorded for the Core i9 10900K were significantly higher than what the 3900x achieves. If you're purchasing a 10900K, please do go with a decent 360mm AIO cooler. We've also updated our PC Builder to reflect the same.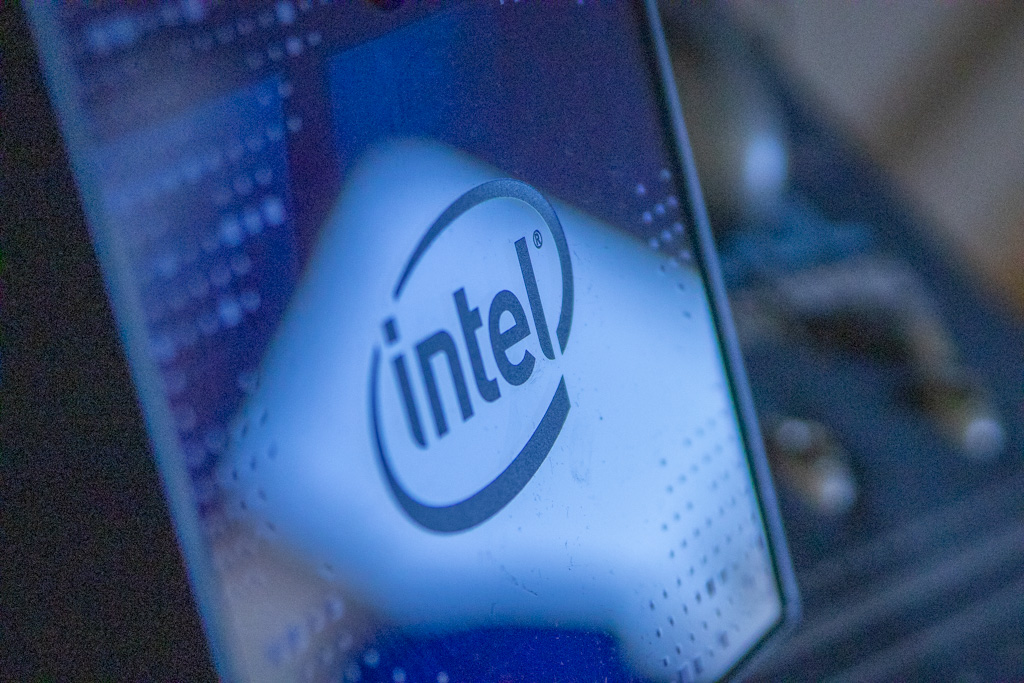 Intel's Core i9 10900K consistently drew more power than the Ryzen 9 3900x for almost every kind of workload we ran. But that's just the beleaguered 14nm process showing its age in 2020 compared to AMD's chips that use 7nm with far better efficiency.

Complex renders can take long, and the higher power draw without an improvement in performance (as you'll see below) makes the Core i9 a terrible choice for a system built solely for handling render tasks.
Although our primary objective with these tests was not to run benchmarks, we still ran a few popular ones to make sure we have the data we need for our PC Builder and performance charts.
Since we have them, here you go:
Cinebench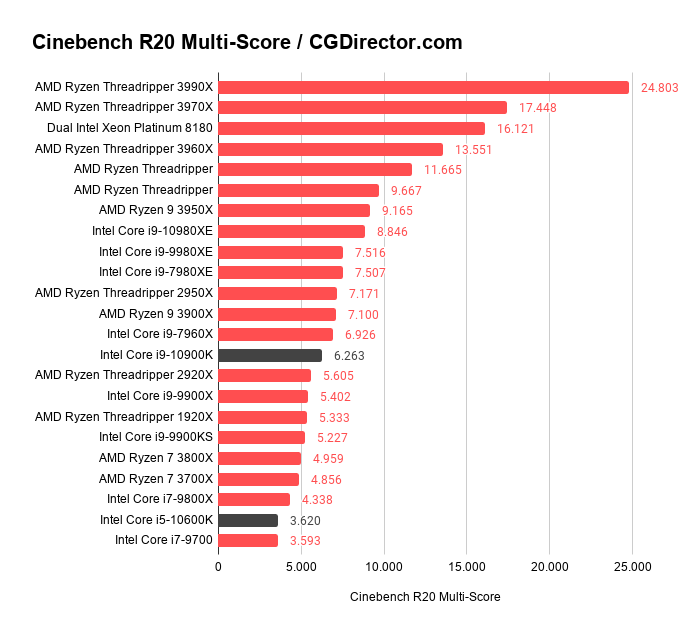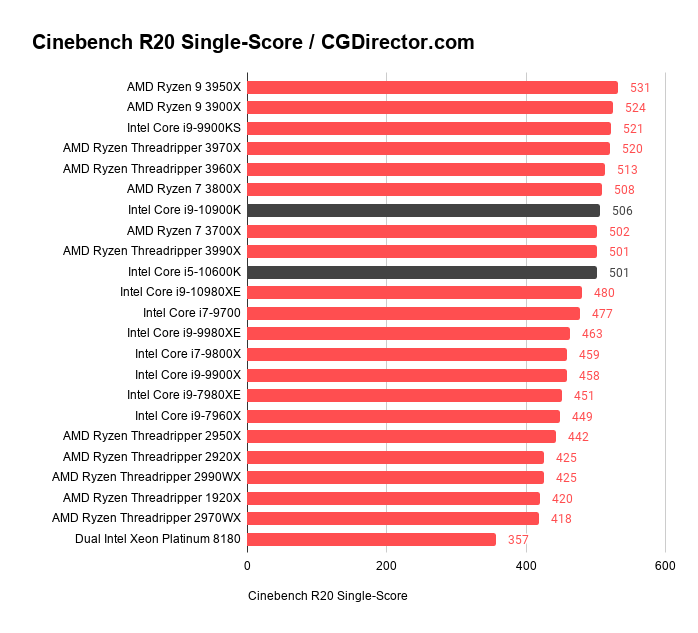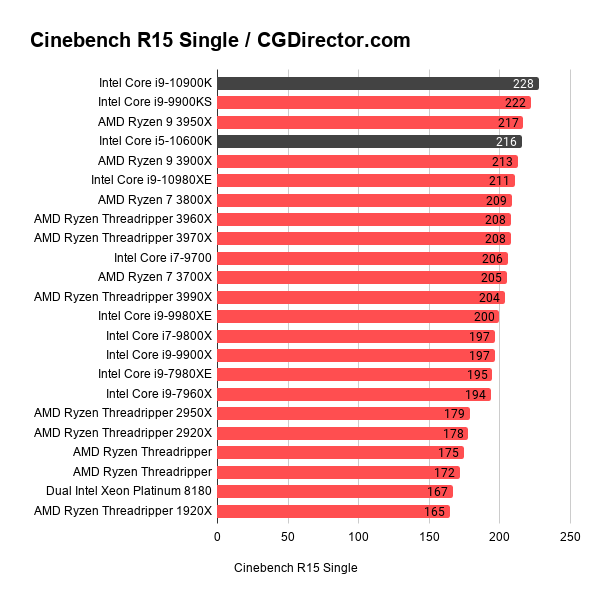 All in all, the Cinebench results aren't that surprising. The Ryzen 9 3900x performs pretty close to its (somewhat) direct price competitor – the 10900K, when it comes to single-core performance. However, with 2 extra cores, and 4 threads, Ryzen is quite a bit faster. Professionals relying on CPU rendering on Cinema4D should stick to AMD's Ryzen processors over Intel's CPUs at any price point. The fact that AMD's Ryzen 9 3900X can often be found for right around $400 makes things so much worse for the competing Intel part.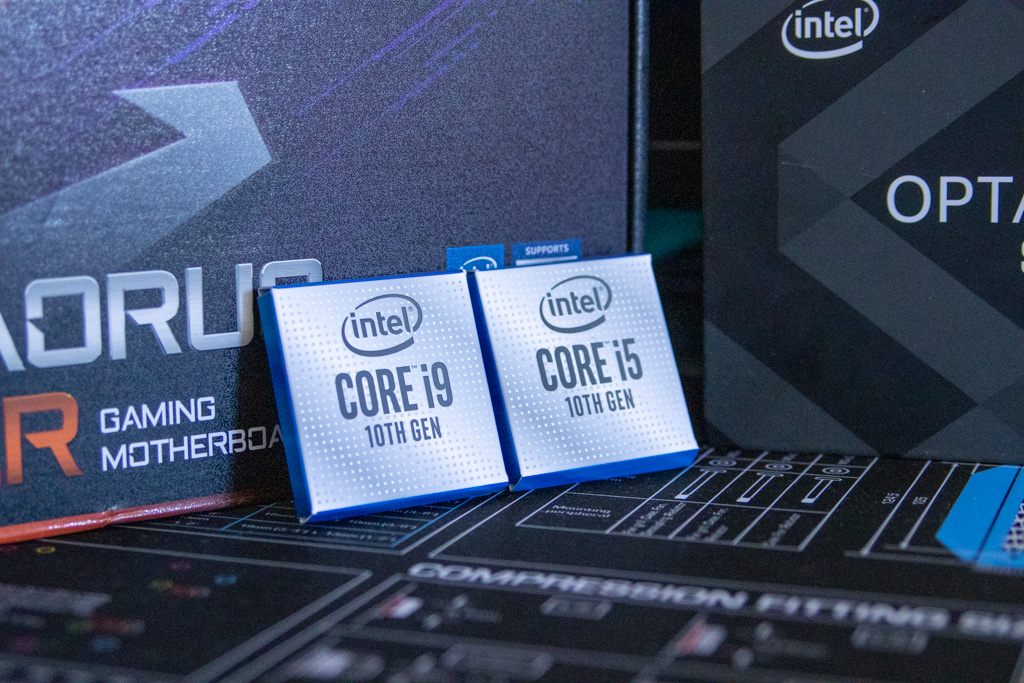 We ran the Cinebench single-core test multiple times because our 10900K sample refused to boost to the advertised 5.30 GHz clock speed. It would go right up to 5225 MHz and stay there. The behavior isn't surprising due to how Intel's 'Thermal Velocity Boost' works.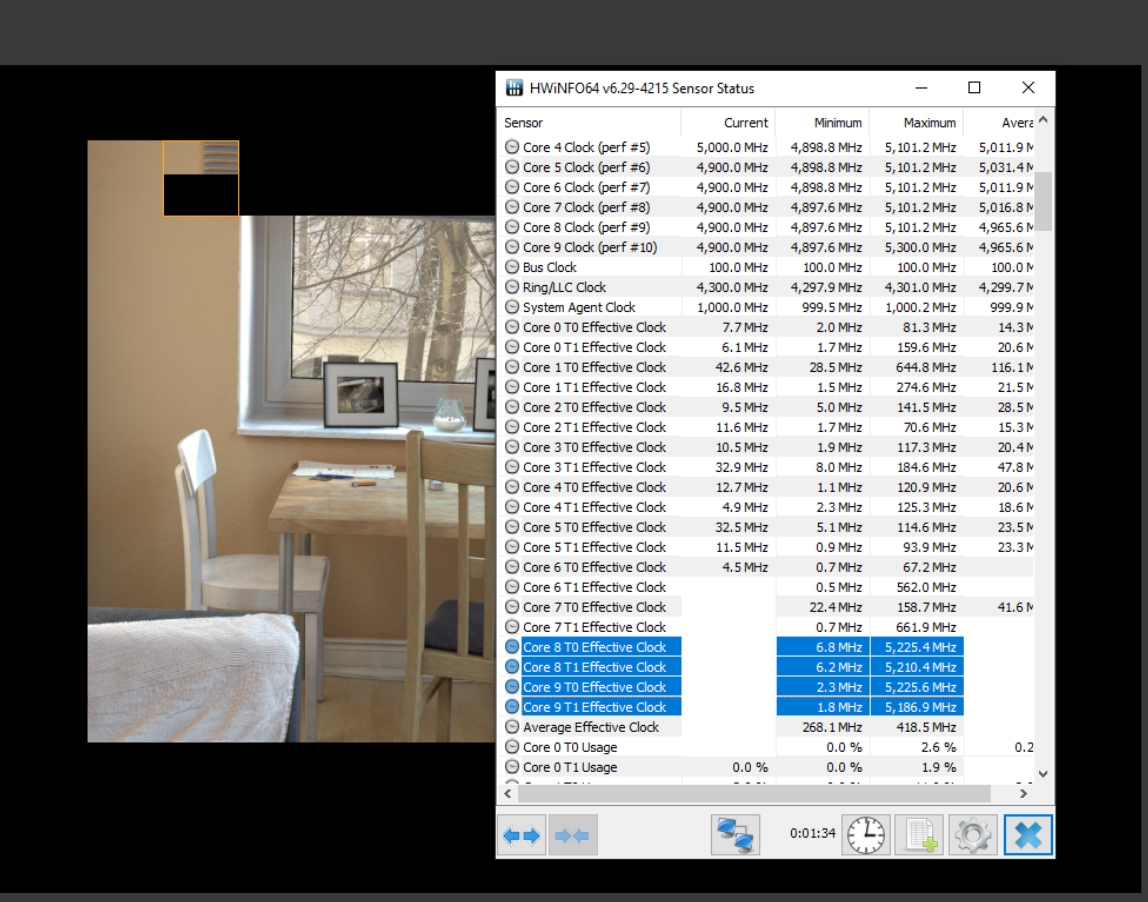 Max clocks require a temperature threshold of below 70°C. The Dark Rock Pro 4, unfortunately, couldn't keep us under that threshold. We saw temperatures hit 74° on this test, which is why our sample wasn't boosting to the advertised clock.
VRay NEXT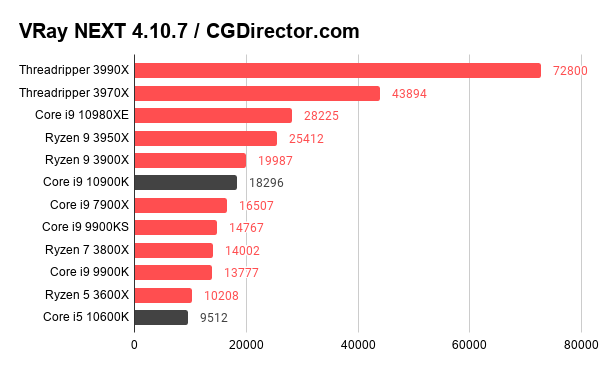 VRay NEXT uses multiple cores quite effectively, and thus, the Ryzen processor (as expected) again comes out on top. No surprises there since VRay can leverage the additional cores that Ryzen offers at a similar price point.
IndigoBench (Supercar)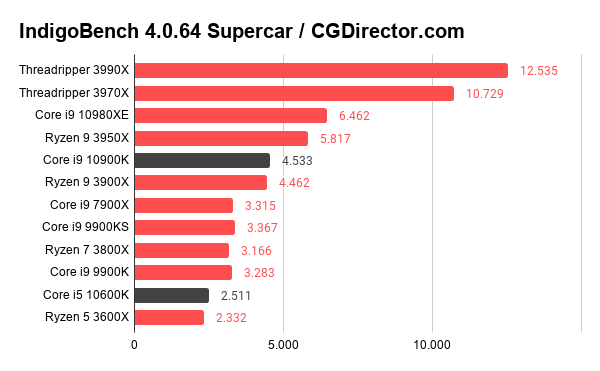 Even with 2 fewer cores, the 10900K manages to keep up with the Ryzen 9 3900x when it comes to IndigoBench numbers.
Corona 1.3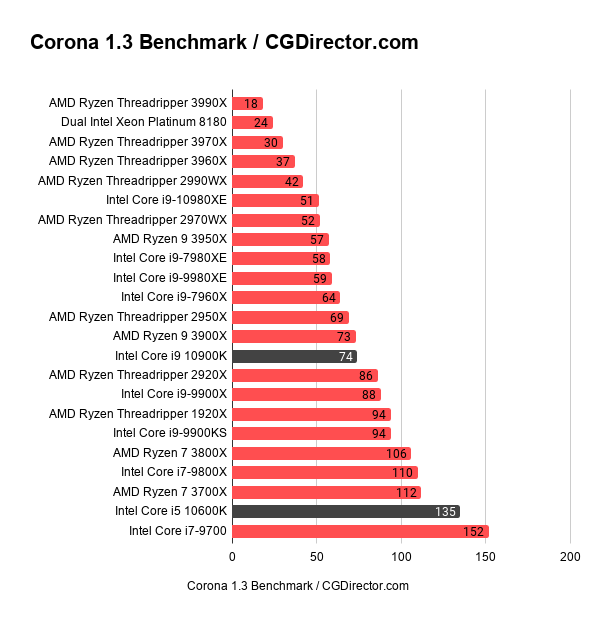 Again, with Corona, we see a similar result – the Core i9 10900K and Ryzen 9 3900x trade blows, with the Ryzen processor edging out its competitor by a slim 2-second margin. However, do note that this margin does become more meaningful when talking about large renders – especially since the Ryzen processor is quite a bit cheaper than the 10900K at the moment.
Blender 2.81a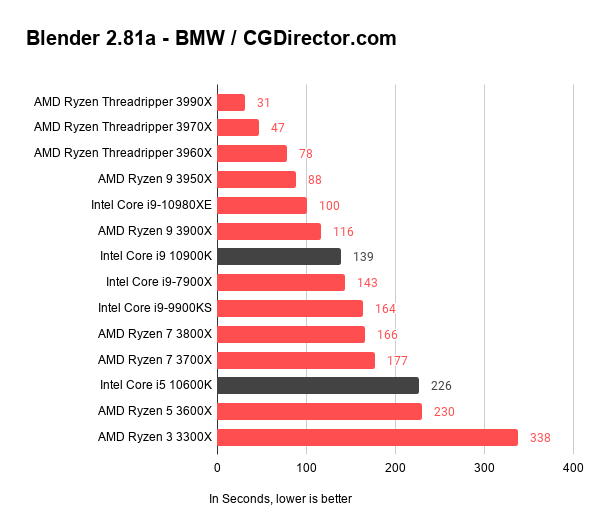 Blender loves additional cores, and the results show. The AMD Ryzen 9 3900x yet again outpaces the Core i9 10900K by a substantial margin in the BMW scene.
Dissecting the Benchmarks
Before we move on to the other sections, I wanted to address the results we see in the benchmarks above.
Although the Core i9 10900K does have 2 fewer cores than the Ryzen 9 3900x, a few workloads like Corona and Indigo Renderer don't seem to care all that much.
Nonetheless, for a PC focused on rendering out large scenes, the Ryzen 9 3900x is a far better fit at the $500 price point. The Ryzen processor has more cores, doesn't compromise on single-thread performance, and draws less power.
Those benefits are undeniable, no matter how Intel marketing tries to spin it.
Now, you might be wondering why I haven't talked about the Core i5 10600K at all in the benchmarks above. When building a render node or a PC with a primary focus on rendering, the Core i5 10600K is a waste of money.
At that point, please go with a Ryzen 9 3700x, and you'll have a far better experience with rendering out projects.
Does this mean that the Core i5 10600K has no use case for professionals? No, it does have its use case, as the next section will demonstrate.
Viewport Benchmark Performance: An Important Metric for Active Workstations
While AMD has the edge over Intel when it comes to rendering performance, it's a task that most professionals can leave running for a while – as long as it's not taking inordinate amounts of time.
AMD's prowess in the workstation market is such that working on a project and rendering a project have blended into one single task with every review we've seen. But there's a fundamental difference when you're working on a complex scene vs. rendering out that very scene.
When you're actively working on a complex scene, what you immediately notice is any lag/sluggishness when panning, transforming, zooming, and pretty much anything that requires motion within a scene. The performance here is what affects the smoothness of your active work, and we've always advocated giving it as much focus as possible because this is what you experience while working.
You can leave renders running for a while longer, but when actively working on a project, you ideally want the smoothest experience possible.
We designed the Viewport benchmark to give us an idea about the performance anyone could expect on any tested CPU. You can run this Cinema4D Viewport benchmark on your system as well! Do let us know how your system performs.
Cinema4D Viewport Benchmarks (v1.2): Intel vs. AMD
Intel has always outclassed AMD in viewport benchmarks, and even after 3 generations of Ryzen processors, this sadly hasn't changed. Things have improved compared to what we got in the first generation, but still going from a 7700K (1050 viewport score) to even a Ryzen 9 3950x (1015) does feel like a small downgrade in overall fluidity.
For those who only want a single system to handle both rendering and workstation tasks, I'd still wholeheartedly recommend the Ryzen 9 3950x/3900x or a 3rd Gen Threadripper (3960x/3970x). They're just so much faster.
That said, if possible, it's still better to have two separate systems for active work and rendering for a no-compromise experience.
Although the 10900K has a higher viewport score than the Core i5 10600K, I would recommend the Core i5 10600K if you're building a machine just for working on a scene. While the 10900K is better, the difference was too imperceptible to warrant that price bump when we tested them out.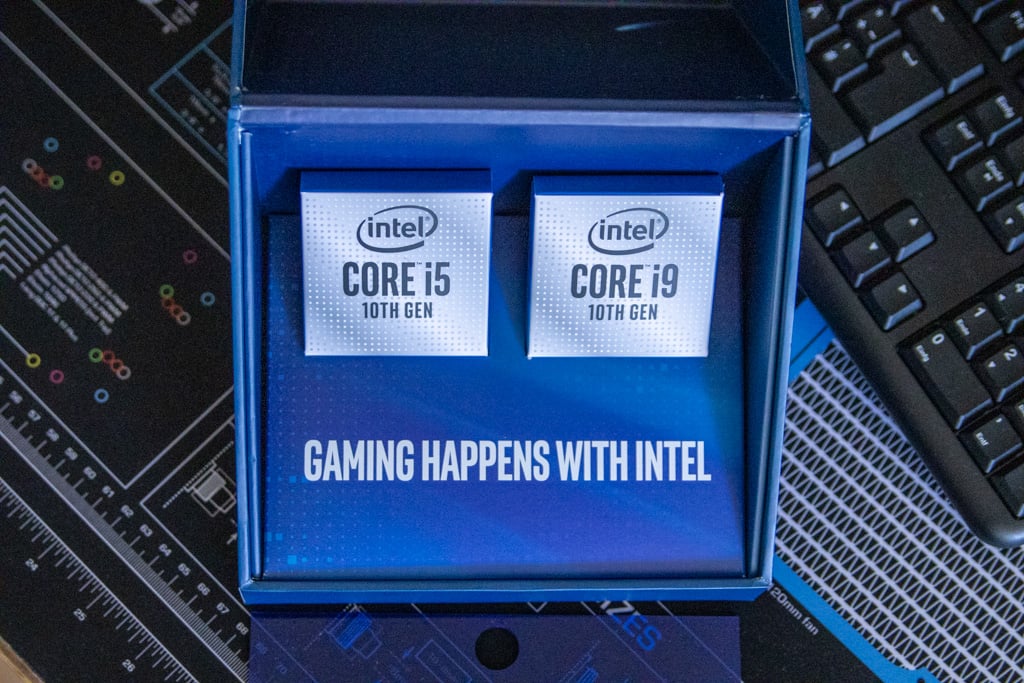 "Both Intel processors seemed quite a bit more fluid when working on a scene compared to my 3950x system. It is noticeable. Moving around the scene was just more pleasant, especially in a heavy scene with lots of complex geometry." – Alex G.
Let me expand on the experience here. When working with raw geometry, the experience is fluid, whether you're on 3rd Gen Ryzen or 10th Gen Intel. But as soon as you begin altering that geometry using modifiers like cloners and subdivs, Intel starts to pull ahead.
It remains noticeably smoother as you continue modifying geometry. We've noticed this behavior in all 3D viewports we use.
Similarly, when working in After Effects, Ryzen is okay with a regular project. But open complex projects and start moving things around, and the UI lag becomes so very apparent on Ryzen.
Why does this happen? We aren't too sure.
At first, it seemed like it was the single-core performance that held Ryzen back. But that can't be it because a 3rd Gen Ryzen processor goes toe-to-toe with an Intel CPU in sequential single-threaded workloads like the one we run on Cinebench.
Could it be just apps not being optimized for Ryzen's architecture? Could be. But a similar experience across a variety of apps gives me pause.
Another possibility is the relatively higher core to core latency (from a consistency standpoint) of Ryzen compared to Intel. Although AMD has managed to bring down the latency by a healthy margin (in 3 years, it's been one hell of an improvement), it sadly still doesn't seem enough?
To be fair, Ryzen's latency for the best-matched cores is even better than Intel; it's the worst-matched cores, and everything in between, that might explain the performance (or lack thereof) in viewports.
I found some data from tests done by Steve over at TechSpot for Ryzen.
Intel has offered this viewport fluidity for a few years now and continues to do so. I sincerely hope AMD can solve this issue with Ryzen 4000.
For rendering work, AMD is still a far better choice and outperforms Intel (both performance and efficiency) at almost every price point there is.
Here's the bottom line – for those who can afford two separate render and active workstation systems, we do still advocate it. This way, you can work on large scenes with loads of objects that require constant movement (most work does) and render them out without compromising on either side of the equation.
When it comes to viewport performance, the Core i5 10600K delivers a smooth experience, and at its price, it's an attractive option.
One active workstation with the Intel Core i5 10600K and a render node with a high core count Ryzen or Threadripper CPU and/or multiple GPUs according to what render engine you use would be an ideal, high-performance setup.
Follow Alex's excellent guide about render nodes to understand more about them!
Do let me know if you need any help with your PC build by leaving a comment below! I'll be sure to respond.
—
To keep things transparent, we include details of the hardware that was sent to us by companies with every review article. Any part not mentioned here was paid for by CGDirector at full market price.
Disclaimer: The above review is not sponsored. Details of the samples provided are given below:
Core i5 10600K and Core i9 10900K + Gigabyte Z490 Aorus Master – On loan from Intel. Returned.
Intel Optane SSD – On loan from Intel. Returned.
beQuiet Dark Rock Pro 4 – Sample from beQuiet! No return required.
HyperX Fury Memory Kit – Sample from HyperX. No return required.