Even though the global GPU shortage is on its last legs (knock on wood), the market still hasn't returned to its pre-pandemic state.
You still can't go online or stroll down to your local PC store and pick up whatever GPU you want from the exact brand you so desire.
Note: In this article, GPU brands refer to custom board partners such as ASRock, ASUS, Gigabyte, and so on. AMD and Nvidia will be referenced as GPU manufacturers.
To put it as succinctly as possible: ASRock is a Taiwanese company that, as far as the GPU space is concerned, focuses solely on AMD graphics cards (and Intel ARC ones as of a few months ago).
It was founded all the way back in 2002 and, while not as beloved and widely revered as, say, Gigabyte or ASUS, it is still an incredibly capable custom board partner — one whose products are often sold at more affordable (and, one could add, rational) prices.
Is ASRock a Good GPU Brand?
So, should you buy their graphics cards or look around for a better brand?
First and foremost, no GPU brand is perfect. Blind loyalty to any brand is never a good thing, and you should always go by the quality of the individual product — you should judge it by its merits.
With that being said, what does ASRock bring to the table?
To cut to the chase, ASRock is a perfectly fine GPU brand. There's nothing glaringly wrong with ASRock cards — nothing that would make them stand apart from more popular GPUs from ASUS, EVGA, or MSI.
ASRock products are reviewed well and are totally comparable (if not equal) in performance to other brands you might come across.
If you're trying to buy a GPU and the only options available are from ASRock, don't worry. Their specs are near-identical on paper with other brands, and you shouldn't worry about buying an inferior product.
One thing you have to keep in mind is that ASRock only makes AMD GPUs. Because of this, their product stack is limited, but apart from that, they're a perfectly reputable brand.
To see what other brands make AMD GPUs, check out our detailed list of graphics card brands.
History of ASRock
Funnily enough, ASRock originated from ASUS way back in the early aughts as part of their "budget" sub-brand. If you ever thought the ASRock logo slightly resembled ASUS', now you know why.
They were bought out by a Taiwanese electronics company called Pegatron back in 2010.
ASRock rose in popularity among the PC enthusiast space mainly because of its motherboards. In fact, they're one of the big four motherboard manufacturers: ASUS, Gigabyte, ASRock, and MSI. If you've ever shopped for a motherboard, you've definitely come across those made by ASRock.
This company entered the graphics card market in 2018 as part of a partnership with AMD. This was mainly because of the insane demand for GPUs due to the cryptocurrency surge of 2018.
Just like with their motherboard line-up, ASRock's graphics cards are also marketed as "value" offerings. While they're not exactly budget or low-end products, ASRock GPUs tend to be priced lower than competing products (though this is not always the case).
ASRock's Line-up of GPUs
As already mentioned, ASRock has thus far only manufactured AMD graphics cards with a few novel Intel ones thrown in for good measure (at least at the time of this writing).
Since they're relatively "new" to the GPU market, their product stack isn't quite as expansive when compared to other "veteran" brands like Gigabyte.
ASRock's GPU designs follow industry standards, with coolers and fan designs in line with what their competitors are offering. Because of their partnership with AMD, ASRock's GPU lineup begins with the RX 500 series, as well as the RX Vega Series.
They currently make every SKU of AMD Navi GPUs, and you can expect them to add the upcoming RX 7000 series to the list in a matter of months if not weeks.
To get an idea of how each AMD GPU stacks up power-wise, here's our performance roundup of AMD graphics cards.
Are ASRock GPUs Actually Cheaper?
Make no mistake: ASRock GPUs are by no means "budget offerings." While it's true that some models of theirs tend to be priced lower than most other competing products, ASRock also has higher-end variants to offer as well.
The higher-end variants of ASRock GPUs are usually given a slight increase in performance as well as a slightly different design or build.
This tactic isn't exclusive to ASRock at all — other big-name manufacturers like ASUS, Gigabyte, and MSI all have different variants of the same GPU under different price points.
Just like any other product category where many well-known brands compete for market share, cheap doesn't necessarily mean bad.
Since ASRock is known for offering "value" products — mainly because they started off as an offshoot of ASUS focusing on budget GPUs — it's easy to label them as a "cheap" custom board partner.
But ASRock has certainly been trying to distance its brand image from that narrative, and its GPU prices are very competitive compared to the rest of the market.
Plus, ASRock cards tend to get reviewed well without any blatant issues. They're good in every way, shape, and form.
ASRock's Warranty Policy
ASRock offers 24 months of warranty on their products to any authorized dealers or direct customers. This means that if you bought your ASRock graphics card from a third-party vendor, you will have to contact them for any warranty or RMA service.
This is not uncommon, and some other brands take the same approach when it comes to repairing and RMA services.
Does ASRock Have GPU Software?
Unlike some graphics card brands, ASRock doesn't have proprietary software that you can use to customize and change your GPU settings.
This is not too big of a deal, especially since you can use third-party software like MSI Afterburner to tweak your GPU fan curves and boost clocks.
When it comes to customizing your GPU's RGB though, ASRock's solution is pretty disappointing. Their proprietary Polychrome software only works if you have an ASRock motherboard as well.
So, if your brand-new ASRock GPU is connected to a non-ASRock motherboard, you won't be able to tinker with its lighting.
There are some edge cases where users have managed to get Polychrome working on a non-ASRock motherboard, but it's not a perfect solution. The next best workaround for this issue would be to install OpenRGB, an open-source RGB controller that does not rely on brand-specific hardware.
Are ASRock GPUs Worth It?
It all comes down to this question. In a nutshell: absolutely.
You won't be leaving any performance on the table by choosing to go with an ASRock GPU over any other brand.
An ASRock RX 6800 will perform the same as an MSI RX 6800 with only a marginal performance difference. These differences are mainly because each brand has a slight overclock on each SKU depending on price.
All you need to do is understand the ballpark in which your GPU is expected to perform, and ensure that ASRock's SKU is within that range.
There really aren't many serious complaints about ASRock's graphics cards; most users agree that they're good products and offer respectable performance for the price.
Benchmarks
Here's a quick look at how the ASRock Radeon RX 6700 XT SKU fares against AMD's reference card, as well as some of NVIDIA's competition.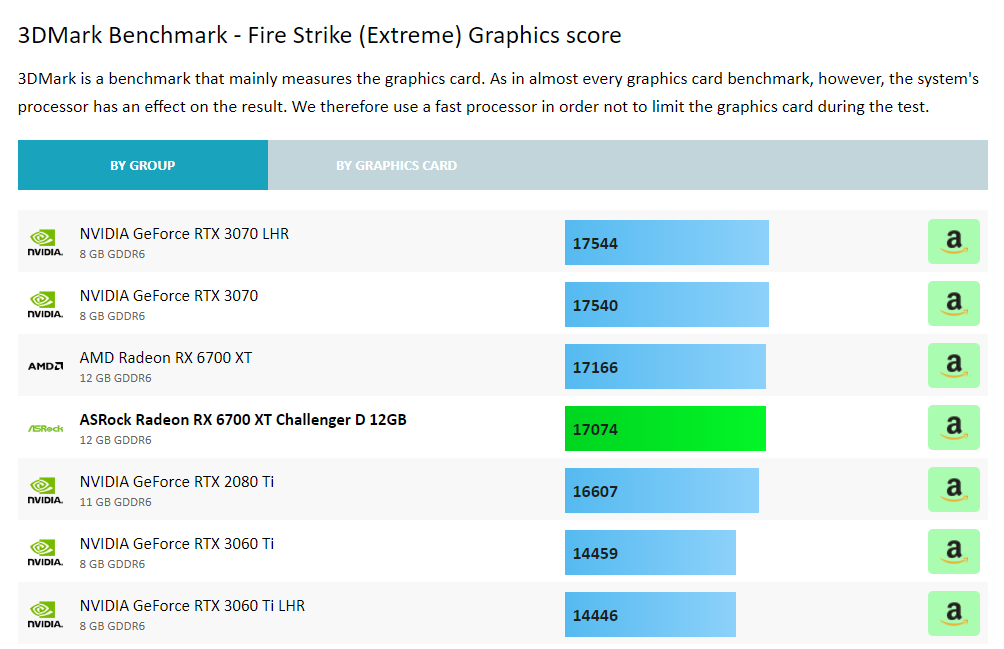 As you can see, the ASRock card keeps up with AMD's reference design, with a very minimal loss in performance.
Conclusion
There's no perfect GPU brand, and ASRock, just like its competitors, can have a few bad calls/products.
Overall, though, buying an ASRock GPU in a time when your choices are pretty limited is not a bad investment at all — especially if going with ASRock means you get to buy your graphics card at MSRP.
Always keep in mind that no matter which brand you buy your GPU from, there's always a chance yours might be defective. If you're familiar with ASRock's RMA policies, you should have a pretty hassle-free experience.
Check out this LTT Forum post discussing ASRock GPUs.
FAQ
Does ASRock Make NVIDIA GPUs?
In short: no.
There doesn't seem to be any reason to believe that they will make an NVIDIA GPU any time soon.
The fact that they're now making Intel ARC graphics cards might signal a change in their approach/business strategy, but it's still way too early to draw any concrete conclusions.
Does the Brand of My Graphics Card Matter?
Not really — as long as you go with a reliable brand that doesn't have any performance issues.
Where are ASRock GPUs manufactured?
ASRock is a Taiwanese company, and its products are all manufactured in Taiwan.
Over to You
There you have it! Do you have an ASRock GPU and, if so, what has your experience been like? Head on over to the comments section below or our forum to discuss all things graphics card related!