In a world where custom board partners like ASUS, Gigabyte, MSI, and many others exist — all established brands that have stood the test of time — XFX sort of feels out of place.
It's not as alluring, it doesn't scream top notch performance, it doesn't instill one with absolute confidence.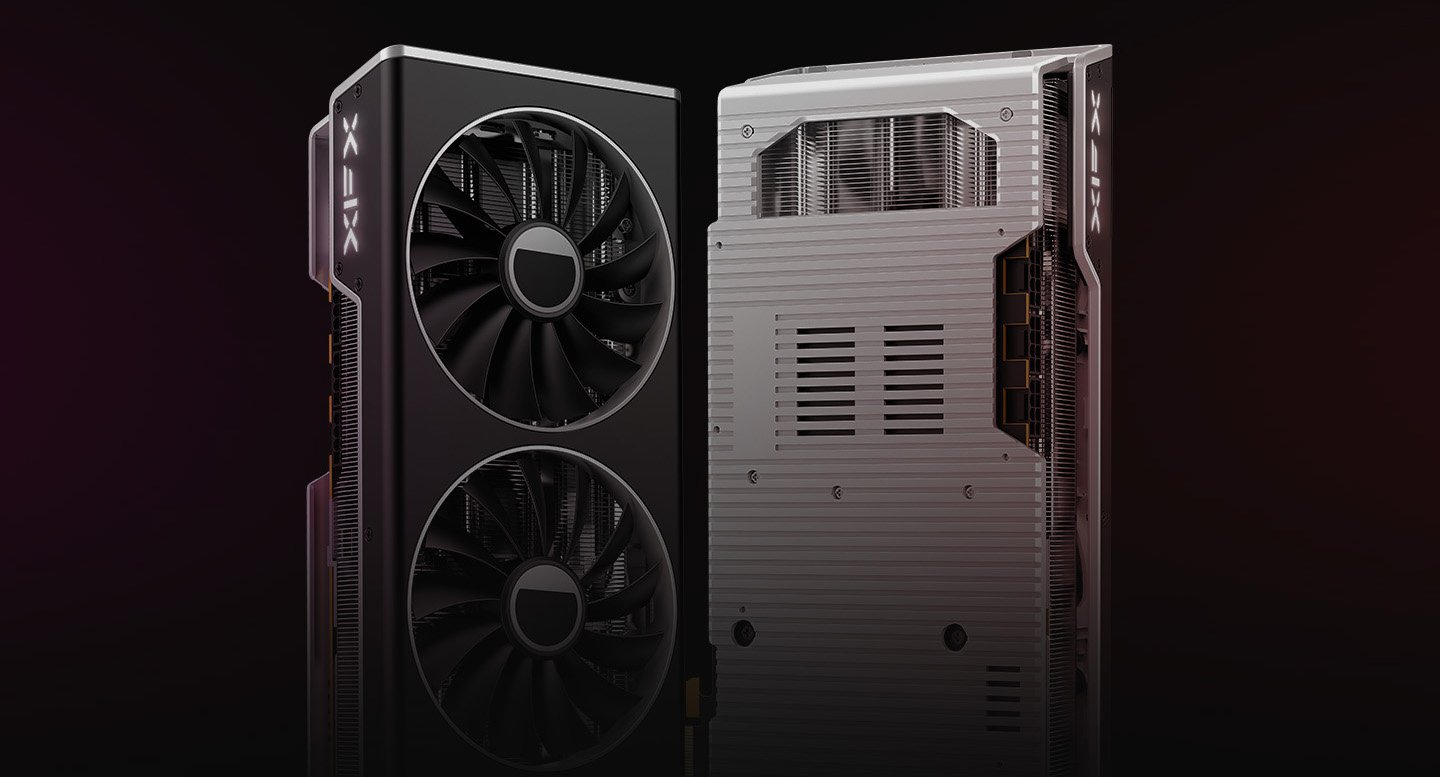 If you have a limited budget and need to make a definitive choice, XFX probably isn't the first option that comes to mind.
Here's the thing, though: XFX might not be as popular as, say, ASUS or Gigabyte, but its products definitely stand out from the crowd for both their incredible prowess and price-to-performance ratio.
And since they're AMD-only, they may have an ace up their sleeve in that area, right?
Let's see:
Is XFX a Good GPU Brand?
It absolutely is! Its graphics cards can, by all means, stand on equal ground with the biggest and most popular GPU brands out there — the MSIs and Gigabytes of the world.
It doesn't have a bad "rep" nor does it produce subpar products; it just doesn't have the same kind of presence compared to its biggest competitors which, in part, is because of XFX's limited marketing budget and highly focused (or specialized, rather) product portfolio. Offering AMD GPUs only is certainly part of the reason their mind-share is somewhat limited.
That, however, should not dissuade you from purchasing one of its graphics cards — especially if said GPU happens to be well-reviewed and can be bought for a reasonable sum of money.
Your analysis and research — when buying a new GPU — should be focused on individual products and product generations. Companies make mistakes all the time and, sadly, that's just something we all have to live with.
Take PowerColor, for instance. It had the absolute worst RX 5000 series GPUs and some mind-boggling RMA rates. And then, as if through magic, it had one of the best-performing and most effective implementations of AMD's RDNA 2 architecture.
So, within the span of just a single generation, PowerColor went from being a tremendous "dud" to a stellar, stand-out option.
It all varies from one product to the next, so make sure to dig into benchmarks and consume as many reviews as you possibly can before making any kind of purchasing decision.
The GPU market has stabilized quite a bit over the last few months, but it's still in a state of flux.
XFX, much like PowerColor, is a respected brand and much of the same can be said for its GPUs as well — especially once we factor in their price-to-performance ratio.
History of XFX
XFX (Extreme Effects) was founded in 2001 and is currently headquartered in Ontario, California.
Originally a producer of NVIDIA graphics cards only, it made the switch to AMD in 2009 and has been one of "team red's" most prominent board partners ever since.
XFX — Graphics Cards Line-Up
XFX's nomenclature is quite confusing, especially to someone who isn't "in the know." Still, once you submerge yourself in its naming scheme, things start to make a lot more sense.
Its latest GPUs all start off with an acronym like SWFT, QICK, or MERC, followed by three numbers only the first of which holds significant value — it implies the number of fans the card is equipped with.
So a QICK 210, for instance, will have only two fans, as opposed to, say, a QICK 308 that has three.
There's even a SWFT 105 that's a single slot, single fan design. The card itself offers pitiful performance (RX 6400), but it's still nice to have the option.
Now onto the acronyms:
They go from the most affordable to the most spec'd out. There are a few differences, though, but they mostly pertain to aesthetics and a slight variance in operating frequency.
QICK, for instance, has a plastic fan shroud and no RGB. MERC, on the other hand, has a metal frame and a tad bit of (non-addressable, single color) "RGB" — nothing too preposterous, though.
Depending on the model, they can also come with a slightly different port selection. Some MERC models, for instance, have a single HDMI port (2.1), two DisplayPorts (1.4a), and even USB-C. SWFT, on the other hand, has three DPs and a single HDMI.
If you're just looking for a reliable and powerful GPU that doesn't cost an arm and a leg, the SWFT is definitely the way to go.
The XFX MERC, on the other hand, is generally considered as one of the best air-cooled Radeon GPUs on the market, and much of the same can be said for its build quality as well.
These are all stellar products, but if you don't have the budget — and want an XFX card specifically — going with a QICK or SWFT also makes a ton of sense, especially from a value perspective.
Finally, for those who prefer to have something a bit more unique and high-end, there's the ZERO EKWB Waterblock Limited Edition. It's quite the stunner!
All in all, XFX's product stack is varied enough and contains an option for all kinds of users (and budgets).
Are XFX GPUs Worth It?
Without a shadow of a doubt! As already mentioned, you should always do a bit of research for the particular model you're interested in, but — in general — XFX GPUs offer tremendous performance for the asking price.
They're a highly recommended option if you don't want to spend an exorbitant amount of money on your graphics card.
Moreover, they're cooled properly, have (depending on the model) powerful VRMs, and are certainly stunning to look at. They're built like a proverbial tank and are incredibly well-designed.
So it's really the best of everything — unless, of course, you crave some RGB shenanigans. XFX cards don't have any "superfluous" bells and whistles and, seeing how fancy lighting effects don't affect the GPUs performance, maybe that's for the best.
They are, for the most part, designed to look good and perform exceptionally well, all for a very reasonable asking price. Quite a stellar mix, all things considered.
Benchmarks
XFX's 6000 series GPUs are absolutely stellar, be it when observed in a vacuum or when compared to its direct competitors.
Much like PowerColor, XFX seems to have struck gold with AMD's RDNA 2-based architecture and, hopefully, that'll keep on being the trend once RDNA 3 becomes more readily available.
Performance-wise, the RX 6800 XT Speedster MERC 319 is about as powerful as one would expect.
Where it excels, however, is fan noise and temperatures.
The MERC 319 features one of the best cooling systems in its class, and that's quite high praise given its competition. Its GPU die — at 4K, no less — doesn't go over the 66-degree mark (Celsius) with its fans spinning at a measly 1200 RPM.
The reference model from AMD, on the other hand, is a whopping nine degrees warmer despite the fact that its fans are spinning at a much more noticeable 1600 RPM.
So if it's low fan noise you're after, XFX has you covered. Its latest products are absolutely incredible and, perhaps best of all, fairly affordable, too.
If you want to see how AMD GPUs stack up against each other, give the following article a read.
XFX's Warranty Policy
As for warranties, it's all good news. XFX graphics cards come with two-year warranties by default, but you can actually get an additional year by registering your GPU online.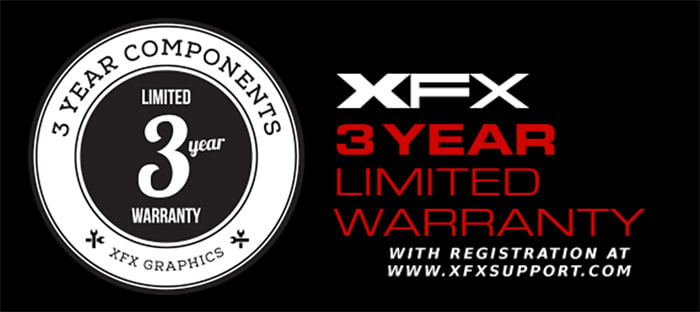 Better yet, XFX fully supports GPU modding as long as the card can be returned to stock condition. So as long as you don't perform any comprehensive, hardware-based alterations (ones that cannot be easily reversed), you'll be good.
For any kind of RMA, products need to be returned to XFX (or the retailer from which you purchased it, depending on the region) in their original, fully assembled state with the original thermal solution (the one they had at the time of purchase).
With XFX, most people tend to agree on one thing: its customer support is absolutely tremendous.
In fact, this customer-first approach easily makes it stand out from its competitors, some of which are known for being absolutely horrendous whenever something has to be RMAd.
In any case, you should always buy your GPU of choice — be it an XFX model or not — from a reputable source, preferably one that has a lenient return policy (like Amazon).
That way, should some kind of an issue pop up early on, you'll be able to return it and get your money back in no time.
Does XFX Have GPU Software?
XFX does not have any proprietary software for RGB control at the time of this writing. In fact, most of its GPUs — the ones equipped with at least some form of RGB — don't even offer any kind of user control.
The parts that are illuminated glow in either white, red, or a mixture of both depending on the design.
Conclusion
XFX is one of the best AMD custom board partners out there (at the time of this writing), and the same holds true for its graphics cards as well.
They're well-built, have great aesthetics, and phenomenal cooling, and are bound to last (and perform) for the years to come.
That being said, XFX — much like any other company — isn't immune from creating subpar products. That's why you should always read and watch as many reviews as you possibly can before making any kind of purchasing decision.
FAQ
Let's go over a few potential questions you might have regarding this particular topic:
Does XFX Make NVIDIA GPUs?
It does not — since 2009, to be more exact. If you're looking to buy an XFX graphics card, you'll have to go with AMD.
Is XFX a Reliable Company?
Absolutely. It has a first-rate customer support and its products — we're only focused on the last few generations here — are of exceptional quality.
Are XFX GPUs Worth It?
Without a shadow of a doubt. In fact, they're much more "worth it" than most other competitors — if we were to observe them solely through the price-to-performance lens.
They might not be the most beautiful GPUs around (a subjective criterion, one should add) or the most capable, but they sure are well-rounded and have no inherent drawbacks to speak of.
Why Are XFX GPUs So (Relatively) Affordable?
XFX isn't as big a brand as some of its competitors. It doesn't have the same storied history nor the marketing budget to really claim a huge chunk of the GPU market share.
Moreover, its graphics cards lack the contemporary "bling" that, by the looks of it, is pretty sought after — little (if any) RGB, no "off the wall" design choices or anything similar.
In other words: XFX cuts all the right corners in order to provide its customers with tremendous value and performance-per-dollar.
Over to You
Have you ever used a XFX graphics card and, if so, what was that experience like? Let us know in the comment section down below and, in case you need any help, head over to our forum and ask away!