Apple's M1 line-up is absolutely incredible; it can, however, be a bit hard to fully grasp the pros and cons of each device.
There are so many options to choose from, and while they mostly share the same "DNA" they do, in fact, vary greatly in regards to what they can do and whom they're geared towards.
For this piece, specifically, we'll go over Apple's three M1-based desktop computers — machines that are supposed to be bought and not tinkered with post-purchase.
You can say goodbye to any upgradeability further down the line, which is why it's so important to be fully cognizant of your needs and wants, and also how they might alter and change in a few years' time.
That's the whole point of this article: we want to provide you with a broader understanding of Apple's product stack and, in doing so, help you make a more informed purchase decision.
All three of these devices are incredibly powerful, but they're not without fault.
That's sort of the "catch-22" with Apple's M1 architecture. You get many amazing benefits but also a slew of limitations that may or may not be dealbreakers.
It's a strange mix, too, one you simply have to be aware of before pulling the proverbial trigger.
These M1 devices are, at the very core, revolutionary.
Everyone's been signing their praises and, well, it's easy to understand why. Still, not everyone can harness their benefits.
We have a lot of ground to cover, so let's dive straight into the nitty-gritty!
Apple's M1 Line-Up | Biggest Benefits
This novel architecture is amongst the most advanced on the market.
To say that Apple knocked it out of the park wouldn't even begin to cut it.
The first M1-based MacBooks changed the portable computing landscape irreversibly.
Desktop-based options still haven't caught on in terms of popularity (for a wide range of reasons), but are nonetheless worthy of your undivided time and attention.
M1-based chipsets offer best-in-class performance while also consuming an astoundingly small amount of power.
They're the most efficient SoCs on the market and are pretty much in a league of their own; that's why they caught on like wildfire.
But efficiency alone isn't necessarily all that important if your machine is constantly connected to a power outlet. In that sense, you really don't care if your CPU draws 30W or, say, 55W.
You do, however, care about how much heat it produces and, by proxy, how loud the fans will get once you put it through its paces.
That's where the whole efficiency aspect once again comes into play. M1-based devices are amongst the most silent, even when put under the heaviest of loads.
In fact, Apple pretty much overengineered all of their products and has given them bigger and beefier cooling solutions than they'll ever need.
The result? Near dead silent operation.
A Creative's Dream
The biggest reason why one would want to transition over to macOS — and the M1 architecture, in particular — is the awe-inspiring performance uplift that it brings to a vast variety of creative workflows.
Initial software support was somewhat iffy, in all fairness, but as time went on more and more developers started to board the "M1 hype train" which has led to a mind-blowing adoption rate — the kind of which we've never seen before.
Nowadays, most software suites and programs have been updated to support Apple Silicon. And even those that don't have native support can still run incredibly well through Apple's Rosetta 2 emulation layer.
If you work in Final Cut, Premiere Pro, or DaVinci Resolve, Apple's M1 architecture will both speed up your workflow and broaden your horizons.
The same holds true if you're a photographer, graphic designer, music producer, or a developer/programmer — although you should definitely double–check if your particular workflow/software is fully supported.
Apple's M1 Line-Up | Biggest Drawbacks
Apple's novel architecture brings with it a myriad of peculiar drawbacks, some of which are more justified than others.
First of all, all SKUs of this incredible SoC have a limit in regards to how much unified memory they can handle.
The base M1 tops out at 16GB, the M1 Pro at 32GB, the M1 Max at 64GB, and the M1 Ultra at a whopping 128GB.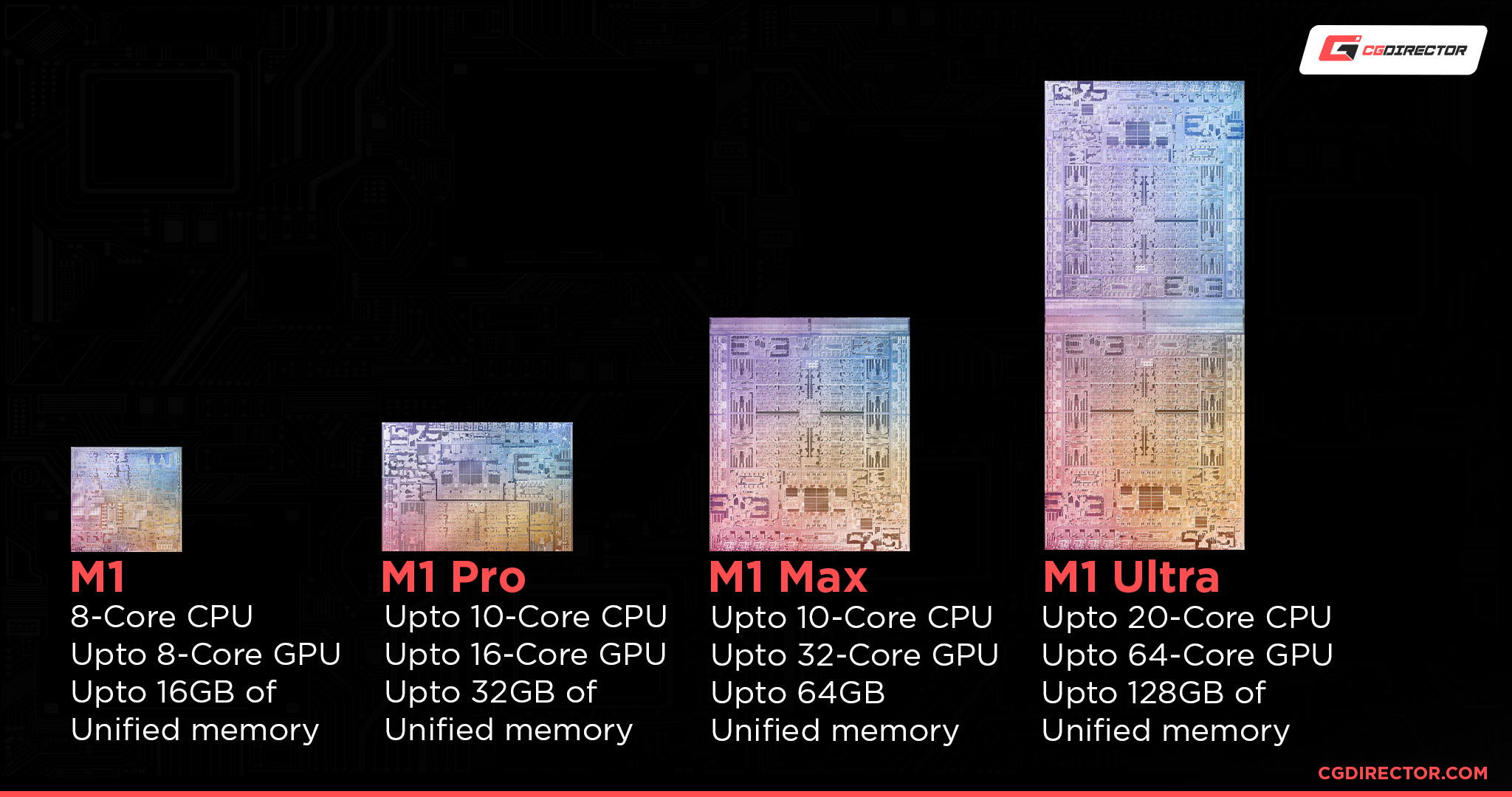 Then there's the storage: it's integrated into the chipset which means you'll have to rely on external solutions if you end up needing more space for your files/projects.
Also, the fact that all M1-based devices have Thunderbolt support doesn't mean you'll just be able to hook up an eGPU enclosure and game to your heart's content — external graphics cards still aren't supported (and may well never be).
Then there's the whole ordeal with software support. The situation is now much, much better than it was back when the M1 chipset was first released, but there are still numerous workflow-specific programs that haven't been updated and could, therefore, run suboptimally.
Last but certainly not least, there's the complete and utter lack of any upgradeability — but more on that below.
M1 Mac Mini | A Price-to-Performance Beast
The M1 Mac Mini is, without a doubt, the most interesting option out of all three.
The reason why is quite simple: it is the de facto best price-to-performance machine one can buy at the time of this writing (doubly so if you can find one refurbished on Apple's website).
And it's a measly 1.4 liters in volume. That's Intel NUC territory.
It is powerful enough to run circles around workstation PCs ten or even twenty times its size, and it's all because of Apple's mind-blowing M1 SoC.
This particular chipset might not be the most powerful Apple has to offer (or the most novel), but it's still an absolutely incredible SoC, one that is capable of tackling nearly any kind of workload.
It does have a few very serious limitations, though, but more on that below:
M1 Mac Mini
PROCESSOR
8-core CPU

[4 Performance, 4 Efficiency Cores]
GRAPHICS
Integrated 8-core GPU
RAM
8GB [base], up to 16GB
STORAGE OPTIONS
256GB [base], up to 2TB
NEURAL ENGINE
16 cores
VIDEO SUPPORT
One display [up to 6K 60Hz] via Thunderbolt + one display [up to 4K 60Hz] via HDMI
AUDIO ENGINE
Built-in speaker, 3.5mm headphone jack
I/O
2 x USB-A [5Gb/s]; 2 x USB-C [Thunderbolt, 40Gb/s]; HDMI; Gigabit Ethernet [configurable up to 10Gb]
CONNECTIVITY
802.11ax Wi-Fi 6 [a/b/g/n/ac compatible], Bluetooth 5.0
Biggest Benefits
This beautiful little device has many great benefits, and it can all be distilled and condensed into three categories: size, price, and power.
It is the smallest, most powerful macOS-based computer on the market. There's really nothing else like it.
And deep within its metallic enclosure is one of the most advanced and efficient chipsets money can buy.
You're basically getting all the benefits of Apple's M1 SoC without paying a premium for it — a set-up that almost feels too good to be true.
It is incredibly small, incredibly powerful, and it's whisper-quiet as well no matter what kind of workload you might throw its way.
So think of the M1 Mac Mini as the "gateway" into Apple's latest and greatest architecture.
It's not geared towards industry professionals, though. Those whose livelihood depends on their renders would be wise to go up the product stack.
Biggest Drawback
The M1 Mac Mini is deceptively powerful.
It is, however, a "complete" device, one that will not allow for any kind of upgrade further down the line.
And we take issue with that.
Let's say you're an amateur creative — a young cinematographer/editor, perhaps. If you're just starting out and are dealing with relatively demanding 4K footage, the M1 Mac Mini will not only suffice but even blow you away with its performance.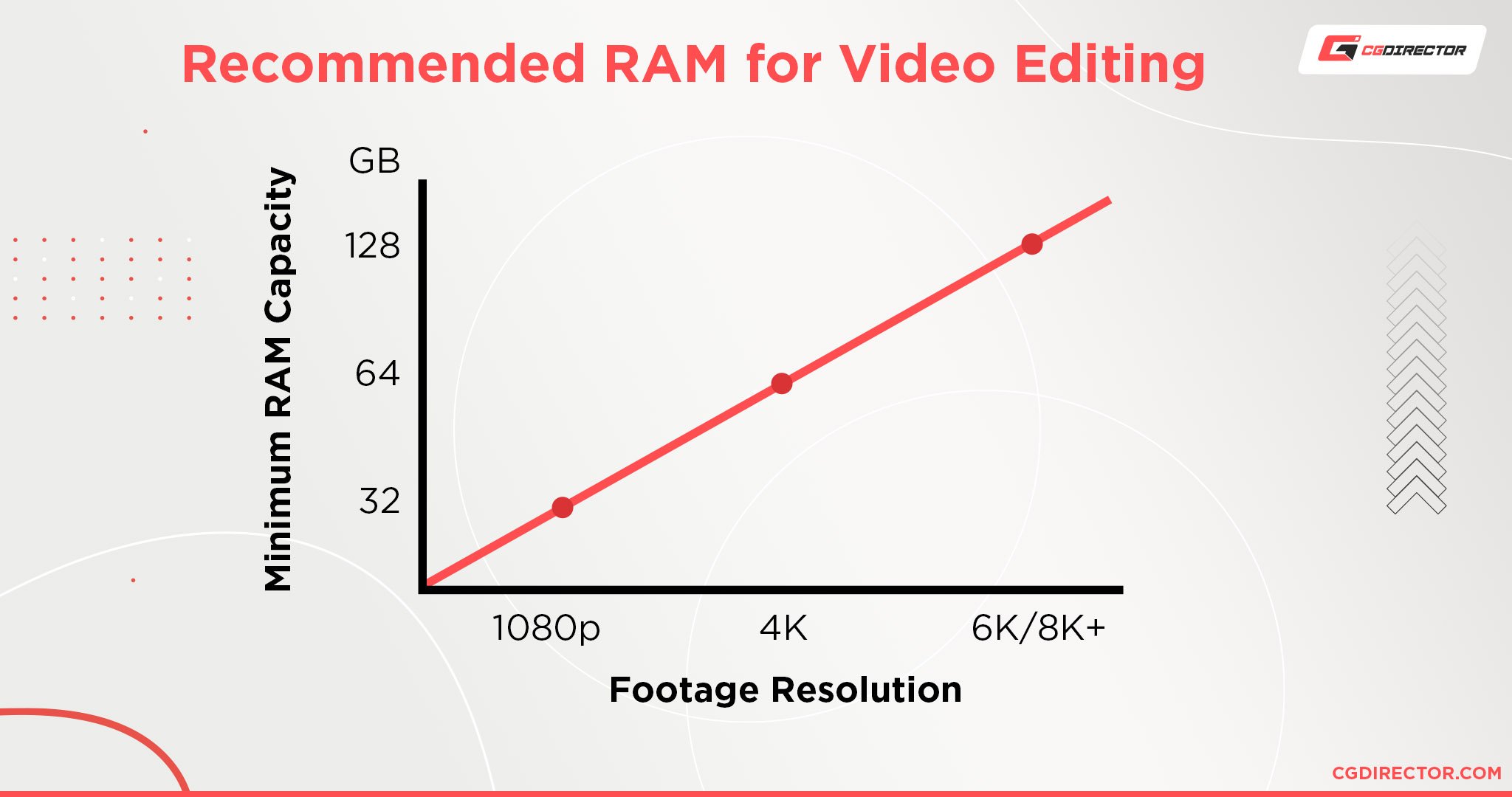 But as you grow and evolve, so will your workflow.
Then all of a sudden you're working with many different layers and tracks and effects and whatnot.
At that point, the M1 SoC — to say nothing of the limited amount of RAM — will become a bottleneck. And, well, there'll be nothing for you to do about it.
If that's something you're okay with then, by all means, go with the M1 Mac Mini. It'll serve you better than you could ever imagine!
But you really have to be aware of its limitations and the fact that, once your work outgrows its capabilities, selling it will be the only option.
At any rate, it's the most affordable way for one to enter Apple's ARM ecosystem, and is more than worth the asking price!
Plus, Apple's devices are surprisingly good at retaining their value which means you're not going to lose a lot of money should you decide to sell them in a few years' time.
24" M1 iMac | A Spectacular (If a Bit Limiting) All-in-One
The 24" iMac, being an "all-in-one" computer, is a very fascinating device — it's basically the aforementioned M1 iMac crammed inside an astonishingly beautiful 24" display, one that is as thick as two iPad Pros.
It is essentially the exact same machine in terms of performance, which means that it shares the Mini's inherent strengths and weaknesses as well.
In other words: the same limitations apply.
Without the need of an extra Monitor, you'll get a stunning 4.5K display, a best-in-class speaker system, and a built-in webcam, but lose out on I/O. It is about twice as expensive, but that price delta is actually well justified.
You'll also get Apple's fancy peripherals which are nothing to scoff at.
Then again, they're not all that functional, so whether that's really a benefit you'll be able to leverage depends heavily on your workflow and overall preference.
Still, it's the perfect "buy it and just use it" kind of computer. It's beautiful, inspiring to look at, blazingly fast, and more powerful than you can imagine.
It, too, shares the same chipset, which means it's not going to be any more or less powerful than the Mac Mini.
It's sort of an ingenious product — a specific, niche device that can be harnessed and used in a wide range of surroundings.
It's not exactly geared towards the most demanding users out there, but it will get most jobs done with ease.
| | 24" M1 iMac |
| --- | --- |
| DIAGONAL | 24" [actual diagonal screen size is 23.5"] |
| PANEL TYPE | IPS LCD |
| RESOLUTION | 4480x2520 (4.5K), 218 pixels per inch |
| HDR SUPPORT | None |
| BRIGHTNESS | 500 nits |
| PROCESSOR | Apple M1 Chip [8-core CPU with 4 performance and 4 efficiency cores] |
| GRAPHICS CARD | Integrated graphics with up to 8 cores [7 cores on the base SKU] |
| RAM | Up to 16GB of unified memory |
| STORAGE | Up to 2TB of SSD storage [256GB on the base SKU] |
| VIDEO SUPPORT | One external display with up to 6K resolution at 60Hz |
| I/O | Up to four USB-C ports, two of which are always Thunderbolt 3 [40Gb/s]. The base SKU only comes with two Thunderbolt 3 ports on the back. |
Biggest Pros and Cons
As already mentioned, the iMac is for those who give priority to aesthetics and want a "simplified," all-in-one computer that'll get the job done no questions asked.
It only comes with a handful of ports, however, and — much like all other M1 devices — it cannot be upgraded further down the line.
It tops out at 16GB RAM which may or may not be an issue depending on your workflow, and if you opt for the base SKU you'll end up with a measly two USB-C ports on the back.
That's just not enough for anyone looking to do any kind of "serious" work — the kind that requires external drives and a slew of peripherals.
Form over function.
You can buy a Thunderbolt 3 dock and extend your I/O palette that way, but they do not come cheap.
The 24" M1 iMac might be the most beautiful device of the three, but it certainly has a slew of drawbacks and deficiencies that you ought to keep in mind — lest you end up with a computer that looks nice but offers very little flexibility in terms of how it can be used.
Mac Studio | Pros and Cons
The Mac Studio is where Apple threw down the proverbial gauntlet and challenged both Intel and AMD.
It is a spectacular device, although it's not all that different compared to the regular M1 Mini.
It is more powerful and it does have more I/O, but that's pretty much it — this is a hasty, one-dimensional way of phrasing things, but by no means is it incorrect.
If you don't need more ports or the multi-core prowess which the M1 Max and Ultra bring to the table, then it's quite hard to justify spending upwards of $1999 on the Mac Studio.
Its more powerful SoC doesn't always scale linearly in regards to benchmarks and renders and export times.
The base M1, therefore, holds its one in quite an impressive fashion.
If you want the many splendors that Apple's novel architecture brings to the table — and can benefit greatly from its most potent implementations — then the M1 Max and Ultra are definitely worth the asking price.
They do not, however, bring better software compatibility. So any OS-based limitations or flaws you might find with the regular M1, they'll also be present with the M1 Max and Ultra.
| | M1 Max | M1 Ultra |
| --- | --- | --- |
| PROCESSOR | 10-core CPU [8 performance cores and 2 efficiency cores] | 20-core CPU [16 performance cores and 4 efficiency cores] |
| GRAPHICS | 24-core GPU [up to 32 cores] | 48-core GPU [up to 64 cores] |
| RAM | 32GB [up to 64GB] | 64GB [up to 128GB] |
| MEMORY BANDWIDTH | 400GB/s | 800GB/s |
| STORAGE | 512GB [up to 8TB] | 1TB [up to 8TB] |
| CONNECTIVITY | 4 x USB-C [Thunderbolt 4, 40Gb/s]; 2 x USB-A [5Gb/s]; HDMI; 10Gb Ethernet; 3,5mm headphone jack + 2 x USB-C [10Gb/s] and SDXC (UHS-II) slot on the front | Same I/O, with the only difference being that the two USB-C ports on the front are also Thunderbolt 4 |
Which One's Right For You?
That heavily depends on your workflow and, perhaps more importantly, the depth of your wallet.
You mustn't forget that while these devices vary in size and shape and target demographic, they still share the same architecture.
The M1, M1 Max, and M1 Ultra all have basically identical single-core performance which means they'll all deliver the same kind of experience when it comes to regular tasks and most workloads one tackles on a daily basis.
The story changes dramatically if you can harness the multi-core prowess of the M1 Max and Ultra. That's when they really start to shine.
So it really depends on what exactly you need and what kind of work you're doing.
The standard M1 might seem basic at this point in time (pedestrian, even), but don't let that hasty impression fool you: it's still an incredible SoC capable of churning through nearly any kind of task.
The following two questions are vital: what kind of form factor are you after and how demanding is your workflow?
The Mac Studio is obviously the most "future proof" of them all, but it, too, has certain limitations you ought to keep in mind.
For most people, the regular Mac Mini will suffice. It offers some truly incredible "bang for your buck."
The Mac Studio stands out as a "professional grade" machine but the performance delta between it and any other M1-based device isn't nearly as large as Apple would want you to believe.
FAQ
Let's go over some potential questions you might have regarding these three M1-based offerings.
Should I Go With the M1 or M1 Max/Ultra?
The thing is, both the M1 and its more powerful successors have the same core strengths and weaknesses.
We cannot stress that enough. The M1 Max and Ultra are many times more capable, but the performance delta doesn't necessarily justify the disparity in price.
So don't let the graphs fool you: the base M1 is still exceptional and will suffice for all but the most demanding of tasks.
That being said, if your wallet can cover it, going with the M1 Max or Ultra will yield a very respectable performance uplift — especially in multi-core applications and workloads.
Is the M1 Mac Mini/24" iMac Powerful Enough?
It absolutely is! Still, make sure to do a bit of research before pulling out your wallet and making any sort of purchasing decision.
These devices, while incredibly powerful, do have their own unique drawbacks and they may or may not be dealbreakers depending on your workflow.
Should I Buy an M1 Device or Wait for the M2?
That's a very good question and, frankly, the answer isn't nearly as simple as we'd like it to be.
The M2 will provide numerous improvements — things like more CPU and GPU cores along with higher clock speeds — but they're not going to make that big of a difference.
It'll be manufactured on TSMC's 4nm node which will yield more efficiency, but the end-user will surely struggle to notice a difference.
Then again, one can never be too certain with Apple.
With M1 being so darn good, Apple knows that it has to "sweeten the pot" so as to make people want to upgrade.
That's why it's so hard to talk about this forthcoming refresh — one cannot be too certain what it'll bring.
The only reason why you might want to wait is because the M1/M2 Pro is going to wind up in both the updated Mac Mini (which will reportedly feature a slick new design) and, potentially, the updated 24" iMac.
The M1 Pro has a much more powerful GPU compared to the base M1 and it also has a few more CPU cores as well.
If this matters to your workflow then, by all means, hold off with your purchase until WWDC 2022.
Over to You
Apple knows their way around designing a product stack. This Cupertino-based tech giant is currently offering a slew of vastly different devices that still somehow share the same "DNA."
Pulling it off must've required an inordinate amount of planning (along with numerous feats of engineering), which is why we cannot help but be blown away by the precision with which they've executed this whole transition.
So, are you on the M1 hype train? Can your personal workflow benefit from Apple's incredible new silicon?
Let us know in the comment section down below, and in case you need any help, head over to our forum and ask away!