Apple's novel ARM architecture is still stirring up a conversation and, well, there's a very good reason why: it offers an unparalleled mix of both power and efficiency, which, when combined with Apple's industry-leading craftsmanship and attention to detail, has resulted in the de facto best laptops on the market.
They might not be perfect for every single scenario and use case, but their many strengths and virtues cannot be brought into question.
The M2 SoC is more of an iterative update, akin to what Apple has been doing with its A-series of chipsets for years. It's better in nearly every way, but its benefits aren't necessarily worth the asking price.
Because of this — along with some very peculiar (and not at all consumer-friendly) choices from Apple — a most natural question arises almost by default: is the M2 worth it?
Unfortunately, there's no "one-size-fits-all" kind of answer as there are simply too many variables at play.
Before we delve any deeper into the nitty-gritty, we first ought to address the proverbial elephant in the room: the fact that both the base M2 MacBook Pro and MacBook Air — the only two M2-equipped devices at the time of this writing — come with slower SSDs than their direct predecessors.
Macbook Air M1 vs M2 — Overview
Before we get into what sets these two Macbooks apart, let's take a quick look at the direct comparison of their most important features:
| | Macbook Air M1 | Macbook Air M2 |
| --- | --- | --- |
| Display | 13.3" Retina | 13.6" Liquid Retina |
| Resolution | 2560x1600 | 2560x1664 |
| Brightness | 400 nits | 500 nits |
| CPU | 8-Core M1 | 8-Core M2 |
| GPU | 7-Core | Up to 10-Core |
| Memory | 8, 16GB | 8, 16, 24GB |
| Storage | 256, 512GB, 1, 2TB | 256[half speed], 512GB, 1, 2TB |
| Battery Life | Up to 18h | Up to 18h |
| Media Engine | Yes | Yes + added ProRes, ProRes RAW encode & decode |
| Weight | 1.29 kg (2.8 pounds) | 1.24 kg (2.7 pounds) |
| Audio | Stereo Speakers | 4-speaker system |
| Price | $999 - $1999 | $1199 - $2449 |
There don't seem to be any major differences, right?
But why is the M2 variant so much more expensive, and what does that "half speed" mean in storage?
The NAND Debacle
All base M2 models (the ones with 256GB of unified storage) come with just one NAND storage module instead of two.
The difference in storage speed, therefore, is quite tremendous. So, one has to wonder: why would Apple do such a thing?
Well, the reason is actually quite simple, although not at all easy to stomach: the original M1 laptops were simply far too good.
They offered an incredible amount of "bang for the buck." Apple, in other words, went "overboard" and actually gave their customers a product that was a bit better than it should've been, therefore nullifying any potential upsell tactics — the likes of which this Cupertino-based tech giant is so well known for.
To circumvent this limitation, you'll have to buy an M2 device with at least 512GB of storage. Is this a fair move on Apple's part?
Not in the slightest, but we do understand where they're coming from.
Now, this change to a slower single NAND set-up isn't necessarily a dealbreaker, but it does make one heck of a difference, especially if you're something akin to a power user.
Those who tend to multitask as their lives depend on it would benefit greatly from a faster storage solution — like the one that was already employed back when the first M1-based devices came out. The thing with Apple's novel architecture is that most components are contained within a single chip.
SSD speed, therefore, affects many different things, especially in the case of heavy, hardware-intensive workloads.
So if you want your M2 MacBook to be as fast as its forerunners, you'll have to spring for (at least) a 512GB SKU. You should also consider investing in a model with 16GB of RAM (just to minimize the number of potential bottlenecks).
At that point, however, you're just a smidge away from buying a 14" MacBook Pro with the M1 Pro, 16GB of RAM, and 512GB of storage.
Justifying the price of a spec'd-out M2 Air/Pro, therefore, is quite hard (if not impossible).
M1 vs M2 — Performance & Numbers
If, for whatever reason, you happen to be enamored by Apple's novel chipset — and want to buy an M2-based device come hell or high water — here's a quick rundown of the performance delta between it and its predecessor:
| CPU Name | Cores | Ghz | Single Score | Multi Score |
| --- | --- | --- | --- | --- |
| Apple M1 | 8 | 3.2 | 1528 | 7799 |
| Apple M2 | 8 | 3.5 | 1701 | 8538 |
| Apple M1 Pro | 10 | 3.2 | 1543 | 12170 |
| Apple M1 Max | 10 | 3.2 | 1555 | 12422 |
| Apple M1 Ultra | 20 | 3.2 | 1570 | 21740 |
| CPU Name | Cores | GHz | Single Score | Multi Score |
Even though they're built on the same 5nm node, the M2 comes with slightly higher clock speeds: 3.49Ghz compared to M1's 3.2Ghz. This, in turn, has resulted in a 12% increase in single-core performance and up to a whopping 20% in multi-core (Geekbench 5). That's very impressive for a gen-on-gen upgrade, but it's a lot more tremendous on paper than it is in real life.
As for graphics, that's the one area where you will notice a big improvement, courtesy of Apple cramming in two additional GPU cores (10 over the M1's 8). This translates to 35-45% increase in performance, depending on the game/application. That's an immense uplift, all things considered, and it sure would help out a ton if your workflow happens to be GPU-bound.
With all of that being said, we really have to hammer the following point home: if you need more power than the M1 can provide, going with an M1 Pro or M1 Max — two chipsets that are still vastly more powerful than the M2 — should definitely be a top priority.
M1 vs M2 — Think About the Fan
Both the M1 and M2 can be passively cooled. That, in short, is absolutely staggering given their power.
Still, if you're a more demanding user — one with a taxing workflow — then do consider investing in an actively cooled MacBook.
The M1 and M2 chipsets tend to throttle quite quickly. They're generally always blazingly fast, but their performance does drop off if there's no fan to help dissipate the heat.
Whether you really need an actively cooled MacBook heavily depends on what you plan on doing with your machine. In any case, it's something worth keeping in mind.
M1 — Still an Insanely Good Option
Funnily enough, the biggest and best alternative to Apple's M2 is actually the M1.
It might be a "first generation product," but it's still an astonishingly capable chipset, one whose blend of power and efficiency can only be matched by its superseding successor.
You can get a brand new/refurbished M1 MacBook Air for well under its original MSRP, and in case its form factor isn't to your liking there's also the M1 24" iMac and the M1 Mac Mini, too! Something for everyone, as they say.
The M2 doesn't bring any noticeable improvement to the table.
So if you want to enjoy the splendors of Apple's incredible new architecture, you might as well go with the "original" — there's really no distinct reason to choose the M2 over the M1 at this point in time.
Apple's M2 Pro and Max, however, will be manufactured on TSMC's 3nm node, which should result in a 10-15% performance uplift along with decreased power consumption (a whopping 25-30%).
That, if true, would definitely be a mighty impressive upgrade — one truly worth talking about. Not a quantum leap per se, but still a tremendous step in the right direction.
FAQ
Let's go over a few potential questions you might have regarding this particular topic — the M1 vs. M2 conundrum:
Is the M2 Good for Video and Photo Editing?
It absolutely is! It's not, however, particularly better than the M1.
So, if you want to save a bit of money, going with the original M1 MacBook Air or M1 MacBook Pro would definitely make a lot more sense!
If these machines aren't powerful enough for your creative needs, there's always the M1 Pro and M1 Max, both of which are tremendously more powerful in comparison.
Is the M2 Better Than M1 For Creative Work?
Not really. The M2 is basically just a slightly more improved M1 — it is an iterative upgrade. Nothing more, nothing less.
If you already own an M1-based machine you shouldn't even think about upgrading as you're not going to notice any tangible difference.
There is one notable benefit, however: the M2 comes with built-in ProRes hardware encoders/decoders which means it'll handle ProRes footage about as well as Apple's M1 Pro, Max, and Ultra offerings.
It's not necessarily a big deal but it is something worth keeping in mind if your video editing workflow revolves around ProRes.
What's the Best Apple Chipset for Creative Work?
Apple has a fairly diverse product stack at this point in time and, naturally, there's something for every kind of budget.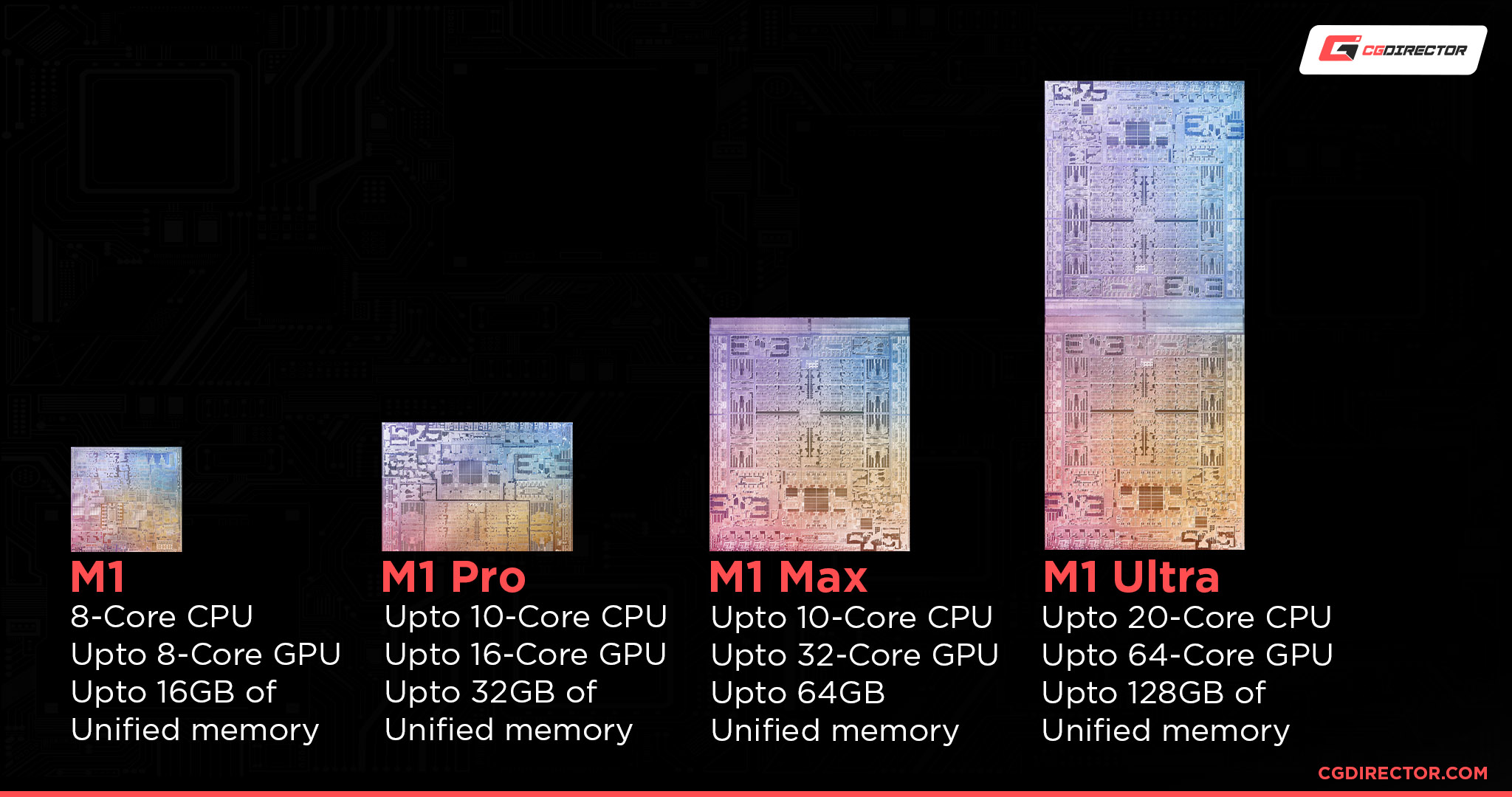 The best chipset for creative work is, obviously, the M1 Ultra. That being said, the performance delta between it and the M1 Max isn't nearly as large as you'd expect.
Is the M1 MacBook Air Still Worth It?
It absolutely is! In fact, it's the de facto best laptop in its price range — and it's not even up for debate.
Heck, it's an even better deal (from a price-to-performance standpoint) than the M2 MacBook Air!
So, if you're in the market for a brand new laptop and are on the lookout for the absolute best option money can buy, look no further than the original M1 MacBook Air.
It might not be as stylish as Apple's latest and greatest offerings, but whatever it might lack in contemporary looks it more than makes up for in sheer horsepower and value.
Should I Wait for the M2 Pro and M2 Max?
That heavily depends on your personal workflow and overall requirements.
If you're in need of a more powerful machine then waiting for the M2 Pro/Max would make a lot of sense.
They, too, will be an incremental upgrade over their predecessors, but they'll nonetheless provide a fair bit more horsepower when compared to the "base" M2.
Over to You
The M2 is a very alluring chipset, one that has garnered a metric ton of attention. It's not, however, worth the asking price.
The base M1 is still more than sufficient for nearly everyone's needs, whereas the M1 Pro and Max are still the better option for the most demanding of users.
Do you already have an M1 device and, if so, do you feel the need to upgrade? Let us know in the comment section down below and, in case you need any help, head over to our forum and ask away!