What is everything you need to know about Mini PCIe, and does it still matter today?
How does Mini PCIe relate to the NVMe standard, which is also known for being a smaller form factor that can still access PCI Express bandwidth?
I'll dive deep into these questions and everything else you need to know below, so let's jump in right away.
What is PCI Express?
PCI Express is the main standard through which PC expansion cards are installed and able to communicate with the rest of the system.
PCI Express will also provide the fastest available bandwidth of any connector inside your PC, offering speeds much higher than those offered by something like, say, the SATA connectors used by Hard Disk Drives and slower Solid State Drives.
How, then, does Mini PCIe work? What is it?
How Does Mini PCIe Work?
Mini PCI Express, also known as PCI Express Mini Card, is a standard introduced in 2002.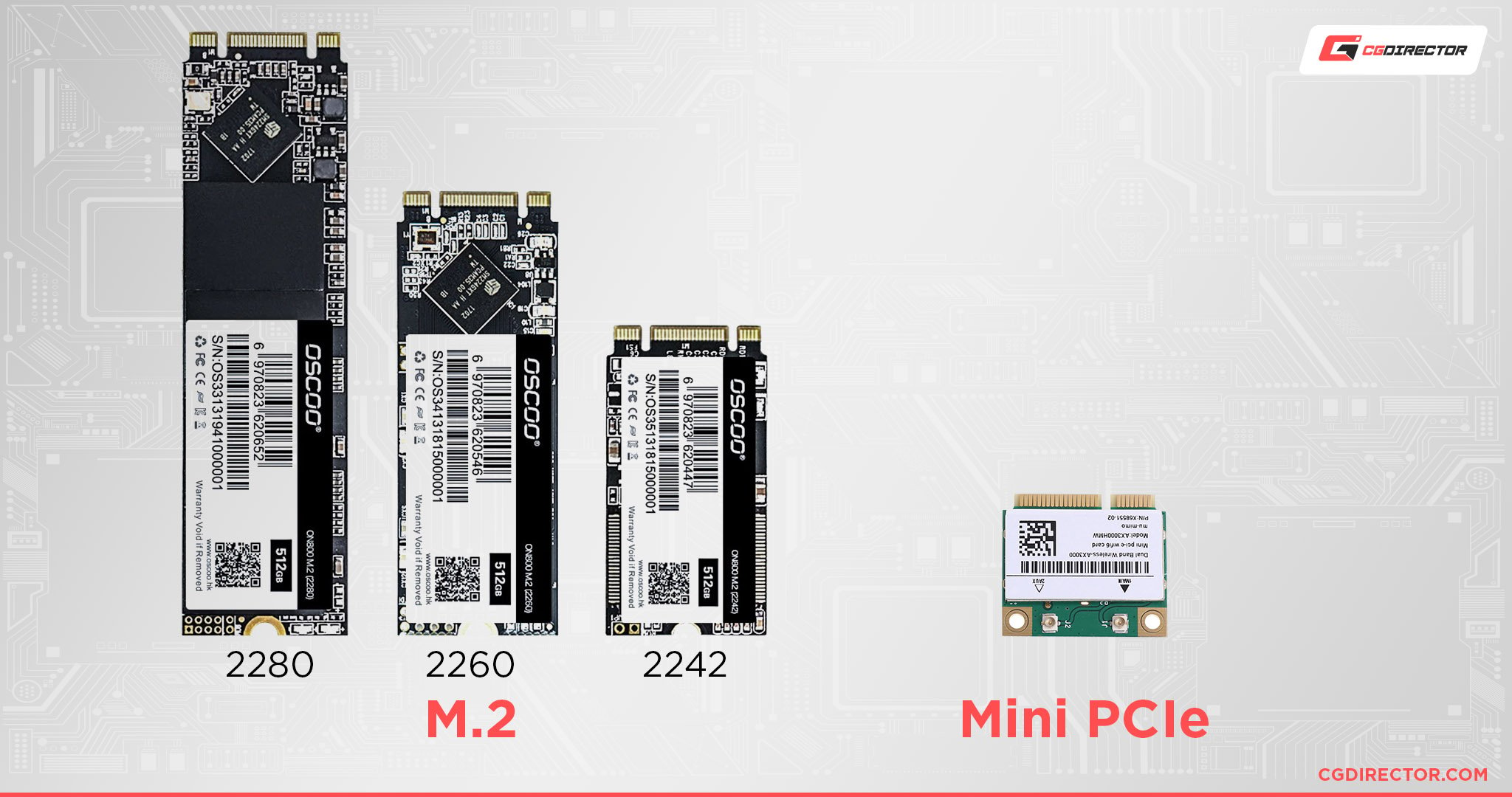 Coming in an extremely small form factor and made directly to plug into a motherboard, Mini PCIe cards are a precursor to today's modern M.2 form factor, and much smaller than most M.2 form factors at 30 x 50.95 mm.
There are also Half Mini Cards which are 30 x 26.8 mm, and thus even smaller than M.2-2242, the smallest M.2 form factor.
Without a dedicated Mini PCIe slot, your device won't have Mini PCIe support. Mini PCIe slots are generally found in older desktop PCs and laptops, but can also see some uses in spaces outside of consumer electronics, like industrial automation.
Mini PCIe is mainly intended as an ultra-compact alternative to PCI Express x1 for laptops, mobile devices, and SFF PCs. Besides providing support for PCI Express x1 bandwidth, Mini PCIe cards also support USB 2.0 bandwidth.
Is Mini PCIe Still Supported?
Yes, although in much more limited forms than before.
In the consumer space, Mini PCIe has largely been completely forgotten because most consumer motherboards, smart devices, and laptops do not have open Mini PCIe slots, or if they do have the slots, they are already occupied with a card installed by the system manufacturer, usually for Wi-Fi.
Outside of the consumer space, Mini PCIe still sees use in industrial and automotive applications. Still, these implementations will vary case-by-case and are a bit too specific for me to dive into here.
Examples of Mini PCIe Devices
So, what kind of use cases should one expect with a Mini PCIe card?
Generally, the same you might expect from other PCI Express x1 expansion cards, especially from the days when features like these weren't built into modern devices and motherboards:
Wi-Fi Cards
Bluetooth Cards
Mobile Network (4G, LTE, 5G) Cards
Storage Drives
Internal USB Headers or Adapters
In most of these cases, the Mini PCIe card will be installed by a manufacturer well before the PC or device ever enters the consumer's hands.
If your laptop or motherboard has an open Mini PCIe slot, though, these are the kinds of devices you can expect to install inside it.
FAQ
Is Mini PCIe The Same as mSATA?
Mini PCIe and mSATA mostly share the same form factor and share the same connector but are ultimately not the same standard and not compatible with one another.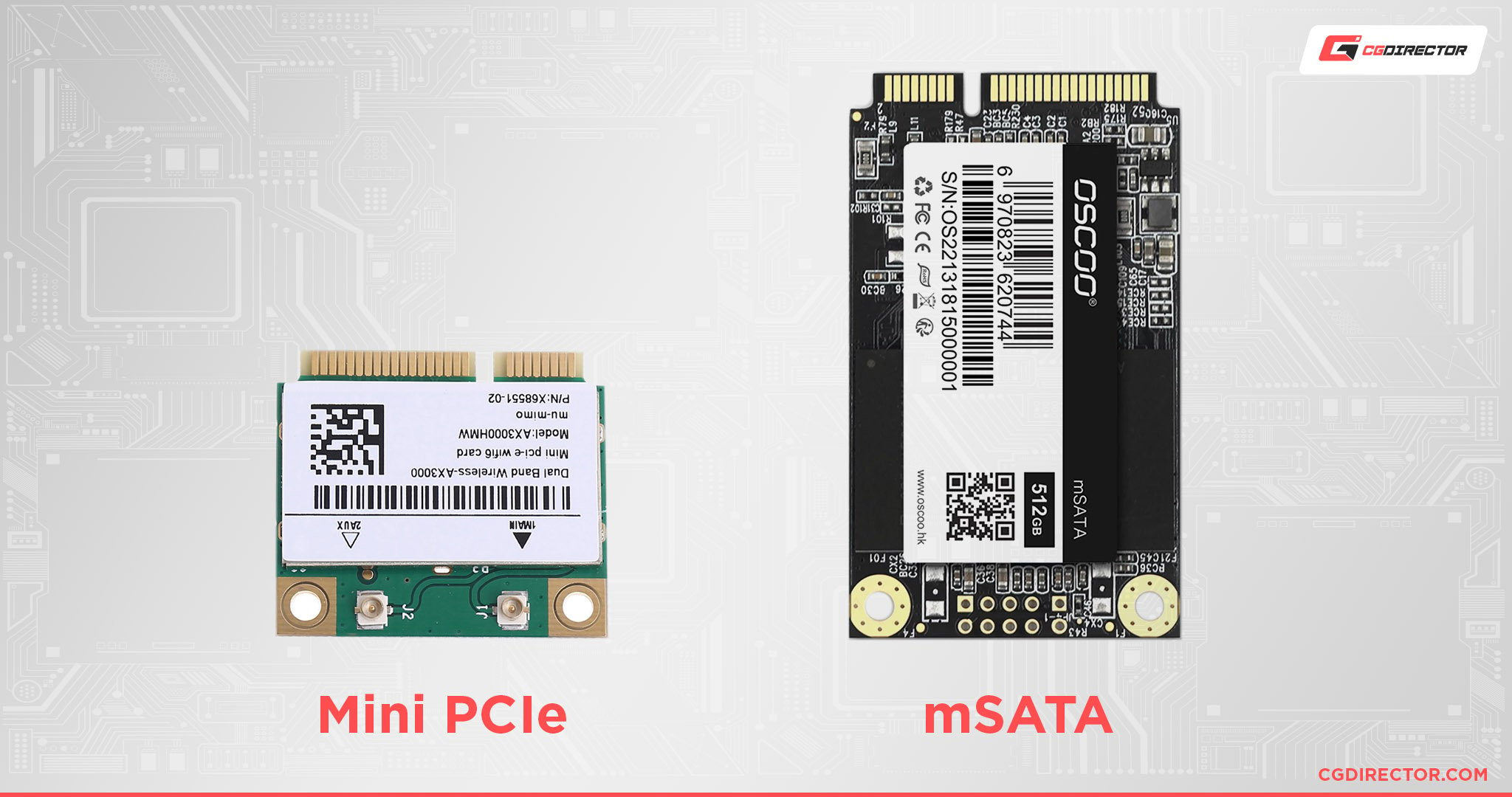 There are proprietary variations of mSATA which make it slightly larger than standard Mini PCIe cards, but these are mostly separate things.
Is Mini PCIe The Same as M.2?
While the two share a lot of similarities, no. They are not compatible with one another even though they both use PCI Express bandwidth.
While M.2 is another small form factor standard that offers support for PCI Express bandwidth, it's also a much more modern and high-power design in general.
Instead of being limited to single-lane bandwidth like Mini PCIe, modern M.2 drives can use four lanes of PCI Express bandwidth, which can result in NVMe drives with gigabytes per second of speeds on modern motherboards.
How Do Regular PCI Express Slots Work?
Over in the world of desktop and server motherboards, full-sized PCI Express slots tend to function quite differently.
Full-sized PCI Express slots come in 4 physical slot sizes (x1, x4, x8, x16), and each roughly corresponds to the number of PCI Express lanes in bandwidth that slot receives.
There are exceptions to the "slot size equals PCI Express lanes" rule, though, especially for x16 slots on cheaper motherboards.
Overall, regular PCI Express slots can offer up to 16x the bandwidth of Mini PCI Express and are also significantly larger, to boot. Even Mini PCI's successor, M.2, can only use PCI Express x4 bandwidth!
Over to You
And that's it!
I hope this article helped demystify what exactly Mini PCI Express is and what it's used for.
Honestly, I needed to do a fair bit of research of my own to finish this one, because I haven't seen Mini PCIe in much of anything for a pretty long time.
It is definitely still out there, though, and even now you can still find Mini PCIe Wi-Fi 6/Bluetooth 5 cards being sold long after the standard was officially succeeded by M.2.
Have any other questions related to Mini PCIe or PC hardware? Feel free to leave them in the comments below! You can also head to the Forums to interact with the rest of the CGDirector community and team— we'll be quite happy to have you.
Until then or until next time, happy computing, and don't forget: not all PCIe lanes are made equal! Check your PCIe generation too.