What are the best monitor brands in the market, and what makes them stand out from the competition?
Today, I'll be going over what makes monitor brands good, and giving my thoughts on what I consider to be the Top 11 Monitor Brands before this article is over.
Feel free to jump ahead to that with the table of contents if you like!
Otherwise, stick with me while I walk you through what actually makes monitors and monitor manufacturers stand out.
Especially if you aren't particularly experienced with PC monitors, this article should help catch you up so that you're able to make informed decisions in the future.
But let's not waste any more time, and dive right in!
What Makes a Monitor Brand "Good"?
Build Quality and Durability
Build quality and durability are two of the most important things to have in a monitor.
Monitors are long-term investments that can easily last 5-10 years (sometimes even more!) with proper care and maintenance. This means that monitors that are built with more solid materials and have a great monitor stand (or VESA compatibility) are of high value.
A good monitor today can be a primary monitor for years to come or a secondary monitor/TV for use at your desk or around the house.
Dead Pixel Guarantee
A common defect in any modern monitor, a dead pixel is what happens when a physical pixel of your screen is either permanently powered off or stuck on a certain color.
It's so common that nearly every major manufacturer has some kind of dead pixel policy, and that policy determines the acceptable number of dead pixels to send for a replacement monitor under a given manufacturer's warranty policy.
Good Warranty, Returns, and Exchange Policies
Tying into the above point but usually expanding into many more, your monitor should have some kind of warranty or exchange policy.
These policies will cover more specific defects, but will also vary greatly from manufacturer to manufacturer on causes of failure covered by the warranty/return/exchange policy.
A good sign of a reliable monitor— or really, any reliable piece of hardware— is a warranty that lasts 2 years or more.
Warranties of less than a year for particularly expensive electronics are a bit of a red flag, in my opinion, since these higher-end products are so prone to defects. And the more years they're willing to bet on it, the more comfortable you can be using it as a long-term display.
If nothing goes wrong in the first few years, you'll generally be fine for long-term use as long as you continue to treat your monitor well afterward.
Pricing For Features
Finally, let's talk about monitor features. Modern monitors have all sorts of technologies crammed into them that can make a real, noticeable impact on your user experience.
These features include Wide Color Gamut support for professional work, high refresh rates for gaming, and even things like DisplayHDR support for media consumption.
When comparing monitors from different brands, be sure to compare how features relevant to your workloads are balanced for the price.
What Makes a Monitor Good?
Good Image Quality For Panel Type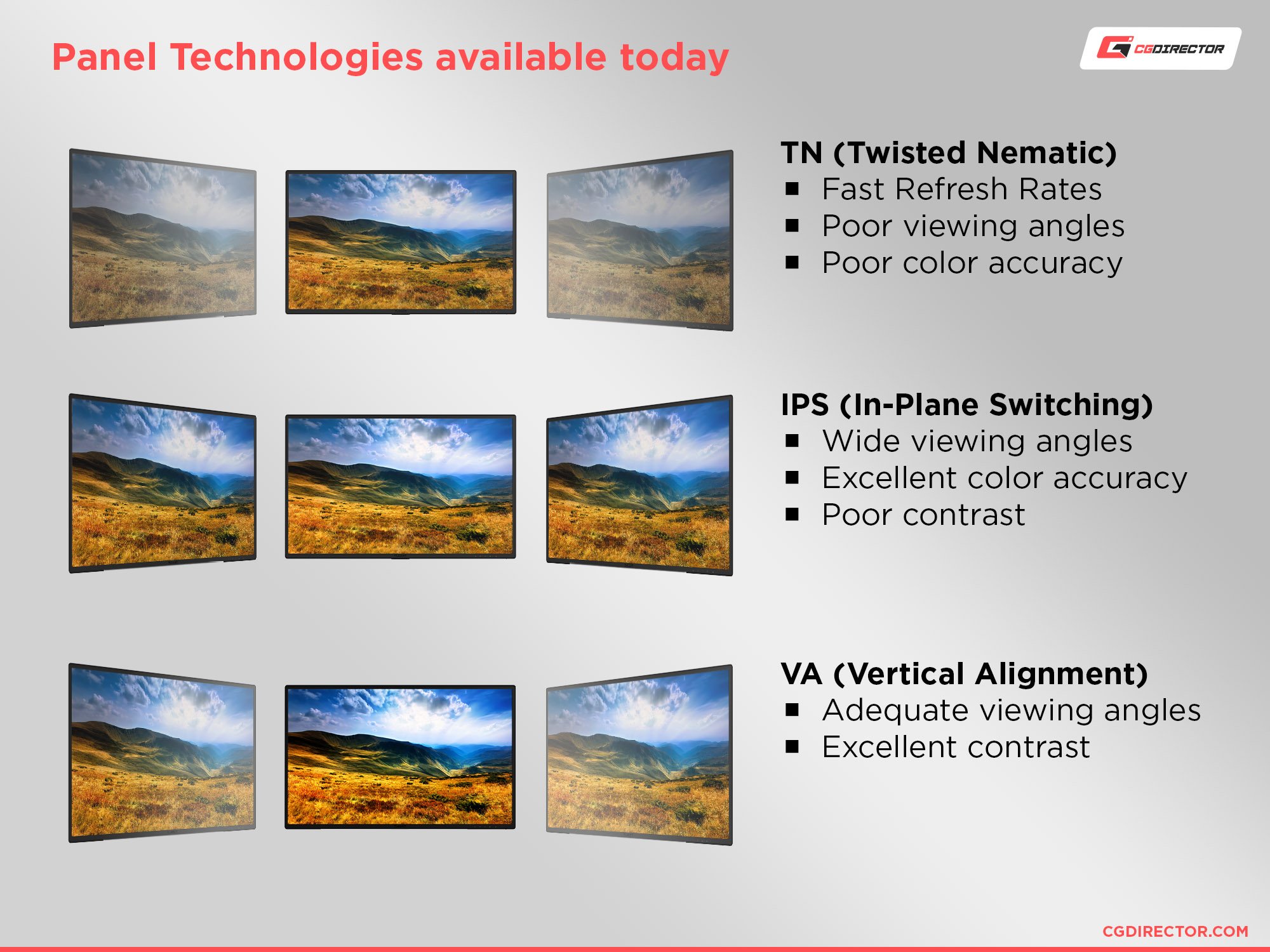 Depending on the panel type of your monitor, you're going to end up having different expectations for image quality.
TN panels, IPS panels, VA panels, and even OLED panels are all very different technologies with different inherent traits.
For example, TN panels have generally poorer color reproduction and viewing angles, but superb low cost, low latency, and low response time for high refresh rate displays.
Good Refresh Rate and Response Time Balance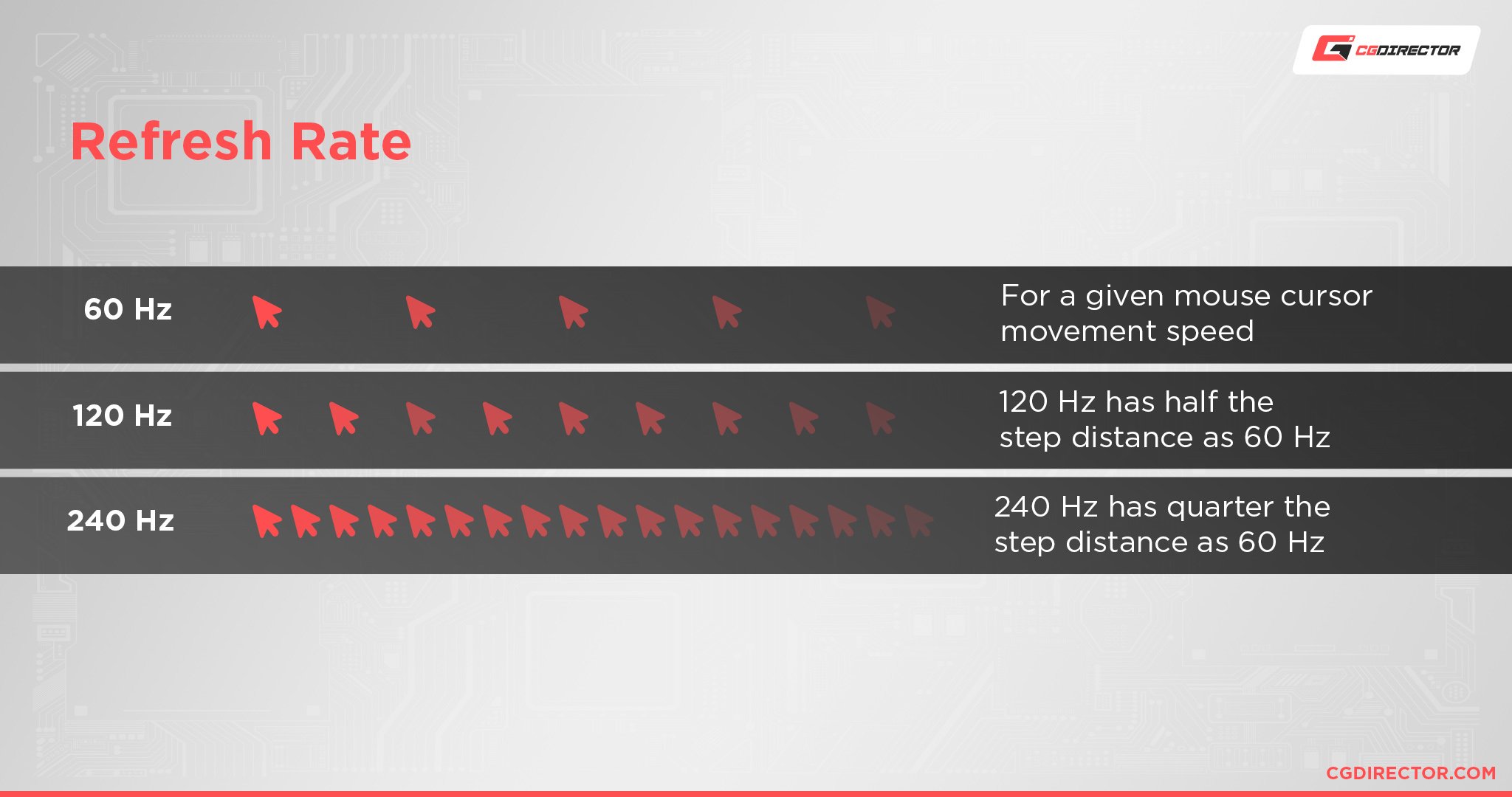 A little-known fact about response time is that it actually correlates closely to refresh rate, not your overall input lag. Allow me to explain.
The proper name for response time is really pixel response time. Pixel response time measures the amount of time that it takes for a monitor to shift between colors, usually G2G.
Various measurements are used for measuring response time in marketing, most commonly G2G/GTG (Gray-To-Gray) and MPRT (Motion Picture Response Time).
However, MPRT is actually slightly different! Instead of measuring G2G or color shift time, MPRT measures pixel visibility time.
MPRT can be slightly more accurate at measuring display motion blur because of this but becomes a lot less accurate the closer the G2G measurement gets to an instant 0 ms.
Support For Features like G-Sync, FreeSync
G-Sync, FreeSync, and other related Adaptive Sync display technologies are all great to have on a modern monitor.
The basic feature, officially coined DisplayPort Adaptive Sync, basically involves the monitor synchronizing its refresh rate with the framerate of a given game or other 3D application.
This results in a much smoother picture when the framerate dips below the refresh rate without necessitating the harder drops in the framerate and an increase in input lag incurred by software V-Sync techniques.
Higher grades of G-Sync and FreeSync are mostly just branding bundling other high-end monitor features (like HDR), however not every Adaptive Sync monitor is made equal.
For example, cheaper monitors may have a limited range of Adaptive Sync refresh rates (this will be listed in specs) compared to higher-end models.
Additionally, "G-Sync Compatible" monitors are actually regular old FreeSync monitors without dedicated G-Sync hardware. This is great for AMD and Intel users who want to use Adaptive Sync with that monitor, but not so much if you're an Nvidia GPU user who wants to make use of Nvidia-exclusive features.
For a monitor with dedicated G-Sync hardware, you'll need a proper "G-Sync" or "G-Sync Ultimate" monitor. This extra hardware will raise the price, but there are some advantages.
These more expensive G-Sync monitors will improve Adaptive Sync capabilities at lower frame rates but usually aren't worth the extra cost if you're already comfortably targeting high (60+ minimum) frame rates.
HDR and WCG Support
HDR (High Dynamic Range) and WCG (Wide Color Gamut) support are both great to have, but which is more important will depend on who you are.
If you're a professional and you're going to be doing image work, you'll definitely want a WCG monitor with a high degree of color accuracy. However, unless you will also be working with content made for being displayed in Display HDR, that particular feature most likely won't matter to you.
If you want the best possible gaming or media consumption experience, however, you should consider an HDR-capable display.
An HDR display with a high DisplayHDR or HDR10+ certification will provide the best experience on most PCs and consoles.
An HDR display that also supports WCG should improve your experience as well and can be freely tuned to your preferences if you don't need high color accuracy.
Up-To-Date HDMI and DisplayPort Support
Last but not least, your monitor should have up-to-date DisplayPort and HDMI ports!
This won't have the biggest impact on features most of the time, but more recent versions of these display standards tend to offer wider resolution and refresh rate support at the very least.
Some higher-end features will definitely benefit from modern display standards too, including HDMI 2.1 adding official support for VRR (Variable Refresh Rate, or Adaptive Sync) displays.
What Are The Best Monitor Brands and What Sets Them Apart?
LG Electronics
Brand Specializes In: Budget Monitors, Gaming Monitors, Professional Monitors, IPS Monitors, Portable Monitors
Common Budget Ranges: Depends on Monitor Series (Wide Variety)
Established Since: 1947
LG Electronics, more commonly referred to as LG, is a prominent PC hardware manufacturer and one of my favorite IPS monitor manufacturers.
I've used both a budget 4K LG monitor before and have been using the LG 27GL850-B (a 1440p, 144 HZ monitor) as a daily driver for a few years now. So I'm pretty comfortable recommending LG as one of the best monitor brands because they are also one of my personal favorites.
LG's IPS monitors are a particular highlight, but they make a wide variety of monitors for a wide variety of price points. So even if your monitor interests don't trend particularly premium, LG should still have a nice-looking display available at your price point.
However, not everything is perfect in the world of LG monitors. Their default monitor stands (present on many monitors) tend to be somewhat subpar, and often monitors from other manufacturers can compete on features at a similar or lower price.
I generally commend their monitors based on features and image quality, though, and LG's dead pixel guarantee isn't bad, either.
BenQ
Brand Specializes In: Gaming Monitors, TN Monitors, Professional Monitors, Design Monitors
Common Budget Ranges: Mid-Range, High End
Established Since: 1984 (Acer Era); 2001 (BenQ Independent)
Another great monitor manufacturer is BenQ, a well-known manufacturer for gamers and professionals alike. They're generally known for providing good monitors (even with good stands!) but serve two very distinct audiences.
On the gaming side of things, BenQ has been known to sponsor and be one of the favorite monitor providers for professional gaming and eSports.
In gaming, BenQ excels at producing high refresh rate TN monitors with minimal response time or input lag to speak of. And while TN panels aren't known for having the best image quality, BenQ's TNs still look pretty good for a TN panel while providing that class-leading performance.
Meanwhile, for professionals, BenQ is known for providing dedicated Photo and Design Monitors with IPS panels and Wide Color Gamut (Adobe RGB and DCI-P3 included) support.
Depending on the specific monitor you get, you may also get features like factory color accuracy calibration. These are a little pricey but make for fairly good design-oriented monitors.
Finally, BenQ's Dead Pixel policy seems generally fair, especially for the higher-resolution displays with thousands more pixels to account for.
Samsung
Brand Specializes In: Budget Monitors, Gaming Monitors, VA Monitors, Business Monitors, Ultrawide Monitors
Common Budget Ranges: Wide Variety
Established Since: 1938
Samsung has been a big name in PC hardware and electronics in general for decades now, and for good reason. When we narrow things down to monitors, though, how does Samsung fare?
Like other larger, older entities on this list, Samsung boasts a pretty wide variety of monitors at different price points. Samsung isn't one of those brands that are only tailored to one or two audiences; instead, they try to have a monitor for nearly everyone.
When it comes to gamers, Samsung will most likely stick out due to their QLED VA panels.
While VA is generally considered worse than IPS in terms of image quality, QLED helps reduce the gap in image quality between Samsung's VA panels and competing IPS panels.
This helps save on price, and also provides a better experience for VA panel usage in general, especially making use of per-pixel dimming functionality.
Outside of gaming, Samsung is also known to dabble in business-geared IPS monitors as well. While these tick the expected boxes of color gamut and accuracy for those scenarios, there are definitely better manufacturers to go to for pro-level monitors.
For gaming and for business, Samsung also happens to specialize in Ultrawide and curved monitors.
If you have any interest in curved monitors, Ultrawides especially (great for work and gaming, imo!), Samsung is a good brand to go with.
Samsung's Dead Pixel Policy, unlike other manufacturers, doesn't seem to have its own dedicated support page. However, you can contact Samsung if you get dead or miscolored pixels on your monitor, and if you have more than a few of them you will most likely get a return.
Not a great showing from Samsung on this policy, though: this information should be easily accessible, and not require talking to support!
Eizo
Brand Specializes In: Professional Monitors, IPS Monitors, Touchscreen Monitors, Portable Monitors, Design Monitors, Ultrawide Monitors,
Common Budget Ranges: High-End
Established Since: 1968
Eizo is a monitor brand geared firmly toward the high-end. This ranges from a variety of high-accuracy color and design monitors, as well as enterprise and even healthcare/military display manufacturing.
As a brand, Eizo is more interested in tending to professionals and high-end enterprises than your common media consumer or gamer.
If your interest is in high-fidelity displays suitable for professional work, Eizo is a great option! Eizo displays don't come cheap, but generally boast great build quality and features.
For example, the Eizo CG3146 is a 31-inch DCI 4K (cinema 4K res of 4096 x 2160 instead of 3840 x 2160) HDR monitor with superb color accuracy and a built-in color calibrator.
Eizo displays like that one is being regularly used in the entertainment industry, and for good reason.
Regarding Dead Pixel Policy, Eizo's policy is a little different. Properly "dead" pixels (also called dark pixels) are not covered under Eizo's policy.
Instead, only bright sub-pixels (also called "stuck" pixels, i.e. pixels stuck on a single color) are covered. This is still nice, but a surprising compromise coming from such a high-end brand.
ASUS
Brand Specializes In: Gaming Monitors, Design Monitors, Business Monitors, Ultrawide Monitors, Touchscreen Monitors, Portable Monitors
Common Budget Ranges: Mid-Range, High-End
Established Since: 1989
ASUS, also known as Asustek, is a fairly prominent PC hardware manufacturer.
Responsible for an incredibly wide variety of PC hardware and peripherals, including being one of the most prominent motherboard manufacturers, ASUS has quite a lot of weight behind its name! But how does it fare in the world of monitors?
Pretty good, it turns out!
For gamers, ASUS has a lot to offer in both its TUF and ROG Monitor series.
TUF is their mid-range gaming monitor series, and ROG is their high-end monitor series.
Typically, TUF will be trying harder to compete in the price range of about ~$200-$500, whereas ROG monitors can easily reach or exceed $1000 chasing the best no-compromises display ASUS can conceive of.
While ASUS might seem gaming-focused due to having two gaming-centric brands, they actually have other great offerings, too!
ASUS' ProArt and (Ultrawide) Designo lines are both oriented toward designers and editors, and they also offer a straightforward Business series, too.
ASUS' spread across gamers and professionals is actually fairly solid, and not too surprising when you consider just how big they are in PC hardware in general.
So, what is the ASUS Dead Pixel Policy? Check the screenshot I've embedded below:
I would say it's good! Fairly standard, for the most part, but trending on the positive end of that standard.
Dell & Alienware
Brand Specializes In: Budget Monitors, Gaming Monitors, Design Monitors, Professional Monitors, Ultrawide Monitors, OLED Monitors
Common Budget Ranges: Wide Variety
Established Since: 1996 (Alienware), 1984 (Dell), Dell purchased Alienware in 2006
Dell is another major name in general PC hardware and manufacturing, and Alienware remains one of the most recognizable names in PC gaming.
As of 2006, though, Alienware has been absorbed into Dell as their primary gaming hardware brand, though there are still some non-Alienware Dell gaming products out there.
So, what kind of monitors does Dell make? Pretty much any kind you can think of.
In the main Dell branding, I'd particularly like to draw attention to the Dell UltraSharp series, which has been a favorite for designers, editors, and professionals for many years.
Dell and Alienware also make good gaming monitors, but their most unique offering at the time of writing is actually found in Alienware's OLED Gaming Monitors.
OLED is a standard mainly used by large HD or 4K TVs and isn't common in desktop monitors.
As it turns out, though, OLED is still fairly good at the smaller size, making Alienware OLED monitors a great choice for most gamers. If you can afford it, anyway— OLED is still expensive in a small form factor.
Dell's Dead Pixel Policy…varies. As you can tell in the screenshot below, the policy that applies is going to depend on what series you purchased from.
I find that the allowed dark pixel policy is a bit egregious compared to other manufacturers, but bright pixel policy is largely standard.
The bigger allowances for their C-Series "monitors" (55 inches???) are reasonable for those displays, though.
Acer
Brand Specializes In: Budget Monitors, Gaming Monitors, Design Monitors, Professional Monitors, Touchscreen Monitors, 3D Monitors, Ultrawide Monitors
Common Budget Ranges: Wide Variety
Established Since: 1976
Acer is another major PC hardware manufacturer with a considerable hand in PC monitors.
Acer has been in the hardware business for a long time, and its spread of displays is wide across both market niches and price points.
There is pretty much an Acer monitor for everyone.
Gamers will like the mid-range Acer Nitro and high-end Acer Predator monitors, which are geared toward responsive gaming and (often) extra features like Ultrawide or RGB support.
Professionals and designers are catered to as well, albeit with less flashy brand names. The features you would expect from monitors in those niches are well-covered, including wide color gamut support, adjustable stands, and more.
Be sure to double-check the specific monitor model you're getting if you're buying from Acer as a professional, though! (You can also consider a Wide Gamut Acer Predator monitor as a professional, though you'll most likely want to calibrate it for accuracy.)
In terms of Dead Pixel Policy, Acer is pretty good.
Even at higher resolutions, they don't increase the allowance for pixel defects, and the basic allowance is reasonable and in line with most other manufacturers. Plus, the Acer BM Series (for designers!) comes with an explicit no bright pixel guarantee, which is great.
MSI (Micro-Star International)
Brand Specializes In: Budget Monitors, Gaming Monitors, Design Monitors, Professional Monitors, Ultrawide Monitors, Portable Monitors
Common Budget Ranges: Wide Variety
Established Since: 1986
MSI is a well-known PC hardware manufacturer that tailors most of its branding and products toward PC gamers.
MSI is a gaming monitor manufacturer through and through but has been active in the industry for a long enough time to also add design monitors, business monitors, and even portable monitors to its repertoire.
For gamers, MSI offers four different brands. In rough order of price point/features: G Series, MAG, MPG, and MEG. MPG and MEG comprise high-end gaming monitors.
Generally, each of these series competes well at its price point, with MPG Gaming Monitors being a particular highlight.
For designers and content creators, there is the Creator and Prestige series. Both of MSI's design monitor brands use IPS panels with WCG support and factory pre-calibrated colors.
Meanwhile, Business users get Summit, Modern, and PRO Series. Specifics can vary depending on the series, but generally, there is a focus on improved stands, ergonomics, and eye comfort for long-term use. Sometimes you might even get additional USB hubs, Type-C ports, and extra software features as well.
Overall, I'd say MSI offers a pretty well-rounded lineup that's usually good for the price.
Their Dead Pixel Policy is also pretty decent, offering an RMA once you go above 3 bright stuck pixels or 5 dark dead pixels.
Gigabyte
Brand Specializes In: Gaming Monitors, Ultrawide Monitors, OLED Monitors
Common Budget Ranges: Mid-Range To High-End
Established Since: 1986
Gigabyte is another prominent PC hardware manufacturer but tailors its offerings near-exclusively for gamers. Thus, all of Gigabyte's monitors are Gaming Monitors, so there really isn't anything on offer here for editors or professionals.
That being said, there's plenty here for gamers! Gigabyte offers fairly competitive gaming monitors. There is also a higher-end AORUS Series that Gigabyte sets aside for its top-of-the-line offerings, but most non-AORUS monitors are still mid-range products.
Interestingly, there are also a few QD-OLED AORUS monitors, which is great if you're looking for an OLED gaming experience.
With that established, how is the Dead Pixel Policy? I'll use screenshots from Gigabyte's site below to explain.
First is the main warranty and dead pixel policy, pictured above. These are pretty much industry-standard.
AORUS is where things get a little spicier, with a zero bright stuck pixel guarantee for the first 12 months. However, there is no improvement in dark dead pixel coverage, and after the first year that stuck pixel guarantee disappears as well.
Overall, I'd say Gigabyte's Dead Pixel Policy is decent, and the AORUS-specific Dead Pixel Policy is actually quite good.
AOC
Brand Specializes In: Budget Monitors, Gaming Monitors, Professional Monitors, Ultrawide Monitors
Common Budget Ranges: Wide Variety
Established Since: 1934
AOC has been in the PC hardware business for a pretty long time, specializing in PC monitors as far back as the early CRT era.
Today, AOC's offerings cover the gamut of price points (with especially vicious competitive pricing at budget ranges!) and have many compelling offers for gamers and professionals alike.
I will say that AOC isn't particularly set apart by crazy extra features that other manufacturers don't have. In fact, their Design-facing monitors seem to be somewhat lacking compared to the higher-end Design monitors available from other brands.
However, AOC is generally great for the price and offers great warranty and returns coverage, which is awesome for anyone who doesn't want to overspend on a monitor.
AOC has a unique, but excellent Dead Pixel Policy.
Any dead, bright, or stuck pixel allows for a full replacement monitor, with the only real difference being different tiers of AOC monitors offering more or fewer years (up to four years for top models!) of warranty support.
This is by far one of the best Dead Pixel Policies on offer, and for a brand that still has a lot of great budget and mid-range offerings!
ViewSonic
Brand Specializes In: Budget Monitors, Gaming Monitors, Design Monitors, Professional Monitors, Ultrawide Monitors, Touchscreen Monitors
Common Budget Ranges: Wide Variety
Established Since: 1987
ViewSonic is a PC monitor manufacturer that excels at creating high-performance displays across a wide variety of price points and use cases.
While ViewSonic will most likely show its face in more budget-oriented roundups, that doesn't mean they're slacking on quality: it usually means that they've managed to absolutely nail a particular features-for-price-point balance that other vendors are struggling with.
ViewSonic is a compelling brand for gamers, professionals, and designers alike.
Gamers will enjoy the competitive pricing of ViewSonic's gaming monitors compared to other options, especially for high refresh rates or IPS displays. Designers are also well catered to with the ColorPro Series, which offers great WCG displays with factory color calibration.
There are also some standard pro/business-facing monitors with improved ergonomics, too.
ViewSonic's Dead Pixel Policy, screenshotted below, is one of the more strict DPPs, though it also scales with larger resolutions.
While there being a wider allowance may seem a little suspect at first, the number of pixels in a 4K display compared to lower resolution panels often doubles or even quadruples.
That plus the allowance for non-4K monitors being strict by industry standards lets me comfortably say that this is a strong Dead Pixel Policy all around.
HP (Hewlett-Packard)
Brand Specializes In: Budget Monitors, Gaming Monitors, Design Monitors, Professional Monitors, Ultrawide Monitors, Touchscreen Monitors
Common Budget Ranges: Wide Variety
Established Since: 1939
Last but not least, let's talk about good ol' HP!
Like other manufacturers that have been in the game a long time, HP has had plenty of time to stretch its legs across a wide variety of monitor budgets and use cases.
There's pretty much something for everyone, and the pricing of HP's offerings, in general, makes them one of the best monitor brands for saving money.
HP's Dead Pixel Policy is also fairly good.
While there is some flexibility for dark dead pixels (which are generally considered easier to tune out), the more visually-apparent bright dead pixels are considered worth an RMA at a count of just two. This is one of the better Dead Pixel Policies, for sure.
HP also has a Zero Bright Dots policy for their Performance Displays series. That's pretty good!
Monitor Brand Recommendations – Which one to choose?
My monitor brand recommendations pretty much fall into the following bullet points:
Want a fast TN panel monitor for gaming? BenQ is the obvious choice, but you may find some luck with ASUS' TUF Series as well.
Want a fast, vivid IPS panel monitor for gaming or media consumption? LG is my personal favorite pick, but Gigabyte's AORUS & ASUS' ROG Series are quite competitive at the high end too.
Want an OLED monitor for gaming or media consumption? Alienware is currently your best bet, though Gigabyte AORUS is also making some great OLED displays.
Want a clear, accurate, sharp monitor for editing and productivity? Eizo and Dell both have fairly compelling pro-facing monitors for exactly this purpose.
Want a monitor with great pricing for features? I find that HP, ViewSonic, AOC, MSI, and Acer all provide great monitors at and under the $200 range.
Want an Ultrawide Monitor? Consider Samsung, BenQ, or Alienware if you're a gamer. If you're a professional, you should look first at Ultrawide offerings from Eizo, Dell, and Acer.
FAQ
What are "Business Monitors" or "Professional Monitors"?
Usually, business monitors are distinguished from design and editing monitors by being focused more on use in an office setting.
Most often this will manifest as improvements to the monitor stand and ergonomics at the bare minimum.
Other features can vary by brand but include improved blue light filtering and other efforts to reduce eyestrain for long working shifts.
What are Ultrawide Monitors? Should I get one?
Ultrawide Monitors are monitors that come in a wider aspect ratio and form factor than traditional 16:9 Widescreen monitors.
Ultrawide is normally in a 21:9 aspect ratio, but some wider Ultrawide Monitors exist as well.
If you're hoping to improve your screen real estate for productivity or want to enable an even wider field of vision in supported games, an Ultrawide Monitor might be a good match for you!
Just make sure it's compatible with your workload and can actually fit on your desk with the rest of your setup.
How do I check Monitor Warranty?
You may have noticed in the article above that I didn't actually talk about any brand-specific warranty policies beyond dead pixel policy.
This is because monitor warranties often vary on a series-by-series basis, even from the same manufacturer.
So in order to check your full warranty information, you'll need to know the model number of the monitor that you're considering and check your manufacturer's site.
This information may also be available on the store page of the monitor you're buying, but your mileage will vary on this one.
Regardless of the warranty policy, you may also be entitled to a return from the retailer you purchased from.
For example, Amazon will accept returns on defective monitors for any reason so long as you return them within 30 days of your purchase.
Do You Have Any Monitor Recommendations?
Looking for more specific monitor recommendations?
Consider checking out Alex's extended Best Design, Editing, & Animation Monitor Roundup! There's an up-to-date guide to our top picks for professional monitors in that article, so I recommend it to anyone who wants some quick recommendations.
Over to You
And that's it, at least for now! I hope that this article helped teach you more about the PC monitor landscape and the brands that are currently competing within it.
Personally, I've been fairly happy with LG IPS monitors for the past few years I've been using them, and am hoping to eventually get an LG OLED TV or OLED Monitor somewhere down the line.
But what about you? What are your favorite monitor brands, or which ones have you personally had bad experiences with? Feel free to sound off in the comments below or in the Forums with your experiences or any questions you might still have after finishing this article!
Until then or until next time, have a good one! And remember: the brand doesn't make the monitor, the monitor does. Always double-check reviews and the competition when considering a new monitor!