Today, I'm going to walk you through the 7 most expensive PC cases that are actually worth buying.
Not all premium PC cases are made equal, and a great number of them are overpriced for no good reason.
With this article, I'm going to identify my favorite premium cases from a variety of manufacturers, for a variety of purposes.
I'll also make sure you know what to consider and look for in a chassis before buying it- because especially with expensive PC hardware, you're making a long-term investment.
Let's dive into it.
Why Focus on The Most Expensive PC Cases?
While focusing on the high-end might seem a little "bougie", the truth is there's a lot of value in knowing what the expensive options are if they are actually worth that extra money.
Some premium cases don't really live up to that or make such critical sacrifices in key areas for aesthetics that they become difficult to recommend.
With this article, I'm not bothering with cases like that- I want to focus on cases that offer genuine features or improved performance compared to the competition.
With that in mind, let's start by talking about the most important factors to consider when buying a case.
You can also use the Table of Contents to skip ahead to the selections or comments if you want.
Most Important Factors To Consider When Buying a Case
Hardware Compatibility
The first and most important factor to consider when buying a case is compatibility with your current or desired hardware.
The usual culprits for compatibility issues will be graphics card length, CPU cooler height, cooling fan or radiator width, and power supply size, in roughly that order.
Discrete graphics cards tend to be one of the most expensive components in a given PC build (even before the era of frequent shortages), and all of that raw, power-hungry graphics processing requires just-as-beefy cooling solutions.
GPU coolers range in sizes from minuscule (especially on the low-end, where limited performance requires limited cooling) to massive (especially on the high-end, where high performance needs extra fans and heatsink mass to dissipate).
Of course, don't take cooler size by itself as an indicator of GPU performance- just expect it to increase with GPU performance unless you start using liquid cooling.
Meanwhile, CPU coolers can greatly vary in apparent height.
In the case of an AIO or liquid cooler, your actual height off of the CPU is basically non-existent aside from where you're running your tubing.
A beefy enough air cooler can start protruding farther from your motherboard than even a full-size graphics card.
Cooling fans and liquid cooling radiators are mounted in the same case fan slots and are measured by the same general 120 mm/140 mm standard.
Radiators often use multiple fan slots stacked together, though, requiring 240 mm or 360 mm of width in some cases.
If you aren't using a large ATX case, you may have difficulty mounting larger radiators for your custom loop or AIO.
Limited or poorly-placed fan slots can also serve to limit airflow or cooling performance.
Finally, there's power supply compatibility. Most Power Supplies come in a standard ATX form factor that will fit in the vast majority of PC cases.
However, smaller cases in the Mini ITX and Micro ATX categories may not always have room for these larger PSUs, requiring builders to find SFF (Small Form Factor) alternatives.
Additionally, a case that's cramped for space will definitely struggle with a Non-Modular Power Supply, as the excess of cables- even those not being used- will have to be managed at all times.
A variety of PSU form factor sizes and modularities (we recommend Semi or Full) make for surprisingly diverse case compatibility.
Case Airflow Options
When it comes to cooling your PC, one of your first concerns should be maintaining good case airflow.
Unfortunately, this can be difficult to do if your case is poorly optimized for airflow.
Many cases, even premium cases, make major compromises in this area for aesthetics or cost-saving. If you're devoted to keeping your PC cool under heavy load, this is a key area to watch out for.
It's tough to know exactly how a case's airflow will be without reviews and benchmarks, but there are some signs to watch out for that you can see right away.
A telltale sign that airflow might be an issue is if the front panel is completely solid, lacking ventilation for intake fans.
This is a surprisingly common mistake in the case market, and it results in suffocated airflow.
Extreme examples like the Abkoncore Ramesses 780, reviewed by GamersNexus below, are emblematic of this problem. "12 Fans, 0 Airflow" is exactly the case.
So, one immediate red flag for airflow is if you can't actually identify clear areas for intake and exhaust.
On the other hand, vented, perforated, and mesh front panels serve as a clear visual shorthand that the case will have at least some intake, which is nice.
More on high-end front panels in a bit.
Case Cooling Configurations
Besides front panel type and ventilation, you'll also want to know what cooling configurations (with fans and radiators) your case actually supports.
While a case's airflow can change depending on things like the front panel and ventilation, your options for cooling fans make a fairly large impact as well.
One thing to look out for is a case that has room for more intake fans than exhaust fans.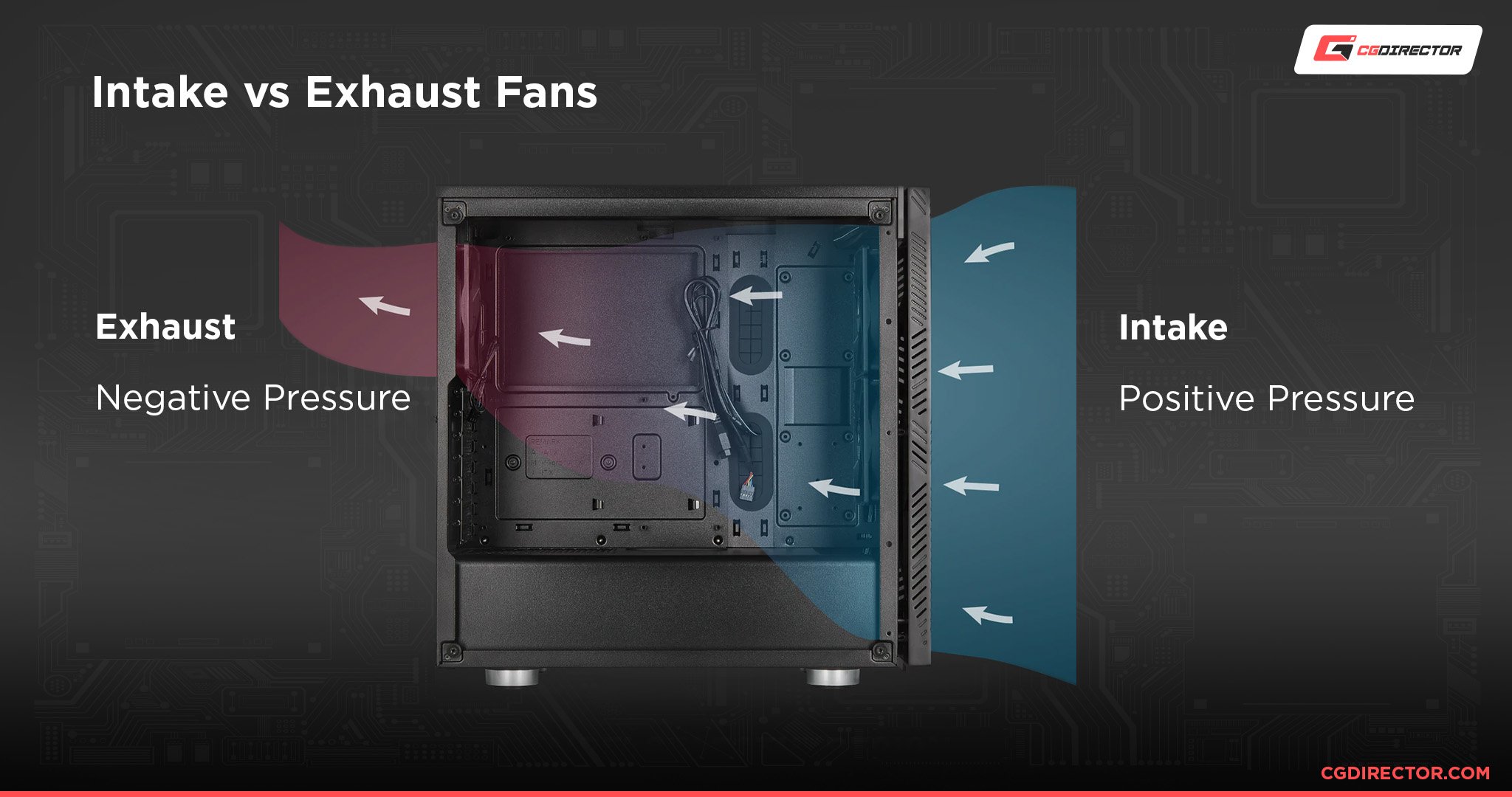 This means the case is optimized for a positive pressure configuration (more air in than out) when its fan slots are all in use. You'll generally want to go for a positive pressure configuration when at all possible.
With larger cases and certain HTPC/SFF PC cases, you may also stumble upon case fans with unconventionally large form fan factors, like 200 mm.
These larger cooling fans offer superb raw airflow and intake but should still be paired with at least a 120 mm exhaust fan (slot) or two for ideal performance.
Case Build Quality
Case build quality can be a bit harder to gauge immediately, but build quality generally describes the quality and durability of the components used in your case.
For instance, a sturdy metallic case with shock protection would have much higher build quality than a plastic case with poor durability.
This requires experience or research (trusted reviews) to determine before buying.
Your Personal Aesthetics
Last but certainly not least, don't forget your own aesthetic preferences!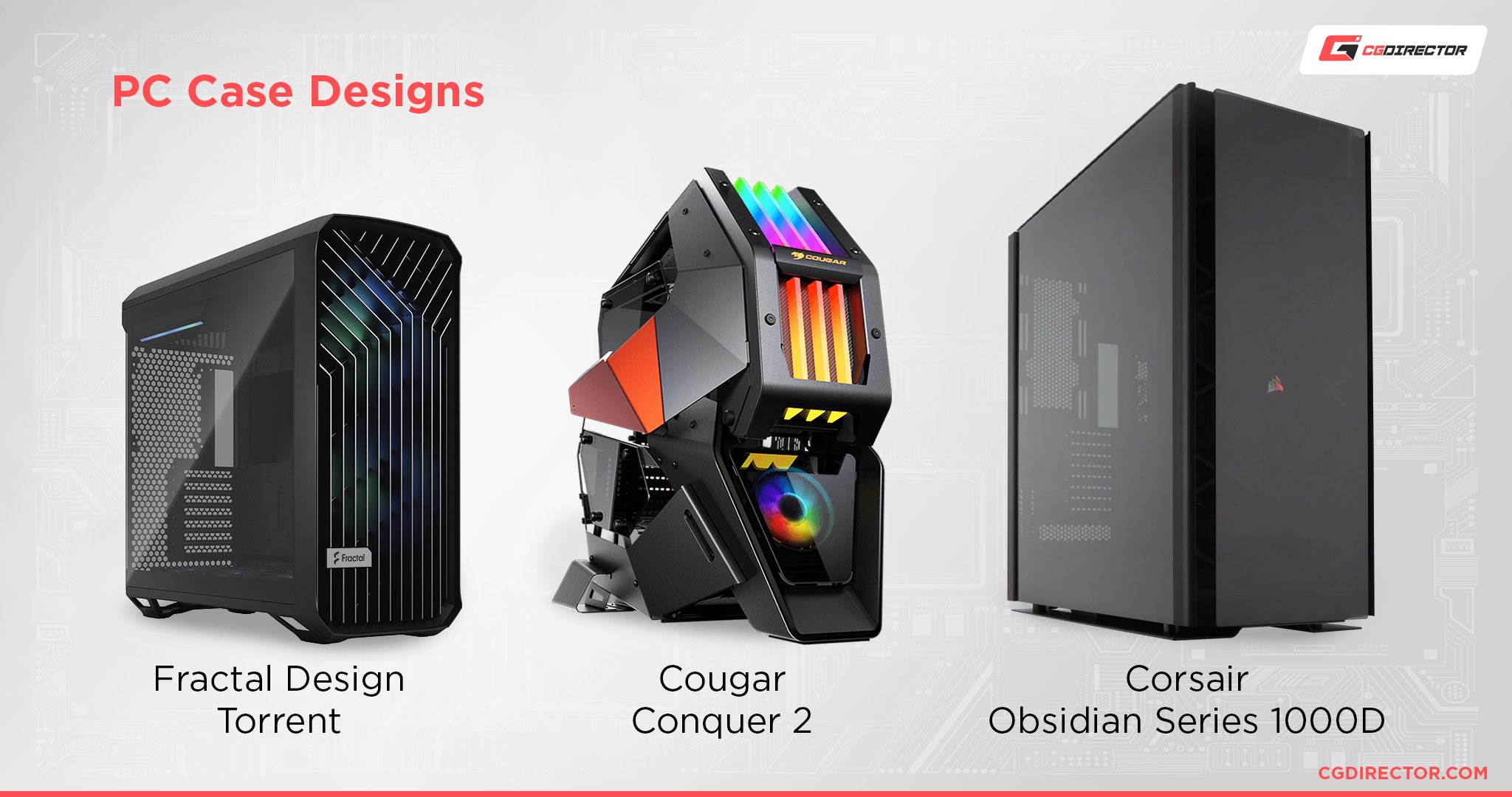 While aesthetics don't impact performance, they do impact your actual long-term enjoyment of your PC.
You don't want to end up with a PC that looks ugly to you, especially not if you're looking to spend a lot of money on the PC's case.
Features to look for to tweak cases to your personal aesthetics include cases with swappable motherboard orientation, controllable RGB lights, and removable drive cages.
I'll talk about some more high-end features to look for in just a moment, but these are some features to look for besides basic color and size preferences.
High-End Case Features To Look For
Dual PC Configuration
One of the best high-end cases features to look for, but also one of the most niche is dual PC configuration.
Generally, this means a case that has room for one full-sized ATX motherboard and PC build, as well as a smaller, secondary Mini ITX motherboard and PC build.
This is ideal for things like a gaming PC with an integrated streaming setup, or really anything else you could do with 2 PCs in a single chassis. (WIth the limitations of a secondary Mini iTX board in mind, of course.)
This is one of the most functional high-end case features out there, but it may not be a priority for many users.
If you don't already know how you would use a dual-PC setup, chances are you probably shouldn't worry about paying extra for the feature.
Otherwise, look into Full ATX Tower and Extended ATX Tower cases that support this feature! I've also included my favorite Dual PC case in the roundup below.
Mesh or Properly Perforated/Vented Front Panel
I mentioned mesh front panels in the Case Airflow Options section below and for good reason.
Mesh front panels are great for providing great direct access to the outside air for the intake fans.
This helps keep cool air flowing through your PC before being heated and exhausted by your CPU, GPU, and exhaust fans.
Perforated and vented front panels work similarly, but the effectiveness can greatly depend on the specific build.
Some cases with perforated front panels still end up having inexplicably awful airflow.
Mesh front panels in general tend to offer great intake, though, so that's a good starting point if you're looking for a case with good intake.
Easily Removable Dust Filters
This is more of a building and long-term maintenance boon, but should still be noted.
Having easily removable and cleanable dust filters makes it easy to keep the airflow going smoothly in your PC, and prevents dust buildup on your components.
With frequent enough compressed air dusting, chances are you may not even actually remove the dust filters.
(Side note: Be sure when air dusting your PC to not blast any fans without holding them in place!)
Tempered Glass Side Panel
If you have a choice of various side panels, you may be convinced that all transparent-looking side panels are made equal.
This actually isn't the case, as plastic/acrylic side panels are greatly prone to scratching and clouding up over time, obscuring the view of your components inside.
Meanwhile, something like a tempered glass side panel is great for displaying your internal components and (RGB) lighting in a clear view.
If you have no desire to be this flashy and want to up the overall durability of your PC a bit (especially for work purposes), you may want to skip a side panel window entirely.
If you're going to get a side panel window, though, go with tempered glass!
Even dark tempered glass that obscures the inside view of your chassis looks substantially better than plain metal or an acrylic window.
Hot-Swappable Drive Bays
If you're going to be running a home server or another PC build that's reliant on having multiple, redundant drives, a great feature to have is hot-swappable drive bays.
This means you can take out non-essential drives at any time, or have freely swappable mirrored RAID drives.
Be sure to use the "Safely Remove Hardware" feature for hot-swappable drives to prevent any potential issues, though!
This will power off the drive before you remove it, ensuring no read/write cycles are interrupted and potentially damage your drive.
Large or Extra Cooling Fan Mounts
While I've already mentioned having plenty of cooling fan mounts as being a good thing, let's specify two particularly good features: extra cooling fan mounts (in appropriate locations) and support for larger cooling fans (140 mm or 200 mm).
Extra cooling fan mounts placed in appropriate locations can be useful, especially on the sides or top of the chassis.
If there are multiple in a row, they can even be used as intake mount for a liquid cooling radiator while still allowing clear intake fans elsewhere.
Vertical GPU Mount
If you want to loudly and proudly display your graphics card, you may want to look into a case that supports a vertical GPU mount.
Vertical GPU mounts are pretty much exactly what they sound like, and require the use of a PCIe riser cable (which may or may be included) to mount your GPU separately from the rest of your motherboard and show it off through your side panel window.
There isn't really a practical performance benefit worth noting with this orientation.
The only real reason to have a vertical GPU mount is if you want to show off your GPU or it otherwise can't fit inside of your PC.
Even so, it's a cool feature- and a nice one, if you want to show off a flashy graphics card. (Like a Gigabyte AORUS Ultra card. Those are pretty.)
The 7 Most Expensive PC Cases Actually Worth Buying
1. The Most Expensive Full Tower Case Worth Buying: Fractal Design Torrent
Specs:
Dimensions: 544 x 244 x 530 mm
Supported Motherboard Sizes: Up to Extended ATX
Supported Fans: 3 x 120/140mm OR 2 x 180mm Front; 1 x 120/140mm Rear; 3 x 120/140mm OR 2 x 180mm Bottom
Included Fans: 2 x 180mm Front, 3 x 140mm Bottom
Front Panel Type: Grille
Side Panel Type: Tempered Glass Window
Max GPU Length: 423 mm, up to 461 mm with the front fan removed
Notable Extras: Included Fan Control Hub, GPU Support Bracket, Reservoir Mount Support
Pros:
Industry-leading thermal performance at low noise levels.
Superb build quality and general ease-of-building, including extras like cable straps and easy drive mount bays
All the room you could need for expansion, including easy-to-use dedicated drive mounts (4 2.5-inch and 2 3.5-inch). The open layout of the case should make DIY mounting of additional SSDs easier if need be, as well.
Included 140 and 180 mm fans are quite powerful and help promote superb airflow
Cons:
One of the most expensive cases on this list. Over $200 is quite a lot for a PC case!
If you want a more multi-drive RAID setup, you may be better off with a different high-end case– however, SSDs are quite easily mounted in an open layout case without adding drive slots.
Since SSDs aren't prone to shock-like HDDs, you can pretty much attach them to any free flat surface with a trusty adhesive in a case like this one.
2. The Most Expensive Mid Tower Case Worth Buying: be quiet! Silent Base 802
Specs:
Dimensions: 539 mm x 281 mm x 553 mm
Supported Motherboard Sizes: Extended ATX up to 774 x 698 mm, down to Mini ITX, Micro ATX, and ATX
Supported Fans: 1 x 120/140 mm Front; 3 x 120/140mm Top; 1 x 120/140mm Bottom
Included Fans: 2 x 140mm Front; 1 x 140mm Rear
Front Panel Type: Mesh
Side Panel Type: Tempered Glass Window
Max GPU Length: 431 mm
Notable Extras: Swappable top and front panels to prioritize noise or airflow, Built with dense insulation, Included fan controller
Pros:
Superb, market-leading quietness and cool high airflow performance, thanks to mesh panels, included fans, and insulated paneling.
Three included high-performance, low-noise fans.
Incredibly open and modular, reversible internal design.
Cons:
One of the more expensive cases, breaching the $200 price point.
Specs:
Dimensions: 376 mm x 185 mm x 292 mm
Supported Motherboard Sizes: Mini iTX, Mini DTX
Supported Fans: 2 x 120/140 mm Side; 2 x 120mm Top; 2 x 120mm Bottom (slim fans recommended); 1 x 92mm Rear
Included Fans: 2 x 120mm Top
Front Panel Type: Steel Front Panel (Mesh Top Intake)
Side Panel Type: Tempered Glass
Max GPU Length: 330 mm
Notable Extras: Pre-installed Pump and Radiator Locations for Custom Loops, Mini DTX Motherboard Support
Pros:
Incredibly small footprint, ideal for a super low-profile PC build.
Despite being fairly small, still offers support for custom loop liquid cooling– not that building a custom loop in a case this small will be easy.
Support for Mini DTX motherboards, which add an extra expansion slot compared to Mini ITX. Generally, open design is great for full-sized, even triple-slot GPUs as well. There's also a vertical GPU mount option!
Somewhat expensive, but not very!
Cons:
Definitely not a first-time builder's case. Besides the difficulty of building in a Mini iTX case, you'll also need to choose between various configurations.
4. The Most Expensive Micro ATX Case Worth Buying: Lian Li O11 Air Mini
Specs:
Dimensions: 400 mm x 288 mm x 384 mm
Supported Motherboard Sizes: Up to 280 mm wide Extended ATX, down to Mini ITX, Micro ATX, and ATX
Supported Fans: 2 x 120/140 mm Front; 2 x 120/140mm Top; 1 x 120/140mm Rear
Included Fans: 2 x 140mm Front; 1 x 140mm Rear
Front Panel Type: Mesh
Side Panel Type: Tempered Glass Window
Max GPU Length: 362 mm
Notable Extras: Swappable Mini ITX/ATX back panel, Cable management chambers
Pros:
Decently low footprint for what's technically an Extended ATX case, however, a swappable back panel also allows for a lower-footprint ITX or Micro ATX motherboard installation . This can be useful for freeing up extra space for things like more fans, liquid cooling, etc.
Great airflow and high-performance included 140mm case fans.
Not even that expensive!
Cons:
A bit oversized for an advertised "Mini Tower" case, but still a good bit smaller and more portable than most PCs.
Specs:
Dimensions: 450 mm x 232 mm x 463 mm
Supported Motherboard Sizes: Up to ATX from Micro ATX, Mini ITX
Supported Fans: 3 x 120mm OR 2 x 140 mm Front; 2 x 120/140mm Top; 1 x 120/140mm Rear
Included Fans: 1 x 140mm Front; 1 x 140mm Top; 1 x 140mm Rear
Front Panel Type: Mesh
Side Panel Type: Tempered Glass
Max GPU Length: 369 mm
Notable Extras: ARGB LED Strips
Pros:
Superb low noise levels- among the quietest cases for noise-normalized thermals on the market, according to GamersNexus.
Generally great cooling and expansion support.
Included 140 mm fans are quiet and high-performance.
Actually not that expensive for a high-end case, despite being industry-leading in quietness!
Cons:
Not ideal for a custom loop liquid cooling setup- surprisingly small for an ATX case, making a reservoir and tubing difficult to work in.
6. The Most Expensive High Airflow Case Worth Buying: Lian Li Lancool II Mesh
Specs:
Dimensions: 478 mm x 229 mm x 494 mm
Supported Motherboard Sizes: Up to 280mm Width Extended ATX from Mini ITX, Micro ATX, and ATX
Supported Fans: 3 x 120mm OR 2 x 140mm Front; 2 x 120/140mm Top; 2 x 120mm Bottom
Included Fans: 2 x 140mm Front; 1 x 120 mm Rear
Front Panel Type: Mesh
Side Panel Type: Dual Tempered Glass
Max GPU Length: 384 mm
Notable Extras: Dual Latched Tempered Glass Side Panel Windows, Dedicated Cable management Routes and Cover Plates, Support for Liquid Cooling Reservoir in PSU Basement
Pros:
One of the best high-airflow, low-noise cases on the market. Mesh paneling and included fans ensure it performs this way out-of-the-box, too.
Dual latched tempered glass windows make for a more stylish PC presentation and for much easier building and maintenance.
Plenty of drive support- up to 3 3.5-inch HDDs and up to 6-9 2.5-inch SSDs.
Cons:
Decently expensive– coming close to the $200 mark.
Liquid cooling radiators need to be mounted with a special bracket and placed on top of rather than beneath the fans lest the user risk damaging the case. Odd design quirk, but not a big deal if you follow instructions.
Specs:
Dimensions: 240 mm x 580 mm x 560 mm
Supported Motherboard Sizes: Up to SSI-EEB Extended ATX Main Motherboard, Mini ITX Secondary Motherboard
Supported Fans: 4 x 120mm OR 3 x 140mm Front; 3 x 120/140mm Top; 1 x 120/140mm Rear; 3 x 120mm OR 1 x 140mm Bottom; 4 x 120mm Side
Included Fans: None
Front Panel Type: Mesh
Side Panel Type: Tempered Glass
Max GPU Length: 503 mm
Notable Extras: Vertical GPU Mount support, GPU support bracket, 6 included zip ties and built-in Velcro straps for cable management, Dual PSU Support, Dual System Support
Pros:
Superb Dual System and Custom Loop Liquid Cooling Support. Whether you want to make an extremely high-performance single PC or dual-PC build in this case, you'll be fairly well-equipped to do so thanks to the sheer space inside the tower.
Support for up to 11 2.5-inch SSDs and 4 3.5-inch HDDs out of the box, and up to 12 3.5-inch HDDs with extra brackets. Since this is an enthusiast's PC or a dual-PC build, having lots of drives is ideal.
Great airflow and low noise levels. The aforementioned open design makes the case ideal for multi-GPU setups and setups with tall air CPU coolers as well.
Great Build Quality. Generally well-constructed with metal, tempered glass, and mesh paneling.
Cons:
Decently expensive- and that's before you buy optional expansions.
"Optional expansions". To make the most of this case's best features, like dual PC support, you'll need to buy extra hardware from Phanteks, like their Revolt X PSU.
This is sensible as a measure to cut down the base price of the case for people who may not want these extras, but be wary of limitations like this on the base version of the case.
No included fans.
FAQ
How do I choose the right PC case size for my needs?
If you're worried that you might not be picking the right PC case size for your needs, don't worry. It's usually pretty easy to find the right PC size for your needs.
First and foremost, let's talk about whether or not you intend to transport your PC on a regular basis.
If you anticipate moving it between rooms or taking it to local events semi-frequently, you may be more inclined to go for an SFF (Small Form Factor) PC case like a Mini ITX or HTPC (home theater) case.
If you don't plan on moving your PC on a regular basis and you aren't pressed for room to put it, you don't need to get an SFF PC build.
Instead, you should likely be looking in the direction of Mid and Full Towers for the improvements in cooling performance and expansion offered by these larger case sizes.
However, if you prefer a smaller case for aesthetic reasons, that's fine too: just make sure you're aware of the compromises you're making in doing so, and build appropriately.
Are there any more specialized Small Form Factor PC cases?
Yes- quite a few, in fact!
Most Mini ITX and HTPC cases fit this mold, and some will come with unconventional form factors to make it possible.
In extreme cases, you may even find that a PCIe riser is required for the GPU to be mounted, as doing so in the regular spot at the bottom of the motherboard will take up too much space.
Our personal favorite niche of SFF PC cases is actually pretty utilitarian- we like SFF ATX cases.
This allows for full expansion, which is great for professionals and hardcore enthusiasts alike, while still coming in a smaller form factor.
Jerry wrote a guide and picked out the Best Compact ATX Cases recently, too.
What is most important in a case for liquid cooling?
When it comes to liquid cooling, the main things you want to look for in a case are places to mount your reservoir and plenty of room for your radiators and fans.
It's especially important to make sure that wherever you're mounting your radiator will actually have airflow since otherwise your overall airflow and actual cooling will be extremely limited.
As long as your airflow and physical space requirements are met, many cases can be used for liquid cooling.
Keep an eye out for cases that are built around liquid cooling though, such as cases with dedicated mounting points for liquid cooling reservoirs.
Why do Case Fan sizes matter?
Case fan size doesn't necessarily directly correlate to performance, but a general rule is that a larger fan size can push more air at a lower RPM and noise level than a smaller fan trying to push the same amount of air.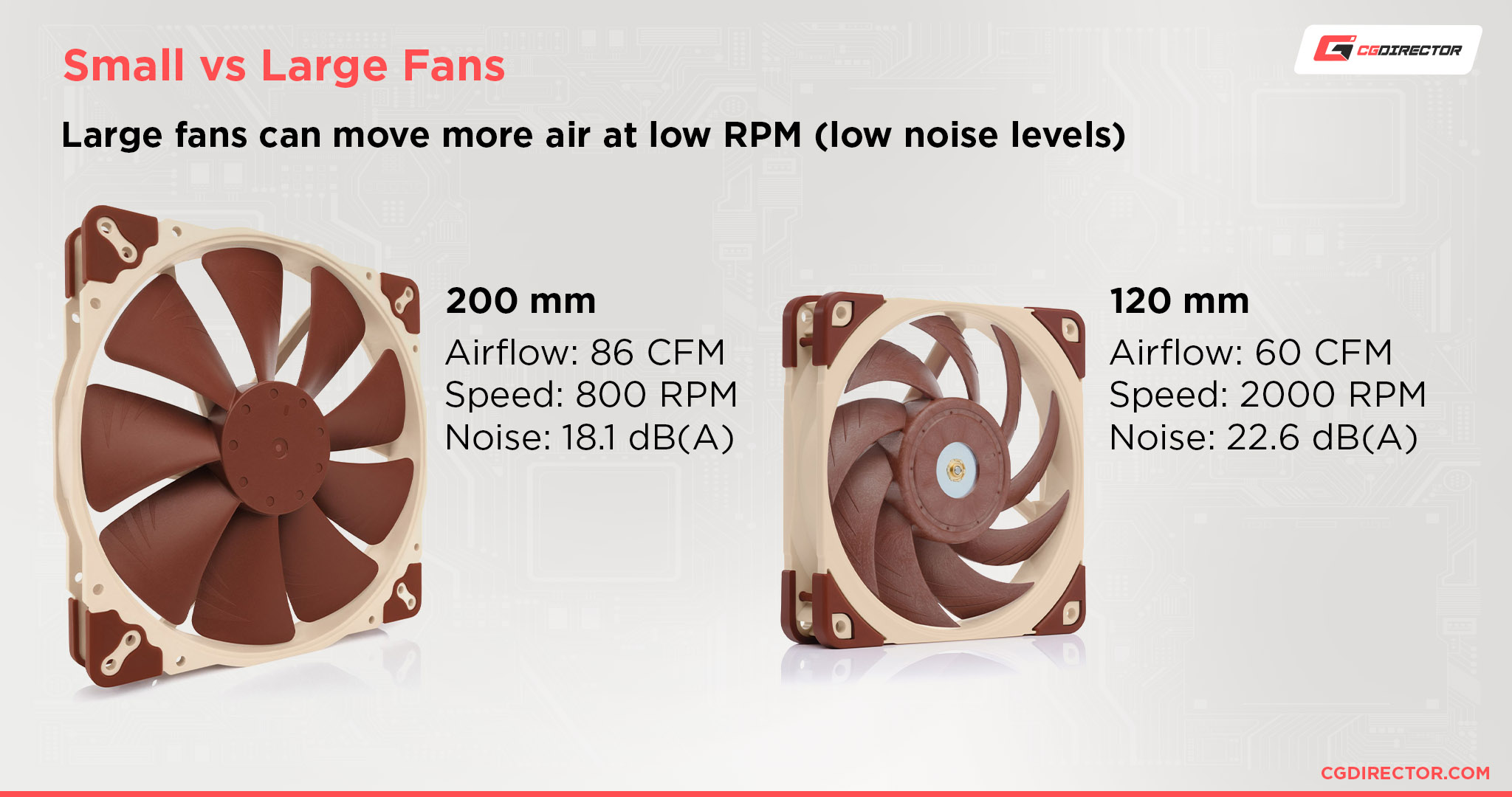 With high-performance cases like these, you'll notice them shipping with 140mm over the standard 120mm case fan sizes more often, and sometimes see unique case fans that are even larger than that. This is the reason why.
If you want a more detailed guide to case fans, especially if you think you might need more for your PC, come glance at my Best Case Fans guide.
Over to You
And that's it, at least for now! I hope that this article gave you a solid start on buying a great high-end PC case that suits your needs.
Feel free to leave a comment below or head to the forums if you have any remaining questions, or just need help finding an appropriate PC case for your needs.