Picking the right motherboard is one of the most complicated but critical tasks when you're getting parts together for a brand-new PC build.
Although you might just get away with spending as much money as you possibly can, I tend to recommend restraint and buying what you need now and only a few years down the line. Don't attempt 'future-proofing' too far ahead. Technology changes fast and you never know what's around the corner.
If you just want motherboard recommendations for the platform you've chosen, you can skip to one of our specialized Guides here:
Motherboards for AMD Ryzen Processors
Motherboards for AMD Threadripper
Motherboards for Intel Processors
If not, read on.
Factors to Consider Before Buying a Motherboard
Picking a motherboard can be complicated, with buyers navigate a seemingly endless stream of tech jargon and specifications thrown at them.
It's crucial, now more than ever, to separate important factors from marketing fluff so you get the most bang for your buck without missing out on features essential to your workflow.
The following are the factors I usually consider when picking a motherboard for my workstation. Do keep in mind that a few of these factors might be more important than others for some professionals. Please follow our motherboard recommendations for more detailed information about the boards you're considering.
CPU Brand and Socket: Incompatibility Begins Here
When building a system, the choice of CPU and motherboard do affect each other. Not only are motherboards for Intel and AMD CPUs different, but even among them, you must choose between chipset variants and features for specific CPUs.
If you're buying a processor in early 2021 (if you can find one), AMD offers excellent performance across all price categories. Intel's lagging semiconductor process has (for the moment) relegated it to offering a value proposition instead.
That's still a win-win for consumers in my book. If you want more information about the various processor options you can buy in 2021, please take a look at our Intel vs. AMD article.
Chipset: Don't Miss Out on Features
The chipset dictates a lot of the features that you can or cannot use with your CPU. It manages the flow of data between the processor, memory (RAM), and various other peripherals. Not only do chipsets manage this flow, but they also play a significant role in the features you get to experience. Pick Carefully.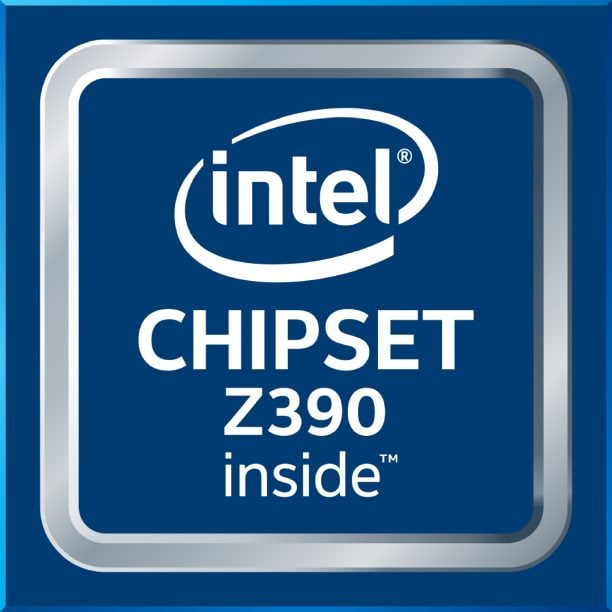 Here's how Motherboard Chipsets are usually paired with CPUs:
Motherboards for AMD Ryzen Processors

X570 Chipset Motherboards for Ryzen 5000 (5950X, 5900X, 5800X, 5600X)
B550 Chipset Motherboards for Ryzen 5000 (5950X, 5900X, 5800X, and 5600X)
B450, A320 Chipset Motherboards for Ryzen 5000 (5950X, 5900X, 5800X, and 5600X)

Motherboards for AMD Threadripper

TRX40 Chipset Motherboards for Threadripper 3000 (3990X, 3970X, 3960X)
X399 Chipset Motherboards for Threadripper 1000 and 2000

Motherboards for Intel 10th Generation Processors

Z490 Chipset Motherboards for Core i9 10900K, Core i7 10700K, and Core i5 10600K
B460 Chipset Motherboards for 10th Generation Intel Core i5 and Core i3 Processors

Motherboards for 9th Generation Intel Core Processors

Z390 Chipset Motherboards for 9th Generation Intel Core i9 and Core i7 Processors
Take Intel's Z390 chipset (I'll be explaining the names later, don't worry!) as an example. If you want to overclock an Intel processor, this is the chipset you'll need. Motherboards with a B365 or H310 chipset (again, ignore the names) won't be able to overclock either the CPU or DDR4 memory.
So, if you spend money on getting an overclockable CPU, you don't want to be stuck with a chipset that doesn't support overclocking.
Form Factors
Motherboard form factors usually don't affect a motherboard's quality or reliability, and you can base your choice purely on what sort of system you're building. Every motherboard form factor adheres to a certain standard for specifications like dimensions, placement, and so on.
Larger motherboards will offer more ports, better extensibility, and even more slots. On the flip side, smaller motherboards grant you the portability and flexibility you might need to build a more compact gaming PC.
However, this might come at the cost of port and slot spacing due to the limited board area.
There are upsides and downsides to every type of form factor, and I'll cover the three most popular ones here:
ATX or Standard-ATX
M-ATX or Micro-ATX
M-ITX or Mini-ITX
Here's an image that'll help you understand their sizes easily –
Mini-ITX motherboards are best suited for ultra-compact builds because you do have to compromise on the selection of ports and slots available for use due to extreme size constraints. If you're not planning on assembling a portable/compact PC, I'd recommend sticking to an ATX or M-ATX motherboard.
Memory Overclocking Support: System Stability is Paramount
Ryzen processors have relied on Infinity Fabric from the start, which, in turn, depends on memory speed to reduce latency. This makes memory speeds a crucial factor when considering any motherboard for AMD Ryzen CPUs.
On the other hand, for Intel processors, memory isn't as picky from what we've tested and doesn't have such a profound effect on performance. Moreover, you can more easily work with a broader range of speeds and kits without running into issues unless extremely unlucky. But professionals just cannot afford to lose hours of render time or active work due to system instability; I'd suggest erring on the side of caution.
An extensive QVL (Qualified Vendor List) is a sign of a good memory layout for any motherboard – improving the chances of getting your RAM to much higher clocks.
However, if you plan to run memory rated at and below 3200 MHz, this factor becomes less crucial. Pretty much all modern boards should support those speeds without any hassles.
For workstations (Intel or AMD-based), try to get a kit on the QVL of the motherboard of your choice. If you're unable to find a kit on the QVL for any of your motherboard choices, I lean towards motherboards with a more extensive list. You can follow our memory buying guide for more information.
VRM Quality
If you're shopping for a workstation that will need to handle CPU-intensive loads for extended durations of time, you have to give the VRM of your motherboard some importance. That said, this factor does become far less critical when considering motherboards for 8 and 6-core AMD Ryzen 3000 and 5000 processors or 6-core Intel 10th Generation processors.
Testing the VRM on any motherboard requires physical access to all motherboards. We rely on tests by Steve from Hardware Unboxed to weed out bad eggs from our recommendation list. All our motherboard recommendations always consider their tests.
That said, over-reliance on this factor will cause you to miss out on many vital features. I've noticed both professionals and gamers placing too much importance on the quality of VRM. In my view, it's best to treat this as a baseline of performance that you will need and weed out any motherboards that don't meet that baseline, rather than opting for boards that perform the best in VRM tests.
Expandability/Extensibility: Connect Everything and Expand with Ease
It's awful when you run out of memory or storage and realize that you've already maxed out all available slots on your motherboard. Make sure you consider the number of M.2 slots, PCI-E slots, SATA ports, and RAM slots available on the motherboard.
Although we do try to cover the extensibility of each motherboard we recommend, it's very subjective and is heavily dependent on your requirements.
Please make sure that the motherboard you pick can accommodate all the devices you want to attach to it. Even simple things like having an ample number of USB ports will make your life easier – ensuring that you can avoid cluttering your desk with hubs.
Here are some of the few key specifications you should keep in mind:
Number of USB ports
Number of PCI-E (x16, x4, x1) slots
Number of RAM slots
Number of Ethernet ports and their Maximum Speeds
The other back-panel ports on a motherboard are yet another factor to consider for those who need to connect specific high-speed devices.
PCI-E Slot Spacing: Critical for Multi-GPU Systems
Slot spacing is one factor that can vary in importance from professional to professional.
Typical blower-style graphics cards feature double-slot widths. So, if you're planning to run a quad-GPU setup, I recommend opting for the motherboards that have enough space to house those graphics cards. See those 4 PCI-E x16 slots in the image below?
These slots will allow you to add four 2-slot graphics cards to your workstation without any hassles.
If you want to go with graphics cards with thicker heatsinks or just need a single graphics card, you should prefer motherboards that can accommodate at least one triple-slot width card.
On the other hand, for professionals whose work is more storage and CPU-intensive, slot spacing isn't too much of an issue. In such cases, try to grab boards that have M.2 storage slots (as many as possible) anywhere but right below the primary (nearest to the CPU socket) PCI-E x16 slot.
PCIe Lanes Explained: What do x1, x4, x8, and x16 Mean?
On motherboard spec sheets, you might have come across numbers along with slots like – PCIe 3.0 x4 or PCIe 4.0 x16.
Here's an image that shows the various PCIe slot sizes: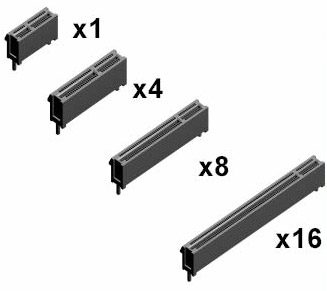 The x8 slot is very uncommon on mainstream motherboards, and you'll mostly only encounter x16, x4, and x1 slot sizes when shopping for a motherboard. However, the number after an x can denote both the SIZE of the PCIe slot and the NUMBER of data lanes connected to that slot.
For example, it's possible to have a PCIe x16 slot that supports only x4 speeds. Here, the size of the PCIe slot is full length (x16), but the bandwidth available for data movement is limited to only 4 lanes (x4).
Each 'lane' indicates an active data path that can be used to send and receive data. So, the higher the number of lanes available, the higher the amount of data you can send at once. In short, an x8 speed slot will have half the bandwidth available to an x16 slot.
Graphics card slots (top PCIe slots on most motherboards) usually have plenty of bandwidth with a 16-lane connection to the CPU. However, secondary slots will vary in speed and lane width – especially with mainstream platforms that have a limited number of available lanes.
Lane bifurcation is a relatively pricey feature that motherboard manufacturers implement to get more flexibility. For example, an x16 PCIe slot connected to the CPU can be split into two (x8/x8) slots to allow you to run multiple GPUs without taking a performance hit and being forced to go through the chipset.
PCI-E Bandwidth and Bifurcation: All 'Long' Slots Aren't Equal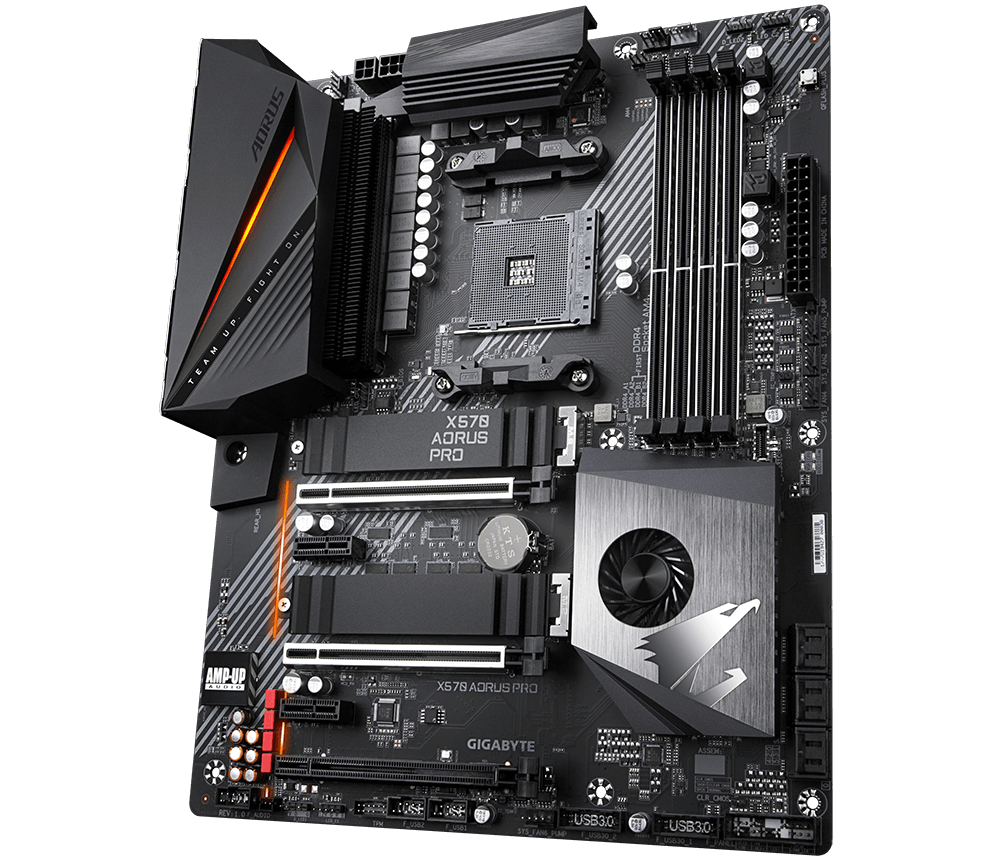 Here's an X570 Aorus Pro motherboard above. See those first two PCI-E x16 (the longest ones) slots? Though they look identical, one of those PCI-E slots has four times the other one's bandwidth (one is x16, and the other is x4). These numbers (4, 16, etc.) denote the number of lanes available to a slot.
Yes, the slots look physically identical to the naked eye at a distance, but there's a dramatic difference in the bandwidth available to them. In fact, if you take a closer look at them, you can even see a difference in the number of contacts inside the slots.
PCI-E bandwidth is an important consideration for professionals who build a system for tasks like GPU rendering, where you might want to add more GPUs. Thanks to the PCI-E 4.0 standard, there's not too much of a performance dip even if you're using a PCI-E x16 slot with only 4 lanes of bandwidth available to it. However, somewhere down the line, it will start to matter as graphics cards become more powerful and demand more bandwidth.
If you're shopping for a multi-GPU setup, I still recommend opting for motherboards that offer full PCI-E bifurcation, i.e., the top two slots work in x8/x8 mode when both are populated.
Nice-to-Have Features
Although everyone doesn't need access to features like Dual LAN, Thunderbolt, 10G LAN, and so on, it's better to pick boards that give you access to them if you're shopping in that price range anyway.
That said, make sure you're not compromising on core motherboard quality and features to get at some features you won't need.
Factors to Disregard (for Creative Professionals)
Onboard Audio
Although board manufacturers love marketing the audio capabilities of various motherboards, I've found that you can safely ignore this factor when deciding on a motherboard.
If you're an audiophile or working with music production, you've already got an array of external devices that can run circles around anything motherboard manufacturers can offer. And for all others, any modern onboard audio solution should do the trick.
SLI/NVLink Support
There's a misconception that the use of multiple graphics cards requires the use of SLI or NVLink. SLI is a technology that NVIDIA developed to link two or more graphics cards together to produce a single output. When we're rendering a scene with a GPU rendering engine like Redshift, SLI is not a requirement. You can mix and match any graphics card to add to the amount of GPU rendering power available to your system.
Early BIOS Issues
I also haven't considered early BIOS issues a critical factor when picking a motherboard. For example, the 7nm Zen 3 architecture is relatively new; there are bound to be some teething issues. If you're adopting a new-ish platform, there are some issues that might crop up here and there.
Manufacturers can fix a wonky BIOS implementation with an update, but they or you can't do much about a lousy motherboard (at a hardware or specifications level).
That said, stability issues are not acceptable at all for workstations.
Frequently Asked Questions
How much should I spend on a motherboard?
That's a tough one. As a very general rule of thumb, I recommend somewhere to the tune of 30-60% of your CPU's cost. For example, if you're buying a Ryzen 9 5950X ($799), I'd pair it with a motherboard in the $300~ range.
Of course, this is a huge generalization and only applies if you have no motherboard features in mind that are essential to your work.
I'd recommend looking for the features you need on your motherboard – things like Dual LAN, 10G networking, Thunderbolt, x8/x8 PCI-E bifurcation, etc. Having something specific in mind helps narrow down your choices quite a bit.
What processor/platform is the best for my workload?
Again, I'd have to plead – it depends.
If you're looking to build a monster of a GPU render node with as many GPUs as you can add, stick to an HEDT platform like AMD's TRX40 for Threadripper CPUs and Intel's X299 for (the now abandoned) Core X series.
On the other hand, if you're building a workstation for active work (working within a 3D viewport, editing videos on the machine, etc.), stick to a mainstream consumer platform like AMD's X570/B550 and Intel's Z490/Z590.
Is Intel better or AMD in 2021?
Both performance and features-wise, AMD is in the lead in 2021. The new generation of Ryzen 5000 CPUs really dealt with almost all complaints that people had and brought latency down by an incredible amount and increasing IPC. For workstation users, this means a much smoother viewport experience and reasonable gains for multi-core workloads! We have a more extensive Intel vs. AMD article as well. Do check it out if you're looking for more details about the Intel – AMD tug of war in 2021.
That's about it from my side. We're happy to answer any of your questions in the comments or on our forum! 🙂