There are so many laptop manufacturers out there that it's hard to really understand which one's worthy of your hard-earned money.
They all have the same vibe from a distance, and they all have incredible laptops and mind-blowing specifications, but there're still very noticeable differences from one brand to another.
So how does MSI stack up compared to the rest of the competition? Pretty darn well, all things considered. Many of its laptops are stunning and, perhaps most importantly, powerful beyond measure.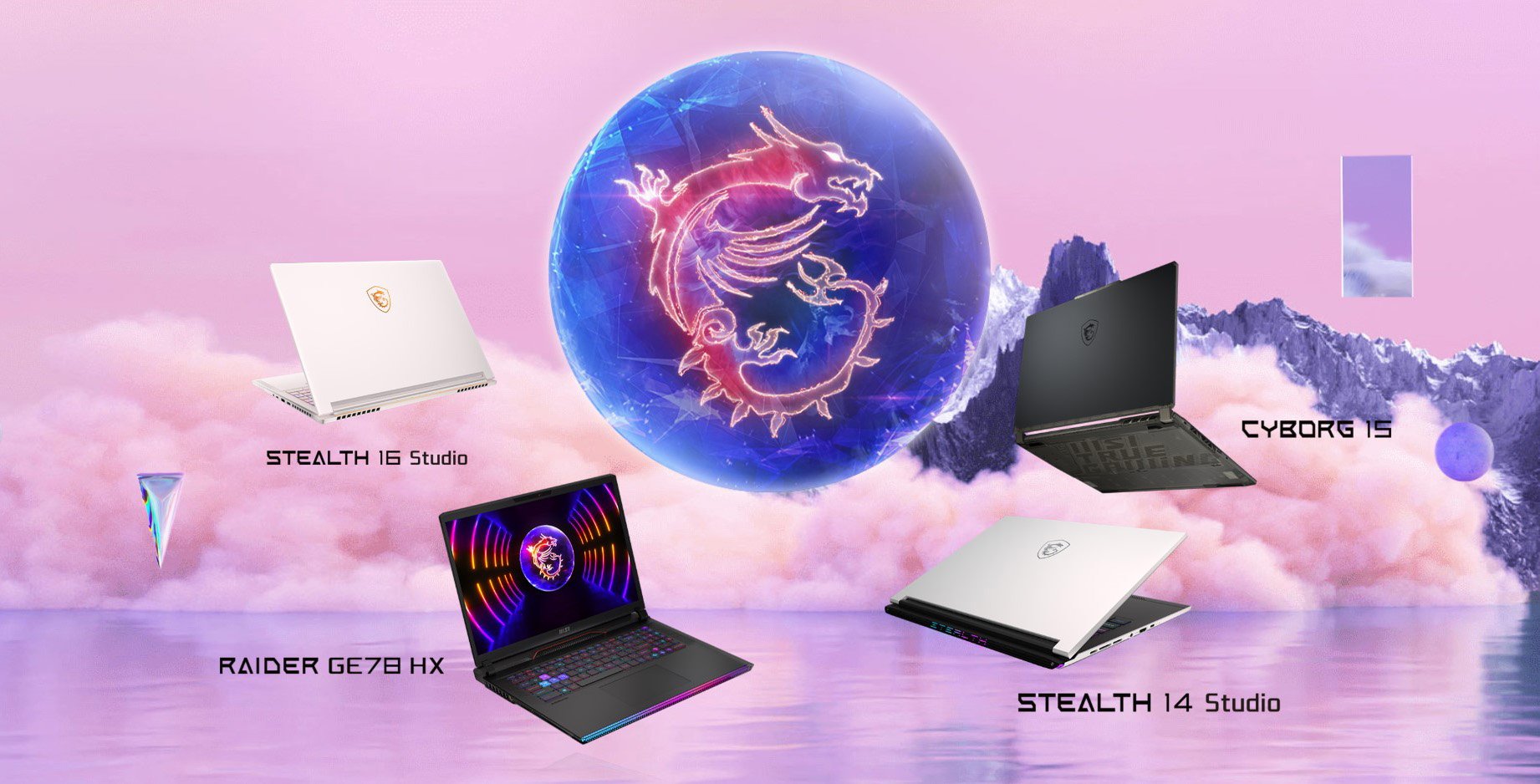 Few are the companies that can imbue their laptops with such immensely capable components and actually implement a cooling solution worthy of the name — this, amongst many other areas, is what MSI excels at.
MSI, unlike most of its competitors, doesn't have nearly as vast a product stack which, in all fairness, has its benefits.
Not only will you — the end consumer — have an easier time in finding the right model for your needs and preferences, but it also makes life easier for MSI as well; focusing on just a few target demographics (like, say, content creators and gamers) allows a company to channel all of its resources into a singular direction and, in doing so, hone in on what its customers need most.
After all, being a jack of all trades and a master of none isn't particularly wise, given the current state of the market.
There are so many companies trying their hardest to "lure" you in and have you spend your hard-earned money, which is why it's so important to gravitate toward the right brands — the ones that will actually deliver.
Now, let's get one thing straight: MSI, much like any other company, is not exempt from quality control issues, bad "batches," and shoddy design choices, and subsequently, many bad customer reviews.
No manufacturer is perfect in that regard. Still, the fact that MSI has stood the "test of time" speaks volumes, as does its status amongst both customers and competitors alike.
What's MSI?
Micro-Star International (or MSI, for short) is a Taiwanese multinational technology corporation headquartered in New Taipei City.
It was originally founded in August of 1986 and is well known for its incredibly vast portfolio of products, including laptops, desktop PCs, motherboards, graphics cards, peripherals, and so on.
If you're a gamer — or have ever assembled a computer the "old-fashioned" way — you must've come across these three letters.
Generally speaking, MSI is most known (besides its very popular motherboards and GPUs) for its tremendously powerful gaming laptops (true desktop replacements) and, as of the last few years, sleek-looking ultraportables that marry both stellar performance and impressive aesthetics.
As far as brands and manufacturers go, MSI is held in very high regard; that being said, the quality of its customer service varies from one region to another.
MSI Laptop Portfolio — Full Breakdown
To help you better understand what MSI has to offer (as far as laptops are concerned, at least), let's do a deeper dive into its entire product stack:
Business and Productivity Laptops
As far as "productivity" laptops go, MSI has its offerings sorted out in three neatly defined families:
Think of these as MSI's best and most alluring ultraportables. They're astonishingly light, surprisingly versatile (they come in both regular clamshell designs but also hybrid 2-in-1s), and pretty darn powerful too.
Depending on the model, they can be spec'd up with up to a 13th Gen Intel Core CPU and NVIDIA RTX 40 series graphics. That's… quite impressive, all things considered. These aren't meant to replace your desktop PC per se, but will nonetheless deliver exceptional performance.
The Prestige line of laptops puts even more emphasis on mobility; some models weigh just 990 grams which, frankly speaking, is ludicrously light. They're not all that different from the Summit series performance- and I/O-wise which is definitely a good thing.
Depending on the model, you'll get multiple USB-C ports (Thunderbolt 4 with PD charging and video out), full-size HDMI, an audio combo jack (which is no longer a given these days), and even a microSD card reader and a "legacy" USB-A port. All in all, these are exquisite ultraportables that are definitely worth the asking price.
Whether they're any better than what MSI's competitors have to offer, however, is up for debate.
Finally, we have the Modern series which, in short, is conceived as an "everyday" kind of laptop. Not too thin, not too heavy — just right. These, too, have the latest and greatest CPUs from Intel and AMD but don't come with nearly as many bells and whistles.
They're great for regular-type work, browsing the web, and the like. And, perhaps most importantly, they have a stellar port selection so you won't even need a dongle to get your work done.
Gaming Laptops
As far as gaming laptops go, MSI still has a lot of work to do in order to simplify and streamline its nomenclature.
It's a mess, in all fairness, and, to make things even more complicated, not all of these laptops and laptop lines have been updated with the latest and greatest components that Intel, AMD, and NVIDIA have to offer.
And so, with that in mind, be extra careful before making any kind of purchasing decision — lest you end up with a laptop with outdated internals (amongst other things).
Laptops that fall under the Titan GT, Stealth, and Raider GE are MSI's best and most powerful.
They're obscenely capable and are equipped with the very best and most powerful components money can buy. And, unfortunately, you'll need a lot of money in order to buy them as, depending on the SKU, they can range from two to a whopping five thousand dollars.
Vector GP, Crosshair/Pulse, Sword/Katana, and Cyborg/Titan GF (in that order) are MSI's "mid-range" offerings.
They're still packed with some truly spectacular internals, but they're not as awe-inspiring in their performance. Depending on the model, these vary quite a lot when it comes to build quality and MSRPs.
Finally, we have the Delta, Alpha, and Bravo lines of laptops, all of which are geared toward gamers on a budget. They're not necessarily cheap, but they do come with pretty impressive internals.
MSI, however, had to cut some corners, which is most often reflected in their build quality (depending on the model) and their displays — they're mostly under 300 nits with pretty mediocre color accuracy.
Then again, if they're high refresh rate (and they are) and have fast response times (which they do, in most cases), gamers probably won't complain much — if at all.
For Content Creators
Last but certainly not least, there are the CreatorPro, Creator, and Workstation lines. These laptops are geared toward creatives and industry professionals who need both incredible horsepower and a bright, color-accurate display.
Most of these options include 16:10, QHD+ (and above) displays that have 100% coverage of the DCI-P3 gamut and a Delta E average of less than two which makes them absolutely incredible for any kind of color-critical work.
This, when combined with vapor chamber cooling (depending on the model) and humongous batteries makes them a "killer" option for creatives on the go — or those who just want to replace their desktop PC in lieu of something more portable.
Which MSI Laptop Should You Go For?
That depends on your needs and preferences.
If you happen to be looking at MSI laptops, that's most likely for one of two reasons: you either need an incredibly powerful, "gaming-grade" machine that'll chew through any workload you might throw its way or, alternatively, a sleek ultraportable that'll handle all productivity tasks with aplomb — and look good whilst doing it.
We can't tell you how to best spend your money, but if you go for a spec'd-out MSI gaming laptop — whether it's for work or play — you most certainly won't be disappointed.
Just make sure to buy one from a reputable source (with as long a warranty as possible).
Conclusion — Are MSI Laptops Any Good?
They absolutely are! In fact, MSI makes some of the very best gaming laptops on the market, and its productivity/business laptops are quite impressive, too.
Whether they're any better than what Dell, ASUS, HP, and Lenovo have to offer is up for debate, but they're definitely worthwhile purchases.
Just keep in mind that MSI's laptops — much like any other manufacturer's — vary in build quality and performance.
You get what you pay for, essentially, and in order to cater to as broad a demographic as possible (budget-wise), MSI has to cut some corners.
Sometimes its laptops don't feel all that premium; other times they come with subpar, relatively dim displays. So, always, make sure to read as many reviews before making any kind of investment.
Moreover, do a bit of research into benchmarks as MSI's laptops aren't always that competitively priced.
HP and Lenovo laptops tend to go on tremendously alluring sales every few months which means that MSI, in some cases, can't always compete as far as the price-to-performance ratio is concerned.
FAQ
Let's go over a few potential questions you might have regarding this particular topic:
Are MSI Laptops Any Good?
Absolutely! MSI has some of the very best and most powerful laptops on the market.
Its product stack isn't nearly as diverse as, say, that of ASUS or Lenovo, but whatever it might lack in "versatility" it more than makes up for in quality of execution.
Is MSI a Reputable Brand?
Without a doubt. It's no less reputable than most of its competitors. And, in all fairness, you'll find horror stories online from disgruntled customers no matter which brand you happen to be gravitating towards.
As already mentioned, no company is exempt from bad products.
That's why you should always buy your hardware from stores that accept returns within a predefined time frame.
That way, if you happen to stumble upon any kind of quality control issue or, even worse, a hardware-related defect, you'll be able to get your money back in no time.
Which MSI Laptop Should I Buy?
That depends on your needs and, well, budget. MSI has some pretty affordable laptops, but also those that will set you back for thousands of dollars/euros.
As always, try to find a good balance. If you want something that's thin, and light, but also sufficiently powerful, look at the latest Prestige and Summit models.
If, on the other hand, you need as much power as you can get, we suggest you go with one of MSI's Raider, Titan, or Stealth models.
Over to You
Have you ever used any of MSI's laptops and, if so, what was that experience like? Let us know in the comment section down below and, in case you need any help, head over to our forum and ask away!