Nvidia's announcement about the RTX 30-series of Ampere GPUs will interest gamers and creators alike. While Jensen Huang delivered quite a presentation on the 1st of September, we're still waiting on performance numbers from independent testing before we know whether you should invest in the latest offerings from Nvidia.
Our audience has been asking us about the new releases, and many are impatiently waiting for the new GPUs to drop so they can complete their workstation builds.
Before the numbers are out, we'll take a quick look at the products being launched, their technical specifications, and release dates. That's not all. AMD has something up their sleeves too, and we'll share information we have on those releases as well.
Nvidia RTX 30-series (RTX3000) Graphics Cards: A New Generation of GPUs
While Ampere for the data center launched in May 2020, Nvidia announced more news on gaming graphics only during their reveal event this month. Here's a gist of the event:
3 Graphics Cards announced: RTX 3090, RTX 3080, RTX 3070.
24GB GDDR6X VRAM in the RTX 3090: Targeted at Creators and 3D Artists.
Nvidia Broadcast for Streamers and Video Conferencing: Microphone noise removal, virtual backgrounds without green screens, and webcam auto-framing and focus. Compatible with popular streaming and conferencing software.
Nvidia Reflex: Reduces latency in games by up to 50ms by optimizing the rendering pipeline.
Nvidia Omniverse Machinima: Import assets from supported games or third-party asset libraries, then automatically animate characters using an AI-based pose estimator and footage from your webcam.
Reportedly up to 2x improvement in rendering performance compared to an RTX 2080 Super: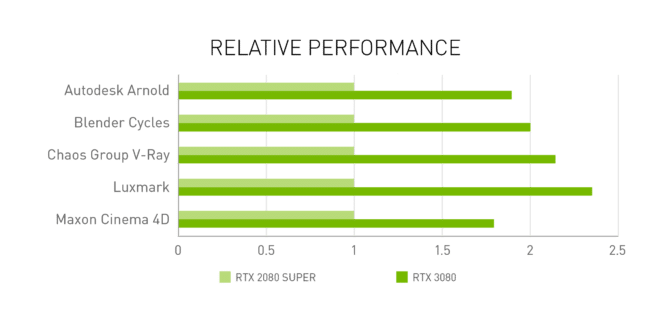 5x faster motion blur rendering compared to 20-series for RT-accelerated applications like Blender Cycles.
Please note that the above information was released by Nvidia and hasn't been tested by us yet. Watch out for our review article once we get a chance to test the new-gen GPUs on various render engines and CG applications.
RTX 3000 Technical Specifications: A Closer Look at the New Ampere GPUs
| | RTX 3090 | RTX 3080 | RTX 3070 | RTX 2080 Ti |
| --- | --- | --- | --- | --- |
| Announced Launch Pricing (USD) | $1499 | $699 | $499 | $999 |
| Launch Date | 24th September, 2020 | 17th September, 2020 | October 2020 | 20th September 2018 |
| CUDA Cores | 10496 | 8704 | 5888 | 4352 |
| Base Clock | 1.40 | 1.44 | 1.50 | 1.35 |
| Boost Clock | 1.7 | 1.71 | 1.73 | 1.545 |
| Memory Clock | 19.5Gbps GDDR6X | 19Gbps GDDR6X | 16Gbps GDDR6 | 14Gbps GDDR6 |
| Memory Bus Width | 384-bit | 320-bit | 256-bit | 352-bit |
| VRAM | 24GB | 10GB | 8GB | 11GB |
| Single Precision Performance* | 35.7 TFLOPs* | 29.8 TFLOPs* | 20.4 TFLOPs* | 13.4 TFLOPs |
| Tensor Performance | 285 TFLOPs | 238 TFLOPs | 163 TFLOPs | 114 TFLOPs |
| Ray Tracing Performance | 69 TFLOPs | 58 TFLOPs | 40 TFLOPs | - |
| TDP | 350W | 320W | 220W | 250W |
| PCI-E Generation | PCI-E 4.0 | PCI-E 4.0 | PCI-E 4.0 | PCI-E 3.0 |
| Architecture | Ampere | Ampere | Ampere | Turing |
| Manufacturing Process Node | Custom Samsung 8nm (8N) | Custom Samsung 8nm (8N) | Custom Samsung 8nm (8N) | TSMC 12nm FinFET |
Addressing the Specifications: All Cores aren't Equal
Going from 4352 CUDA cores on the RTX 2080 Ti to 10496 CUDA cores on the RTX 3090 seems like an insane generational jump. Similarly, if you look at single-precision performance, you see a massive jump from 13.4 TFLOPs on the RTX 2080 Ti to 35.7 TFLOPs on the RTX 3090.
Too good to be true? Yes.
With Ampere, Nvidia has fundamentally changed how the CUDA cores work – making a raw spec comparison between 20-series and 30-series quite misleading.
To understand what's happening here, we'll need to take a step back from Ampere and take a look at Turing (20-series).
Nvidia GPUs rely on FP32 and INT32 computations to deliver performance, and every CUDA core houses a certain number of these computation units. With Turing, Nvidia added concurrent FP32 and INT operations on each SM (Streaming Multiprocessor)/CUDA. So, in simple terms, you could say Turing computes were handled as FP32 + INT
However, with Ampere, this has changed. One set of CUDA cores now handle FP32 or INT instructions, while the other group only handles FP32. The problem? Now, it means you can handle only FP32 + (FP32 or INT).
While this dramatically increases the theoretical compute performance (TFLOPs), it's nowhere close to the performance uplift you'll get, practically speaking.
That said, you should still see a relatively better uplift with rendering engines as INT calculations are fewer compared to many games.
Unfortunately, it looks like Nvidia was very conscious of this fact, which is why they've kneecapped the RTX 3070 from a memory standpoint (lower bandwidth coupled with lower GDDR6 VRAM). Professionals getting access to a $500 graphics card that handily outperforms (potentially) the RTX 2080Ti in rendering might not be the best business strategy. At least that's what it seems like to me.
We can't know for sure until we get a chance to test them out.
Power Draw: More Power, More Performance
Although we do see a performance uplift with the Ampere GPUs, the uplift seems to have come at the cost of power draw. While the last generation RTX 2080 Ti was rated at 250W, the RTX 3080 and RTX 3090 are rated at 320W and 350W, respectively. Not exactly ideal for most extended rendering scenarios.
What's more, the new Founders Edition models sold by Nvidia come with a new 12-pin power connector. Thankfully, Nvidia will be bundling an adapter with every GPU. It doesn't look pleasant, but well, that's what we have.
Availability
The pricing seems so attractive that I'm expecting the new Nvidia Ampere GPUs to sell out almost immediately after launch. We'll likely see an influx of overpriced cards on the market. If you do miss out on buying one (if you've seen the reviews and decided it's worth the price), I'd recommend waiting for a couple of months for stocks to stabilize.
Triple Slot Card, No Blower: The RTX 3090 For CG Professionals
The Founders edition card seems squarely aimed at gamers this time around.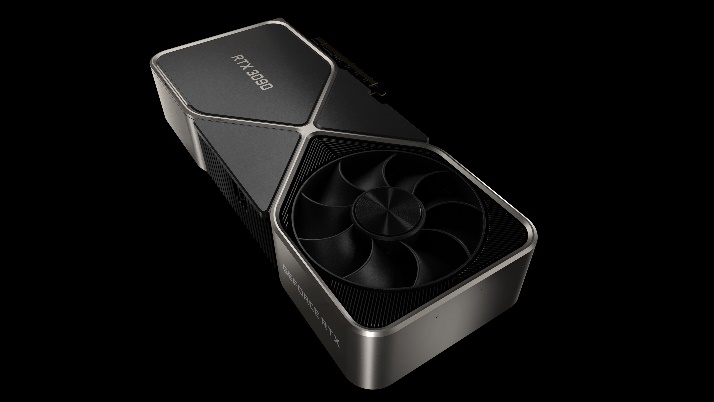 Nvidia has avoided including images that make the card's thickness apparent on the official website. Here's an image that makes the size and width difference more pronounced.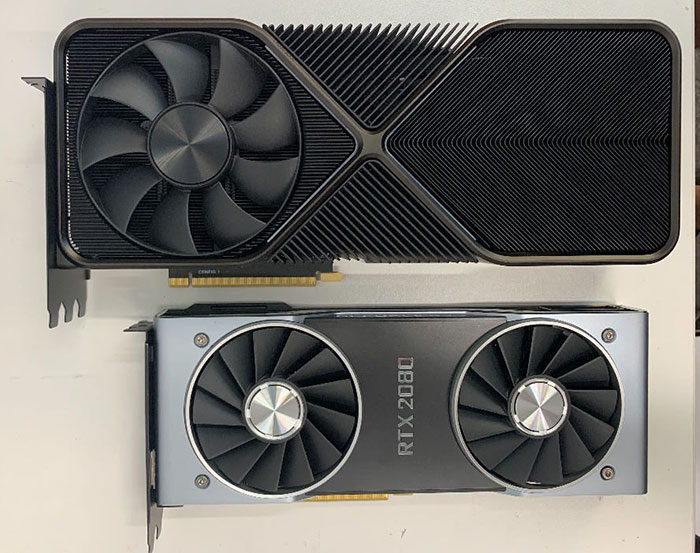 A triple-slot GPU will make multi-GPU setups quite problematic, and the Founders card seems like the wrong purchase for CG professionals who want to populate two or more of these cards on their render nodes.
ASUS' Turbo blower models are in the works, and those might be way better for our use-case.
Review Embargo Lift
The Ampere GPU reviews will start filtering in when the review embargo lifts. While some reports say September 14th, others tell us the date has been pushed back to September 16th.
AMD October: 2 Events, 2 Major Launches
AMD announced two launch events, one for AMD Radeon GPUs and one for AMD Ryzen CPUs on October 28th and October 8th, respectively.
Here are links to their official tweets – Radeon RDNA 2 || Ryzen Zen 3
The launch of Zen 3 (supposedly called Ryzen 5000, this time) will reportedly feature a decent IPC improvement over Ryzen 3000. A welcome improvement for 3D viewports and CPU-rendering applications. We're incredibly excited to see how the new generation of Threadripper processors performs!
Now, the big question. When it comes to GPUs, should you care what AMD has to offer? The fact that support for AMD is missing from so many popular render engines that rely solely on CUDA is unfortunate.
Redshift and Octane have had an FAQ section with the following for close to two years now.
Will the October 28th RDNA 2 launch bring AMD support to both these render engines? I'm not too sure. I sincerely hope there's an announcement that gives CG professionals more choice in the GPU market. As of now, Nvidia seems to be the only option we have for those using popular rendering engines.
Do watch out for our article about RTX 3000 benchmarks and analysis for CG workloads!
Are you excited about the RTX 3080 or 3090? Which one do you plan to buy? Leave a comment below and let us know. I'll be happy to answer any questions if you aren't sure about power supplies and/compatibility.