The day has finally come and you're just about to do a colorful upgrade of your system to bask in the sweet glory of all things RGB… only to realize your motherboard doesn't have an RGB header.
Luckily, there are different ways to RGBify your PC even without an RGB header on your motherboard and that's exactly what we're here to talk about!
What are RGB Headers?
Let's start with the basics – what are RGB headers?
Most modern motherboards have an RGB header. It's used for powering RGB devices such as fans and strips with 12V DC power and supplying data for red, green, and blue color channels.
But, not all RGB headers are the same. There are major differences between standard RGB devices that use 12V and addressable RGB devices that use 5V:
RGB vs ARGB
ARGB (Addressable RGB) is a more advanced version of RGB. Here's the key difference in how they work:
A typical RGB strip has 50 individual LEDs but they can only produce the exact same color at any given time. You cannot control them individually, which means flashy lighting effects like sound syncing, color cycling, and flashing are impossible with standard RGB.
A typical addressable RGB (ARGB) strip has 50 LEDs and each of those LEDs can be controlled individually. You can set up flashy RGB with color cycling, flashing, sound syncing or manual effects that are controlled through various software.
Most Motherboards feature regular RGB headers (just "RGB"). These 12V RGB connectors have become a standard over the last couple of years.
Because RGB has become so popular, the industry developed a more nuanced way to control your color setup and ARGB control hubs were created.
Lately, though, we're seeing more and more motherboards featuring dedicated 5v ARGB headers. These can be controlled through your motherboard's RGB software that typically come with the higher-end of motherboards.
For instance, the MSI MAG B550 Tomahawk has two 4-pin RGB headers and two additional 3-pin ARGB headers dubbed as Rainbow LED connectors.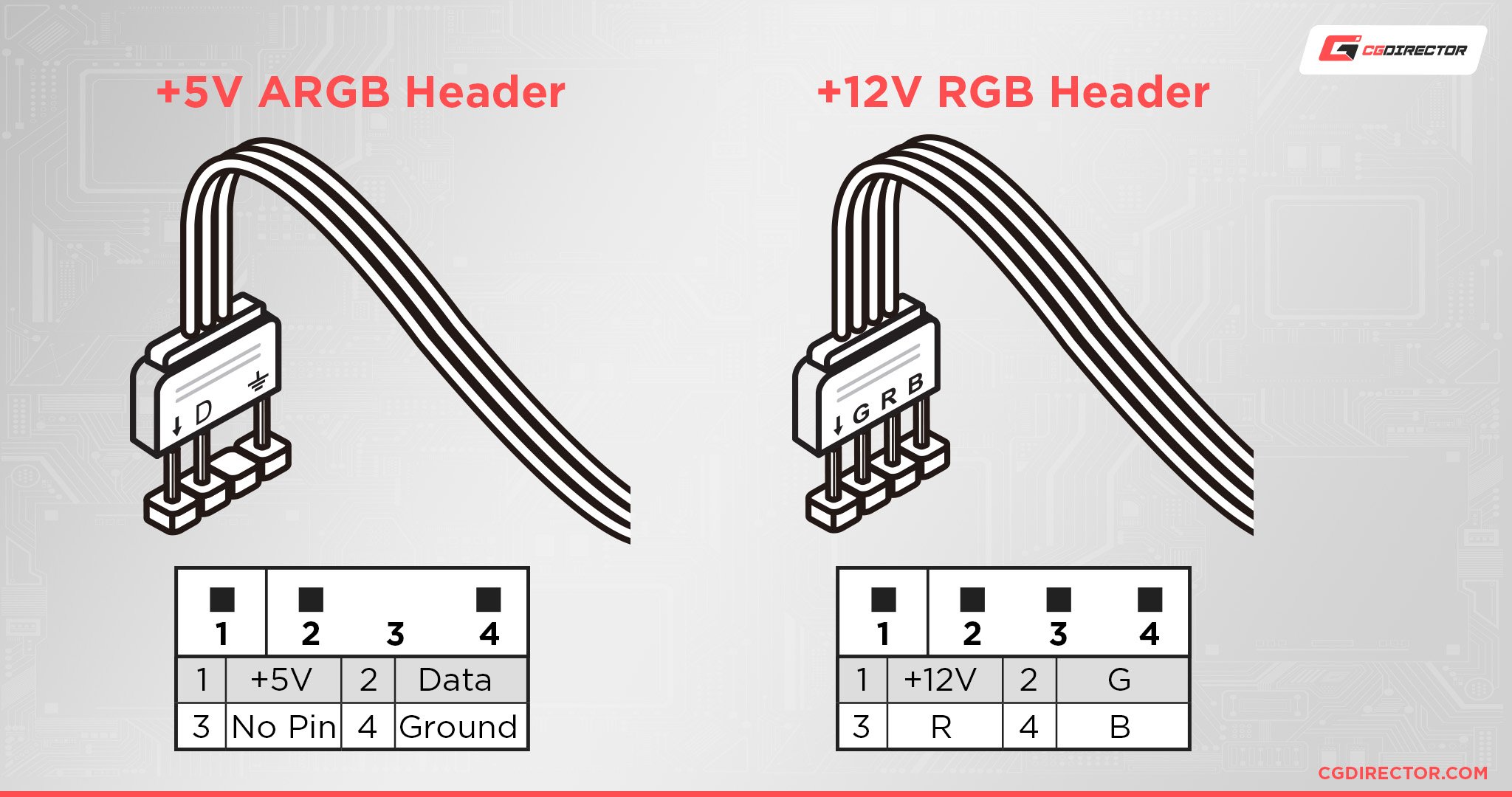 As you can see, the 5V ARGB device has three wires and connects to three pins (1, 2, and 4).
The old 12V standard has four wires and uses all four pins, 12V DC and three for each of its color channels – red, green, and blue.
| | ARGB | RGB |
| --- | --- | --- |
| Pin #1 | 5V DC | 12V DC |
| Pin #2 | Data | Green |
| Pin #3 | - | Red |
| Pin #4 | Ground | Blue |
Please beware – if you plug a 5V ARGB device directly into a 12V standard RGB header, your device might get damaged.
What if You Have No RGB Header on Your Motherboard?
But, this information about RGB and ARGB headers means nothing to you if your motherboard doesn't have them.
However, it's still important to know the key differences between them because the workarounds for getting RGB on a non-RGB board tend to confuse people.
There are several ways you can get your RGB working.
These workarounds aren't that expensive:
Molex/SATA/USB-Powered RGB Controllers with Dedicated Remotes
Since your motherboard itself has no way of controlling RGB, you will need to get an RGB controller with a dedicated remote. The RGB controller will allow you to connect your fans to it, and the remote will allow you to control the fans' color.
Keep in mind that you cannot control each individual fan this way – the controller sends color data to all connected fans.
The RGB controller is powered either through Molex or SATA.
Some variants allow direct connection to the motherboard's RGB headers, which allows the color data to be controlled by the motherboard's lighting software.
Addressable RGB Controllers
Several big names in the gaming industry like Razer, Corsair and Cooler Master have addressable RGB controllers that work without RGB headers on a motherboard.
They are powered through either SATA or Molex and connect to the motherboard with an internal USB header.
To get full control over your new ARGB setup, you need to download your controller's RGB software (if you opt for Razer Chroma ARGB Controller, you'll need Razer Synapse).
Keep in mind that you'll need ARGB fans to get fancy ARGB effects like breathing, color cycling, sound sync, and more.
Conclusion
Long story short – not all motherboards come with RGB headers. But, that doesn't mean you can't get RGB to function properly on your system.
You can get USB-powered strips/fans with IR remote controllers or ARGB hubs like the Razer Chroma Addressable RGB controller.
Another thing to keep in mind is the difference between RGB and ARGB headers.
Many entry-level boards either have no RGB headers at all or only one or two standard 12V connectors. Plugging 5V aRGB devices into them won't yield good results as they're likely to get fried.
FAQ
What is an RGB LED Header?
RGB headers are 12V DC and are used for powering RGB LED strips.
If your motherboard has this header, you're free to power your LED strips off it.
Pay attention to the type of header your motherboard has because plugging in 5V aRGB devices to 12V RGB headers can (and probably will) ruin them.
Does My Motherboard have an RGB Header?
The easiest way is to check your motherboard's manual online and search for RGB support.
If there's no information about it, you'll have to look for it manually.
If you can't find hi-definition photos of your motherboard online, you'll have to open your PC's case and look for RGB headers on your Motherboard yourself. Make sure you disconnect the power cord before you start roaming around your setup's internals.
Do all Motherboards Support RGB?
No, not all motherboards support RGB! Motherboards without RGB headers don't support RGB out of the box.
However, there are workarounds that give users the ability to RGBify their setups, either through USB-powered strips with remote controllers or addressable RGB hubs.
Can I have RGB on a Non-RGB Motherboard?
Yes, you can!
You can have RGB on a non-RGB motherboard by using LED devices with dedicated remote controllers or Razer Addressable RGB controller (or similar LED hubs) that connect to your motherboard via USB and give you access to RGB controls.
Over to You
What are your thoughts on all this?
Does your motherboard have an RGB header or will you have to go through a DIY session to RGBify your setup instead? Tell us more in the comments below or our forum with whatever issues or questions you may have on your motherboard's RGB capabilities.