Ah, the humble PSU.
As long as it's doing what it's supposed to, you won't really pay attention to its existence. But as soon as it falters and your system falls flat – oh boy, do you notice.
PSU is short for 'Power Supply Unit.' It converts the electricity coming from your wall (AC power) into power that your PC components can use (DC).
When you're building a PC, you're likely to get caught up in picking the flashier parts of your build like the CPU, GPU, or even RAM. We've all done it. Although it isn't that big a deal for PCs that aren't pushed to their limit for extended durations, professional workstations and/or render nodes, unfortunately, don't fall into that category.
Professional applications and workloads will stress even the most powerful hardware out there. Hence, reliable, safe power delivery is not optional.
Let's go over the Power Supply Unit in full detail with this guide. It'll allow you to understand how to pick the right one and decipher all the jargon you're bound to encounter.
CG Director PSU Recommendations for Workstations
If you're here for a quick recommendation, here's a table with our Power Supply recommendations for workstations at various wattages:
Wattage
PSU Recommendation
550W
1. Corsair CX Series 550 Watt 80 Plus Bronze
2. SilverStone Technology 550 Watt 80 Plus Bronze
3. Corsair RMX Series (2018), RM550x, 550 Watt
650W
1. Corsair CX Series 650 Watt 80 Plus Bronze
2. MSI MPG Series A650GF 650 Watt
3. Seasonic FOCUS GX-650, 650W 80+ Gold
850W
1. Enermax Revolution DF ERF850EWT 80+ Gold 850W
2. MSI MPG Series A850GF 850 Watt
3. be quiet! Straight Power 11 850W
1000W
1. Corsair HX Series, HX1000, 1000 Watt
2. be quiet! Straight Power 11 Platinum 1000W
1200W
1. Corsair HX Series, HX1200, 1200 Watt
2. be quiet! Dark Power Pro 12 1200W
3. Corsair HXi Series, HX1200i, 1200 Watt
1500W+
1. be quiet! Dark Power Pro 12 1500W
2. Corsair AXi Series, AX1600i, 1600 Watt
My list of recommendations only considers multi-rail units (explained in the article) at or above the 850W mark.
Yes, this does drive the price up. However, I think it's wise to invest in quality power delivery at this wattage and price point.
Importance of a Power Supply Unit (PSU)
Your CPU, motherboard, graphics card, storage devices, etc., all get power from the PSU. So not only can picking a lousy one damage much pricier hardware down the line, but it can also cause dangerous accidents like fires. Here's another similar incident.
It's perfectly okay to allocate a more substantial portion of your budget towards parts that directly affect the speed and fluidity of your work. But don't skimp on the power supply so much that it is either unsafe or is one necessitates an upgrade when you add another piece of hardware to your workstation.
PSU Form Factors for PCs: Are all Power Supplies the Same Size?
PC sizes can range wildly from enormous to relatively tiny. So, you really can't have a standard power supply size to serve such a broad range of possibilities. PSU form factors allow manufacturers (case manufacturers, OEM builders, etc.) more freedom when designing something new.
Imagine designing a small form factor PC case knowing that a power supply will take up nearly half the case volume. It doesn't leave room for much else, does it?
Most power supply form factors either address size or power requirements or both. Here are a few common PSU form factors that you'll find on the market –
ATX
The most common form factor for desktop PCs. If you're buying a power supply for a regular PC, or in some cases, even a compact PC, this is the form factor you need.
SFX (Small)
If you're building a compact, Mini-ITX system, you'll find plenty of cases requiring an SFX power supply. Modern SFX PSUs can power even high-end systems with ease. For example, here's a Corsair 80-Plus Platinum 750W SFX Power Supply – https://www.amazon.com/CORSAIR-Platinum-Certified-Modular-Supply/dp/B07M63H81H/
LFX (Low Profile)
This form factor was intended for compact, low-profile PCs with power requirements that typically ranged from 180W to 260W (v1.1).
FlexATX
Unfortunately, this isn't much of a standard for PSU length and fan placements. These PSUs were used almost exclusively by OEMs like Dell and HP, but they are sometimes used in rack server chassis too.
TFX (Thin)
Another type of power supply for more compact cases, but specifically designed for 'thin' cases.
Although there are a few more form factors like WTX, they aren't too relevant to the average buyer today. Most PSUs required for modern PC cases will be one of the above.
ATX vs. ATX12V
There's always a bit of confusion about the difference between ATX and ATX12V.
Intel developed the ATX form factor and power standard back in 1995 to standardize power delivery for computers. ATX12V is the latest iteration/version of that ATX specification (the most recent update is version 2.53, released in June 2020).
Modular and Semi-Modular PSUs
If you're shopping for power supplies, you're bound to come across a few that claim to be 'modular' in some way.
Most PSUs come with their wires already permanently attached to the power supply. So, what's the problem?
Well, many builds won't use ALL the cables that come with a power supply. You only need a few, and the unused wires are an eyesore that are unceremoniously stuffed away into the dark reaches of your case.
Some people prefer only using the power cables they need, which is where modular power supplies can help reduce the mess of wires inside a PC.
If you're interested in modular power supplies and want to buy one, I first recommend checking out the Best Modular PSUs in 2021 article. The linked article also goes over modular and semi-modular PSUs in more detail.
Quiet or Fanless Power Supply Units
Although removing the fan from a PSU would make it silent/quiet, fanless and silent power supplies aren't the same thing.
While a fanless power supply is silent due to the ABSENCE of a fan, a quiet power supply unit only minimizes fan noise as much as possible.
Most companies marketing 'quiet PSUs' will use fans that are near-silent even when handling high loads. However, a few will use their fan only when the PC begins to pull more than a set power threshold. For example, Corsair's RM series offer a Zero RPM Fan Mode that ensures its fan only spins at high loads. These power supplies can range from 450 Watts to 1000W.
On the other hand, fanless power supplies can't deliver too much power as the components will get too hot to manage without a fan circulating cool air over them. Seasonic offers a few fanless PSUs, and the highest wattage I've seen is 500W on their Prime Fanless PX-500 Modular unit.
For workstations, going fanless isn't a great plan. The loads are too high and constant enough to eliminate them as a reasonable choice. However, if your workstation sits on your desk, opting for a quiet PSU will help reduce system noise (especially when idle).
Rails in a Power Supply Unit
Rails are basically paths/wires inside a power supply that carry electricity. According to the ATX12V standard, power supplies should by default offer the following rails –
3.3V: It was used by RAM, but its use is slowly fading away as motherboards now have VRMs for powering memory, which draw from the 12V rail. This rail also powers M.2 SSDs.
5V: Used to power SATA devices like hard drives, optical drives, PCI add-in cards, USB
5Vsb (standby)
-12V: Legacy at this point; it's no longer used.
12V: Powers the CPU, GPU, other PCIe add-in cards, and fans.
Each of these rails powers different parts of your system (well, most of them anyway). However, as you can see above, it's the 12V rail that does all the heavy lifting – powering the CPU and GPU, among other things. So even now, we're seeing devices abandon the other rails and opting to draw from the 12V rail instead.
Moving to a New Standard (Soon?): ATX12VO
You'll notice that a PSU's 12V rail pretty much carries your entire system, which makes the forced inclusion of legacy rails nearly unnecessary. The newest power supply standard, ATX12VO (12V Only), seeks to fix this problem while also bringing a host of further improvements to the table. As the name suggests, ATX12VO PSUs will feature only a 12V rail.
Also, this new standard only requires a 12-pin power connection to the motherboard instead of the current 24-pin motherboard power connector (read more in the section below).
Here's an example of both the new and old motherboard power standards:
However, we're still at a very early stage, and mainstream adoption of this new standard will take years.
Explaining all Common Power Supply Cables/Connectors
When you rip open the packaging of a power supply, you'll see a mess of cables that looks something like this –
One end of these cables plugs into your PSU. The other goes into the device it's supposed to power.
Almost every power supply connector can be 'split' into two parts.
This allows PC builders to use a broad range of hardware without necessitating a separate standard for lower or higher power parts. In the section below, the name of a power supply connector like 8-pin (6+6) means the connector can work as a single 12-pin plug or as two 6-pin plugs on splitting.
You must understand every connector you'll need to plug into your motherboard and other hardware because one wrong move can mean a dead part. So let's go over them one by one, shall we?
24-Pin ATX Power Connector: Motherboard Power Cable
The 24-pin ATX cable powers almost everything on your motherboard that doesn't need dedicated power. This includes your RAM, PCIe devices, expansion cards, USB controllers, etc.
Remember those power rails I covered above? Well, the 24-pin connector from a PSU supplies the motherboard with all 3 voltages needed by PC parts (3.3V, 5V, and 12V).
If you want to learn more about this connector, Lifewire has an excellent article that dives into more detail.
8-Pin (4+4) ATX +12 Volt Power Connector: CPU Power Cable
You'll usually plug this connector into your 4/8-pin CPU power (located near your motherboard's CPU socket). As the name suggests, it carries power to your processor and makes sure that it gets all the juice it needs.
The 8-pin ATX12V configuration also has the same specifications as an EPS12V connector – commonly found on workstations and server-grade products. One key difference is that many EPS12V connectors won't split into a 4+4 config.
8-Pin (6+2) PCI Express Power Connector: PCIe Power Cable
Although a PCIe slot can draw up to 75W of power directly from the slot (using a motherboard's 12V rail from its 24-pin connection), some devices demand much more, like graphics cards.
When you need to power devices that demand, say, 300W of power, they'll require you to connect PCIe power to them. In some cases, a single card could need multiple PCIe power connectors.
The graphics card above, for example, needs a full 8-pin as well as a 6-pin PCIe power connection.
SATA Connector: SATA Power Cables
SATA power usually powers mechanical hard drives (HDDs) and other SATA devices (like SATA SSDs). So plug these power cables into any SATA HDDs and SSDs you're using in your build, and you should be good to go from a power standpoint.
Note – In addition to the power cable, SATA devices will also generally require a SATA data cable like the one here:
One end plugs into the motherboard's SATA slot while the other goes into your device.
Calculating the Power Supply Wattage You Need
Power supply wattage is one area where PC builders can overspend or underspend in equal measure. However, there's a quick way to help you decide.
Here's a typical efficiency curve for a power supply.
As you can see, a 650W PSU is the most efficient between 50-80% of its maximum wattage. So, this power supply would be perfect if my system's peak usage is somewhere in the 450-550 range.
Let's go ahead and calculate a sample build's approximate peak power draw then, shall we?
Suppose you're building a system with a Ryzen 9 5950X and an Nvidia RTX 3080. Head on to beQuiet!'s PSU Wattage Calculator and select your parts there.
When you hit calculate, you should get the following screen that shows you a maximum wattage –
Since this calculator already overestimates the max load of a system, it isn't that necessary to go way over what they recommend. Just add roughly 10% to its suggested wattage. So, here that translates to ~831W. An 850W PSU would be ideal for such a system.
If you're doing any rendering using GPU render engines like Redshift. Octane, etc., make sure you accommodate future GPU purchases too. Changing your power supply because you want to add another graphics card is a pain. If you are adding another graphics card within a year or so, I recommend planning for it right now.
So, if I'm building for 2x RTX 3080 graphics cards, it puts my max power draw at around ~1100W. In this case, I'd go with a 1200W/1300W PSU.
Power Supply Unit Efficiency: 80-Plus Ratings and What they Mean
A power supply converts your input AC power (Alternating Current) to DC power (Direct Current) because your PC hardware can't use AC directly.
A PSU's efficiency is basically the amount of AC wasted (not converted to power) during DC conversion.
For example, a 50% efficiency on a 500W PSU means that the unit pulls a total of 1000 watts to supply 500 watts of power.
This extra 500 watts gets wasted as heat. Not only does this inflate your power bill, but it also puts additional load on the PSU fan to cool the unit down.
The 80-PLUS Efficiency ratings offer several tiers of certifications that are awarded to various efficiencies ranging from 80% to 92%.
Here's the table –
Best Value 80-Plus Efficiency Ratings for Workstations
Although 80-Plus certifications go all the way up to Titanium, even heavy users needn't waste too much money on the higher end of the efficiency spectrum. They're usually priced exorbitantly and aren't worth the extra money you spend. That money could go toward another part.
The sweet spot for a PSU purchase is the 80-Plus Gold and 80-Plus Platinum region. They're usually available at a reasonable price and have numerous great options to pick from in the market.
If you take a quick look at the efficiency chart above, a Gold rated PSU offers 87% efficiency at a 100% load, and a platinum one stretches this to 89%. However, an upgrade to Titanium only adds 1% to a platinum PSU and offers 3% more than a Gold one.
If you're spending too much more money to get at a Titanium PSU, it just isn't worth it. But, of course, it goes without saying that if you get a great deal on a high-quality Titanium-rated power supply, go for it!
Similarly, a silver-rated PSU isn't usually a good deal either because it isn't much cheaper than a decent Gold unit.
Bronze is still an excellent choice if you're shopping in the budget range and your wattage is at or below 650W.
Decoding the Power Supply Unit Label
The label on your PSU can actually tell you a lot about your power supply. Let's take a couple of examples –
So, here we have two 850W power supplies. Notice a difference?
Look closely at the total output on the 12V rail. While one 850W PSU offers a maximum of 732W on 12V rails, the other offers 768W!
As I've mentioned above, the 12V rail is supposed to do the heavy lifting for your system when it comes to power draw. Therefore, you should have at least 80-90% of total power directed towards your 12V rails as a rule of thumb.
Also, when you see power supply labels with multiple '12V' DC Outputs, it indicates the number of 12V rails in the power supply. I'll cover multi-rail PSUs and how they make your PC safer below.
Power Supply Unit Safety
A power supply is not like other components in your PC. If you don't handle it properly, you can end up injuring yourself and/or your PC hardware.
Safety has two aspects: safety features implemented by manufacturers and the things you should keep in mind to stay safe.
We'll go over the latter first.
Should you Open a Power Supply Unit?
Before you even consider it, you should know that a Power Supply Unit houses several large capacitors that can hold their charge long after being unplugged from the wall. Although most of them might only give you a nasty to mild shock, one capacitor, in particular, is more dangerous than others – called the reservoir capacitor. That's why handling a PSU when you don't know what you're doing can be very dangerous.
That said, theoretically, most modern power supplies shouldn't be able to store enough charge to become problematic, thanks to safety features.
One such safety feature found in most modern power supplies is the bleed resistor (marked above). It quickly begins discharging a PSU's reservoir capacitor (located under it in the image above) as soon as you unplug it. In most cases, these capacitors should drain out when unplugged from the wall for more than 30 minutes.
Still, safety features can fail so I reiterate – DON'T open up a PSU unless you're absolutely sure what you're doing.
Most power supplies come with long warranties. Just send back any problem units or replace them when they die on you outside the warranty period.
Power Supply Safety Features – OVP, OCP, and all that Jazz
When shopping for power supplies, you'll encounter features like 'OVP' and 'OCP' thrown around by manufacturers. It's essential to understand what they are and what they do to help you navigate your next PSU purchase. Here's a list of protections that are built into most modern PSUs:
OCP (Over Current Protection) – Prevents excess current in PSU. It is designed to cut power when it detects anywhere between 130% to 150% more current than spec. More useful in multi-rail units.
OVP/UVP (Under/Over Voltage Protection) – Shuts down a unit when voltage exceeds a certain level. Usually ranges from 110% to 130% in most power supplies.
OPP (Over Power Protection) – Protects against damage if the power pulled by the power supply exceeds its maximum rated wattage.
SCP (Short Circuit Protection) – Shuts down the power supply if the output rails short circuit – preventing fires and damage. However, the impedance needed to catch a short circuit needs to exceed a certain threshold. In short, it can't detect every short circuit.
OTP (Over Temperature Protection) – Shuts down the power supply unit if its operating temperature exceeds a set threshold. Higher-than-spec temperatures can point to overloading or a cooling fan failure, and OTP helps mitigate the damage.
BOP (Brown Out Protection) – Prevents damage caused by sudden input voltage drops of 10% or more. A sudden voltage drop can be a problem because power supplies will attempt to deliver the rated current for as long as they can.
Note – Just because a PSU has these features doesn't make it a suitable power supply, but one without these safety features would concern me (depending on price point and wattage).
Multi-Rail vs. Single-Rail Power Supply Units
If you've ever ventured into a PC hardware forum, you'll find users vociferously supporting either multi-rail PSUs or advocating single rail ones. For workstation use, I recommend multi-rail units when shopping in wattages above 650W.
As you already know, the 12V rail in a power supply carries most of the power needed by your computer. So when manufacturers or users talk about 'multi' rail PSUs, they're talking about splitting this 12V rail into multiple rails/wires.
If you're wondering why this is needed, I'll try to simplify it as much as I can.
First, you should know how power, voltage, and current are related.
Power (watts) = V (Voltage) x I (Current)
Suppose you're using a power supply that, for example, can send 850W down the 12V rail. That's a maximum of 70~ Amps (850W/12V).
Here's an example –
If your graphics card short circuits and your Short Circuit Protection (SCP) doesn't catch it, the current fed into your graphics card will keep climbing.
Shouldn't your OCP (Over Current Protection) kick in? Well, on a single rail, a power supply HAS to be able to deliver the maximum amount of current it's rated for. On the above PSU, you can see that this PSU can send up to 70 Amps of current down the 12V line before it can trigger your OCP.
However, a shorted device that's trying to draw 70+ Amps of power is enough to melt the connector, and in some cases, set fire to it.
For reference, even the most powerful graphics card you can buy now (an RTX 3090) only needs a maximum of 425W of power, which is 35 Amps of current (425W/12V). But this power is supplied using 2 or 3 PCIe power cables like the MSI RTX 3090 Gaming X Trio below –
Now imagine sending double that amount of current down a single wire. Disaster.
Multiple rails allow for a lower OCP ceiling, which allows the PSU to trip in case the current draw reaches a certain, much lower threshold. It ensures that too much power cannot be sent down a single connector, even if the worst happens.
For workstation builds requiring above 550W, I recommend a multi-rail PSU.
If you'd like to learn more about this topic, I highly recommend listening to JonnyGuru from Corsair explain it. He's the gold standard when it comes to information about power supplies.
Frequently Asked Questions (FAQs)
What are Daisy Chain power cables or 'pigtails'?
When you unpack your power supply, you'll often see cables that have two 'heads' or connectors. You'll see PCIe power cables that look like the ones shown in the image below –
Manufacturers include these cables to allow PC builders to use a single wire from PSU to the graphics card, even when the card requires two power inputs (say, an 8+6-pin connection) or you're running two GPUs that each need single PCIe power connectors.
Should you power a Graphics Card with a daisy chain cable, or should you use separate cables?
Here's my recommendation – if you have an option and you're using 70-class (Nvidia RTX 3070, Radeon 6700 XT, etc.) and above graphics cards, always use separate cables.
There are numerous reports of users running into system instability when using pigtails. However, the problem resolves itself when 2 separate cables are used.
Using a pigtail necessitates all the power you draw to come through a single wire. More power equals more heat, and in some cases, results in instability. Many mid-tier and sub-par power supplies just aren't built to handle that kind of power down a single cable.
Now, this isn't an issue with lower-tier and mid-tier cards and quality power supplies. Top-tier PSUs will have excellent copper wire gauges that allow a pigtail to pull a substantial amount of power without running into heating issues.
How to check power supply wattage?
Use beQuiet! 's PSU calculator or Cooler Master's PSU Calculator to estimate the wattage you'll need to run your components. If you want to find out your current PSU's wattage, you'll have to open your PC up to check the label on it.
How much extra wattage should I buy?
As I recommended in the PSU wattage section in the article, add 10% to the load a calculator throws at you and run with it. Of course, the final wattage you buy also depends on how far away an upgrade is for you. If you're putting together a PC that needs to last you at least 4-5 years, then the above will do just fine.
However, if you want to add multiple GPUs down the line and would rather avoid the hassle of switching out your PSU, buy enough to cover as much as you need right now.
Is it safe to open a PSU?
No. It's not safe to open a power supply if you don't know what you're doing. If you're running into issues with your PSU, please RMA it as most quality units used in workstations boast robust warranties.
Who makes the Best Power Supplies?
Well, there's no one answer. At the time of writing, there's no one company that makes only quality power supplies across their product stack. As companies start competing in more budget segments, quality is bound to suffer as they spread themselves too thin and have to cut corners to meet specific budgets and profit margins.
Buying a specific brand is a terrible way to shop for a power supply. Industry trends can change instantly, and several manufacturers build quality units at every wattage. So make sure you check all available options rather than buying from a specific brand.
Use the cultists' PSU Tier List to weed out bad options.
Should PSU fan face up or down?
Ideally, wherever it can get access to cool air. Look at your case. Does it have a vent at the bottom, or is it solid metal?
If your case does have a vent at the bottom and doesn't have one at the top, place the PSU with its fan facing downwards.
However, if your case has a vent at the top of its shroud, point the PSU fan upwards towards it.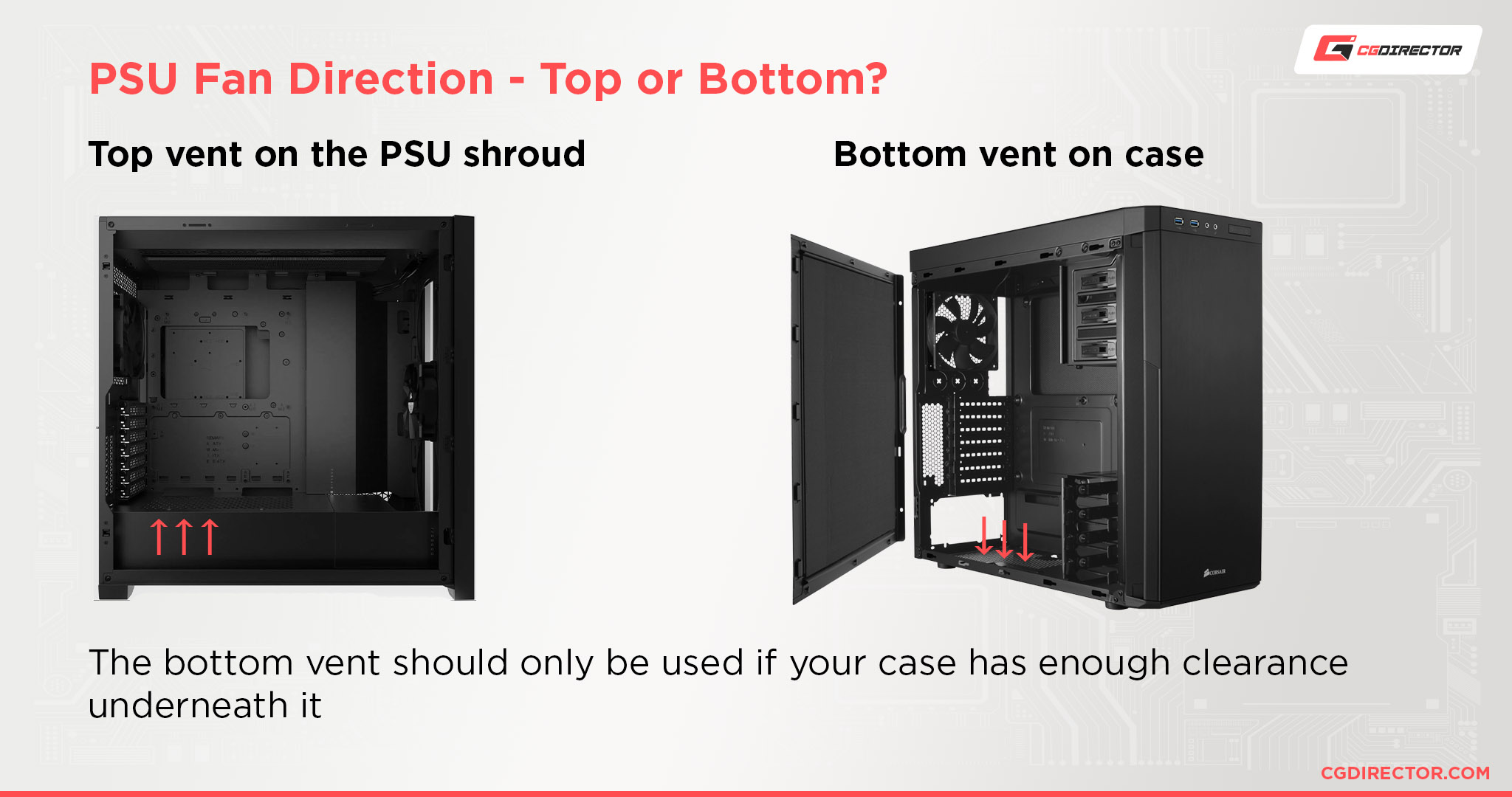 If you're using multiple graphics cards, and your cards reach right next to the power supply shroud, avoid using the top vent. Instead, point the PSU fan downwards if your case allows.
Never point the PSU fan at solid metal. It should always face ventilation.
Note – if your PSU fan is drawing in air from a bottom vent, please avoid placing your cabinet on carpeted surfaces as it chokes the intake. Give it some height and a flat surface to ensure steady airflow.
Over to you
What Power Supply are you thinking of buying? Let us know in the comments or ask us some questions in our expert forum.