Do you have to reinstall Windows after installing new hardware, let's say, the processor (CPU), motherboard, or graphics card?
Short answer: Usually not! But in some cases, it can be beneficial.
Let's take a closer look:
Upgrading Your PC | When Do You Need to Reinstall Windows?
No matter if you've built your PC yourself or if you've bought a pre-built system, you can upgrade pretty much any aspect of it:
Graphics card (GPU)
Processor (CPU)
Motherboard
RAM
Storage (NVMe, SSD, HDD)
Even Fans, the PSU, or the Case
So far so good, but which of those components require a reinstall of your Windows Operating System?
Let's go through each of the main PC-Parts:
Upgrading the GPU
Upgrading the GPU is a pretty straightforward task.
You simply unscrew the safety screw, unlock the PCIe slot, remove any connected cables (HDMI, DisplayPort, and Power Cables), and remove your old GPU from the system.
Insert the new one, make sure you hear the safety mechanism lock in place, then proceed to screw it into the back of the case and connect your display(s).
Once you're all done with the hardware side of the equation, it's time to deal with drivers.
Luckily, you don't have to reinstall Windows after upgrading your GPU. In some cases, depending on just how different your new GPU is from the old one, you won't even have to remove the old drivers.
For example, if you're upgrading an older Nvidia GPU to a newer one, the drivers will most likely work for both as Nvidia packages their Drivers for a large variety of their Graphics Cards.
In most cases, though, you'll have to remove the old display drivers, restart your system, and then install drivers for your brand-new GPU.
That's pretty much it – you're done with upgrading your PC without having to reinstall Windows.
The GPU verdict:
Do you have to reinstall Windows after a GPU upgrade? — No!
Storage Upgrades
Storage upgrades are one of the easiest upgrades you can come across when tinkering with your PC. Or are they?
Well, it depends on if you're expanding / adding more drives, or actually replacing the drive that your Operating System is installed on.
If you're adding an extra storage drive, there's nothing else you have to do than hook it up with a SATA data and power cable (if it's a SATA SSD / HDD) or slide it into a free M.2 Slot, and you're good to go. Windows should recognize them immediately and they should be ready to use in no time.
But what about that second option? If you're upgrading your OS Drive, then yes, you'll (obviously) have to reinstall your Operating System on the new drive you've just installed.
The storage verdict:
Do you have to reinstall Windows after a Storage upgrade? — No (in some cases, yes)!
RAM Upgrades
Similar to Storage Drives RAM (Memory) is something that does not need any kind of drivers and will work within your operating system out of the box as long as it's compatible with your motherboard and other hardware and has been recognized properly by the BIOS.
There is just one very rare scenario I can think of that would require you to reinstall Windows after a RAM upgrade, and that is if your OS is 32bit, but your new RAM capacity exceeds the 32bit limit of ~4GB.
In that case, you would have to reinstall a different type of OS (namely a 64bit Version of Windows) to be able to make use of the full capacity of your Memory.
This scenario is quite dated, though, and if your hardware is at least somewhat new-ish, you can safely ignore the above.
The RAM verdict:
Do you have to reinstall Windows after a RAM/Memory upgrade? — No!
Upgrading the CPU
Next up, CPU upgrade! If you're going to be swapping out just your CPU without touching the motherboard, you won't have to reinstall Windows.
However, in this case, you won't have a lot of CPU options as you're limited by the list of CPUs your motherboard supports…
Your motherboard dictates which CPU and RAM you can use.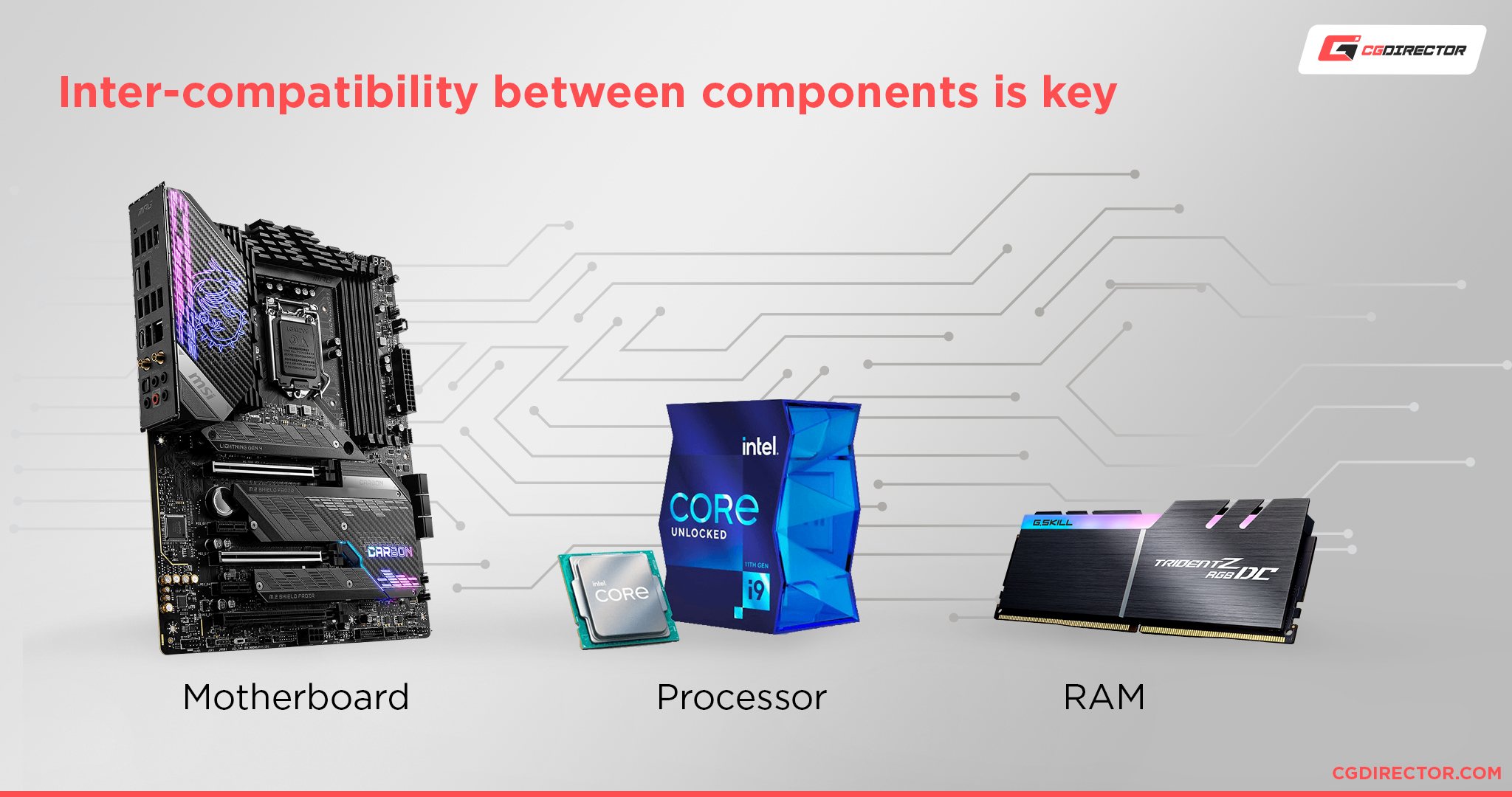 The Motherboard might not give a direct performance boost, but motherboards are still crucial as they serve as the hub for connecting all other components of your system.
Anyway, CPUs are similar to RAM upgrades, as in, they don't require any additional driver installation by you, and as long as they are compatible with the motherboard and recognized properly by the BIOS, you're all set.
The CPU verdict:
Do you have to reinstall Windows after a CPU upgrade? — No!
Upgrading the Motherboard
If you're looking to do much more demanding and CPU-intensive tasks and want a serious CPU performance boost, you might need to upgrade your motherboard alongside your CPU.
Why's this?
Well, Motherboards dictate which CPUs are compatible with it and if your Motherboard is old or low-end, you might not be able to upgrade to a fast CPU at all.
In that case, you'll need a new high-end (or at least newer) Motherboard model from a top-notch motherboard brand.
Upgrading your motherboard will give you a lot more (read better) options in terms of supported CPUs, but in this case, it's recommended to reinstall Windows to make sure you're not leaving performance potential on the table due to driver issues.
Because the Motherboard has a host of different functions, connectors, sensors, clocks, sockets etc. it requires the lion's share of all your driver installations.
Although a motherboard upgrade might not make any issues even without an OS reinstall, i'd rather be safe than sorry.
The motherboard verdict:
Do you have to reinstall Windows after a Motherboard upgrade? — Yes, it's recommended, but not mandatory!
Conclusion
PC Building and upgrading have become so easy, that more people are doing it than ever before.
It's fun, it's mostly plug and play, and as we've learned in this article, you don't even have to reinstall Windows for most upgrades.
Even drivers are often taken care of by the OS, and only in rare cases do you have to install them manually.
Great times!
FAQ
Do I Have to Reinstall Windows After Upgrading CPU and Motherboard?
Yes, it's recommended to reinstall windows following a CPU and motherboard upgrade. You could try and run your old OS to see if you'll have major ongoing issues.
But, if you're doing sensitive work and/or you're not willing to take needless troubleshooting steps sometime in the future, it's best to just install a fresh operating system and call it a day.
Do I Need to Reactivate Windows After a Hardware Upgrade?
It depends on what exactly you're upgrading. If you're upgrading your CPU, RAM, or GPU, you won't need to reactivate Windows.
However, if you're upgrading your motherboard, chances are you will have to reactivate Windows upon reinstalling it because the OS won't be able to find the license that matches your device.
Over to You
That's about it for our lengthy guide on whether or not you should reinstall windows following CPU and/or motherboard upgrades?
What are your thoughts on the subject?
Did you encounter issues following CPU and motherboard upgrades? Did Windows activation cause issues? Leave a comment below or on our forum and let me know if you have any other questions.