What are the best SSD brands and what makes them unique? Today, I'll cover those differences in detail and make my top recommendations for your workloads.
Additionally, I'll start by discussing what makes SSD brands and SSDs themselves "good", but you can also skip ahead with the Table of Contents if you just want a breakdown of a particular brand or recommendations.
With our goals established, let's dive right into them!
What Makes an SSD Brand "Good"?
Good Warranty and Return Policy
One of the first things you'll want to look out for when investing in storage is a good warranty policy.
Storage drives are often core to the functioning of an entire PC or used to store high-value information, which any good manufacturer knows and respects by manufacturing drives with long lives and solid warranty policies.
Most warranty policies for electronics are meant to cover defects and other manufacturing issues (a "Limited Warranty"), and SSD warranties tend to fall into that category.
On the low-end, SSD warranty is usually for 2-3 years. On the high-end, SSD warranties can last 5 to 10 years! This can already hint at the brand's confidence in its product.
Matching Advertised Performance
No one likes false advertising. Generally, if a reputable SSD brand is willing to advertise a certain set of performance numbers for their products, you should be able to trust that those numbers are accurate.
The problem is, not all SSDs brands will reliably put out SSDs matching their performance specifications, and a few brands have even been caught in scandals related to replacing premium SSD components with parts from cheaper drives.
In recent years, even brands thought reputable like ADATA have gotten their hands dirty with practices like this.
The general practice of SSD parts being replaced by manufacturers has become more commonplace over the years, though not always for malicious reasons.
Sometimes, an SSD can silently become a better drive with these changes!
The problem is, this often isn't the case, so this is not a practice I want to see continue. Even popular mainstream devices with in-built SSDs, such as the Steam Deck, are somewhat spoiled by this practice, having their onboard NVMe SSDs reduced in bandwidth today compared to the launch model of the Steam Deck.
Even if this doesn't impact gaming performance on that device, the price hasn't changed while the overall storage performance has still decreased.
Users trying to do non-gaming workloads or potentially even playing very NVMe-intensive games may still run into performance issues on these cheaper-SSD models.
What Makes an SSD Good?
Long-Term Reliability
Long-term reliability is one of the most important things to prioritize from any storage drive, especially when you're buying from higher-end product lines aimed at professionals, content creators, server environments, and gaming PCs.
However, reliability is fairly drive-specific, so you'll want to consider that when researching any potential drive purchase.
Form Factor and Format For Your Use Case
There are two main SSD form factors: 2.5-Inch (SATA) and M.2 (SATA/NVMe).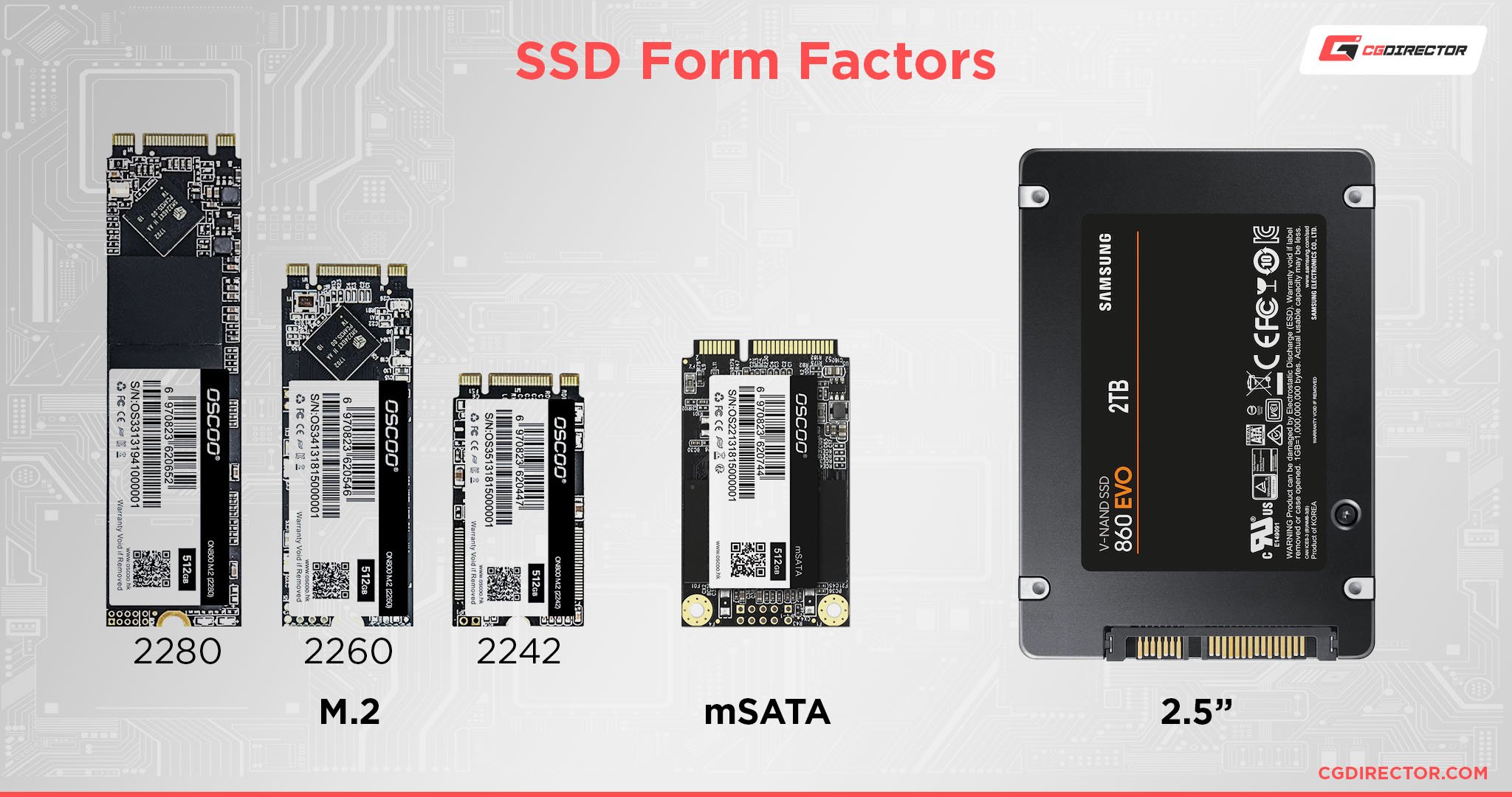 2.5-inch SSDs are SSDs that come in a "2.5-inch" drive enclosure. They mainly come in a SATA format, and any reasonably modern SATA SSD will be compatible with the SATA3 connectors on modern motherboards.
M.2 SSDs are SSDs that come in the M.2 form factor, but not all M.2 SSDs and M.2 slots are made the same. Depending on the M.2 SSD and matching slot you get, you could end up with either an M.2 SATA format SSD or an M.2 NVMe format SSD.
M.2 NVMe SSDs are unique because NVMe actually stands for Non-Volatile Memory Express. That is, Express as in "PCI Express".
This allows NVMe SSDs to directly access the fastest bandwidth on any given PC (the PCI Express bandwidth), making them among the fastest storage options available on the market.
You will be limited by your motherboard generation, but even many PCI Express Generation 3 boards support NVMe slots.
Great Price For Performance
To assess an SSD's price for its performance, you'll have to assess how it compares to similarly-priced SSDs in the same format and form factor.
For example, if you're shopping for NVMe Gen 3 SSDs for under $100, you may find both low-end NVMes only capable of about a Gigabyte per second and higher-end Gen 3 NVMes with support for ~3.5 GB/s or more in transfer speeds.
Keeping an eye out for discrepancies like this will help you find the best deals, as long as you're buying from reputable brands!
Great Price Per Gigabyte
Last but not least, one of the most key value factors to look out for when SSD shopping is price-per-gigabyte.
When assessing an SSD, be sure to assess its price-per-gigabyte for its speed and format (ie, NVMe generation, SATA, etc) compared to competing options.
The lower the price-per-gigabyte is, the better value you're getting for your SSD storage.
However, be sure to also take the factors listed above into consideration, and not hinge your purchase entirely on price-per-gig, lest you make major performance compromises!
What Are The Best SSD Brands?
Author's Note: There is some inconsistency in how SSD series are named and organized by various brands.
I'll be accounting for this to the best of my ability, but if some SSD series seems a little too specific or too general, it's most likely down to these differences.
Samsung
Brand Specializes In: SATA SSDs. NVMe SSDs, High-Performance SSDs
Established Since: 1938
Samsung is one of the most immediately recognizable brand names on this list, and for good reason: they dabble in pretty much everything consumer electronics.
While they're hardly a flawless hardware manufacturer (especially at such a scale and for so many years), Samsung SSDs are consistently highly-rated by trusted hardware reviewers and outlets like Tom's Hardware and PC Gamer.
We at CGDirector also have a generally high opinion of Samsung SSDs, even though we're usually tackling them from a more informational angle.
So, what does Samsung actually have to offer in the SSD market? Let's talk about the current offerings from Samsung and what sets them apart.
SSD Series From This Brand:
QVO – Samsung's entry-level brand for SATA and NVME drives, which use QLC memory. These can be good for many scenarios, especially read-only scenarios (media consumption, gaming, etc), but do suffer from a lower write speed, making them less ideal for pro and other write-heavy workloads.
EVO – Samsung's EVO brand for their SATA and NVMe drives, which use high-performance TLC memory. These are better suited as high-performance SSDs for both read and write operations, and some of Samsung's best drives come from this series.
PRO – Samsung's…well, PRO series for their pro-facing SSDs, which come in both NVMe and SATA varieties. These also use high-performance TLC memory and are generally recognized as Samsung's best-performing SSDs, even compared to EVO drives. However, EVO drives are pretty good too.
PM – Samsung's Enterprise SSD Series. Besides using high-performance memory like the PRO and EVO lines, Samsung PM SSDs are made for extra-reliable operation for Enterprise use cases, like server SSDs.
T7 – Samsung's Portable SSD series. These are going to be limited in performance by their supported USB or Thunderbolt generation, though.
Sabrent
Brand Specializes In: NVMe SSDs, Budget SSDs, High-Performance SSDs
Established Since: 1998
Sabrent is a somewhat recent entrant in the SSD market but has made its name known across various outlets (StorageReview, TechPowerUp, etc) as a provider of solid, high-performance NVMes since it entered this market.
From what I've seen, the quality of the hardware they use makes them just as reasonable to recommend as any other SSD brand on this list, even if they aren't as well-known a brand.
They've particularly been making waves in the market with their price-competitive NVMe SSDs, which are often comparable to top-brand SSDs due to using high-performance controllers and memory from the same providers.
So, what diversity of options are on offer from Sabrent brand SSDs? Let's cover your options!
SSD Series From This Brand:
Rocket – Their main NVMe SSD series, is known for using decently fast TLC memory at a competitive price point.
Rocket Q – Sabrent's high-storage NVMe SSD series, which uses slower QLC memory in order to achieve higher capacities. Suffers from slower reads as a result, though.
Rocket Plus – The high-end Sabrent NVMe SSD series, uses even faster TLC memory to push higher writes and higher reads alike.
Rocket Plus-G – There's also a "G" variety of the Plus series using Sabrent's custom software to enable DirectStorage support, which is useful for games built around next-gen consoles and NVMe 4.0 support. I assume the G means "Gaming".
Rocket Nano – Their USB 3.1 Gen 2-only external SSD with a very small form factor. Also comes in a "Rugged" variety for more durability.
Rocket XTRM – Their high-performance external SSD series with Thunderbolt 3/USB 3.2 support. USB mode is much slower compared to Thunderbolt 3, of course.
Intel
Brand Specializes In: SATA SSDs. NVMe SSDs, Budget SSDs, High-Performance SSDs
Established Since: 1968
Intel is one of the most well-known PC hardware brands in general (especially due to their work on CPUs), but also a prominent SSD manufacturer.
Like any other brand on this list, Intel has established themselves as worthy competitors in the SSD market across reviews from different outlets, including Tom's Hardware and TechSpot.
As long-time competitors in the SSD market, Intel has had plenty of time to provide a variety of SSDs in different sizes, speeds, and form factors.
However, these days, they mainly make "Optane" storage drives, which function a little differently from traditional storage drives. Let's dive into what makes these Intel SSDs special!
SSD Series From This Brand:
Optane – Intel Optane drives are NVMe or PCIe drives that serve as a super high-speed cache for other storage drives and frequently-used files.
Optane DC – Intel Optane drives, but for Data Centers.
Intel 660p Series – Intel's QLC (high storage, lower performance) NVMe SSD series.
Intel SATA and Pro SSDs – While Intel used to have a large lineup of non-Optane SSDs, these SSDs have since moved over to Solidigm for manufacturing and sale.
Seagate
Brand Specializes In: SATA SSDs. NVMe SSDs, Budget SSDs, High-Performance SSDs
Established Since: 1979
Seagate is one of the top PC storage manufacturers in the hardware space, and has been known as such for quite some time.
With SSDs and HDDs alike featured by all the expected top hardware sites (Tom's Hardware, TweakTown, etc), Seagate has made a good name for themselves over the years they've been in this business.
In my personal opinion, Seagate has served me well, though I have more experience with their HDDs than their SSDs.
Judging by the reviews, though, I think it's fair to conclude that Seagate's good reputation is well-earned in both the HDD and SSD spaces, so I saw fit to include them here.
But how are Seagate's SSD offerings, and what sets apart Seagate's different SSD brands from each other? Let's dive into that!
SSD Series From This Brand:
BarraCuda – Seagate's entry-level SSD series built on slower-write QLC NAND flash memory.
FireCuda – Seagate's mid-range SSD series built for PCIe Gen 4 interfaces (as of 520 and 530). Aimed at gamers and enthusiasts.
IronWolf – Seagate's SATA and NVMe Enterprise SSD series. Depending on standard, you'll be able to achieve the best speeds and reliability from Seagate SSDs in this tier.
Nytro – Seagate's SAS format Enterprise SSD series. SAS is a standard often used in data center applications, which offers a dual 12 Gigabit interface that these SSDs operate on, which is twice as fast SATA, which runs at 6 Gigabits. Not as fast as NVMe, but still nice!
One Touch – Seagate's External SSD series. There are also portable Barracuda "Fast" SSDs.
SK Hynix
Brand Specializes In: SATA SSDs. NVMe SSDs, Budget SSDs, High-Performance SSDs
Established Since: 1983
SK Hynix is among the largest semiconductor manufacturers in the world, and more prominent to PC hardware, also one of the largest manufacturers of flash memory.
As one may expect from these accolades, this also makes Hynix capable of supplying truly high-end NVMe SSDs, though they aren't nearly as well-known for storage as they are for RAM.
So, how are Hynix's SSDs? Well, pretty good, at least according to reviewers from sites like Tom's Hardware and PC Mag.
I can't personally say I've used a Hynix SSD in one of my own builds, however since they're one of the very few primary suppliers of DRAM, I'm inclined to believe they can make some truly excellent Solid State Drives- as long as the price is right.
And fortunately for people looking to shop with "the price is right" in mind, SK Hynix is gracious enough to narrow down their SSD offerings to pretty much three brands.
SSD Series From This Brand:
Platinum P – SK Hynix's high-end NVMe SSD series.
Gold P – SK Hynix's mid-range NVMe SSD series,
Gold S – SK Hynix's entry-level SATA SSD series- still fairly good for a SATA SSD, but maxing out SATA isn't that hard anymore.
Crucial (Micron)
Brand Specializes In: SATA SSDs. NVMe SSDs, Budget SSDs, High-Performance SSDs
Established Since: 1996
Crucial is a sub-brand of Micron, which, like SK Hynix listed above, is one of the largest flash memory manufacturers in the world.
In fact, the only three companies that can actually make RAM are Samsung, SK Hynix, and Micron! Crucial SSDs are also backed by this Micron pedigree, so that made this brand an easy choice for this list.
But are Crucial SSDs actually good? Well, yes, but there are also a very wide variety of Crucial brand SSDs, likely due to them being the direct RAM/Storage brand of Micron.
That means you can pretty much expect Crucial SSDs to run the gamut from low-performance budget SSDs to the best in high-performance SSDs.
In terms of actual critical reception, Crucial SSDs also tend to fare well at most tech outlets (including TechSpot and Tom's Hardware), but how they actually compare to competing SSDs from other brands is going to depend on the market conditions at the time of your purchase, and your SSD of choice.
With that established, let's dive into the specifics of Crucial's SDD offerings:
SSD Series From This Brand:
BX500 – Crucial's Budget SATA SSD Series, using slower flash memory.
MX500 – Crucial's High-End SATA SSD Series.
P2 – Crucial's Entry-Range NVMe SSD Series, using slower flash memory.
P3 – Crucial's Mid-Range NVMe SSD Series.
P5 – Crucial's High-End NVMe SSD Series.
"Plus" – Usually applied to souped-up versions of P3/P5 SSDs.
X6 – Crucial's Entry-Level Portable SSD Series.
X8 – Crucial's Mid-Range Portable SSD Series.
Corsair
Brand Specializes In: NVMe SSDs, High-Performance SSDs
Established Since: 1994
Corsair is one of the leading brands in PC hardware and peripherals, and in the storage space, is known primarily for providing high-performance SSDs.
This makes sense, considering Corsair is a very gaming-centric PC hardware brand, and gamers tend to prefer gaming-suitable performance.
Of course, something being branded with "Gaming" doesn't necessarily make it better for gaming than something that isn't– it's really more about what is actually on offer compared to competing products, like with any other hardware purchase.
Fortunately, Corsair SSDs tend to enjoy positive critical reception from the usual suspects (really any major outlet you can think of, including PCWorld and PCMag)!
In my own personal experience, I have yet to actually use a Corsair-brand SSD, but I've been fairly happy with their RGB RAM and K70 Series of Mechanical Keyboards, so I feel comfortable recommending Corsair SSDs within this article.
So, what variety of SSDs does Corsair have to offer? Let's find out!
SSD Series From This Brand:
MP600 and Force (NVMe) – Corsair's main NVMe SSD Series. The "Force" designation…honestly, I can't figure out what it means for the NVMe drives, but it may refer to durability.
Force (SATA) – Corsair's SATA SSD Series. The Force SATA SSDs are no longer manufactured but were known for high durability and high-for-SATA speeds.
PRO – Mostly the same as the other high-end NVMe drives, but with a much higher rated lifespan.
Hydro X – Corsair's NVMe Series…with a Water Block! For custom loop liquid cooling configurations.
EX – Corsair's Type-C External SSD Series.
Inland (Micro Center)
Brand Specializes In: SATA SSDs. NVMe SSDs, Budget SSDs, High-Performance SSDs
Established Since: 1979 (Micro Center)
Last but not least in this roundup of Best SSD Brands, let's talk about Inland! Inland is a brand owned by Micro Center, which is often considered the best brick-and-mortar store in the US for PC hardware and building.
While Inland is a house brand and Micro Center isn't necessarily manufacturing its own SSDs like SK Hynix, their SSDs are still generally considered pretty good by most Micro Center customers and reputable review sites, including TweakTown and Tom's Hardware.
With that established, let's finally break down the Micro Center SSD offerings!
SSD Series From This Brand:
QN – Inland's entry-level NVMe Gen 3 SSD Series.
Prime – Inland's mid-range NVMe Gen 3 SSD Series.
Performance – Inland's mid-range NVMe Gen 4 SSD Series.
Performance Plus – Inland's high-end NVMe Gen 4 SSD Series, with faster memory.
Gaming Performance Plus – Mostly the same as above, but also includes a heatsink.
Professional – Inland's entry-level SATA SSD series, despite the "Professional" branding.
Premium – Inland's mid-range SATA SSD series.
Platinum – Inland's high-end SATA SSD series, and also their high-end NVMe Gen 3 SSD Series.
My Streamlined Brand Recommendations
Whew!
Writing all those brand recommendations out proved to be a gauntlet.
An even bigger one than I think I could have expected before I started, but thankfully I came back from my long journey with a nice set of organized knowledge and recommendations for you guys.
I still recommend browsing the above sections for any points that might be relevant, but if you just want quick recommendations:
For users on a budget: Inland, Crucial, cheaper options from other brands
For gamers: Sabrent, Corsair, Samsung, Intel
For professionals and server use: Samsung, Intel, Seagate, SK Hynix
FAQ
Do all SSDs of the same brand perform the same?
Nope!
I've discussed this in a bit more detail throughout the article when discussing different SSD Series from different SSD Brands, but this is still a fairly common question.
An SSD being from a certain brand, by itself, will tell you very little about its performance. What you can look into is what series or product line the SSD is part of, which usually corresponds to the performance you can expect.
For example, Alex has done a detailed comparison of Samsung Pro vs Non-Pro SSDs and how their main three SSD series break down in performance.
What workloads benefit most from an SSD?
Operating System boot time and system responsiveness will both be boosted significantly by installing on an SSD, and that benefits pretty much everyone.
This is the most commonly-touted benefit of SSDs. But what workloads actually benefit from an SSD the most? I'd point to the following:
Managing large files in video editing and 3D rendering applications.
Quickly transferring large files in heavy-duty network environments.
Loading games quickly on a gaming or streaming PC. Certain modern games are even built with NVMe speeds as a feature in mind for rapidly loading new, detailed maps.
Do SSHDs count as SSDs?
Not really.
SSHDs are Solid State Hard Drives, or more accurately Hard Drives with some SSD cache.
This does still provide a limited performance boost over a regular HDD without any SSD cache, but it does not bring SSHDs into the territory of full SATA SSDs and especially not the higher leagues of NVME SSDs.
What SSD Brands Should be Avoided?
While I usually don't want to go out of my way to name and shame particular SSD brands, there are a fair few SSD brands I opted not to include in this article.
I think the most noticeable snubs for the most users will be ADATA, since ADATA used to be well-known for their SATA SSDs. However, ADATA, Kingston, and PNY have all been caught swapping high-end SSD parts with cheaper parts, resulting in a performance loss.
While this doesn't necessarily mean all of their drives are falsely-advertised, documented anti-consumer actions like this make me less comfortable recommending them in a Best SSD Brands article.
If you've had bad experiences with the SSD brands I've listed or any others, feel free to sound off in the comments section below!
Depending on the comments I receive on this article, I can update this section to discuss what other brands our readers may want to avoid.
Over to You
And that's it, at least for now!
I hope that this article helped you come to a better understanding of the current SSD market, and which brands are leading it for your particular workloads.
Please head down to the comments section with any lingering questions, or experiences of your own with different SSD brands to discuss! I and other CGDirector team members will be more than happy to talk with you in those comments or our community Forums.
Until then or until next time, happy computing! And don't forget: you never ever want to defrag an SSD- these things aren't made for that!