What are the best value PC cases, and what should you be looking for in cheaper cases?
I'll be covering that and a little more in today's article.
By the end of it, you'll know what to look for in a budget PC case, what to avoid in a budget PC case, and in general be better equipped for buying a PC case in the future, even if it isn't one listed in this article.
With that out of the way, let's dive into the what you need to know part.
What To Avoid In a Budget PC Case
Built-In Power Supplies
So as appealing as this might sound to save some extra money, built-in power supplies are generally a huge red flag and are not designed to last in the same way that independently-purchased power supplies are.
They're also fairly cheaply made, which is a serious problem for a power supply, considering that PSU failure can be disastrous for your PC and potentially even you, depending on how badly it fails.
Yes, exploding PSUs are a real thing. Never ever skimp on a power supply— always buy from reputable brands.
Sealed Front Panels
Another problem you may encounter with budget PC cases— sometimes not even budget— is a sealed front panel.
While sealed front panels were once standard, they've been phased out over time for a very good reason: they kinda choke airflow.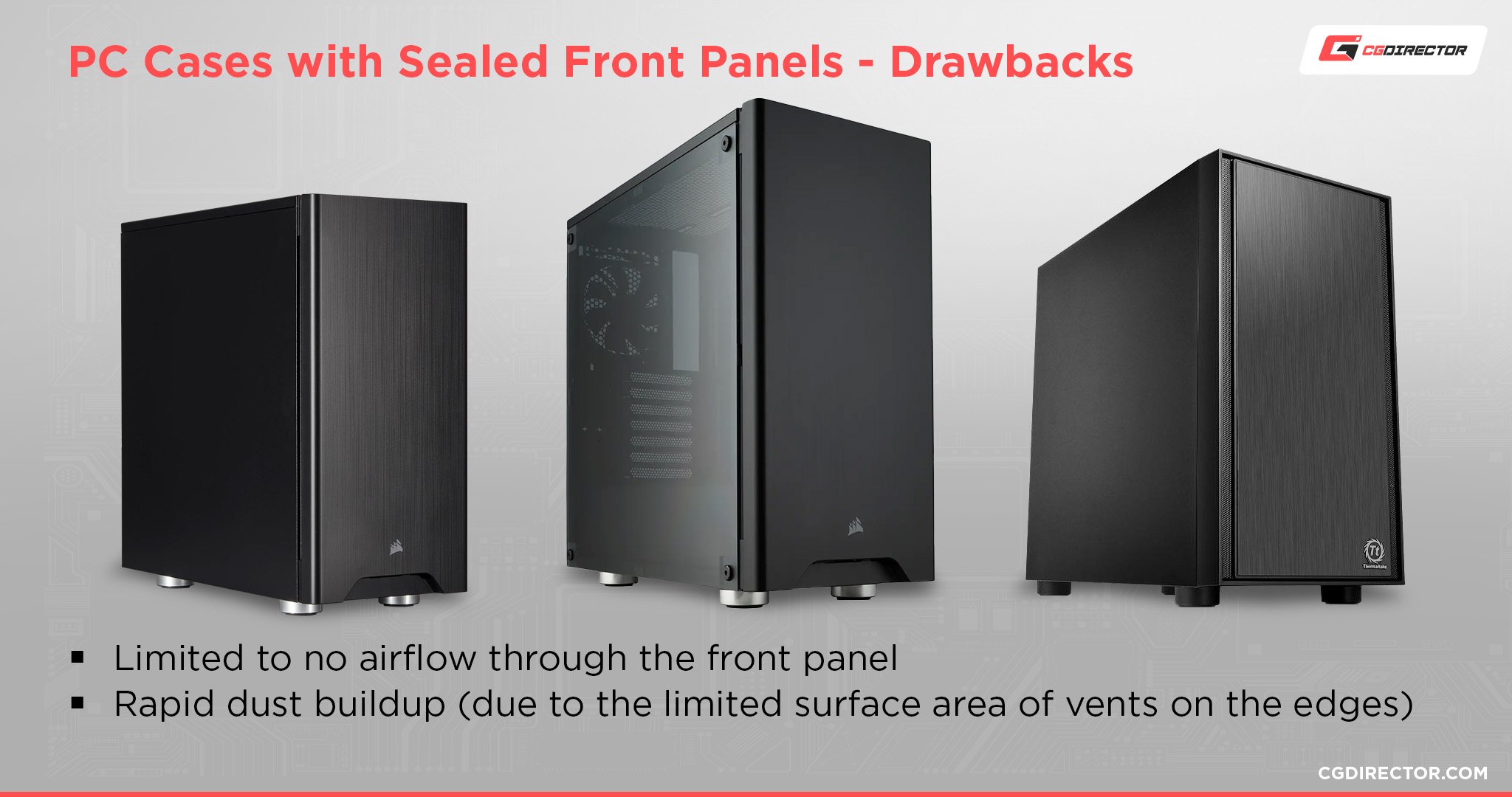 If sufficiently ventilated in another way, a sealed front panel can be made to work, but you'll always get better results with a mesh or perforated front panel instead. More on that in the "Key Features" section.
For now, the main takeaway is to avoid cases that don't seem to have a viable path for good airflow. Your PC needs to breathe to stay cool under heavy operation, kinda like you do whenever you go for a run.
If a PC doesn't look breathable, it probably isn't.
Limited Fan Slots
Too few fan slots for cooling expansion can be a problem, especially if you have heavy-duty cooling needs. This by itself isn't a reason to pass over a case though, especially if it's intelligently designed around limited fan slots.
Many Micro ATX and Mini ITX cases, for example, will be working with limited fan slots but find a way around the bigger problems it may introduce.
If you're looking at cases not included in this guide and they seem to have limited cooling options, be sure to take a second look at reviews to see what people are saying about its airflow and cooling performance.
Key Features in a Budget PC Case
Plenty of GPU Clearance
Even in a smaller PC case, having a good amount of GPU clearance— I'd say at least 280 mm (~11 inches) or more— is pretty important.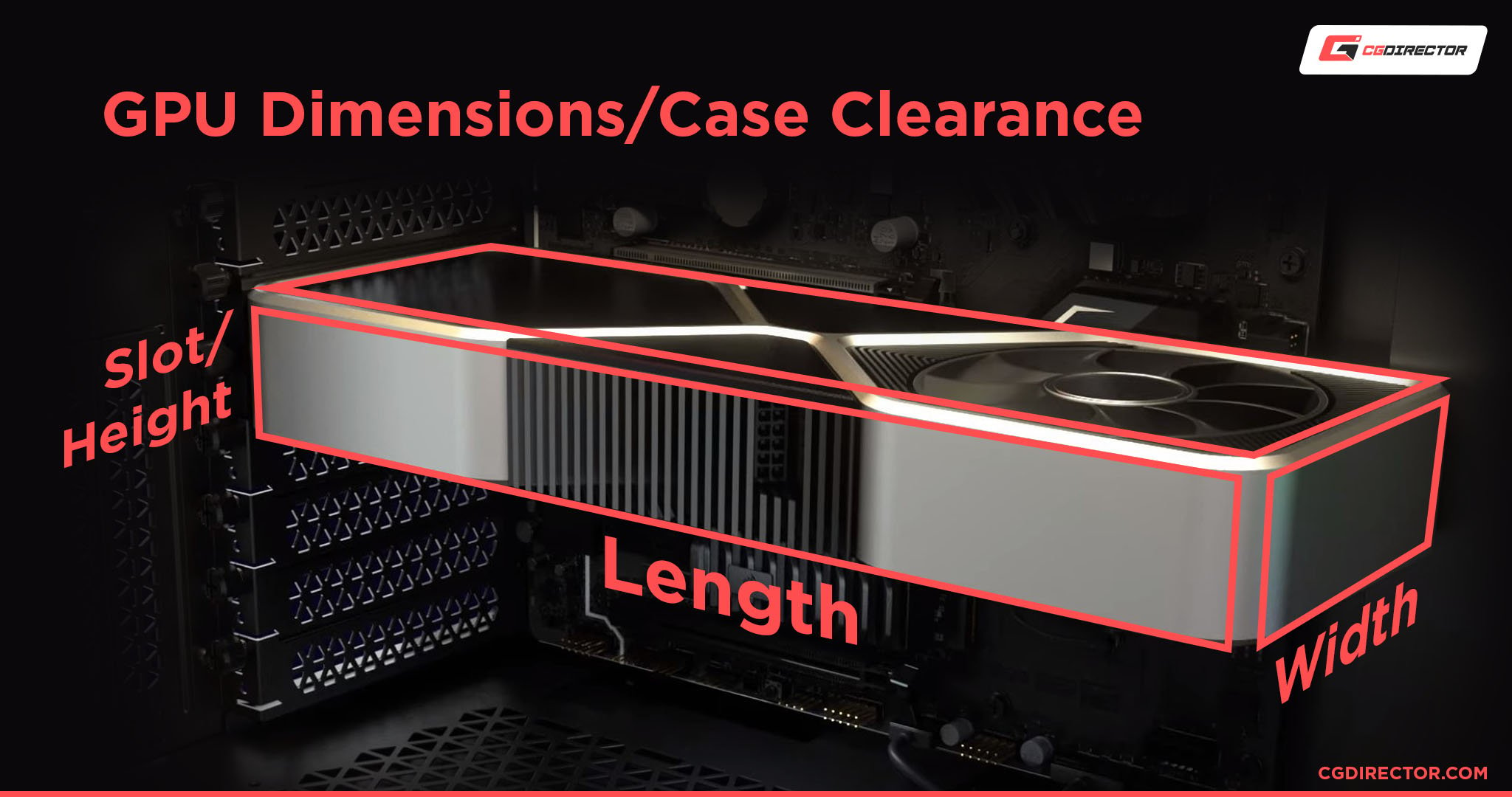 A discrete graphics card is an immense boon for the majority of workloads and is outright necessary for professional rendering or high-refresh/high-resolution gaming.
While smaller versions of discrete GPUs exist, they can introduce some performance compromises compared to their full-sized counterparts, and the cutting-edge high-end graphics cards simply don't come in those smaller versions.
Besides horizontal GPU clearance, which is measured in millimeters, you'll also want to keep the number of available expansion slots in mind, specifically for Mini ITX or other SFF PC cases.
While 2-slot is the standard size for most full-size graphics cards, some others can be closer to 2.5 slots or even take up a full 3 slots. This won't be an issue for Micro ATX or full ATX cases unless you're using multi-GPU, though.
Air Cooler Height Clearance
If you're using air cooling, another thing to look out for is an air cooler height clearance.
Like with other clearance concerns, this isn't usually a problem for most ATX cases, but can become a severe issue with Mini ITX and other SFF PC cases if you aren't keeping your eye out.
The tallest air coolers are generally more expensive, though— and for low-profile air coolers or AIO liquid coolers*, this is a complete non-issue.
*as long as you have the free fan slot(s) needed to mount it
Mesh Paneling
A great feature that's become commonplace in most modern cases is a mesh or sometimes perforated front panel.
Mesh is generally better, but perforated or ventilated front panels can work well too, depending on how the manufacturer did.
The main reason mesh paneling has become so high in favor is because it provides mostly-unimpeded access to the air outside of your PC, allowing for intake fans to be used to their fullest and push more cool air inside your PC, faster.
With a solid front panel, which used to be all too common, intake was generally limited by ventilation somewhere near the front panel.
With genuinely bad PC cases, that ventilation was insufficient or non-existent and resulted in choked airflow and very poor cooling performance. Fortunately, mesh and its contemporaries have become more common than solid panels in today's market.
Extra Fan Slots
Even if you aren't populating them all right away, having extra fan slots definitely doesn't hurt.
Extra fan slots can be put to work for things like AIO liquid coolers or just extra case fans to improve your airflow and cooling performance.
In particular, you'll want a case with extra fan slots if you're looking to get into any form of liquid cooling, AIO or otherwise, as liquid cooling radiators need to use existing fan slots in order to function.
Included Fans
Something to look for, especially if you're shopping with "budget" or "value" in mind, is included case fans.
Not every case will include case fans, and sometimes the ones that are included might not be very good. But if you're shopping on a tight budget, a case not having any included fans at all is definitely cause for a pause.
I'd still recommend buying at least one extra fan for exhaust with cases that offer one fan out of the box, but cases with two like Fractal Design Focus G can easily have the second moved to the back to serve as exhaust instead.
Cable Management Space
This is less of a hardware compatibility concern and more of a neatness and quality-of-life concern.
Having room to route your cables away from the direct path of your airflow or components not only makes for a much neater-looking PC presentation but also makes your life as a PC builder and maintainer much better in the long term.
This can especially be a problem with Mini ITX and Micro ATX cases, where working space is already fairly limited.
Modern USB Support
Cases that don't support front panel USB 3.0 used to be surprisingly common, but fortunately, that isn't as present an issue in today's market.
Even so, it's something to look out for, since even your basic external storage devices use USB 3.0 speeds these days, and having to plug a flash drive into the back of your motherboard can be a little troublesome, especially if it's already packed with peripherals back there.
Besides meeting the basic USB 3.0 requirement, you may also want to find cases that support USB Type-C connections on the front panel. This is unfortunately much less common, even though Type-C has been around for about the same amount of time.
It's also a lot harder to find on-budget cases like the ones in this article since it's more of a mid-range or high-end case feature. This shouldn't be as big a problem, though, especially if your motherboard has a Type-C port in the back, as has become common.
How To Decide What Case Form Factor You Want
So, with all that stuff out of the way, how do you decide what case form factor to look for?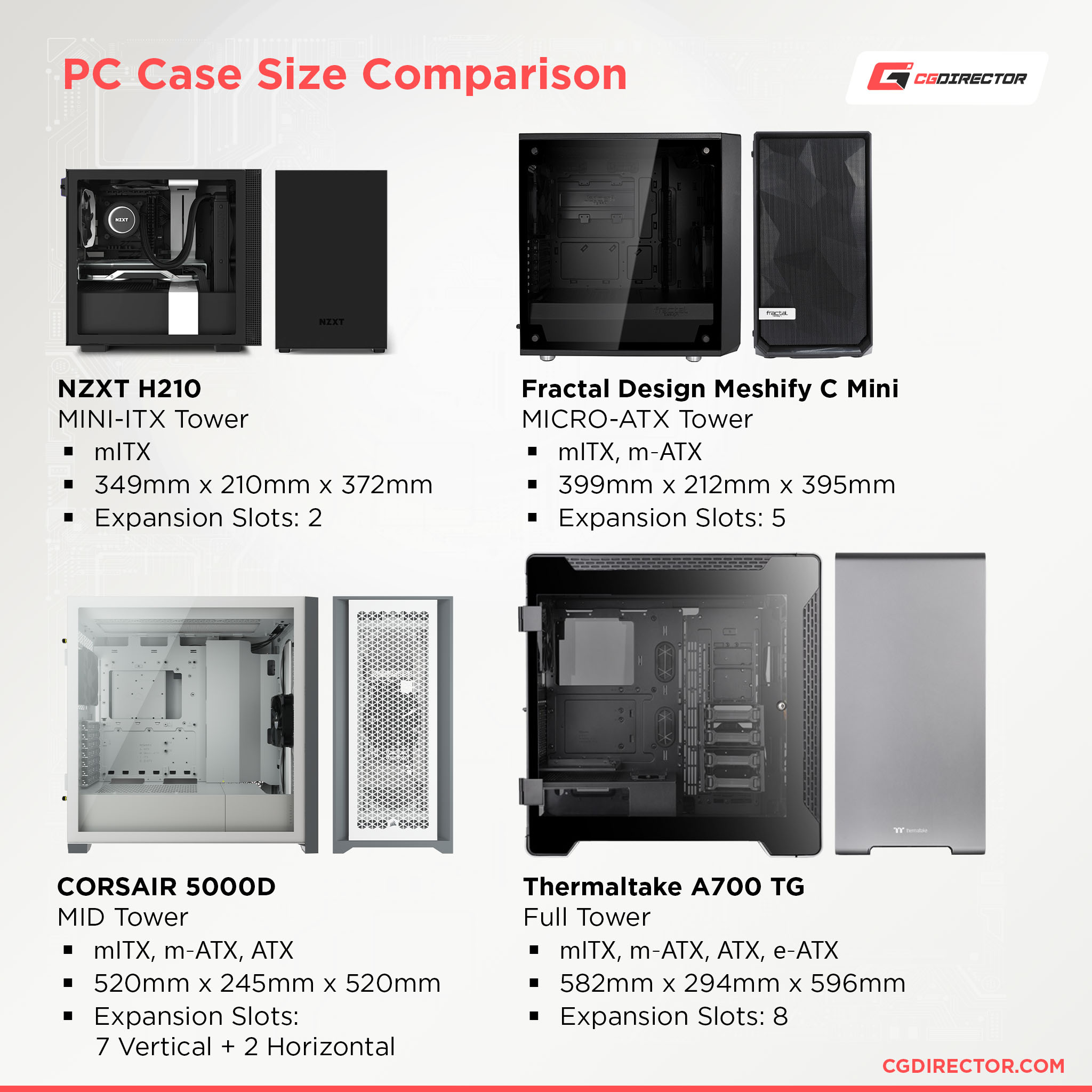 The simple answer really just boils down to two questions: what do you have room for, and how often are you going to be moving it?
If you don't have much desk or floor space for a desktop PC, getting a smaller Mini ITX or Micro ATX PC case is probably the better move.
Or if you plan on regularly attending LAN parties or other local events where transporting your PC will be a semi-frequent practice.
If you don't have space or frequent moving concerns, then you'll definitely want to get an ATX or Micro ATX case. These larger form factors are better suited for enthusiast PC setups with multiple GPUs, liquid cooling, extra fans, and so on.
You shouldn't be giving up on expansion unless you need to or simply prefer the aesthetic of a smaller case.
If you want a smaller case for aesthetics, that's fine— just make sure you're aware of any compromises that come with it and build around them intelligently.
Of course, the size of the case is also influenced by what components you want to put inside of it. If you want to build a workstation with an E-ATX Motherboard, you'll have to get a larger case that can house such a large motherboard.
The same is true for multiple GPUs, a large AIO, or a custom water-cooling setup you want to place inside the case. The case will have to be big enough.
The 3 Best Value PC Cases
Specs:
Dimensions: 205 x 444 x 464 mm
Supported Motherboard Sizes: Mini ITX, Micro ATX, ATX
Supported Fans: 2 x 120/140mm Front; 1 x 120 Rear; 2 x 120/140mm Top; 1 x 120/140mm Bottom
Included Fans: 2 x 120mm Front
Front Panel Type: Mesh
Side Panel Type: Acrylic
Max GPU Length: 380 mm
Notable Extras: USB 3.0 Support
Pros:
Strong airflow performance and expandability with 2 included 120 mm fans and a mesh panel
Plenty of room for a long GPU and extra cooling fans
Suited for most tall air CPU coolers— offers up to 165 mm CPU cooler height.
Cons:
The most expensive case on this list— about ~$80 MSRP at the time of writing
Note: There aren't price savings compared to Focus G ATX from getting this version, but there is also a Focus G Mini version of this case that includes 2 cooling fans as well. It's largely the same design, but slightly smaller.
You can save $15-20 and a lot of space by getting our actual MATX pick at the time of writing, though— just comes at the cost of an extra cooling fan and fan slots.
Specs:
Dimensions: 175 x 355 x 420 mm
Supported Motherboard Sizes: Micro ATX, Mini ITX, DTX
Supported Fans: 1 x 120mm Front; 1 x 120mm Side; 1 x 92 mm Rear
Included Fans: 1 x 120mm Front
Front Panel Type: Mesh
Side Panel Type: Solid
Max GPU Length: Up to 350 mm with one HDD, 210 mm with 2 or more
Notable Extras: USB 3.0 Support
Pros:
Pretty good overall expandability and cooling capacity, included fan is quiet
Very low footprint for a Micro ATX case, also supports DTX
Fairly low price
Cons:
Somewhat limited cooling options; good enough if fully-decked out, though
Not suited for tall CPU air coolers— maximum air cooler height is 148 mm. I recommend the Focus G Mini if your air cooler doesn't fit, or mounting a 120 mm AIO to the side slot instead.
Specs:
Dimensions: 276 x 260 x 316 mm
Supported Motherboard Sizes: Mini ITX
Supported Fans: 1 x 120/140/200mm Front; 2 x 80mm Rear
Included Fans: 1 x 200mm Front
Front Panel Type: Mesh
Side Panel Type: Mesh
Max GPU Length: Up to 285 mm (inner side), Up to 255 mm (outer side)
Notable Extras: USB 3.0 Support, Top Acrylic Panel
Pros:
Lowest price on this list— about $50 MSRP at time of writing
Good airflow, included 200mm fan
Decent expandability
Cons:
Slightly confined for long GPUs.
Not suited for tall air CPU coolers— limited to 140 mm height.
FAQ
If I shouldn't be getting cases with built-in PSUs, what PSU should I get?
Well, a power supply guide is a little bit out of the scope of this article, but I can definitely give you some solid recommendations to start with.
With pricing in mind, I'd say not to settle for any less than an 80+ Bronze Power Supply in a Semi-Modular Form Factor. That's pretty much the bare minimum for a good experience.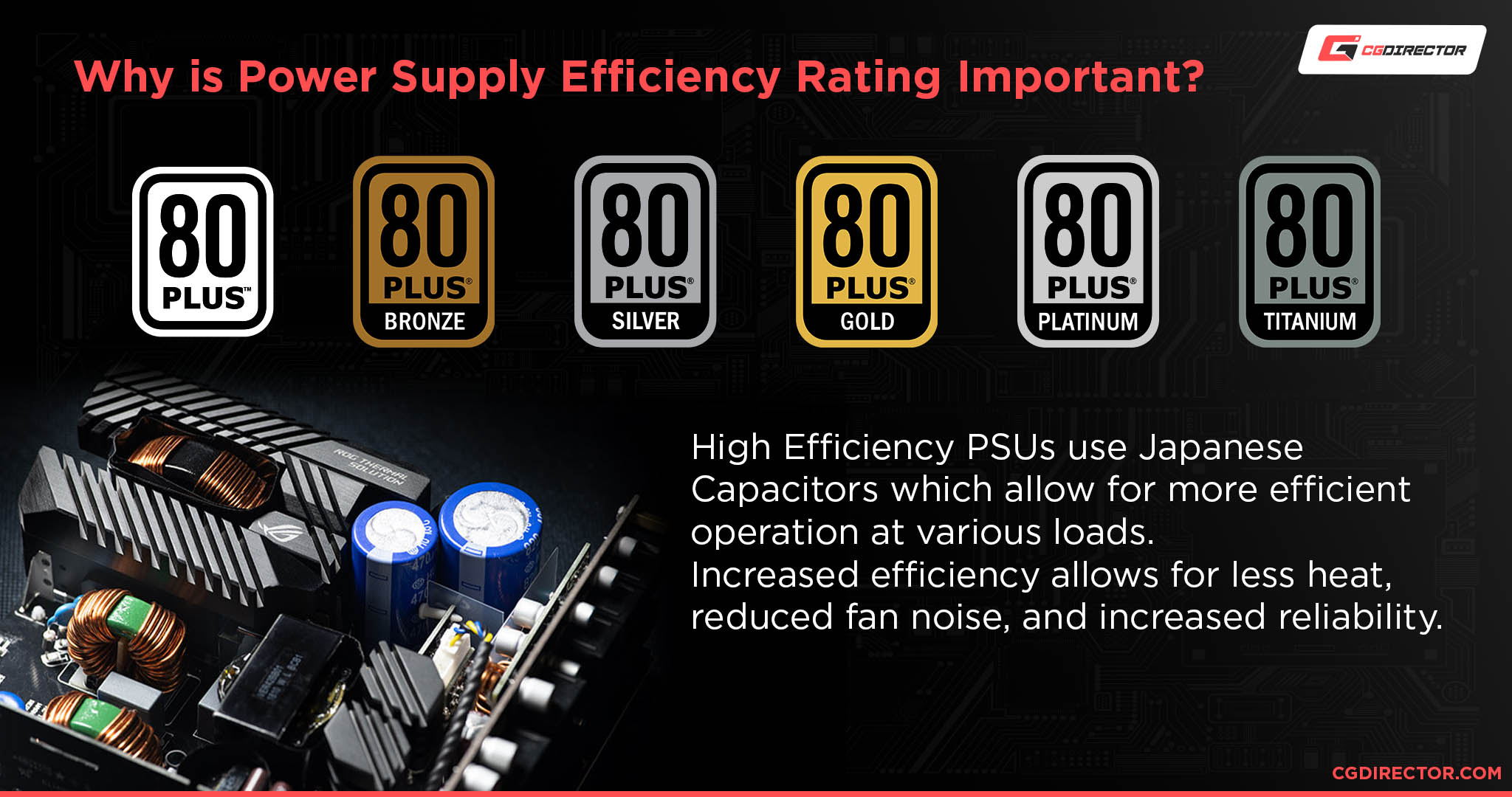 Moving past that, you'll want to stick with a reputable power supply brand.
Corsair, Cooler Master, Thermaltake, EVGA, be quiet!, and SeaSonic all generally make good power supplies. You'll still want to double-check the specific power supply you buy first, of course.
If you want a more detailed power supply buying guide, head over to Jerry James' article on How To Choose a Power Supply.
Alternatively, if you just want a quick set of great power supply recommendations, you can also scan his Best Modular Power Supplies guide.
What if I want more ATX case options?
Well, an article worth considering for you might be Jerry's Best Smallest ATX Case Guide.
That guide features exclusively ATX cases with full expansion capabilities, but all of them are tailored to suit more compact builds— at least by ATX standards.
If you want to cut down on your footprint without making any major sacrifices in expandability or cooling, the cases outlined in that article should all serve you well.
I personally favor the Cooler Master HAF XB EVO from that article, since it comes with built-in handles for easy transportation.
What are the ideal high-end PC case options?
If you want more high-end case options, or just want an idea of what the best high-end PC cases currently on the market are, head here to read my 7 Most Expensive PC Cases Worth Buying Guide.
I don't just go for the most expensive PC cases and call it a day, either— every case there serves a different purpose and, if none of the cases in this article suit your tastes, chances are good that one of the ones there should.
Of course, you would need to save up more for any of those options compared to the ones in this article, but you still shouldn't expect to spend more than $200 for most of them. And depending on your use case, that might actually be worth it!
How much is too much to spend on a PC case in a value-oriented build?
Well, I personally set the limit around ~$80 myself.
That's where I set the limit for this article, as cases that meet that $100 price point and climb past it up to $200 and beyond don't really suit the "Value" moniker by any stretch of the imagination.
Cases worth buying also start cropping up around the $50 price point, but going up to $80 gives some nice leeway for some higher-end features here and there, like side panel windows or LED/RGB fans.
One thing to keep in mind when it comes to PC case pricing is that you're likely to spend more on particularly large cases (Full Towers) as well as particularly small cases (Mini ITX and HTPC cases).
In the former scenario, that's because of all the added expansion and the cost of raw materials.
In the latter scenario, it's more because SFF PC cases are a specific niche market, so pricing tends to be higher despite a lower raw materials cost to compensate for R&D.
Over to You
That's all, folks! At least for now, anyway. I hope this article equipped you with some solid case buying fundamentals and helped you identify a great value PC case for your budget or mid-range PC build's needs.
Leave a comment below and let me know if you need any further assistance, or head to the forums to directly engage with other members of the CGDirector team and community. Until then or until next time, have a good one— and happy building!