Graphics Cards have complicated naming schemes and it can get confusing very fast, especially with the rate at which new GPUs are released.
What does Ti mean in a GPU?
The abbreviation "Ti" means "Titanium" when seen in an NVIDIA GPU Name. Some examples include the 3080 Ti, 2080 Ti, 1080 Ti.
It doesn't mean, however, that there is any Titanium used in the manufacturing of the GPU. At least not more than in any non-Ti cards.
Now, how does this translate to performance? Let's take a look at some of the more recent generations of NVIDIA Cards:
GTX 780: CUDA-Cores: 2304, VRAM: 3GB, Octane-Bench: 82
GTX 780Ti: CUDA-Cores: 2880, VRAM: 3GB, Octane-Bench: 103
GTX 980: CUDA-Cores: 2048, VRAM: 4GB, Octane-Bench: 91
GTX 980Ti: CUDA-Cores: 2816, VRAM: 6GB, Octane-Bench: 137
GTX 1080: CUDA-Cores 2560, VRAM: 8GB, Octane-Bench: 130
GTX 1080Ti: CUDA-Cores: 3584, VRAM 11GB, Octane-Bench: 191
RTX 2080: CUDA-Cores 2944, VRAM: 8GB, Octane-Bench: 255
RTX 2080Ti: CUDA-Cores: 4352, VRAM: 11GB, Octane-Bench: 348
RTX 3080: CUDA-Cores 8704, VRAM: 10GB, Octane-Bench: 549
RTX 3080Ti: CUDA-Cores: 10240, VRAM: 12GB, Octane-Bench: 650
As we can see, the Ti Versions have a lot more Shader (CUDA) Cores, more VRAM and tend to designate both higher value and higher performance GPUs in the NVIDIA GPU Generation line-up compared to non-Ti GPUs of the same tier.
"Ti"-Version of GPUs are often released at a later date than their non-Ti counterparts. They usually are a means to stay competitive against products AMD releases. In addition, they are often launched to lower prices of certain performance tiers without actually lowering the prices of existing GPUs.
The Ti Version also clearly outranks the non-Ti GPU in Octane-Bench.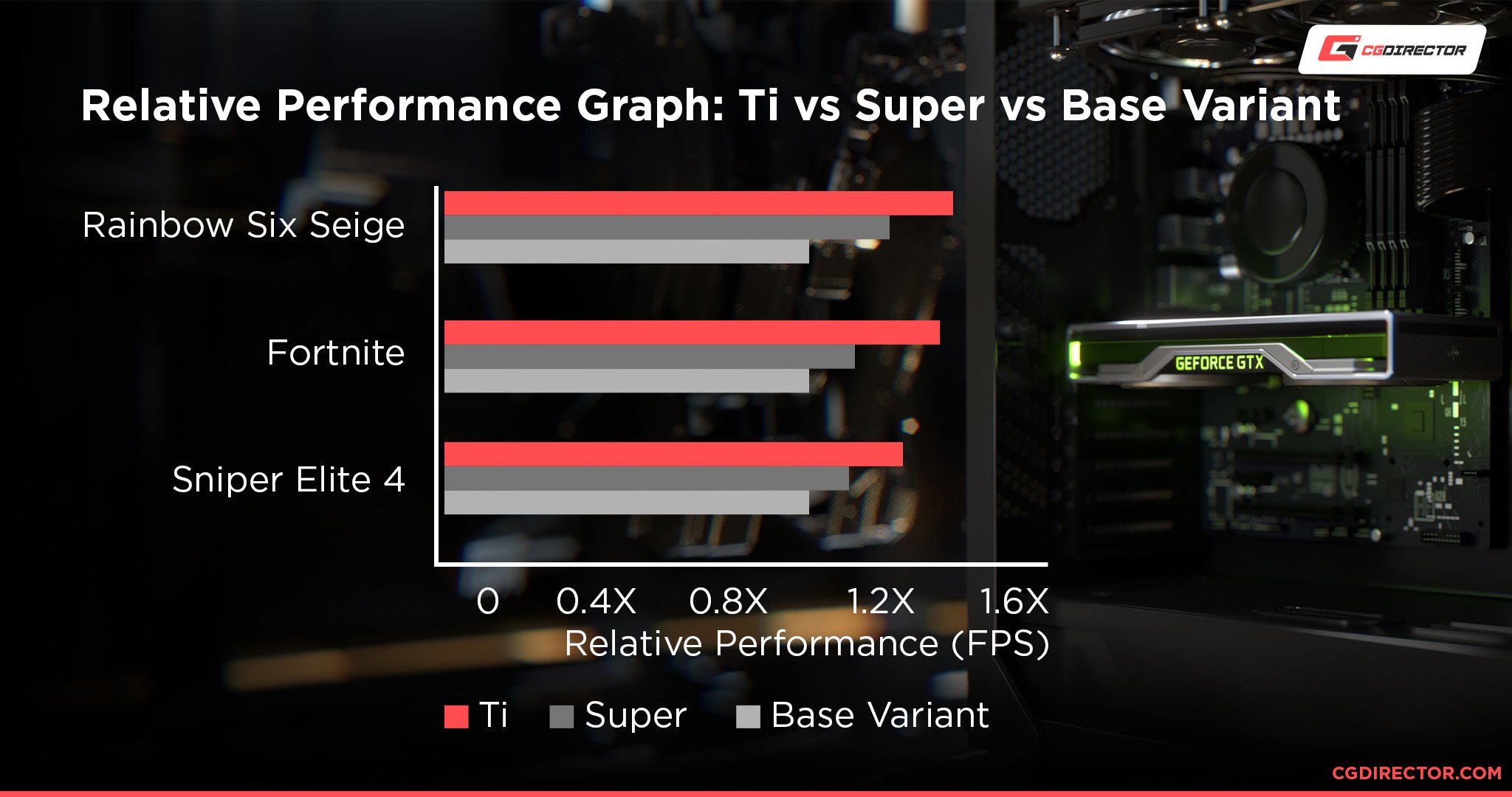 Some say the Ti Version usually is a non-cut down Version of a GPU Core. Though this is not always true. Sometimes the Ti Version uses a different core than the non-Ti Versions, though sometimes the non-Ti Versions have the Same GPU Core as the Ti Version with some parts being deactivated.
Check the performance / Dollar Table here to see if you should reach for the Ti Version of NVIDIA GPUs.
Is Ti or SUPER better?
The Ti variant of a GPU tier is superior to the SUPER variant – in performance. A 2080 Super for example is marginally slower than a 2080 Ti while also having just 8GB of VRAM vs the 2080 Tis 11GB of VRAM.
There are a couple of GPUs on the market with all 3 variants available. The GTX 1660, GTX 1660 SUPER, and the GTX 1660 Ti. The Ti-Variant is the fastest of the three, followed by the SUPER which – although slower- is often superior value.
The RTX 2080, RTX 2080 SUPER, and RTX 2080 Ti too, follow the same performance structure. 2080 < 2080 SUPER < 2080 Ti.
FAQ
What does GPU stand for?
GPU stands for Graphics Processing Unit.
What does Nvidia mean?
Nvidia is a technology company that is well known for developing and manufacturing Graphics Cards (GPUs) and other compute hardware.
Over to you
What GPU are you thinking of buying? Let us know in the comments or ask us anything in our expert forum!