When it comes to hard drive brands, it's difficult to find a more famous and trusted name than Western Digital Corporation (otherwise known as WD).
WD competes with Seagate in the battle for global market share.
For more than 2 decades WD has carved out an enviable reputation for rolling out some of the most reliable and sought-after drives in the world.
WD not only sells hard drives to computer manufacturers but also directly to consumers who are looking to replace their current drives or expand their storage.
Overview of WD Color-Themed Hard Drive Series

WD's hard drive lineup consists of several series that are distinguished by a color-based naming scheme.
These are WD Blue, WD Green, WD Black, WD Red, WD Purple, and WD Gold.
Using colors is intended to simplify the process of hard disk selection while making it easier to remember what each line of hard disks is best suited for.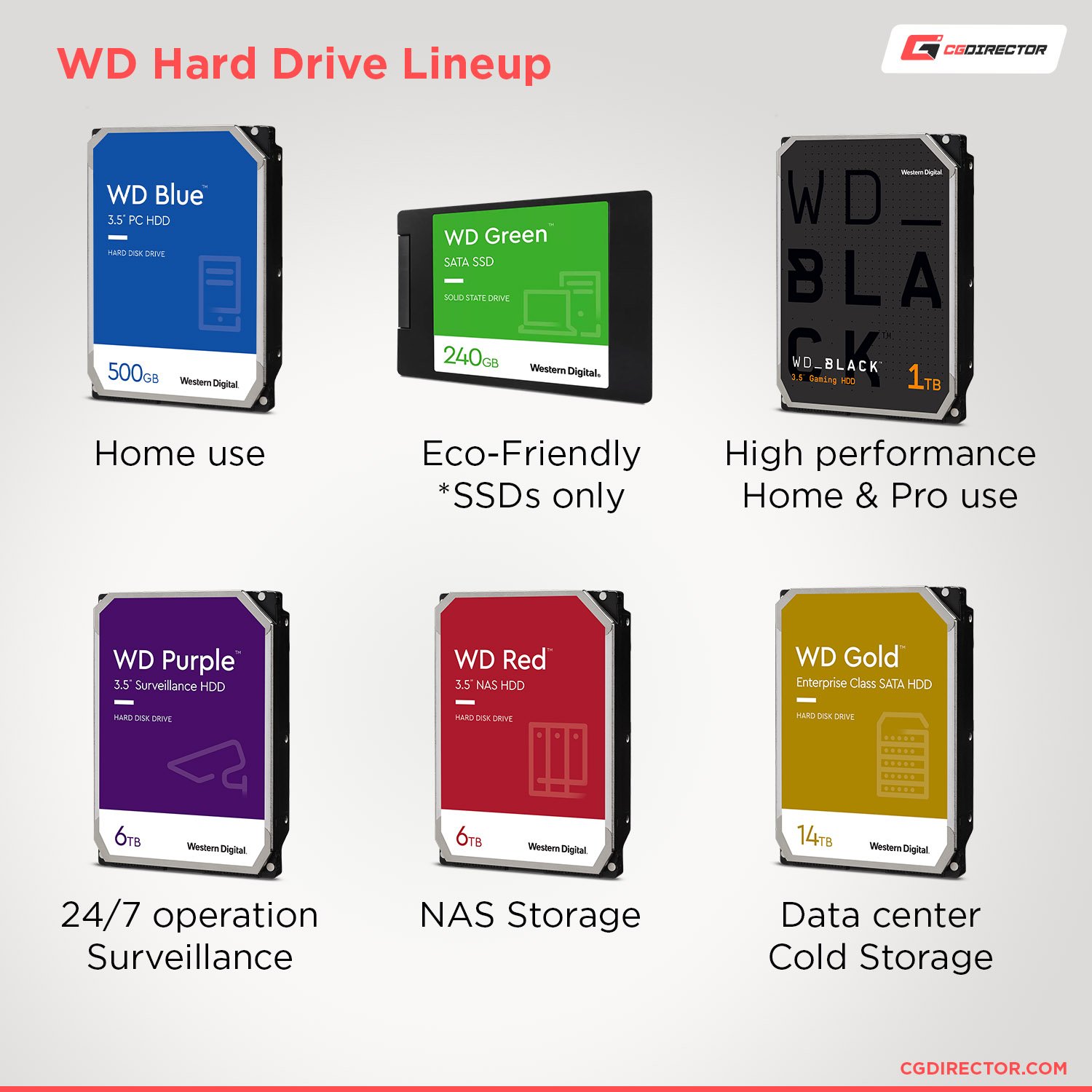 While most of the different WD hard disks can serve almost any hard disk function, it helps to think about the different series as different types of footwear.
Whereas no one can stop you from wearing sneakers and sandals whenever you choose, each is designed and optimized for certain workloads.
Similarly, some WD drives will be unable to keep up with user demands while others may be overkill in certain scenarios.
To ensure you procure the WD disk you need, and only pay as much as is necessary, it's essential that you have a good grasp of what each WD series has been made for.
Here's a quick rundown:
WD Blue is considered an all-rounder and is popular for basic, general purpose PC storage.
It's the series with the cheapest models but the drives can be relatively noisy compared to some of the other hard drive series.
WD Green used to consist of hard disk drives with notably lower performance than WD Blue ones, which made up for it by being more eco friendly, less noisy, while generating less heat.
The "Green" series has now removed mechanical hard drives and replaced them with entry-level SSDs only.
WD Black is one of the more expensive options due to its high performance.
The high speed and large cache have made it the drive of choice for both home and enterprise desktop applications requiring heavy computing such as audiovisual content creation, rendering, and gaming.
It comes with a 5-year warranty.
WD Purple works well with 24/7 operations such as CCTV surveillance. The drives are built to spend much of their time writing continuous data streams.
WD Red is the Network Access Storage (NAS) drive. It is purpose-built for NAS systems that demand continuous operations, 24/7.
The WD Red series is designed to endure the thermal envelope and constant vibrations inherent to multi-drive systems.
WD Gold, as the name suggests, is the most premium WD drive and is built for a wide range of enterprise cold storage and data center operations.
Like the WD Black series, WD Gold has a 5-year warranty and is recommended for web servers and virtual machines.
Why "WD Blue" vs. "WD Black"?
Many consumers contemplating buying a WD disk will likely find that their decision comes down to a choice between the WD Blue and WD Black series.
Let's take a closer look:
WD Blue Overview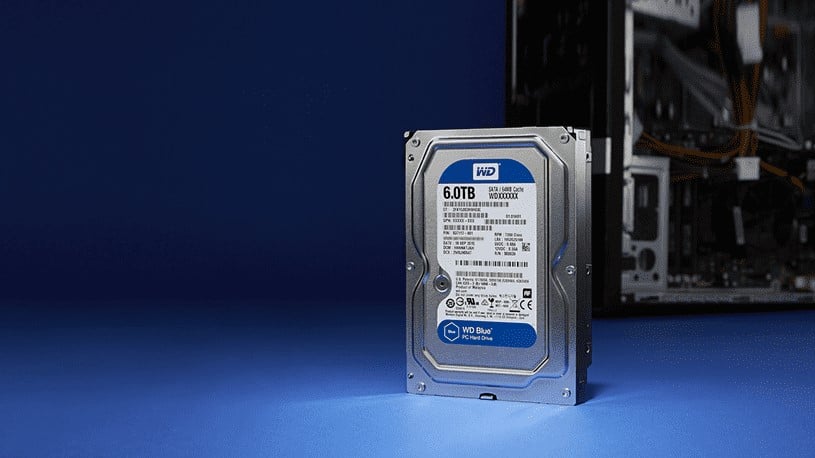 WD Blue is the series with the most comprehensive WD product line-up. It is the go-to series for ordinary PC users looking for average, everyday home PC performance, reliability, and efficiency.
Its broad application has made it WD's most popular series to date.
The WD Blue series is a balanced mix of affordability, high capacity, and fast speeds.
From storage of spreadsheets and word processing documents to large music, video, and picture files, the WD Blue scores well on cost and performance.
If you aren't sure what WD drive you require, WD Blue would be a safe bet. It's a good starting point for the average customer.
Advanced seeking algorithms and power management features lower overall power consumption, while the NoTouch Ramp Load Technology carefully positions the drive-head off the surface of the disk to improve the safety of your data.
The capacity of WD Blue drives varies from 250GB to 6TB and has spindle speeds of either 5,400 RPM or 7,200 RPM.
The WD Blue does lack certain advanced features such as vibration protection, but you do get a 2-year warranty.
WD Black Overview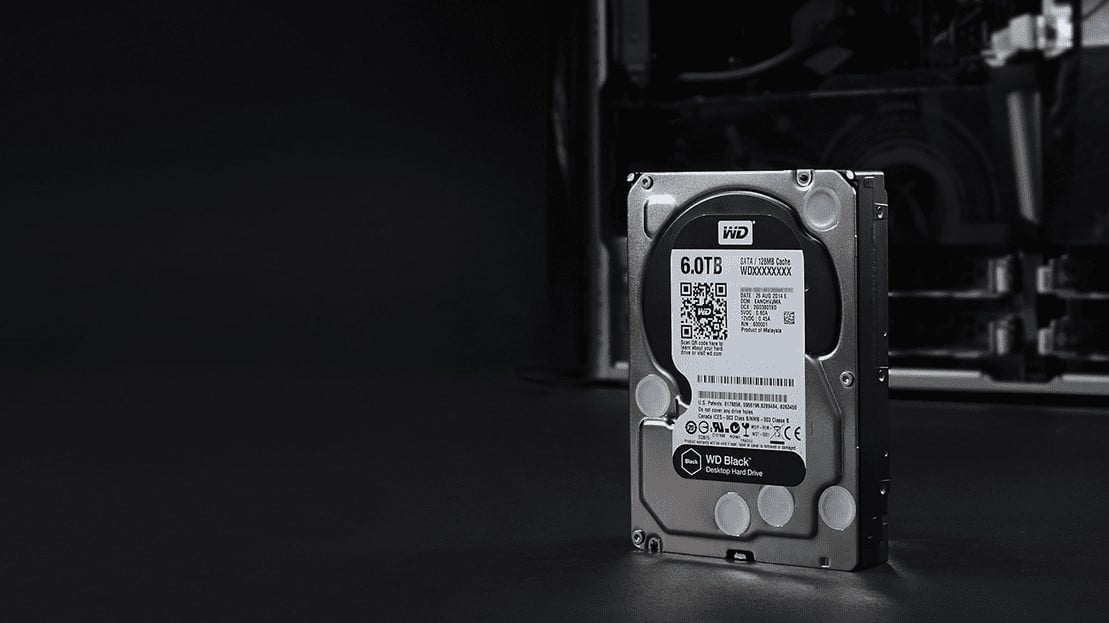 The WD Black series has proven popular for gaming PCs and enterprise workstations. It's built for sturdy performance at the consumer-level and comes with a 5-year warranty.
Whether you are a gamer, photographer, video editor, or digital artist, WD Black's focus on performance will keep your creative juices flowing.
Available in up to 10TB capacity, the WD Black series can realize breathtaking read rates and transfer speeds with a DRAM cache of as much as 256MB on the top-line models.
WD's Dynamic Cache Technology optimizes cache allocation in real time between reads and writes to maximize performance in tandem with the needs of a specific workload.
The StableTrac Technology on WD Black models 2TB and higher ensures more accurate tracking and therefore enhances the efficiency and reliability of read and write operations.
The motor shaft is secured which reduces the impact of system-induced vibrations emanating from other drive components.
WD Black hard drives may heat up more than other series and also make significantly more noise. Still, it's more than worth it if you are looking for a drive that performs better than the typical low-cost PC HDD.
Comparison By Features
With the basics of each out of the way, we can now dive into the specifics of how the two WD series compare on the major features.
Form Factor
Form-factor refers to the size of a hard drive. The two most common form factors are 3.5-inch for Desktop PC hard drives and 2.5-inch for laptop and mobile hard drives.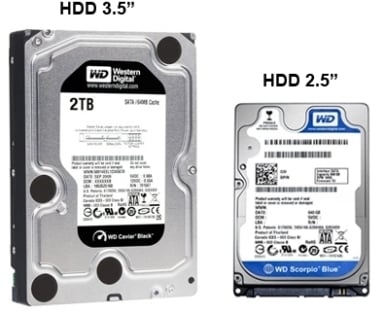 These two form-factors have been a mainstay of the computer industry since 1983 (for the 3.5-inch) and 1988 (for the 2.5-inch).
2.5-inch hard drives can fit in smaller enclosures hence their suitability for laptop and mobile use. They have a lower seek time since the drive head travels a shorter distance.
They also require less power to operate than desktop drives, and are more likely to withstand the rigors of shipping and movement.
2.5-inch drives are nevertheless typically of lower capacity and are also more expensive per gigabyte of storage.
Both the WD Blue and WD Black series come in 2.5-inch (mobile) and 3.5-inch (PC) form factors.
Formatted Capacity
The formatted capacity of a hard drive refers to the total amount of information in bytes that can theoretically be stored on it.

The Western Digital Black Series does come in higher capacities (up to 10TB), so if you are in need of a large quantity of high-performance storage, the Black Series is for you.
WD Blue currently tops out at 6TB maximum capacity.
Cache
A hard drive's cache is also referred to as the disk's buffer. It isn't given as much attention as the headline features of a drive, yet it plays a substantial role in how fast the drive ultimately is.
The cache serves as a temporary memory when the drive reads and writes data permanently on the platters.
It is used to hold a copy of the most frequently used data so that the HDD doesn't have to work hard for smaller operations while finalizing initial writes quickly in order to speed up copying small files into the drive.
This is critical in a computer, as the more cache there is, the faster the system can work.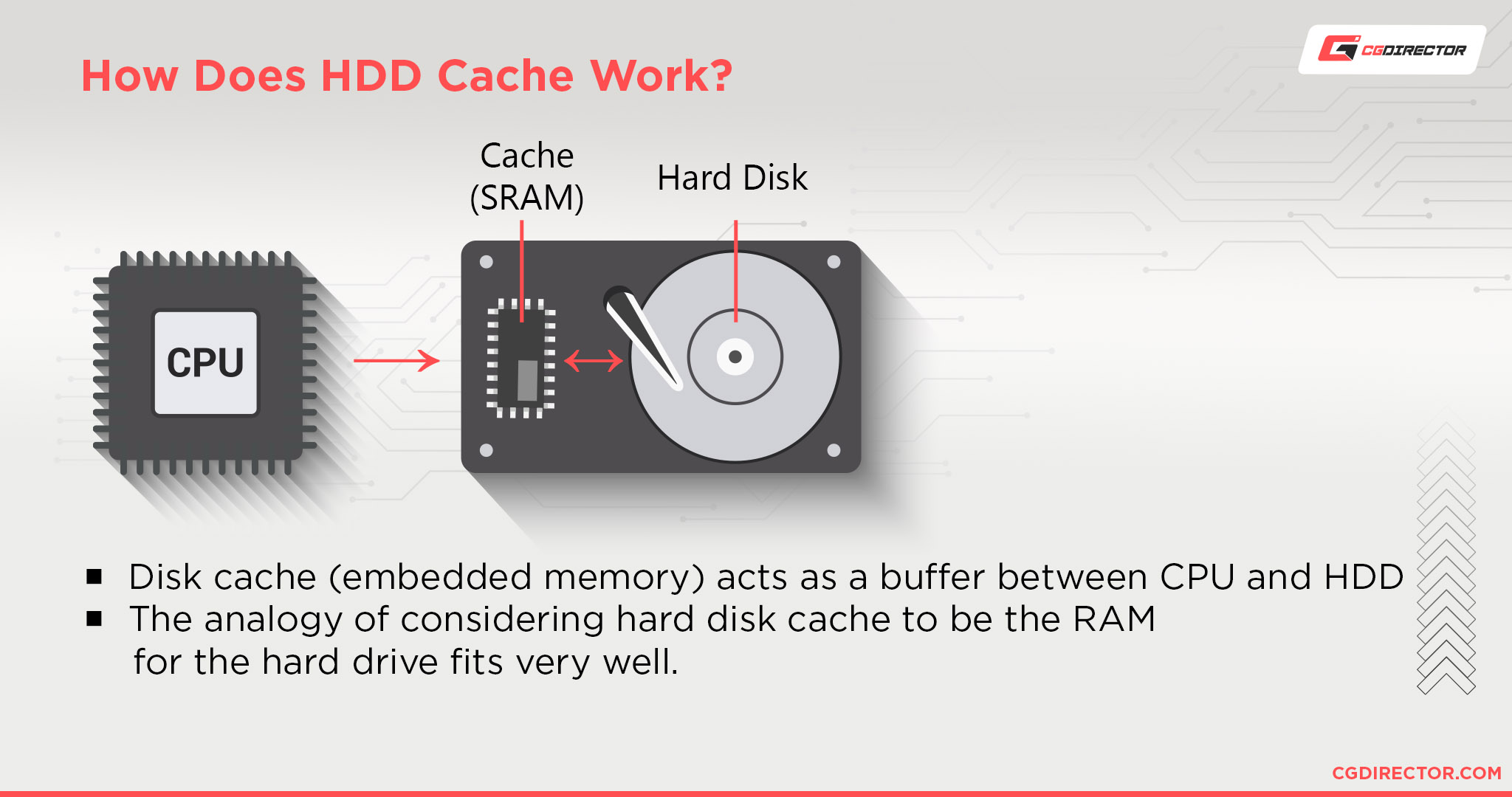 The WD Black PC hard drive models have a cache of between 64MB to 256MB. The WD Black mobile hard drives range from 32MB to 64MB.
The WD Blue mobile series is equipped with a cache ranging from 8MB to 128MB while the PC models of the WD Blue drives feature a cache of between 32MB and 256MB.
Therefore, WD Blue and WD Black both offer up to 256MB of cache in their PC lines.
At the 2.5-inch mobile hard drive class though, the differences are more nuanced. The WD Blue mobile series has models with 128MB cache which is unavailable for any of the WD Black mobile series.
However, WD Blue also has models at 8MB which is much lower than the minimum 32MB of WD Black mobile series.
Performance Class (RPM)
The performance of a hard drive is heavily dependent on its spindle speed, in revolutions per minute (RPM).
Whereas you can find hard drives in the market registering at 15,000 RPM, by far the most common hard drives are those at 5,400 RPM or 7,200 RPM.
Drives that operate at 7,200 RPM offer quicker read/write speeds thus delivering faster execution of programs and transfer of files. On the down side, 7,200 RPM drives will cost more, all other factors constant.
Also, the higher RPM is accompanied by more power consumption, more heat, move vibration, more noise, and a shorter lifespan.
A 7,200 RPM drive is about 20 percent faster than a 5,400 RPM drive, which isn't much if you are not looking for performance. Higher RPM may seem to be the obvious choice, but lower RPM is advantageous if you are storing large files.
With the exception of two PC models that run at 7,200 RPM, all models in the WD Blue mobile and PC series come with 5,400 RPM. For the WD Black series, all mobile and PC drives operate at 7,200 RPM.
Load/Unload Cycles
A single load/unload cycle is initiated by the disk drive first readying itself for operation through spinning up the spindle and thus the disk beginning to rotate.
This action is a necessary precursor for the read/write heads to be activated and the commencement of capture and creation of data.
Once the read/write operation is complete, the disk unloads, stops rotation and returns the read/write heads to their safe position.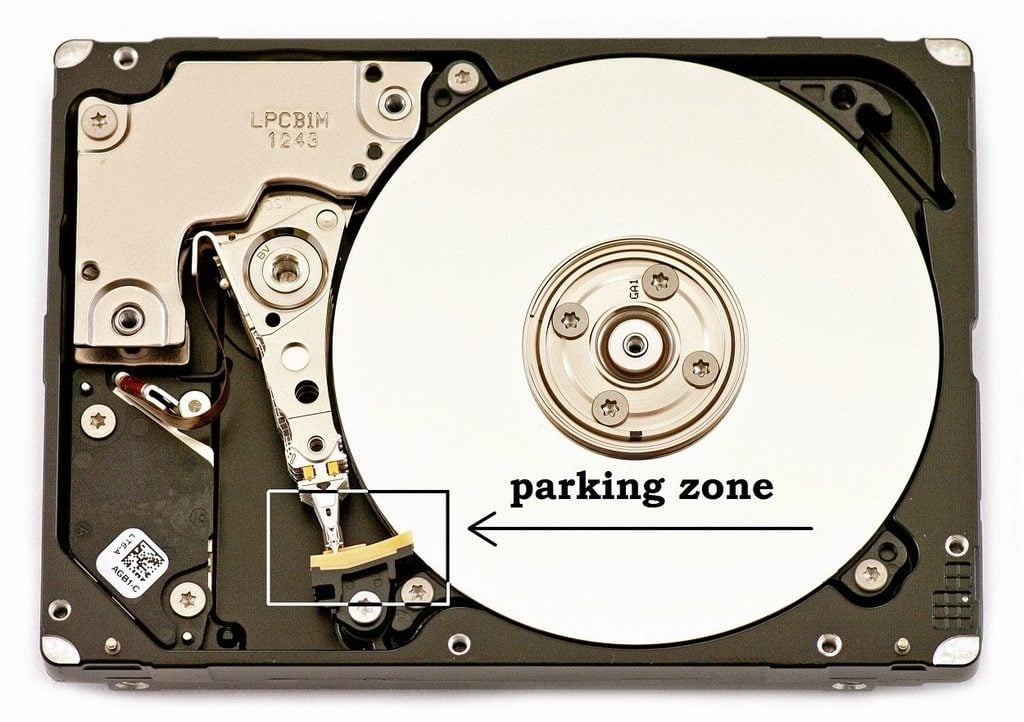 The higher the load/unload cycles a hard disk is indicated to have, the longer it is expected to last.
Load/unload cycles are considered one of the more important disk reliability metrics.
Both the WD Blue and WD Black mobile drives are built for 600,000 load/unload cycles while the PC drives of each series are designed for 300,000 cycles.
The higher figure for mobile drives is because smaller form factor hard disks spin down more on average than their desktop counterparts as a means of saving battery life.
Average Power Requirements
The average power requirements for the WD Blue PC series ranges from 3.3W to 6.8W for read/write, 2.3W to 6.1W for idle, and 0.24W to 1.2W for standby and sleep.
For the WD Black PC series, the power requirements are 6.8W to 9.5W for read/write, 5.8W to 8.1W for idle, and 0.8W to 1.3W standby and sleep.
The WD Black mobile series requires 2.0W for read/write, 0.85W for idle, and 0.25W during standby and sleep.
For the 2.5-inch WD Blue series, we are talking 1.4W to 1.7W for read/write, 0.5W to 0.8W when idle and 0.1W to 0.2W when on standby/sleep.
From these measurements, for the PC hard drives, we notice that the WD Black series requires more power than the WD Blue series.
This is flipped for the mobile models of each series where the WD Blue disks will consume more power on average than the WD Black models.
Acoustics
Noise levels are a key measure in determining the environmental impact of a hard drive. How do the WD Blue and WD Black series compare?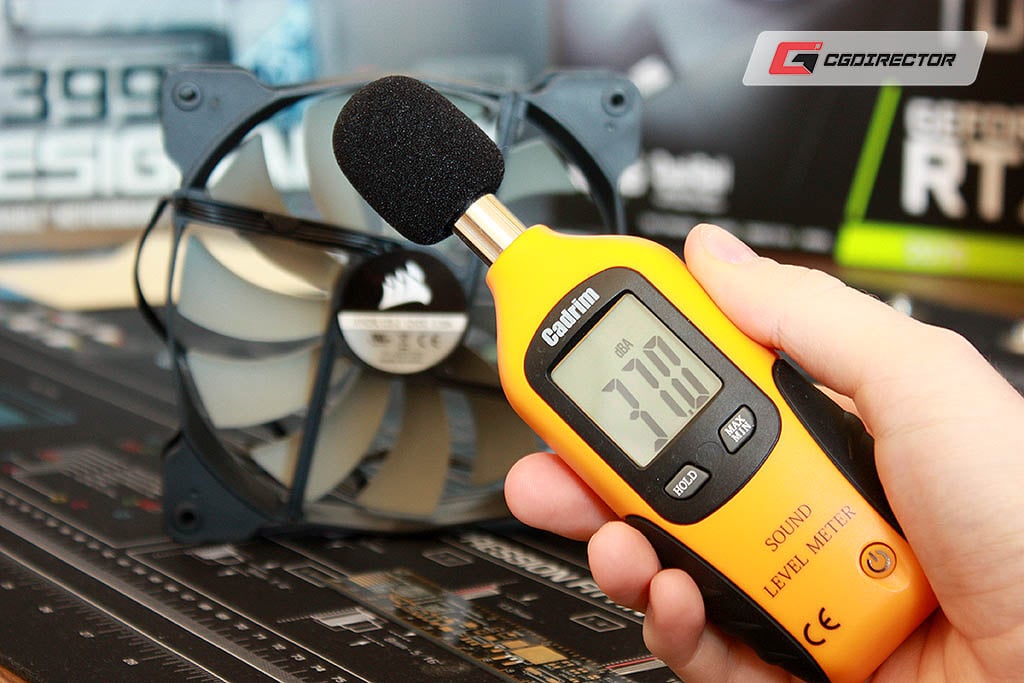 Well, WD Blue desktop hard drives (3.5″) have a noise level of 21-29 dBA when idle and 24-30 dBA on average when seeking. WD Blue mobile hard drives feature noise levels of 17-24 dBA when idle and 21-25 dBA on average when seeking.
WD Black PC hard drives have noise levels of 29 dBA when idle and 30-36 dBA when seeking. WD Black mobile hard drives generate 23-24 dBA when idle and 25-35 dBA on average when seeking.
The WD Blue series is less noisy. This comes at the cost of having a lower overall performance when compared to the WD Black series.
Limited Warranty
As electro-mechanical equipment, a hard drive will sometimes run into hardware and firmware problems long before it reaches the projected end of useful life.
A warranty is geared to cover this cost as part of the after-sales customer service. WD provides a limited warranty for both its WD Blue and WD Black series.
It's a limited warranty because not just any problem with the hard drive will be covered and not under all circumstances.
The WD Blue series is covered by a 2-year warranty, while the WD Black is under a 5-year warranty. So if you are comparing the two series on the basis of warranty alone, the WD Black series would clearly have the edge.
Note that for the warranty to be executed, the product must have been purchased from an authorized reseller or authorized distributor. It must be returned to an authorized warranty region return center.
Unless otherwise indicated, no limited warranty is provided if the WD Blue or WD Black hard disk was bought as a component integrated with a third-party system by the system manufacturer.
This should not be confused with component drives (i.e. internal drives sold by WD) as these are by default covered by the warranty.
Nevertheless, the nature and extent of the product warranty will differ depending on the warranty region as well as the type of purchase transaction.
You can use WD's Warranty Status Check service to confirm the status of your warranty.
WD Blue vs Black compared – Summary Table
The following table sums up the key differences between the WD Blue and WD Black series:
Feature/Attribute
WD Blue
WD Black
Form Factor
2.5-inch (mobile)

3.5-inch (PC)
2.5-inch (mobile)

3.5-inch (PC)
Capacity
320GB to 6TB
250GB to 6TB
Load/Unload Cycles
600,000 (mobile)

300,000 (PC)
600,000 (mobile)

300,000 (PC)
Interface
SATA III
SATA III
Spindle Speed
5,400 RPM (mobile)

5,400 - 7,200 RPM (PC)
7,200 RPM
Host to/from drive transfer rate (Sustained)
Up to 175MB/s (6TB)
Up to 256MB/s (6TB)
Buffer to host transfer rate
6 Gb/s
6 Gb/s
Cache
8MB to 256MB
32MB to 256MB
Acoustics/Noise When Idle (dBA)
17-29
23-29
Acoustics/Noise When Seeking (dBA) on average
21-30
25-36
Price
From $36.99
From $51.99
Warranty
Two years
Five years
Use
Home
Work and Gaming
Conclusion
The WD series and model that will be most suitable for your need depends on your workloads.
Although, with SSDs ruling the operating system storage role, HDDs' role in the PC market is now rather focused on its use as secondary storage for archiving and backups but not necessarily as an active work drive.
The average home user that uses HDDs for backups and archiving, will not need the performance or want the extra cost involved with purchasing a Black Series HDD.
The Blue Series HDD will suffice for these workloads in combination with an SSD for use as an active work drive.
While this article has covered the two series in quite some detail, if you are still having difficulty making a choice or would like additional clarification, you can check out WD's Knowledge Base.
That's about it from our side. What Hard Drive are you thinking of buying? Let us know in the comments!