Buying a laptop in today's day and age can get quite exhausting.
There are so many different companies and OEMs, lines and nomenclatures, specifications, certifications, obscure terms and phrases that, to the uninitiated, seem like absolute and utter gibberish.
And yet, for one reason or another, one has to master all of these elements if one aims to make an informed purchasing decision.
The real challenge begins once you start dissecting something wholly specific and vague — like the Intel Evo Certification.
It sounds like a bit of marketing hogwash, like it was designed and labeled in such a way to impress, to evoke a sense of complexity and layeredness. And, in most cases, that's all these things are: overly hyped gimmicks used to generate interest and, by proxy, revenue.
This specific certification, however, is not a gimmick, but instead a set of standards imposed by Intel which, if met and satisfied by OEMs, results in a kind of user experience we're all after.
And that, in short, is why it warrants a deeper dive. So, with that little introduction out of the way, let's begin!
What Does Intel Evo Mean?
For a laptop to carry the Intel Evo label (or certification, rather), it needs to meet the following criteria: it needs to support instant wake from sleep, to have a 1080p webcam that has Windows Hello support, it needs to have at least one USB-C port that's Thunderbolt 4, a thin-and-light chassis (under 3.3 pounds/1.5 kilograms), alongside the latest connectivity options like Wi-Fi 6E and Bluetooth 5.2.
Last but certainly not least, it needs to last over nine hours on a charge (for FHD panels) and have support for fast charging.
There are also other, seemingly less important things and features like Intel Unison support, AI noise cancellation, and so on and so forth.
These additions, one can argue, don't really elevate the overall user experience, but they can be chalked up under the "nice-to-have" column.
These requirements are by no means final or written in stone, as Intel keeps on updating them every so often — definitely, a plus as far as we're concerned, given the fact that the world of portable computing keeps on evolving at a rapid pace.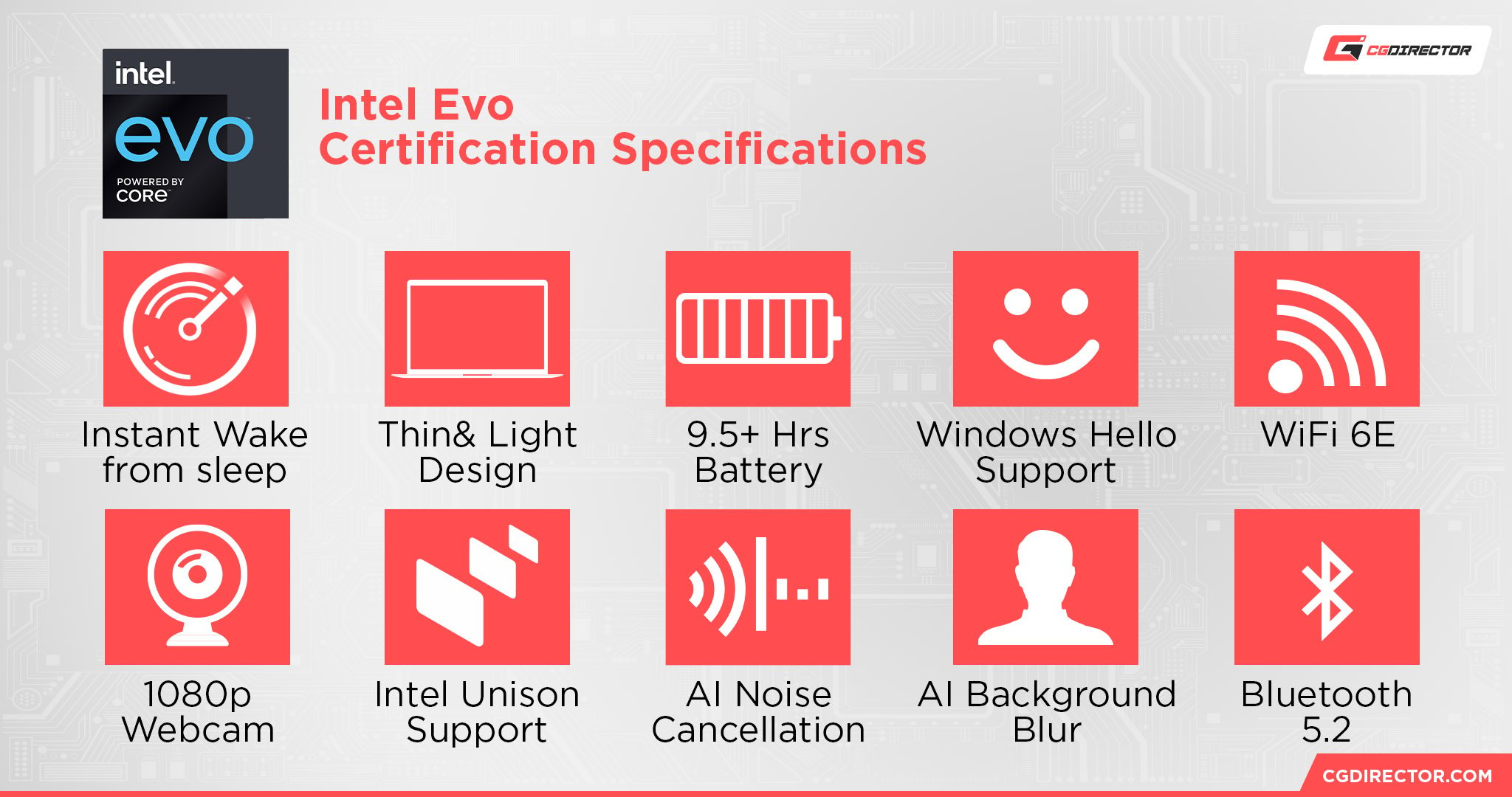 The whole point of this certification is to sort of standardize higher-end laptops and provide peace of mind to potential buyers.
In other words: if you're in the market for a thin yet powerful ultrabook, the Intel Evo sticker should serve as a guarantee.
You shouldn't, however, trust it blindly without doing any research as, sadly, OEMs can still cut corners — but more on that down below.
Are Intel Evo Laptops Worth It?
The problem with this particular certification is that it doesn't cover every element of the proverbial equation.
It doesn't, for instance, guarantee that your laptop of choice will have a bright, color-accurate display. The same holds true for the quality of its speakers, its hinge, trackpad, keyboard, and so on.
A laptop can, by all means, have a dim, 250 nit display and still get an Evo certification.
Intel isn't to blame for this as OEMs are always looking to cut corners — which further strengthens the importance of reading and watching as many reviews as you can before making any kind of purchasing decision.
Much of the same holds true for battery life as well. Stats and benchmarks given out by OEMs should never be taken at face value; always read the fine print and do a bit of digging in order to find the actual numbers and runtimes.
With all of that being said, Intel Evo laptops are, in most cases, viable purchases. Thunderbolt 4 support will surely come in handy if you're interested in buying a docking station or, say, an external graphics card.
A high-quality webcam is obviously a must in today's day and age, and the latest connectivity standards like Wi-Fi 6E and Bluetooth 5.2 will also provide a tremendous boost in speed, latency, and battery life.
There's quite a lot to like, in other words. There is one problem, though, and it contains just three letters: AMD.
Are Intel Evo Laptops Better Than AMD Ones?
For the most part, they are not. AMD is way ahead of Intel when it comes to efficiency, and its processors are not trailing behind in performance either.
This Redmond-based tech giant currently has the best, most advanced x86 processors on the market and, by the looks of it, the best is yet to come.
Moreover, AMD laptops are almost always cheaper than Intel ones.
And sure, they might not have certain features or creature comforts, but they are better overall and are a much more viable pick for the average consumer — the folks who need their laptops to perform incredibly well throughout the day, not sound like a jet engine, and still deliver ten or so hours of battery life.
What Are the Best Intel Evo Laptops?
There are many stellar ultrabooks that are Intel Evo certified — too many to count, even. Each and every single OEM makes sure that its best thin-and-light designs adhere to this standard and, well, rightfully so.
Ultrabooks are always expensive. They feature incredible build quality, stellar displays (more often than not, at least), ample connectivity options, and input devices that are a joy to interface with.
Lenovo has its ThinkPads and YOGAs (sometimes called Slim, depending on the region), Dell has its legendary XPS line, ASUS its Zenbooks and Vivobooks, and HP its Spectres and Envies.
Acer, too, has a couple of interesting models (all of which fall under the Swift umbrella), but they're often not as well-rounded as what other OEMs have to offer.
The following models tick most (if not all) of the right boxes: Dell XPS 13 Plus, HP Spectre x360, LG Gram 14/16, Lenovo ThinkPad X1 Nano, Lenovo Yoga 9i, ASUS Zenbook S13, Samsung Galaxy Book3 (Pro), ASUS Zenbook 14, HP ENVY x360, and Microsoft's Surface Pro 9 (in case you're after a two-in-one convertible) and Surface Laptop 5.
All of these laptops are incredibly well-built and are about as well-rounded as it gets.
They're also fairly varied when it comes to their designs and features, so you're bound to find one that'll suit both your needs and your preferences. We're spoiled for choice, really.
If you're interested in learning more about one such model, make sure to watch the following video from Just Josh:
Conclusion
Intel Evo laptops are, without a doubt, amongst the finest on the market. The certification itself still needs a bit of work, though; more rigorous battery testing alongside additional requirements in regard to display quality is a must.
Overall, it is a step in the right direction. Whether these laptops are the right choice for you and your workflow is up for debate.
A few creature comforts and connectivity options, while certainly great and sought-after, aren't the most vital elements of the equation.
Moreover, at the high-end, you're basically getting a nigh identical experience regardless if you go with Intel or AMD, so it all boils down to the minute details and nuances of what one favors most.
Intel-based laptops are devilishly fast but are also, at times, way too hot. Their processors draw too much power to deliver such a level of performance which invariably leaves a toll on battery life.
And so, essentially, they're not that impressive a pick for thin-and-light ultrabooks where silent operation and endurance often take center stage.
It does vary from one model to the next, so make sure to do a bit of digging before whipping out your wallet — lest you end up with a laptop that, while certified, isn't up to snuff.
FAQ
Let's go over a few potential questions you might have regarding the Intel Evo Certification and all that it entails:
What Does Intel Evo Mean?
Thin-and-light ultrabooks that are Intel Evo certified all feature fast charging, instant wake from sleep, Wi-Fi 6E, Bluetooth 5.2, some form of biometric authentication, long-lasting battery life, Thunderbolt 4, and many other hardware- and software-based bells and whistles.
They are supposed to be the ultimate portable computing devices with very few flaws and limitations, but that, sadly, isn't always the case.
Still, that sticker alone means that, should you make the investment, you'd be getting a very well-tuned and capable notebook.
Are Intel Evo Laptops Better Than Regular Intel Ones?
They are, but it's not as clear cut as one would hope.
A laptop doesn't have to feature an Intel Evo sticker in order to have good battery life, the latest connectivity options, or Thunderbolt 4 — amongst other things. What that sticker does, essentially, is that it sort of guarantees certain features and niceties.
You can think of it as Intel's "seal of approval," and an acknowledgment that that specific laptop meets a high standard and is imbued with some of the latest bells and whistles money can buy. Nothing more, nothing less.
The vast majority of those features, however, are not unique to Intel-based laptops, which is yet another thing worth keeping in mind.
Overall, though, we're all for having a standard set in place as it limits the amount of wiggle room for OEMs and simplifies and streamlines the overall buying experience.
A win-win, if you will.
Are Intel Evo Laptops Better Than AMD Ones?
Not really. They do come with a few wholly unique features which, to a specific crowd, might make them more preferable; overall, though, they're neither better nor worse than AMD ones.
It all boils down to the processors themselves, the way in which they are implemented, and their many technical peculiarities — their operating frequencies, TDPs, manufacturing processes, efficiency, and so on and so forth.
And in that kind of battle, AMD has a much larger lead than one would expect.
Over to You
What are your thoughts on Intel's Evo certification? Have you used any Evo-certified laptop and, if so, what was that experience like? Let us know in the comment section down below and, in case you need any help, head over to our forum and ask away!