As of September 16th, 2022, EVGA has publicly and vocally terminated their partnership with Nvidia, effectively removing themselves from the GPU business. EVGA was one of the most well-respected providers of Nvidia GPUs for most of the past few decades and was renowned for their customer service and trade-up/return policies.
Often considered the provider of the best overall Nvidia GPUs, EVGA has now left a distinct gap in the space it once occupied in the GPU market. So, why did this happen, and what does it mean for you, the customer? Let's dive in.
Why Did EVGA Exit The GPU Business?
As it turns out, not all is well in the world of Nvidia GPU AIB (Add-In Board) partners. If you think Nvidia has poor communication as a consumer, you may be surprised to find it doesn't get much better for their partners.
A direct example cited by EVGA in their talks with GamersNexus reveals that even EVGA doesn't get to know the MSRP of a new GPU until consumers do upon its official announcement. In the meantime, they're forced to work with placeholder prices, so even they won't know the actual cost of the product they're launching until it's time to launch.
More pressing than these odd communication issues is the fact that EVGA is actually losing money on Nvidia GPUs, as well as being forced to compete directly with Nvidia themselves providing the cheapest options on the market.
Lower-budget chips like the RTX 3060 aren't impacted as hard, but according to EVGA, they're losing hundreds of dollars on higher-end RTX 30 Series cards.
Ultimately, losses like these add up, and long-time business partners tend to demand a certain level of respect and flexibility from each other.
Despite EVGA's reported attempts to work things out with Nvidia, the ultimate conclusion left EVGA feeling disrespected and dismissed by their long-time partner, resulting in this outcome.
Steve from GamersNexus first reported this News on his Youtube channel. Here's what he has to say about this:
So, what now?
What other markets does EVGA still operate in?
The biggest market where EVGA is still active is found in Power Supplies. Compared to their GPUs, EVGA's PSUs are stated to have a much higher profit margin, and thus should still be a sustainable part of the company in the long-term.
If anything, PSUs are likely to become the new pillar upon which everything else at EVGA is built, as without the GPU business filling most of their revenue, PSUs are in an immediate 2nd place.
Besides PSUs, EVGA is also known for making liquid coolers, motherboards, and keyboards.
Seeing as they can still do all of these things without Nvidia's involvement, I would expect them to continue doing so with renewed focus to save their business.
Will the existing EVGA GPU warranty be honored?
Yes! EVGA has kept a stockpile of GPUs on hand in case they need to honor warranty and returns.
However, they are also no longer manufacturing graphics cards in any capacity, so this supply will eventually run out. EVGA anticipates that their current supply of graphics cards will be gone by the end of 2022.
Will the EVGA Step Up program continue?
This part wasn't discussed in any coverage I was able to find, however, the support page outlining the Step Up program is still up at the time of writing. I would definitely give EVGA a call or email to confirm before attempting to Step Up through their process.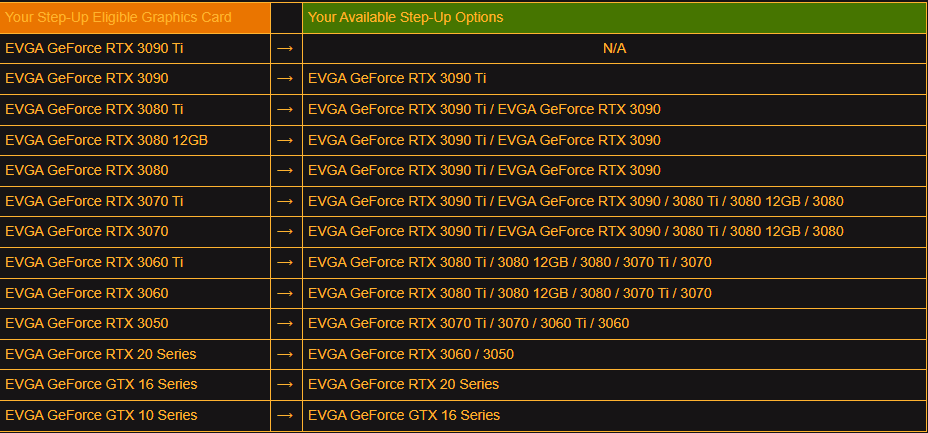 If the EVGA Step Up program is still active, this is the last generation of Nvidia GPUs that you will be able to use it with.
If you bought a new EVGA GPU within the last 90 days (one of the ones listed in the left column above), you should still be qualified for a Step-Up if EVGA has your Step Up GPU in stock.
Does this have wider implications for the industry?
Yes, though only time will actually tell how everything pans out.
For Nvidia GPUs, there is now a sizeable gap in the market and GPU supply where EVGA once stood. Other Nvidia AIB partners will quickly buy up EVGA's share of the GPU supply from Nvidia, but they may also be having second thoughts about their partnerships with Nvidia following EVGA's departure.
I'd be interested to see if this results in any long-term changes from Nvidia regarding their relationships with AIB partners.
Besides the GPU space, EVGA should still remain strong in the Liquid Cooling, Motherboard, and Power Supply markets that they're already known to perform well in.
How those divisions will continue in the years to come after this huge change to their business remains to be seen, though. While, in theory, those parts of EVGA shouldn't be impacted by the loss of GPU revenue and staff, there may be more fallout at EVGA from this than we currently anticipate in the long run. Only time will tell for sure.
Follow-Up Questions
Will EVGA make RTX 40 Series GPUs?
No. While you may have seen leaks of EVGA RTX 40 Series GPU designs, these are never going to come to market since EVGA has officially, fully withdrawn from Nvidia. The RTX 30 Series is the last Nvidia generation with EVGA graphics cards.
Will EVGA make AMD GPUs?
At the time of writing, EVGA informed GamersNexus that they had no intention of working with AMD or Intel on their discrete GPUs. So unfortunately for any AMD fans who were hopeful for another great GPU brand, EVGA doesn't seem to be jumping ship- you do have some solid brands already, though. I highly recommend Sapphire and PowerColor to AMD GPU users!
I also hope that EVGA considers changing their mind. Unless the AIB partnership would be similarly bad with AMD or there are contractual terms preventing them from working with AMD, I think it'd be a great shake-up to the market to have EVGA join Team Red. Not likely, but I can dream.
What other Nvidia GPU brands should I consider?
If the exit of EVGA from the GPU business has you worried about how you're going to get your hands on the next Nvidia GPU from a reputable brand, don't worry! I've already written an extensive guide to The Best GPU Brands, and you can head there for a detailed list of the best GPU manufacturers for both AMD and Nvidia.
Parting Words
And that's it, for now!
EVGA has officially exited the GPU business and has seemingly no interest in returning to it, even to work with AMD or Intel. However, they will still be doing what they can to honor returns and warranties with their current GPU customers, and will still continue to operate in PSUs, motherboards, and coolers.
Good luck to EVGA! They've established a great reputation for themselves even outside of GPUs, so I hope to see them succeed without Nvidia, too.
Feel free to comment below and let me know what you think, though, or head to our Forums to talk to the rest of the community about this!