The desktops vs. laptops decision is challenging, especially with work on the line.
One wrong pick could mean a ton of money down the drain, or worse, client projects getting delayed.
While the desktop side offers absolute, uncompromising power, the laptop side boasts a certain level of mobility and flexibility.
Honestly, I can see both sides of the argument.
Now that laptop manufacturers claim desktop-class performance with even thin and light laptops, it's time to revisit the laptops vs. desktops debate.
Is there any merit to their claims?
Let's find out!
Do Laptops Make Sense for High-End Computing?
In most cases, the answer is a solid no.
Building a custom desktop workstation is the best way to get your work done faster if you have a fixed workspace.
And no, this isn't just about performance charts. Efficiency improvements can mean the difference between getting your work done in a day instead of a week.
That said, a fixed workspace might be a luxury that some professionals just don't have.
Hybrid Work in 2023 for Creative Professionals
There are several flavors of remote work in the aftermath of the pandemic, and one that poses a bit of a challenge for creative folk is the hybrid working model. You know, half remote, half on-site.
And it's not even close to an unpopular choice.
In fact, Accenture found that a whopping 83% of workers preferred a hybrid work set up – so it will remain a 'thing' for the foreseeable future. You'll find similar statistics across several industry verticals as well.
If you're working exclusively out of your home office, well and good. A proper desktop is still the best option for you.
But what about those who have to flit between remote and on-site work?
Frequently switching from an office workstation to another at home can be jarring. Our readers have also commented on the hassle of moving large files and assets across workspaces. It's just too inconvenient.
Opting for a desktop, in this case, will only end up wasting your time.
A laptop that acts as a portable workstation is the way to go for a hybrid work setup.
You just plug into your multi-monitor setup with a full keyboard and mouse, wherever you are, and you're ready to pick up where you left off almost instantly.
Laptops vs. Desktops Head-to-Head Performance
Laptops have certainly come a long way in raw compute performance. Top-tier options now offer desktop-class performance, even during those extended workloads that can last hours at a stretch.
Laptop vs. Desktop Processor Comparisons (Cinebench R23)
Although Cinebench isn't perfect as a benchmark to compare CPUs, it gives you a broad idea of what to expect with a few types of creative workloads.
| CPU Name | CPU Type | Single Score | Multi Score |
| --- | --- | --- | --- |
| Intel Core i9 12900K | Desktop | 2003 | 27483 |
| Intel Core i9 12900H | Laptop | 1825 | 16555 |
| AMD Ryzen 9 5950X | Desktop | 1684 | 28782 |
| AMD Ryzen 9 5900HX | Laptop | 1493 | 13271 |
| AMD Ryzen 9 3950X | Desktop | 1406 | 26375 |
| AMD Ryzen 7 3800X | Desktop | 1346 | 13848 |
| AMD Ryzen 9 3900X | Desktop | 1312 | 18682 |
| AMD Threadripper 3970X | Desktop | 1308 | 46874 |
| AMD Threadripper 3960X | Desktop | 1307 | 34932 |
| CPU Name | CPU Type | Single Score | Multi Score |
As you can see from the chart above, The Ryzen 9 5900HX in the ASUS ProArt Studiobook 16 can easily keep up with the single-core scores of its desktop counterparts.
But if you take a quick look at the multi-core numbers, you'll see that they're nowhere close.
Even current top-tier laptop chips can barely stand their ground against older desktop CPUs like the Ryzen 7 3800X. For reference, the Ryzen 7 3800X launched way back in July 2019!
If you want top-tier single-core performance, modern laptops will not hold you back. Artists and designers handling active tasks (not rendering) will face absolutely no issues getting work done on laptop hardware.
On the other hand, if you need to handle core-sensitive work like CPU/GPU renders, you're usually better off with a desktop.
Either way, modern laptops offer compelling hardware and impressive performance in a portable form factor to those who value mobility.
Laptop vs. Desktop GPU Comparisons (Octanebench)
Like AMD and Intel laptop CPUs, Nvidia's (and AMD's) laptop GPUs also offer desktop-class performance without too much struggle.
That said, don't read too much into their naming. For example, a laptop RTX 3070 performs an entire performance tier lower than a desktop RTX 3070.
Then there are other Nvidia shenanigans like the 'same' GPU offering several power envelope options (Max-P and Max-Q), which can completely change the performance on offer.
| GPU Name | GPU Type | VRAM (GB) | OctaneBench Score |
| --- | --- | --- | --- |
| 4x RTX 2080 Ti | Desktop | 11 | 1433 |
| RTX 3090 | Desktop | 24 | 661 |
| RTX 3080 | Desktop | 10 | 559 |
| RTX 3070 | Desktop | 8 | 403 |
| RTX 3080 | Laptop | 8 | 369 |
| RTX 3070 | Laptop | 8 | 367 |
| RTX 2080 | Desktop | 8 | 261 |
| RTX 2060 (6GB) | Desktop | 6 | 188 |
| GPU Name | GPU Type | VRAM (GB) | Octanebench Score |
As you can see from the chart above, top-tier desktop GPU performance is on another level. And we haven't even started to consider the ginormous gulf between multi-GPU setups and single GPUs for render engines.
Still, laptop GPUs deliver impressive performance, especially when you account for their form factor and power draw.
What's more, a top-tier laptop GPU won't hold you back if your work isn't overly reliant on multiple GPUs. You know – you're set for any active work within the viewport, 3D modeling, sculpting, etc.
As we covered in our ProArt Studiobook 16 review, Alex was able to use the laptop GPU to bolster his render node performance – granting him a significant speed bump on renders.
A $2000 Laptop vs. $2000 Desktop in 2023: Who Would Win?
If you asked me this question a few years ago, the answer would've been an incredulous stare at you with an 'obviously the desktop' expression plastered on my face.
But now, even though the GPU shortage has abated somewhat, graphics card pricing remains dicey.
So if you build a desktop in mid-2023, can it outperform whatever laptop you can buy at the same budget?
Let's use the CG Director PC Builder using the balanced 3D workload to balance viewport and render performance (leaning toward the former) and find out!
The $2000 Laptop: What Options do we Have?
The Builder offers two good options.
We could either go with an MSI GP66 Leopard that boasts an Intel Core i9 11800H and an Nvidia RTX 3080 or opt for the ASUS ROG Zephyrus G14 with an AMD Ryzen 9 5900HS and an Nvidia GeForce RTX 3060.

And this one:

For this comparison, let's go with the best laptop hardware possible. The MSI GP66 Leopard it is!
(I'll still compare the CPU performance of both options…for science, you know?)
The $2000 Custom-Built Desktop
So, here's what the PC-Builder spits out: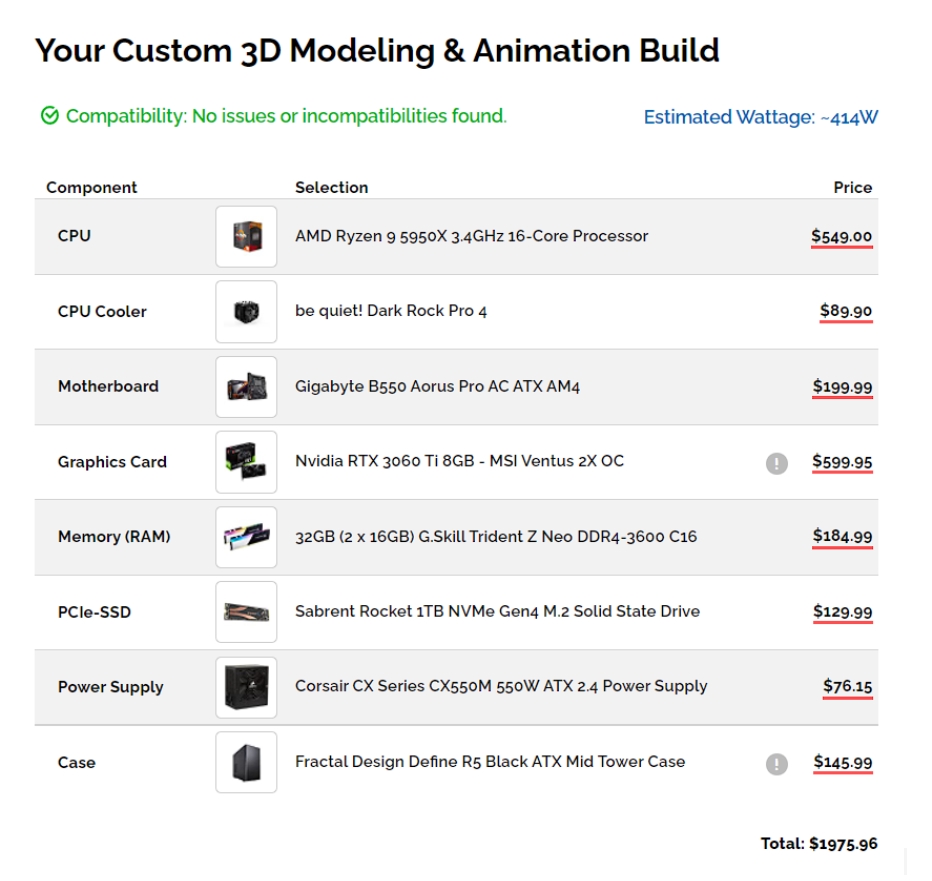 You could technically tweak this a bit more to optimize it for single-core performance, but that'll drive up the price of a few other things and mess up the budget. So, we'll stick to the Ryzen 9 5950X build generated here.
Cinebench Single and Multi-core Scores: AMD Ryzen 9 5950X vs. Intel Core i9 11800H (vs. AMD Ryzen 9 5900HS)
| CPU Name | CPU Type | Single Score | Multi Score |
| --- | --- | --- | --- |
| AMD Ryzen 9 5950X | Desktop | 1684 | 28782 |
| Intel Core i9 11800H | Laptop | 1522 | 12563 |
| AMD Ryzen 9 5900HS | Laptop | 1457 | 13158 |
| CPU Name | CPU Type | Single Score | Multi Score |
As you can see, the single-core score for laptops and desktops isn't that far off. But when it comes to multi-core performance, the scores are not even remotely close.
If your applications can leverage multiple CPU cores well, a desktop is just hands-down better.
However, active tasks like working within a viewport in Cinema 4D, sculpting in ZBrush, scrubbing across a timeline in Premiere Pro, or tweaking images in Lightroom/Photoshop should work just fine on either setup.
Octanebench Scores: Nvidia RTX 3060 Ti vs. Nvidia RTX 3080 (Laptop)
Now that you have some idea of how a laptop CPU would do against a desktop CPU when building within a limited budget, let's take a closer look at our GPUs.
| GPU Name | GPU Type | VRAM (GB) | OctaneBench Score |
| --- | --- | --- | --- |
| RTX 3070 Ti | Desktop | 8 | 454 |
| RTX 3070 | Desktop | 8 | 403 |
| RTX 3060 Ti | Desktop | 8 | 376 |
| RTX 3080 | Laptop | 8 | 369 |
| RTX 3070 | Laptop | 8 | 367 |
| RTX 3060 | Desktop | 12 | 289 |
| GPU Name | GPU Type | VRAM (GB) | Octanebench Score |
Neat, right?
Prices for hardware (GPUs, in particular) have somehow normalized in such a way that you end up getting similar CPU (single-core) and GPU performance, regardless of whether you're buying a laptop or building a desktop.
At the $2000 budget, the desktop with its RTX 3060 Ti offers just marginally better performance than the MSI GP66 Leopard's RTX 3080 laptop GPU.
However, if you do manage to cram an RTX 3070 into your $2000 build, you'll see a noticeable performance uplift compared to the laptop you can buy at that price. This flexibility is just yet another reason why building a custom desktop is the ideal way to go.
That said, do keep in mind that to get peak performance out of a laptop, you'll have no choice but to rev the fans to max for optimal cooling.
Unfortunately, due to the laptop form factor, its cooling fans are tiny and spin at incredibly high speeds – making them VERY loud when they're set to go all out.
So, if noise is a consideration, you can expect a not-so-insignificant performance hit when you switch the laptop fans down to silent or balanced.
Laptops vs. Desktops Head-to-Head Professional Efficiency (Courtesy – Alex Glawion)
When working on a 3D Project, there are numerous windows I need open simultaneously.
My main 3D Software Window showing the viewport and Menus
My 3D Software's Render Preview Window, which is placed on the second Monitor at 100% Render Resolution
The Client Brief contains things like brand colors and references
My own references in, say, PureRef
More apps open in the background, like a Browser, Email, Various Pipeline Tools like Photoshop, Texture Packer, After Effects, Illustrator, Client communication in Slack and other chat software, PC Monitoring RAM Usage CPU Utilization, etc.
With multiple large monitors, every one of these things is a mere glance away.
I don't have to go looking and switch back and forth between a string of applications, which is a huge time saver.
When I do efficient work, I already know in advance what I am going to do next, pretty much.
Routines take over when modeling, texturing, checking render previews, or setting up render passes for comp. Anytime my PC slows me down in such a preplanned process, it hurts my efficiency.
This can be things like lag in Applications, looking for and switching to other windows, input devices holding me back, and of course, general lack of performance from my PC parts.
My PC is a tool that is most effective when it does not hold me (the human) back through any of the above. It's supposed to take itself out of the equation as much as possible.
With a desktop workstation, thanks to high-end performance, I rarely have lag/slowdowns.
Thanks to multiple monitors, I have everything I need open at the same time.
And thanks to a full-size keyboard and mouse on a large desk, my input devices don't hold me back.
Sadly, a few of these things don't hold true when using a laptop.
Sure, if I plug my laptop into multiple monitors, attach a proper mouse and keyboard to it, and have access to a large desk, the scenario is similar to working on a workstation (apart from maybe thermals holding you back during extended loads).
But if I use the laptop as-is, single Screen, Touchpad, small Keyboard, and limited desk space (very likely if I want to use it on the go), my efficiency plummets into oblivion.
Yes, it might have high-end hardware, a fast GPU, lots of RAM, and a bunch of Cores, which are all advertised prominently on the product page, but what's holding me back are the three factors I mentioned above.
Most importantly, there's not enough room for my apps, forcing me to switch back and forth between them constantly.
To top it all off, there's also a touchpad that reduces my speed and precision to a slow crawl.
But to be fair, I can't be lugging around a full desktop PC if I want to work on the train, plane, on a set, or when visiting friends, so that's just what I must settle for.
Mobility, but at the cost of efficiency.
But if I ever wanted only to retain the option of mobility and use my laptop on a desk with multiple monitors, keyboard, mouse, and all my paraphernalia, it really wouldn't slow me down much, if at all.
Verdict: Should You Buy a Laptop or Build a Desktop Workstation?
Building a custom desktop workstation for most CG professionals is well worth the effort.
Although modern laptops offer similar performance to PCs, they still lose out on features like upgradability, repairability, connectivity, and improved efficiency.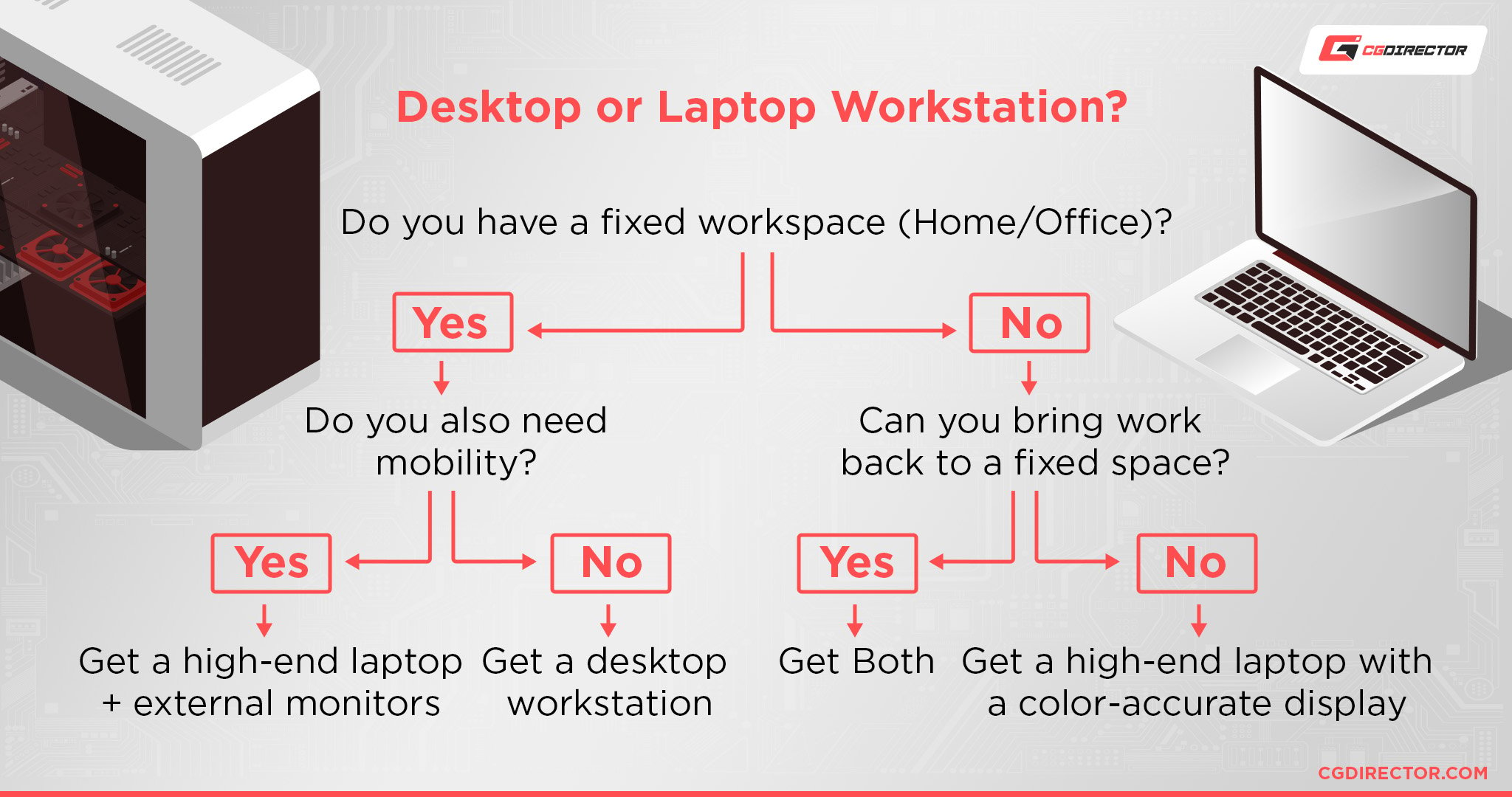 Here's what you should take away from this comparison:
For those who absolutely need mobility, a laptop is unavoidable:

If you don't have a fixed workspace, grab a creator-level laptop with a color-accurate display and desktop-class hardware.
If you have a fixed workspace, get a desktop workstation and a thin-and-light notebook with a powerful CPU. Here, we assume you can bring work back home or to the office, so you can handle any CPU/GPU-heavy workloads on your desktop without an efficiency hit.

If you don't need mobility:

Build a desktop workstation. It's well worth the effort.
If you still do need a laptop because you might want to head out with it at times, grab the best hardware (CPU/GPU/RAM) you can find. Use it plugged into external displays as a miniature desktop – of sorts.
Over to You
Do you think a laptop can replace your work setup? Leave a comment down below and let us know in our forums.