AMD's Threadripper lineup launch, featuring overwhelming 24 and 32-core CPUs, left a trail of dizzy Intel HEDT and even enterprise-class Xeon processors in its wake.
The dust had barely settled over this one-sided 'war' when AMD announced the Threadripper 3990X with an astonishing 64 core count to complete the domination in this price and performance tier.
We're excited to give you a first look at AMD's 64-core Threadripper 3990X, including benchmarks and performance comparisons.
We'll also answer a few pertinent questions like –
Should I buy one?
Is the 3990X worth it?
Are there any downsides to switching to an extremely high-core count processor like the 3990X?
How are the thermals?
What motherboard should be paired with the 3990X?
AMD Threadripper 3000 & Ryzen 9 Lineup: Specifications, Chipsets, and Platform Details
Let's take a quick look at how the 3990X's specs compare to previously launched 3rd Gen AMD Ryzen CPUs:
| | Ryzen 9 3900X | Ryzen 9 3950X | Threadripper 3960X | Threadripper 3970X | Threadripper 3990X |
| --- | --- | --- | --- | --- | --- |
| Cores/Threads | 12/24 | 16/32 | 24/48 | 32/64 | 64/128 |
| Base Frequency | 3.8 GHz | 3.5 GHz | 3.8 GHz | 3.7 GHz | 2.9 GHz |
| Boost Frequency | 4.6 GHz | 4.7 GHz | 4.5 GHz | 4.5 GHz | 4.3 GHz |
| Max PCI-E Lanes | 24 | 24 | 64 | 64 | 64 |
| Supported Socket | AM4 | AM4 | TRX40 | TRX40 | TRX40 |
| Price | $499 | $749 | $1499 | $1999 | $3990 |
Testing Environment
We made sure our testing was done in an environment that resembled normal everyday use of content creators as much as possible.
We had the Threadripper 3990X inside a closed PC case that sat under a desk with default Fan curves applied. Our room temperature was at 20° Celcius.
Here's the hardware we paired with the 3990X:
Hardware

CPU: AMD Threadripper 3990X 64-core Processor
Graphics Card: ASUS ROG Strix 2080Ti
CPU Cooler: Alphacool Eisbaer AIO 360
RAM: Corsair Dominator Platinum RGB 64GB DDR4 (CL16)
Motherboard: MSI Creator TRX40
Power Supply: Seasonic Prime 750W
Case: Phanteks Eclipse P600s
Storage & OS: Windows 10 Enterprise: Samsung 860 Evo 500GB
Secondary Storage & OS (Windows 10 Pro): Samsung 2TB 970 Evo Plus

Test-bed Type

Closed Case with Ample Airflow
Default Fan Curves

BIOS Version: E7C59AMS.132N1
OS (version): Windows 10 Enterprise 1909 (latest updates applied)
XMP Configuration for RAM: Loaded 3600 16-18-18-36 XMP Profile
Benchmark Results and Analysis
3990X Performance Differences between Windows Versions
We did all of our benchmark runs on both Win 10 Enterprise and Win 10 Pro as there was some indication in other media's reviews that the Threadripper 3990X might need a higher Version of Windows 10 (i.e. Enterprise or Workstation) to be able to make full use of all its Cores.
We did not find any such differences in performance between Win 10 Enterprise and Pro OS Versions and AMD recently put out a statement that supports these findings.
The above graph is representative of all Benchmarks we ran on different Versions of Windows 10.
The differences between the OS Versions all lie within the margin of error and we found all cores to be utilized in their entirety, as long as the benchmarking Application supported scaling across so many cores.
But more on that later.
Cinebench
Well, the specifications alone might've been indicative of how these charts are going to look.
If you want a quick overview, here it is – unless you're running heavy AVX-512 workloads, there's no point even considering any Intel CPU (HEDT / Xeon / mainstream) if all you want is the very 'best' for multi-threaded workloads.
With Cinebench R20's near-perfect scaling with cores, it's hardly any surprise that the Threadripper 3990X obliterates the competition by a huge margin.
If you're doing a lot of time-sensitive and frequent CPU-rendering work in Cinema 4D's physical or standard renderer, the 3990X seems like a decent upgrade if you need more power than what the Threadripper 3970X provides.
When it comes to single core performance, the 3990X is no slouch.
Surprisingly.
Even though it boasts an outrageous number of cores, it can keep up with mainstream parts that have traditionally always fared better in this benchmark.
For reference, Intel's top-end Xeon Platinum 8180 offers 28% reduced single core performance compared to the 3990X, even though the 8180 houses way fewer cores.
Cinema 4D Viewport Benchmark
Unfortunately, the 3990X is not great when it comes to viewport performance.
This will affect general snappiness when working within Cinema 4D's viewport on active tasks such as modeling and animation, and we find this score to be quite indicative of the overall system snappiness in many content creator Applications such as the Adobe Creative Cloud Suite.
If you do need the rendering power of the 3990X, we recommend using a separate system for viewport workloads ("active" work such as modeling and animation) and rendering.
We are still trying to find out why Threadripper CPUs, and to be fair most Intel HEDT and Xeon CPUs, seem to perform so badly in this particular Benchmark, but it most likely comes down to low base clocks.
Blender Benchmark
The 3990X beats the Intel's dual CPU offering easily in the Blender benchmark.
Since Blender's Render Engine scales with core count just like Cinema 4D, the Threadripper 3990X is a great choice if you need the most powerful processor for this particular CG workload.
Corona Benchmark
Corona is a popular high-performance CPU-rendering plugin that's available for lots of 3D Content Creation Applications such as Autodesk 3ds Max and Cinema 4D, and also as a standalone application.
It does seem to scale well with the massive number of cores that the Threadripper 3990X offers – making it an ideal CPU for those who need the absolute best in this workload.
Indigo Benchmark
Indigo is another popular render engine that's used by a variety of professionals around the world.
The benchmark does show an improvement over AMD's Threadripper 3970X when using the 3990X. However, the scaling isn't perfect and even the 3990X can't beat the value proposition of the other 3rd Gen AMD Threadripper CPUs.
Keyshot Performance
Keyshot's progressive real-time 3D rendering engine makes it a popular tool for CG artists and professionals. The progressive nature of its renderer, often found in GPU render engines, benefits Artists in doing rapid prototyping and multiple iterations with fast feedback for better end results.
Again, the 3990X decimates the competition by a healthy margin in this Camera Render Benchmark.
Vray Renderer
Both the VRay Benchmark and Vray Next workloads benefit from the insane number of cores in the Threadripper 3990X.
However, the improvement in VRay NEXT was quite substantial, shy of almost doubling performance when compared to the Threadripper 3970X. If you're using VRay NEXT, the 3990X does seem to be a very worthy investment.
Thermals and PBO: Does it run too hot?
AMD's 3rd Generation processors on the Zen architecture have been extremely energy efficient and thankfully, the 64-core processor doesn't deviate from this pleasant trend.
In our testing, enabling PBO (Precision Boost Overdrive) did send temperatures soaring quite high. However, when running at stock, it stays within a healthy area, even at sustained and full load.
We were using the Alphacool Eisbaer 360 AIO for cooling the Threadripper 3990X. Here are the temps:
CPU 100% Multi-core Load (PBO Off): 62°C
CPU 100% Multi-core Load (PBO On): 95°C
Idle Temperature (PBO Off): 39°C
Idle Temperature (PBO On): 42°C
Although the idle temperatures didn't change much when enabling PBO, the load temperatures jumped by quite a lot.
The Performance too did a jump as you can tell from the Cinebench R20 Score:
The performance gain you get by enabling PBO doesn't seem to be worth it though– especially if your render workload does scale to using all 64 cores of this processor, which is exactly why you'd have bought this particular CPU.
Depending on your Cooling, you might get another 15% performance increase in multi-core workloads.
Given the price-tag though, you'll want to make sure the CPU is not damaged prematurely because of high temperatures, which of course also make the fan noise in your machine go up considerably.
We find enabling PBO on such a monster of a CPU not worth the additional strain on the underlying hardware and CPU and not really necessary.
What Applications/Plugins/Workloads can make use of 64 Cores?
In a perfect world, a 64-Core CPU would perform twice as fast as a 32-Core CPU. This though is rarely the case and certainly needs full support from the underlying application workload you are running.
Let's take a look at what applications scale well enough to make use of 64 Cores.
Since 'use' is kind of subjective, I'll consider any application/workload that offers a 35%~ or higher improvement to the 32-core Threadripper 3970X's performance.
Taking a look at the benchmarks we ran above, here are some workloads that are worth running on the 3990X:
Maxon Cinema4D's Physical Renderer: Offering near-perfect scaling with additional cores and threads, using CPU rendering in Cinema4D is one of the most ideal CG workloads you can throw at the 3990X.
Blender's Cycles Render Engine: Blender has always scaled well with higher core counts and that hasn't changed even when you bring 64 cores and 128 threads into the equation. Compared to the 3970X, the 3990X almost halved the time required to complete the classroom render.
Corona CPU-Renderer: The Threadripper 3990X performs quite well with corona and if this is your primary Render Engine, it'll be well worth the investment. Of course, if the processor doesn't fit your budget, the Threadripper 3960X still offers the best value.
Keyshot: Keyshot barely made it to this list by offering approximately 35% better performance with the 3990X compared to the 3970X. If that margin is worth the extra money you'll spend on a 64-core processor is a question only you'll be able to answer.
V-Ray: This popular render engine can be used with a variety of professional software from Autodesk, Maxon, Blender, etc. The performance improvement when using a 64-core processor is substantial and will be well-worth the time you'll save.
Downsides of Switching to a High-Core Count CPU
Due to the astounding number of cores packed into the 3990X, single core performance does take a bit of a hit.
If your workload can use all these cores and you do see the value in grabbing a 3990X for your build, I'd recommend building a separate workstation for doing active work within your viewport.
The experience will be way snappier and you'll end up getting things done faster on both rendering as well as creating fronts.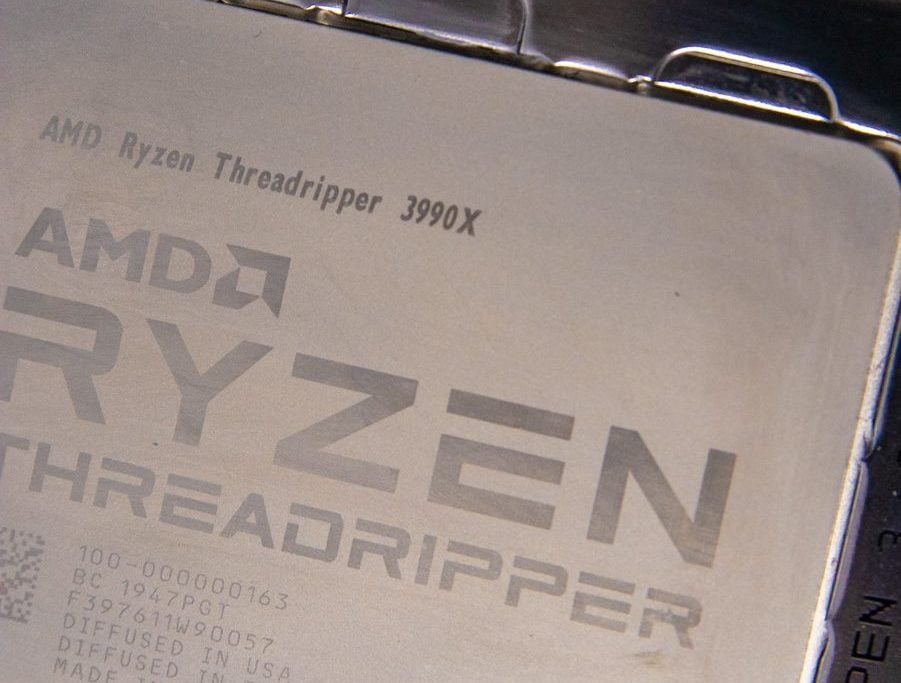 Think about how valuable the time you actively spend on the workstation is VS. the time that your PC renders on its own, overnight or on weekends. You'll want to make sure that your much more valuable active work time is as fast and efficient as possible.
The Threadripper 3990X's active work performance is by no means unusable by any stretch of the imagination.
It has a lot to do with where you're coming from too.
If you're upgrading a system that offered worse viewport performance than the 3990X, then it'll still feel like an upgrade. However, for someone coming from a high-frequency, lower-core-count CPU, it might feel like a downgrade when doing active work.
This changes of course once you fire up some renders and see something like this going on 🙂
Should you Buy the 3990X: Is Intel even a consideration?
From a value standpoint, it's hard to beat what the Threadripper 3960X offers at its price point.
You get all the features of the TRX40 platform without compromising on single-core performance and still get amazing multi-core performance.
But if you're after the very best CPU rendering beast on the market, well, the 3990X has no real competition.
AMD's in a league of its own here and is basically just competing with itself. Intel's HEDT offerings don't come close to offering what AMD can offer.
Moreover, from what I've seen, since Intel's 50% price drop for their HEDT lineup, availability has been extremely scarce – making it almost impossible to buy an Intel HEDT processor at the listed price.
AMD's Threadripper 3990X is an excellent processor; no doubt about it. But is this the processor you should buy for your next build?
Like always, it depends.
If you're building a separate render machine with a lot of CPU rendering workloads in the pipeline, yes, the 3990X is an excellent choice if it's not outside your budget.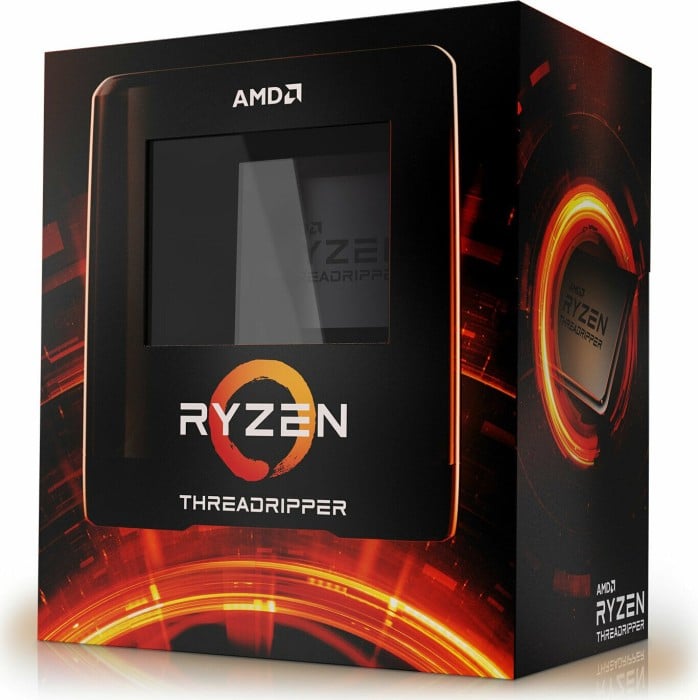 However, if this is your only PC and you plan to work on the machine, I'd think twice.
The viewport performance isn't that promising, indicating that it wouldn't be as snappy an experience as is possible with mainstream CPUs such as the Ryzen 3900X or the Intel i9 9900k.
Even while benchmarking the processor and playing around with it for a while, the viewport navigation experience was less than optimal.
On the other hand, when you spin up a CPU-heavy render workload, it's really astonishing how much power the 3990X packs. It zips through previously 'complex' renders in no time at all.
Best TRX40 Motherboards for the Threadripper 3990X
Handling 64 physical cores was never going to be an easy task. However, most Threadripper motherboards seem to have come overbuilt to eventually handle exactly this processor release from AMD. That said, if you're considering a $4000~ CPU, I won't recommend shopping at the bottom tier of the TRX40 motherboards lineup. When shopping for professional motherboards like these, you're mostly looking for specific features rather than something that 'works.'
Note – From a strictly VRM standpoint, all the motherboards listed in our Best TRX40 motherboards article would suffice. Unless you're overclocking (which is a bad idea for professional workloads), none of the motherboards will hold back a Threadripper 3990X.
Nonetheless, here are a few quick picks. These motherboards provide an excellent platform for a processor like the 3990X and also offer decent value from a fiscal standpoint.
The Zenith II Extreme was already a great motherboard, but it looks like ASUS didn't like their flagship TRX40 motherboard coming in at 2nd or 3rd place when it came to VRM performance.
The improved version (Zenith II Extreme Alpha) replaces 70A power stages with 90A power stages, leaving every other aspect of the motherboard identical to the original. Since the Alpha (with 90A power stages) seems priced at around the same price as the previous release, there's really no reason to get the Zenith II Extreme (the old one; these names are confusing).
The slot layout isn't ideal for those wanting a double-slot, quad-GPU configuration. However, if you plan to use add-in cards for NVMe devices and such, this layout is just fine. The full-length PCI-E 4.0 slots offer 16/8/16/8 lanes when all 4 of them are populated.
Personally, I absolutely love the back panel of the Zenith II Extreme Alpha. It packs in an ample number of USB ports (USB-A and USB-C) in addition to offering dual LAN (Aquantia 10G and Intel Gigabit), WiFi 6, and Bluetooth.
MSI's TRX40 Creator is priced quite competitively and offers excellent VRM performance, allowing it to handle even an overclocked 3990X quite easily. Even pegged at a 100% on all cores, on a long render task, the motherboard didn't hold back the 3990X at all.
It comes with an M.2 NVMe expander card, allowing you to add faster storage if you're willing to sacrifice one of your full-length PCI-E slots.
Like many other TRX40 motherboards, the full-length PCI-E slots on MSI's TRX40 Creator offer 16/8/16/8 lanes when all of them are populated. Of course, the layout again doesn't allow for double-width, quad-GPU configurations. If you're set on using 4x GPUs, each needing double-slot spacing, I'd recommend going for the Gigabyte TRX40 Aorus Extreme.
The back panel connectivity is decent and I certainly don't have any complaints here. It comes equipped with dual LAN – Aquantia 10G and Intel Gigabit. If you're looking for uncompromising VRMs as well as high-end features at a bargain price for your Threadripper 3990X, MSI's Creator TRX40 motherboard is one of the best options on the market.
That's about it from our side. What's your impression of the 3990X? Let us know in the comments!