Looking for a great low-profile CPU cooler that fits your needs can be time-consuming. Although there are many options to choose from, you'll have to make sure it grants you the thermal performance you wished for.
Low-Profile CPU Coolers come in different sizes, various levels of performance, there's pricing, as well as the fact that some low-profile coolers just aren't made to be paired with a high thermal output CPU, which complicates things further.
We'll dive into all the important aspects to look out for when buying a low-profile CPU Cooler in this Article.
Let's start with the following, just so we're on the same page:
What is a low-profile CPU cooler?
Low-profile coolers' main purpose is to save space. To achieve this, they often have the fan placed horizontally on top of or below the radiator, right above the CPU, instead of vertically, as is the case in most conventional CPU Coolers.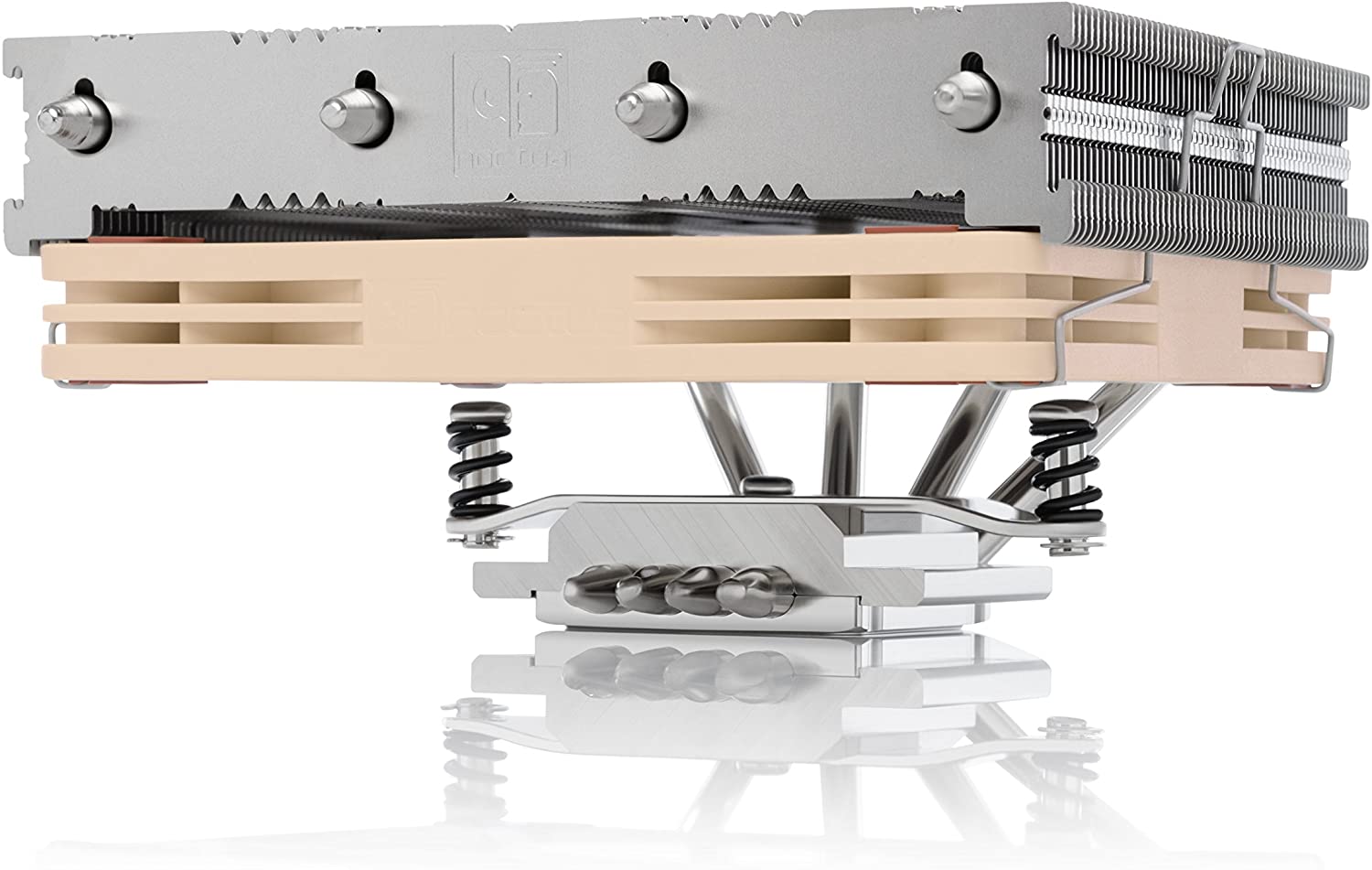 This kind of positioning makes the entire cooler more compact, and thus perfect for builds where you want to pack things in a case that's as small as possible.
A compact case does leave less room for unobstructed airflow, which is why many entry-level low-profile coolers struggle with thermal performance. Some manufacturers try to mitigate this by adding a high-RPM fan to their coolers. They're louder, but also move a lot more air making them more effective.
The solution to insufficient cooling performance is to get a high-quality low profile cooler. You're already dealing with size constraints due to a compact case, and you also have limited airflow because the components are packed tightly together – a high-quality cooler will do a much better job at keeping your CPU cool.
On that note:
How do you discern quality for low-profile CPU Coolers?
Benchmarks.
If you don't have access to Benchmarks, you can make an educated guess by consulting Reviews and performance metrics stated by the manufacturer and extrapolate from similar CPU and Cooler combination testings.
Brand is another factor that can make you lean towards one Cooler or another.
Again, although a Brand in itself doesn't mean one cooler is better than any other, there are some brands that are extremely well known for having top-notch cooling products, which can be a deciding factor in your decision-making.
Brands that can tip the scale in their favor: beQuiet, Noctua.
Price. While an increase in price doesn't necessarily mean you get a better Cooler, in many cases it means you get better materials that have higher heat dissipation values, or the brand is known to perform well and is therefore popular enough that it doesn't have to compete in low-budget segments.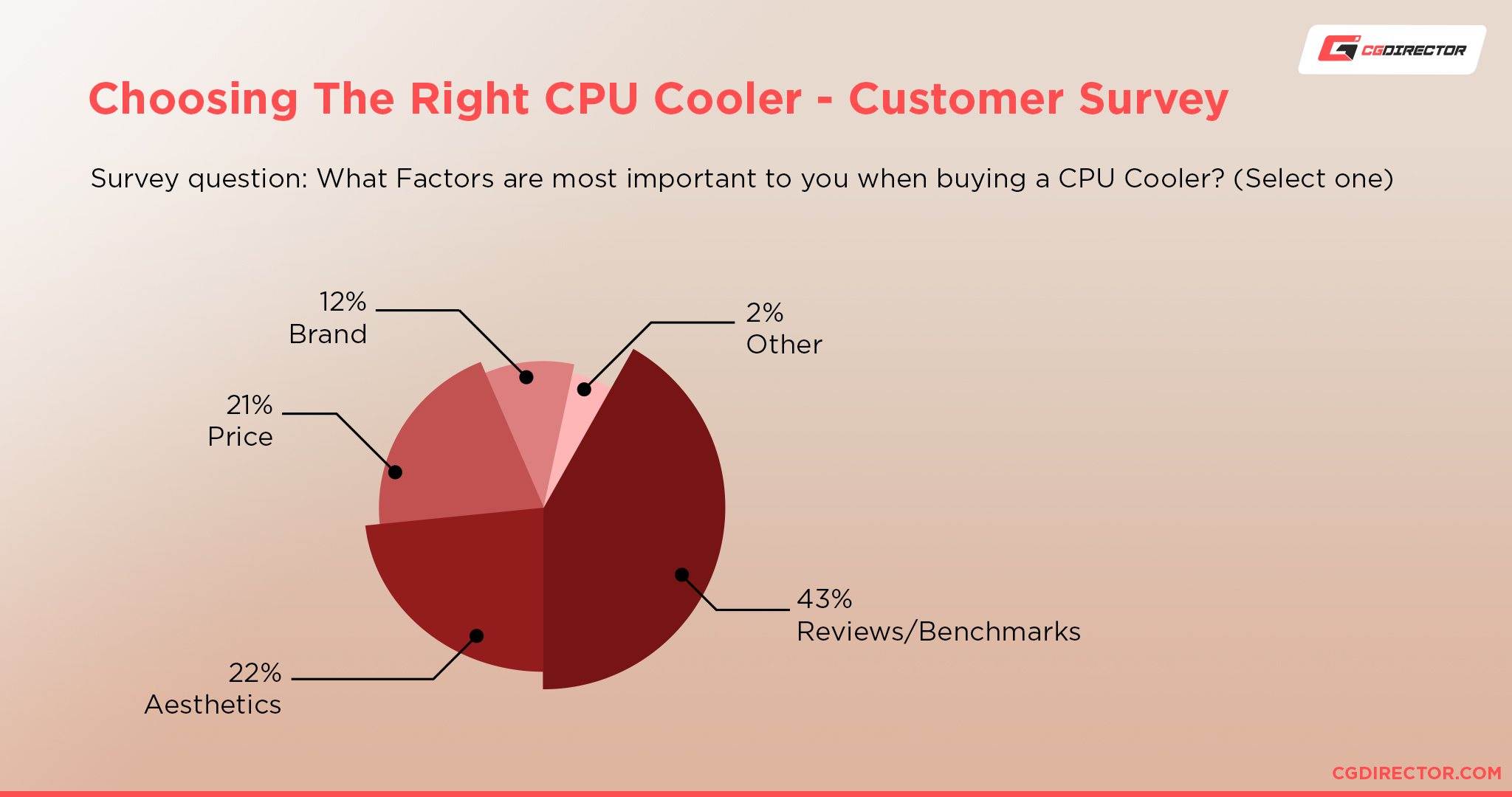 Don't make price your primary factor, though.
In the end, it comes down to benchmarks from reputable reviewers, as this is the only true metric that is as unbiased as it gets.
Exploring potential use cases
With low-profile coolers aiming to save as much space as possible, their main use case is to be included in compact builds, such as a small form factor (SFF) PC, or a home theater PC (HTPC).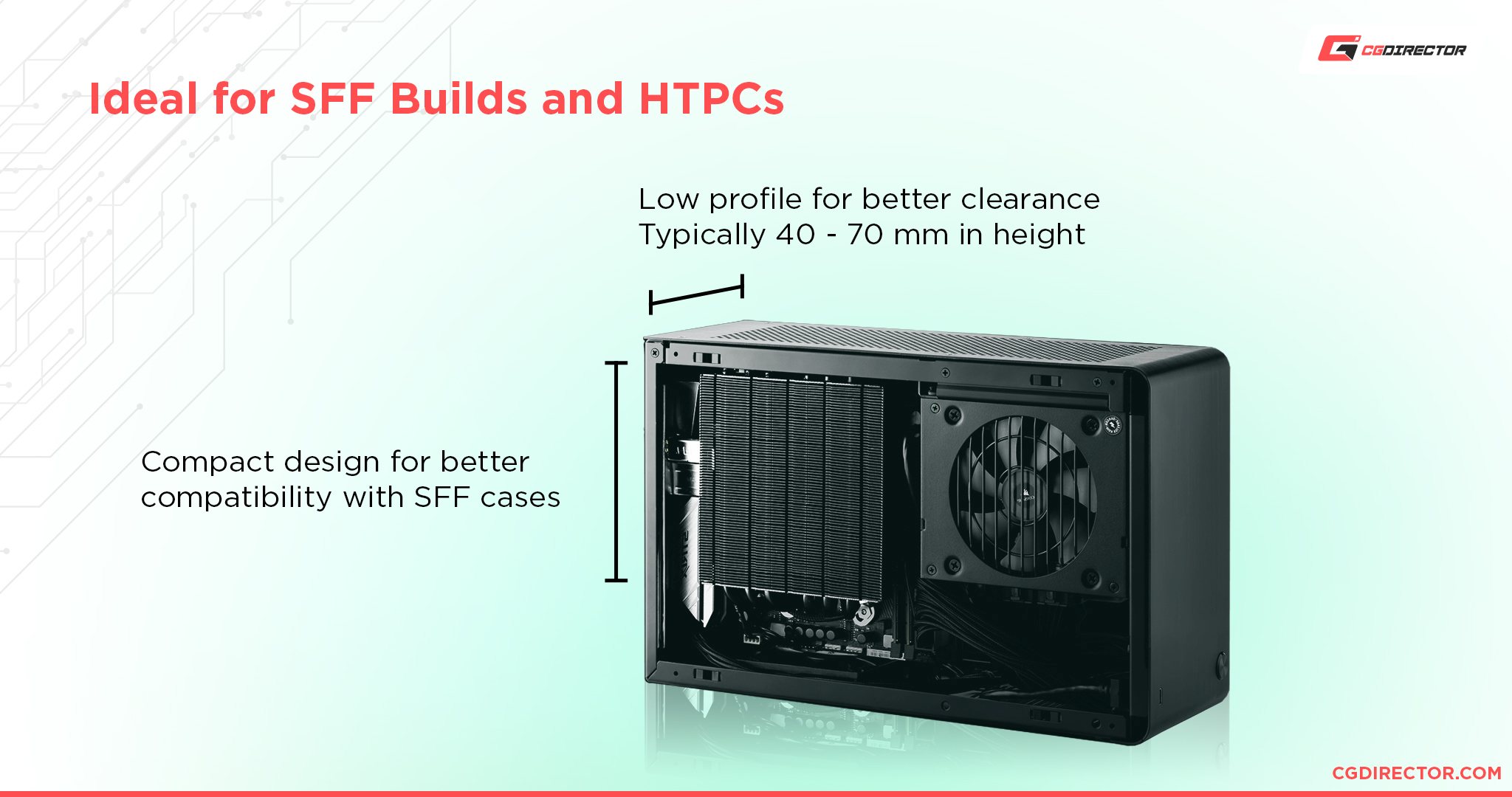 SFF PCs are becoming increasingly popular, and CPU cooling options are either a compact low-profile cooler or an all-in-one (AIO) liquid cooler. And unless you're willing to pay for a premium AIO, you'll get better performance with a quality low-profile air cooler.
Can you use Low-Profile Coolers with any CPU?
One of the major downsides of a low-profile cooler is its reduced thermal performance. It will not have the same thermal performance as a regularly-sized CPU cooler, let alone a high-end AIO.
To put this into context, AMD's Ryzen 5 5600X, which is an extremely popular CPU for gamers, has a 65W thermal design power (TDP). This means that under maximum load, the most heat the CPU should produce is equal to a power draw of 65W.
Most of the coolers recommended in the article will have no issues keeping this kind of a CPU cool at stock frequencies.
However, take something like Intel's Core i9-11900K. This is a 125W TDP processor, which means it requires twice as much cooling performance to remain cool when compared to the Ryzen 5 5600X when both CPUs are under load.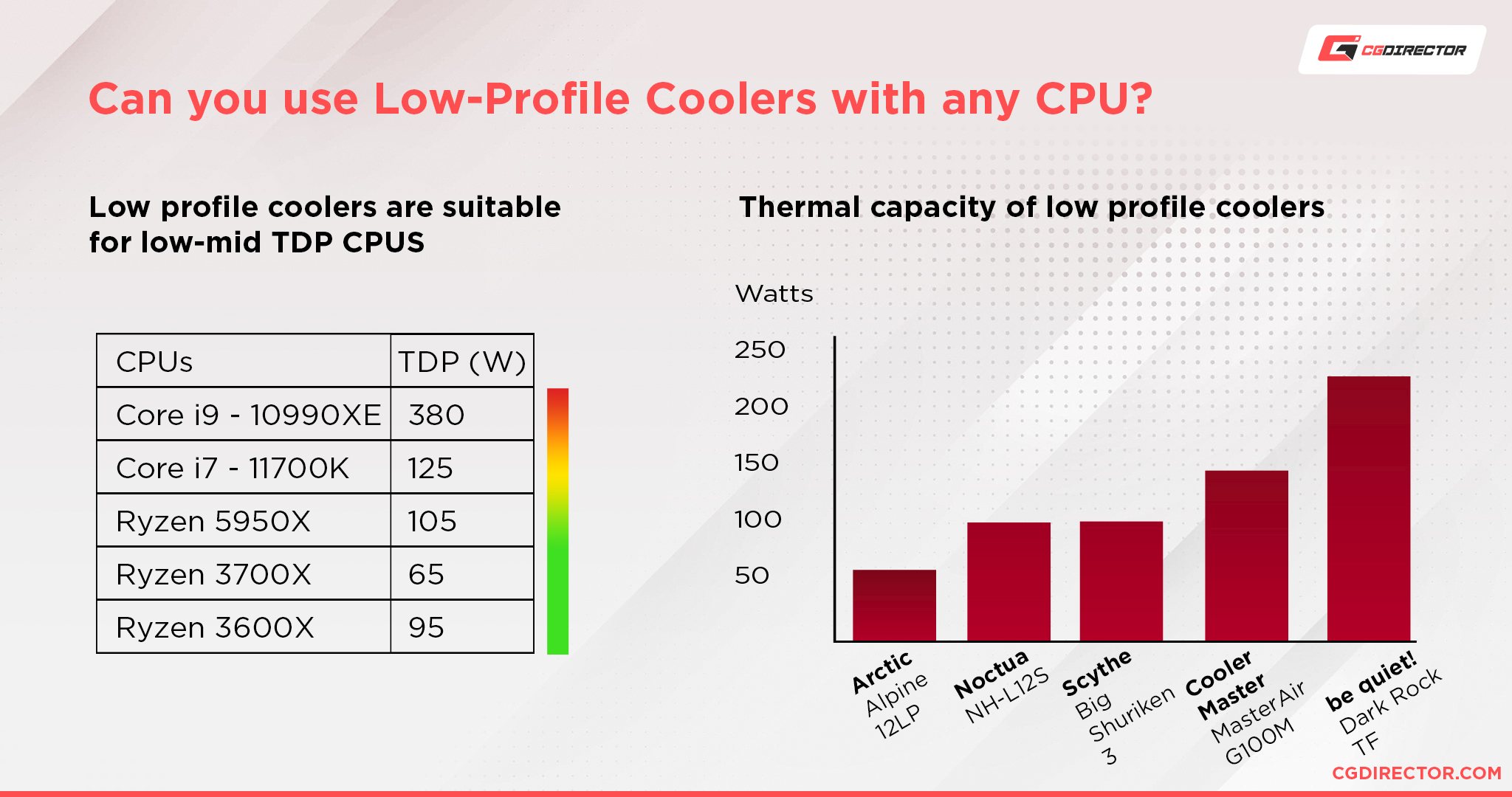 Note that the manufacturer's TDP ratings must be taken with a grain of salt. Modern CPUs like to exceed these TDP numbers, for example when they use the built-in turbo-boost functionality. The Core i9-10900K can reach up to 250W in some workloads – meaning you'll need a Cooler that is rated up to 250W and not the official TDP of 125W.
Noctua was fed up by CPU Manufacturers stating misleading TDP Numbers and created the Noctua NSPR which is a new Standardized Performance Rating. So far only Noctua goes this route but other CPU Cooler Manufacturers might follow.
Apart from their new Metric, Noctua states that Processors with a larger chip and IHS (integrated heat spreader) will be a lot easier to cool – even if they draw a lot of power. For example, Noctua's NH-L12S won't have any issues with the Ryzen 5 5600X and will get you decent overclocking headroom.
However, with the older Ryzen 5 3600X which is based on the older Zen 2 architecture, you will get high temperatures without decent case ventilation.
The takeaway here is that the cooler's TDP rating is only an estimate – always make sure you have some headroom, especially if you're considering manual overclocking or any kind of automatic clock-boosting (e.g. PBO).
The downsides of a low-profile CPU cooler
Due to the design itself, a compact cooler has certain limitations. The biggest one, especially with cheaper coolers, is the thermal performance – the amount of heat it is able to take from the CPU and dissipate. You will notice this during intense workloads such as CPU rendering.
Another downside is noise. The high-RPM fans that many manufacturers utilize do move more air, but they also make more noise.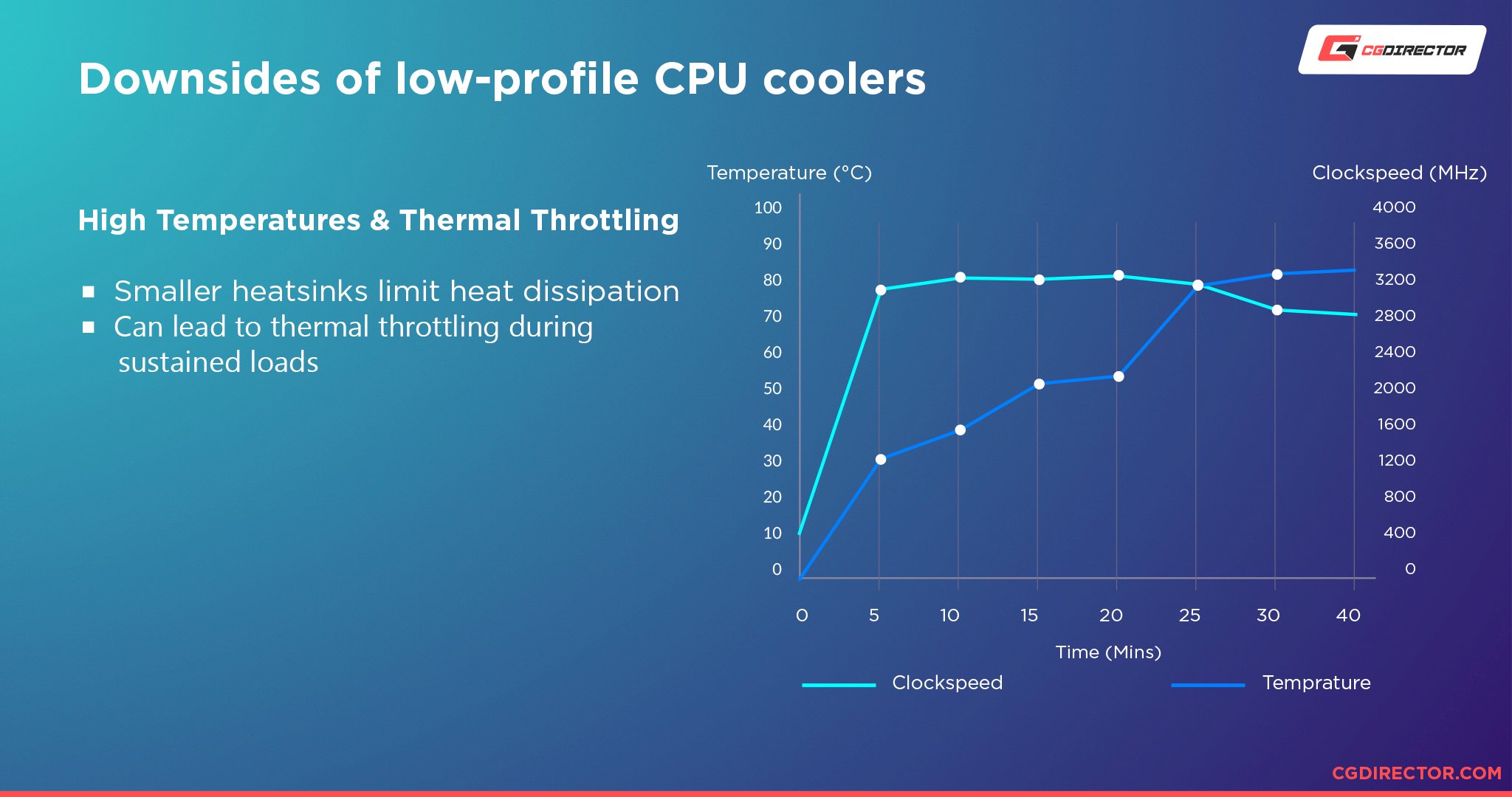 Then there's RAM clearance. With the fan sitting horizontally above the CPU, rather than vertically, you may not have enough room to fit certain, taller RAM modules.
This is a common issue especially with small form-factor motherboards that position the RAM slots close to the CPU socket in order to save space, as well as with RAM modules that have tall heatsinks.
Things to consider when shopping for a Low-Profile CPU Cooler
A couple of things should be considered when buying a low-profile CPU cooler.
Single vs dual fan
There are two popular designs when it comes to low-profile coolers – single, and dual fan designs.
A single fan cooler is more compact than a dual-fan cooler in terms of overall height. Many are also more versatile because you can have the fan either above, or below the heatsink, and potentially solve RAM clearance issues this way.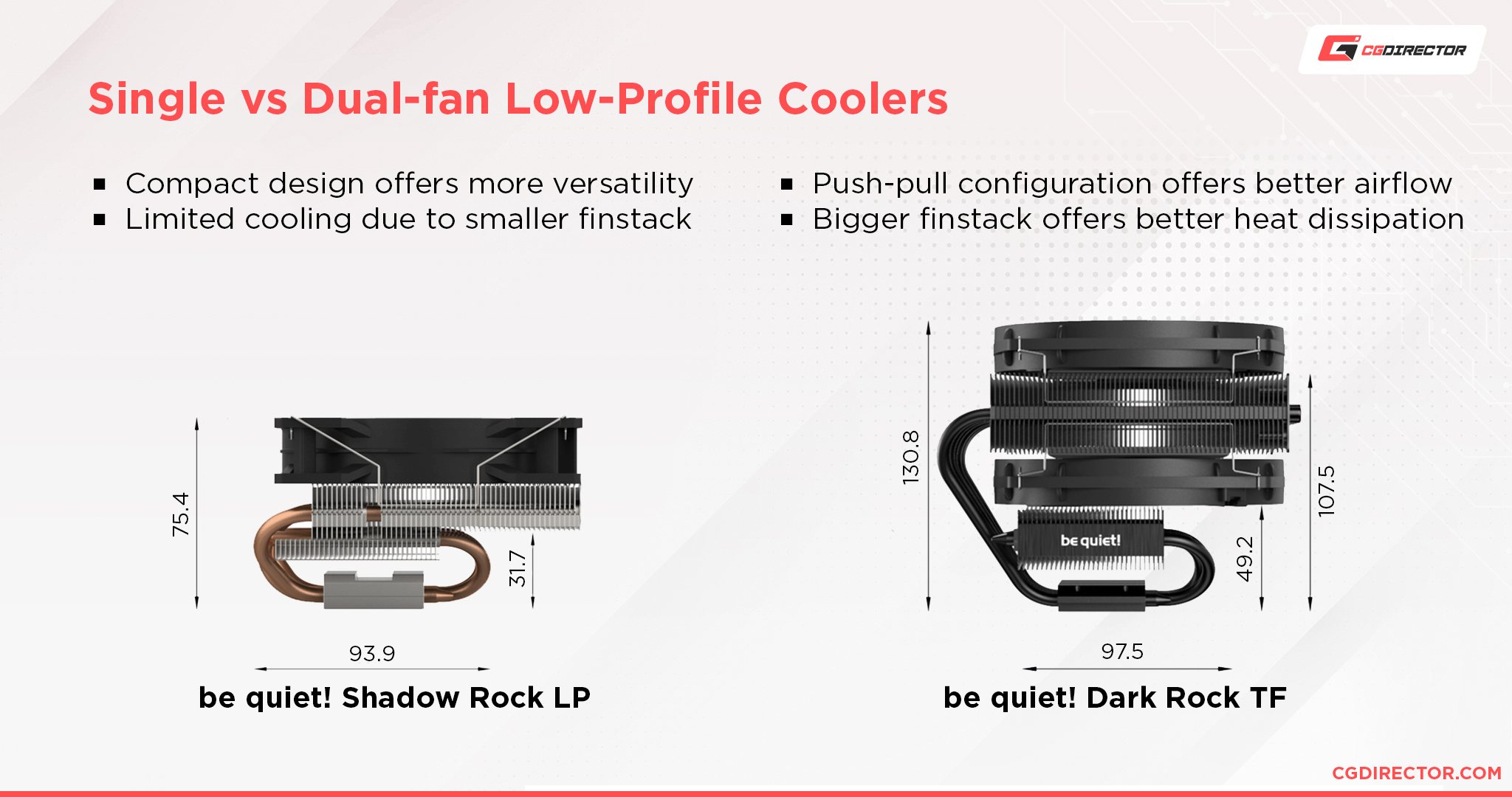 A dual-fan cooler, on the other hand, will sandwich the heatsink between two fans. This is known as a push-pull configuration and provides better cooling performance as it normalizes the pressure in the case and reduces the resistance of the radiator's cooling fins.
If you have a low-TDP processor that you aren't pushing too hard, a single-fan configuration will suffice. If you're running a more demanding CPU, dual-fan low-profile coolers are the superior option.
Pick the right socket
Depending on the CPU you're using, you need to make sure the cooler is compatible with your processor's socket. Different coolers and manufacturers have solutions to maximize socket compatibility:
While the Dark Rock TF from be quiet! comes with mounting plates for any socket used in the last 10 years, Arctic's Alpine cooler comes in two separate versions. The Alpine 12LP is made for Intel sockets, while the Alpine AM4 LP is made for AMD sockets.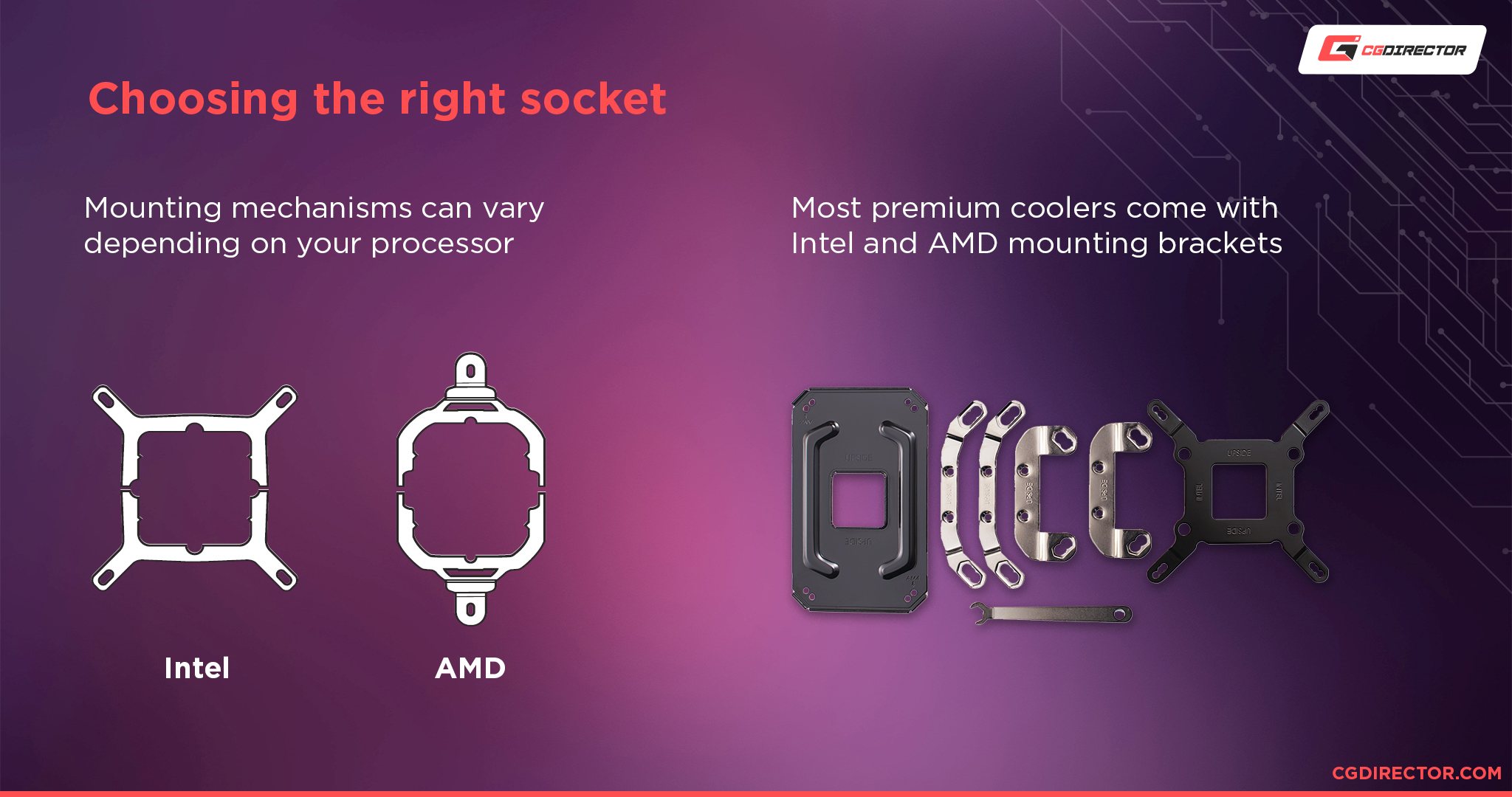 You'll need to pick the correct Cooler from the start and can't use it anymore if you decide to switch CPU brands at a later date.
Size / Height and RAM clearance
If you're buying a low-profile CPU cooler due to size constraints, you need to consider RAM clearance issues.
When it comes to RAM clearance, the fan and heatsink size will dictate how much the cooler covers the RAM slots, if at all. It all depends on the specific motherboard and RAM you use, so make sure you check the cooler's product page to see if there are any known clearance issues. The maximum supported RAM height is usually stated in the spec sheet.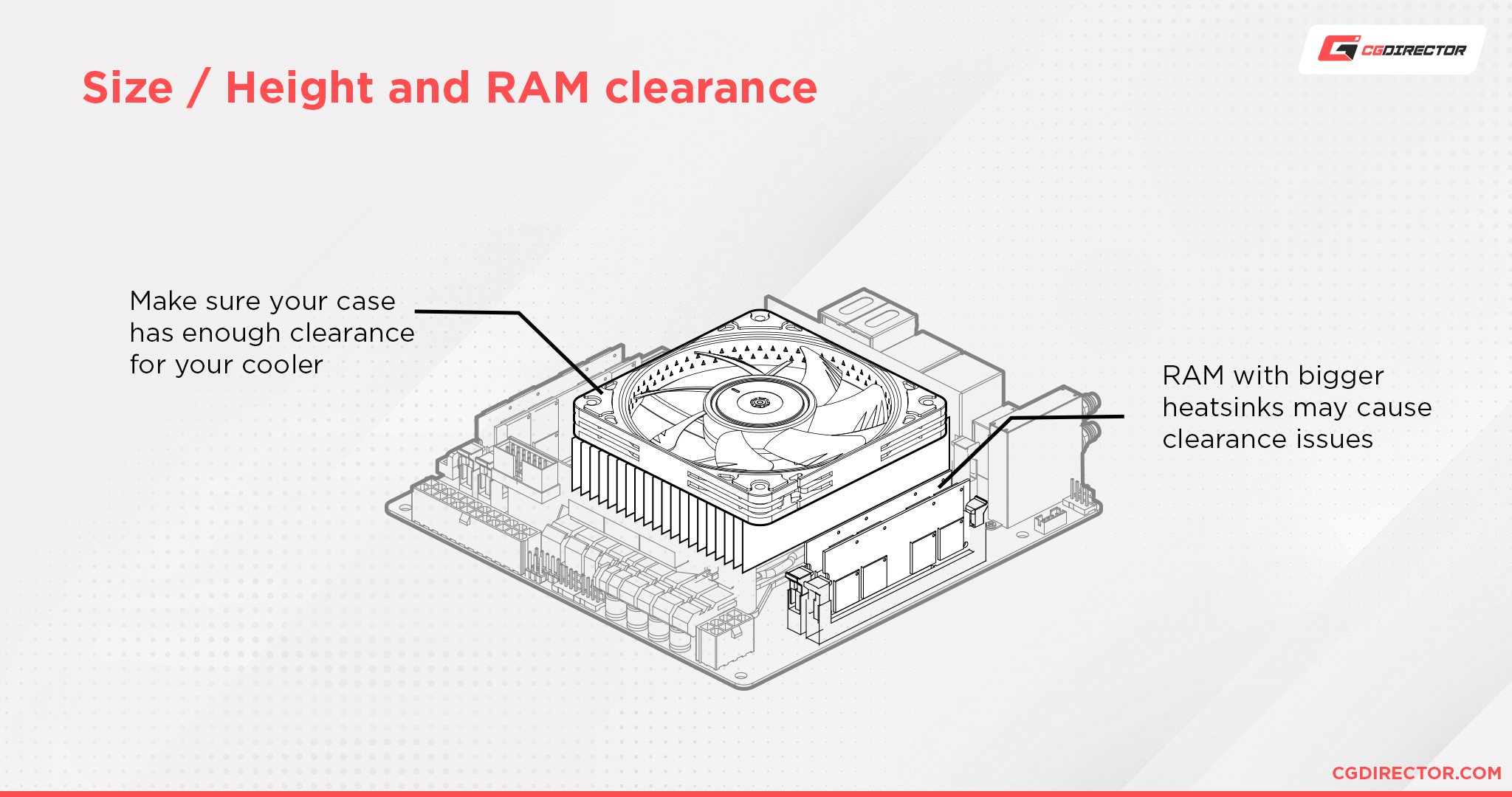 Take special care of the case width as well. If you have a full-width case, you could go for a larger cooler like be quiet!'s dual-fan Dark Rock TF. With narrow cases, though, a shorter cooler leaves more room above the fan and case wall so it doesn't suffocate. The CPU Cooler's spec sheet will tell you how tall the cooler is. Compare that to the width of your case to see if it fits.
Fan speed and noise levels
The fan size and speed will impact both the thermal performance, and the noise levels.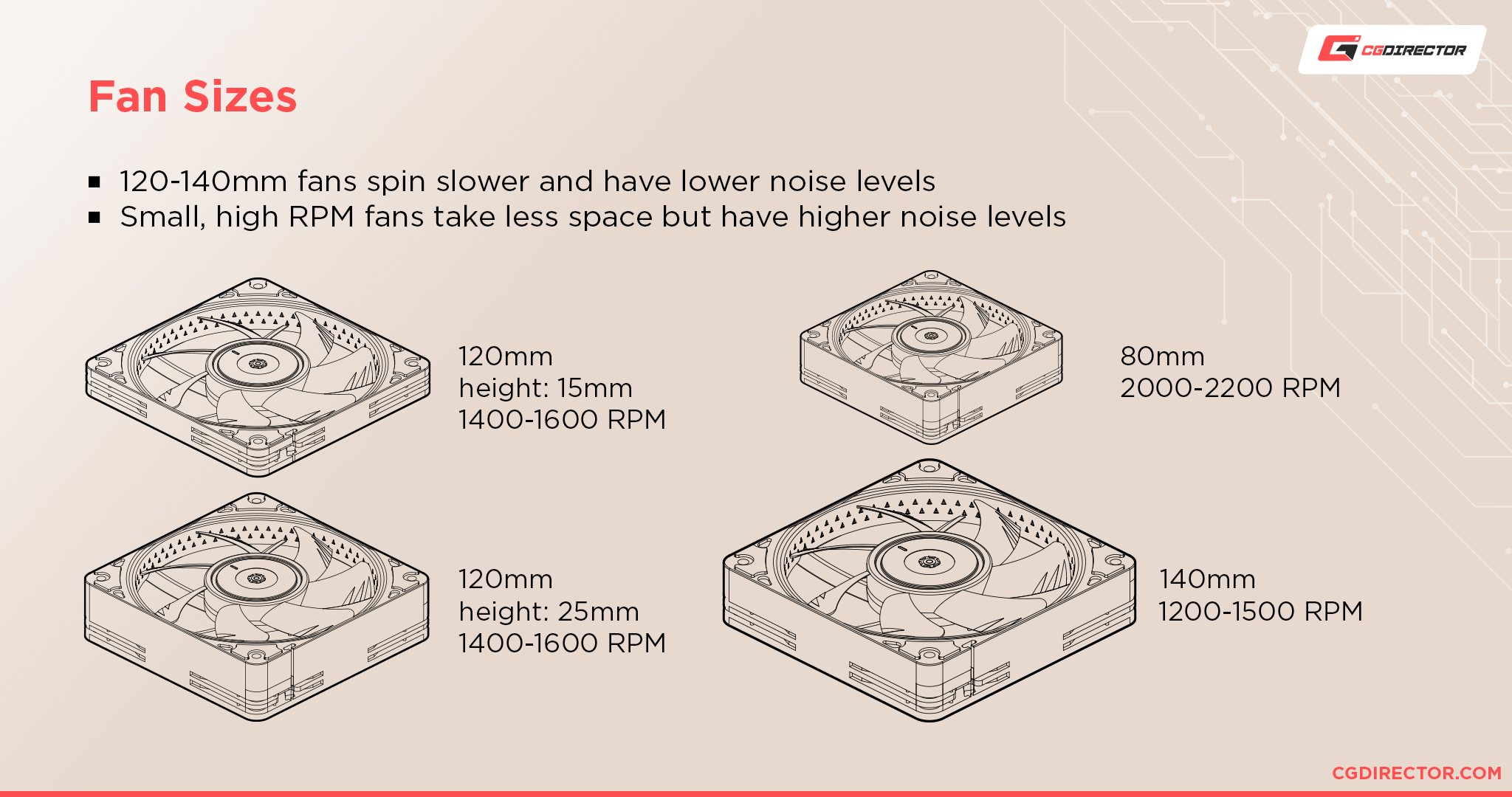 If you prefer low-noise operation and don't have a thermally demanding processor, buy a cooler with a low-RPM fan. The bigger the fan radius, the slower it can spin while still moving a good amount of air.
Aesthetics
If you're building a PC with a glass side panel the actual design and potential RGB lighting of the cooler should be considered as well. Both, because flashy CPU coolers can be distracting if you're aiming for a professional build, or look awesome, if you're going the Gaming-route.
Scythe's Big Shuriken 3, for example, comes with an understated look that fits in with just about any build-theme.
Cooler Master's MasterAir G100M RGB, though, will throw in some RGB. Of course, looks and aesthetics are a personal choice and don't impact performance at all, so feel free to choose what suits your taste.
With all that out of the way, here are our favorite low profile CPU Coolers:
Our favorite low-profile CPU coolers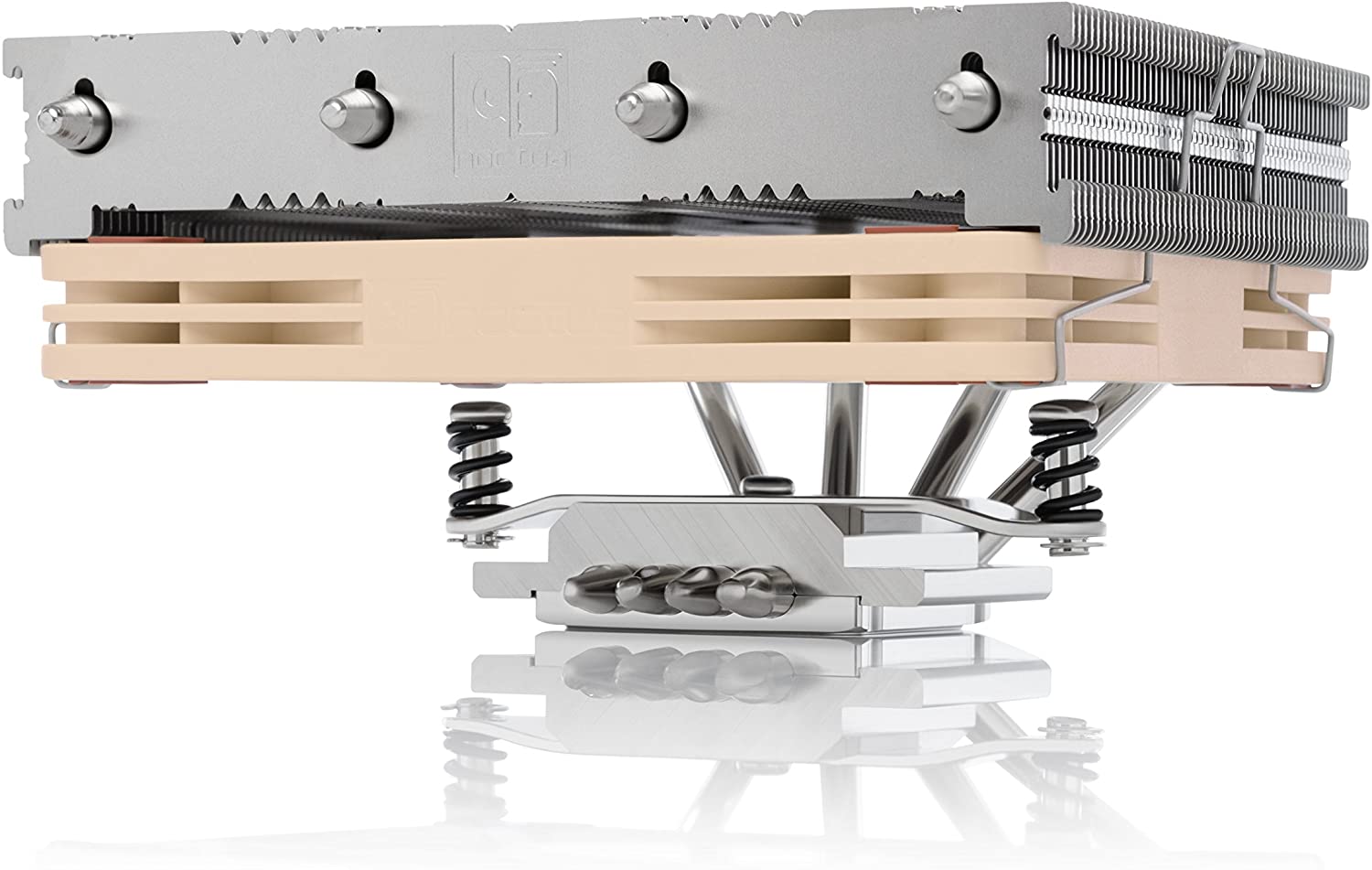 Noctua NH-L12S
Number of fans
One
Fan size
120mm
Maximum fan RPM
1850 RPM
Noctua NSPR
88
Dimensions
70 x 128 x 146mm
Sockets supported
Intel: LGA1150, LGA1151, LGA1155, LGA1156, LGA1200, LGA2011-3, LGA2011-0, LGA2066
AMD: AM2, AM2+, AM3, AM3+, AM4, FM1, FM2, FM2+ (with optional backplate)
Noctua is a household name in the CPU cooler industry. And while Noctua's Coolers aren't the best-looking out there (more Chromax, please!), they're the king when it comes to high-performance air cooling. The NH-L12S is their versatile low-profile solution, which does an excellent job at cooling even high-end CPUs.
Keeping the fan below the heatsink nets you an overall height of just 70mm, and the heatsink comes with plenty of surface area for heat dissipation. The fan packaged with this cooler is their 120mm NF-A12x15,, and includes pulse width modulation (PWM) support. In the box, you'll find a low-noise adapter you can use if you want to keep fan speeds and noise to a minimum.
Also in the box is Noctua's tried and tested NT-H1 thermal paste, as well as mounting plates for any CPU socket you could think of, including Intel's high-end LGA2011 and LGA2066 sockets. Pair this with excellent performance and a 6-year warranty, and this is the best overall low-profile CPU cooler out there.
Noctua NH-L12S Reviews & Benchmarks: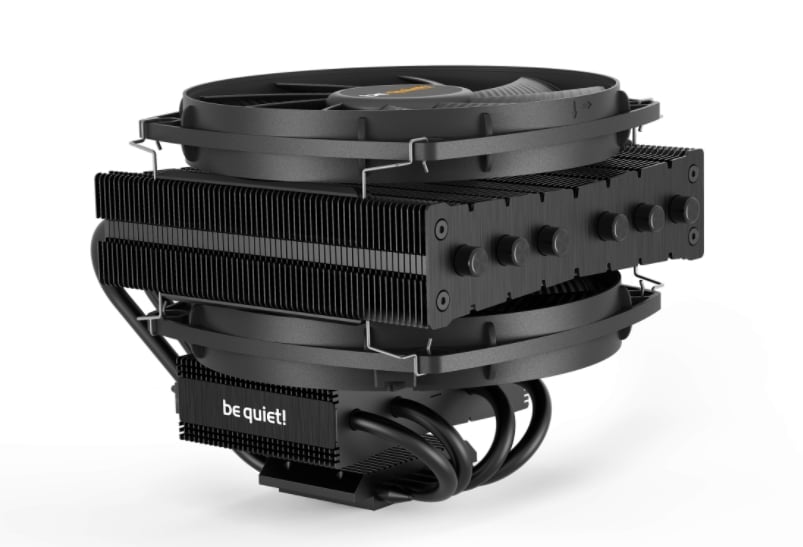 be quiet! Dark Rock TF
Number of fans
Two
Fan size
135mm
Maximum fan RPM
1000 RPM
Maximum TDP
220W
Dimensions
131 x 163 x 140mm
Sockets supported
Intel: LGA775, LGA1150, LGA1151, LGA1155, LGA1156, LGA1136, LGA1200, LGA2011-3, LGA2066
AMD: AM2, AM2+, AM3, AM3+, AM4, FM1, FM2, FM2+
Another well-known name in the CPU-Cooler market, be quiet! gets the award for best
performing
low-profile cooler. With a dual-fan and dual-heatsink design, the temperatures you get are excellent. It does come in at a height of almost 125mm, though, so make sure you can fit it.
The heatsinks and fans are well organized, with a sandwich layout that ensures optimal airflow and heat dissipation. The fans come at a massive 135mm, but they're be quiet!'s Silent Wings model, so they're as inaudible as they get. This is in great part thanks to the 6-pole motor and fluid dynamic bearings they use, which keep noise to a minimum.
Socket support is great, with plates for both Intel and AMD sockets. The all-black aesthetic of the Dark Rock TF is easy on the eye and adds a premium touch, making it worthy of the high price tag.
be quiet! Dark Rock TF Reviews & Benchmarks: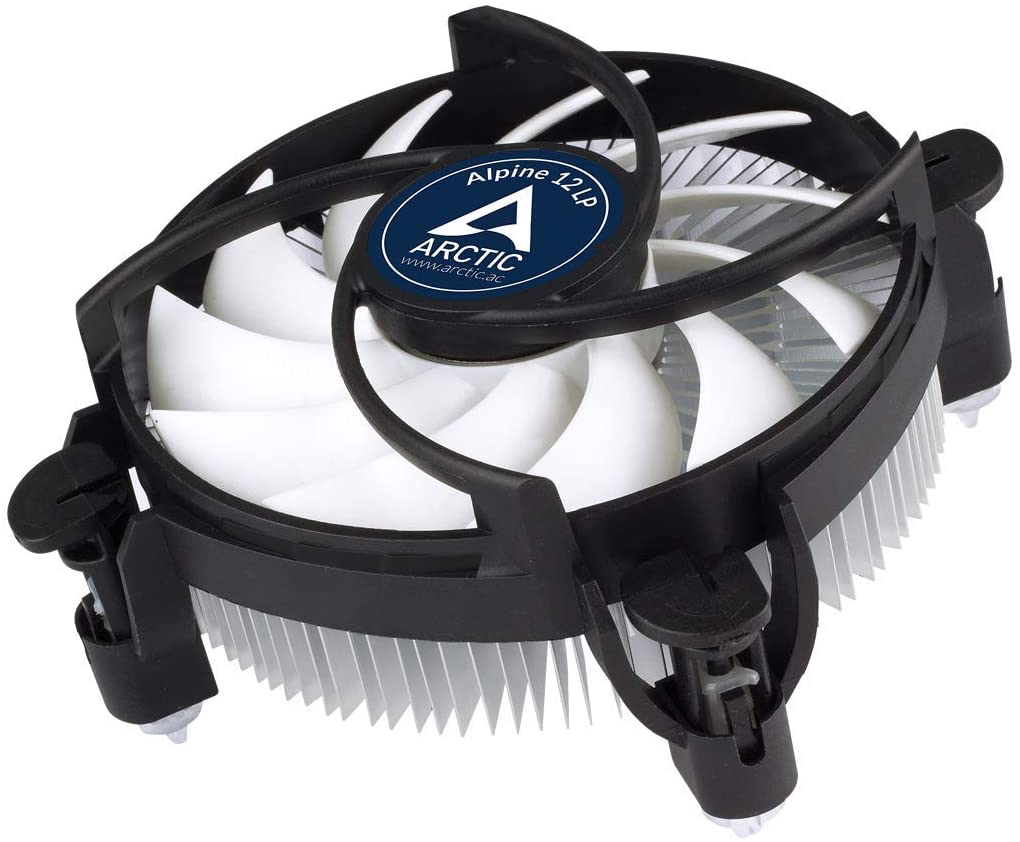 Arctic Alpine 12LP (Intel) (AMD)
Number of fans
One
Fan size
92mm
Maximum fan RPM
2000 RPM
Maximum TDP
75W
Dimensions
53.3 x 95 x 95mm
Sockets supported
Alpine 12LP: Intel LGA1150, LGA1151, LGA1155, LGA1156, LGA1200

Alpine AM4 LP: AMD AM2, AM2+, AM3, AM3+, AM4, FM1, FM2, FM2+
If you're on a budget and don't need any significant cooling, Arctic has you covered with the Alpine LP. It comes in two variants, one made for Intel's 115x and 1200 sockets, and another made for AMD's AM4 socket.
Both variants come with a 92mm fan that spins up to 2,000 RPM and is quiet. It also has PWM support so you can control the speed manually if you'd like to. The reworked engine means that there's a lot less vibration as well, and the fan comes with an extended life span.
And even though it comes at an entry-level price, the Alpine LP does a great job with any CPU that draws up to 100W peak power. Of course, Arctic's inclusion of their MX-2 thermal paste helps, too, and overall performance was good.
Video Review: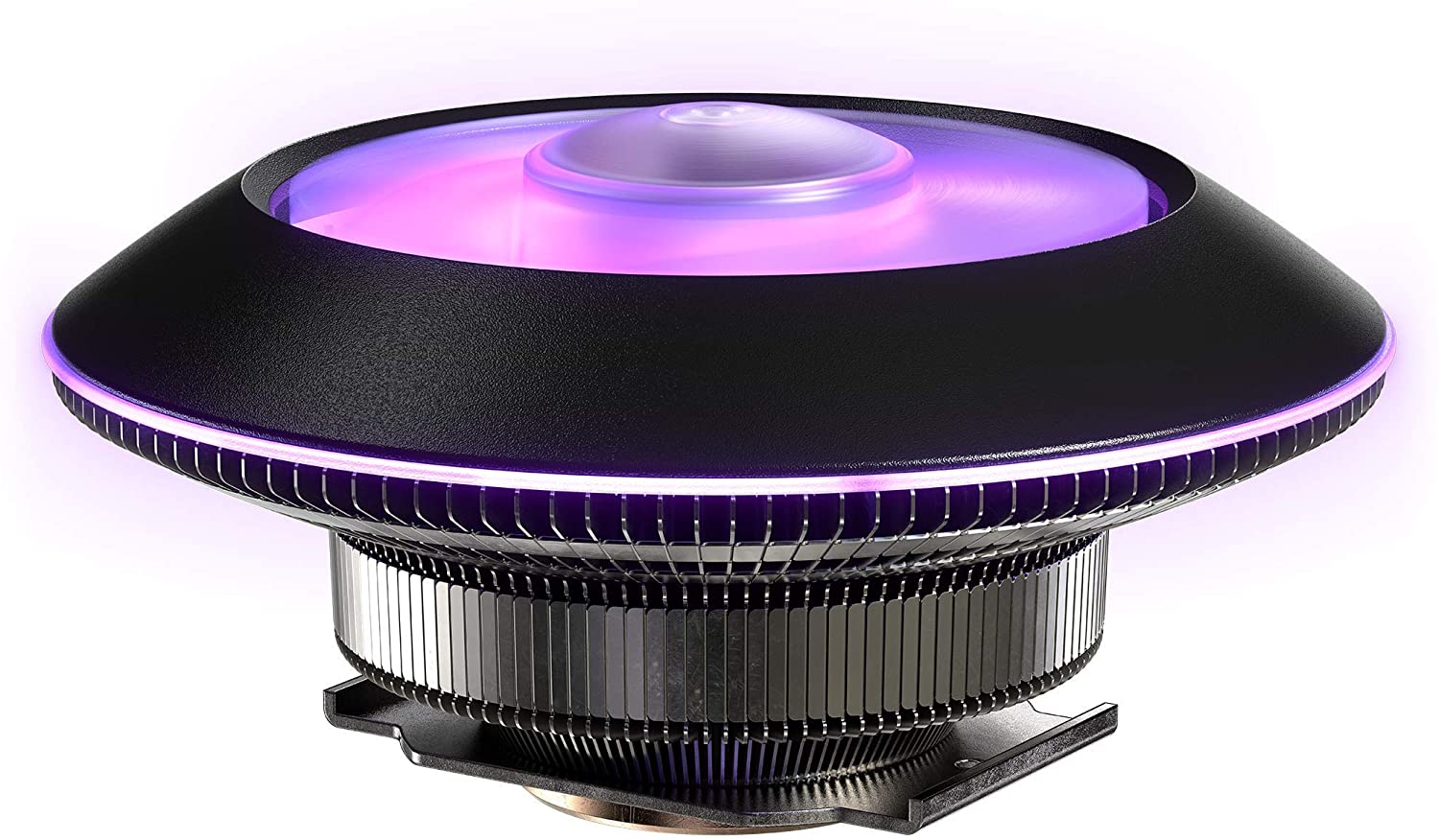 Cooler Master MasterAir G100M
Number of fans
One
Fan size
92m
Maximum fan RPM
2400 RPM
Maximum TDP
130W
Dimensions
51.7 x 143 x 143mm
Sockets supported
Intel: LGA775, LGA1150, LGA1151, LGA1155, LGA1156, LGA1136, LGA1200, LGA2011-3, LGA2066
AMD: AM2, AM2+, AM3, AM3+, AM4, FM1, FM2, FM2+
Moving on to the most flashy option on our list, we have Cooler Master's MasterAir G100M. It comes with an overall height of 74.5mm, and with a 92mm fan that has RGB lighting and an RGB ring on the outside, too!
The fan itself comes with a maximum noise level of only 30dB, which is great for such a compact fan that does an excellent job with most modern CPUs. Compatibility is excellent, with most Intel and AMD sockets supported, even including Intel's Extreme Series LGA2066 and LGA2011!
Last but not least, you can control the RGB lights with most manufacturers' software, but if you've got an older motherboard, Cooler Master also includes a wired controller in the box. An excellent overall choice if you don't mind paying for all that RGB.
Cooler Master MasterAir G100M RGB Reviews & Benchmarks: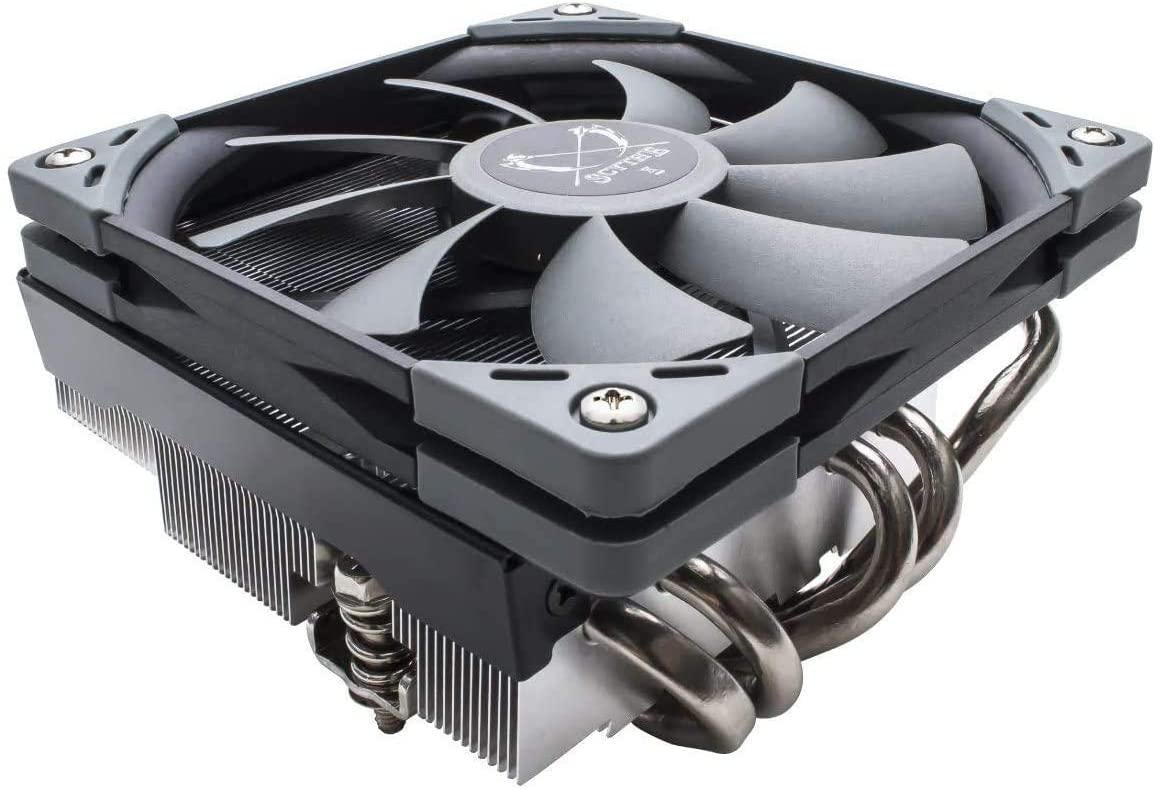 Scythe Big Shuriken 3
Number of fans
One
Fan size
120mm
Maximum fan RPM
1800 RPM
Maximum TDP
Not officially stated
Dimensions
69 x 122 x 122mm
Sockets supported
Intel: LGA775, LGA1150, LGA1151, LGA1155, LGA1156, LGA1136, LGA1200, LGA2011-3, LGA2066
AMD: AM2, AM2+, AM3, AM3+, AM4, FM1, FM2, FM2+
The perfect compromise between price and performance, Scythe's Big Shuriken 3 is a phenomenal choice even for more demanding CPUs. The cooler comes at a total height of just 69mm, making it the lowest on our list, and comes with a 120mm Kaze Flex PWM fan.
The fan itself is Scythe's flagship airflow-oriented fan and boasts sealed fluid dynamic bearings and a lifespan of over 120,000 hours, which is impressive. It comes with anti-vibration rubbers so noise is reduced as much as possible.
Scythe also gets you compatibility with just about any modern Intel and AMD socket, so you needn't worry about that. There's even an included thermal solution, too, which is neat!
Scythe Big Shuriken 3 Reviews & Benchmarks:
Comparing Benchmarks on CPU Coolers
Because not every cooler can be paired with any CPU, comparing them is difficult. The Coolers we recommend in this article, for example, range from low- to high-end. You can't cool a high-end CPU with a low-end CPU cooler without the CPU reaching its thermal limits and throttling constantly.
Measuring temperature differences when cooling a low-end CPU with a high-end cooler is even more difficult.
This means you'll need some luck to find reviews with benchmarks that test the exact combination you're after – CPU + Cooler. If you find any at all.
You'll mostly find Reviews that test mainstream CPUs with some of the highest power draw, such as Intel's 10900k or 11900k CPUs, but for Small Form Factor builds that usually have to lean towards utilizing mid- to lower-end CPUs, this isn't too helpful.
In the end, to find the best low-profile CPU cooler for you, you'll have to take benchmark runs that are fairly close to your desired combination and extrapolate from that.
What about Low profile Liquid Coolers?
One of the main benefits of AIO Coolers is that they can use more space in your case because the bulk is not situated directly on the CPU but rather moved to the side of your case where there is usually a lot of free room available.
That makes them superior especially for sustained workloads, such as CPU Rendering. The radiator, which is much bigger than an air-cooled radiator that sits directly on top of the CPU, can dissipate more heat, especially with up to 3 fans on 360mm AIOs.
Small AIOs, e.g. 120mm Liquid Coolers, don't perform as well when compared to similarly-sized air coolers, mainly because the benefit of bulk is missing. Most air coolers use heat pipes that transfer heat to the radiator much quicker than an AIO water loop can. This usually puts smaller AIOs in an inferior position compared to Air Coolers.
There can still be some benefit to an AIO liquid CPU cooler in SFF builds. If you don't have any room for an Air Cooler that sits directly on top of the CPU, a 120mm, or even 240mm AIO (depending on the case size) might help you redistribute some bulk to the case walls – This can in some cases free up space for a bulkier GPU or other components you're trying to place.
Can you use a Stock Cooler in a Small Form Factor build?
You can, but you shouldn't expect too much. Stock coolers are often rather cheaply manufactured add-ons to a CPU purchase that'll let you run the CPU just fine in a well-ventilated case but will reach its limits quickly if you do anything out of the ordinary with it.
You won't see long CPU boost periods and quick throttling especially in small enclosures that have difficulty with airflow.
Wrapping things up on choosing the best low-profile CPU coolers
A low-profile CPU cooler can be the perfect solution for a compact built or an HTPC. They're small, they can be quiet, and they offer adequate performance for most modern CPUs.
You should only go low-profile if you're working with size constraints, though, as conventional, bigger air-coolers do perform better.
That's about it from us! What CPU cooler are you eyeing? Let us know in the comments or our Forum.