While we've previously compared DDR5 and DDR4 memory for workstation use, it focused primarily on performance differences. However, like any other adoption of cutting-edge technology, it does come with some setbacks.
It's been a few years since the DDR5 standard was finalized, but a certain section of kits is still conspicuously missing from the shelves: Higher capacity DDR5 kits.
So, what's going on with DDR5?
Although memory support isn't that big a deal on a mature platform, the unholy trinity of a new desktop CPU microarchitecture, brand-new platform, and the early days of a new memory standard (DDR5) is proving to be a recipe for anything but a smooth ride.
Overclocking higher memory capacities to reach sweet spot levels has proven to be a massive pain. And no, it's not just us OC amateurs over here.
Even motherboard manufacturers aren't able to hit rated speeds with higher capacity kits. Here's an example from an ASUS QVL page for one of its priciest Intel motherboards (Z790 Maximus Hero) –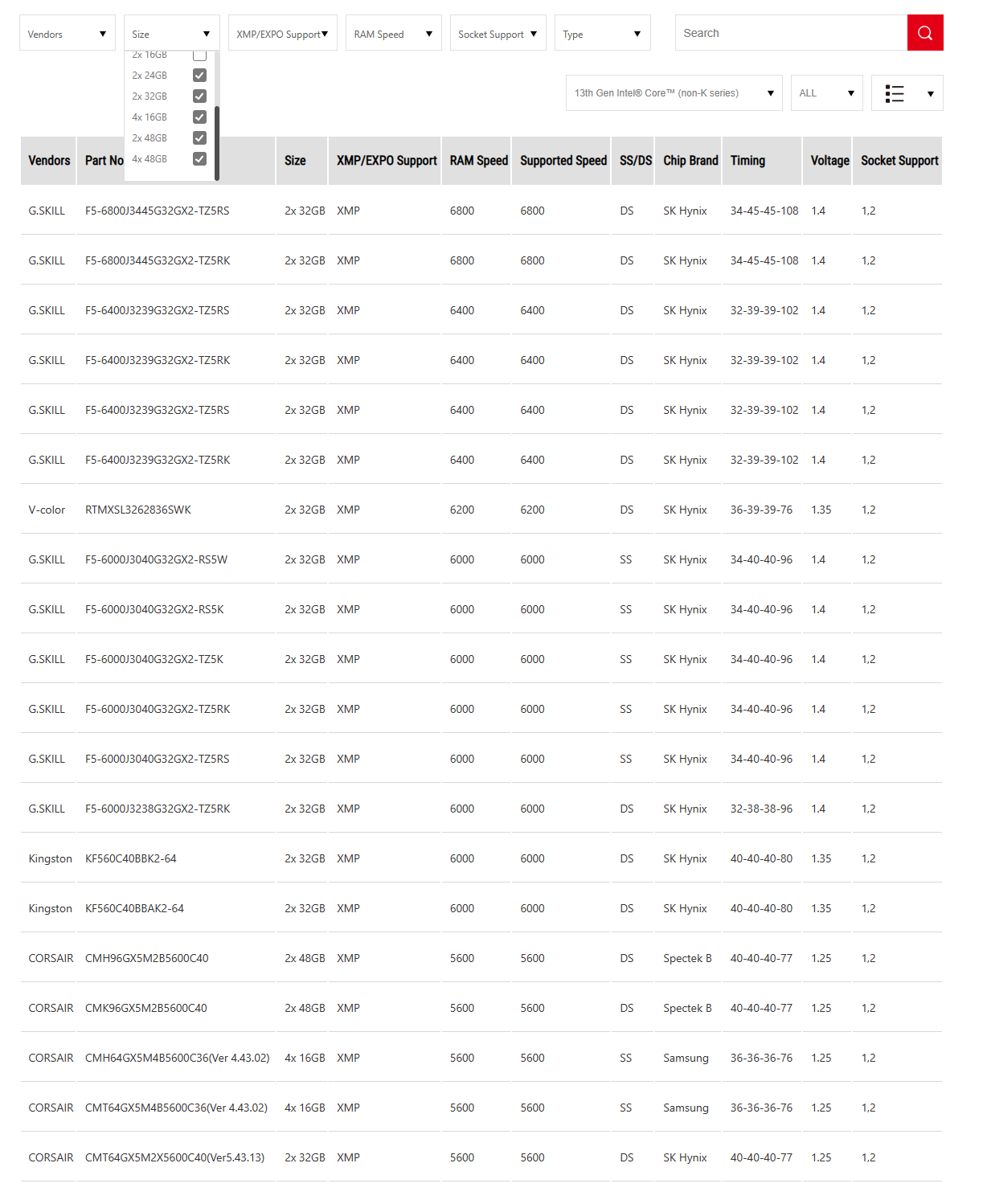 Notice a trend?
Going up to 4 sticks of memory sends data rates all the way back to DDR5-5600. And, mind you, this is with the very best kits ASUS could find.
Higher Capacity DDR5 Kits and Clocks: What's the Problem?
*Note – memory timings and OC support for kits can change with BIOS updates, so my take here could be totally outdated in a few weeks. Please check QVL pages for your motherboards before pulling the trigger on a DDR5 kit.
Also, if you find any new information you think should be included here, please let me know in the comments, and I'll update accordingly.
Let's take AMD, for example.
The sweet spot for Ryzen 7000 parts is DDR5-6000 due to how AMD's infinity fabric works, unlike Intel's offerings, which scale with memory speeds pretty linearly.
Here's an example:
With Intel CPUs, you get gaming performance somewhere along the lines of what AMD can muster at lower memory speeds. For example, check out the DDR5-4800 CL40 results for both CPUs. AMD NEEDS to get to that magical DDR5-6000 level to keep pace with Intel in tasks like gaming.
That said, hitting this 6000 MT/s overclock on AMD without introducing an element of instability is another story. AMD's new memory controller is still finicky, to say the least, and you'll have a hard time going above DDR5-5600 for higher-capacity memory kits (> 32GB).
It really boils down to your luck, what motherboard you're using, and your luck. That's it.
Did I mention luck?
I decided to spend a couple of days testing RAM kits. While I was losing my mind and rebooting my system for what felt like the thousandth time (hats off to professional Overclockers who do this daily), I took some notes for my AMD test setup:
My system couldn't POST past the DDR5-6000 mark (DDR5-6400 and up) using most of my 2-stick kits when using their eXPO profiles.
Several of my 2-stick kits refused to POST at the DDR5-6000 mark with their eXPO profiles. Although some tinkering with the timings finally got most of them to boot, I wouldn't trust that overclock in a workstation setting.
Going above DDR5-6400 was nearly impossible on AMD. I wouldn't even hope your kit will work without a lot of tinkering. My DDR5-7200 kit couldn't POST. Plus, the performance gains aren't worth it on AMD, so most people shouldn't even bother with those high-end kits in the first place.
Gigabyte was the pickiest but offered tighter timings when it did work – translating into better performance numbers in theory.
MSI and ASUS were the least picky with DDR5 kits, and MSI's 'Try It' feature helped try out timings quickly when OC profiles refused to work. I, unfortunately, couldn't test ASRock. However, ASUS and MSI did opt to go with much looser timings, which could leave some performance on the table. But on the flip side, they did seem to offer better compatibility.
High-density memory will likely remain a major headache until DDR5 matures. Using 4 sticks was basically a death sentence for overclocks on even the best DDR5-6000 kits, which then refused to boot past DDR5-5200. I guess it's probably why 4*32GB DDR5 kits aren't really a thing yet.
I had the best results with Kingston Fury Beast and G.Skill Flare X5 memory kits. But your mileage may vary because my sample size is fairly minuscule from a testing POV.
Memory Kits Tested
Since I couldn't find any 128GB DDR5 kits in my region at the time of writing, I had to create my own by grabbing two 64GB kits. To be clear, this isn't exactly ideal, but it does give you the best chance at compatibility if you have no other choice. You can find out more about mixing memory here.
2x (Kingston FURY Beast KF552C40BBK2-64 64GB DDR5-5200)
2x (G.Skill Trident Z5 Neo F5-6000J3040G32GX2-TZ5NR 64GB DDR5-6000)
2x (Corsair Dominator Platinum CMT64GX5M2X5600C40 64GB DDR5-6000)
4x (Kingston FURY Beast KF560C40BBA-16 16GB DDR5-6000)
4x (ADATA XPG Lancer AX5U6400C4016G-DCCARGY 16GB DDR5-6400)
1x (G.Skill Trident Z5 RGB F5-7200J3445G16GX2-TZ5RK DDR5-7200)
Motherboards Used
MSI X670E Tomahawk
ASUS ROG X670E Crosshair Hero
Gigabyte X670E Aorus Master
Steve (from Hardware Unboxed) published some tests that explain why I was getting motherboard-specific memory issues, especially with Gigabyte. His tests show that while Gigabyte opted to tune their memory settings for better performance, other manufacturers are either a) playing it safe or b) too lazy to try.
Again, I strongly recommend checking motherboard QVL pages and finding qualified memory when shopping for your DDR5 kit. Anything else is a gamble at this early stage for a new memory standard on a relatively new platform.
If you want the best shot at a stable DDR5-6000 overclock (even when you can't find any kits listed on a QVL), don't exceed 2 sticks of 16GB memory.
But what about workstations that NEED more RAM?
The Workstation Conundrum
As you probably know, some workstation apps can hog memory worse than Chrome can. But if you can't hit sweet spot speeds on DDR5 for kits that go above 32GB capacities or even 64GB capacities, is it even worth considering a DDR5 platform for your workstation?
When it comes to gaming, yes, the lower speeds do hurt performance quite a bit on the AMD side of things. On Intel, the performance regression due to lower speeds isn't that significant.
Here's an example from Hardware Unboxed (they do fantastic work btw; please check them out):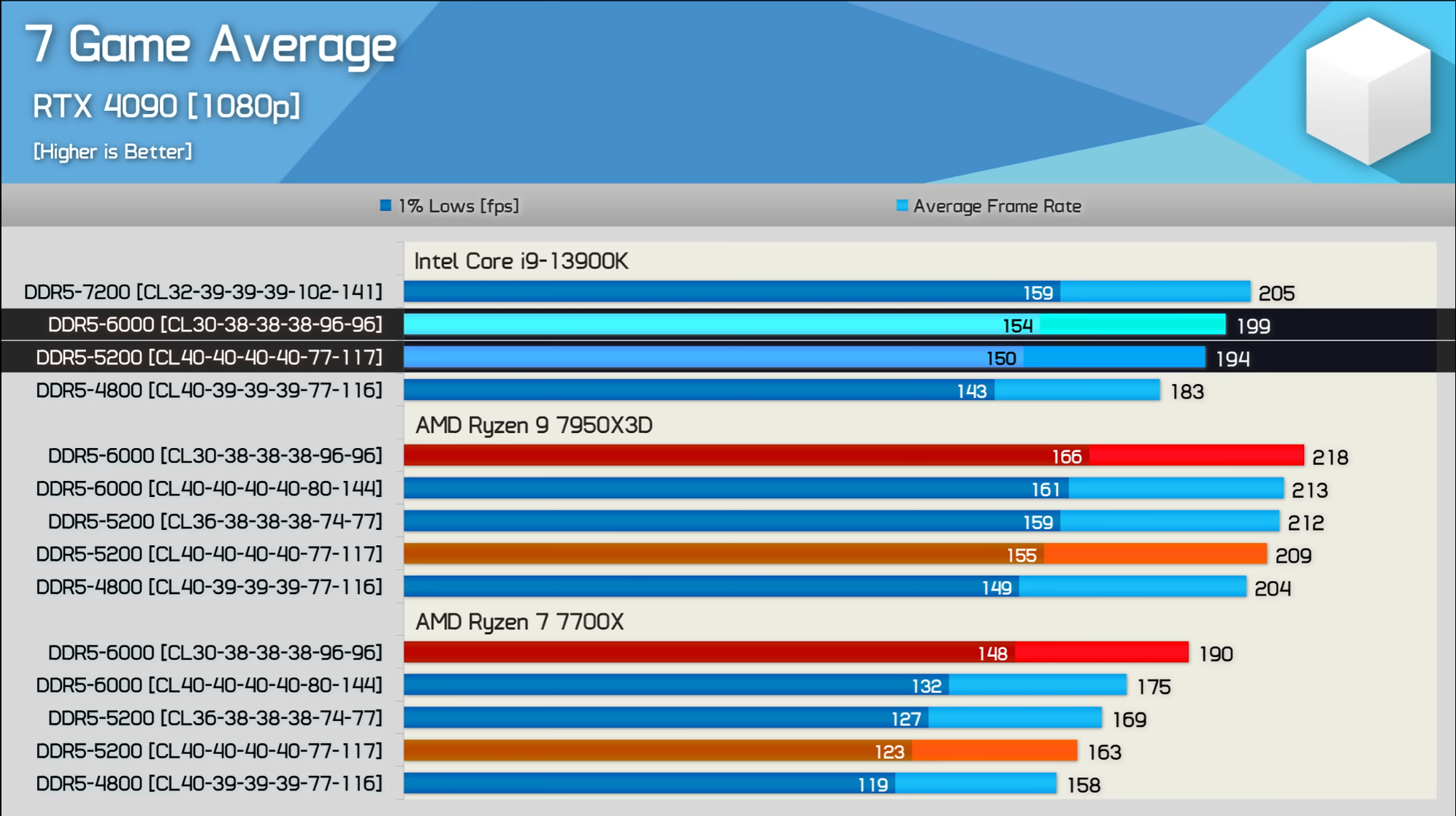 But does this hold true for workstations as well?
While it's true that better memory speeds give you an edge in most tasks, professional workloads with core-heavy tasks don't seem to mind 'too much.' As for single-core performance, there is a difference but not enough to be noticed.
Guru3D performed a memory scaling test and posted some interesting Cinebench results.

While the Ryzen 7700X, when using DDR5-4800 CL42, is slower than the same CPU with DDR5-6000 CL30, the difference isn't that noticeable in the grand scheme of things.
Yes, viewports will be marginally faster and smoother with faster memory, but it'll be an imperceptible performance uplift.
Core-heavy work doesn't really care either way.

Funnily enough, Guru3d sees a marginally higher multi-threaded score with DDR5-4800 than with DDR5-6000 when using the Ryzen 7 7700X!
Frequently Asked Questions (FAQs)
So, 128GB DDR5 for Workstations – Yay or Nay?
We've always said – running out of RAM is way way worse than running it at lower speeds.
The same holds for stability.
You don't want a rude crash in the middle of renders that take hours or even days.
Here are a few recommendations for workstation users:
Run your memory at whatever defaults you get if using 4 sticks.
For even 2x32GB DDR5 kits, I'd recommend settling for defaults. But you do have a much better chance to hit DDR5-6000 (or close to it) with this configuration without compromising stability. Experiment if you can.
If possible, opt for 2x48GB DDR5 kits instead of going with 4 sticks of memory. I've seen users report better stability with those modules (makes sense as it aligns with my tests; anything more than 2 sticks becomes kinda unstable). And yes, there is a compromise – you end up with 96GB memory instead of 128GB.
Is the Premium for Higher-clocked DDR5 Kits Not Worth it for Workstations?
Well, this is one of the toughest questions to answer without a crystal ball. Let's look back at DDR4 for reference, then.
DDR4 launched with speeds ranging from DDR4-2133 to DDR4-3200. These speeds then went up to DDR4-4400+ towards the end.
If we were to draw similarities in both lineups to guess where each speed would sit, DDR5-6000 today would be equivalent to something like a DDR4-2800/2666 kit, while the higher-end kits like DDR5-7200 would probably be equivalent to DDR4-3200/3600.
From this comparison, I'd recommend not spending too much of a premium on higher-clocked DDR5 kits if you need higher capacities for workstation use. Buy the cheapest, most stable kits (again, check QVLs) for now. You can always upgrade to faster memory in the coming 2-3 years without suffering through constant crashes and stuttering.
As of May 2023, I'd recommend that workstation users stick to speeds below DDR5-5600 and not pay too much of a premium over DDR5-4800. I reckon these early kits will be relegated to 'not recommended' in the coming years as both the memory controllers and memory standard mature.
Is Intel 13th Gen Better with Higher Capacity DDR5?
Definitely, yes. Moreover, Intel doesn't see the kind of scaling that Ryzen CPUs can achieve at their sweet spot memory clock because of how Ryzen's infinity fabric works.
That said, you can't decide on a CPU based on memory speeds. AMD Ryzen CPUs like the Ryzen 9 7950X are still better than Intel's offerings for heavy workstation use.