The Radeon Pro W5500 is one of the latest additions to AMD's workstation graphics lineup. It seeks to offer a competitive option at a much lower price compared to Nvidia's Quadro offerings. Does it manage to accomplish the task?
Let's find out!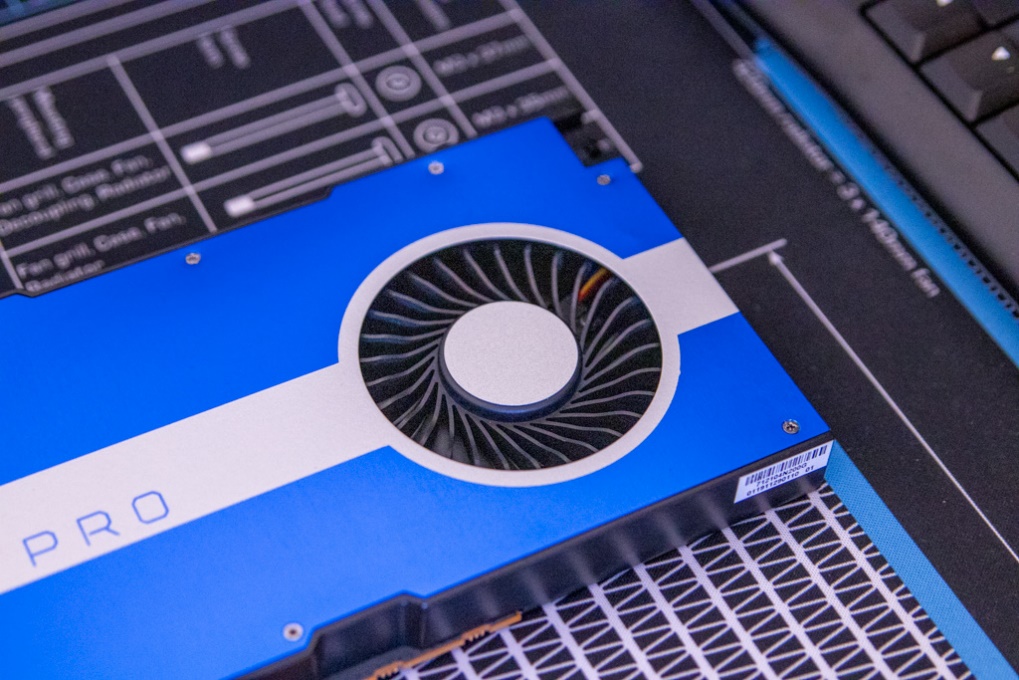 We got a chance to play around with the Radeon Pro W5500 for the past couple of weeks and wanted to share our first impressions. If you're looking for benchmarks, you can skip down to the benchmarks section as well!
Priced at $400, the Radeon Pro W5500 workstation graphics card seems to offer a decent point of entry for those who are bound by budget. If you need workstation graphics but don't have the means to reach for more powerful models yet, the W5500 might be the way to go.
Radeon Pro W5500 Technical Specifications
Before we get into benchmarks, we should probably go over its technical specifications (pretty similar to the Radeon 5500XT):
GPU Architecture – RDNA
Lithography – TSMC 7nm FinFET
Number of Compute Units – 22
GPU Memory – 8GB (No ECC Support)
Memory Type – GDDR6
Memory Bandwidth – 224 GB/s
Video Outputs – 4x DisplayPort 1.4; 0x HDMI; 0x DVI
Board Width – Single Slot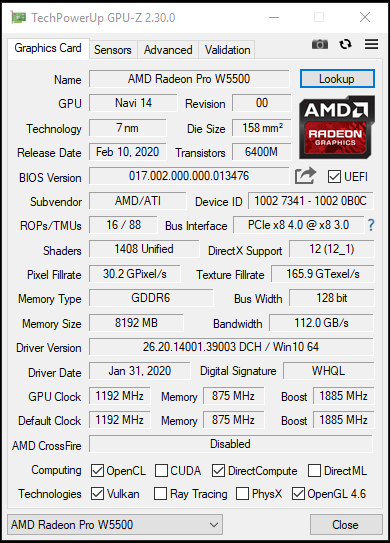 Benchmark Overview
Since the Radeon Pro W5500 is a workstation graphics card, it made sense to keep the focus on productivity and CG-focused benchmarks. However, we've included a Unigine Superposition benchmark for those curious about gaming performance.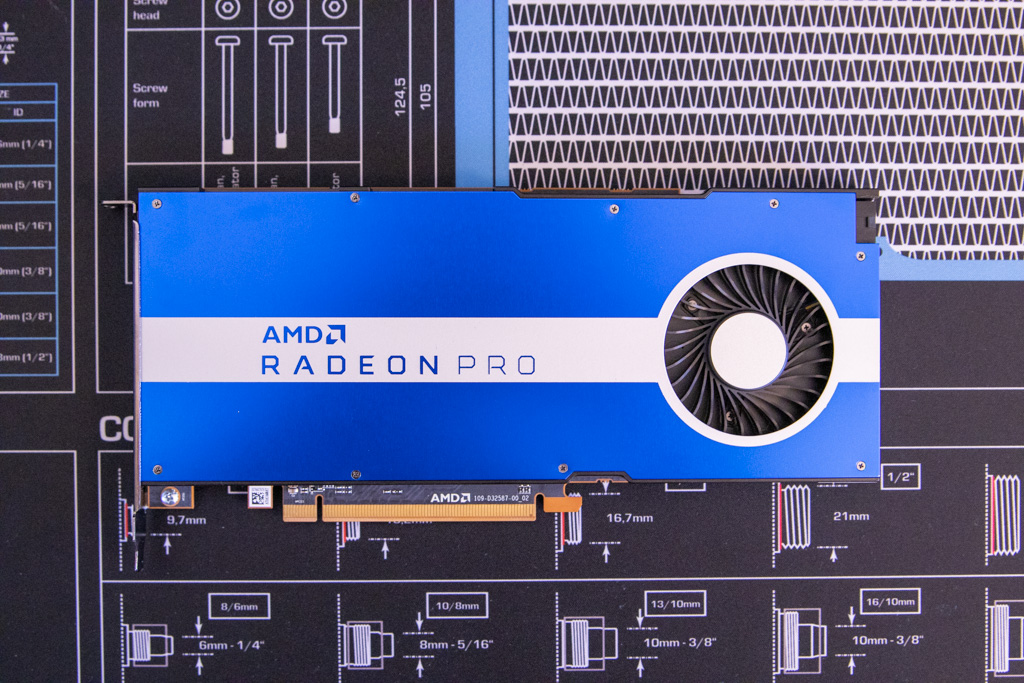 We put AMD's newest budget workstation graphics card through the paces and compared it against competitors in a variety of price brackets.
Since we don't have access to an Nvidia Quadro RTX 4000 at the moment, we couldn't include too many of its scores. Nonetheless, the benchmarks we COULD find, show that the Nvidia workstation card would handily beat the Radeon Pro W5500 by a substantial margin. Now, this should hardly come as a surprise when the Quadro RTX 4000 commands double the cost.
At the lower end of the product stack, Nvidia options are not very competitive (as you'll see from the benchmarks below). If you're just getting into workstation graphics (and maybe even into this field) – the W5500 offers excellent value in many professional applications.
Radeon Pro W5500 Benchmarks
Blender
Blender isn't just free, it's also one of the most widely-used, open-source computer graphics software in the world. We went over two popular render scenes with the Radeon Pro W5500 to see how it stacks up against the competition. While the Nvidia Quadro cards used CUDA rendering for these scenes, the Radeon card used OpenCL.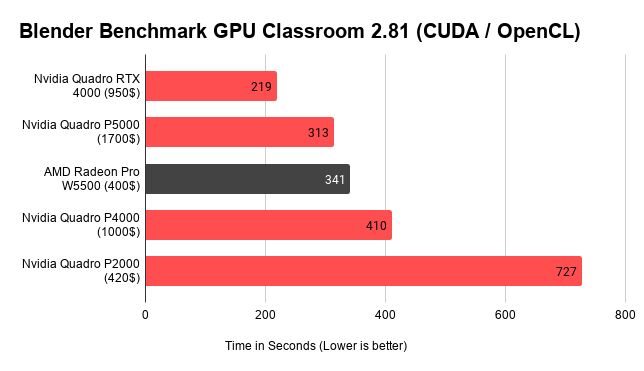 The W5500 did very well rendering the Blender Classroom scene, taking just 341 seconds. The only price-comparable workstation graphics card from Nvidia, the Quadro P2000, gets obliterated in this bench with a much longer render time.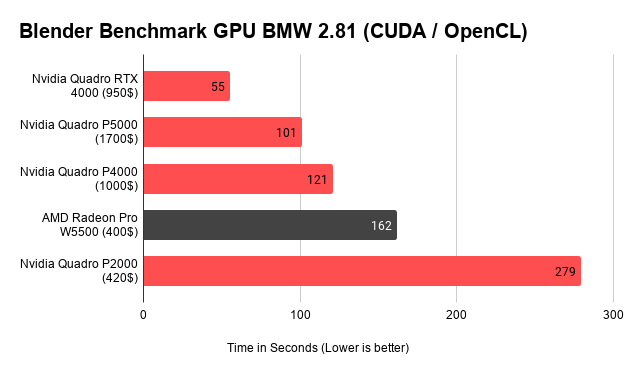 The BMW scene saw the Radeon Pro again edging out the P2000 by a healthy margin. These results just cement the fact that Nvidia needs workstation options at the $400 price point because the performance offered by the P2000 is not even close to competitive.
AMD ProRender for Cinema4D
Based on the OpenCL standard, AMD ProRender is a GPU path-tracing renderer for Cinema 4D and a few other popular professional applications.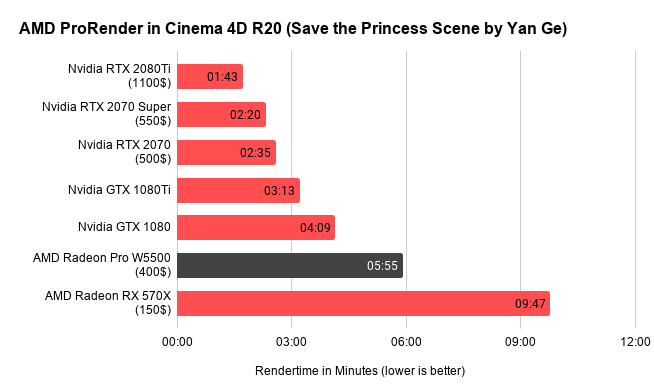 AMD's ProRender has come a long way as AMD continues to make iterative improvements to it over time. The Radeon Pro W5500 offers respectable performance here when compared with other workstation graphics cards.
However, when gaming graphics come into the picture, it's not that pretty. Nonetheless, if you're on the lookout for workstation graphics with official support from software vendors, the W5500 is the best option available at the moment.
We did some real-world testing in Cinema 4D and AMD ProRender, and while the W5500 isn't among the fastest, most scenes of low-to-mid complexity were fairly responsive when working with viewport real-time rendering: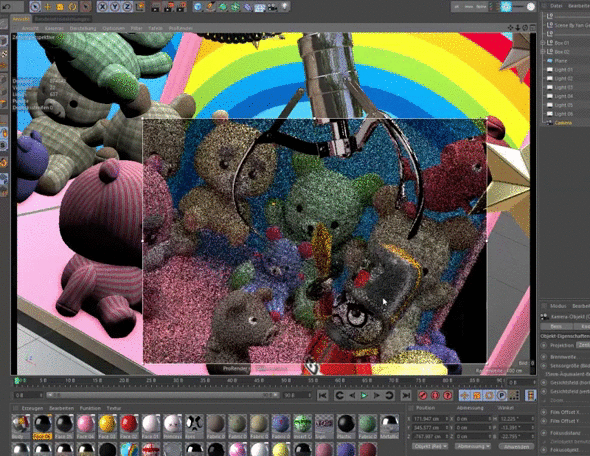 SPECViewPerf 13
SPECviewperf is considered a worldwide standard to measure graphics performance across a comprehensive suite of professional applications. We ran the Radeon Pro W5500 through Maya, 3dsMax, and Solidworks viewsets to see how it fares compared to the competition.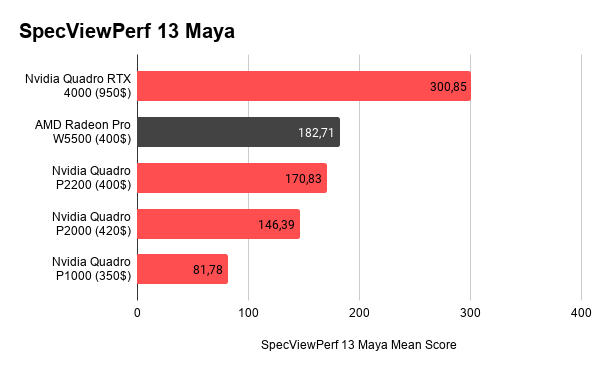 When it comes to Maya, the Radeon Pro GPU has the competition beat at this price range. If you're looking for a budget workstation card that performs quite well, the Radeon Pro W5500 is an excellent choice for those working with Autodesk Maya.
Nvidia's new Quadro RTX 4000 looks like a much better deal compared to other Quadro offerings, and performance does seem to warrant its price.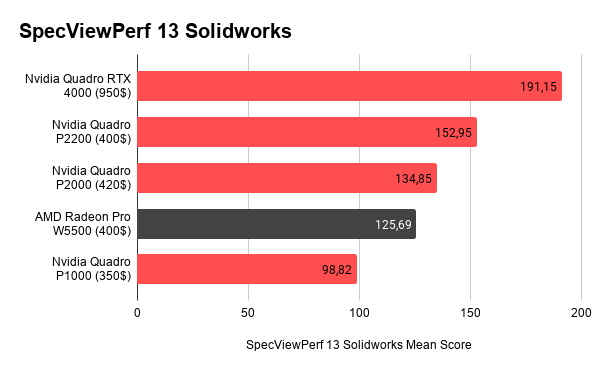 The Solidworks viewset on SPECviewperf presents a very different picture to what we saw with Maya. Although the Radeon Pro W5500 manages to beat cheaper offerings from Nvidia's Quadro lineup, it struggles to keep up with other workstation GPUs in its price range.
If you're working primarily with Solidworks, I'd recommend looking at the P2200 or jumping up to the Quadro RTX 4000 (if budget permits).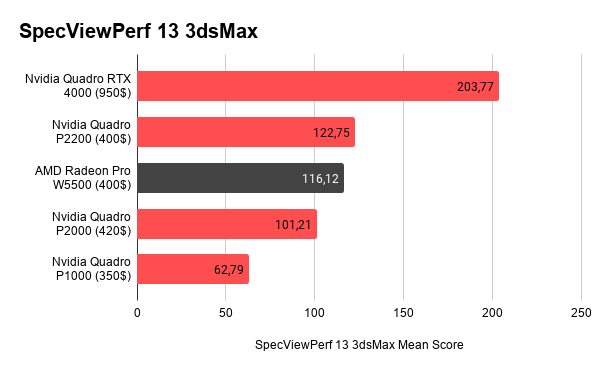 The Radeon Pro W5500 doesn't seem to offer anything spectacular when using Autodesk's 3dsMax software. It gets edged out by a similarly-priced Quadro P2200, and as expected, gets demolished by the much pricier Quadro RTX 4000.
Geekbench
Although performance in real-world applications might not directly correlate to scores in benchmark applications like Geekbench, it's great to have an idea about how a graphics card stacks up compared to the competition.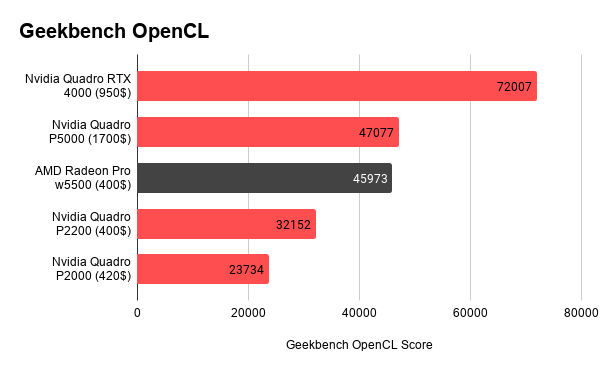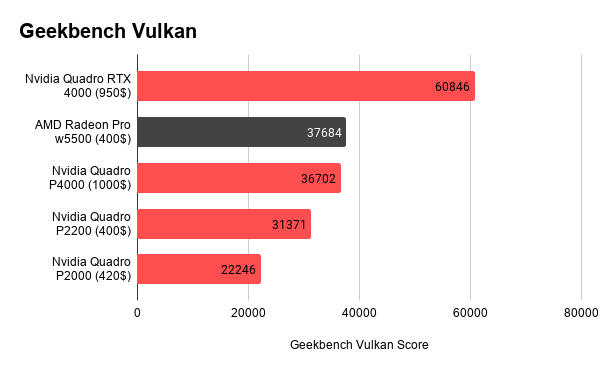 The Geekbench OpenCL and Vulkan benchmarks see the Radeon Pro W5500 outpacing Nvidia's budget workstation graphics offerings easily. The $950 Quadro RTX 4000 is miles ahead in both these benchmarks.
Unigine Superposition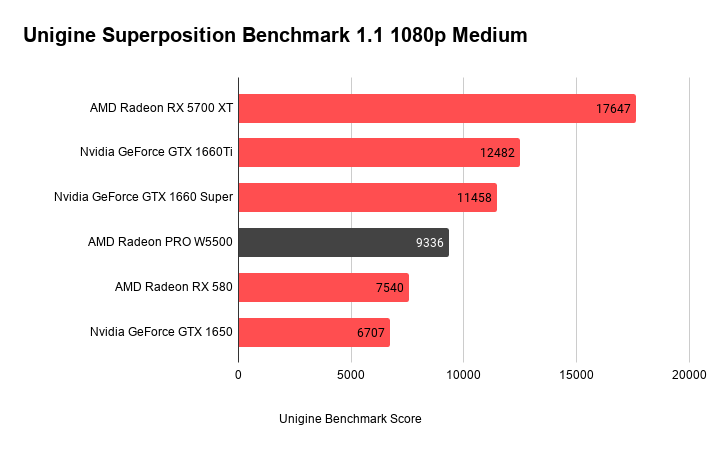 The Radeon Pro W5500 can hardly keep up with even the much cheaper gaming graphics cards from Nvidia like the GTX 1660 Super. So, while this graphics card will be 'okay' for gaming, you should be buying this ONLY if you need vendor support for Radeon Pro hardware.
Workstation Graphics vs. Gaming Graphics Cards
When compared to gaming graphic card products, the workstation cards seem like they offer dubious value. For example, the Radeon RX 5700 XT (a $400 gaming graphics card) manages to keep up with the much pricier Nvidia Quadro RTX 4000. Does this mean workstation graphics aren't worth it?
Not entirely true.
Where these two types of products differ is – official support or official 'certification.'
Several professional software vendors will only offer support for workstation graphics cards. Here is an example from Solidworks below (link here):
You can see that the complete Nvidia GeForce, as well as the AMD Radeon lineup, is missing from the list of supported graphics cards. So, does this mean Solidworks won't run on GeForce and Radeon products?
No.
It just means that Solidworks updates are planned around driver updates for workstation graphics cards in the Quadro and Radeon Pro lineup. Vendors won't account for gaming graphics cards or their drivers.
Suppose you're using Solidworks with a gaming graphics card and find that a specific feature broke after an update or is not working as intended, there's no recourse. Solidworks will offer support for that issue only as long as you are running certified hardware.
Vendors like Autodesk HAVE started to list even gaming graphics cards as "Tested Graphics Cards" along with the driver version tested – making it easier for users to jump into professional apps. But even then, they do come attached with disclaimers like this:
At the higher end of the stack, in addition to official support, workstation graphics cards also offer error-correcting memory and/or higher memory bandwidth, more VRAM, and so on. However, this isn't the case for products at the budget price point.
Only you can decide whether official vendor support for your favorite software is something worth having for your work.
Wrap-up
While Nvidia's Quadro lineup looks menacing with the Quadro RTX 4000 offering excellent performance and proving its worth, the budget end of Quadro cards is simply not worth it.
If your graphics card budget simply cannot stretch to $1000 or if you're just getting started in this field, the Radeon Pro W5500 outmatches anything priced near it in the world of workstation graphics cards.
What is your impression of the AMD Radeon Pro W5500? Let us know in the comments!