The ARM-based MacBook Air is still, to this day, one of the best laptops money can buy.
It is a truly spectacular device, one that, quite frankly, is astonishingly good for the asking price. There's no huge flaw for us to criticize, no dealbreaker to point out, no tremendous hindrance to caution about.
All the standard footnotes about Apple's M1 and M2 chipsets apply. It's not a perfect architecture, nor is it without its peculiarities and faults. For most users, though, they're all negligible and, frankly, worth dealing with.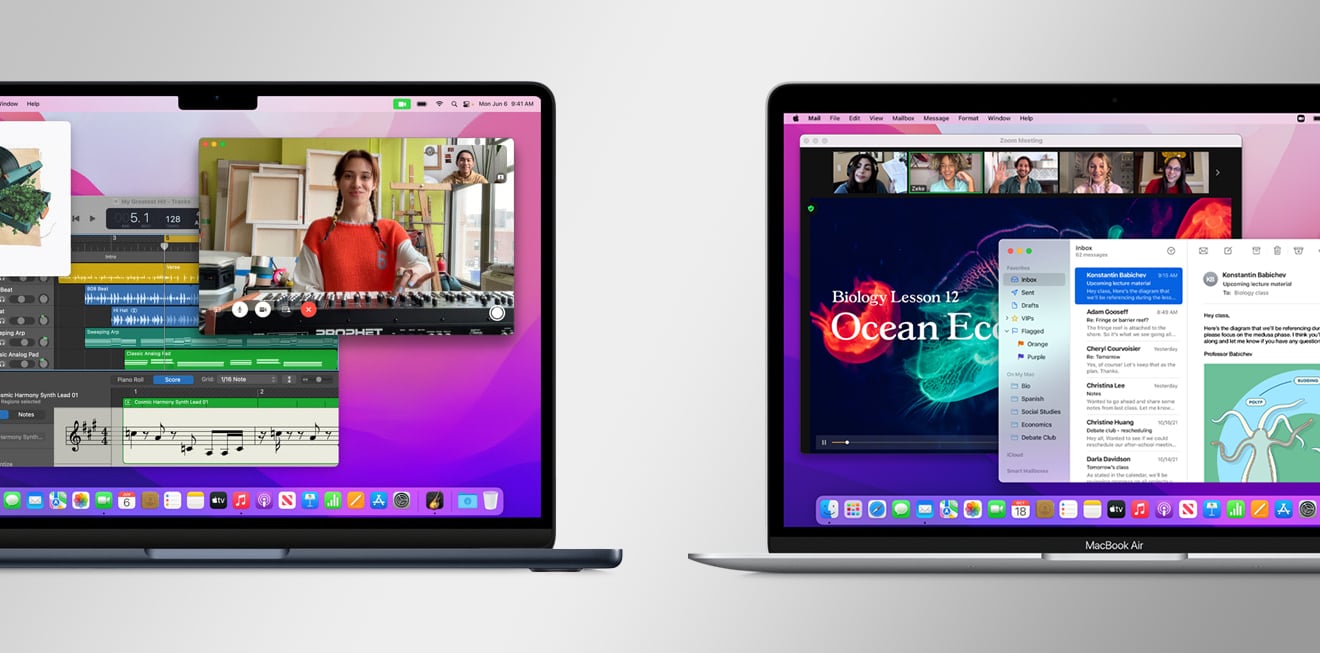 And its performance? Out of this world. Both ARM-based MacBooks — by which we mean the M1- and M2-based models — can run circles around most Windows laptops in their price range (and they often punch way above their weight class, too).
One would expect, therefore, that finding an appropriate Windows-based alternative would be quite a challenge, no? That, fortunately, is no longer the case.
The original M1 MacBook Air took the world by storm and, perhaps most importantly, made everyone take notice — including Intel, AMD, and pretty much every manufacturer and company that has any "skin" in this game.
Everyone had to step up in order to have a fighting chance — and they had to do it with extreme haste and precision, too. Fortunately for us (i.e. the end consumers), they've been more than up to the tremendous task at hand.
The best MacBook Air alternatives still aren't quite as polished in comparison but are nonetheless amazing in a myriad of different ways and, perhaps most importantly, don't come with any inherent flaws or weaknesses.
They might not be the better option depending on your needs and overall use-case, but they're still mighty alluring; better yet, they don't come with a series of peculiar footnotes and hoops for you to jump through.
Apple's M1/M2 Macbook Air is an astonishing ultraportable.
There's really no other way to say it. The things it can do — whilst being passively cooled — are simply mind-blowing. Be that as it may, it's not perfect, and much of the same can be said for all of Apple's ARM-based devices.
And so, with that in mind, let's first go over its biggest strengths and weaknesses. By extrapolating its flaws and virtues (and using them as a benchmark) we'll be able to better judge all potential alternatives.
Is the M1 MacBook Air Still Worth It?
MacBook Air — Strengths and Weaknesses
There's very little to nitpick when it comes to the ARM-based MacBook Air. That's why it's been selling like hotcakes ever since it was imbued with Apple's own silicon.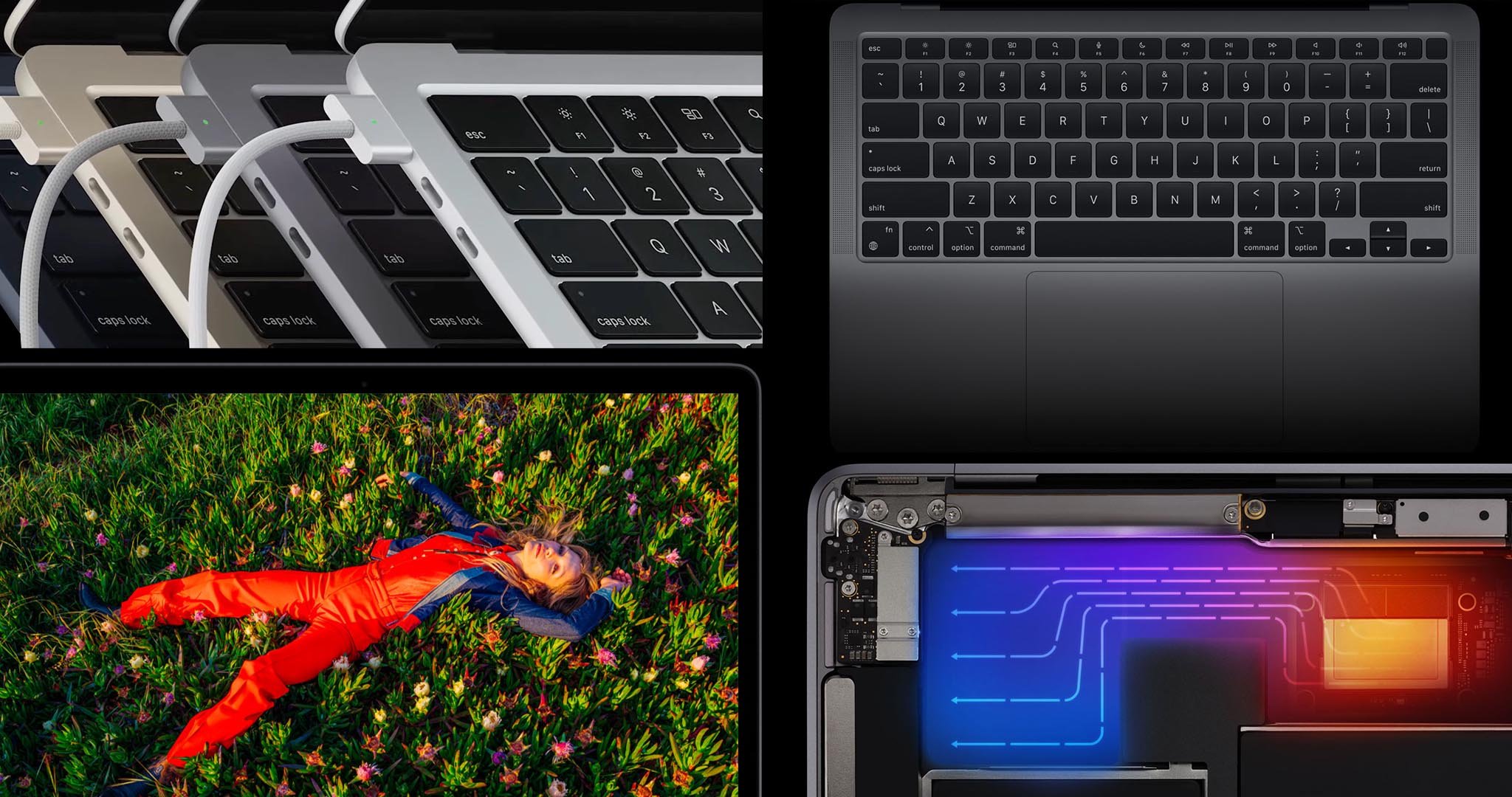 As well-rounded as it gets — The MacBook Air is an extremely alluring device; it's a polished, well-rounded product that can perform way above its weight class.Extremely impressive build quality, a spectacular, bright, color-accurate display, a phenomenal keyboard, a trackpad of one's dreams, and a chipset so powerful it'll chew through any workload you might throw its way.
Battery life for days — Apple's MacBook is, at the time of this writing, the absolute champion when it comes to how long they can last on a single charge. It's astonishing, really. Ten hours? Piece of cake. Eleven, twelve, thirteen, perhaps even fourteen hours? All is possible, albeit on the M1 MacBook Pro. The point is: you'll never feel any kind of battery-related anxiety if you have an ARM MacBook by your side.
Constant performance, plugged in or not — Nearly all Windows laptops fall off a cliff performance-wise the very moment they are unplugged from a wall outlet. And, even if they can sustain their performance, your battery life will inevitably take too big of a hit. There's no way to win, in short. That's not the case with Apple's latest MacBooks — they'll perform equally as well regardless if they're running on battery or not.
Passively cooled — Perhaps the most mind-blowing thing about the MacBook Air is the fact that it's passively cooled. There's no fan within its enclosure whatsoever. Now sure, it does throttle and it can get a bit too hot to the touch, but it's nothing out of the ordinary. There's simply nothing for us to compare it to over in the Windows world. So, if you cannot stand any kind of fan noise and are "acoustically vulnerable," the MacBook Air is, without a shadow of a doubt, the laptop to go for.
These are all tremendous strengths and qualities. There's no denying it, really. Still, the MacBook Air, too, comes with a few flaws — some of which are quite debilitating.
Severely limited I/O — All you get are two USB-C ports. Now sure, they might be Thunderbolt, but that changes very little for those who don't have an external dock of some kind, a dongle, or a hub. You can connect a myriad of different devices and media, but those rarely come cheap. That's the frustrating thing: USB-C might be the future, but we're still living in the present, and most folks need a more diverse selection of ports.
An outdated design — This, in all fairness, is a very subjective criterion. Some folks still adore its looks even though it is a few years old at this point — it's still sporting the same design as in 2018. This only applies to the M1-based model. Its successor is a lot more modern and aesthetically pleasing (to say the least).
Apple's shady upselling tactics — The price of a base MacBook Air might seem alluring, but you really ought to upgrade its RAM and, if possible, internal storage. With those two upgrades, the total sum you'll need to pay will rise by multiple Benjamin Franklins — up to four, to be more exact. That's… pretty obscene. So, while it might be a spectacular laptop, it's not exactly cheap by any stretch of the imagination.
(Potential) Software compatibility issues — Programs that don't need to be emulated through Apple's Rosetta 2 emulation layer are exceptionally fast. Those that do need to be emulated, on the other hand, often run a bit too slow for our liking. Your mileage will vary (to say the least). Overall, the performance discrepancy isn't particularly egregious, but it does exist.
MacBook Air Alternatives — Pros and Cons
We're talking about the very pinnacle of laptops here. There aren't many cons to speak of.
They all have beautiful displays, they're all mighty powerful (relative to their size and overall form factor), and they all come with very few (if any) upgradeable components — an unpopular choice that is nonetheless necessitated by their slim enclosures.
There are two key differences: their architecture (ARM vs. x86) and their operating system (macOS vs. Windows).
That might not sound like much, but depending on your line of work (and overall needs and preferences), it might just be enough to sway you in one way or another.
If you take the Windows route, you can expect the following:
Jaw-dropping displays — 2K, 3K, OLED, 16:10, touch-sensitive, HDR ready, 120Hz, matte, glossy, you name it — the best Windows ultrabooks on the market come with some truly spectacular displays and, more often than not, you can actually tweak and tune your model of choice (or SKU, to be more exact) on the manufacturer's website. No longer will you be forced into using badly calibrated 1080p IPS displays that can barely hit 300 nits!.
Performance for days — Apple's M1 is no longer as groundbreaking as was the case when it first came out; Intel and AMD, to their credit, stepped up big time — because they had to. To survive, to thrive in such a competitive market, they had to grow and evolve in a myriad of different ways and we, the end consumers, are all the better for it. Alder Lake and Ryzen 6000 CPUs are exceptionally powerful (and, in some cases, respectably efficient).
Solid efficiency — Windows laptops still can't compete with Apple's MacBooks when it comes to battery life, but they have gotten a lot better in that regard over the last two or so years. This is mostly true for AMD's 6000 series Ryzen CPU/APUs, but Intel-based laptops can also last a while if you're inclined and willing to roll up your sleeves and tweak a few settings. In any case, if you need a Windows-based laptop — and still want to free yourself of battery anxiety — AMD is the way to go.
Respectable I/O (in most cases) — Windows laptops are no longer as versatile in their port selection as was the case a few years ago, but they're still (at times) better than Apple's MacBook Air. Some models do come with just two USB-C ports, but if you scour the market long enough you can find ultrabooks that have USB-A, HDMI, and perhaps even a microSD card reader. That's by no means an impressive I/O line-up but at least it'll suffice — and at least you won't have to run out and buy a dongle or an external hub.
Interestingly enough, these laptops don't have any huge, glaring weaknesses. It all depends on the model, of course, but there's very little to complain about. They're powerful, thin, light, have amazing displays, and just enough I/O to get by.
Their battery life varies, granted, but you can still find a model that'll last you eight or nine hours on a charge — pretty impressive, all things considered.
And now, with that out of the way, let's take a closer look at the best MacBook Air alternatives worth your time and money!
Best MacBook Air Alternatives
The market is currently oversaturated with beautiful, fast, and incredibly versatile laptops. That much is a fact. Still, finding ones that can compete with Apple's MacBook Air is quite a challenge.
We're basically looking for the absolute best and most capable ultrabooks money can buy and they need to be powered by Intel and AMD's latest and greatest CPUs — the Core i7-1260P/1280P and Ryzen 6800U, respectively.
Their H/HS/HX CPUs are a lot more powerful, but that sure does come at a cost: battery life and thermals.
We'll also focus on 13" models exclusively.
ASUS Zenbook S 13 OLED
The Zenbook S 13 OLED is a phenomenal ultrabook that ticks all the right boxes. It's astonishingly thin, light as a feather, and comes with a spectacular display that'll make you water at the mouth the very moment you see it.
13.3″, 16:10, 2.8K (2880×1800), touch-sensitive, and — perhaps most importantly — OLED. It's so good it puts the MacBook Air to shame.
Add to that three full-spec USB-C ports (data, video out, charging), 16GB of LPDDR5-6400 RAM, Wi-Fi 6E, Bluetooth 5.2, and a very respectable 67 Wh battery, and you get an amazing ultrabook that can easily stand its ground against Apple's most popular laptop.
Its biggest strengths, however, come from its APU: the AMD Ryzen 6800U, an incredibly powerful yet astonishingly efficient chipset that can deliver both phenomenal performances and, in case you want to burn the midnight oil, spectacular battery life.
You can expect around ten hours of general use before needing to charge which, for Windows-based laptops, is absolutely sensational.
Dell XPS 13 Plus
Dell went above and beyond with this one. The XPS 13 Plus is a wholly unique device, with more power than one could ever imagine given its thin and light frame.
It comes with Intel's most powerful P-series processor (the Core i7-1280P), with six performance and eight efficiency cores, totaling out at 28W of total base power.
How did Dell manage to imbue this machine with such tremendous oomph? The answer is rather simple: by axing the function row entirely, thus getting more space for adequate cooling.
It's not a particularly popular design choice but it sure did yield huge performance gains, so we'd argue it's a worthwhile trade-off.
The XPS 13 Plus also sports an edge-to-edge keyboard that barely has any space between its keys and a seamless trackpad that has a Gorilla glass coating on top and ten piezoelectric buzzers beneath to simulate the clicking mechanism we're all so acquainted with.
These are all risky design choices and, to Dell's credit, they managed to stick the proverbial landing on both fronts.
Such immense thinness, however, comes at a cost, and it's a most pricey one: I/O. You only get two USB-C ports (Thunderbolt 4), one on each side, and that's it. There's no USB-A, no HDMI, and not even a headphone jack.
We didn't think there would ever be a mainstream 13″ ultrabook that has an ever more austere selection of ports than Apple's MacBook Air but it seems that was wrong.
Dell does include a dongle in the box but you best not lose it as there are very few alternatives on the market that are supported by the XPS 13 Plus.
A weird choice, one could argue, but it does make a bit of sense: if you're going to spend so much money on a laptop you're probably already sporting wireless headphones/earbuds.
The headphone jack, too, was omitted so as to ensure as much valuable space for cooling as possible.
Did this yield any benefit? It sure did.
Its CPU is so darn powerful it can run circles around Apple's M1 chipset. It's nowhere near as efficient, but if you want the most power in a thin-and-light ultrabook, the XPS 13 Plus is definitely the way to go.
Just make sure to buy the IPS FHD+ variant if you want it to last more than five or six hours on a charge.
As a final note, Dell is known for having quality control issues, so just keep that in mind before whipping out your wallet.
ASUS Flow X13 [2022]
The Flow X13 from ASUS is quite a unique specimen. It's an ultrabook at heart but comes packed with some truly spectacular internals.
A 6000 series Ryzen CPU (an HS variant, no less), up to 32GB of LPDDR5 RAM, a 16:10 touch display (120Hz), and a dedicated NVIDIA RTX 3050 Ti GPU. That's a whole lot of power for a 13.4" device!
To make things even better, it comes with a suite of ports one would expect: two USB-C ports that support data, video out, and charging (3.2 Gen 2), one USB-A (3.2 Gen 2), a full-size HDMI port, a headphone jack, and even a proprietary ROG XG Mobile Interface port which you can use to connect an external GPU — in case that RTX 3050 Ti isn't capable enough for your liking!
A spectacular device, all things considered, one that will suffice for both content creation and some moderate 1080p gaming on the side.
In fact, there's nothing to really criticize or point out as a negative. It does run hot, granted, but that's a "small" price to pay for such a tremendous performance output.
All in all, it's definitely a worthy competitor to Apple's MacBook Air and the most powerful/versatile 13.4" laptop money can buy at this point in time.
Lenovo ThinkPad Z13
A ThinkPad at once both retro and contemporary, the Z13 stands out from the crowd for a myriad of different reasons.
It is a stellar portable laptop geared toward business users, but it doesn't skimp out on anything in particular and can, therefore, be used by a much broader crowd.
It does have a few interesting quirks, though, namely the haptic touchpad and high operating temperatures.
These are by no means dealbreakers but rather something you need to keep in mind before purchasing it. Lenovo really went all-out on this one and, well, it shows in a multitude of ways.
Its biggest downside, however, is its MSRP — it's well over two thousand dollars which, frankly, is a ludicrous asking price.
Lenovo laptops do tend to go on wild sales every few months, but it's hard to fully recommend this model as it's not exactly better or more well-rounded than any of the ones listed above.
Regardless, it's an interesting take on the legendary ThinkPad formula and can definitely compete on even footing in the highly competitive ultrabook market.
Buy a MacBook Air If…
You're a content creator (or want to become one)
You're already a part of Apple's ecosystem (or want to join it)
You want the most well-rounded ultrabook on the market
You like macOS and all the many bells and whistles that it brings to the table
The programs you use most are all natively supported
You want a passively cooled laptop (that doesn't thermally throttle beyond belief)
You want sustained performance even when you're away from a wall outlet
Buy a MacBook Air Alternative If…
You want to use Windows (or Linux, for that matter)
You don't want to think about software compatibility issues and emulation layers
You don't want to join Apple's ecosystem
You want to game a bit on the side
You want a versatile machine that won't impose any limits whatsoever, a machine that'll deliver no matter your workflow
MacBook Air Alternatives — Are They Worth It?
Absolutely! In fact, all Windows-based alternatives listed above are a much better deal than any of Apple's MacBooks.
They might not be as well-rounded — or spectacular for most types of content creation — but they sure do offer more bang for your buck.
They come with better displays — displays that have higher refresh rates, higher peak brightness (in some cases), and thinner bezels around their edges.
They come with more RAM, more internal storage, more ports (an understatement), and an operating system that won't impose any arbitrary limitations or "force" you to enter any kind of closed-off ecosystem.
They're spectacular laptops in every sense of the word and, as such, are more than worth the asking price.
Conclusion
Apple's MacBook Air — both the M1 and M2 models — is one of the finest laptops money can buy.
Its incredible performance, when combined with best-in-class battery life, offers a user experience seldom replicated. This is especially true if you're a content creator, videographer, photographer, graphic designer, and so on.
Still, they don't come cheap and they do have a few unique quirks and limitations, some of which may well be deemed as dealbreakers.
If your budget can cover it, and you really want to use macOS, then by all means, buy a MacBook Air — you're not going to regret it.
Still, Windows ultrabooks have come a long way and can, without a shadow of a doubt, compete on even footing. They might not be as well-rounded, but they sure are worth your time and hard-earned money, perhaps now more than ever!
FAQ
Let's go over a few potential questions you might have regarding this particular topic:
Is the MacBook Air Still Worth It?
Absolutely! Just make sure to buy a 16GB model and you'll be good to go!
You'll be amazed by its looks, performance, and battery life. It's the quintessential ultrabook and without a shadow of a doubt one of the finest laptops on the market. Apple really knocked it out of the park with this one.
Does the MacBook Air Have Any Windows Alternatives?
It sure does! In fact, one could argue that this is the first time that the MacBook Air has had any true competitors worthy of note, laptops that can compete on even footing on all possible fronts: build quality, performance, display metrics, battery life, and so on.
These alternatives might not be as well-rounded, but they sure are capable machines that, in certain aspects, outperform Apple's thinnest and most popular laptop.
Why Is the MacBook Air So Good?
Because it has no inherent weakness, other than the fact that some programs still need to be emulated.
It's passively cooled, exceptionally well-built, has a best-in-class trackpad, a keyboard that's a joy to type on, it performs way above its weight class, and is the unassailable king of battery life.
There's really nothing egregious to criticize other than its meager suite of ports, but that, too, is a flaw that most Windows ultrabooks have nowadays.
Are MacBook Air Alternatives Worth It?
Without a doubt! Windows ultrabooks have grown and evolved tremendously over the last two or so years.
Today's best models come with spectacular displays, immaculate build quality, and no inherent drawbacks for you to think about and work around. They work as advertised and are way more powerful than one would expect given their thin enclosures.
Is the MacBook Air Still Worth It?
It absolutely is! It's still one of the best ultrabooks money can buy and that, in short, isn't going to change any time soon.
It's sleek, powerful, has a beautiful 16:10 display, and can last for over ten hours on a charge — what more could one ask for?
Over to You
What are your thoughts on Apple's MacBook Air? Is it still as cutting edge as it was two years ago or are Windows-based ultrabooks finally good enough to compete on even footing?
Let us know in the comment section down below and, in case you need any help, head over to our forum and ask away!