The 24" M1 iMac is an incredible device and that holds true in more ways than one.
For some odd reason, though, it never really got a glowing recommendation, and that's mostly for superficial reasons and certain trends that have been ever prevalent in the tech world.
When the first M1 MacBooks hit the shelves they were heralded as the next best thing since sliced bread and a spectacular option for creative professionals.
The M1 iMac, on the other hand, was sort of looked down upon.
Most folks and tech influencers couldn't get over the fact that it had white bezels — that was all people talked about, and it overshadowed many of its unique strengths and virtues.
But make no mistake: the M1 iMac is more than worthy of your undivided attention, regardless if you're a creative professional or not.
It is a unique device, one that stands out in all the right ways. So don't be deceived by the fact that it sort of "flew under the radar" — it's an absolutely amazing option for both "casual" users and creatives alike!
24" M1 iMac — Spec Sheet
Before we delve any deeper into the nitty-gritty, let's first go over the most important specs:
| DIAGONAL | 24" [actual diagonal screen size is 23.5"] |
| --- | --- |
| PANEL TYPE | IPS LCD |
| RESOLUTION | 4480x2520 (4.5K), 218 pixels per inch |
| HDR SUPPORT | None |
| BRIGHTNESS | 500 nits |
| PROCESSOR | Apple M1 Chip [8-core CPU with 4 performance and 4 efficiency cores] |
| GRAPHICS CARD | Integrated graphics with up to 8 cores [7 cores on the base SKU] |
| RAM | Up to 16GB of unified memory |
| STORAGE | Up to 2TB of SSD storage [256GB on the base SKU] |
| VIDEO SUPPORT | One external display with up to 6K resolution at 60Hz |
| I/O | Up to four USB-C ports, two of which are always Thunderbolt 3 [40Gb/s]. The base SKU only comes with two Thunderbolt 3 ports on the back. |
| CONNECTIVITY | 802.11ax Wi-Fi 6 [a/b/g/n/ac compatible], Bluetooth 5.0 |
| REFRESH RATE | 60Hz |
| DCI-P3 COLOR | Yes, with True Tone support |
| WEBCAM | 1080p FaceTime HD camera |
| SPEAKERS | Six-speaker system with force-canceling woofers and Spatial Audio support |
Don't let its friendly facade fool you: the M1 iMac packs one heck of a punch –
It's also equipped with many bells and whistles that more than justify its MSRP: $1299 (for the base SKU).
Apple has it positioned as sort of an "entry-level" all-in-one machine, and while that might not sound all that impressive or noteworthy, it's actually far more powerful than one would expect — and the same holds true for basically any other M1-based device.
Unfortunately, the M1 iMac also exemplifies the "less is more" philosophy. It only has a handful of ports and all of them are USB-C.
Reparability is also non-existent for the end-user, which means if something starts to malfunction, you'll have to take it to the nearest Apple Store and (most probably) spend way more money to get it fixed than you ever thought possible.
It's not an ideal set-up, but it was to be expected given Apple's well-known (and highly criticized) approach.
What Are the Benefits of Buying the 24" iMac?
The M1 iMac isn't for those who see its price tag and shriek in horror.
Yes, you can build a more powerful PC for less money, but it's not going to offer the same kind of experience.
If you want to enter Apple's ecosystem and are in the market for an all-in-one computer — the kind of device you can just put on your desk without having to tinker with it whatsoever — then the M1 iMac should definitely be at the top of your list of priorities.
It's also an incredible option for any creative professional who doesn't need the absolute best or most powerful computer Apple makes.
The M1 iMac tops out at 16GB of RAM which, while undoubtedly sufficient, can become limiting further down the line.
If your workflow keeps growing, that amount of memory will become a bottleneck and a hindrance.
The same holds true for the M1 chipset. It is incredibly powerful, but it's also the weakest SoC Apple currently makes.
You can get an M1 Pro or even an M1 Max for not that much more money — albeit in entirely different form factors.
So, to summarize: you really ought to fully understand what exactly you'll be using this machine for as you won't be able to upgrade it whatsoever should you so desire.
It will suffice for a myriad of different tasks and creative workflows (such as most photo editing or graphic design workloads), but if you're handling, say, 4K video editing footage on a daily basis (along with numerous layers and effects) or have hundreds of photographs to batch-edit/tinker within Lightroom, then maybe going with a more powerful SoC would be for the best.
The Intangibles
As is so often the case with Apple products, the M1 iMac brings with it a myriad of unique features that can hardly ever be explained and put into words.
It is a beautiful machine, one that is as visually striking as they come.
It's essential to remove as many obstacles and hindrances from your workflow — things that can quickly get in the way and affect your creative endeavors.
As a creative professional, you want to sit down, focus, and enter a state of flow as quickly as possible. To do so, you really need a set-up that is both functional and inspiring.
You don't want cables sticking out, ample fan noise, a poorly calibrated display, middling speakers, or a dim reproduction of your "creative darlings."
The M1 iMac ticks all the right boxes, although it does, in all fairness, have a few rather frustrating flaws and deficiencies; fortunately, they're not significant enough to take away from the overall user experience.
24" M1 iMac — Alternatives
There are a few alternatives over in the PC world, but the only thing they really share with the iMac is the overall form factor.
Still, they do warrant a bit of our attention.
The HP Envy 32 stands out as a very respectable alternative. Heck, it might even be better than the 24" iMac from a sheer specs perspective. It is a lot more expensive though, but if your wallet can cover it, it might be worth the look.
If you want an ultrawide "AiO," there's also the HP Envy 34. It's even more powerful than the one listed above and, naturally, a fair bit more expensive, too. It's also easier to find in stock these days.
The HP Pavilion 24 is also a great option if you're looking for something a bit more modest specs-wise (and nowhere near as stylish). It's not as good as the M1 iMac, but it's still a competent all-in-one machine that'll get most jobs done.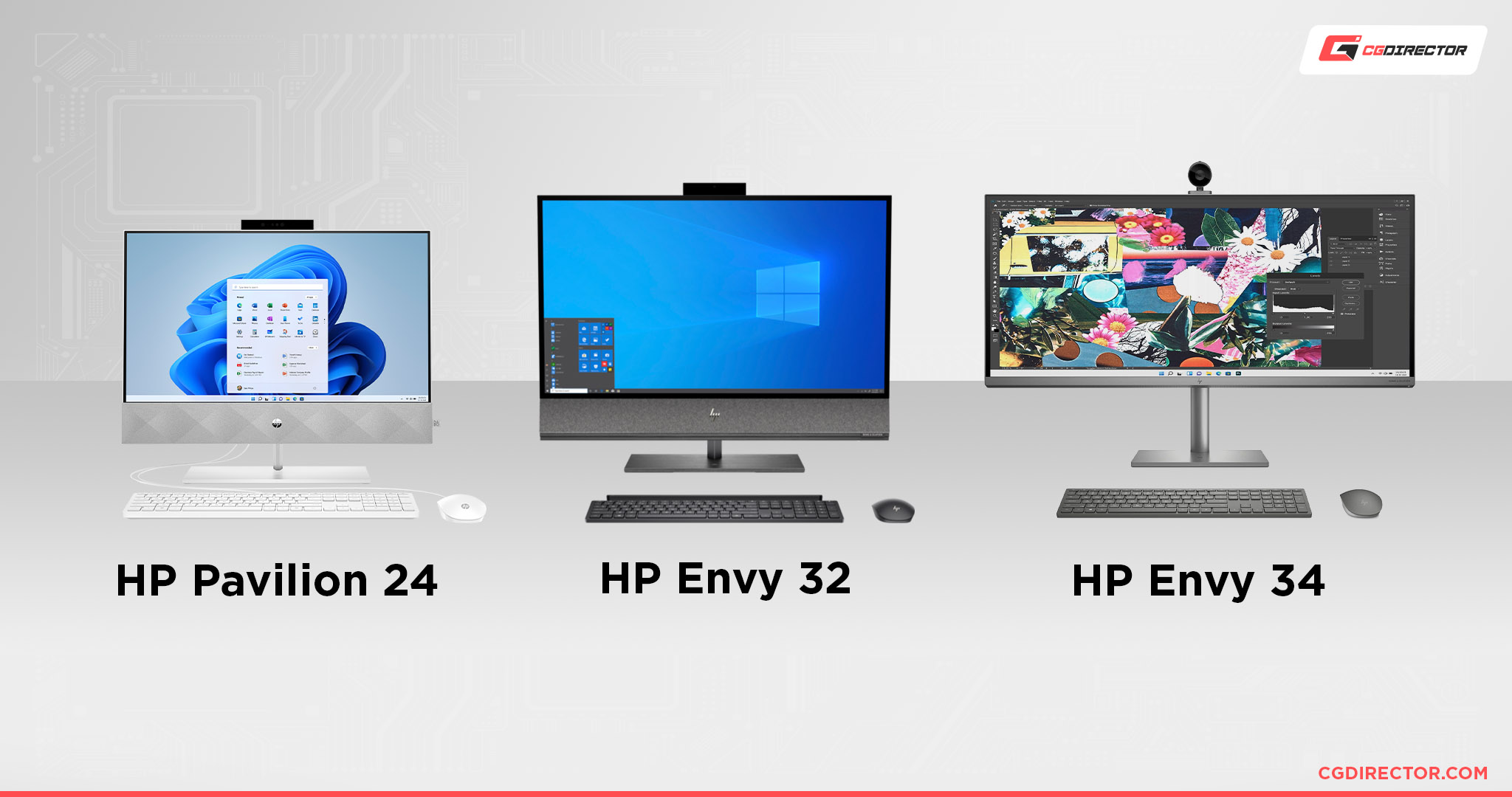 There's also a host of other Windows-based PCs that might share the same form factor but are a lot more budget-oriented, with 1080p displays and processors that can be found in thin-and-light ultrabooks.
They are, therefore, not really comparable to the M1 iMac.
Apple has come up with a very unique (and somewhat appropriately priced) computer, one that has no real competition in its price range and form factor.
If you're a creative professional with entry-level to medium performance demands, it's really the best option out there — at least in the "all-in-one" realm.
24" M1 iMac — Drawbacks
As far as drawbacks go, there's the usual Apple stuff: lack of upgradeability, repairability, a relatively high price tag, and a design that is more form than function.
Think of the M1 iMac as a complete device, one you will not be able to change or alter further down the line.
Need more storage? You'll have to buy an external HDD/SSD.
Want more RAM? You'll have to look elsewhere as the M1 iMac tops out at 16GB.
That's why it's so vital for you to be fully cognizant of your current and future needs, so as to purchase the most fitting SKU.
That's sort of the biggest trade-off with the M1 iMac (and any other iMac in general) — its lack of any upgradeability post-purchase. It's a "what you see is what you get" kind of device.
Now, that doesn't necessarily have to be a bad thing (depending on your needs and overall workflow), but it is something you absolutely have to keep in mind when making any kind of purchasing decision.
Last but certainly not least, let's touch on the M1 SoC (System on Chip); while it's no longer as mind-blowing as was the case back when it was first announced, it is still an incredible chipset and will serve its users for many more years to come without ever showing its age.
So you have nothing to fret about on that front.
Is the 24" M1 iMac Worth It?
It is.
It's not as mind-blowing as the M1 Mac Mini (from a price-to-performance standpoint), but it's every bit as amazing.
There's nothing quite like it on the market — nothing as beautiful, efficient, powerful, silent, aesthetically pleasing, well-built, sturdy, nothing that combines all these traits and virtues so effortlessly.
That's what Apple does best. They might have a million different flaws as a company, but their ability to create well-rounded products — one whose craftsmanship will have you watering at the mouth — is undeniable.
Who's the Target Audience of the 24" M1 iMac?
There are two types of users who would benefit greatly from a device of this kind:
"casual" users who spend most of their time in the browser and
creative professionals who don't necessarily need the absolute best and most powerful machine money can buy.
If you're cutting feature films with a million different layers and effects, then you will need more RAM and perhaps a more powerful chipset as well.
If you're creating vast, complex worlds and doing 3D renders on a daily basis, then there are better options out there as well.
The M1 iMac, therefore, is something of an "in-between" kind of device, one that is definitely more powerful than most folks need, but not powerful enough for the "consummate professional" — i.e. those whose livelihood depends on their creative work.
24" iMac vs. Other M1 Apple Products
This is undoubtedly the most interesting part of the conversation.
The 24" iMac is great, but how does it stack up against the rest of Apple's M1-based products?
Its biggest competition is, without a doubt, the updated Mac Mini. It's basically the exact same device albeit in an entirely different form factor.
The gist of it is as follows: if you don't need a 4.5K display and just want to harness the many splendors of Apple's latest and greatest architecture, then it's definitely a better option — and it's a fair bit cheaper, too.
If money's not an issue — and you happen to need more horsepower than the M1 iMac can provide — then you really ought to take a look at the novel Mac Studio.
It's actually an even better deal than the aforementioned iMac. The base SKU comes with 512GB of storage, a whopping 32GB of unified memory (RAM), along with Apple's top-of-the-line M1 Max SoC — the one sporting a 10-core CPU and a 24-core GPU.
It also has two USB-C ports on the front (10Gb/s), an SDXC card reader, four Thunderbolt 4 ports (40Gb/s), two USB-A ports, one HDMI, and even a 10Gb Ethernet port on the back.
And you can get all of that for "just" $1999. It's not as sleek a package as the iMac, but it more than makes up for it in sheer horsepower.
That kind of machine will suffice for any kind of workload and it won't show its age or slow down any time soon.
FAQ
Let's go over a few potential questions you might have regarding Apple's 24" M1 iMac.
Is the M1 iMac a Good Option For Creative Work?
It absolutely is! This iMac literally shares the exact same chipset as the M1 MacBook Pro, so if that machine is good and powerful enough for your workflow, so is the iMac.
It's great for video editors, cinematographers, photo editors, music producers, and everything in between.
Its display is bright and gorgeous and it's quite color accurate as well!
It isn't exactly geared towards the biggest and most demanding professionals out there, though, so if you're someone whose livelihood depends on how fast your machine can render, it would perhaps be wisest to look elsewhere — the iMac's 16GB of unified memory, while sufficient, can become a bottleneck.
Is the M1 iMac Powerful Enough?
It is a far more capable machine than you'd expect!
Apple's base M1 chipset is actually incredibly powerful, and even though it has been superseded by the M1 Pro, Max, and Ultra, it is still a phenomenal SoC capable of tackling almost any kind of workload, regardless of its complexity!
Is the M1 iMac a Good Deal?
It really is, despite what some are saying.
It is a beautiful, streamlined machine that is unlike anything else on the market — an all-in-one computer with impeccable build quality and an equally impressive display (to say nothing of its highly advanced and surprisingly efficient chipset).
And, better yet, Apple's slick peripherals are included by default.
It's the perfect kind of device for those who just want to buy a beautiful macOS-based computer, put it on their desk and "call it a day." The less they tinker with it the better.
Over to You
The 24" iMac was met with reluctant praise upon release; it never received as much acclaim as the three M1-based devices that came before it, and that's a shame as it really is a one-of-a-kind computer.
The reason why we feel is rather simple: it's a jack of all trades and a master of none.
Still, that's not necessarily a bad thing. It is exceptional at many different things and workloads, and the fact it isn't the most powerful of the bunch or the most well-rounded changes very little in that regard.
And, perhaps most importantly, it is exactly what a certain kind of creative professional needs in 2022.
Has it piqued your interest? Can you work around its deficiencies or are they, perhaps, a dealbreaker? Let us know in the comment section down below, and in case you need any help, head over to our forum and ask away!